Ahhhh, the weekend. It's been a long week, and I am exhausted. Between lots of studying, working, and completely moving into my new apartment, this week got the best of me, and I'm feeling a little bit behind in… everything. Just being honest with you guys!
I was going to throw together some post for today with a round-up of vegan holiday side dishes, but I just want to talk to you. It didn't feel super authentic when the last thing I wanted to do was add a bunch of pictures and links to a post and slap it on here. I'd rather be completely open with what's going on, how I'm feeling, and how completely pooped I am right now.
So, I decided I'd rather talk to you about what I'm loving right now, what I'm struggling with (to keep it #real), and what I'm looking forward to. Is that cool? Cool.
WHAT I'M LOVING
Sandwiches. I seriously have 4 loaves of bread in my freezer, so sandwiches will be on repeat for awhile. I was hardcore craving a PB&J/banana sandwich a couple weeks ago, and this week I did a combo of BBQ tempeh, sauerkraut, avocado, spinach. Let me know your favorite combos!
Relaxing. I don't think I've touched on this much, but since getting off the diet roller coaster, I've been taking a break from exercise and it feels amazing. Don't get me wrong, I love working out. But in this phase of life when I'm giving my body and hormones a break to recover, it feels good to let go of any obsession around exercise. When I go back to working out, I know I will be in a better place mentally. Right now it's just light walking and yoga if I have time (shoutout to my BF for being world's best yoga partner).
Lauren Toyota. OMG. She's the hilariously blunt vegan genius behind hot for food, but she also has her personal YouTube channel, which I have been binge watching instead of doing homework. Her super down-to-earth attitude and humor is so entertaining to watch (and a stark contrast to crazy AF vegans on YouTube).
Cozy bowls of oats. But, what's new? It's my go-to breakfast. I made a big batch of pumpkin pie steel cut oats on my Crockpot this week because I knew I was going to be hella busy. Taking the time to enjoy breakfast and a matcha latte in the morning prepared me for the grueling day ahead. Oatmeal is a lifesaver, I'm telling ya.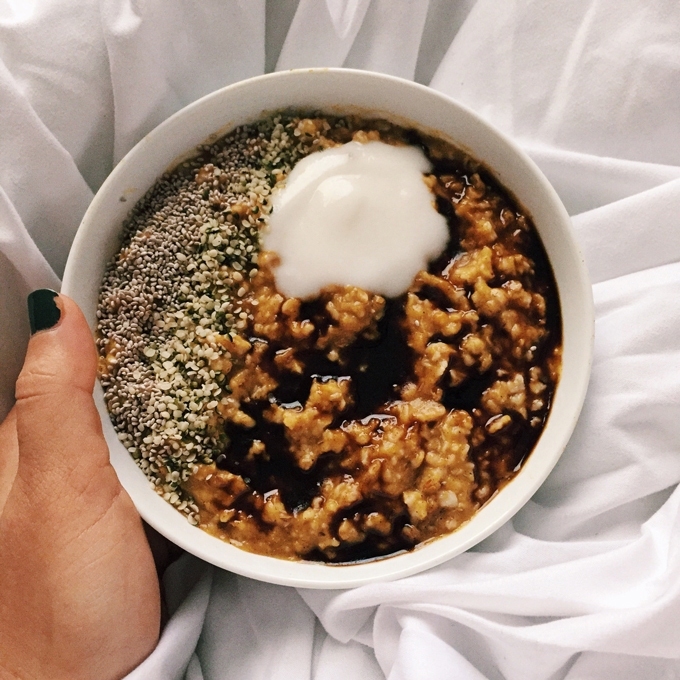 WHAT I'M STRUGGLING WITH
My future career. Why do I always stress about my future life during the busiest weeks?? Seriously, I was having a quarter-life crisis during midterms. Like, wrong place wrong time, Emilie. I love public relations (what I'm studying now) and would like to combine that with nutrition (aka this blog, pretty much), but helping people one-on-one sounds very appealing. Becoming a registered dietitian would take 4 more years of school, and science and I just don't get along well. I'm trying to find a way to do what I love within PR and this blog. We shall see!
Sleep. This one's simple – I need to be such a damn procrastinator so I can get to sleep early. Like, maybe if I didn't wait until 10:30 p.m. to do my homework (or write this post), I could get to bed at a reasonable hour. Ugh. Just gotta readjust the schedule so I get my quality bed time!
Hair. As in, I go to bed with it wet, and it is straight up GREASY in the morning. Wtffffff. I have always had rather oily hair, but not this bad. I'm hoping it's just a sign that my hormones are finally waking up from hibernation so I can stop looking like a wet mop as soon as I wake up.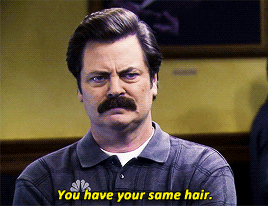 WHAT I'M LOOKING FORWARD TO
Decorating my apartment. Seriously you guys, I can't tell you how excited I am to not be living out of boxes. Settling down has already released so much tension. I can't wait to decorate to make it perfect – I've already made my own desk (DIY tutorial? let me know), window table, and I'm itching to make this adorable hanging shelf for all my cookbooks and an apartment garden.
Adele. We are driving right now to Austin, TX, to see the songbird of our generation (bonus points if you got the reference) perform live. I will probably cry about 39472 times, but I'm sure everyone else will. Oh, and hopefully we'll be able to swing by the first ever Whole Foods – when in Austin.
Chili all winter long. Busting out the Crockpot and using it every week. You basically put in 30 minutes of effort for 6-8 meals, which you can freeze. Cue endless bowls of hearty chilis and soups for the cooler months. (Did I mention it's still 80 degrees here?) Starting with this chili.
Helping you guys. If you're on my email list (which you should be!!), you got an email from me with a survey to graciously take. Thank you to everyone who gave me feedback! I asked you guys what you struggled with around healthy living, and what I can do to help you. If you'd like to give your feedback, take the survey. Maybe I have some special things brewing for you all….
---
What are you all loving right now? Struggling with? Got any big events or goals on the horizon? I want to know. (Okay fine, I'm just nosy…)
If you like this kind of post, let me know and maybe I will do more! Happy weekending, beauties.