This post was sponsored by Beanfields. I only work with brands whose products and missions I truly believe in. Thanks for supporting my blog!
You guys. After THREE MONTHS of living in a temporary home, with my life completely packed up in boxes and not being with my cat, I am finally moved in to my permanent apartment. I don't think I've ever breathed a harder sigh of relief than when we were finished moving my stuff yesterday! Oh, happy day.
Not so happy? My fridge. For the past week or so, I was too busy packing to even think about meal prepping or preparing a 5-star meal. My fridge contained (no exaggeration) a head of romaine, two onions, a pomegranate, a bottle of mustard, and these baked tofu nuggets. You can only imagine the quality meals I've been having…
We ordered vegan pizza two nights in a row. I didn't have my usual huge pre-dinner salads loaded with greens and veggies. I plowed through a pint of almond milk ice cream in a week. News flash: life isn't always squeaky clean. It's actually pretty damn messy, which is what makes it beautiful.
There are some days (most days, actually) when I eat ALL the fruits and vegetables and beans and magic foods. Other days, I'm out running errands for 4 hours without stopping for lunch. Or I grab a snack bar instead of an apple. As a type-A perfectionist, I'm learning to let go of this notion that every single thing has to be perfect every second of the day. That's no fun, is it?
Chips, for example. The classic snack food. Notoriously greasy and unhealthy. Obviously, chips are never going to be healthier than kale. But you can't just eat kale your whole life. Chips are just necessary sometimes. The saying goes that there are foods that nourish your body, and there are foods that nourish your soul. Chips definitely nourish the soul.
But what if I told you we could have chips that nourish our body and our soul? Yes, friends, you heard me. These Beanfields chips are the real deal and my current favorite salty snack (salty > sweet any day – anyone else?). Then I made these tofu nuggets and fell even harder in love with them.
Because when life gives you bean chips, crumble them up and make nuggets.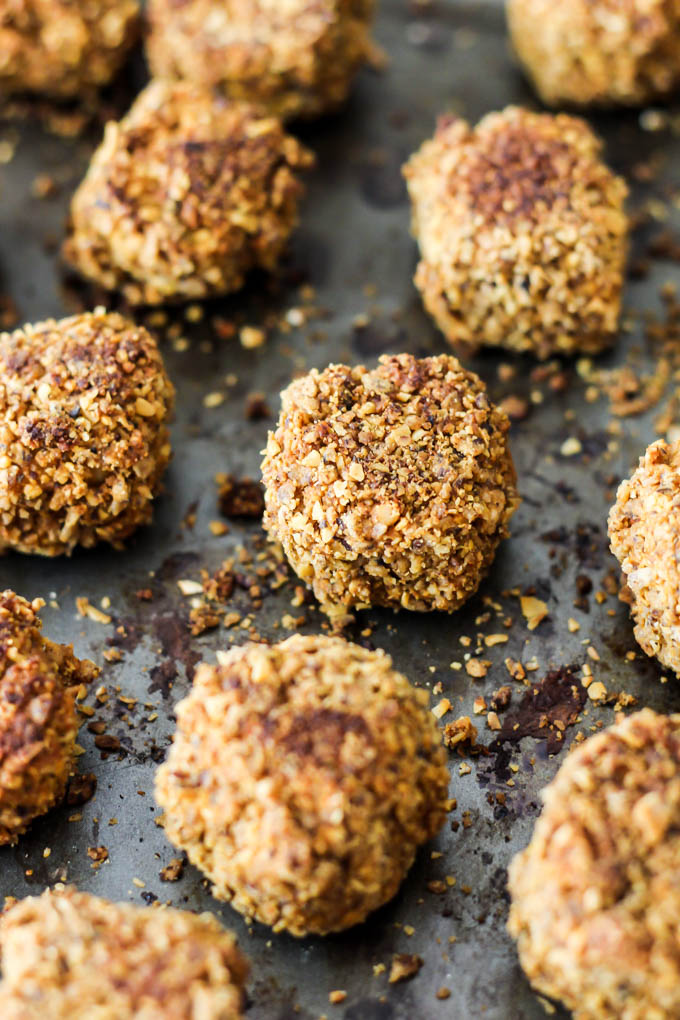 You should know by now that I am head-over-heels in love with beans. So, chips made from beans and whole grains? I'M IN. The beans in Beanfields chips mean they're packed with plant protein, fiber, and less fat than normal chips. Plus, they're gluten-free, GMO-free, and vegan-friendly, of course!
My current (and all-time) favorite is the Nacho flavor because helloooo, they're like Doritos but 938429 times healthier and tastier. But today in these baked tofu nuggets, we're using the Jalapeño Nacho flavor for a spicy kick!💃🏼
These nuggets come together in just about an hour, so you can easily whip them up before a dinner party to serve as an appetizer. Don't forget the "honey" mustard! It's the perfect (naturally) sweet complement to the spiciness of the nuggets.
I am definitely saving this recipe for holiday appetizers and Superbowl Sunday a few months from now! Oh, did I mention they're boyfriend-approved? That's when you know it's real good.
Have you tried Beanfields? If so, I'd love to know what your favorite flavor is! Ket me know if you make these for your next dinner party… or dinner party of one, up to you. 😉 Tag @emilieeats & #emilieeats on Instagram if you try any of my recipes!
What do you do when life gets messy?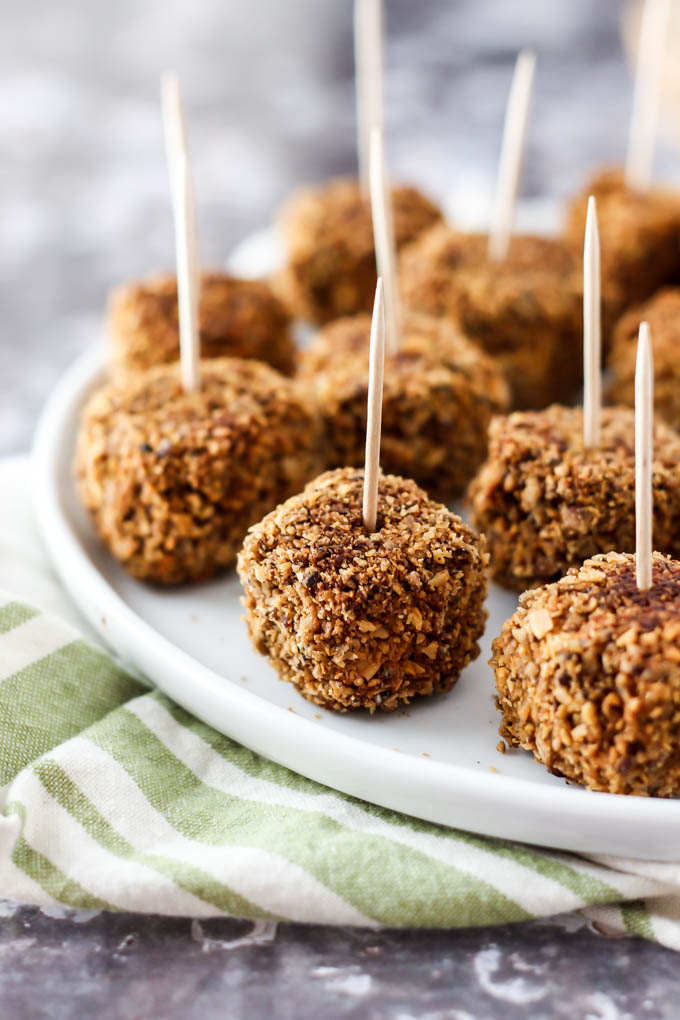 Print
How to make:
Spicy Baked Tofu Nuggets with "Honey" Mustard Dip
Crispy, bite-sized & perfectly spicy, these Baked Tofu Nuggets with "Honey" Mustard Dip are your new favorite finger food or appetizer! Vegan & gluten-free.
Ingredients
1

15-ounce package extra-firm tofu

2 tablespoons

flax meal

1/2 cup

unsweetened non-dairy milk

1/4 cup

barbecue sauce

2 tablespoons

hot sauce

1

5.5-ounce bag Beanfields Jalapeno Nacho Bean and Rice Chips

1/2 cup

oat flour*

1 1/2 teaspoons

paprika

1 teaspoon

garlic powder

1/2 teaspoon

onion powder

1/2 teaspoon

cayenne pepper (or more, for a spicier coating)

1/2 teaspoon

black pepper

1/4 teaspoon

salt

1/4 cup

pitted dates (about 5)

1/4 cup

unsweetened non-dairy milk

1/4 cup

yellow mustard
Instructions
Preheat oven to 400F. Line a baking sheet with foil.
Drain the tofu. Wrap in several paper towels; place in the sink. Place a heavy object (such as a large pot with a heavy weight inside) on top of the tofu to press the water out. You can also use a tofu press. Let the tofu drain for 10-15 minutes.
In a medium bowl, add flax meal, milk, barbecue sauce, and hot sauce. Whisk together; set aside.
In a food processor or blender, add chips. Pulse until a coarse flour forms, leaving some texture.
In a large bowl, add chip crumbs, oat flour, paprika, garlic powder, onion powder, cayenne pepper, black pepper and salt. Stir to combine.
Slice the tofu into 1/2-inch cubes. Place each cube into the barbecue sauce mixture, then roll in the dry ingredients. Dip it back into the liquid ingredients, then again in the dry coating. Place on the baking sheet. Repeat with the rest of the tofu cubes.
Bake for 20 minutes; flip each tofu nugget, then cook for 20 more minutes.
While the nuggets are cooking, prepare your dip. In a blender or food processor, add dates, milk and mustard. Blend until smooth; pour into a small bowl.
Pierce each nugget with a toothpick and serve with the dip.
Notes
*To make your own oat flour, simply blend rolled oats into a fine flour.
Thanks to Beanfields for sponsoring this post! I love working with brands whose products I really love and would honestly recommend. Thank you for supporting this blog that I love oh-so-much so I can bring you delicious recipes!