This Frozen Watermelon Margarita is your new go-to summertime drink! It's fruity, refreshing & made with only five ingredients. Perfect with chips & salsa!
I'm about to tell you something that is so against the typical 21-year-old college girl stereotype… I have always hated margaritas.
GASP. I know what you may be thinking. Then what do you do when you & your friends go out for Mexican food & margs? That is the cornerstone of a good college experience! Well, I just went for the chips & dip instead, hold the margs.
First, I've never been that into alcohol. We were the goody-goods in high school. 😎 Sure I drink here & there (especially since I just turned 21!), but I wouldn't really call myself a hardcore partier. But margaritas especially didn't sit well with me because all the ones I've tried have been SO damn sugary. Not that sugar is the devil, but too much of it can really make you feel like crap! I would feel nauseous from the overload of sugar before feeling even a little tipsy from the tequila. Plus, I've always been more of a vodka girl. Screwdrivers 4 life!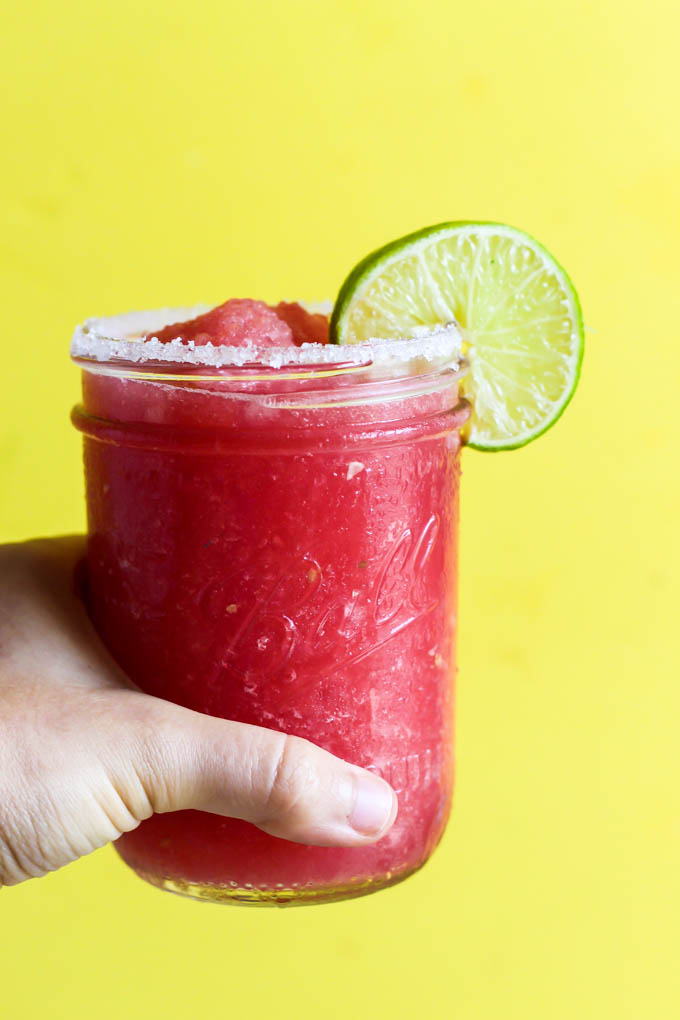 But for some reason, this year I have really been digging tequila and making my own margaritas at home because 1. I'm too cheap to buy a $12 drink, and 2. you can make one with the simplest ingredients! I've been experimenting with all kinds of margarita recipes (not all in one night, of course…) but this watermelon margarita definitely takes the cake.
I've been known to eat a whole watermelon by myself in a very short amount of time, so it can be tough for me to reserve some for this drink. I just can't get enough of it in the summer! Seriously, what is better than lounging outside with some music playing and juicy watermelon dripping all over? Nada. Nothing. Zilch.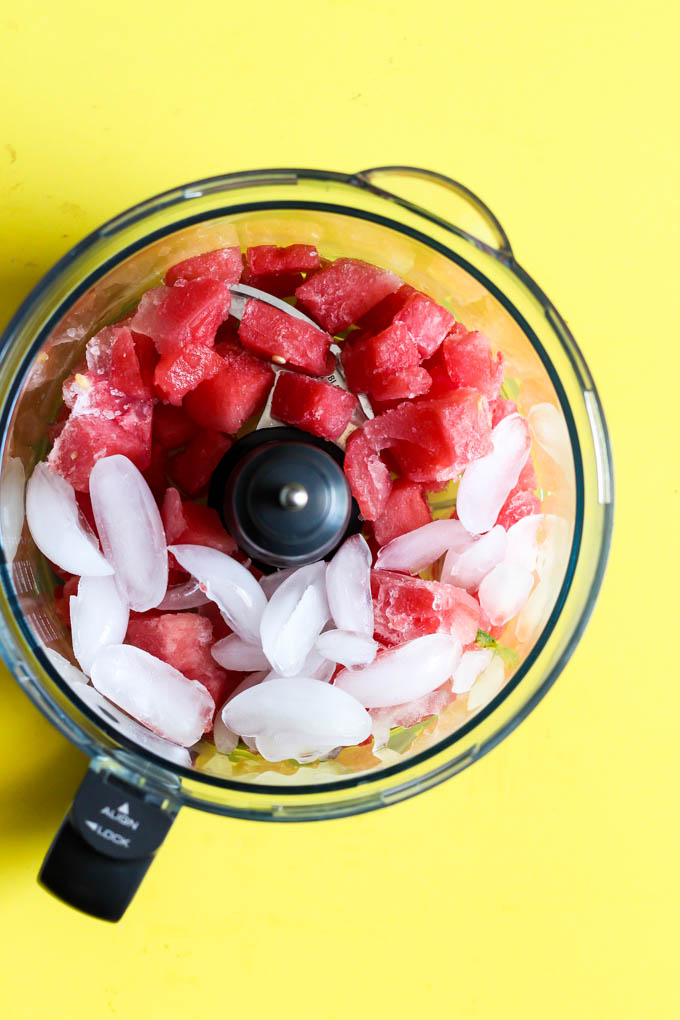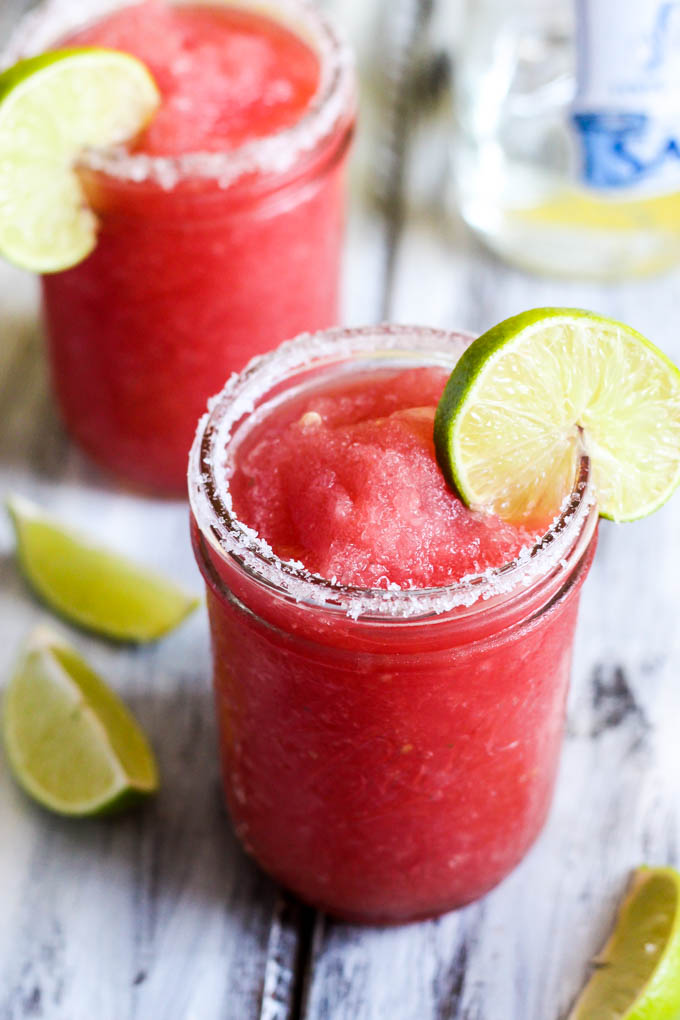 I've seen some other recipes for watermelon margaritas on the web, and while they're good & all, they require blending the watermelon and straining it to remove the pulp. I'm not a huge fan of juicing since it removes the pulp of the fruit (the fiber!), plus it's just an extra hassle and more dishes to clean.
So, I went the frozen blended route. Which I think you'll be cool with – since who doesn't love a refreshing slushy in the summertime?
Into the blender goes watermelon, lime juice, a touch of coconut sugar (or really any sweetener), a pinch of salt, and some tequila. You can totally leave out the tequila for an equally delicious virgin margarita!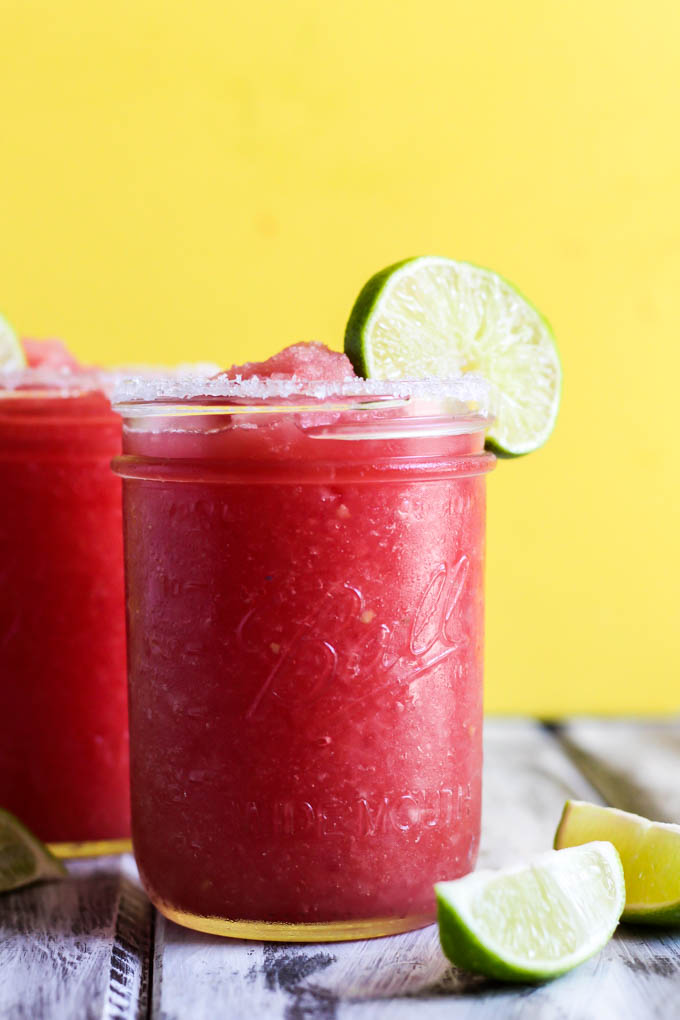 I can picture it now – me, lounging in a beach chair by a pool this summer, with a watermelon margarita in hand, snacking on chips, salsa & guac, with a podcast in the background. A girl can dream, okay?
Be sure to let me know if you try this fruity watermelon margarita! I know you & all of your cookout guests will love it. Tag me @emilieeats if you post a picture on Instagram. Drink responsibly, friends!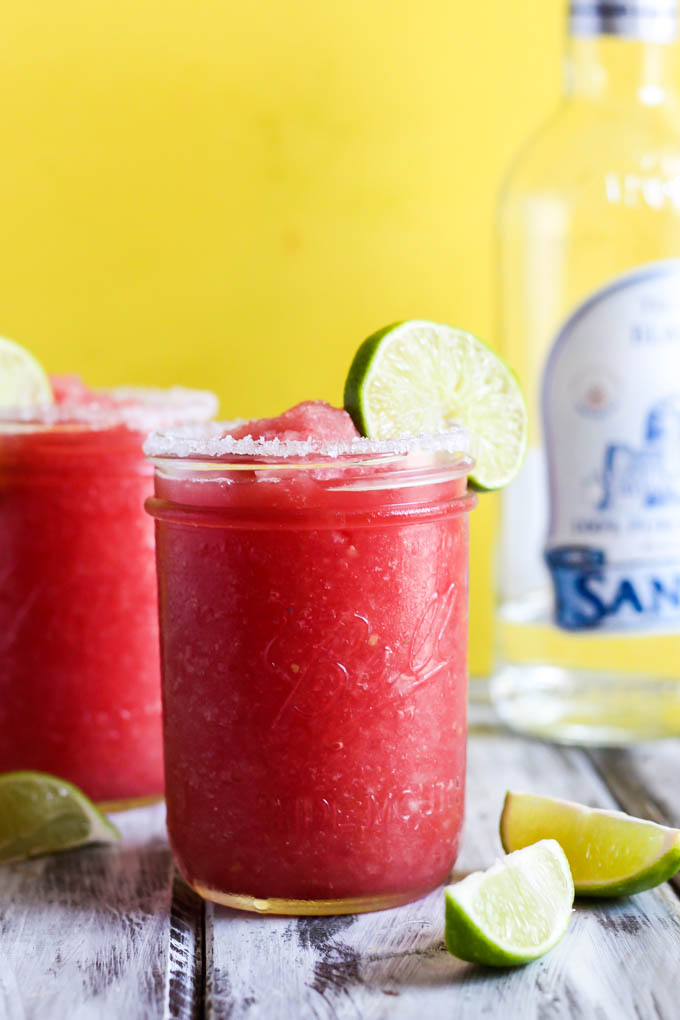 Print
How to make:
Frozen Watermelon Margarita
This Frozen Watermelon Margarita is your new go-to summertime drink! It's fruity, refreshing & made with only five ingredients. Perfect with chips & salsa!
Ingredients
3 cups

watermelon, cubed & frozen

2 cups

ice

1/2 cup

silver tequila

1/4 cup

fresh lime juice (about

3

–

4

limes), plus wedges for garnish

2 teaspoons

coconut sugar
Sea salt
Instructions
In a blender or food processor, add watermelon, ice, tequila, lime juice, and coconut sugar. Blend until a slushy texture forms. Place in the freezer while you prepare the glasses.
Sprinkle the rim of two glasses with lime juice then sea salt.
Divide the margarita mixture between two glasses, garnish with a lime wedge each, and enjoy!