Wondering what to do with leftover rice? This fried tempeh cajun rice skillet comes together in just 30 minutes for a simple weeknight dinner.
Cajun Rice and Fried Tempeh Skillet
I am so excited to share today's recipe. This fried tempeh and cajun rice skillet is so delicious and easy and I know y'all love when I post Cajun recipes.
Not only is this perhaps one of my favorite vegan tempeh recipes, but this cajun tempeh rice skillet truly hits on all of the easy-to-make recipe criteria.
The whole recipe is made in one pan
It uses up leftovers, which saves on cook time and reduces food waste
It features just 10 ingredients
You only need 30 minutes to make it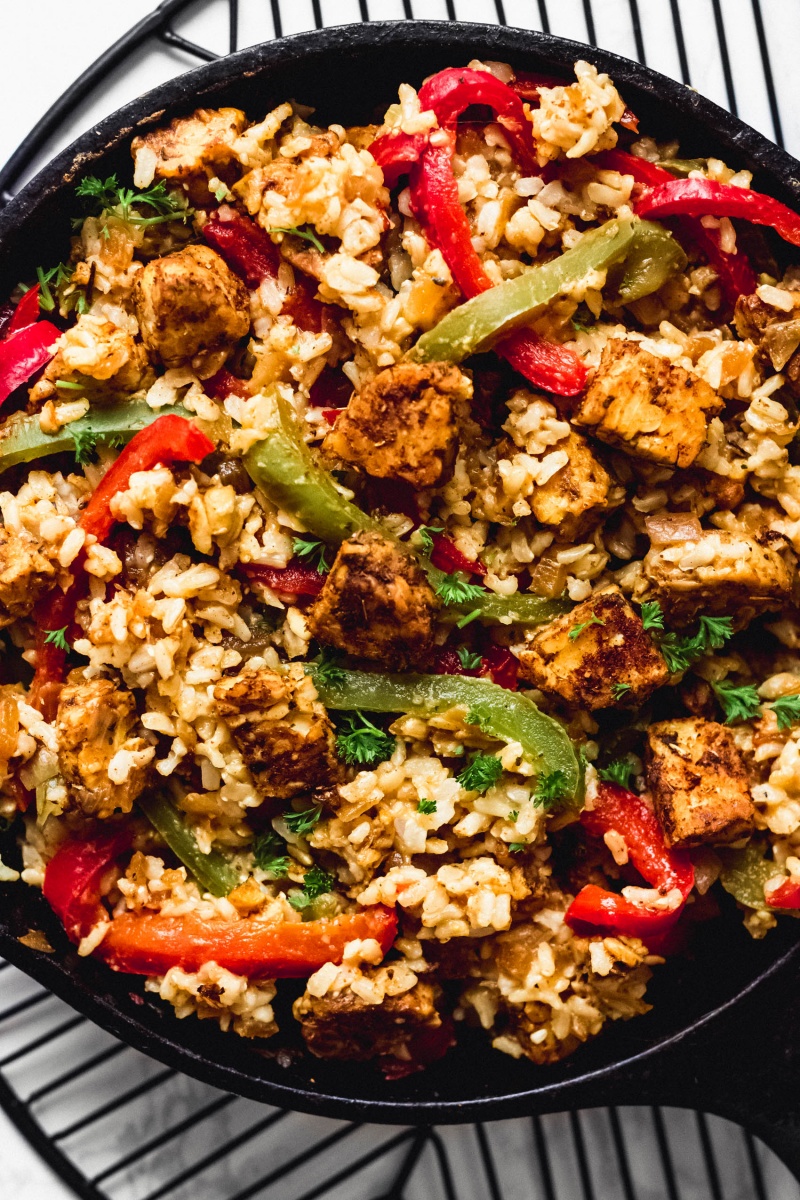 What to do with leftover rice
I know we all have leftover rice laying around sometimes, and there are so many creative ways to use it up:
Stir fries and rice skillets typically work better with leftover rice because it's had a chance to firm up, which will result in better texture when frying. This is exactly how we're using leftover rice in this cajun tempeh and rice skillet recipe!
Use it as a base for a curry or stew. Rice would be a great base for my Slow Cooker Chickpea Peanut Stew or a curry like this Aloo Matar recipe by Vegan Richa
Toss it into a casserole. You could totally use leftover rice in my Cheesy Chickpea Broccoli Rice Casserole
Freeze it. If you're not sure you have a use for your leftover rice within a few days of making it, pack it up into freezer safe containers and pull it out when you're ready to use it
Not only does using leftover rice reduce food waste and save you cooking time, but as I mentioned, it actually works better in this vegan tempeh cajun rice skillet so you're not sacrificing the quality of the recipe by opting to use the rice that's already sitting in your fridge.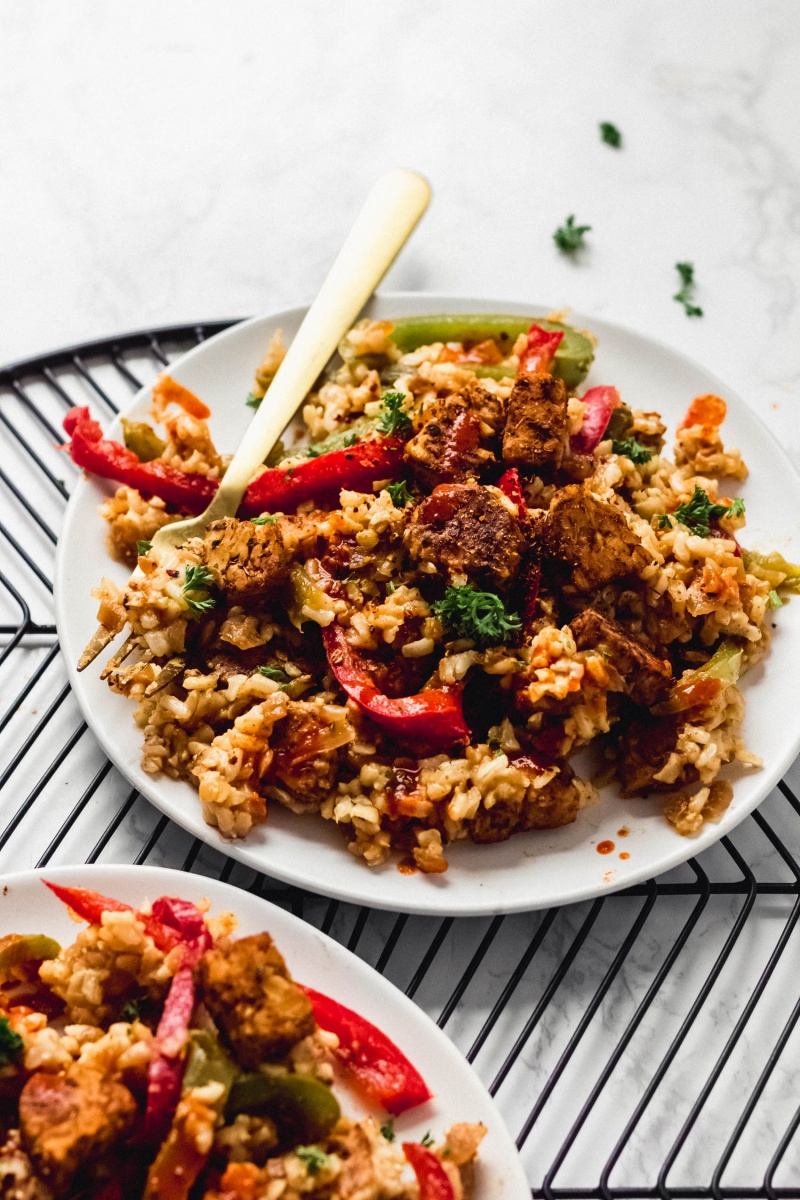 How to cook tempeh
You know tempeh is one of my favorite plant proteins. Nutty, meaty, affordable… what more can you ask for? There are a few ways to cook tempeh, but to keep this dish one-pan, we're browning tempeh cubes on each side in the same skillet that we're cooking everything else in. The tempeh is done cooking in just under 10 minutes!
Then you just remove the tempeh from the skillet, cook the vegetables, and then add the tempeh and rice. Spice it up with Cajun seasoning and hot sauce (duh), and BOOM… a flavorful mean in as much time as it takes to pick up take-out.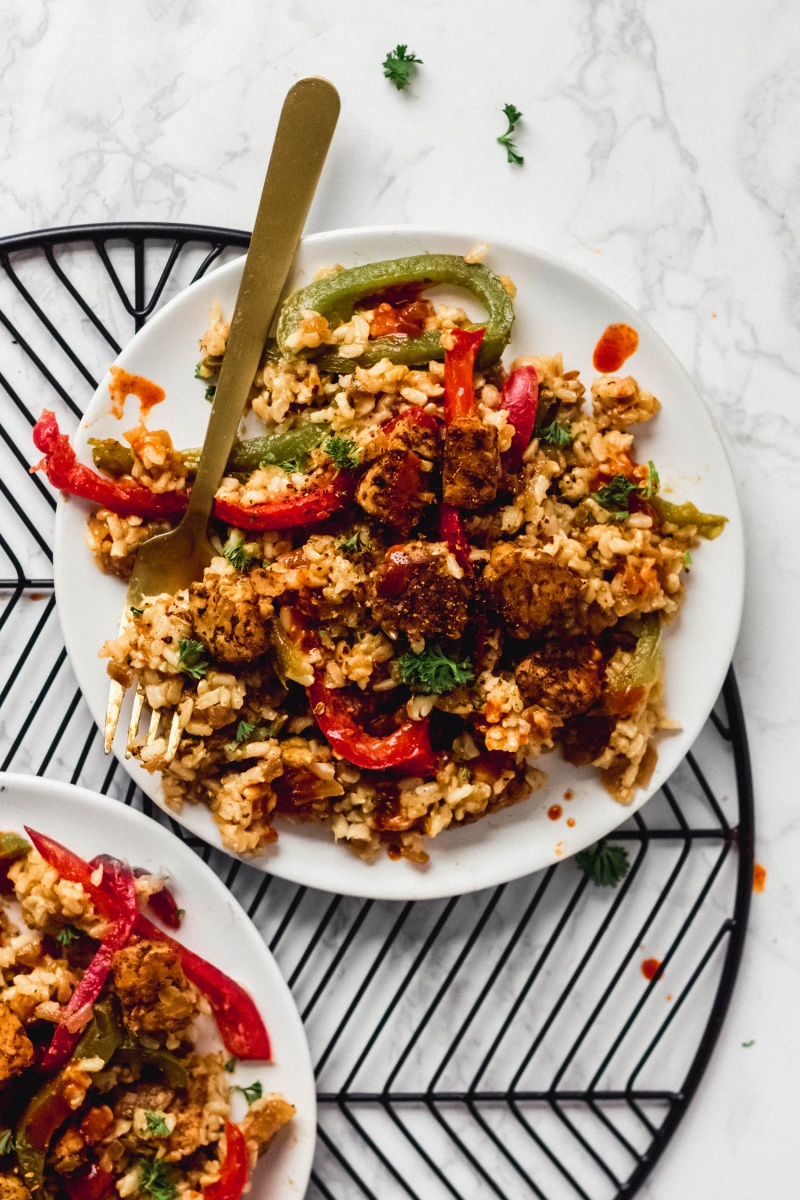 Ingredients in this Cajun Rice and Fried Tempeh Skillet
Oil. Olive, canola, or avocado oil would all work well here
Tempeh. I highly recommend using tempeh over another plant-based protein such as tofu. The tempeh fries really nicely in this recipe and the nutty, meaty qualities meld really nicely with the cajun flavors
Cajun seasoning. You can use a pre-made blend, or mix your own! I have a great recipe for how to make your own cajun seasoning linked in the recipe notes below
Yellow onion. This will be a base for the
Garlic. Feel free to add more or less depending on your preference
Green bell pepper. I like the fresh flavor of green bell pepper, but I know a lot of people don't like green bell pepper, so you could substitute with extra red bell pepper instead
Red bell pepper. Red bell peppers have a sweeter flavor than green bell pepper and the two work really well together in this skillet recipe
Cooked brown rice. The key to our cajun rice skillet! If you don't have leftover rice already on hand, simply cook up some rice in advance, but it won't give quite the same texture as 1-2 day old rice would
Salt. 
Pepper.
As an option, you can top with hot sauce and fresh parsley, which I HIGHLY recommend!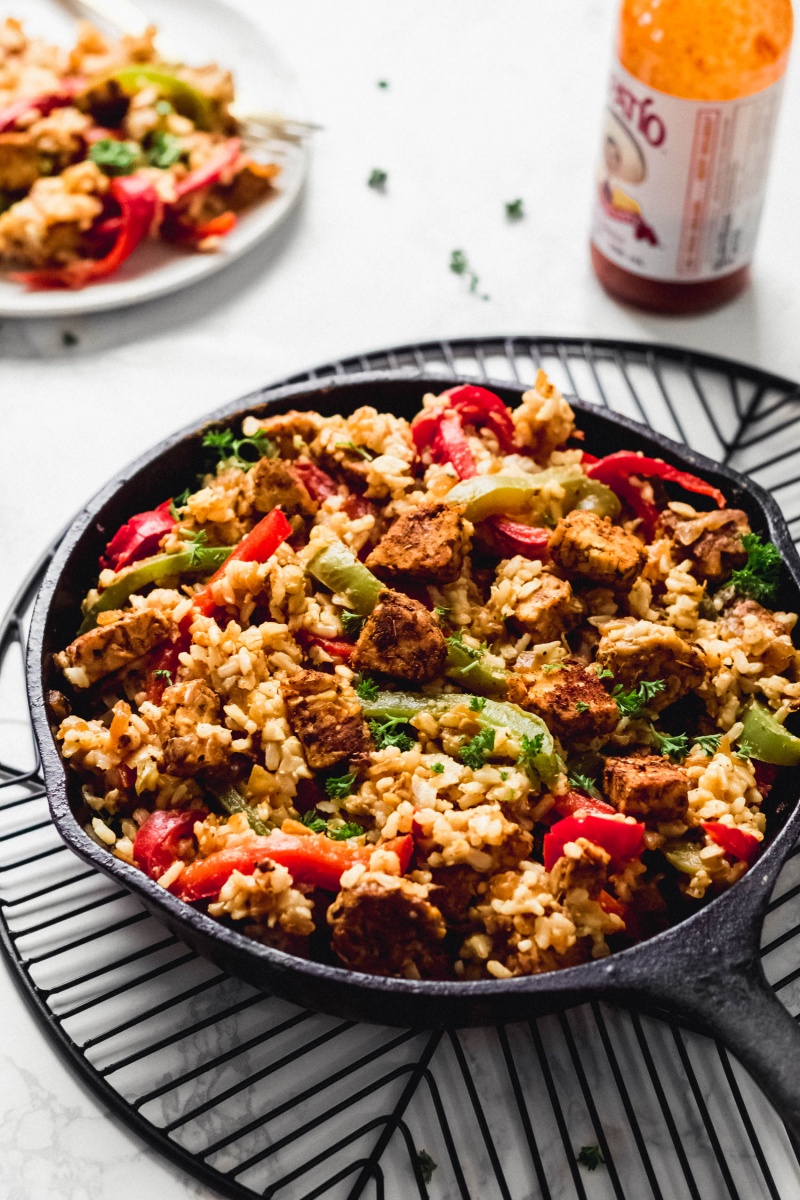 More vegan tempeh recipes
We already went over how to use up your leftover rice, but if you're looking for more ways to use that pack of tempeh sitting in the back of your fridge, then I've got you covered.
Print
How to make:
Cajun Rice and Fried Tempeh Skillet
Wondering what to do with leftover rice? This fried tempeh cajun rice skillet comes together in just 30 minutes for a simple weeknight dinner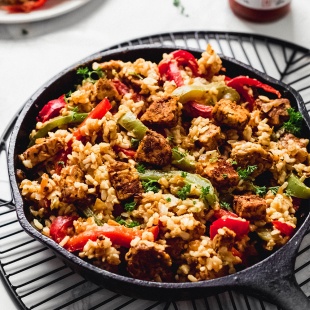 Ingredients
2 tablespoons

cooking oil, divided (olive, canola, or avocado)

1

8-ounce package tempeh, cut into

1/2

-inch cubes

3 teaspoons

Cajun seasoning*, divided

1

yellow onion, diced

3

cloves garlic, minced

1

green bell pepper, thinly sliced

1

red bell pepper, thinly sliced

3 cups

cooked brown rice

Salt and pepper, to taste

Fresh parsley, for garnish

Hot sauce, for garnish
Instructions
In a large skillet over medium heat, add 1 tablespoon cooking oil. When hot, add tempeh and 1 teaspoon Cajun seasoning; stir to coat tempeh. Cook for 3 minutes on each side until crispy. Remove from skillet.

To the same skillet over medium heat, add 1 tablespoon cooking oil. When hot, add onion. Cook for 5-7 minutes, until until is lightly browned. Add garlic; cook for 1 minute, until fragrant. Add sliced bell peppers, stir, and cook for 5 minutes, until tender.

To the skillet, add tempeh, rice, and 2 teaspoons Cajun seasoning. Stir. Cook for 5 minutes, until rice is heated through.

Season with salt and pepper to taste. Garnish with fresh parsley and hot sauce.
Notes
*If you want to make your own Cajun seasoning blend, use this recipe!