Switch it up from your daily oats and make this Quinoa Breakfast Bowl instead! This quinoa porridge is creamy, satisfying and energizing!
Quinoa Breakfast Bowl
Did you run away yet?? Are you so weirded out that I'm having quinoa for breakfast that you never want to come to my blog again?!? I sure hope not. Let me explain.
Let me start by asking the question, who made oats the queen of breakfast anyway? I mean, really, if someone years and years ago had decided that barley or buckwheat or even quinoa was the perfect breakfast staple, then we'd all have that particular grain in our pantries for breakfast instead of oats.
So while, I don't know how or why oats were chosen as THE breakfast grain, we're challenging that today and making a delicious quinoa breakfast bowl today!
You know I like to mix things up. If you saw my post a couple weeks back, then you now know how to use oatmeal in savory recipes (like this savory oatmeal with tempeh bacon). Now we're gonna learn how to use quinoa in a sweet recipe! Say hello to quinoa porridge, I promise you'll love her.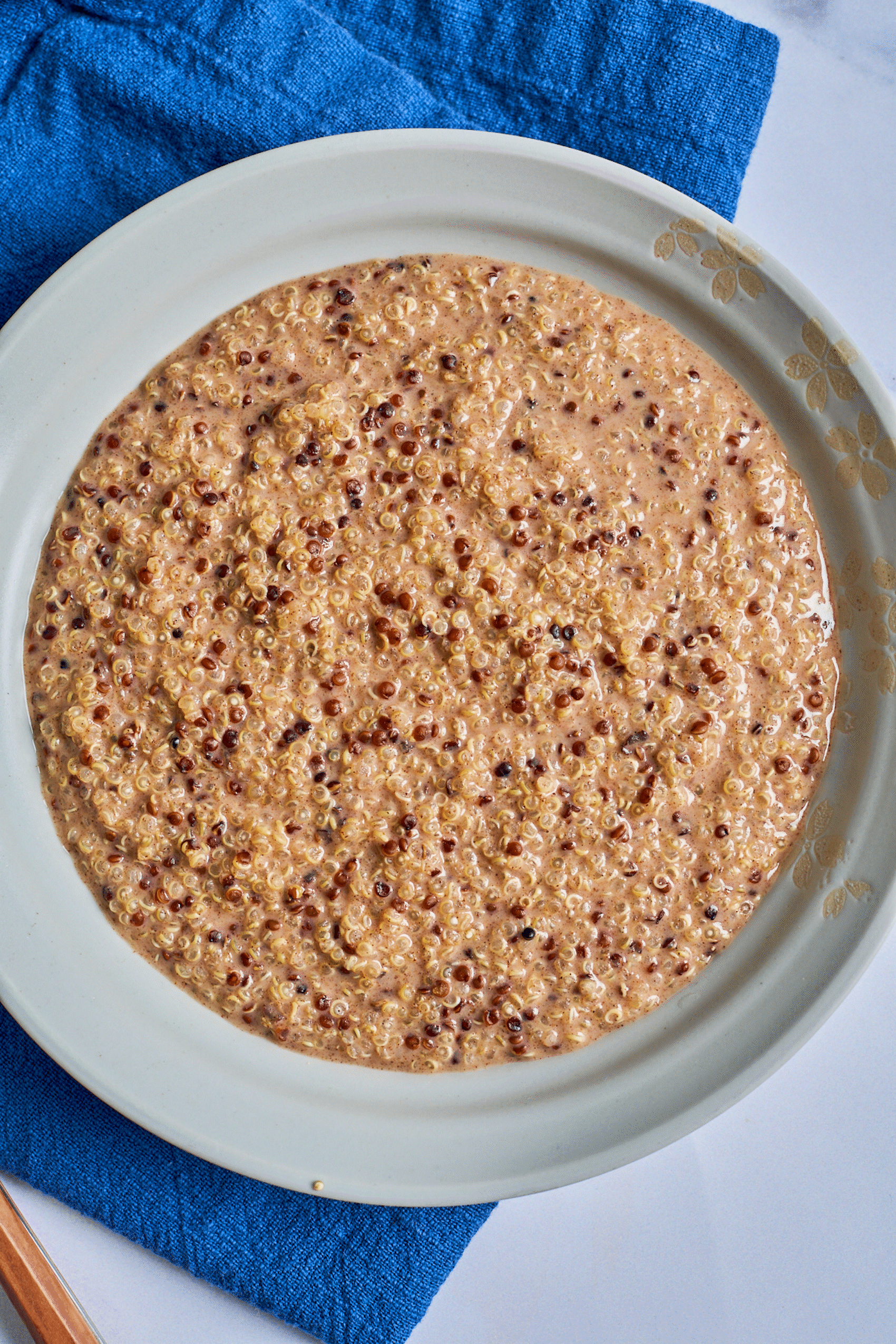 Ingredients for Quinoa Breakfast Bowl
I like to keep it simple in the mornings, so we're keeping things pretty minimal for this vegan quinoa porridge. You really don't need a ton of fancy ingredients to create a delicious quinoa breakfast bowl. Here's what you'll need:
Quinoa. You can use any variety you like for this recipe.
Canned coconut milk. You want coconut milk in a can, not a carton. I recommend full fat coconut milk for the ultimate, creamiest quinoa porridge possible, but feel free to use low fat if you prefer.
Non-dairy milk. Now it's time for the carton! You can use any plant-based milk you'd like.
Dates. I like to use a date to sweeten up this quinoa breakfast bowl, but you could also oped for maple syrup instead.
Cinnamon. Breakfast's favorite spice! Cardamom would also be delicious.
Vanilla extract. Just a dash helps to warm up the flavors of this quinoa porridge.
Salt. Just a pinch goes a long way to balance out the sweetness.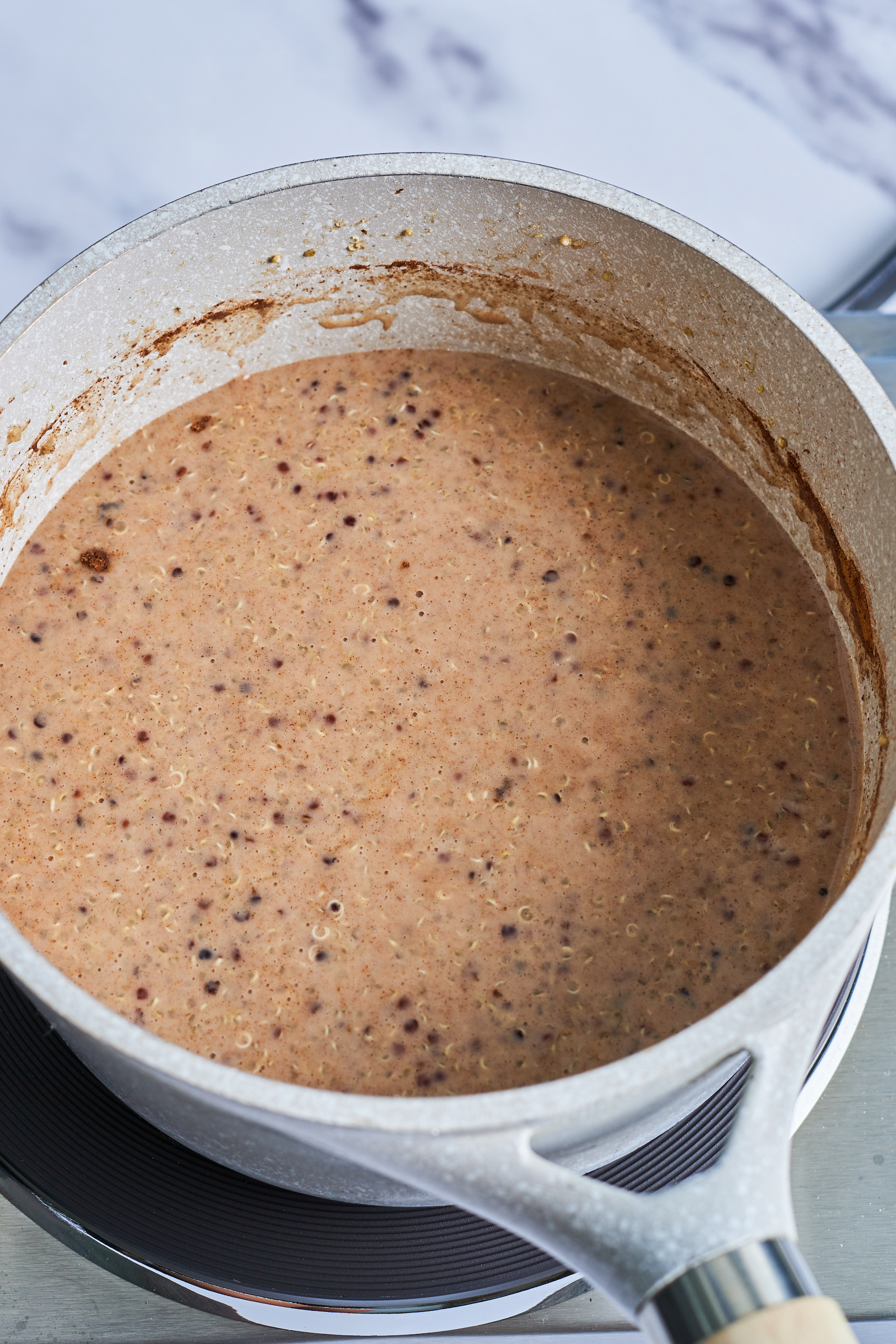 How to Make Quinoa Porridge
So at this point, I hope I've convinced you to give this quinoa porridge recipe a try. Not only is the list of ingredients pretty minimal, but so are the instructions! All you have to do to make this quinoa porridge is:
Boil your quinoa in water
Reduce the heat to a simmer, cover and cook for 15 minutes
Add in your coconut milk, non-dairy milk, your sweetener, cinnamon, vanilla and a pinch of salt
Cook until most of the milk has been absorbed. You're looking for a pourable consistency that is still thick and creamy.
That's it! You can continue to add more milk until your quinoa porridge has reached a consistency you're happy with.
Quinoa porridge will hold up a bit better than oats, so this is the perfect vegan breakfast bowl recipe to make at the beginning of the week so you can stash the leftovers in the fridge for easy breakfasts all week long.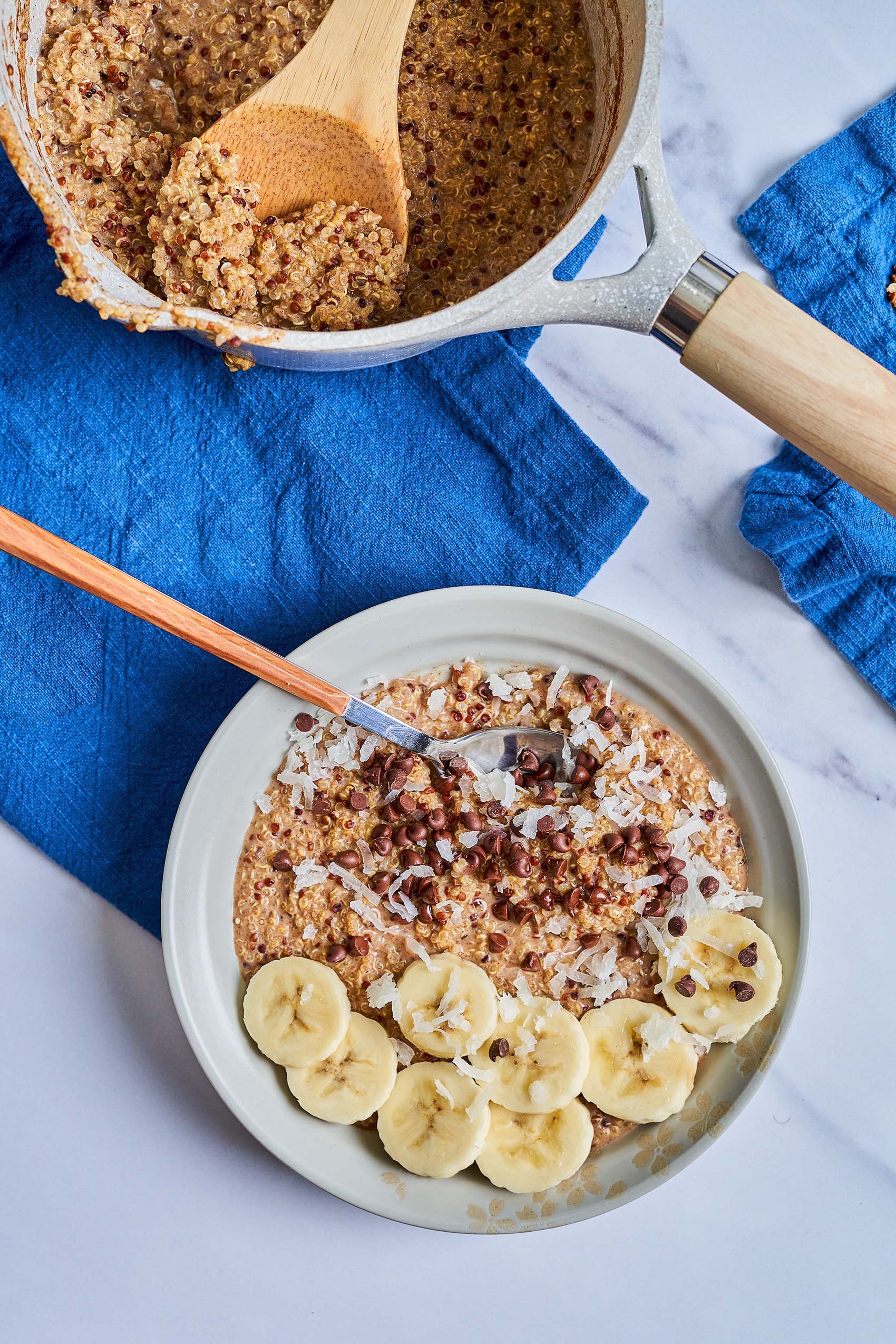 Topping Ideas for a Delicious Quinoa Breakfast Bowl
This quinoa porridge recipe is the foundation for your vegan breakfast bowl, and there are so many ways to play with the flavors so you can mix it up anytime you're feeling bored. To build your own vegan breakfast bowl, I recommend adding something from each of these categories:
Fruity. Not only does fruit amp up the nutrition, but it also adds flavor! Berries, bananas, apples, pears, peaches, mango and apricots would all be delicious on top.
Creamy. Add a drizzle of something creamy to the top to make your quinoa breakfast bowl tastes like dessert! Extra non-dairy milk, coconut cream, nut butter or melted chocolate are all delicious choices.
Crunchy. Granola, coconut flakes, chocolate chips, nuts and seeds are all great things to add on top for a bit of a crunch.
If you needs some inspiration for how to put these toppings ideas together, here are some options for how to build a delicious quinoa breakfast bowl!
Almond Joy. Pictured in this post! Bananas pair with a swirl of almond butter, coconut and chocolate chips for a delicious bowl of quinoa porridge.
Tropical. Add mango, coconut cream, coconut flakes and hemp seeds for a quinoa breakfast bowl that tastes like sunshine.
Apple pie. You could slice up fresh apples, or if you're feeling fancy, sautee them with some cinnamon first and then toss them on top of your quinoa along with an extra splash of milk, a drizzle of nut butter and your favorite granola.
Peaches and cream. Fresh peaches, coconut cream and coconut flakes pair well to make the perfectly sweet breakfast bowl.
Poached pear. Swap your cinnamon for cardamom, cook up some pears with a drizzle of maple and add them on top of your quinoa porridge along with crushed almonds for a decadent breakfast bowl.

How to Eat More Whole Grains
Society has spent a lot of energy telling us to steer clear of carbs, but I'm here to tell you that there's nothing to fear! Whole grains = complex carbs for energy + antioxidants + fiber + plant protein + a whole lotta other good stuff. The science is clear – whole grains reduce your risk for heart disease, stroke, cancer, and diabetes. Here's to whole grains👏🏼
We're talking about quinoa today, so you might be wondering, "wait, is quinoa a whole grain?" While botanically it is technically a seed, it is classified as a whole grain food.
You probably have plenty of ideas for how to cook with brown rice, oats and quinoa (especially now that have this quinoa breakfast bowl recipe!), but how else can you get in a variety of whole grains? Here's a list of whole grains to try and recipes for inspiration on how to work with them!
Branch out and try a different whole grain! If you've never tried quinoa, I promise that this Breakfast Quinoa Bowl is a great place to start!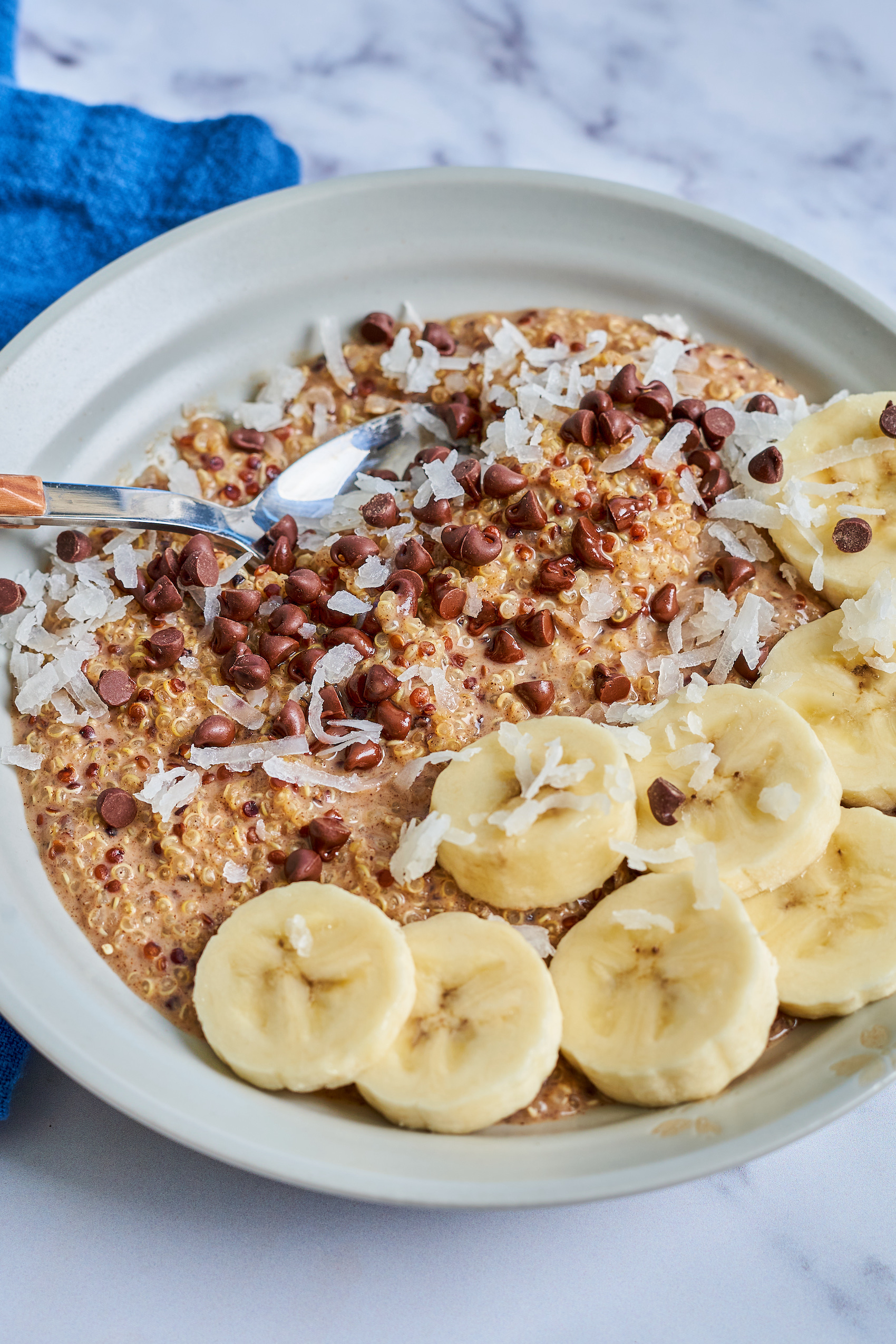 More Quinoa Breakfast Recipes
Quinoa can be used in both sweet and savory breakfasts! Get creative with your morning vegan breakfast bowl and try some of these other quinoa breakfast recipes!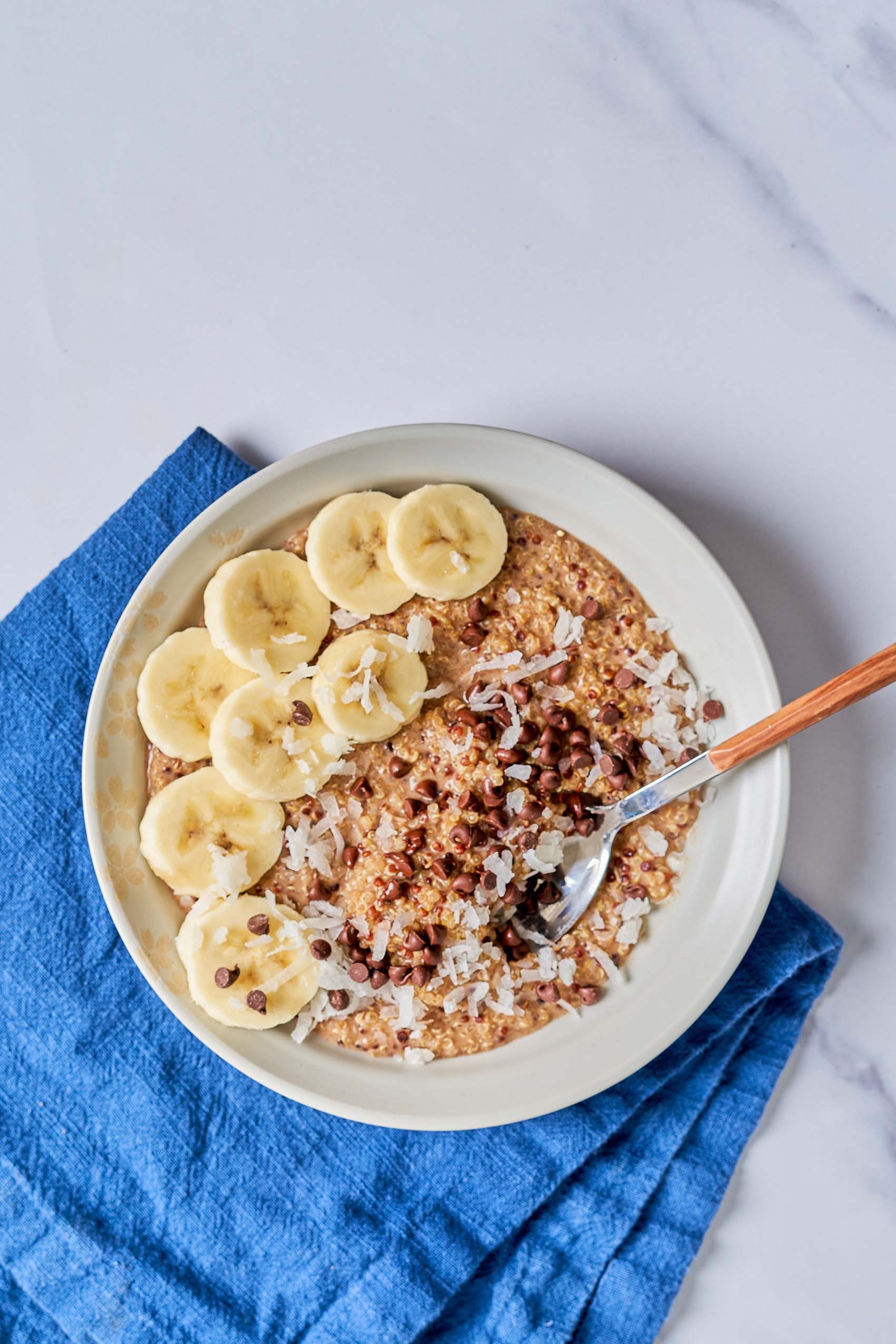 Print
How to make:
Quinoa Breakfast Bowl
Switch it up from your daily oats and make this Quinoa Breakfast Bowl instead! This quinoa porridge is creamy, satisfying and energizing!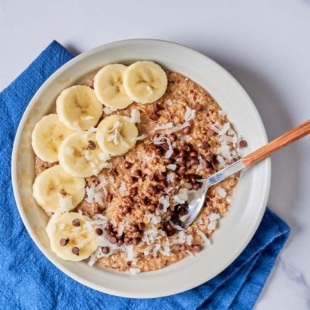 Ingredients
3/4 cup

dry quinoa

1 1/2 cups

water

3/4 cup

canned coconut milk

1/2 cup

non-dairy milk, plus more for topping

1

date, chopped, or 1 tablespoon maple syrup (optional)

2 teaspoons

ground cinnamon

2 teaspoons

vanilla extract
Pinch of salt
Whatever toppings you want! (banana, blueberries, peanut butter, coconut flakes, walnuts, chia seeds, chocolate chips)
Instructions
In a medium saucepan, add quinoa and water. Bring to a boil; reduce heat to low, cover, and cook for 13-15 minutes, until the quinoa is fluffy.
Keep the heat on low. Add coconut milk, non-dairy milk, sweetener, cinnamon, vanilla, and salt. Stir to combine. Cook until the quinoa has absorbed most of the milk, but it is still pourable. Add more non-dairy milk, if needed.
Pour some into a bowl and top with more non-dairy milk plus any toppings you want – fruit, nuts, nut butter…the possibilities are endless!
Notes
You can make a batch of this and divide it equally between 3-4 jars or containers to have for easy breakfasts!