Want to change up your morning bowl of oats! Make this Breakfast Quinoa Bowl instead! It's creamy, satisfying, and perfect with any toppings you want. Vegan!
Did you run away quickly yet?? Are you so weirded out that I'm having quinoa for breakfast that you never want to come to my blog again?!? I sure hope not. Let me explain this craziness before you get too freaked out.
Who made oats the king queen of breakfast? I mean, really, if someone years and years ago had decided that barley or buckwheat or even quinoa (gasp!) was the perfect breakfast staple, then we'd all have that particular grain in our pantries instead of oats. Isn't it funny to think about how different things could be if one person had made a different decision? Maybe we'd have purple, orange, and blue stoplights if someone else had decided on the colors. (note: I literally Googled "why are green lights green" and continued to read about the origins of stoplight colors. LOL)
Anyway, I don't know how or why oats were chosen as THE breakfast grain – maybe they're cheap to produce? – but it meant that most other grains were banished until lunch and dinner. UNTIL NOW.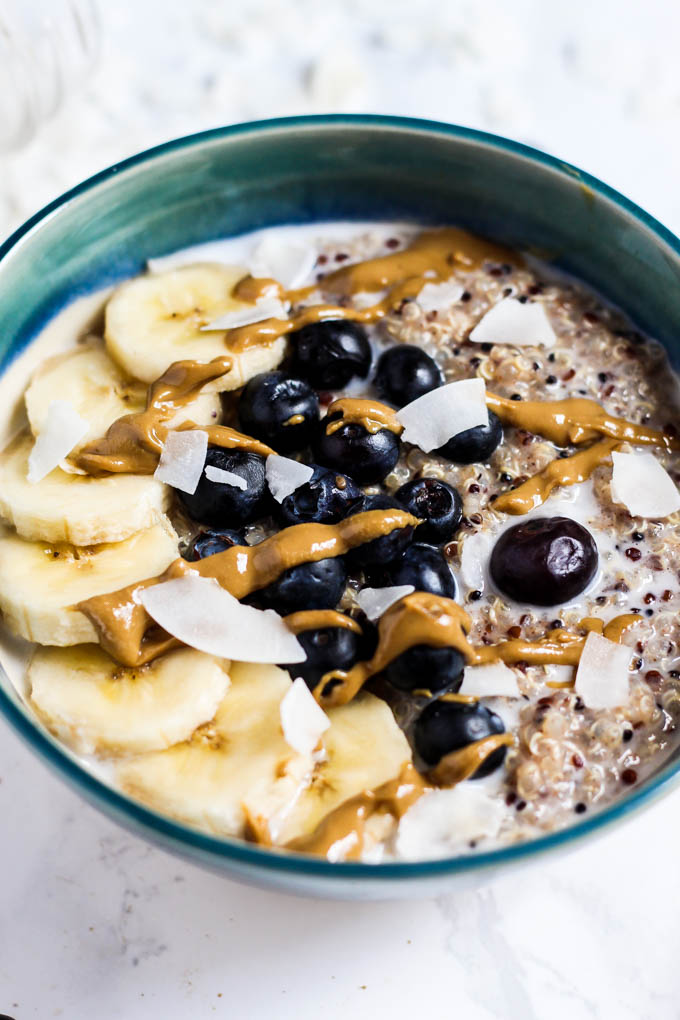 Times are a-changin' folks. You can use oatmeal in savory recipes (like this savory oatmeal with tempeh bacon) and you can use a plethora of other grains in your on-the-sweet-side breakfast bowl. The possibilities are endless! Think buckwheat bowls, rice bowls (breakfast rice pudding, anyone), and quinoa bowls.
Speaking of savory breakfasts (which I've been totally into lately), I'm working on a lentil grits breakfast bowl that's literally good for any meal, so keep an eye out for that!👀
But today we're going with the sweet stuff. Fluffy quinoa lathered in luscious coconut milk, dashed with cinnamon, and garnished with sweet, juicy fruit. <–okay that was so dramatic, I'll stop now😂 The important thing is, this shiz is delicious. The end.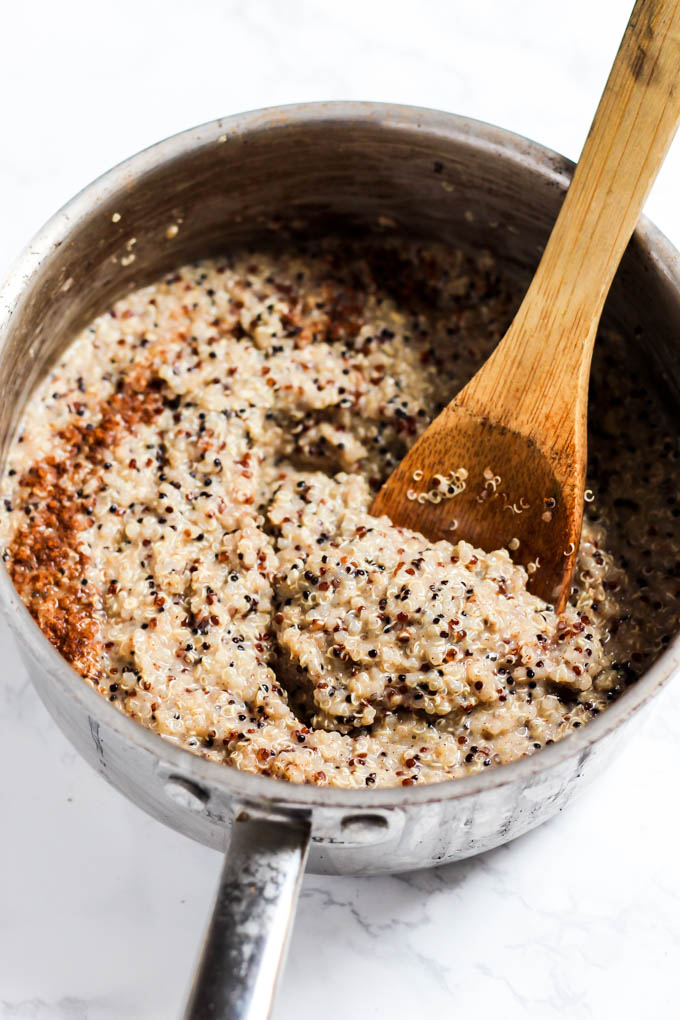 How do you feel about grains? Good? Love 'em?? I sure hope so. Ain't no reason to fear the whole grains! Whole grains = complex carbs for energy + antioxidants + fiber + plant protein + a whole lotta other good stuff. The science is clear – whole grains reduce your risk for heart disease, stroke, cancer, and diabetes. Lettuce rejoice for the humble grains👏🏼
So, you're probably familiar with brown rice and quinoa and oats, but how else can you get in some healthy whole grains?
Branch out and try a different whole grain! If you've never tried quinoa, I promise that this Breakfast Quinoa Bowl is a great place to start!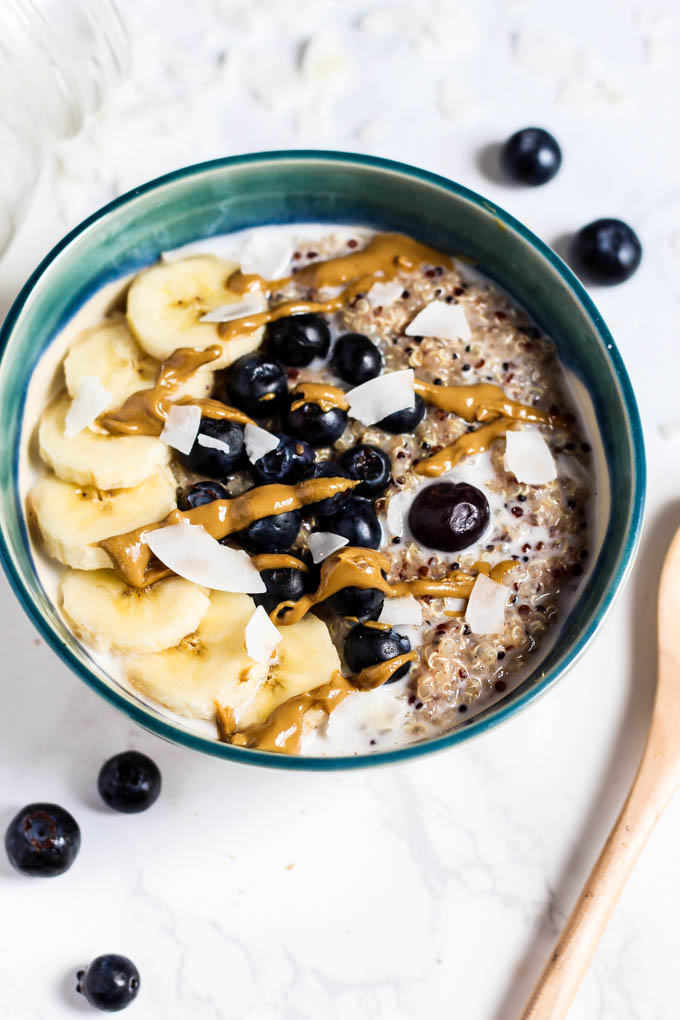 Are you intimidated by quinoa in a breakfast bowl? Don't be! I hope I calmed some of your fears enough for you to try this out. It's a perfect recipe for making at the beginning of the week and dividing it evenly among jars for easy breakfasts. Which I need in this nonstop crazy summer school/work/internship life right now.
Happy weekend, lovely people – hope it's filled with some whole grains. 😉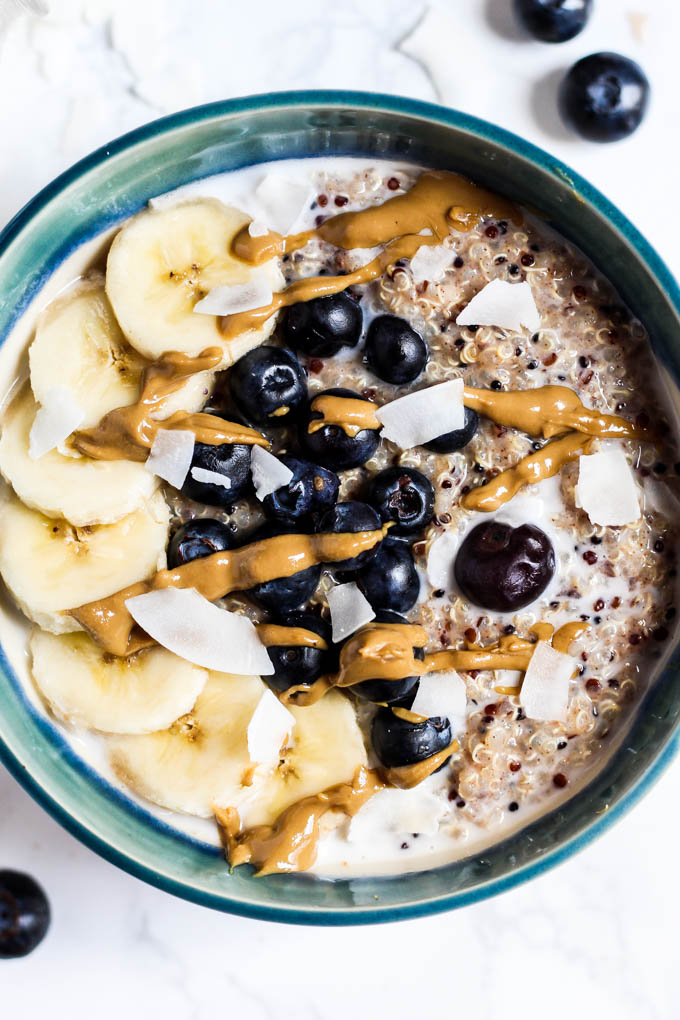 Print
How to make:
Breakfast Quinoa Bowl (vegan & gluten-free)
Want to change up your morning bowl of oats! Make this Breakfast Quinoa Bowl instead! It's creamy, satisfying, and perfect with any toppings you want. Vegan!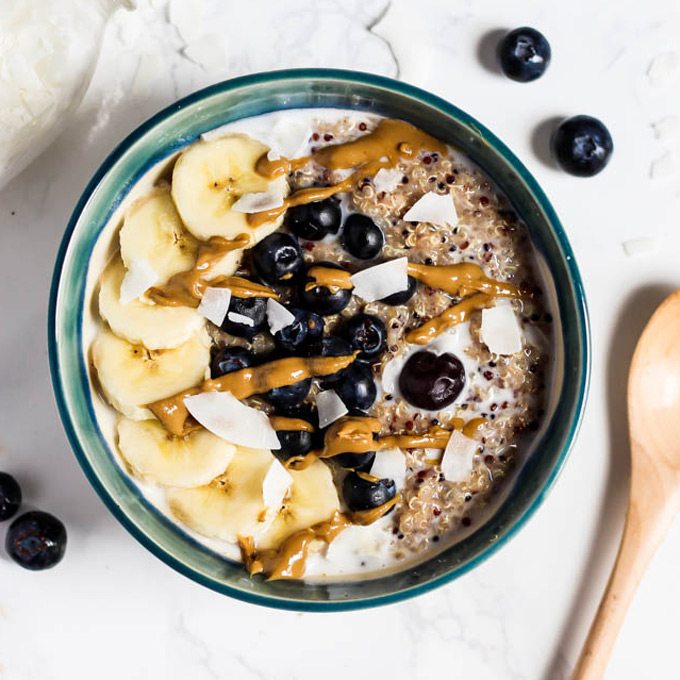 Ingredients
3/4 cup

dry quinoa

1 1/2 cups

water

3/4 cup

canned coconut milk

1/2 cup

non-dairy milk, plus more for topping

1

date, chopped, or 1 tablespoon maple syrup (optional)

2 teaspoons

ground cinnamon

2 teaspoons

vanilla extract
Pinch of salt
Whatever toppings you want! (banana, blueberries, peanut butter, coconut flakes, walnuts, chia seeds, chocolate chips)
Instructions
In a medium saucepan, add quinoa and water. Bring to a boil; reduce heat to low, cover, and cook for 13-15 minutes, until the quinoa is fluffy.
Keep the heat on low. Add coconut milk, non-dairy milk, sweetener, cinnamon, vanilla, and salt. Stir to combine. Cook until the quinoa has absorbed most of the milk, but it is still pourable. Add more non-dairy milk, if needed.
Pour some into a bowl and top with more non-dairy milk plus any toppings you want – fruit, nuts, nut butter…the possibilities are endless!
Notes
You can make a batch of this and divide it equally between 3-4 jars or containers to have for easy breakfasts!