A perfect summer dessert, these No Bake Lemon Blueberry Cheesecake Bars are refreshing & full of fruity flavor! They're vegan, gluten-free & easy to make with just a handful of ingredients, including Silk's Dairy-Free Yogurt Alternative! Thank you Silk for teaming up with me for this yummy recipe. 💜
Happy Thursday, friends! That's right – we've almost made it to the end of the week. Cheers to the weekend!🎉
If you're reading this Thursday morning, then I'm currently en route to Gulf Shores, AL, for a weekend beach trip for Hangout Music Festival! Oh, and somehow I was able to get a press pass for being a blogger so… no big deal.
There's nothing I want more right now than to be soaking up the sun on a beach with good friends around me, a watermelon lime margarita in hand (let me know if you want the recipe!), and live music playing in the background. It honestly doesn't get better than that.
Well, I guess it could, if these lemon blueberry cheesecake bars magically transported themselves to the beach with me. Without melting. BLISS.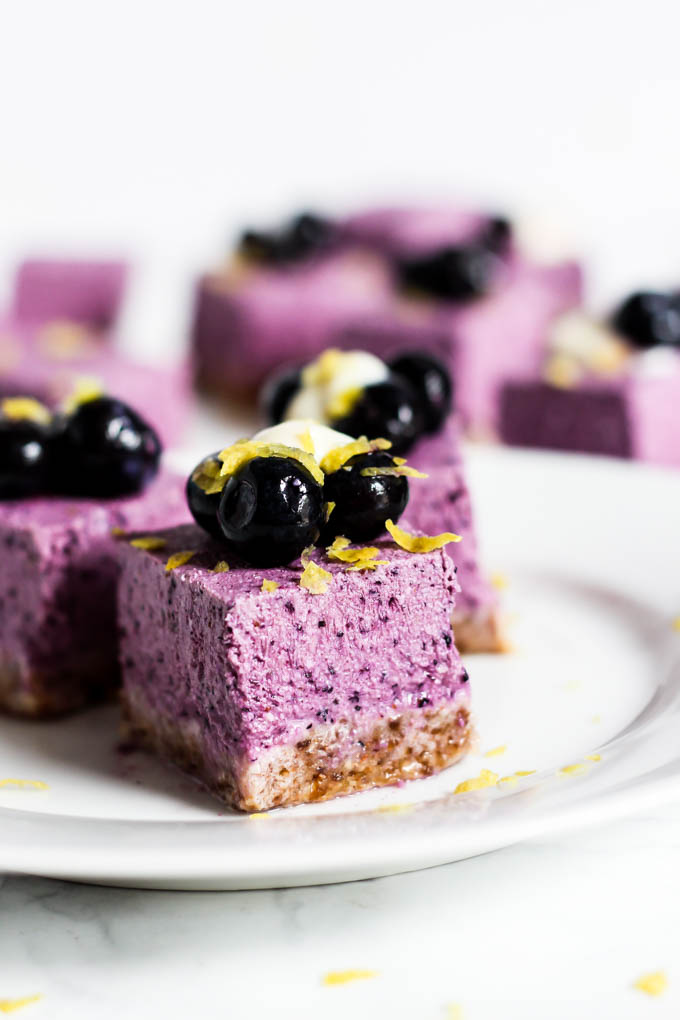 I'll keep it short & sweet today since I desperately need to pack. But for reals, what else do you need for the beach besides a swimsuit and some sunscreen? Anyway, let's get on with the cheesecake party.
Again you all came through on my Instagram stories when I asked if you'd rather see chocolate cheesecake bars or blueberry cheesecake bars. You guys really are the definition of FAM. ✊🏼
If you couldn't already guess from the recipe today, most of you said blueberry, which was actually pretty surprising. I thought people were really gung-ho about chocolate everything, but I guess it's the warmer weather that has us craving all the fruity, refreshing things. No complaints here!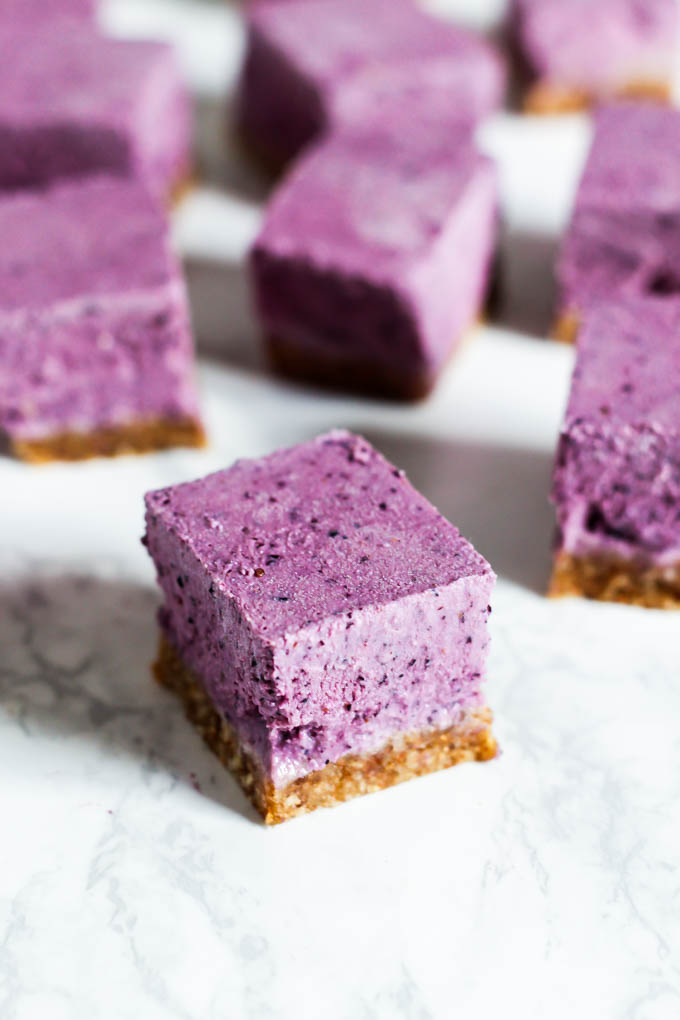 A couple of you suggested to take it a step further and go with lemon blueberry – seriously GENIUS. I love that flavor combo but rarely get to try it out in recipes. That shall be changing this season.
These no bake (!!!) lemon blueberry cheesecake bars have a surprisingly short ingredient list and only require a food processor. Aren't those the best recipes?
One of the ingredients we're using today 👉🏼 Silk's Plain Soy Dairy-Free Yogurt Alternative! Which totally has my heart right now for breakfast with a crumbled chocolate muffin and blueberries. 💙 (do it!)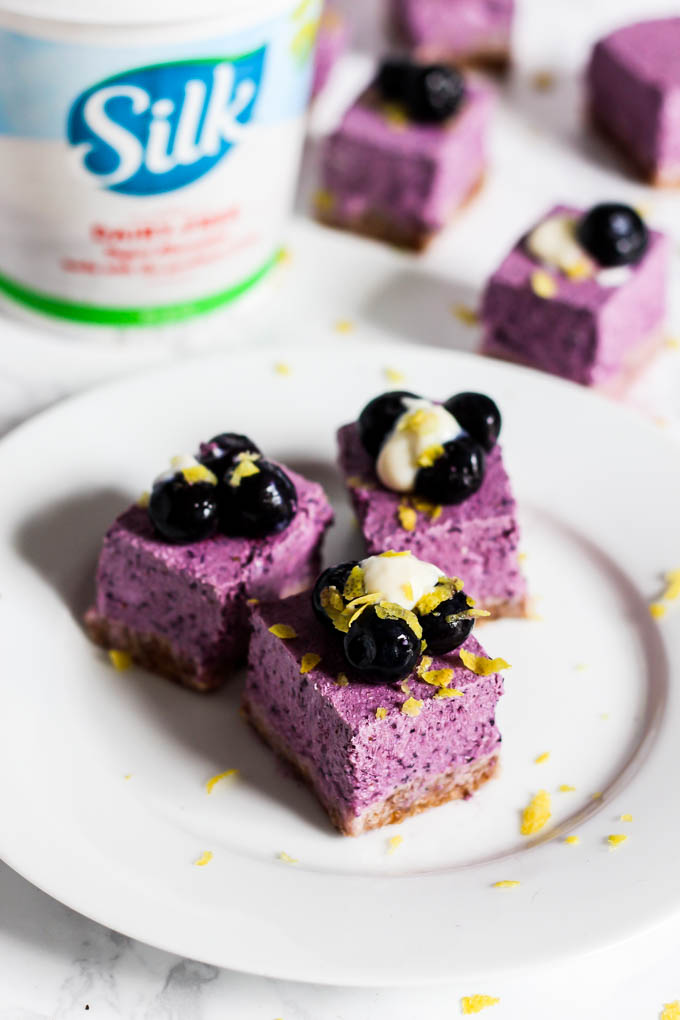 Silk's dairy-free yogurt is slightly sweetened, but it's neutral enough to work in a variety of different recipes. I found that in this one, the blueberries and the yogurt in the filling plus the dates in the crust provided enough sweetness that I didn't need to add more sugar to the filling. It's just sweet enough, but the lemon blueberry flavor combo really shines through!🌟
I went with Silk's soy yogurt because it comes in big tubs (see: more yogurt bowls for breakfast), but you can also use their newest Dairy-Free Almond Yogurts! I'd use their Plain Almond for this recipe. Both are super duper creamy – you'd never know they're dairy-free. YOU WIN, Silk.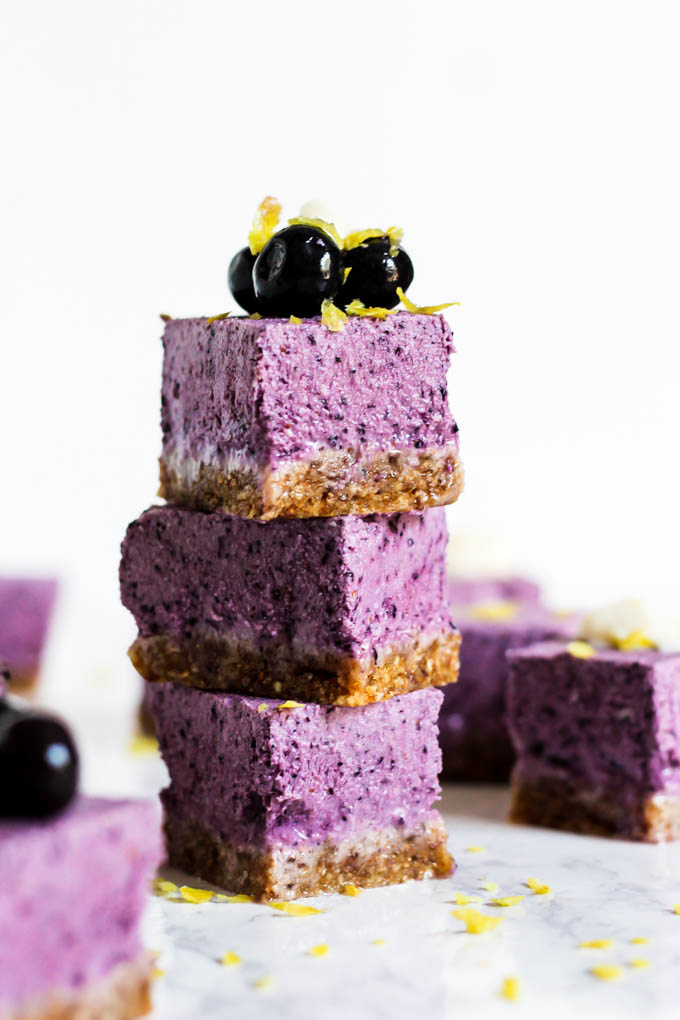 A tip for serving: let these sit at room temperature for about 5-10 minutes to let them thaw out a bit. Then grab a fork, dig in, and share these lemon blueberry cheesecake bars with everyone you know. They'll thank you later.
Happy no-baking!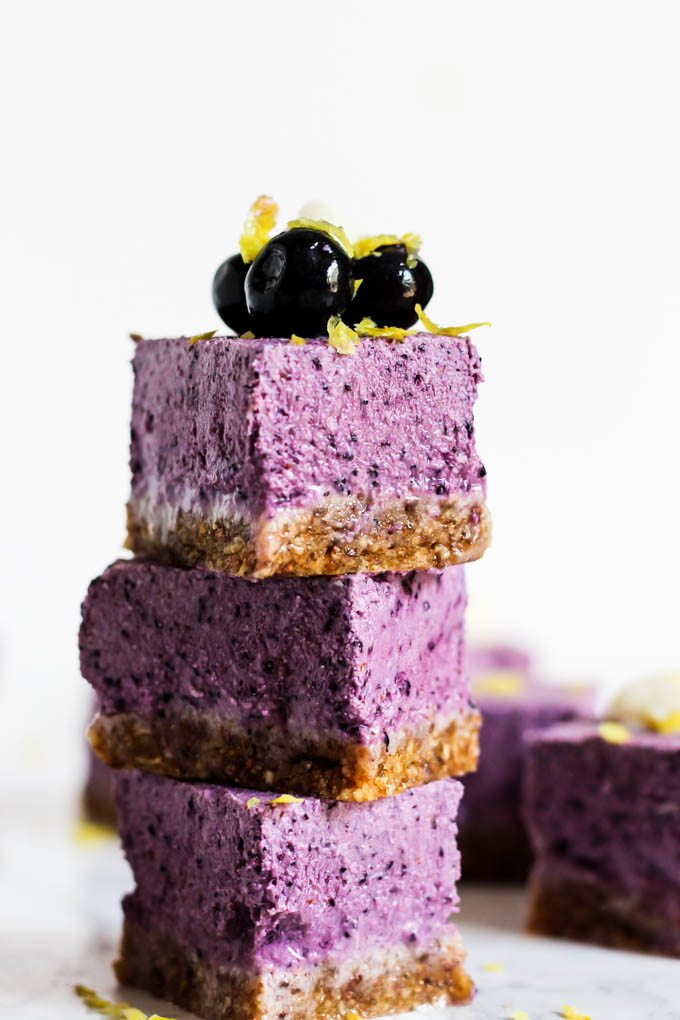 Print
How to make:
No Bake Lemon Blueberry Cheesecake Bars (vegan & gluten-free)
A perfect summer dessert, these No Bake Lemon Blueberry Cheesecake Bars are refreshing & full of fruity flavor! They're vegan, gluten-free & easy to make.
Ingredients
1 cup

almonds*

1 cup

pitted dates

2 cups

frozen blueberries, plus more for garnish

1 1/2 cups

raw cashews, soaked overnight & drained

3/4 cup

Silk Plain Soy Dairy-Free Yogurt Alternative

1/4 cup

+

2 tablespoons

lemon juice

1 1/2 teaspoons

vanilla extract

1/8 teaspoon

salt
Lemon zest, for garnish
Instructions
Line a 9×9 baking pan with foil or parchment paper. You can also use a springform pan (don't line if using this).
In a food processor or high-powered blender, add almonds, dates, and a pinch of salt. Blend until a soft dough forms, adding 1-2 tablespoons of water if needed.
Press the dough into the bottom of the pan until it forms an even layer. Place in the fridge.
In the same food processor, add blueberries, drained cashews, yogurt, lemon juice, vanilla, and salt. Blend until completely smooth.
Pour over the crust. Place in the freezer for at least 4 hours, preferably overnight.
When ready to serve, remove from the freezer and let sit for 5 minutes. Cut into 20-25 bars.
Top with blueberries and lemon zest. Keep in freezer when not serving.
Notes
*You can also use pecans or walnuts instead of almonds.
**I found that the bars were sweet enough with just the blueberries and yogurt. For a sweeter recipe, add 2-4 tablespoons of maple syrup or preferred sweetener to your filling when blending.
This is a sponsored conversation written by me on behalf of Silk. The opinions and text are all mine.