TBH I've never really been a fan of barbecue. I know: a girl from the very meat-eating, tailgating South who doesn't love good 'ole BBQ. Shocker.
If only I had some healthy homemade barbecue sauce without all the gunk (I see you, high fructose corn syrup)…I could definitely get on board the BBQ train.
Oh wait I made some!!!!!!!!!
There's a little mason jar of this red gold sitting pretty in my fridge right next to Gimme Some Oven's Chimichurri Sauce; I've been putting both of these on everything. And by everything, I mean everything. Chickpeas, tempeh, salad, burgers, sweet potatoes…pancakes?
I kid.
But seriously, this stuff is versatile, full of flavor, and super easy to whip up. You probably have most of the ingredients in your pantry, and tomato paste is less than $1 a can. Cheap AND easy should basically be my middle names (can you have two?).
Make sure that when you let it simmer on the stove that you USE THE LID because if not, you will be left with a delicious barbecue-flavored stovetop. I know it may be tempting to lick it clean but please refrain yourself. Just use the lid✔️
This sauce is good on pretty much anything; you can even dip fries in it! But it's especially delicious drowning some black bean quinoa burgers. Dreaming about veggie burgers right now, actually.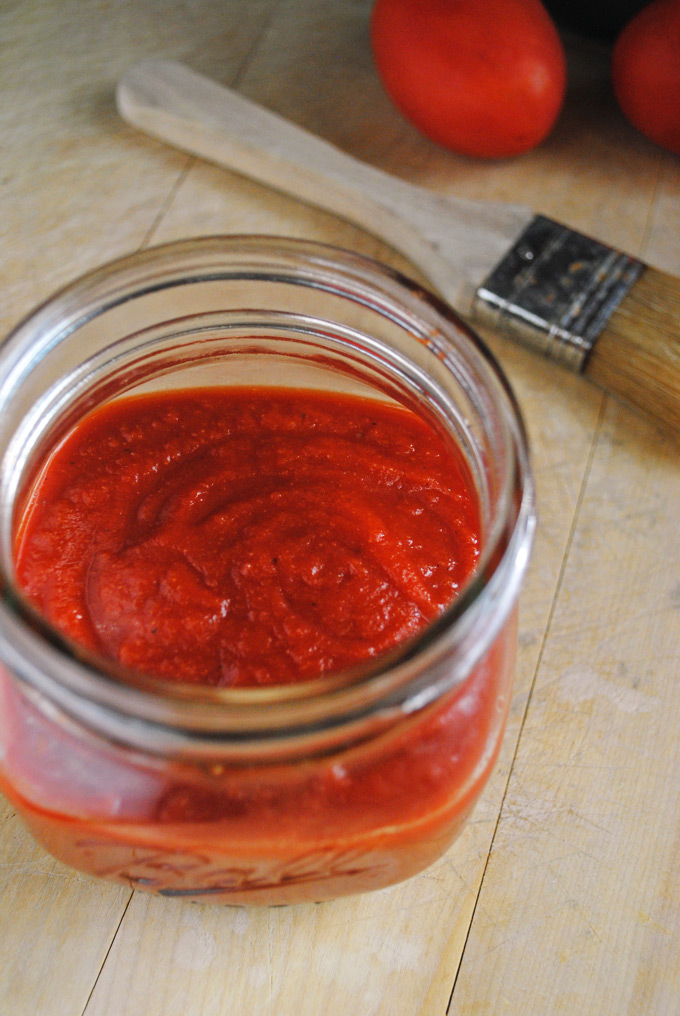 I hope you enjoy this healthy barbecue sauce to top literally all the things. All of them.
Let me know in the comments if you try this!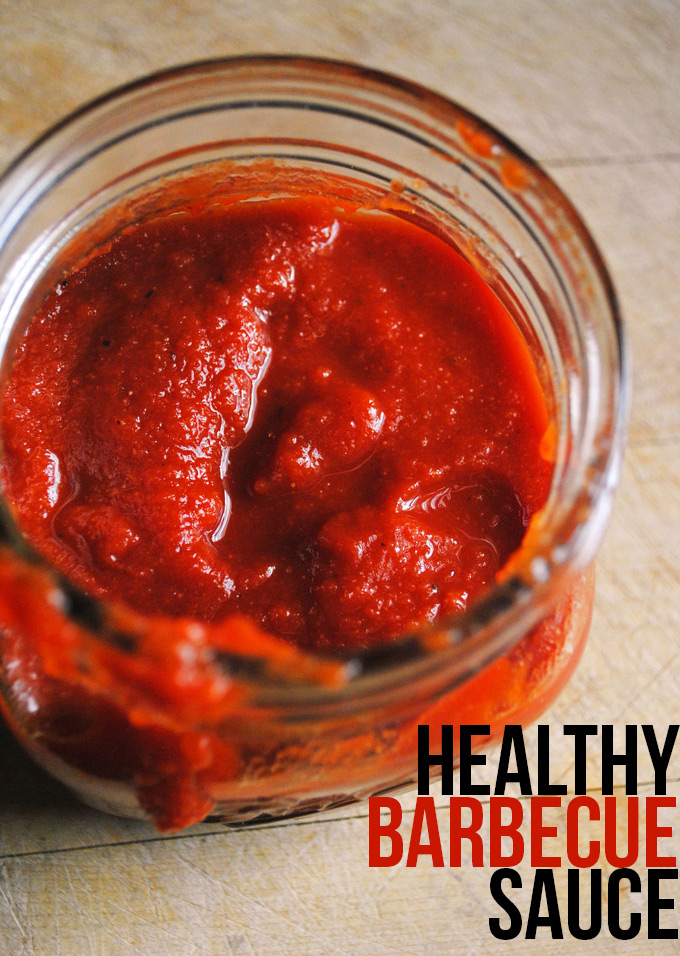 Print
How to make:
Healthy Barbecue Sauce (vegan)
This healthy barbecue sauce has all the traditional tangy, slightly smoky flavors of the bottled stuff without weird ingredients or high fructose corn syrup!
Ingredients
1

6-ounce can tomato paste, preferably organic

1 cup

water

3 tablespoons

apple cider vinegar

2 tablespoons

maple syrup

2 tablespoons

applesauce

1 1/2 teaspoons

garlic powder

1 1/2 teaspoons

onion powder

1 teaspoon

mustard

1 teaspoon

salt

1/2 teaspoon

black pepper

1/2 teaspoon

paprika
Dash of ground cayenne
Instructions
In a small saucepan over medium-high heat, place all ingredients. Whisk to combine. When it begins to bubble, cover (this is important).
Turn the heat down to low and let the sauce simmer for 10-15 minutes, stirring once or twice. Add more water if the sauce gets too thick.
Store in a glass jar or airtight container in the fridge. Serve on top of burgers and sandwiches or as a dip for fries.