September = holding on to all things summer. Like these perfect veggie burgers.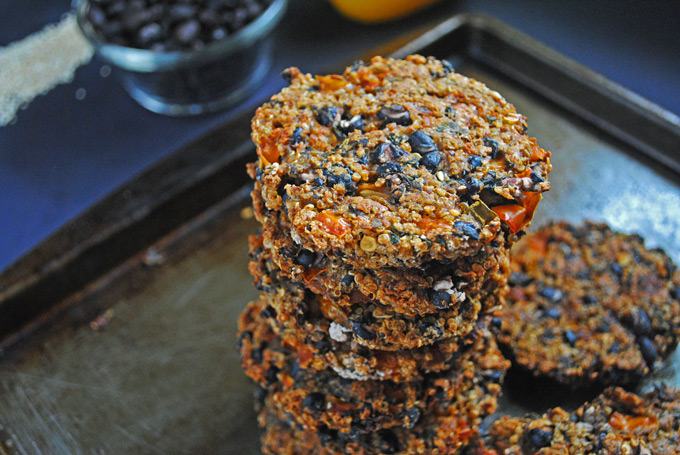 Truth is, I'm actually excited to get into fall, especially since summer temperatures here in Louisiana have gotten into the 100s. Crazy stuff. The sad part is that here we usually have two seasons: blistering hot summer and a few weeks of arctic winter. But sometimes we're wearing shorts and t-shirts on Christmas Day, so you never really know. It's a guessing game down here.
Even though our fall season isn't exactly as picturesque as in other parts of the country (Charleston, SC *sigh*), I still get a little giddy. The leaves are changing, the temperatures are getting (slightly) more bearable, pumpkin is taking over, and the approaching holiday season makes everyone feel magical.
But if you're desperately still holding on to hot summer days and cookouts, I got you covered.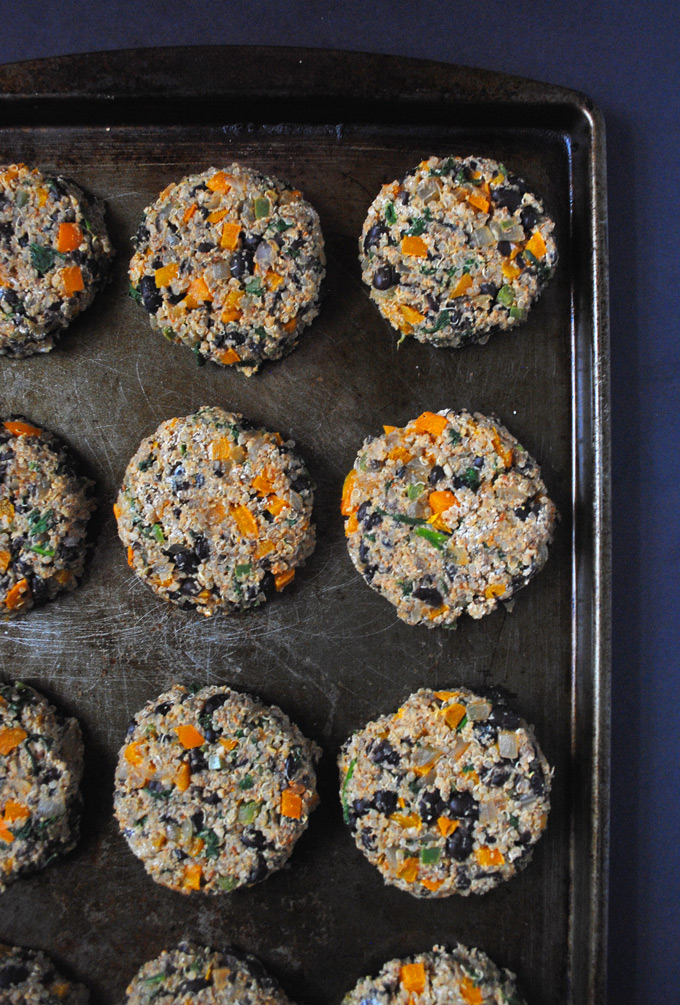 These veggie burgers are perfect for all your end-of-summer parties. Heck, I'll be making them all year long, but they're especially delicious sitting by the pool, enjoying the sun with your family and friends.
Okay, I know I just said I was ready for fall, but now I'm missing summer dayz. Maybe I'll make some of these burgers and pretend I'm lounging outside with no exams or papers due.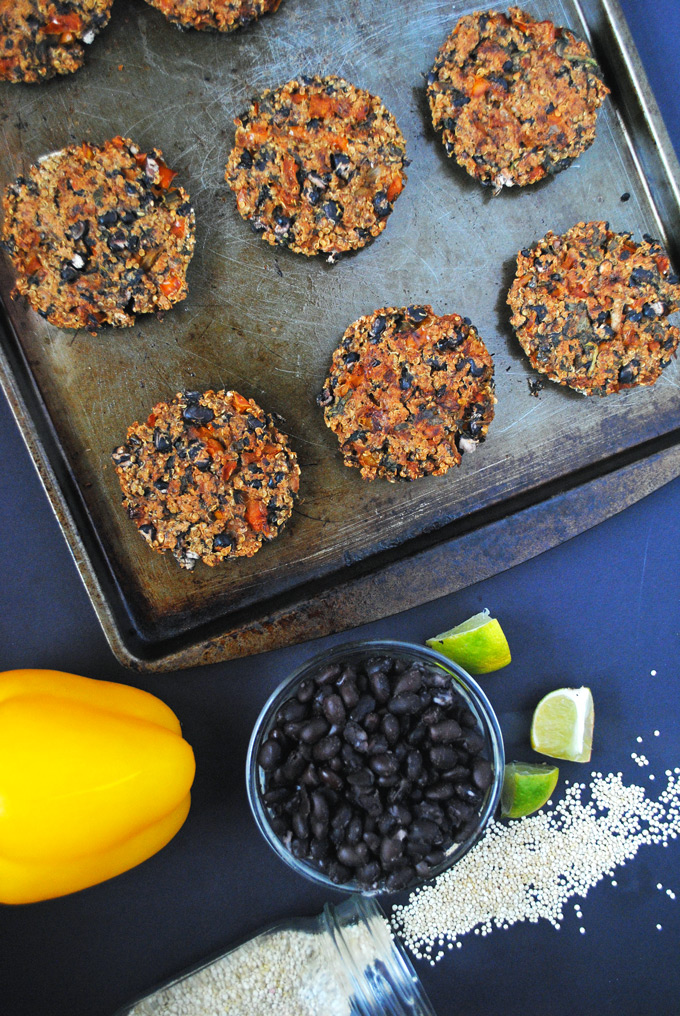 If you eat vegan, or have ever thought about eating more plant-based, I'm sure you've worried about protein at some point. Don't worry, though! Black beans and quinoa make these easy burgers full of the stuff. Did you know quinoa is a complete protein, which means it has all nine essential amino acids? AND it's tasty, too. All the fresh veggies make these veggie burgers even more nutritious, and the spices make them super savory and downright irresistible.
These are also gluten-free with the use of oat flour (my love) instead of breadcrumbs, which means these burgers can be served to virtually anyone!
The hands-on cook time is fairly minimal: cook the quinoa, sauté the vegetables (optional, but really brings out the flavors), mash everything together, and bake. I love to make these to have for easy dinners and lunches. They also freeze and reheat beautifully!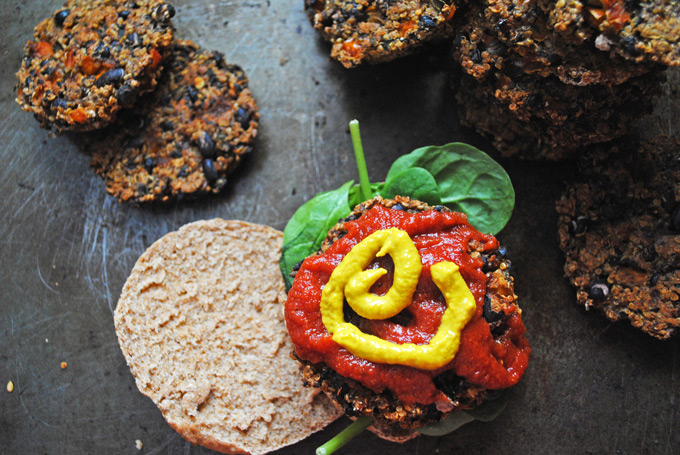 I topped mine with homemade barbecue sauce (coming soon!), mustard, avocado (A MUST), and spinach, but any veggies you have would be delicious! I also used homemade, 100% whole-wheat hamburger buns, which I'm currently working on so keep a look out for those. These burgers are also great on their own or crumbled on top of a salad!
If you try these black bean quinoa veggie burgers, let me know in the comments!
Are you looking forward to fall or are you already missing summer?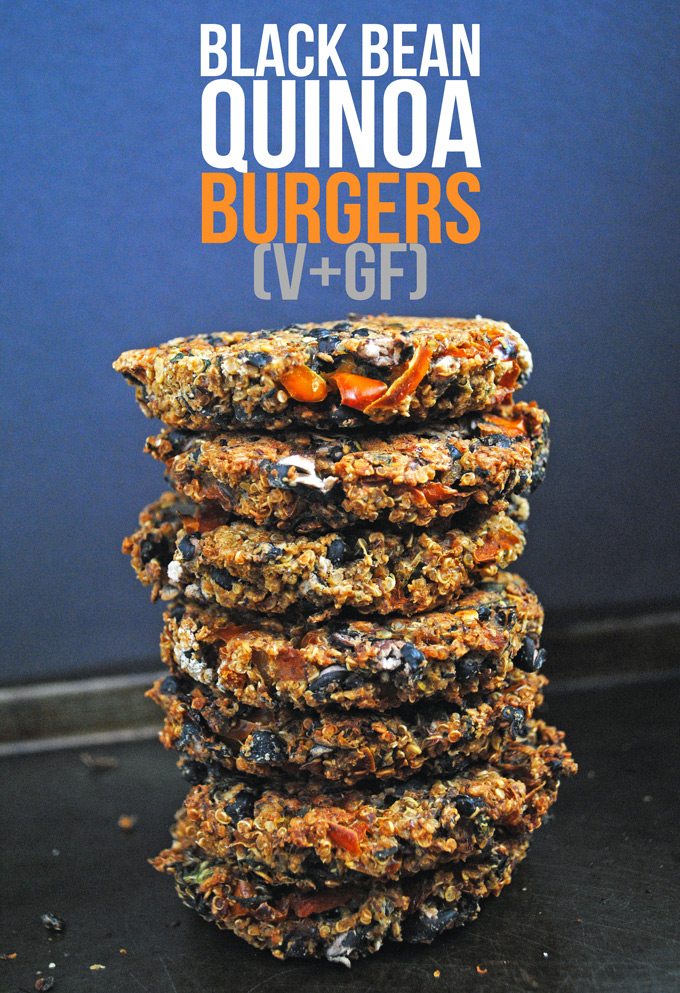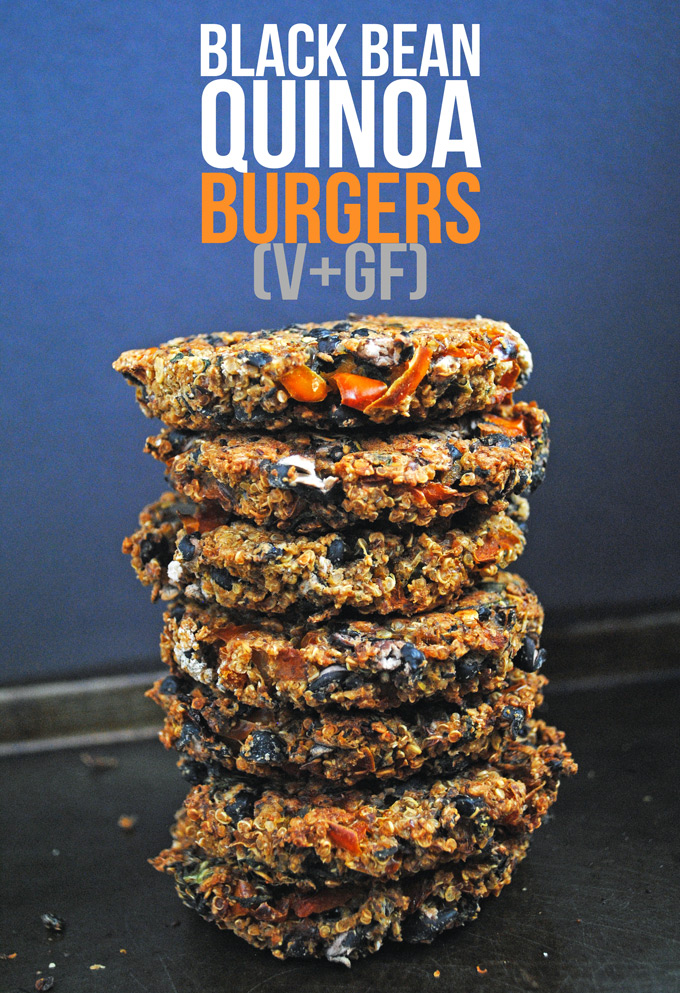 Print
How to make:
Black Bean Quinoa Burgers (vegan + gluten-free)
Ingredients
2 tablespoon

s flax meal +

5 tablespoon

s water
Coconut or olive oil for cooking

1/2 cup

uncooked quinoa

1

small yellow onion, finely chopped

1

orange bell pepper, finely chopped

1

jalapeno pepper, seeds removed, finely chopped

1 tablespoon

garlic, minced

1 cup

packed spinach, chopped

1 1/2 cup

s cooked black beans, drained, or

1

can black beans, rinsed and drained

1 teaspoon

salt

1 teaspoon

paprika

1/2 teaspoon

cumin

1/2 teaspoon

pepper

1/8 teaspoon

ground cayenne

1/2 cup

oat flour (ground-up rolled oats)
Instructions
Preheat oven to 375F. Lightly grease a baking sheet. Combine flax meal and water in a small bowl; set aside in the fridge.
To cook quinoa, heat 1 teaspoon of oil in a small saucepan over medium heat. Rinse quinoa in a small mesh strainer. Once oil is hot, add quinoa to the saucepan and stir. Cook for 1-2 minutes until lightly toasted. Add 1 cup water; turn the heat to high. Once boiling, reduce heat to low, cover, and simmer for 13-15 minutes.
*Meanwhile, heat 1 tablespoon of oil in a skillet over medium heat. Once hot, add chopped onion; let it cook for a few minutes, stirring often. Add bell pepper, jalapeño, and garlic; cook until the onion is translucent, about 2 minutes. Add the spinach and stir immediately, letting it wilt slightly. Turn the heat off.
In a large bowl, add black beans; mash with a fork, leaving some texture. Add cooked quinoa, sautéed vegetables, salt, paprika, cumin, pepper, cayenne, and reserved flax eggs. Mix until combined, then add oat flour. Stir.
Form 10-12 patties depending on desired size (see notes for a cool little trick!). Place on baking sheet; bake for 20 minutes, flip, then bake for 25-30 more minutes, until browned and crispy.
Serve on a whole-wheat hamburger bun with guacamole, barbecue sauce, and other desired toppings, or on top of a salad.
Notes
Notes:
You don't have to sauté the vegetables, but I think it really brings out the flavors better. If not sautéing, simply mash them directly in the bowl with the black beans and other ingredients.
To get evenly shaped burgers, line the lid of a jar (I use a peanut butter jar lid) with wax paper or foil. Stuff the lid with the burger mixture, then flip it over onto the baking sheet and remove the wax paper.
Storage:
Store in an airtight container or bag for up to 1 week. You can also freeze and reheat these.