These baked Quinoa Veggie Black Bean Burgers are vegan & gluten-free, filled with plant protein, and perfect for meal prep!
Quinoa veggie black bean burgers got a facelift!
If you've been a long time Emilie Eats reader, you know these burgers. I originally posted the recipe on September 18, 2015 – just a couple weeks after I launched Emilie Eats. Since then, literally hundreds of you have commented on the recipe or sent me pictures of your black bean burgers, raving about how they're the best veggie burgers you've ever had:
"We eat veggie burgers a lot at my house but they always turn out somewhat mushy. I made this recipe because a friend was coming over who is vegan and has a gluten intolerance. They were the best veggie burgers we have ever had!" – Sarah
"I am new to a plant-based diet (about 2 weeks in). We tried these tonight and they were the best thing I have made so far. They have great flavor and texture. My 14 year old daughter also loved them and even my meat-loving husband came back for seconds. Thank you for a great recipe! We will definitely be making these again." – Kelly
"This was my first time making a veggie burger. I've been looking for something that wasn't trying to be meat, but was also appetizing. Thanks for this recipe. It was perfect!" – Satya
"I tried this recipe, turned out perfect, best veggie burger I ever tried. I made it little more spicy adding extra chili, cumin and cloves, doubled the recipe, and made extra large patties – had 14 burgers. This recipe will be in my favorite foods, turned out juicy and delicious." – Ashok
Certainly these black bean burgers are the BEST VEGGIE BURGERS you'll ever make. Period.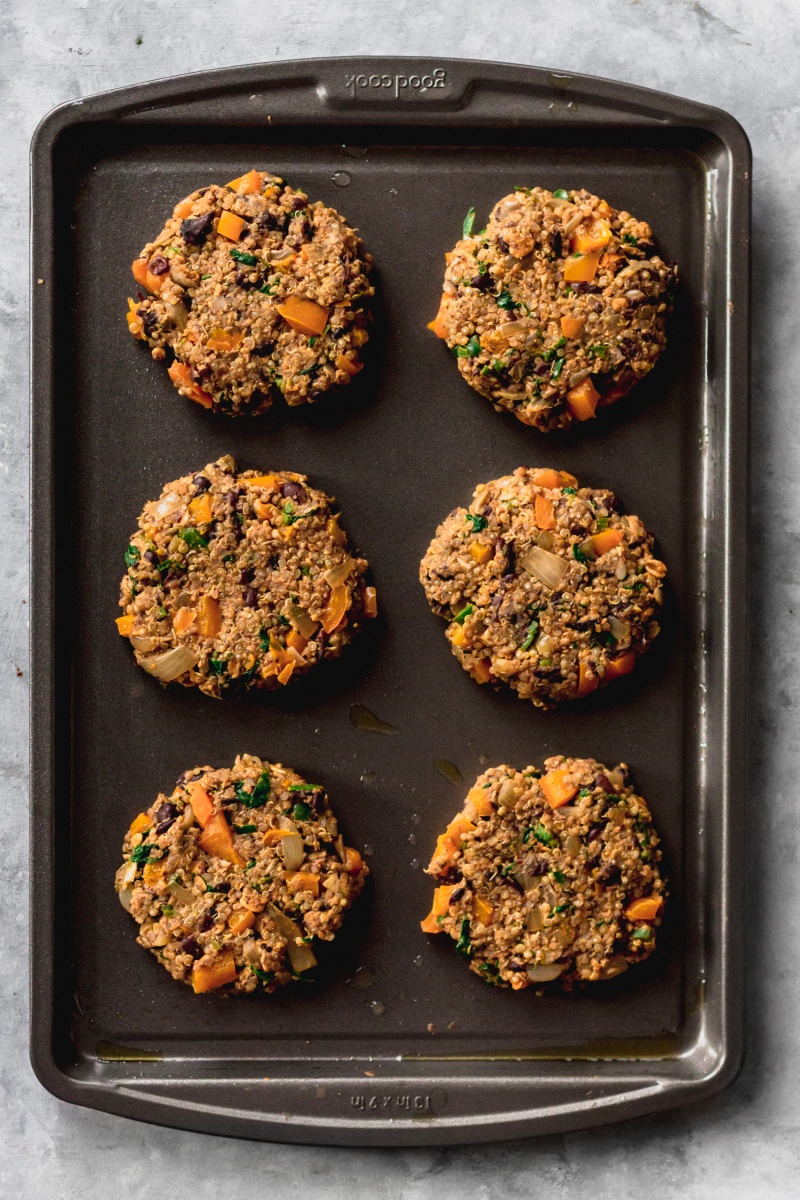 How to Make Black Bean Burgers
I think the thing that makes these veggie quinoa burgers next-level-good is sautéing the vegetables before adding them to the patty mixture. This adds a nice caramelized flavors to the black bean burger patties. Combine the sautéed vegetables with cooked quinoa, mashed black beans, oat flour (just ground-up oats!), and some simple spices – and you've got yourself a winning recipe.
Even though these are black bean burgers, you can use any beans you have on hand – this recipe would work with chickpeas, pinto beans, or white beans! You can use canned beans to make things super easy, or you can use dried and make a batch of Instant Pot Black Beans! You can also make them spicier like Ashok did my upping the ground spices or adding some spicier sautéed peppers, like serrano.
How to Cook Quinoa
Here are the three things to remember:
1:2 ratio for quinoa to water
1:3 ratio for dry quinoa to cooked quinoa.
Simmer for 15 minutes.
And that's it! With that knowledge, you are now an expert at cooking quinoa, one of the main components of these black bean burgers.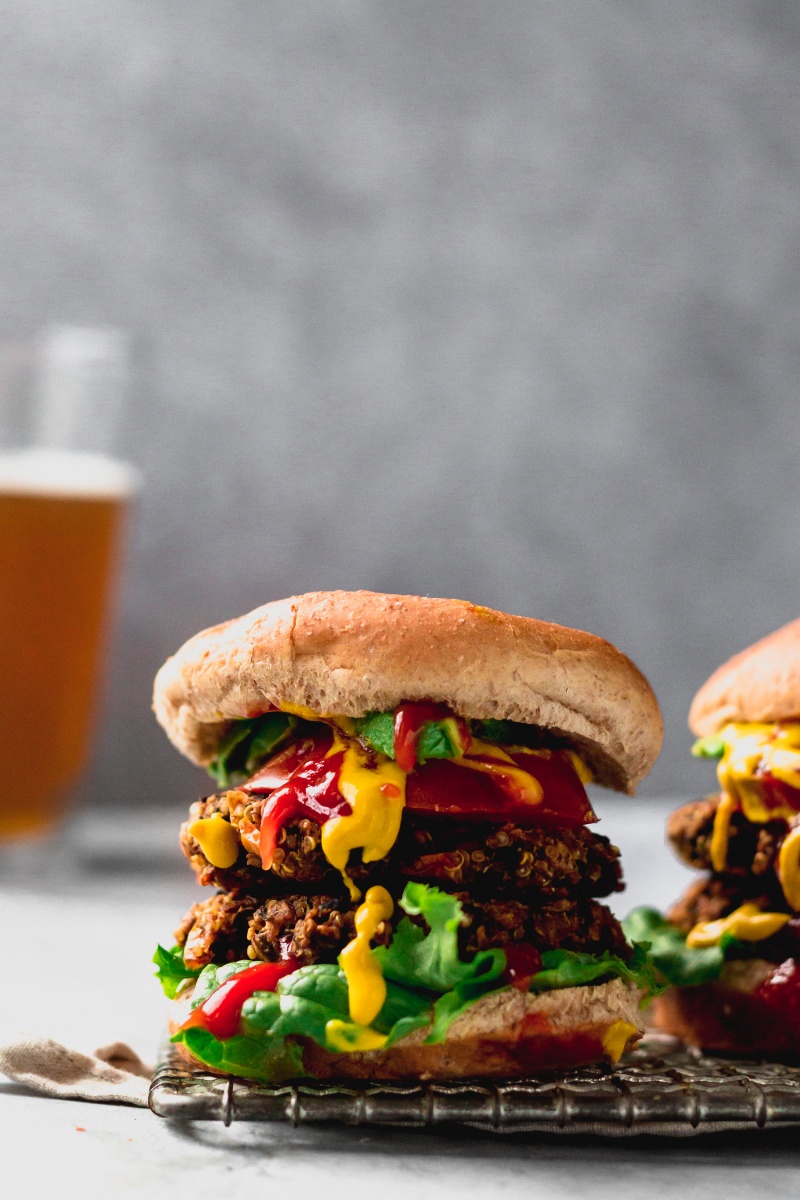 I like to serve these black bean burgers on whole grain hamburger buns with avocado, lettuce, ketchup, mustard, tomatoes, and sometimes vegan cheese! How do you dress your veggie burgers?
Also, have a bag of quinoa in your pantry, but you're not sure what else to make besides these black bean burgers? Try these other recipes with quinoa: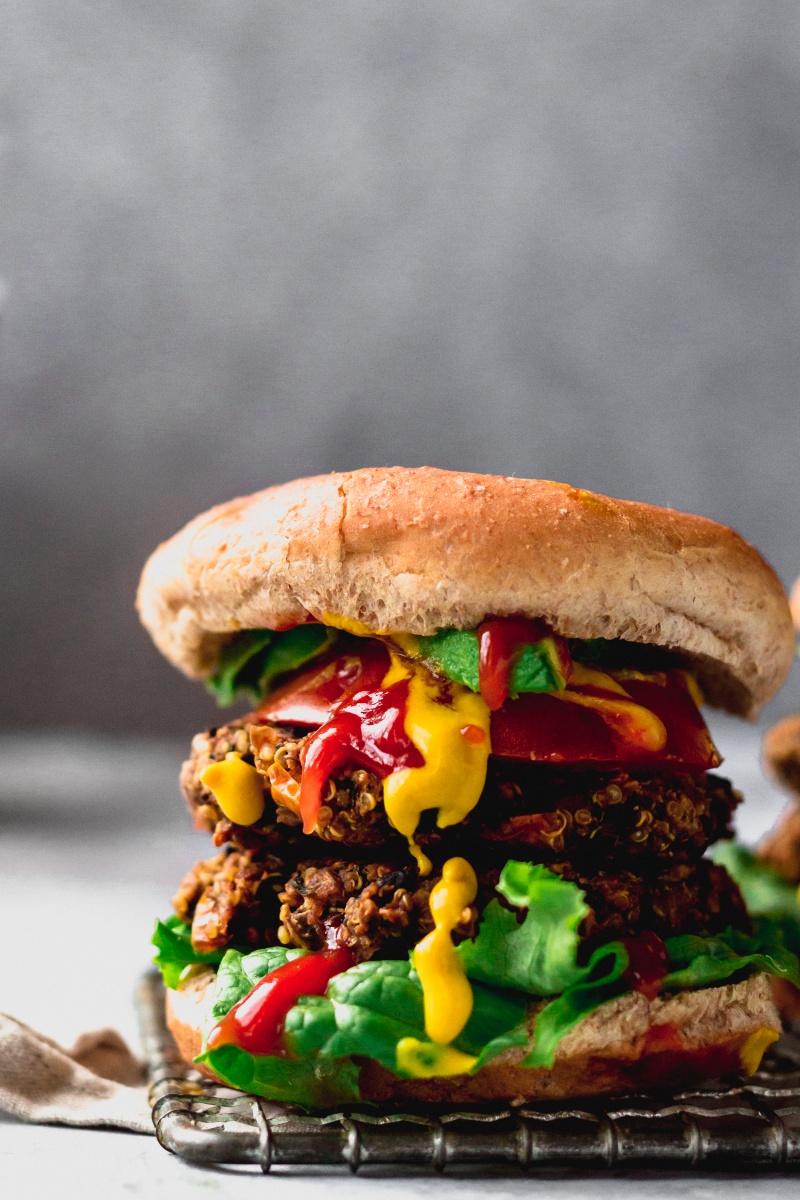 Print
How to make:
Black Bean Quinoa Veggie Burgers
These baked Quinoa Veggie Black Bean Burgers are vegan & gluten-free, filled with plant protein, and perfect for meal prep!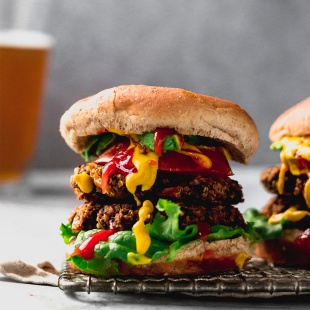 Ingredients
2 tablespoons

ground flax seed

1/2 cup

dry quinoa

1 tablespoon

oil

1

yellow onion, finely chopped

1

bell pepper, finely chopped

1

jalapeno pepper, seeds removed, finely chopped

3

cloves garlic, minced

1 cup

spinach, chopped

1

15-ounce can (

1 1/2 cups

) black beans, drained and rinsed

1 teaspoon

salt

1 teaspoon

ground paprika

1/2 teaspoon

ground cumin

1/2 teaspoon

ground black pepper

1/8 teaspoon

ground cayenne pepper

1/2 cup

oat flour*
Instructions
Preheat oven to 375ºF. Lightly grease a baking sheet.
Combine flax and 5 tablespoons water in a small bowl; stir. Set aside.
In a small saucepan over high heat, add quinoa and 1 cup water. Bring to a boil, reduce heat to low, cover, and simmer for 15 minutes. Remove from heat and set aside.
Meanwhile: in a skillet over medium heat, heat oil. Once hot, add onion; cook for 5-7 minutes, stirring. Add bell pepper and jalapeño; cook until vegetables are tender, about 3-5 minutes. Add garlic; cook for 1 minute, until fragrant. Add spinach; stir. Cook until wilted, about 1 minute.
In a large bowl, add black beans; mash with a fork, leaving some texture. Add cooked quinoa, sautéed vegetables, salt, paprika, cumin, pepper, cayenne, and reserved flax mixture. Stir to combine. Add oat flour; stir.
Form 8 patties.** Place on baking sheet.
Bake for 20 minutes, flip, then bake for 20 more minutes, until crispy on the edges.
Store in an airtight container or bag for up to 1 week. You can also freeze and reheat these.
Notes
*In a blender or food processor, add oats. Blend into a fine flour.
**To get evenly shaped burgers, line the lid of a jar (I use a peanut butter jar lid) with wax paper or foil. Stuff the lid with the burger mixture, then flip it over onto the baking sheet and remove the wax paper.
Nutrition
Serving Size:

1 patty

Calories:

160.1

Sugar:

1.9

Sodium:

427.2

Fat:

3.9

Saturated Fat:

0.5

Unsaturated Fat:

3.1

Trans Fat:

0

Carbohydrates:

25.8

Fiber:

6.3

Protein:

6.3

Cholesterol:

0