Try to think of a holiday you don't get excited about because of the food. Bet you can't do it.
Let's be honest, holidays are the best because of the food. Christmas = cookies. Halloween = candy. Thanksgiving = everything you could ever want. Easter = carrot cake and lots of chocolate bunnies. *insert celebration hands emoji*
It was only fitting in honor of Easter to make you one of my favorite desserts – carrot cake – in healthier form (gluten-free and vegan!) with a special twist. INSIDE OUT carrot cake cookies. AKA carrot cake cookie sandwiches. AKA little delicious bites of heaven.
It's actually a running joke that I'm the only one in the family with good eyesight because I ate so many carrots as a kid. Veggies, man. They do a body good! Not surprisingly, a huge slice of dense, veggie-packed, perfectly sweet carrot cake is my love language. Which is why Easter is so freaking awesome – carrot cake galore.
How do you usually celebrate Easter with the family? I feel lucky that my family is super laid back and never had a super formal holiday gathering. We all just get together, eat good food and act like the crazy family we are. I have really fond memories of spending Easter with my mom's side of the family at my uncle's house, where he raised chickens and rabbits and (I'm pretty sure) an ostrich. We always loved visiting so we could go pet the bunnies <3 or see all the baby chicks. Baby animals warm the heart like no other, amiright??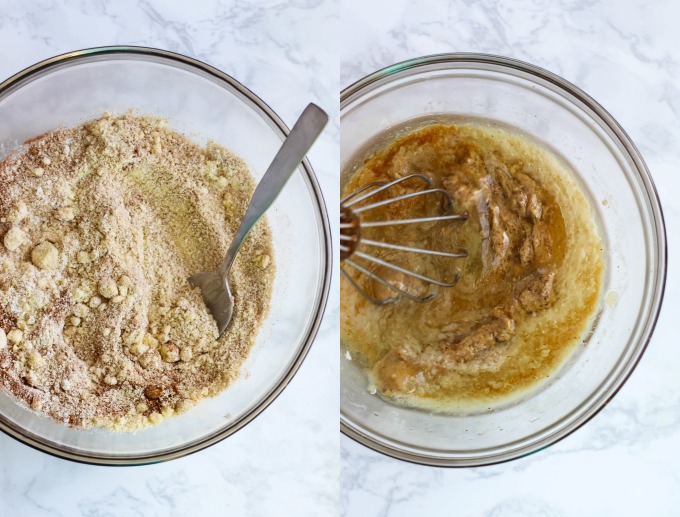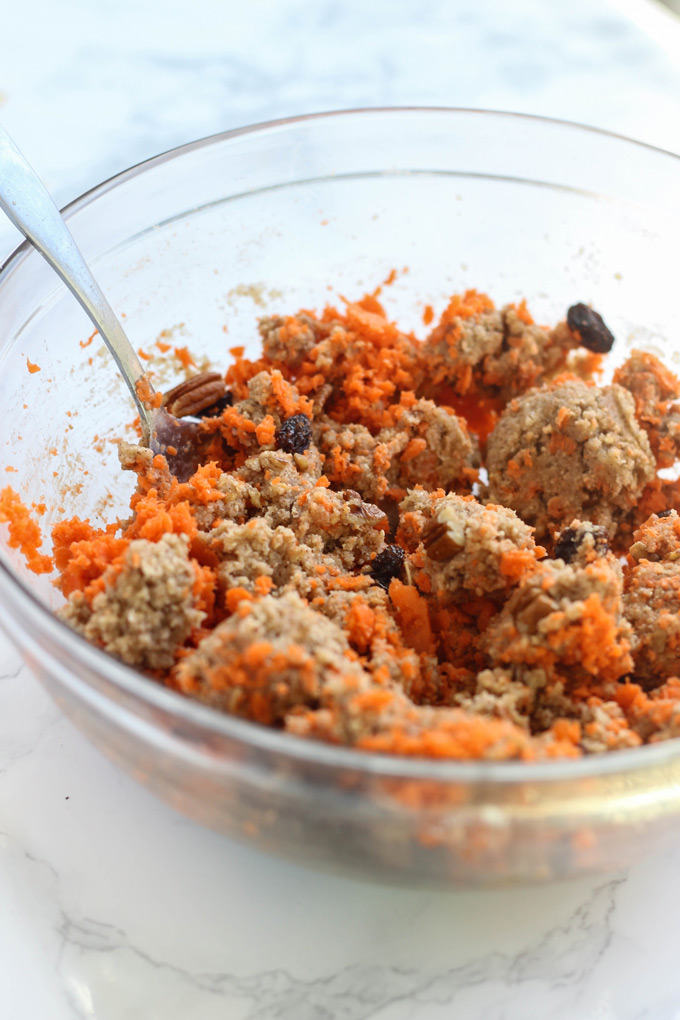 The only bad thing about cake is that I always end up having a waaaay bigger sliced than I needed. Notice how I used the word "needed" – of course I wanted a huge slice. But then you feel all weighed down and sluggish and like, ugh I shouldn't have eaten 5 pounds of carrot cake. But veggies? Nah, still cake.
Enter: cookies! They're already perfectly portioned for you, if you can stop at one or two. But to take it to the next level, we're sandwiching some rich coconut icing in between two fluffy cookies and calling it a day. I say one cookie sandwich counts as one normal cookie, so sure, you can have two…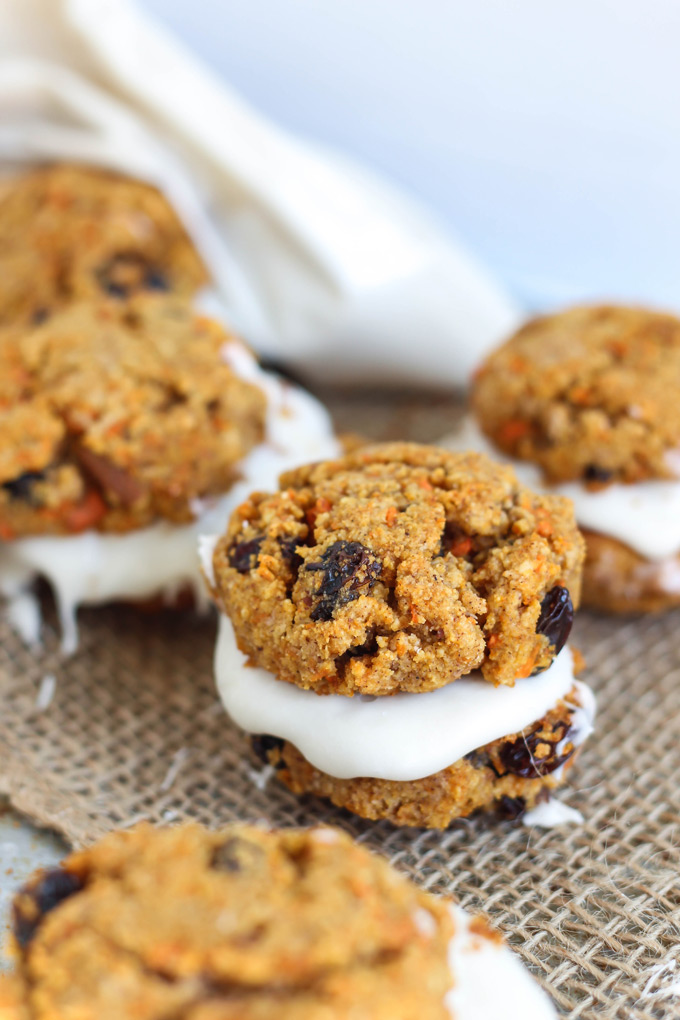 Like I said in my Gluten-Free Spinach Muffins post, I'm not an expert gluten-free baker, but I have been trying to experiment more with baking without wheat for all of you who are avoiding the g-word. This was my first time ever using almond meal/flour, and I'm so happy with how they turned out! I used Bob's Red Mill Organic Almond Meal/Flour because they have been my go-to brand for flours and grains for years. I knew their almond meal would be just as good as every other product I've tried from them.
What exactly is almond meal/flour? Well, it's exactly that. Bob's Red Mill grinds their almond meal from whole, blanched organic sweet almonds, which are full of good stuff like manganese, vitamin E, and healthy monounsaturated fats! It also packs 6 grams of protein in a 1/4 cup serving, so you can feel good about having one (or three) of these carrot cake cookies.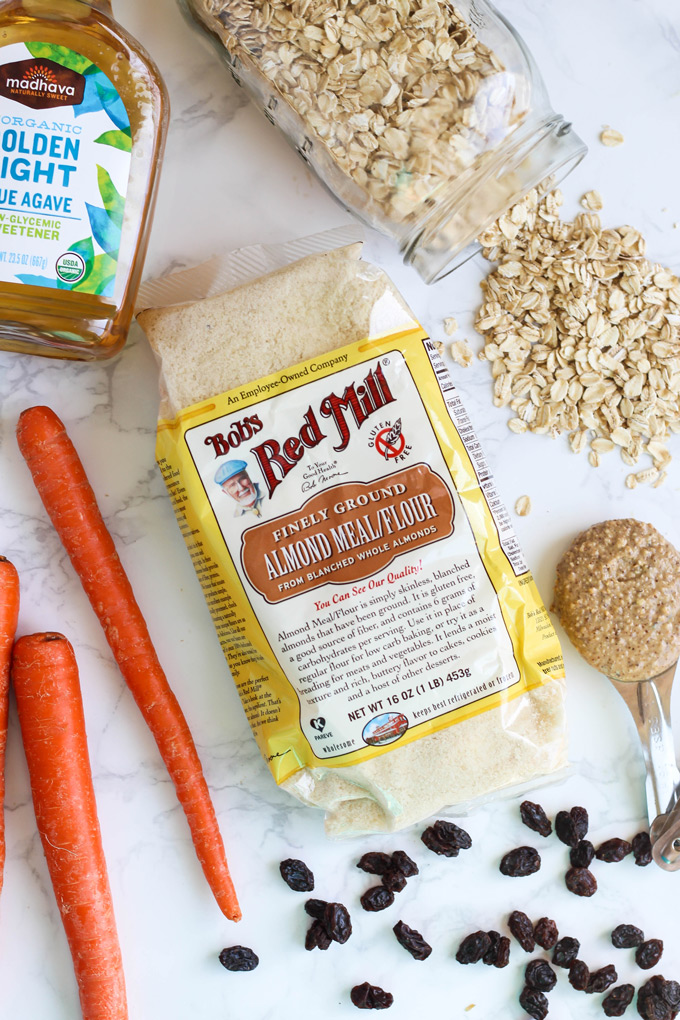 These are actually super simple to make. Trust me, I made two batches before it was even noon one day. So, these are perfect for whipping up Easter morning! Simply sift your Bob's Red Mill Organic Almond Meal with the rest of your dry ingredients in one bowl, the wet in another, and then mix together. You're just 20 minutes away for one of the fluffiest, softest cookies you've ever had! Seriously, I was so surprised when I popped these bad boys out the oven and they were so. soft. Super tender on the inside, with a slight crisp on the edges – just the way a cookie should be. (I will never understand people who like flat, crisp cookies. Ugh.)
I went with my favorite carrot cake add-ins like pecans and raisins, but feel free to leave them out or add your own. Pineapple, maybe? Make them your own!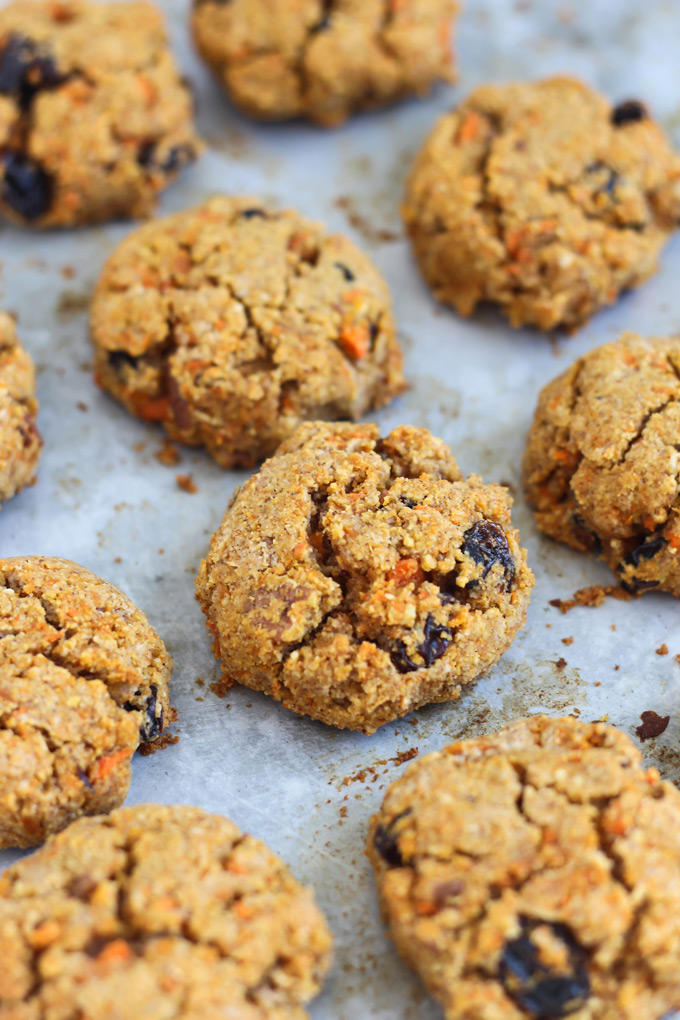 Then the magic happens when you smush two cookies together with some suuuuuper rich coconut icing, which is a perfect replacement for cream cheese frosting. If you're not into the icing, I think coconut butter would be absolutely magical. Or, you could just leave the cookies as is, but c'mon – cookie sandwiches!!!
I'm so happy that this recipe worked out so I could share it with you guys. I love getting your messages and comments about how your family and friends loved the recipes from this blog, so keep 'em coming! I know these carrot cake cookies would be a hit with everyone for Easter.
Since I know you want to make these cookies ASAP, I've got a nifty coupon so you can go buy some Bob's Red Mill Almond Meal! Click here for the coupon.
If you make these, be sure to snap a cool pic and tag me on Instagram! Eat yo' veggies, peeps – especially if they're in cookie form.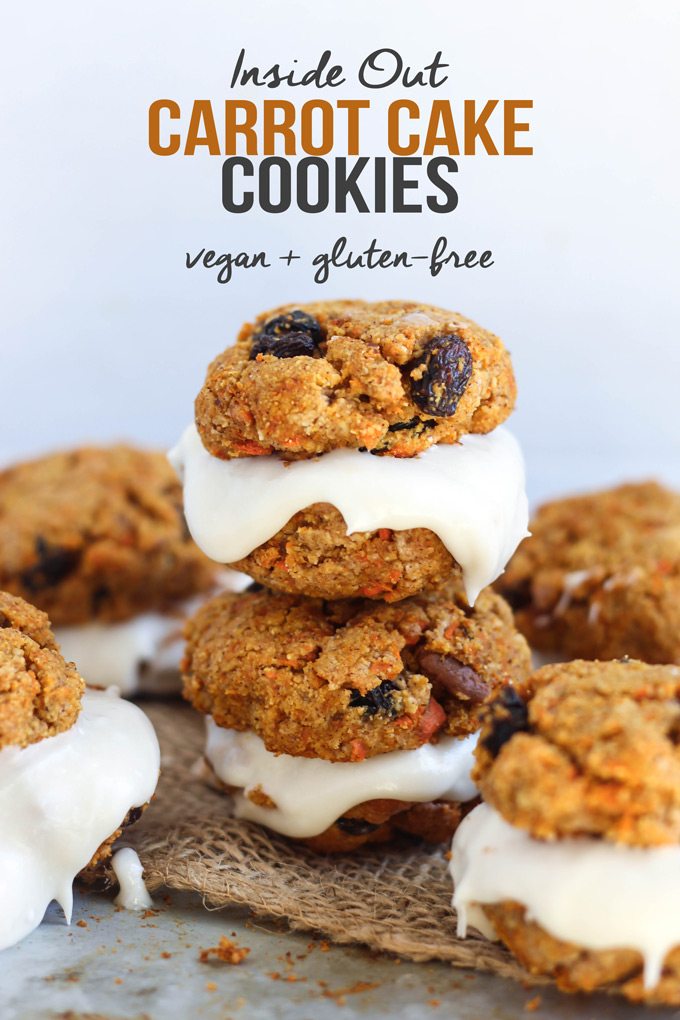 Print
How to make:
Inside Out Carrot Cake Cookies (vegan + gluten-free)
Put a spin on a classic dessert by making Inside Out Carrot Cake Cookies! They're vegan, gluten-free & full of the carrot cake deliciousness you love.
Ingredients
1 cup

Bob's Red Mill Organic Almond Meal/Flour

1/2 cup

oat flour (ground-up oats)

2 tablespoons

coconut flour

1 1/2 teaspoons

cinnamon

1/2 teaspoon

baking powder

1/2 teaspoon

baking soda

1/4 teaspoon

salt

1/4 cup

maple syrup or agave nectar

2 tablespoons

almond butter

2 tablespoons

coconut oil, melted

2 tablespoons

unsweetened applesauce

2 tablespoons

almond milk

2 teaspoons

vanilla extract, divided

3/4 cup

grated carrots*

1/4 cup

raisins

2 tablespoons

pecans, chopped

1

can full-fat coconut milk, chilled overnight

1/2 cup

organic powdered sugar
Instructions
Preheat oven to 350°F.
In a large bowl, add almond meal, oat flour, coconut flour, cinnamon, baking powder, baking soda and salt. Whisk well to combine, making sure there are no lumps.
In a medium bowl, add maple syrup, almond butter, oil, applesauce, milk and vanilla. Whisk until fully combined.
Slowly pour wet ingredient into the dry ingredients. Stir until all ingredients are mixed together. Fold in carrots, raisins and pecans.
Scoop the dough in 1-tablespoon scoops onto a baking sheet. Slightly flatten the cookies (not much).
Bake for 14-16 minutes, until the tops are slightly crispy. Remove and let them cool on the pan for 10 minutes.
While the cookies are baking, scoop out the solid white coconut milk from the top of the can. Reserve the clear liquid for smoothies, if desired. In a medium bowl, place solid coconut milk and powdered sugar. Beat with an electric beater until there are no lumps. Scoop the icing into a Ziploc bag and place in the freezer for 5-10 minutes.
To assemble the cookies, cut off one tip of the Ziploc bag. Pipe the icing onto the bottom of one cookie, then place another cookie on top. Repeat with all of the cookies.
Notes
*If you don't have a grater, use a vegetable peeler to make thin ribbons, then finely chop.
I was selected for this opportunity as a member of Clever Girls and the content and opinions expressed here are all my own.