Are you tired of the sweet stuff yet? I didn't think so. But don't worry! I've got some light meal recipes coming for you next month so we can get start getting ready for summer
For now, let's just have some apple pie bars and forget about our summer bods.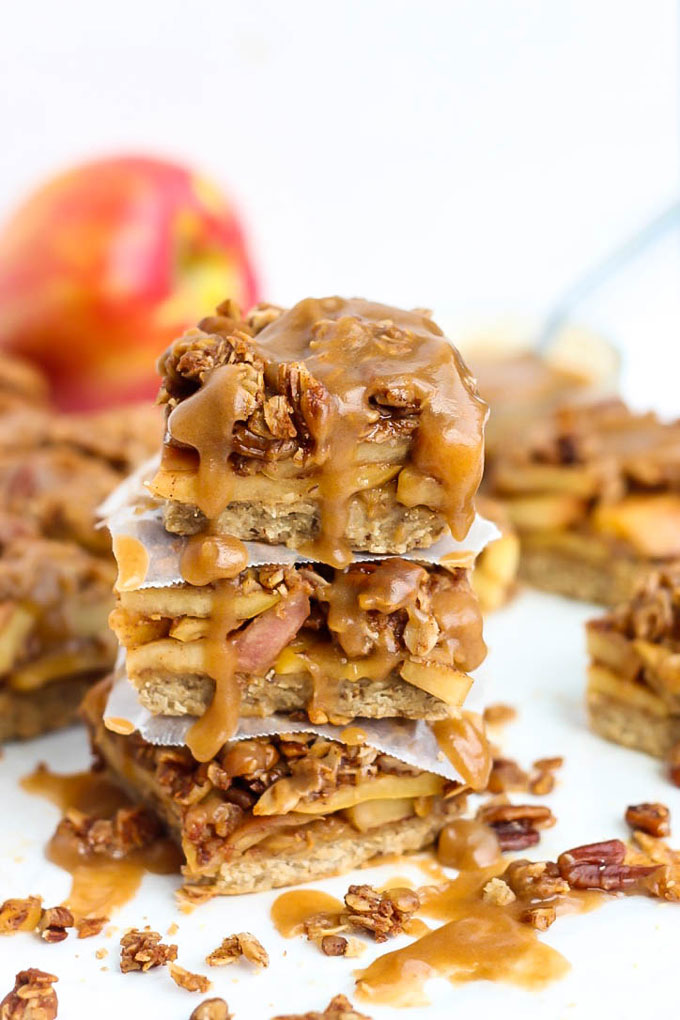 I'm a very determined, self-motivated person. If I have a goal or if you give me something to get done, you bet your a$$ I'm going to put my 100% into accomplishing it. This really comes in handy in all aspects of my life – school, work, blogging, working out. I don't give up.
So when my boyfriend casually mentioned that I "should make some apple pie bars," I don't think he understood that his comment began an obsessive journey to get these bars perfect.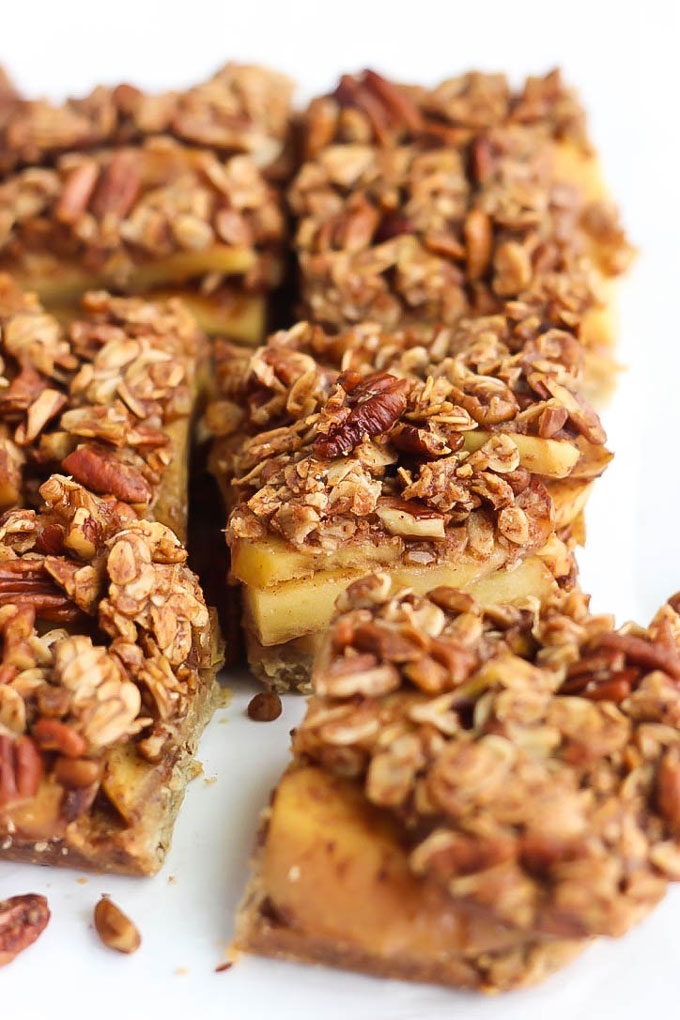 "Cayden, what exactly do you mean by an apple pie bar? Like a dessert bar or a protein bar or what?"
"I don't know." Wow gee thanks for the help.
Now that I had it in my head that I needed to make apple pie bars, I couldn't shake the idea. It took me three attempts and many failed crusts in the trash to get these right, but these bars turned out to be one of my new favorite desserts – decadent, fresh, full of classic apple pie flavor, and made with healthy ingredients.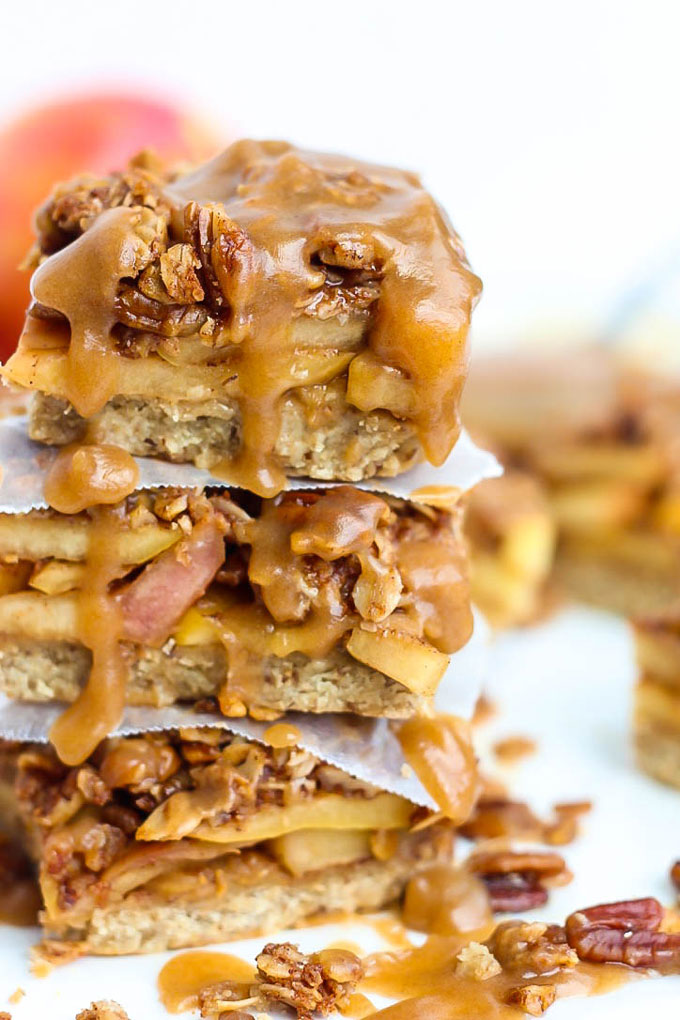 If you couldn't tell by my logo, I'm obsessed with apples, so naturally I'm all about anything with apples. You could really go for any kind of apple here, but I used Honeycrisp because uhm, hellooooo, have you ever tried a Honeycrisp apple?! They're basically the sweetest, juiciest thing I've ever laid mouth on. I swear angels sing every time I take a bite.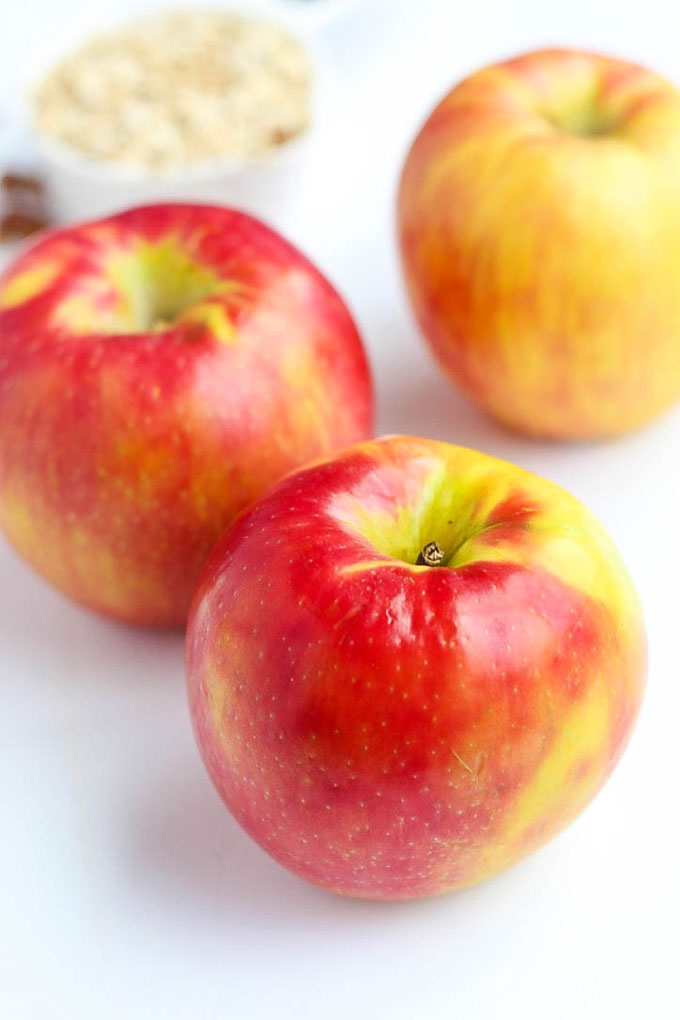 This isn't technically a "dump into one bowl, mix, and bake" sort of recipe, but I promise it's easy once you break it down. There's three steps when you're making these (and you should asap):
Crust: Make the crust. Press it into the pan. Bake. Cool.
Apple filling: Slice the apples. Toss with other ingredients. Pack them onto the crust.
Topping: Mix ingredients. Sprinkle over the apples.
Then you bake and cool. It's as simple as that! I used the same bowl for each step, so can we technically call this a one-bowl recipe?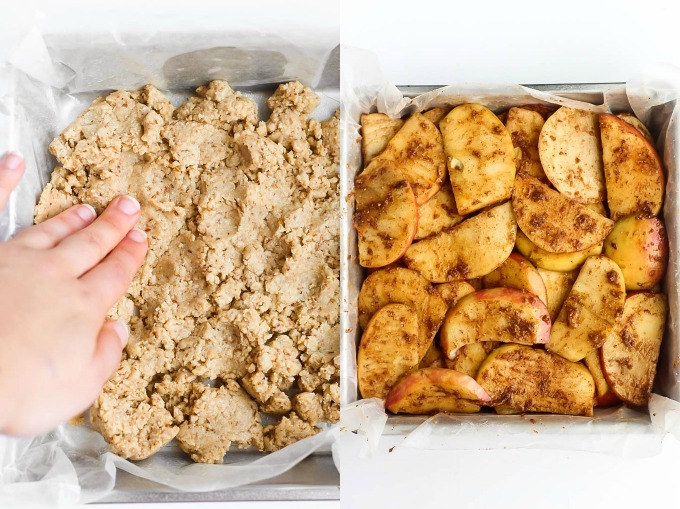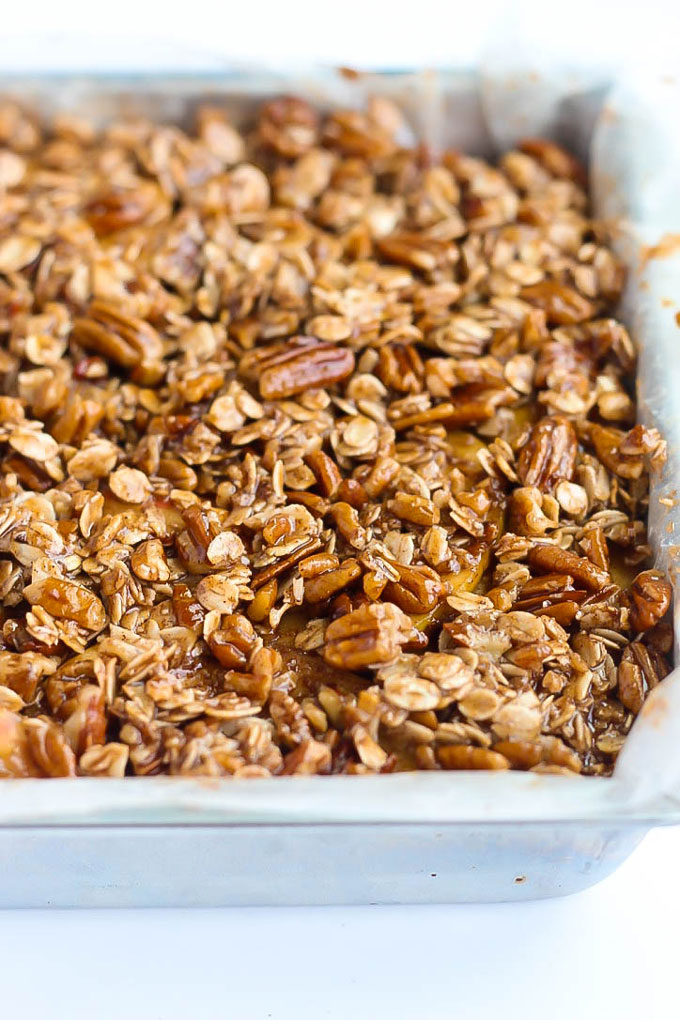 The best part about these apple pie bars? (Besides the obvious fact that they are one of the best desserts ever.) They're healthier than traditional apple pie using ingredients like oats, coconut flour, apples, pecans, coconut oil, and dates as the caramel sauce. Did I mention they're gluten-free? YAS.
I mean, those are all made from plants so basically these bars —-> salad. Yes?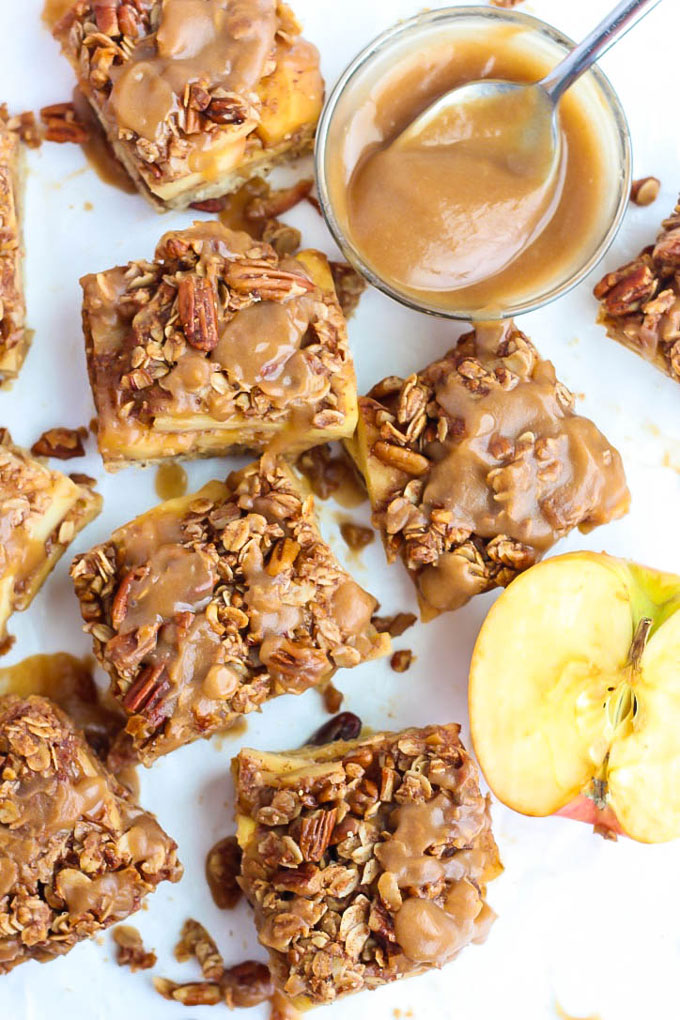 In case you were wondering, my boyfriend, mom and roommates all gave these a thumbs up. So they're a guaranteed win with everyone who loves apple pie! And who doesn't love apple pie?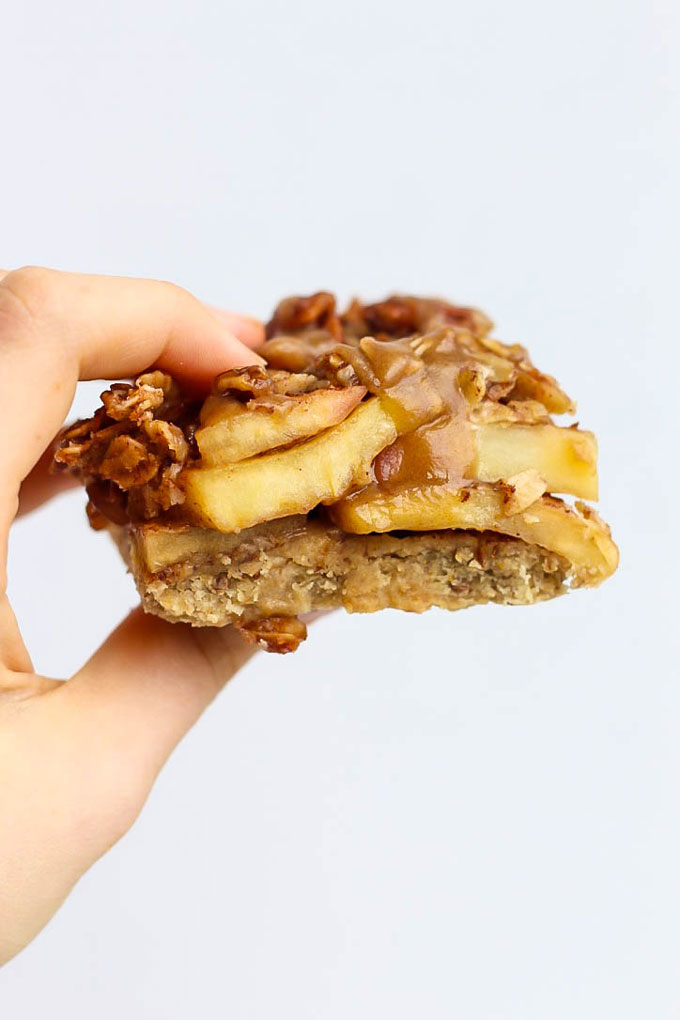 I know the ingredient list looks scary, but I separated them into each step (crust, filling, topping, and caramel sauce). You'll use a lot of the ingredients in more than one step, so I promise it's less ingredients than it looks like! Keeping' it simple here.
If you're still looking for a dessert to serve for Easter, THESE are calling your name. They're really good for any occasion, or when you just feel like baking on a Sunday and eating yummy food. These are definitely for you.
Make sure you snap a pic and tag me on Instagram if you make these! I love to see all of your mouth-watering creations.
SIDE NOTE: I need your help friends!!!! I've been selected as a finalist in a Bob's Red Mill and Feed Feed Instagram baking contest for my Inside Out Carrot Cake Cookies, and I'd really appreciate it if you just took 5 seconds to vote for me! Click on this link, scroll until you see my carrot cake cookies, click vote, and enter your email. Thank you so much!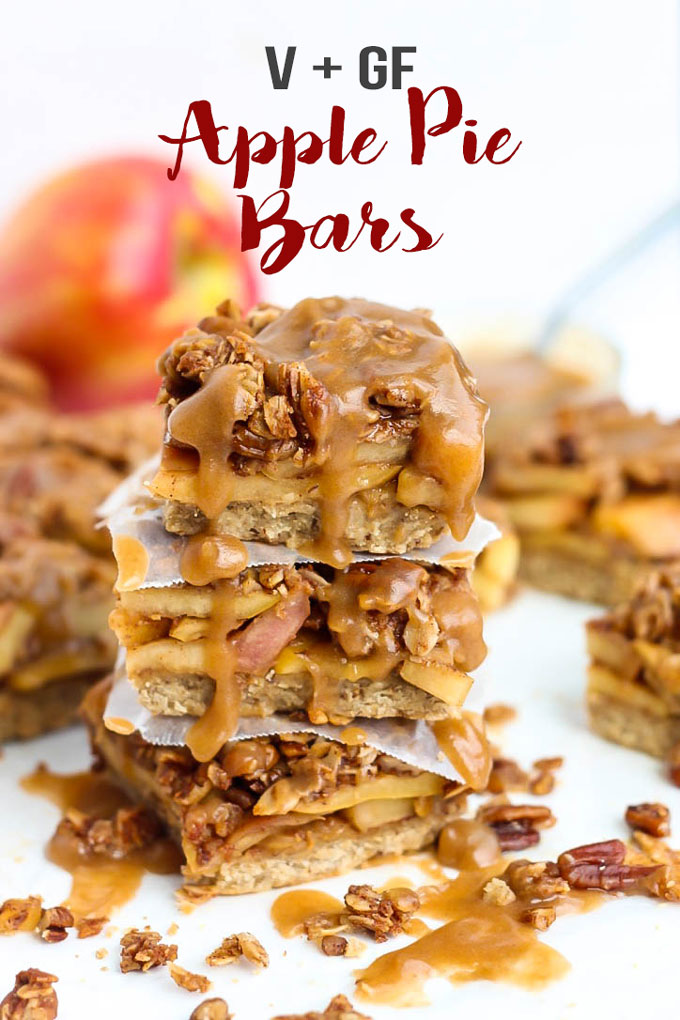 Print
How to make:
Vegan Apple Pie Bars (gluten-free)
The classic apple pie gets a delicious, vegan makeover in these Apple Pie Bars! A soft crust, fresh apples & crisp topping make these perfect for any time.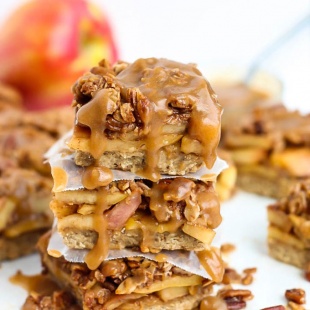 Ingredients
Crust:

1 1/2 cups

oat flour (ground-up rolled oats)

1/2 cup

almond meal/flour

1 tablespoon

flax meal

3 tablespoons

coconut oil, melted

2 tablespoons

maple syrup or agave nectar

1/4 teaspoon

salt

2 tablespoons

water
Filling:

2

apples, sliced thinly (I used Honeycrisp)*

2 tablespoons

coconut sugar

1 tablespoon

oat flour

1 tablespoon

applesauce

1 1/2 teaspoons

vanilla extract

1 teaspoon

cinnamon

1/4 teaspoon

nutmeg (optional)

1/4 teaspoon

salt
Topping:

1/2 cup

old-fashioned rolled oats

1/2 cup

pecans, roughly chopped**

2 tablespoons

oat flour

1 teaspoon

cinnamon

1/4 teaspoon

salt

2 tablespoons

coconut oil, melted

2 tablespoons

maple syrup or agave nectar

1 teaspoon

vanilla extract
Caramel sauce:

1/2 cup

pitted dates, soaked in hot water

1/3 cup

almond milk or water

1/2 teaspoon

salt
Instructions
Preheat oven to 350°F. Line an 8-inch x 8-inch baking pan with foil; lightly grease with non-stick spray.
Crust: In a large bowl, add oat flour, almond meal and flax meal. Stir to combine. Add coconut oil, maple syrup and salt; stir until ingredients are fully incorporated. Add water; mix well.
Press the crust evenly into the pan, slightly bringing the crust up on the sides. Make sure the crust is the same thickness throughout. Bake for 15 minutes. Remove from the oven; place in the fridge and cool for 10 minutes.
Filling: In the same large bowl, place the sliced apples, coconut sugar, oat flour, applesauce, vanilla, cinnamon, nutmeg and salt. Stir until the ingredients evenly coat the apples. Evenly layer the apples on the baked crust; slightly press down to pack the apples in.
Topping: In the large bowl, add oats, pecans, oat flour, cinnamon and salt; stir to combine. Add melted oil, maple syrup and vanilla. Stir well until ingredients are fully incorporated. Sprinkle topping evenly on top of the layered apples.
Bake for 40-45 minutes, until the topping is lightly browned and crispy. Remove from the oven; let the bars sit in the pan for 30 minutes. Place in the fridge and let cool for at least 30 minutes.
In a blender, add soaked dates, milk and salt. Blend until smooth. Drizzle the caramel sauce over the bars. Slice and enjoy!
Notes
*I sliced the apples vertically about 1/8″ – 1/4″ thick and cut those slices in half. Cut out the core and seeds.
**You can use any nut you want, like walnuts or almonds. You can also use seeds if you're nut-free.