A big thanks to Clearly Kombucha for sponsoring this post! I love their light kombucha on its own or in one of these mimosas – alcoholic or not. Make sure to check out the giveaway on Instagram to win some kombucha!
Getting boozy on a Tuesday morning? Oh yeah, friends, we're doing it.
If you don't know already, I'm in a full-blown love affair with kombucha. I love the stuff. I'd marry the stuff. Haven't tried it yet? Start with a Strawberry Kombucha Mimosa! Perfect for parties, brunch, or when you need a mimosa on a Tuesday morning. We've all been there.
Here's the run-down on kombucha: it's sweet black or green tea that has been fermented by a colony of bacteria and yeast called a SCOBY, which basically looks like a big slimy blob. Look up a picture and share it with your friends – or your mom who hates slimy things and gets really mad when you send her pictures of your SCOBY (sorry not sorry, Mom).
The fermentation process produces a fizzy, slightly effervescent drink that's tart with some natural sweetness. It's seriously the best! When I first started drinking kombucha, I was worried about all the added sugar since it's sweet tea, but the SCOBY eats up most of the sugar during the fermentation process. A finished serving only has a couple grams!
The best thing about kombucha are all the healthy probiotics, which do wonders for digestion and gut health! A happy gut = a healthy body.
Even though I brew my own, I do like to pick up a store-bought bottle every now and then if my batch isn't done or if I'm craving a certain flavor. Recently I picked up a few bottles of Clearly Kombucha, and I've been loving them!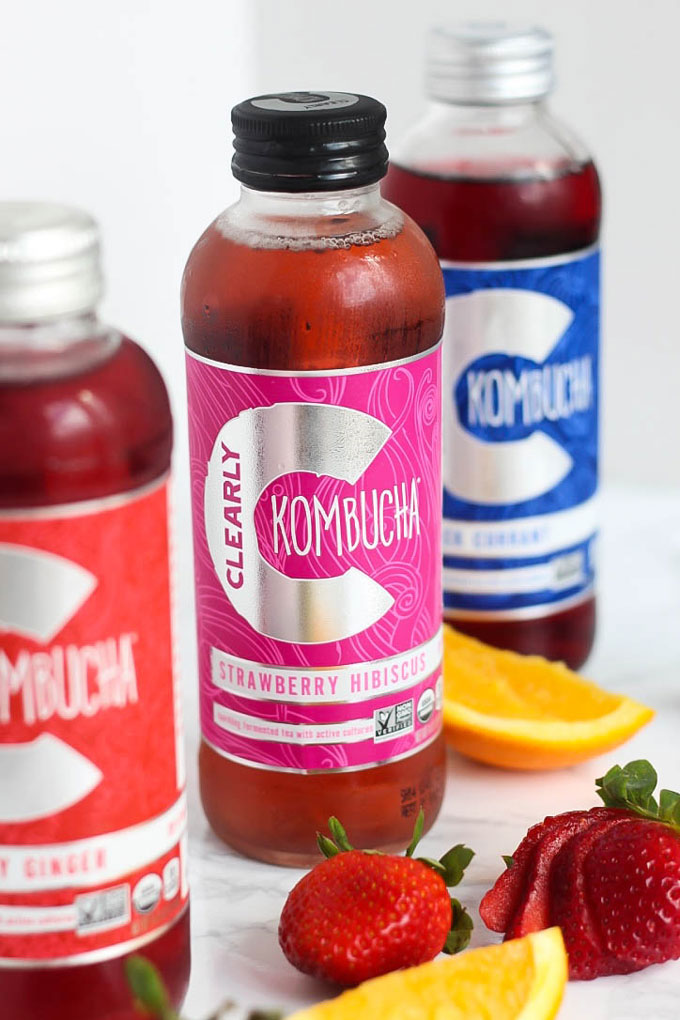 Clearly Kombucha is different than any other kombucha I've tried, and I think it would be perfect for people who have never tried a bottle. They start with a lighter tea base, so the finished product is light, refreshing and very low sugar. My favorite part is that all they add is organic fruit juices and flavors – no added sugar, artificial anything, nada. Clean, pure, and simple: just the way I like my booch!
In case you're not familiar, booch = an affectionate term for kombucha. You are now a kombucha expert!
I was so impressed with the unique flavors that Clearly Kombucha has! Raspberry Lemonade? Asian Pear? Chai Cola?? Okay brb going spend my whole paycheck on kombucha.
I decided to use their Strawberry Hibiscus flavor in these mimosas, because who doesn't love strawberries?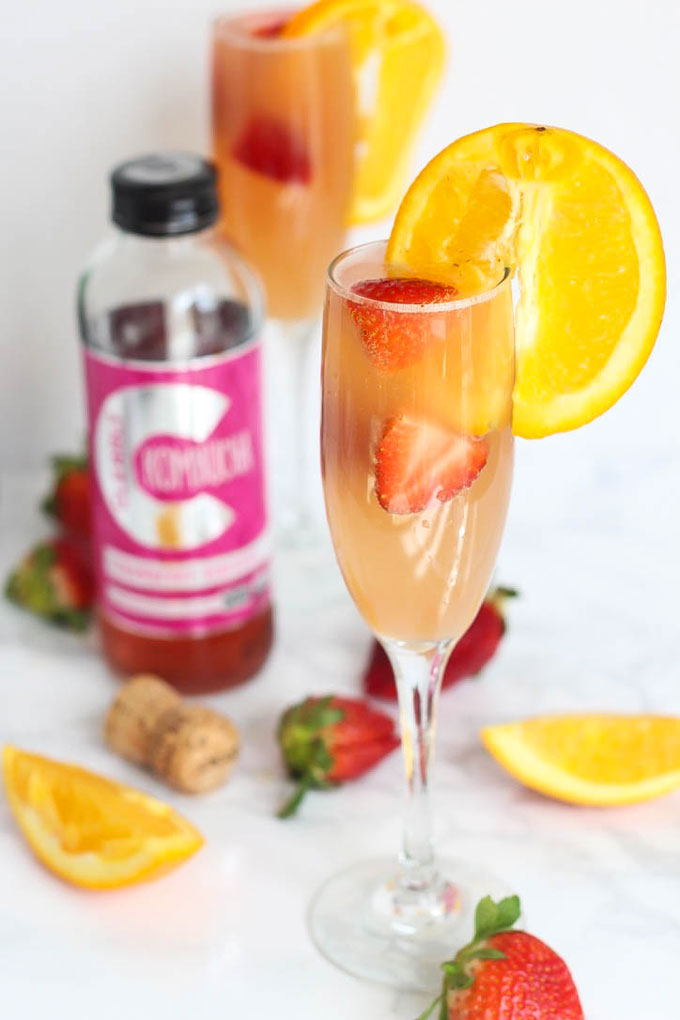 While I could literally drink 5 bottles of kombucha a day, I'm not much of an alcohol drinker. I don't really do the college drinking scene as it just makes me feel tired and bloated, and I'd honestly rather stay in and watch Parks & Rec. No shame in my Hulu game.
That being said, I do love enjoying a mimosa on special occasions. It's the perfect light drink to enjoy at any time – brunch? Mimosas. Wedding showers? Mimosas. Bubble bath on a Friday night? Mimosas.
A lightbulb went off in this little head of mind, and I instantly thought of making a kombucha mimosa. Since kombucha is naturally fizzy, I knew it'd be perfect with some champagne and orange juice. I love the orange and strawberry flavor combo!
Of course, if you're not 21+, use sparkling cider in place of the champagne!
Clearly Kombucha has been kind enough to sponsor a giveaway on my Instagram! Head over to my page for the deets on how to win some snazzy bottles of booch. You'll want to try all their flavors, so get to entering!
I highly recommend enjoying a kombucha mimosa when you want to #treatyoself on a relaxing "me" night. Your gut will thank you. 🙂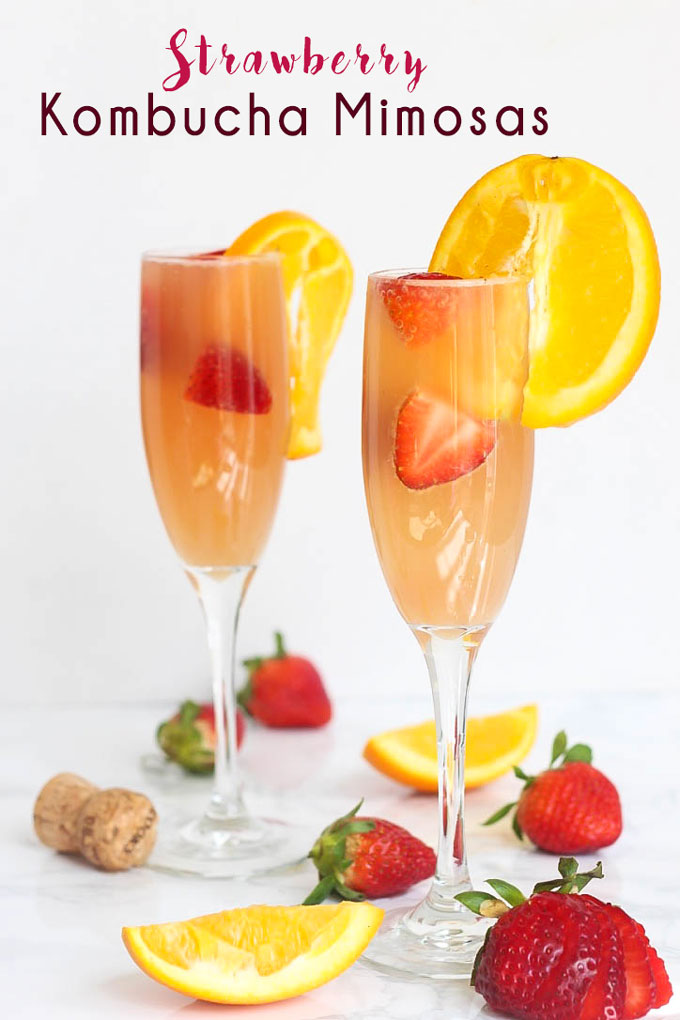 Print
How to make:
Strawberry Kombucha Mimosa
Enjoy this gut-friendly sparkling drink at your next party or brunch! A Strawberry Kombucha Mimosa is a great way to keep happy hour healthy.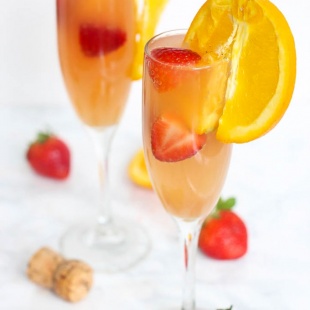 Ingredients
1

750-mL bottle vegan-friendly champagne, or sparking cider if under 21

2

bottles Clearly Kombucha Strawberry Hibiscus

1 1/2 cups

orange juice
Orange slices (optional)
Strawberries, chopped (optional)
Instructions
In a large pitcher, add champagne (or cider), kombucha, and orange juice. Stir to combine.
Pour mimosas into 4-6 champagne glasses. Garnish with orange slices; add chopped strawberries into the glasses.
I was compensated for this post. I only work with brands whose products and missions I truly believe in. Thanks for supporting what I love to do!