It's hot outside. Like, 100 degree sort of hot. The best way to cool off? Smoothie bowls of course! If you're not already on board the smoothie bowl train, buckle up and get yo' blenders ready for this mango lime smoothie bowl that'll make you want to diiiiive right in.
One of my favorite things about my trip to Chicago is how much we walked during the day. When we weren't taking the train, we were walking everywhere. I'm pretty sure we walked 5-6 miles every day. Oh, the perks of city life!
Then it was back to reality – me, sitting in my apartment in Baton Rouge for most of the day, driving everywhere. Ugh.
Since I unfortunately can't be as active as I would like to during the day, I like to take every opportunity to get outside and move around and enjoy nature. What can I say – I love to be around plants and eat them. 🌱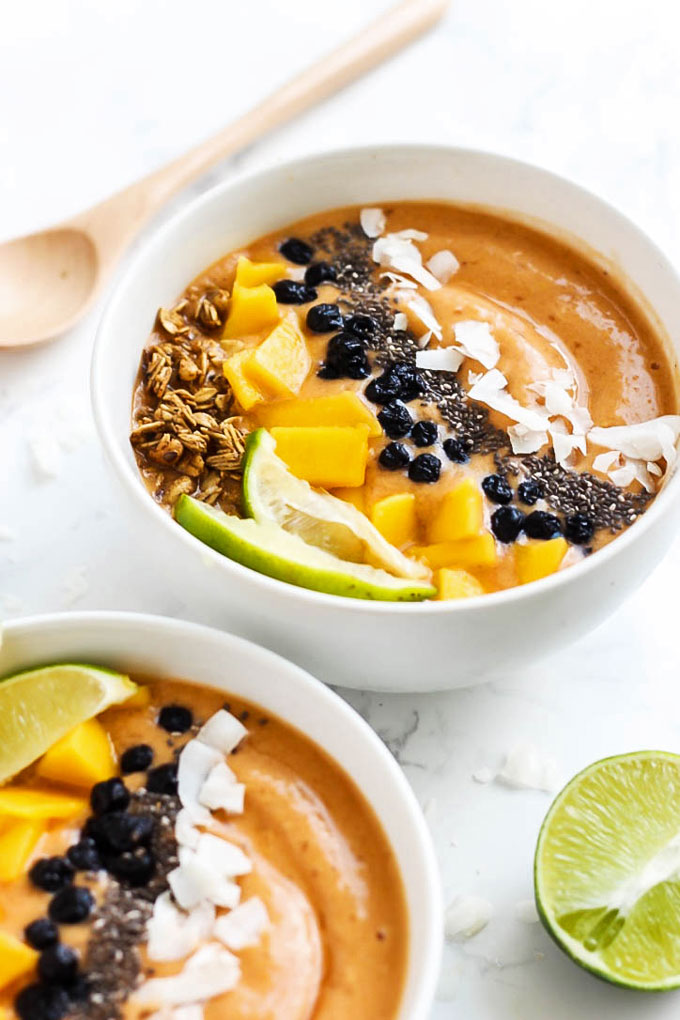 Even though Louisiana is literally the flattest, wettest land around (I'll pay you to find a hill near me), we're lucky to have a few great hiking trails close to us. A few weekends ago, Cayden and I took a trip up to Tunica Hills on the border of Mississippi and had a super fun day hiking the trail and seeing the waterfalls. *yes, actual waterfalls* It is so nice to move around and take in the fresh air; it's a nice change of scenery from my computer and apartment.
We also went super caveman(woman) and camped out in our pop-up tent that night. Everything went really well – we had a comfy air mattress, a classic camping dinner of tortillas & refried beans and his laptop set up to watch a movie under the stars. Swoon.
Oh, but the one thing we forgot? A FAN. A fan. C'mon, Emilie!! You know better than that.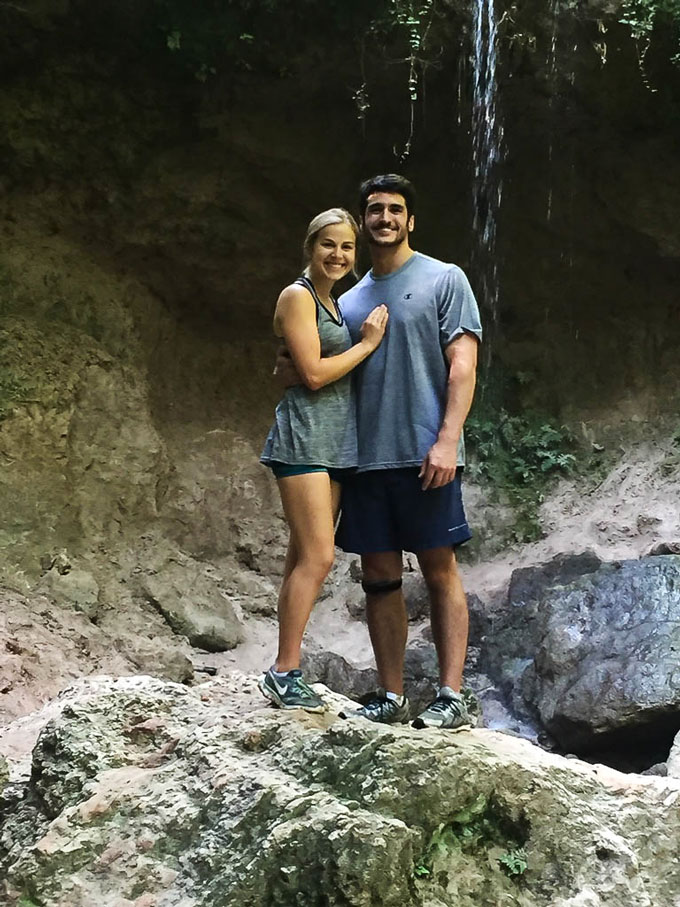 While I may have forgotten a fan and sweat more during the night than I did while hiking (jk), one thing I didn't forget was snacks. Because it would be the end of the world if we went hungry out in the woods. I swear if you had looked at my food stash for the night, you would've thought we were camping for two weeks. Snacks 4 life.
So what did I pack? Fruit, chopped vegetables, hummus, no-bake lemon coconut bites, nuts, protein bars, chunky monkey granola – lots of whole foods! I love fueling up on simple, healthy foods so I feel my best when I'm out and about.
We also packed a couple of the new 1915 Bolthouse Farms™ Cold-Pressed Organic Juices to keep us hydrated in the blistering heat and to keep our energy up on the hike. Cayden had the Pineapple blend, and I went with the Romaine to get my greens in.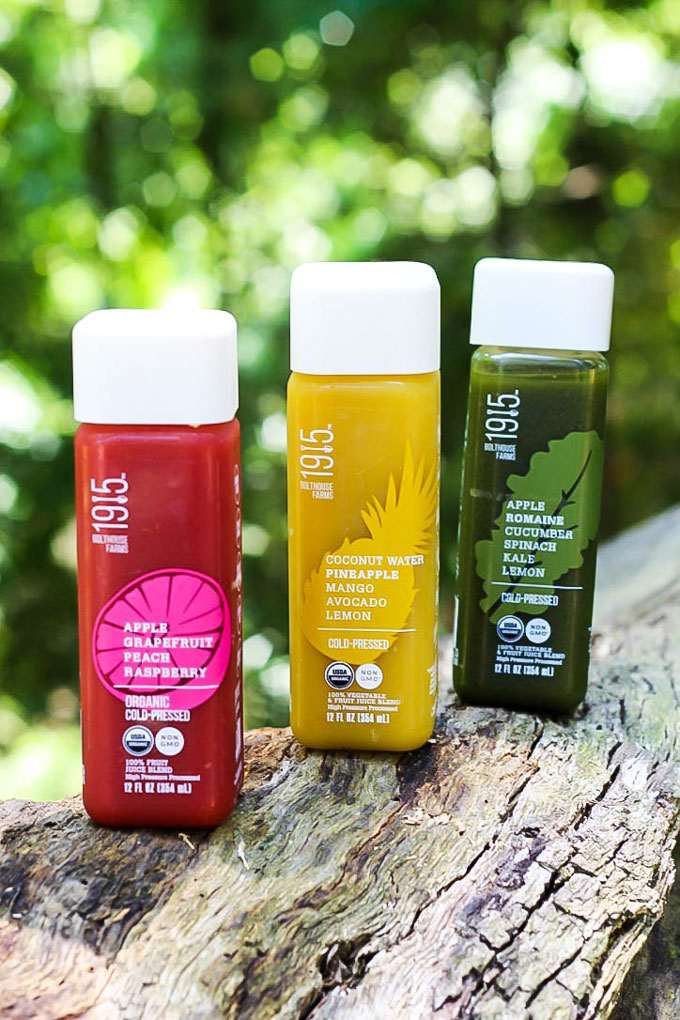 I don't drink juices all the time, but when I do, I like to pick juices that are organic, cold-pressed, non-GMO and made with simple ingredients. Enter the new 1915 beverages: 8 refreshing fruit and vegetable blends, and 3 filling protein beverages including Coffee, Chocolate and Vanilla. Holy yum.
After we drank up our juices on the hike, I knew I wanted to blend them up into my daily smoothie bowls! This mango lime combination hit the spot immediately. I used the Orange blend, which contains orange, carrot, pineapple, apple and lime. Lotsa flavor!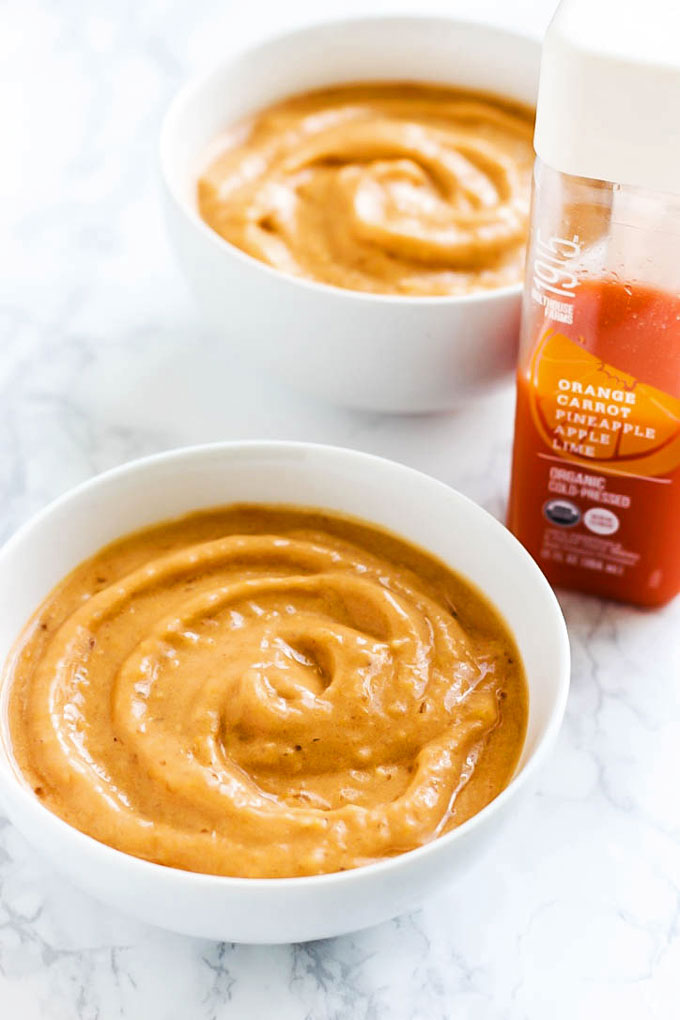 If you're a wanna-be smoothie bowl expert like me, you probably have all the simple smoothie ingredients you need for this bowl already. Bananas, mango chunks, lime, protein powder, vanilla extract and 1915 Organic Orange beverage – which you can get at nationwide grocery chains like Walmart, Safeway and Kroger for $3.99!
Of course, you're going to want to load up on the toppings. I went with granola, extra mango, dried blueberries, coconut flakes and lime wedges. Friends, that extra squeeze of lime on top is the cherry on the cake – er, the lime on the smoothie?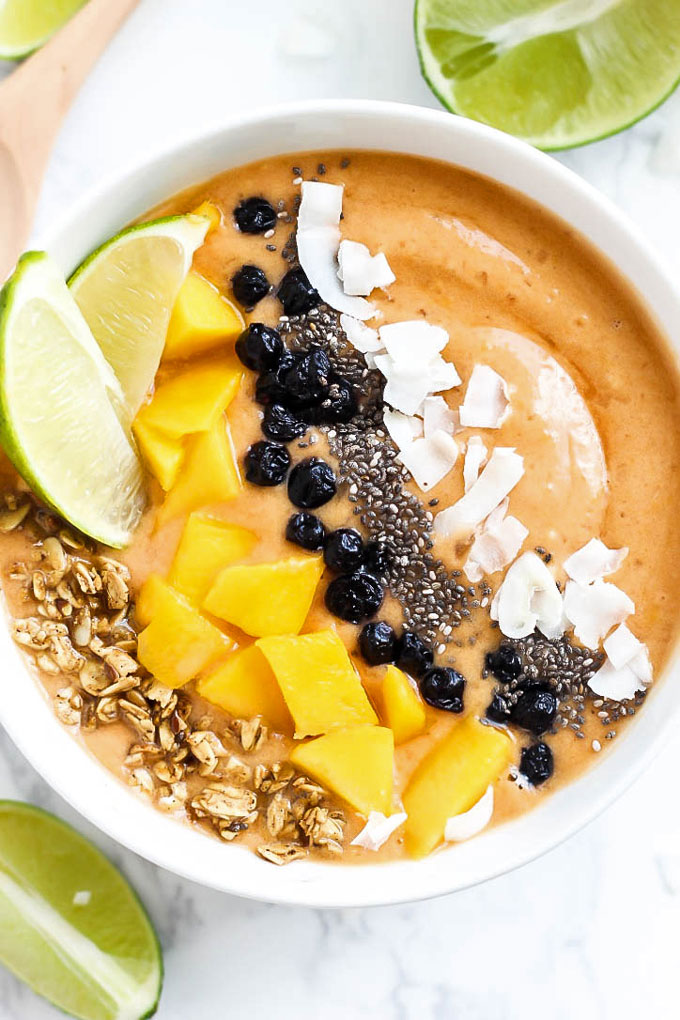 I really want you guys to try these 1915 organic juices & protein drinks for yourself because I'm such a fan of them, so one lucky reader will win a special package of these beverages! Enter enter enter!
I want to see all of your photogenic smoothie bowls, so snap a pic when you recreate this mango lime smoothie bowl, post it on Instagram, and tag me @emilieeats with #emilieeats. Don't forget all the toppings!!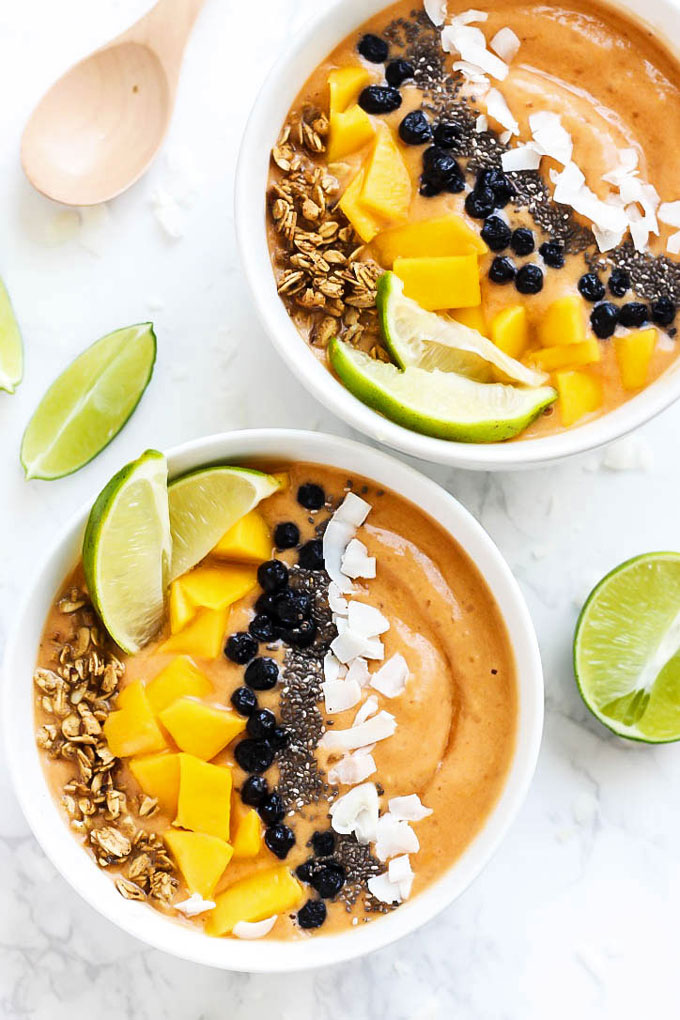 Print
How to make:
Mango Lime Smoothie Bowl
Fruity & sweet with a twist, this Mango Lime Smoothie Bowl is a great breakfast full of nutrition to keep you fueled during your day. Vegan & gluten-free!
Ingredients
2

bananas, frozen

1 1/2 cups

mango chunks, frozen

3/4 cup

1915 Orange Cold-Pressed Organic Juice

1

lime, juiced

1

scoop plant-based protein powder (optional)

1/2 teaspoon

vanilla extract
Optional toppings: chopped mango, lime wedges, granola, coconut, dried fruit, nuts, seeds
Instructions
In a blender or food processor, place all ingredients. Blend until completely smooth.
Divide smoothie into two bowls. Top with your favorite smoothie bowl toppings, and dig in!
I was selected for this opportunity as a member of Clever Girls and the content and opinions expressed here are all my own.