These vegan rice crispy treats are sweet, chewy and packed with pumpkin for a fun fall twist on a childhood classic. Done in just 10 minutes!
Vegan Pumpkin Rice Crispy Treats
Today, we're putting a fall spin on one of your favorite treats straight from your childhood lunch box: Pumpkin Rice Crispy Treats. Yup, you read that right. It's time to embrace your inner 9 year old my friends.
Not only are we making a homemade rice crispy treat that's even better than the ones in the blue packaging. BUT we're going even further and making some from real, plant-based ingredients. That's right. These are vegan rice crispy treats! They're filled with wholesome ingredients and of course we're throwing in some pumpkin… 'cause fall. 🍂
I'd love to hear all about the pumpkin goodies you're enjoying this fall. I want to try some more! I'm definitely making some pumpkin bread soon – call me obsessed. Hey, it's a vegetable!
Any pumpkin recipes you want to see on the blog? Let me know!
These rice crispy treats would make a great lunch box treat if you have kids, or really for anyone! If you get to try these out, snap a pic, post it on Instagram, and tag me @emilieeats! Your pictures and comments make my day brighter. 🙂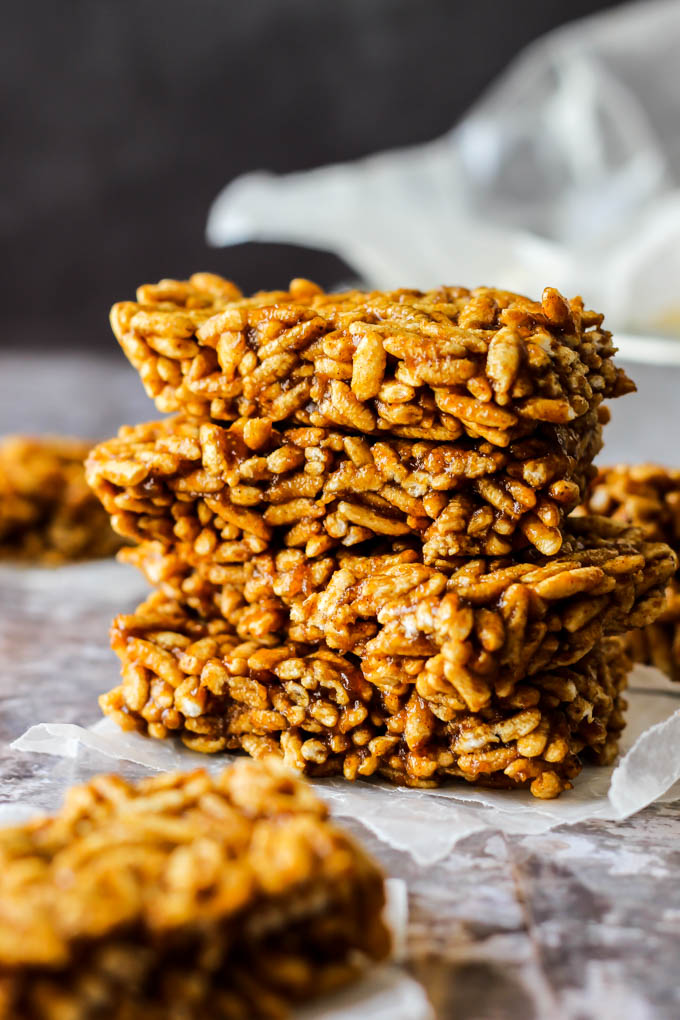 Ingredients for Pumpkin Rice Crispy Treats
Ever since I made these dark chocolate cherry almond granola bars which absolutely require brown rice syrup, the sad jar of syrup has been staring at me from the pantry. "Use me!" But in what? I wasn't really sure what else I could do with brown rice syrup, since it is super duper thick and goopy. Then I thought of homemade rice crispy treats…and pumpkin…and these babies were born!
If you're hesitant about buying a jar of brown rice syrup, don't be – just think about how many batches of pumpkin rice crispy treats you'll be able to make this fall. Yep, it's worth it. Here's everything you'll need to make these pumpkin rice crispy treats come to life:
Brown rice syrup. Instead of marshmallows, we're using brown rice syrup to give these homemade vegan rice crispy treats that iconic sticky, chewy texture. The flavor of the brown rice syrup is also perfect with the pumpkin.
Pumpkin puree. When you're grabbing your pumpkin at the store, make sure you grab pumpkin puree and not pumpkin pie filling! They're different! If you're feeling super ambitious, you can even make your own! Love and Lemons has a great guide on how to make pumpkin puree.
Blackstrap molasses. This is another ingredient that tends to sit in our pantries after making a batch of homemade gingerbread cookies one time. This pumpkin rice crispy treat recipe is another great way to use it up!
Vanilla. What sweet treat isn't made better with a little vanilla?
Spices. Grab your cinnamon, nutmeg and cloves! These spices really add that warm, fall flavor to these vegan rice crispy treats.
Brown rice crisps. I'm using a sprouted brown rice cereal here, but any puffed rice crisp will work!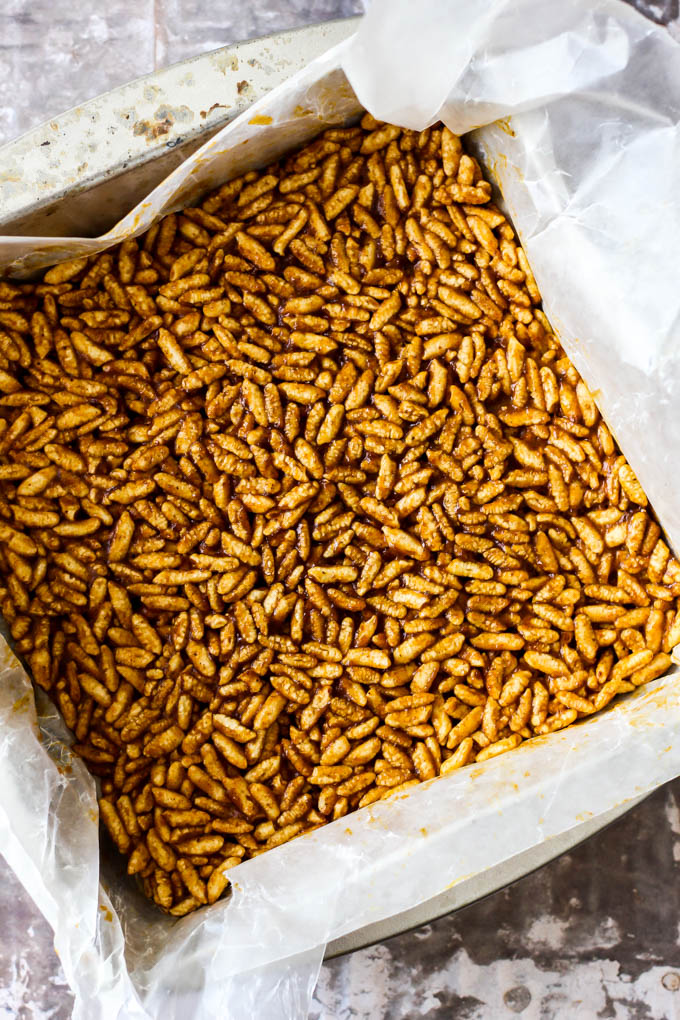 How to Make Vegan Rice Crispy Treats
I don't know if you've ever tried to make homemade rice crispy treats before, but they can actually be a little deceivingly hard to make! The marshmallows can get so gloopy when you melt them if you don't do it just right, they can be so sticky when trying to press them into the pan, and sometimes they just come out hard as a rock.
These vegan rice crispy treats are so simple to make. All it takes is some of that brown rice syrup, some brown rice crisps, pure pumpkin puree, and a hint of spice & everything nice. It really is just about that simple. All you have to do is mix together all the wet ingredients, then add in your spices. Finally, slowly mix in the rice crisps, add to a baking sheet and let it set.
Now all that's left to do is to grab your coziest socks, a warm cup of tea, and dig into your delicious pan of homemade vegan rice crispy treats!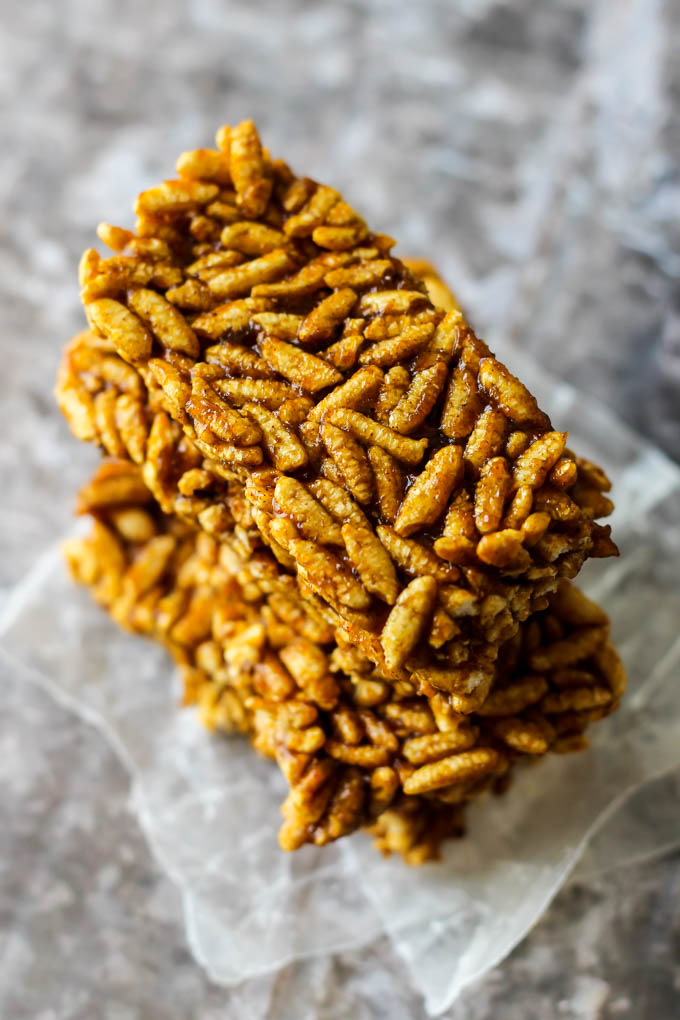 How to Store Vegan Rice Crispy Treats
Homemade rice crispy treats are pretty notorious for going stale quickly. Because we're not using marshmallows in this take on a vegan rice crispy treat, they stay soft for much longer.
Make sure you wrap them up nice and tight and store in an airtight container. I recommend stashing them in the refrigerator. Or you can even keep them in the freezer if you'd like to hang onto them a little longer. Then just pull them out and let them come up to room temperature for about 3o minutes before you're ready to slice into them!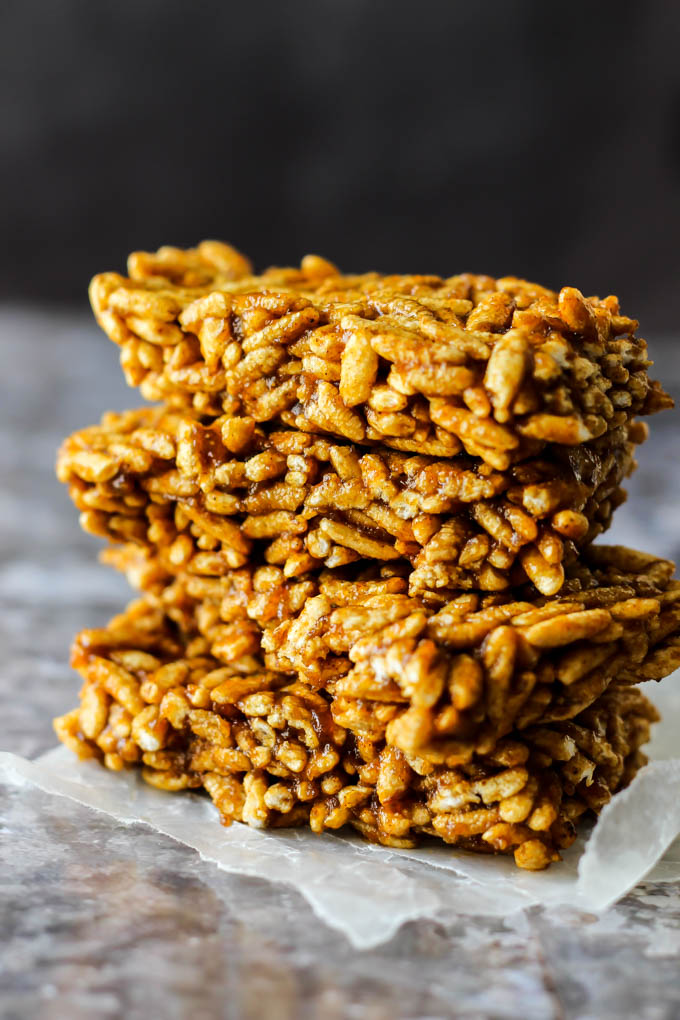 More Vegan Pumpkin Recipes
Pumpkin season is in full swing and I am all about it! From savory to sweet, if you're looking for more vegan pumpkin recipes, I've got you covered! Check out some of these delicious recipes to satisfy your next pumpkin craving!
Print
How to make:
Vegan Pumpkin Rice Crispy Treats
These vegan rice crispy treats are sweet, chewy and packed with pumpkin for a fun fall twist on a childhood classic. Done in just 10 minutes!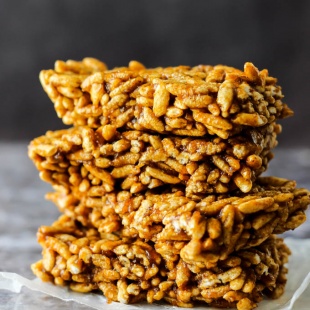 Ingredients
1/2 cup

brown rice syrup

1/3 cup

pure pumpkin puree

1 tablespoon

blackstrap molasses

1 teaspoon

vanilla extract

1 teaspoon

ground cinnamon

1/4 teaspoon

ground nutmeg

1/4 teaspoon

ground cloves

6 cups

brown rice crisps
Instructions
Line a 9×9 baking pan with foil or wax/parchment paper
In a medium bowl, add brown rice syrup, pumpkin puree, and molasses. Whisk to combine; microwave for 15-30 seconds if needed. Add vanilla, cinnamon, nutmeg, and cloves; stir thoroughly.
Add brown rice crisps to a large bowl. Slowly pour the wet ingredients into the large bowl while stirring. Combine the ingredients with a wooden spoon until the crisps are evenly coated.
Pour mixture into the lined pan. Top with another sheet of parchment paper, then press the mixture firmly into the pan until it's an even thickness throughout. You want it to be really packed in the pan.
Place in the freezer for at least 30 minutes. When ready to eat, let them sit at room temperature for a few minutes, slice, and enjoy!
Notes
You can store these in the freezer or refrigerator.