These Vegan Stuffed Shells will be your go-to comfort food dinner! The shells are stuffed with dairy-free tofu ricotta and a vegan meat sauce. In partnership with Lightlife!
Vegan Stuffed Shells with Tofu Ricotta
I am one happy girl because I just had a big plate of these vegan stuffed shells for lunch, and half of the batch is in the freezer for later. The best of both worlds.
Last week, my mom was visiting me in Colorado, and lucky for her I needed to get ahead on some recipe development and photography before the end of the year. We had a lot of good food to munch on, including these stuffed shells. Mom loved them, so that's an A+ in my book. Mom knows best, right?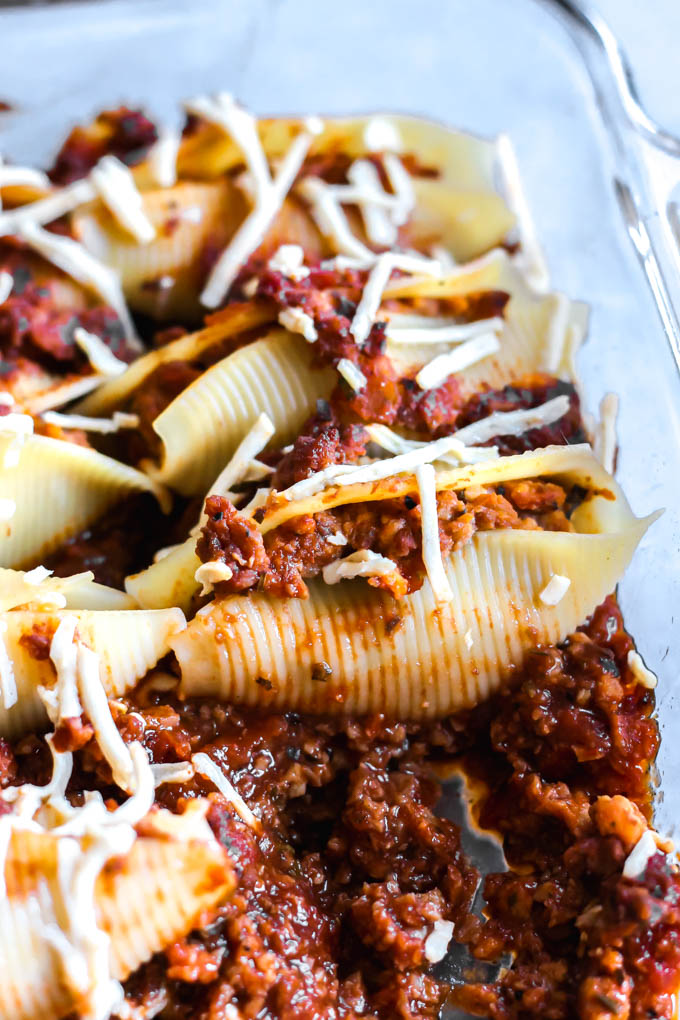 Ingredients for Vegan Stuffed Shells
I've been dreaming of buying some huge jumbo pasta shells and stuffing them with something hearty and comforting. What better than lasagna?
There are essentially three components to this vegan stuffed shells recipe: the tofu ricotta, the vegan meat sauce and the pasta. Here's everything you'll need to make them:
Pasta. You'll want a 12-ounce box of jumbo pasta shells for this recipe. You could also use gluten-free shells if you can find them!
Dairy-free mozzarella shreds. They're lasagna stuffed shells after all, so we're putting plenty of vegan mozzarella on top.
Oil. I recommend canola oil or olive oil for this recipe.
Lightlife Smart Ground Original. This is the base of our vegan meat sauce.
Pasta sauce. Use any kind you'd like! A mushroom sauce, classic marinara or roasted garlic sauce would be delicious.
Spices. You'll need Italian seasoning, garlic powder, onion powder, salt and pepper
Tofu. We're making homemade vegan ricotta using extra-firm tofu. Make sure you drain and press it!
Plain hummus. This is going into our tofu ricotta to help make it super creamy.
Nutritional yeast. We want our tofu ricotta to have a nice, cheesy flavor, and nutritional yeast adds the exact umami, cheesiness we're looking for.
Lemon juice. This will help brighten up our tofu ricotta with a little bit of acidity.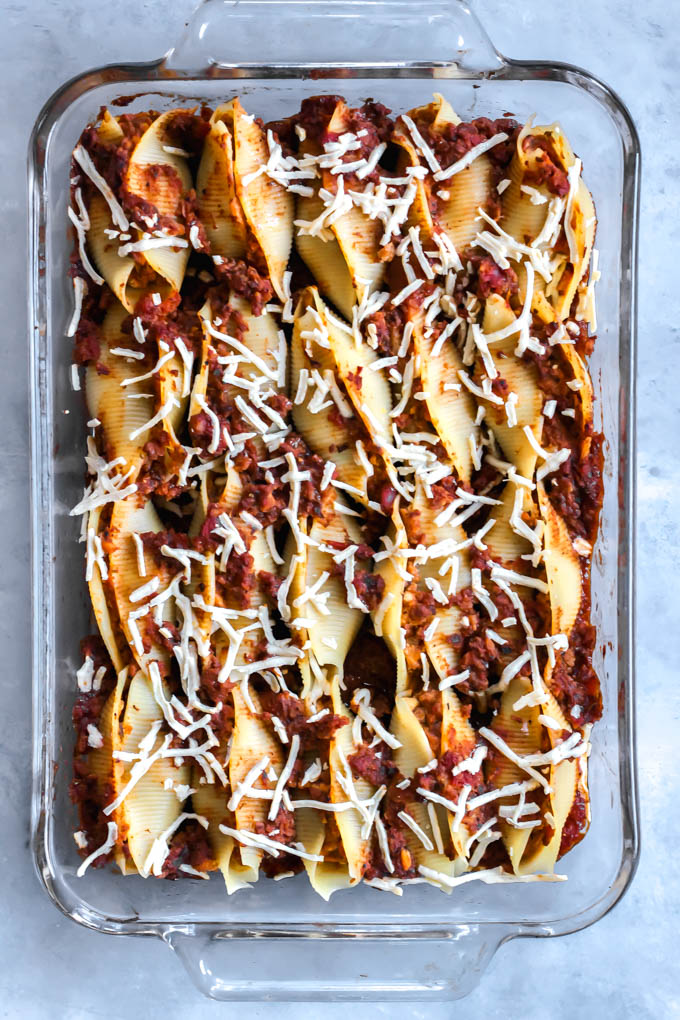 How to Make Tofu Ricotta
While you could buy a store-bought vegan ricotta, this tofu ricotta is so easy to make, packs extra plant-based protein into our vegan stuffed shells, and it's so much cheaper than any of the pre-made options you'll find.
All you need to do is crumble a block of drained and pressed extra-firm tofu into a bowl and mix it up with a bit of hummus, lemon juice, nutritional yeast and all of your spices. It's the perfect filling for these lasagna stuffed shells!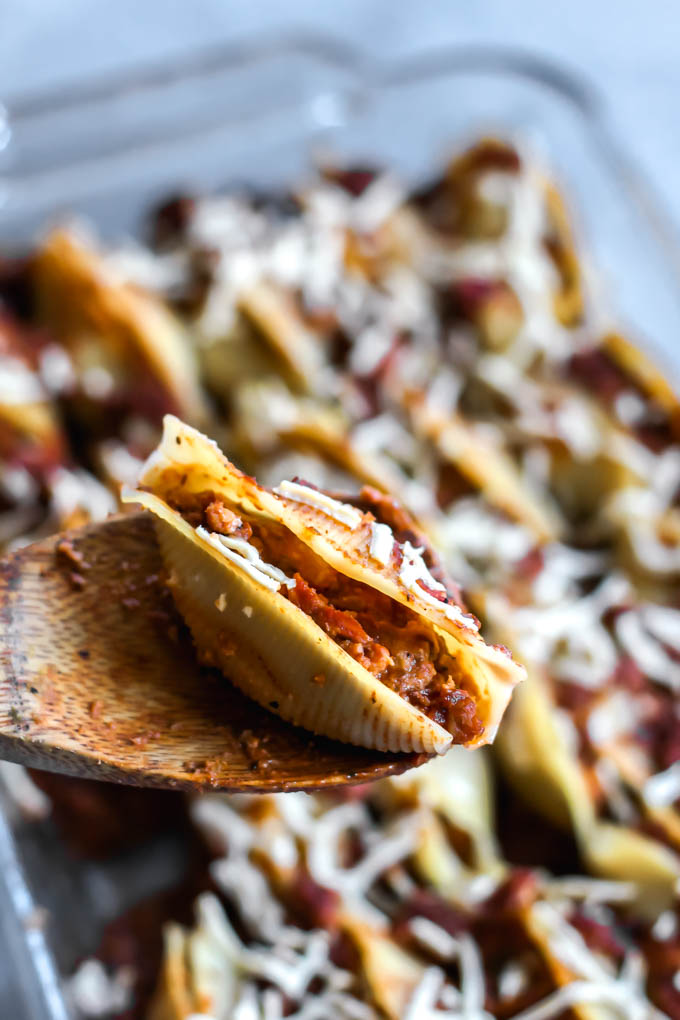 How to Make Vegan Meat Sauce
When thinking about the sauce I wanted to use in these vegan stuffed shells, I knew I wanted to add in the Lightlife Smart Ground Original because I wanted them to be just as hearty and protein-packed as ones made with meat. With the Smart Ground Original, we're still getting protein (11 grams per serving!), savory flavor, and great texture, without meat!
I love keeping a couple boxes of Lightlife Smart Ground Original in my fridge or freezer for nights I need a quick yet satisfying dinner. You only need to sauté the grounds for about 7 minutes! Just the other night, I made a taco salad with the Smart Ground Original in about 10 minutes. I bet they would be AMAZING in shepherd's pie (omg, I'm drooling) or chili!
All you have to do to make your vegan meat sauce is cook up your Smart Ground in a hot skillet with a bit of oil until it starts to crisp up. Then you'll pour in your pasta sauce, add your seasonings and let the sauce simmer until the flavors have melded.
Not only is this vegan meat sauce perfect for our lasagna stuffed shells, but it'd also be delicious on spaghetti or in a traditional vegan lasagna!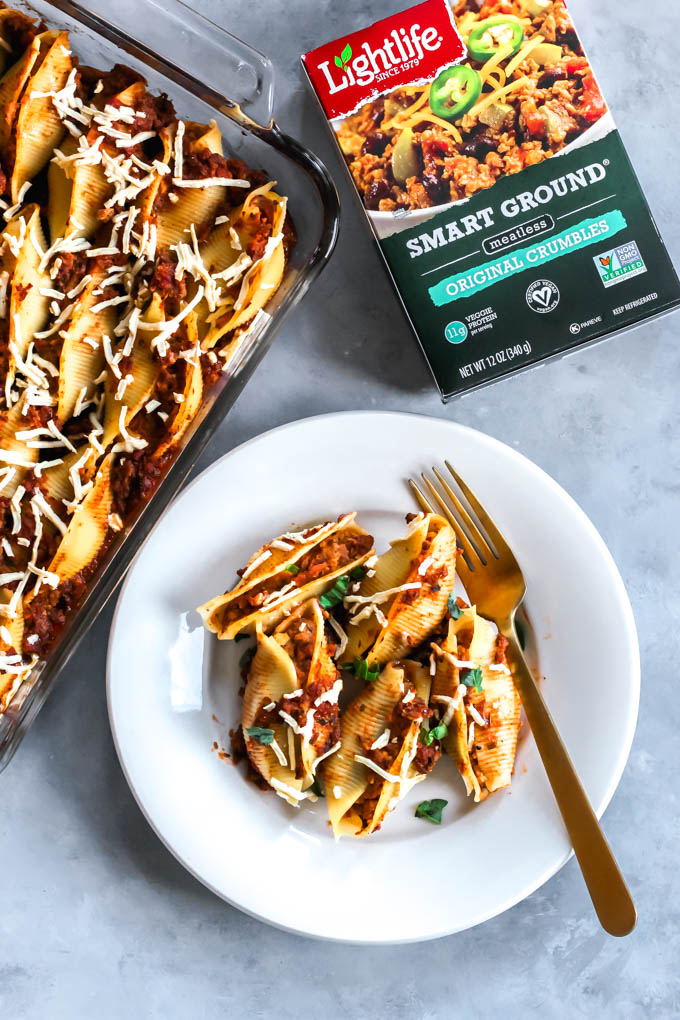 How to Make Vegan Stuffed Shells
While you're prepping your vegan meat sauce and tofu ricotta, you'll want to get your pasta shells in a pot of boiling water to cook. Once the pasta is cooked, the meat sauce has simmered and your tofu ricotta is ready to go, it's time to stuff our shells!
You'll start by pouring a layer of sauce into the bottom of a casserole dish. Then, fill each shell with a scoop of tofu ricotta and a scoop of vegan meat sauce. Line up all your stuffed shells in your casserole dish and pour any leftover meat sauce on top. Finally, top it all off with a generous handful (or two) of vegan mozzarella.
After that, the vegan stuffed shells just need about 15 minutes in the oven, then you are more than welcome to absolutely devour the pan.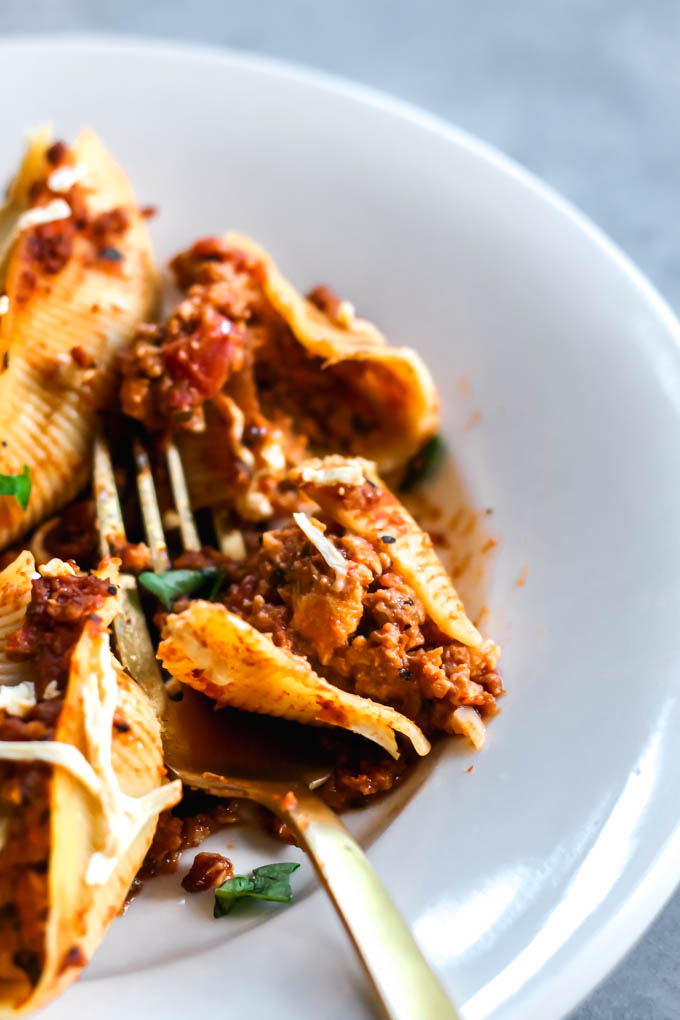 More Vegan Comfort Food Recipes
Serving a crowd? Need some vegan comfort food in your life? In a committed relationship with pasta? This recipe is for you.
If you make this recipe for vegan stuffed shells, be sure to leave a comment below to let me and others know how it turned out! If you're looking for more delicious vegan comfort food recipes, I know you'll love these ones!
Print
How to make:
Vegan Stuffed Shells with Tofu Ricotta
These Vegan Stuffed Shells will be your go-to comfort food dinner! The shells are stuffed with dairy-free tofu ricotta and a vegan meat sauce. In partnership with Lightlife!
Ingredients
1

12-ounce box jumbo pasta shells

¼

–

½

cup dairy-free mozzarella shreds
For the "meaty" tomato sauce:
Cooking oil

1

package Lightlife Smart Ground Original (defrosted if frozen)

1

25-ounce jar pasta sauce

1 teaspoon

Italian seasoning

½ teaspoon

garlic powder

½ teaspoon

onion powder

¼ teaspoon

black pepper
For the tofu ricotta:
½

14-ounce package extra-firm tofu, drained and pressed*

¼ cup

plain hummus

¼ cup

nutritional yeast

1 tablespoon

lemon juice

1 teaspoon

Italian seasoning

½ teaspoon

salt

½ teaspoon

garlic powder

¼ teaspoon

onion powder

¼ teaspoon

black pepper
Instructions
Preheat oven to 350ºF.
Cook pasta according to package directions. Drain.
In a medium skillet over medium heat, add a little oil. When hot, add Smart Ground. Cook for 5-7 minutes, stirring and breaking up any chunks. Turn heat to low. Add pasta sauce and seasonings; cook for 5 minutes. Turn off heat.
In a medium bowl, crumble tofu into small pieces. Add the remaining ricotta ingredients. Stir until fully combined.
Add 2 cups of the tomato sauce to the tofu ricotta. Stir until combined.
In a 9×13 baking dish, add most of the remaining tomato sauce in a single layer (leave a little for topping). Stuff each pasta shell with about 1 tablespoon of the ricotta & tomato sauce mixture, then place in the baking dish. Repeat until all pasta shells are stuffed. If you have any stuffing mixture left, add to shells.
Top the shells evenly with the remaining tomato sauce and dairy-free mozzarella shreds. Bake for 15-17 minutes, until the mozzarella shreds are melty.
Notes
*Use a tofu press, or wrap the tofu in paper towels and place in the sink with a heavy object on top. Press for 10-15 minutes.
Thanks to Lightlife for sponsoring this post! I love working with brands whose products I really love and would honestly recommend. Thank you for supporting this blog that I love oh-so-much!