This easy Vegan Chicken Alfredo comes together in just 30 minutes. The vegan cashew alfredo sauce is simple to make and unbelievably creamy.
Vegan Chicken Alfredo with Broccoli
Let it be known that my girlfriend Taylor said THIS vegan alfredo recipe is in the top five recipes I've made her. Keep in mind that I've cooked a TON of recipes for her, so that compliment says a lot.
How many of us grew up eating chicken alfredo pretty often? I feel like it's a staple in most kids' diets. Plain chicken, creamy sauce, chewy pasta, and maybe some broccoli (if you were open to green food).
Believe it or not, this vegan alfredo pasta is JUST like the version you're used to. This recipe doesn't play – it's the real deal, y'all. Let's get into it!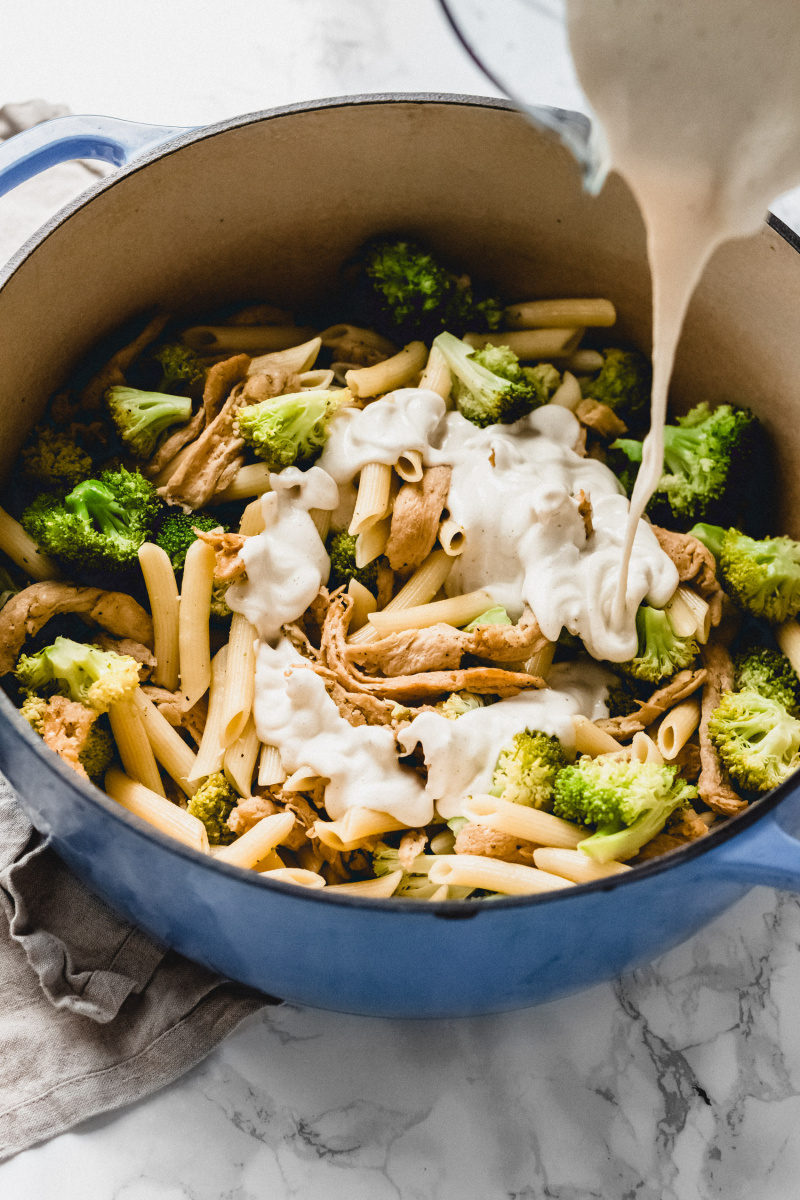 Ingredients in this Chicken Broccoli Alfredo
We're making a creamy cashew alfredo sauce for this vegan chicken pasta recipe. It's luscious, savory and so easy to make. You'll truly never know that this is a dairy-free alfredo!
So how do you make a vegan chicken alfredo that's damn near authentic? We'll need:
Pasta. Any shape is fine!
Broccoli. Also, you can use peas, asparagus, or other vegetables.
Soy curls. If you haven't used soy curls yet, order them stat! They replicate the texture of chicken very well.
Spices. Since the soy curls are plain soy protein, we need to make them taste like chicken using lots of delicious seasonings.
Cashew alfredo sauce. The star of the show! Cashews, miso, nutritional yeast, non-dairy milk, and spices come together to make the creamiest dreamiest vegan alfredo sauce.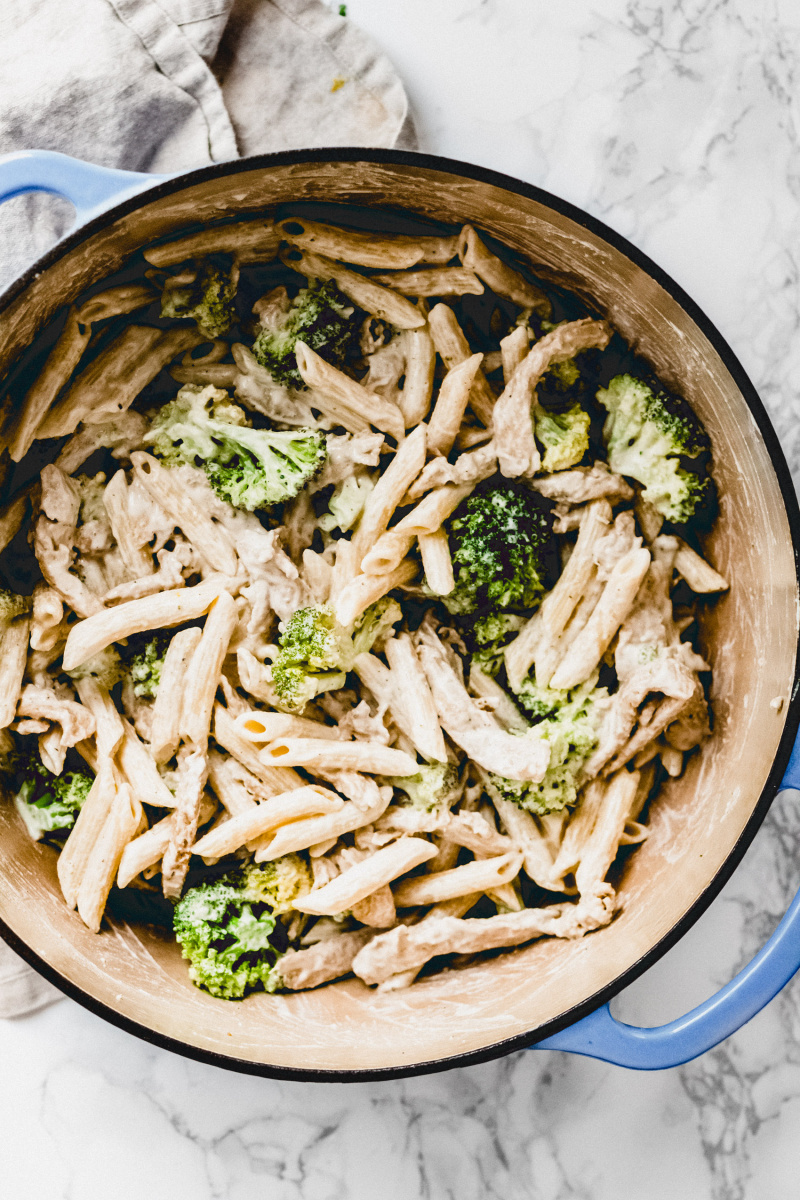 What are Soy Curls?
I just discovered soy curls, and I'm never turning back! Soy curls are 100% soy protein. In fact, they are made using the soybean, which means they are high in protein (11 grams per serving) as well as fiber (6 grams per serving).
Not only are they a nutritious source of plant-based protein, they're also super easy to prepare. When you purchase soy curls, they're dehydrated, so all you have to do is soak them in water. From here, you can use them how you would use plain chicken. First, I would recommend seasoning them. Then, try chopping the soy curls up for a vegan chicken salad sandwich, sautéing them for fajitas, or, of course, using them in this vegan chicken broccoli alfredo recipe. I also use soy curls in my ICONIC vegan chicken and sausage gumbo recipe!
As far as I know, Butler Foods is the only company who makes soy curls, so check out their website to learn more and purchase.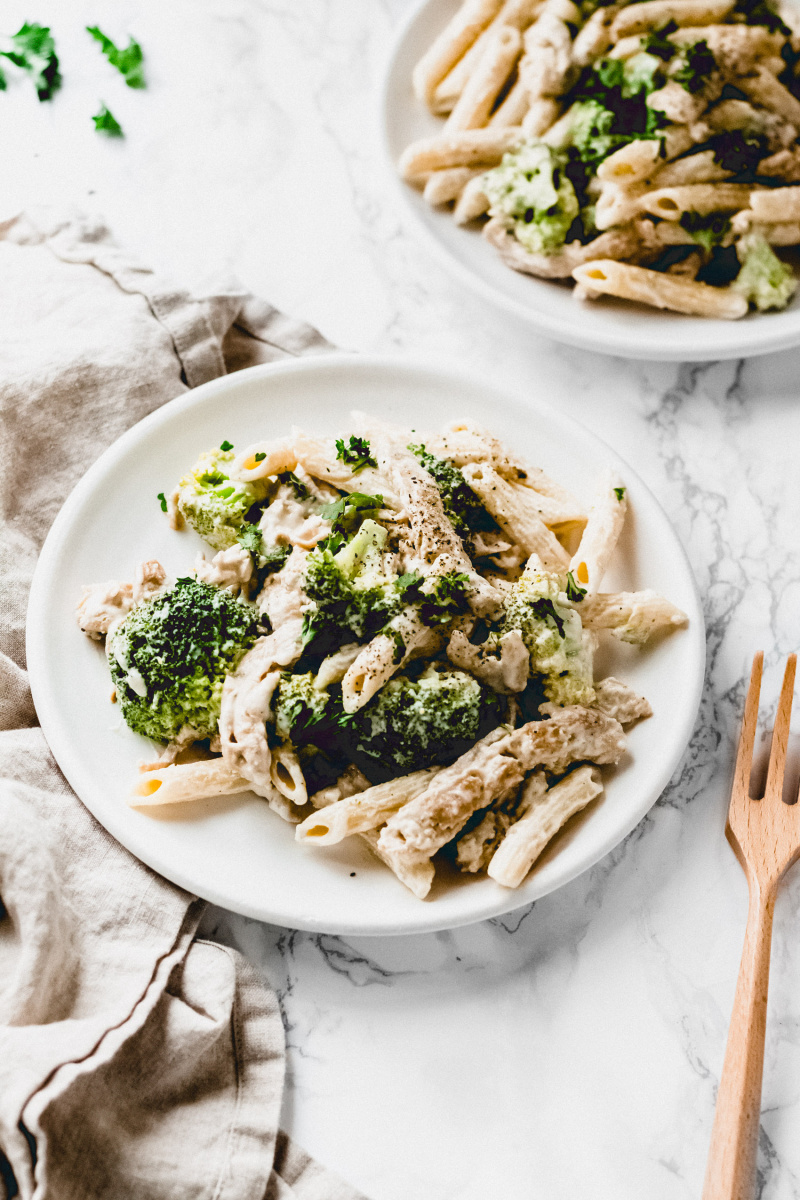 How to Make Vegan Cashew Alfredo Sauce
The heart of this chicken broccoli alfredo is the creamy vegan alfredo sauce. Cashews give the sauce so much creaminess without a lot of flavor so that we can season the vegan alfredo sauce how we want.
Soak the cashews. I recommend letting them soak overnight for the best results. If you forget, you can boil them for 10 minutes, then drain.
Blend all the ingredients. This vegan cashew alfredo comes together in the blender. You'll blend the cashews with unsweetened non-dairy milk, nutritional yeast, miso, garlic, salt, and pepper. The miso and nutritional yeast help give the sauce a punch of umami that you would get in traditional alfredo sauce.
If you're nut-free, I recommend using 1 cup tofu to replace the cup of cashews. If you try this, please comment to let me know how it turns out.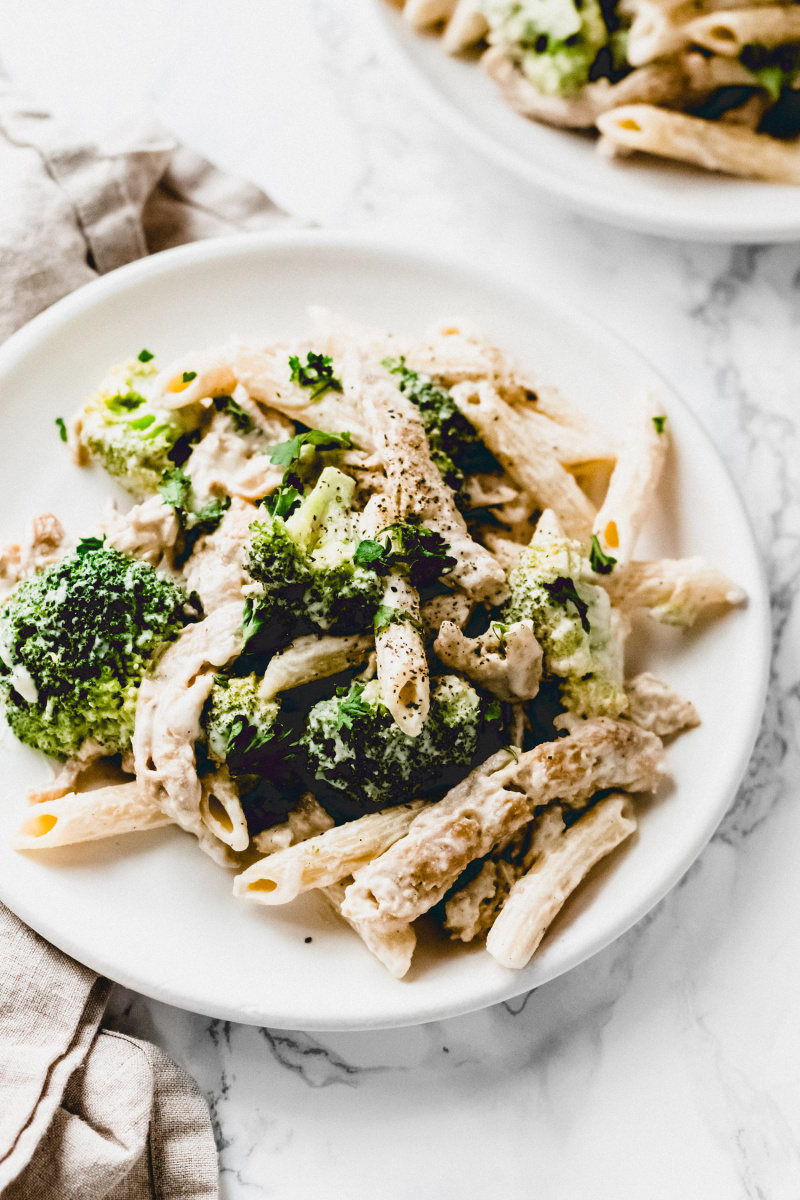 More Creamy Vegan Pasta Recipes
Nothing is more comforting than a big bowl of creamy vegan vegan pasta. Who doesn't love a luscious, velvety sauce? There are lots of different ways to make a creamy vegan pasta sauce, so if you're looking for a new take on your favorite bowl of pasta, try out some of these other creamy vegan pasta recipes!
Print
How to make:
Vegan Chicken Alfredo with Broccoli
This easy Vegan Chicken Alfredo comes together in just 30 minutes. The vegan cashew alfredo sauce is simple to make and unbelievably creamy.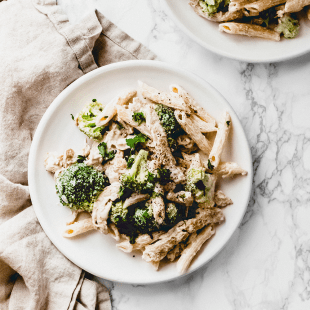 Ingredients
8 ounces

penne pasta

4 cups

broccoli florets, chopped into bite-size pieces
For the chicken:
4 ounces

soy curls

1 tablespoon

olive oil

1/2 teaspoon

salt

1/4 teaspoon

garlic powder

1/4 teaspoon

onion powder

1/4 teaspoon

ground thyme

1/4 teaspoon

ground black pepper
For the sauce:
1 1/2 cups

unsweetened non-dairy milk

1 cup

raw cashews, soaked overnight or boiled for

10

minutes

1 1/2 teaspoons

nutritional yeast

1 teaspoon

miso paste

1/2 teaspoon

garlic powder

1/2 teaspoon

salt

1/8 teaspoon

ground black pepper
Instructions
Cook pasta according to package directions. Drain and set aside.
Hydrate soy curls according to package directions.
Steam the broccoli. In a medium saucepan over medium heat, add about 1/4-inch water. Add broccoli and cover. Steam until fork-tender, about 5 minutes. Remove from pan and set aside.
Cook the soy curls. In the same pan over medium heat, add oil. When hot, add soy curls and all spices. Cook for 5 minutes, stirring. Remove from heat. Add broccoli and pasta to the pan (or add everything to a large bowl).
Make the vegan alfredo sauce. In a blender, add all sauce ingredients. Blend until smooth, adding more milk if needed. Pour sauce over all ingredients. Stir to combine.