Enjoy these Blueberry Cornmeal Muffins for breakfast or as a side! This blueberry cornbread recipe is fluffy and full of juicy blueberries!
Blueberry Cornbread Muffins
"Did I really make these? How did I do this? Were these sent from the heavens?" Those were my exact thoughts as I took my first bite into these perfectly fluffy, round, sweet blueberry cornbread muffins. There really is no better way to describe them than completely magical.
If you make any recipe this week, please let it be this blueberry cornbread recipe.
These muffins were actually supposed to be blueberry cornbread pancakes (totally trying that next). Then I decided to just make normal cornbread, until finally I decided on muffins. As I popped the first batch into the oven, I was worried they wouldn't rise into beautiful muffin tops. But then I looked in the oven and was like HOT DAMN those are the prettiest muffins I've ever made.
Truth is, I'm not that confident in my baking abilities. Sure, I've been baking cakes and brownies and breads since I was tall enough to reach the counter, but those were all from recipes. Baking truly is a science; the leaveners, dry ingredients and wet ingredients and the proportions of all of those are extremely important if you don't want your baked goods to end up in the trash.
That was my biggest worry when I started a blog. It wasn't the tech stuff or the photography or the social media – all of that I can learn. But how the heck do I learn how to create recipes?? In my experience, you just throw some stuff into a bowl with a lot of positivity and hope for the best. And sometimes the best will happen AKA THESE BLUEBERRY CORNMEAL MUFFINS. 😍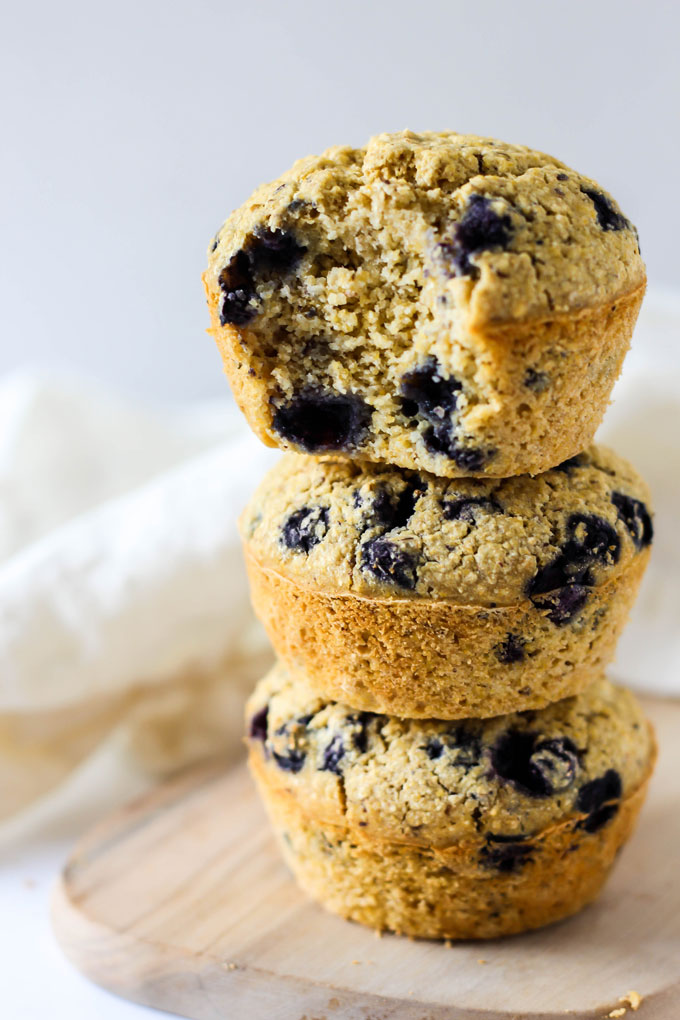 Ingredients for Blueberry Cornbread
Just a few simple ingredients will give you the softest, fluffiest, most perfectly sweet blueberry cornbread. You'd never know until you looked at the ingredients list that they're vegan cornbread muffins! Yup, you read that right – just see for yourself!
Flaxmeal. In place of eggs, we're making a flax egg to bind our blueberry cornbread batter together. All you have to do is mix some flaxmeal into water and let it sit for a few minutes!
Non-dairy milk. You can use any variety you'd like, but I recommend an unsweetened.
Apple cider vinegar. We're making vegan buttermilk by adding 1 teaspoon of vinegar to our plant-based milk. This will help add a bit of tanginess and make these vegan cornbread muffins super tender.
Cornmeal. Of course!
Oat flour. I wanted to ensure these were gluten-free cornbread muffins, so we're using oat flour in place of all purpose. Not only does this still give us a super fluffy blueberry cornbread, but it also helps us pack in even more fiber and protein.
Baking powder and baking soda. We're using both in this recipe to ensure our vegan cornbread muffins are super fluffy.
Salt. A little goes a long way to help balance out the flavor
Applesauce. Go for unsweetened.
Coconut sugar. I absolutely love the flavor that coconut sugar adds to this blueberry cornbread recipe. It's a deeper, brown-sugar-like flavor, but if you don't have coconut sugar, you could totally use regular white granulated sugar.
Vanilla extract. A touch of vanilla will really make the sweetness of the corn and blueberries pop.
Blueberries. You can use either fresh or frozen.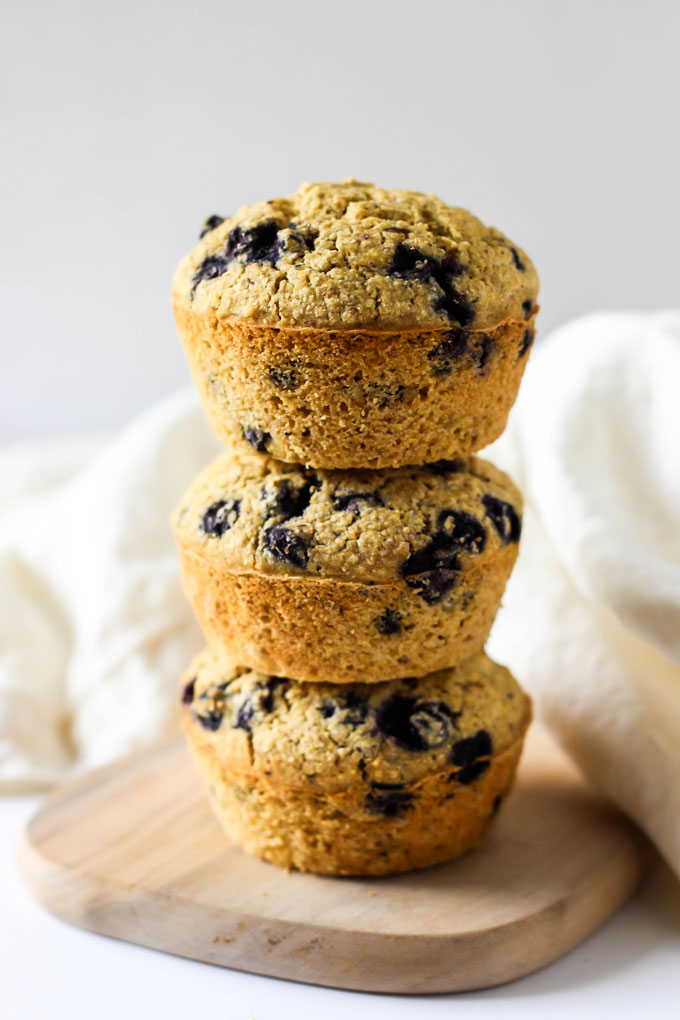 How to Make Blueberry Cornbread
Now like I said earlier, I am not a professional baker, so when I tell you this blueberry cornbread recipe is super easy to make, I really mean it. And because we're making it into muffins, the bake time is only 25 minutes. Easy AND fast!
To start, you'll want to prep your flax egg by combining your flax meal with water in one bowl, and then prep your vegan buttermilk by mixing your milk and vinegar in a second bowl. Both of these will need to sit for 5-10 minutes. While your flax egg and vegan buttermilk are resting, preheat your oven to 350F, line a muffin tin and combine your cornmeal, oat flour, baking powder, baking soda and salt in a large bowl.
After your flax egg and buttermilk are ready, you'll add them to a medium bowl with your applesauce, sugar and vanilla. Stir it up, and then slowly incorporate the wet ingredients into the dry ingredients. Once your vegan cornbread batter is combined, fold in your blueberries gently.
From there, all that's left to do is to pour the batter into your muffin tins and bake for 25 minutes. You'll end up with about 9 blueberry cornmeal muffins perfect to enjoy for breakfast, snacks or as a side dish!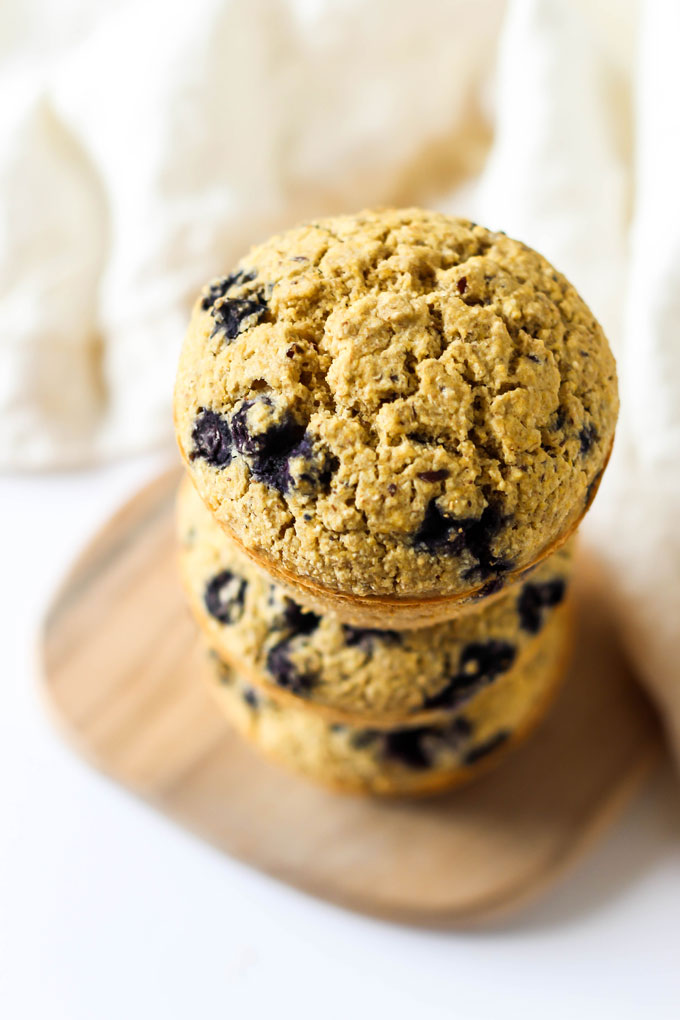 More Vegan Cornbread Recipes
I love having these blueberry cornbread muffins in the summer when blueberries are super fresh and juicy, but thanks to frozen fruit, you can totally enjoy them all year round! If you don't have any blueberries on hand, check out one of these other vegan cornbread recipes!
Print
How to make:
Blueberry Cornbread Muffins
Enjoy these Blueberry Cornmeal Muffins for breakfast or as a side! This blueberry cornbread recipe is fluffy and full of juicy blueberries!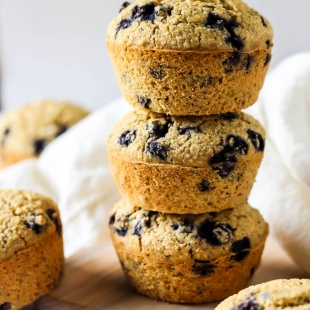 Ingredients
1 tablespoon

flax meal +

2 1/2 tablespoons

water

1 cup

unsweetened non-dairy milk +

1 teaspoon

apple cider vinegar

1 1/2 cups

organic fine cornmeal

1/2 cup

oat flour*

1 tablespoon

baking powder

1/2 teaspoon

salt

1/4 teaspoon

baking soda

1/4 cup

+

2 tablespoons

unsweetened applesauce

1

–

2

tablespoons coconut sugar

1/2 teaspoon

vanilla extract

1 cup

blueberries, fresh or frozen
Instructions
Preheat oven to 350F. Lightly grease a muffin pan or line with muffin tins.
In a small bowl, add flax meal and water. Set aside for 5-10 minutes.
In a medium bowl, add milk and vinegar; stir. Set aside for 5-10 minutes.
In a large bowl, add cornmeal, oat flour, baking powder, salt and baking soda. Stir to combine.
To the bowl with the milk, add flax mixture, applesauce, sugar and vanilla; stir to combine. Slowly pour wet ingredients into the dry ingredients until just mixed. Add blueberries; stir to incorporate.
Scoop the batter into each muffin cup until each is almost full. I made 9 muffins.
Bake for 25 minutes, until a toothpick inserted in the middle of a muffin comes out clean.
Enjoy for breakfast, a snack, or as a side dish. Store in an airtight container in the fridge.
Notes
*To make oat flour, simply blend rolled oats in a blender or food processor until a fine flour forms.