This Vegan Enchilada Casserole is the definition of hearty vegan comfort food. It's an easy dinner recipe that comes together under an hour.
Vegan Enchilada Casserole
You know those days where you come home and all you want for dinner is something that just feels like a big hug? Something super comforting, satisfying and obviously delicious. Nine times out of ten, those are also the days that I have zero interest in putting too much effort into dinner.
Friends, that's where this Vegan Enchilada Casserole comes in. It's the perfect vegan comfort food for late summer. Typically I think of comfort foods like soups, stews and casseroles as being reserved for fall and winter, but just because it's summer doesn't mean we don't sometimes crave a comfort meal on a rainy or busy day! When you top this enchilada casserole with plenty of cilantro, avocado, tomato and a fresh squeeze of lime, it still tastes like summer, but still gives you that big hug-on-a-plate that you're looking for thanks to the hearty black beans, plenty of sauce and no shortage of vegan cheese. And it gets better – there's only 15 minutes of hands-on prep work before you can get this beauty in the oven.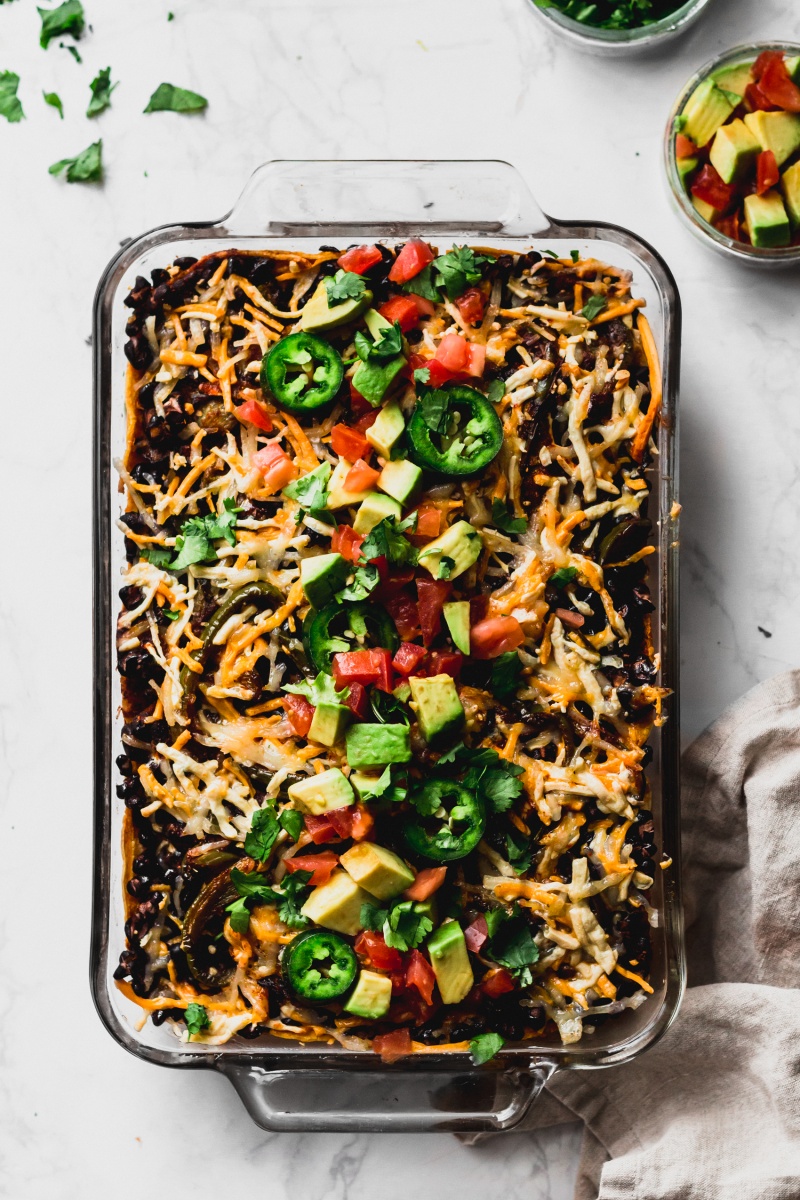 Ingredients in a Vegan Enchilada Casserole
This vegan enchilada casserole recipe requires just 10 ingredients, and the best part is you can really play with it and make it your own. Don't like bell pepper? Use zucchini. Don't have black beans in the pantry? Grab pintos! Store is out of corn tortillas? Flour tortillas will work, too! It's a super flexible recipe that could easily be turned into regular vegan enchiladas if you're up for the assembly.
Oil. The first step of the recipe is to sautee your veggies in oil. You can use a neutral oil or olive oil.
Bell Pepper. I love the flavor and texture of bell pepper in this casserole recipe, however you can sub in any veggie you like! Zucchini, spinach, or cauliflower would all work great.
Yellow Onion. I like that yellow onion provides a bit of sweetness after sautéing, but if you prefer red onion that would also work well
Garlic. Because garlic makes everything better.
Cumin and Paprika. These spices work together to pack a ton of flavor in our vegan enchilada casserole
Enchilada Sauce. As the name suggests, it's the defining ingredient for vegan enchiladas. You can use store-bought, or make your own! I love Minimalist Baker's Easy Red Enchilada Sauce recipe
Corn Tortillas. I highly recommend using corn tortillas because they provide an amazing flavor and texture, but you could also substitute flour tortillas or a different gluten-free tortilla
Black Beans. Beans are filled with fiber and protein, making for a satiating vegan casserole. Pinto beans would also be delicious here!
Vegan Cheese. Pick your favorite and go crazy!

How to Make Vegan Enchilada Casserole
This vegan enchilada casserole recipe is actually SUPER simple. Like, stupid simple. So simple you could cook while you sleep. But maybe don't do that because safety, you know? There's no rolling tortillas and stressing out as they all crack and fall apart, which is without a doubt the biggest part that keeps me from wanting to make regular vegan enchiladas.
The only cooking you need to do before sticking the casserole dish in the oven is sautéing your vegetables. I chose bell peppers and onion for a traditional fajita vegetable mix, but feel free to get creative.
In sum, the order of layers of this enchilada casserole are:
Enchilada sauce (I used store-bought)
Corn tortillas
Black beans
Sautéed vegetables
Vegan cheese (I used Daiya Classic Blend)
I layered everything in a 9×13 casserole dish. I also LOVE using a cast iron skillet to get perfectly charred vegetables.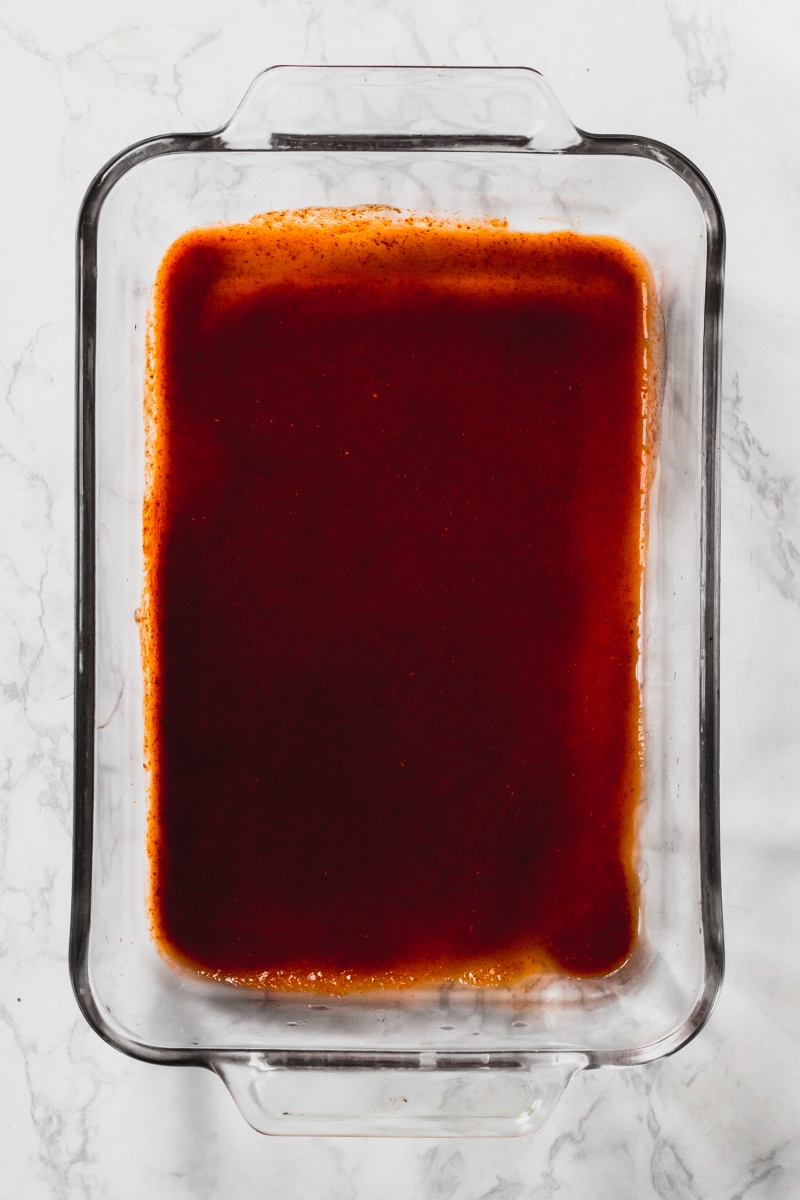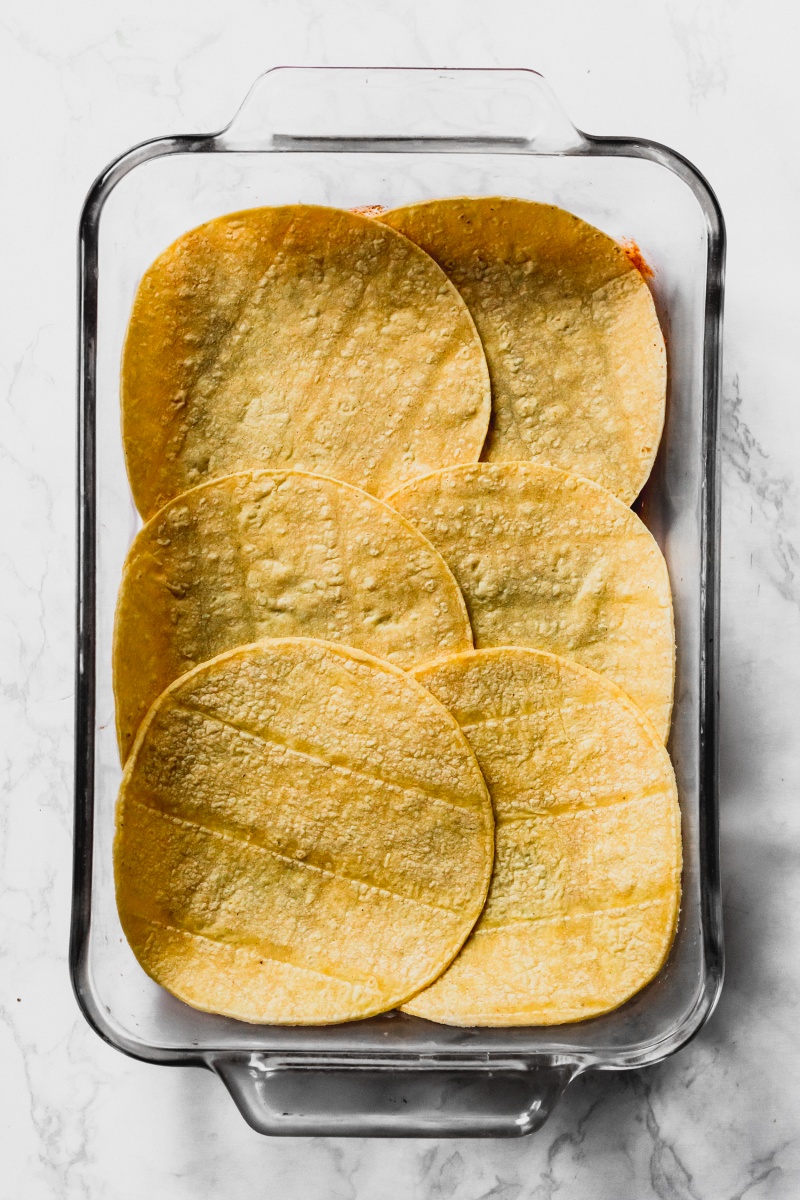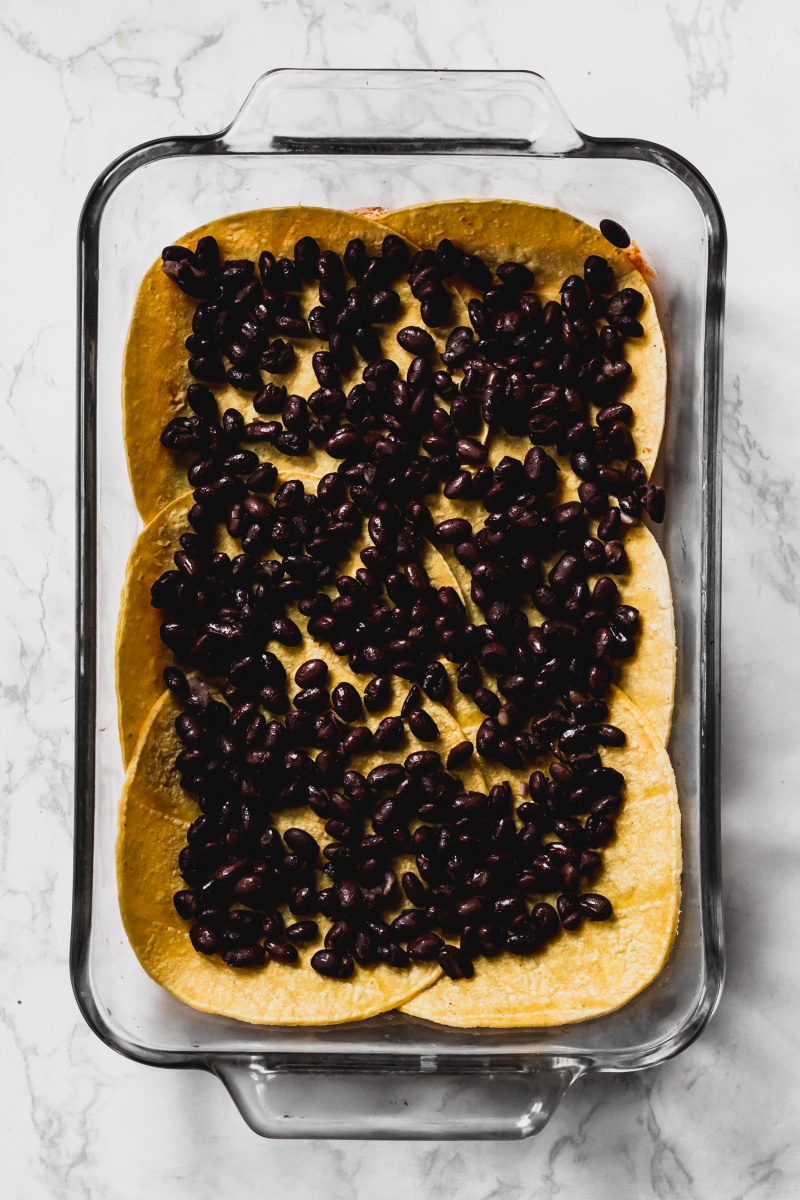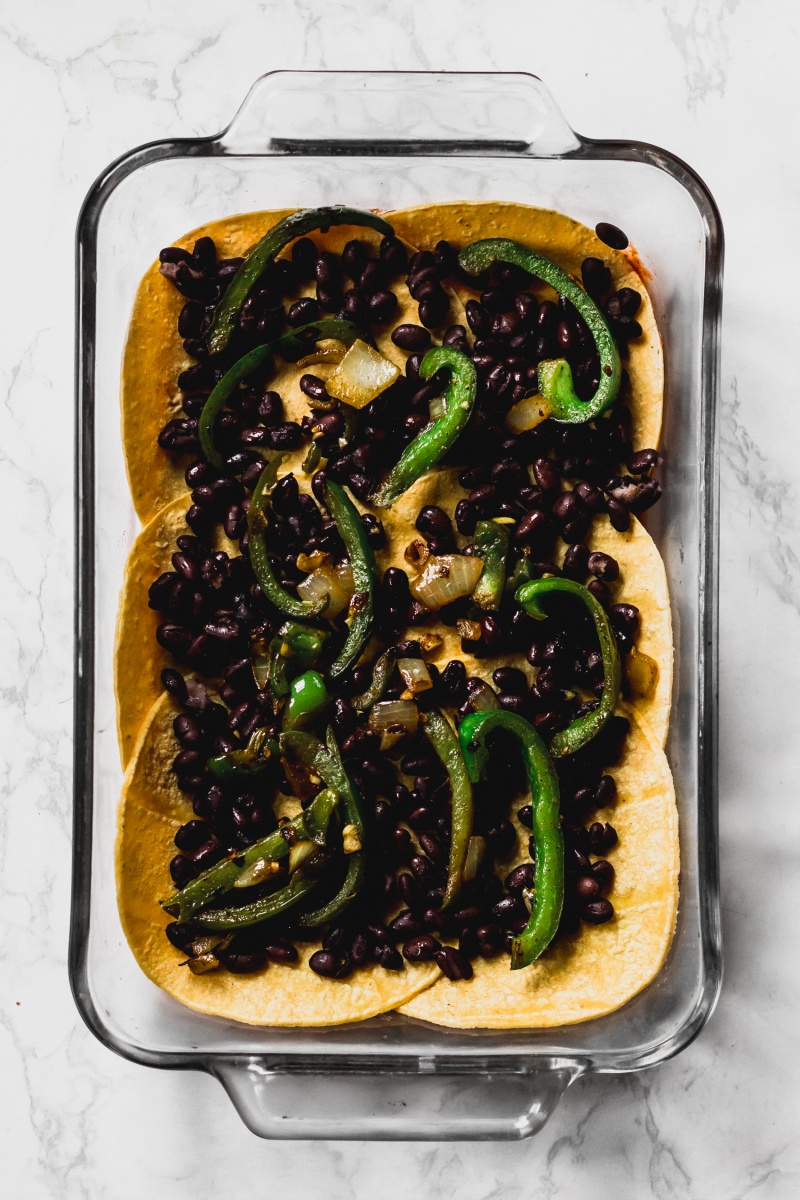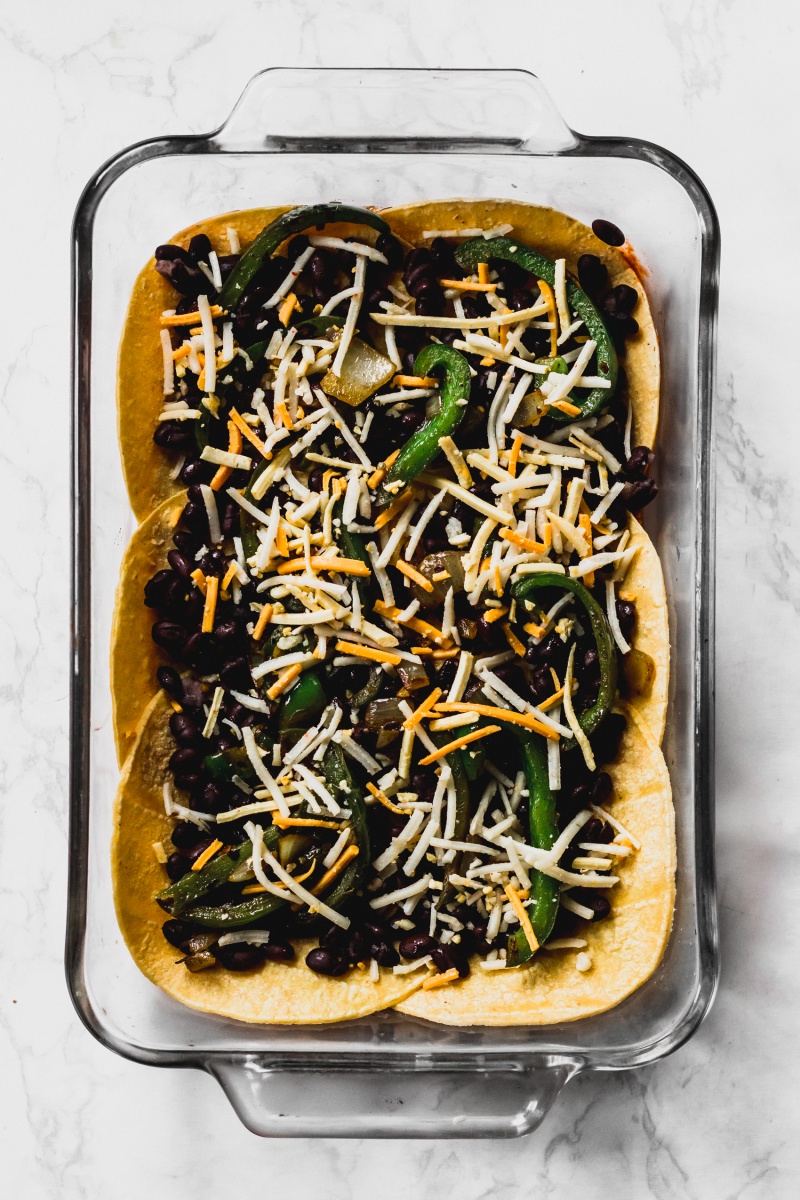 How to Freeze Enchilada Casserole
Here is my favorite way to freeze individual slices of this vegan enchilada casserole: place the slices on a plate or baking sheet so that they don't touch. Then stick it in the freezer. When they're completely frozen, pull the plate or sheet out and THEN pack the slices into a freezer-friendly container. This way, you won't get a big chunk of 6 casserole pieces all stick together when you only want one.
Genius technique, right?!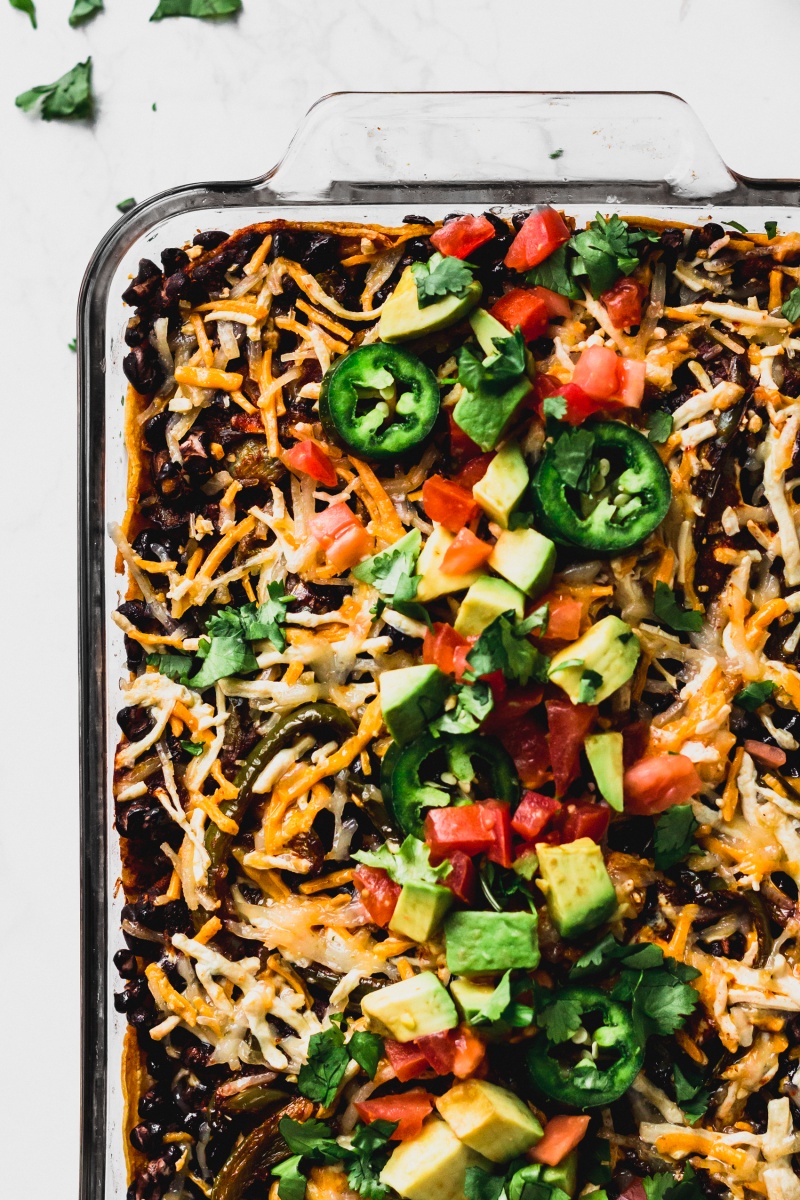 More Vegan Casserole Recipes
I know y'all are going to LOVE this enchilada casserole recipe, since y'all loved these white bean green chili vegan enchiladas so much! If you're looking for more vegan casserole recipes for those days when you need something easy, I've gotcha covered!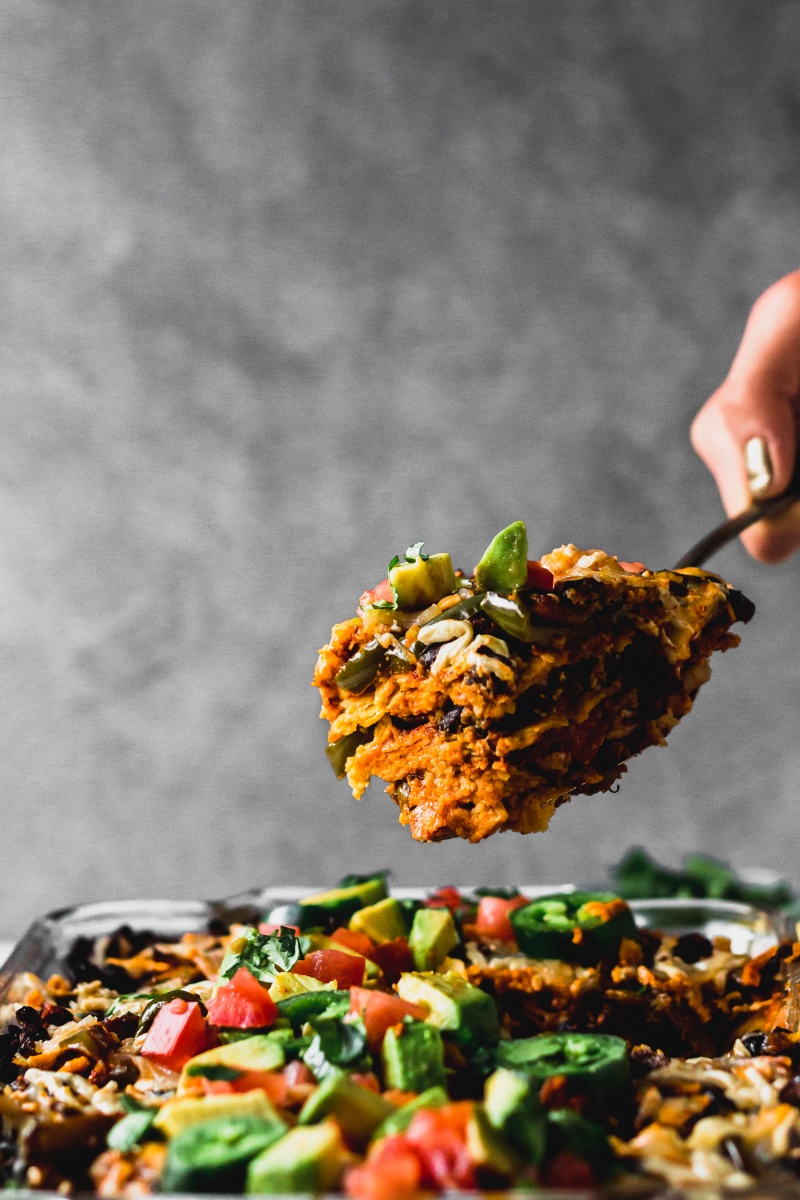 Print
How to make:
Vegan Enchilada Casserole
This Vegan Enchilada Casserole is the definition of hearty vegan comfort food. It's an easy dinner recipe that comes together under an hour.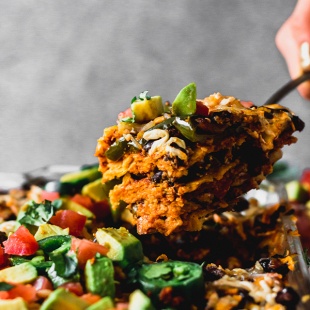 Ingredients
1 tablespoon

oil

1

large bell pepper, thinly sliced

1/2

medium yellow onion, thinly sliced

2

cloves garlic, minced

1/2 teaspoon

ground cumin

1/2 teaspoon

ground paprika

2 1/4 cups

enchilada sauce

18

corn tortillas

3 cups

(

2

15-ounce cans) low-sodium black beans, drained and rinsed

1 1/2 cups

shredded vegan cheese
Instructions
Preheat oven to 350ºF.
In a medium skillet over medium heat, add oil. When hot, add bell pepper and onion. Sauté for 6-8 minutes, until tender. Add garlic, cumin, and paprika; cook for 1 minute, until fragrant.
In a 9×13 baking dish, layer casserole ingredients in this order: 3/4 cup enchilada sauce, 6 corn tortillas, 1 cup black beans, 1/2 cup sautéed vegetables, 1/2 cup vegan cheese. Repeat two more times.
Bake for 30 minutes. Let cool before serving.