This Vegan Enchilada Casserole is the definition of hearty vegan comfort food. It's an easy dinner recipe that comes together under an hour.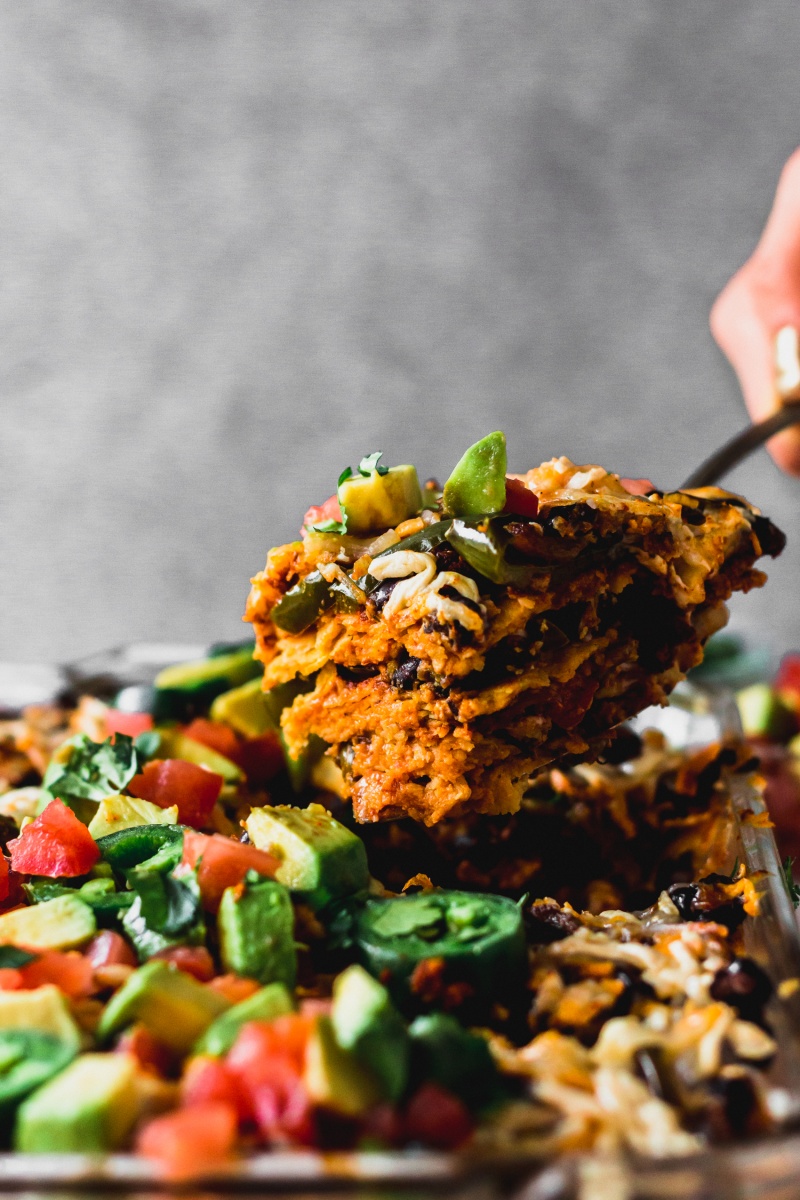 Can you believe it's already the end of January? That went by quickkkkkk. Which is kind of nice, because I'm ready for warmer weather!
Something cool happened a couple weeks ago. You know Emily, right? The one who has been on the Emilie Eats team for 2+ years and who writes some of the blog posts here? Well, here's the thing… I had never met her in person before. Until 2 weeks ago!
I flew Emily out to Colorado to stay with me for a few nights so we could develop and photograph blog content together. We ended up shooting 10 recipes, which will help me get content to you all during possibly the busiest semester yet. It's my last one before I graduate with my master's degree in May!
Emily's favorite recipe during our photography spree was the vegan baked ziti (just wait for that recipe! ah!), but mine was definitely this vegan enchilada casserole. The combo of black beans, tender corn tortillas, enchilada sauce, and vegan cheese was just spectacular. You're in for a real treat with this recipe!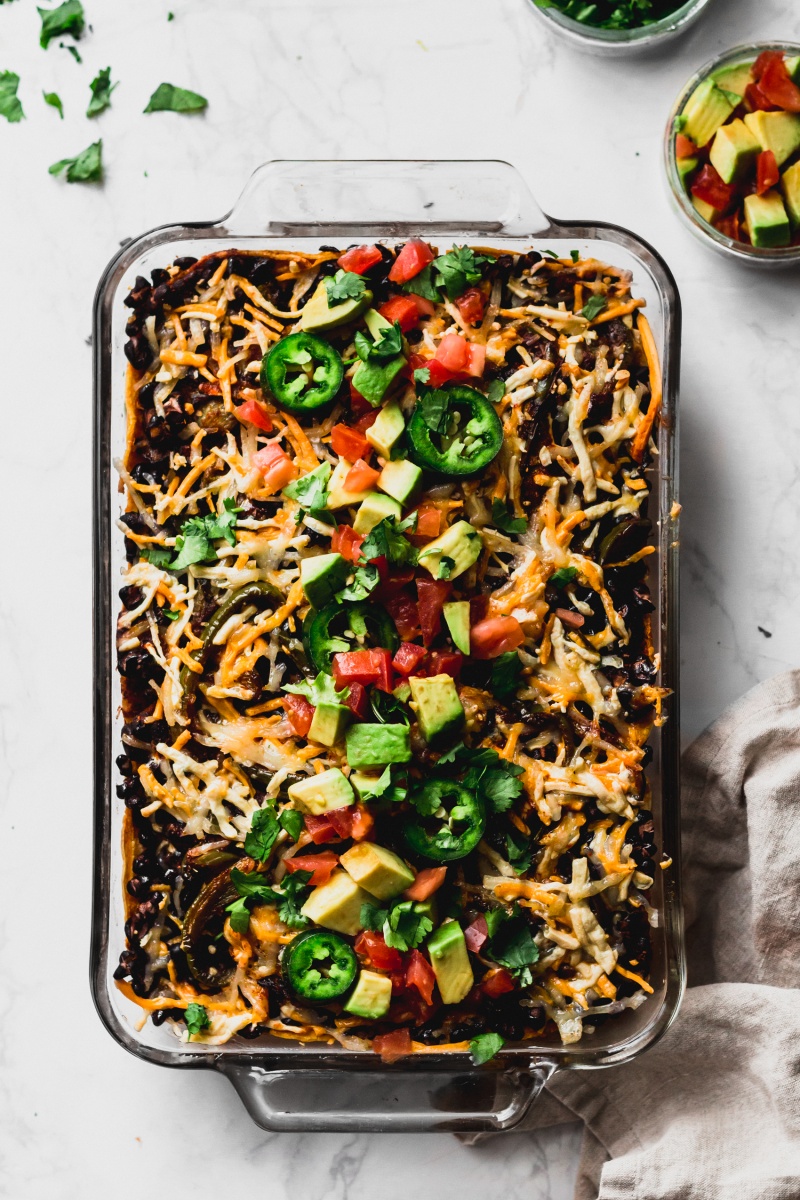 How to Make Vegan Enchilada Casserole
This vegan enchilada casserole recipe is actually SUPER simple. Like, stupid simple. So simple you could cook while you sleep. But maybe don't do that because safety, you know?
The only cooking you need to do before sticking this casserole in the oven is sautéing your vegetables. I chose bell peppers and onion for a traditional fajita vegetable mix, but feel free to use anything here – zucchini, spinach, cauliflower, whatever you want!
The layers of this enchilada casserole are:
Enchilada sauce (I used store-bought)
Corn tortillas
Black beans
Sautéed vegetables
Vegan cheese (I used Daiya Classic Blend)
I layered everything in a 9×13 baking dish. I also LOVE using a cast iron skillet to get perfectly charred vegetables.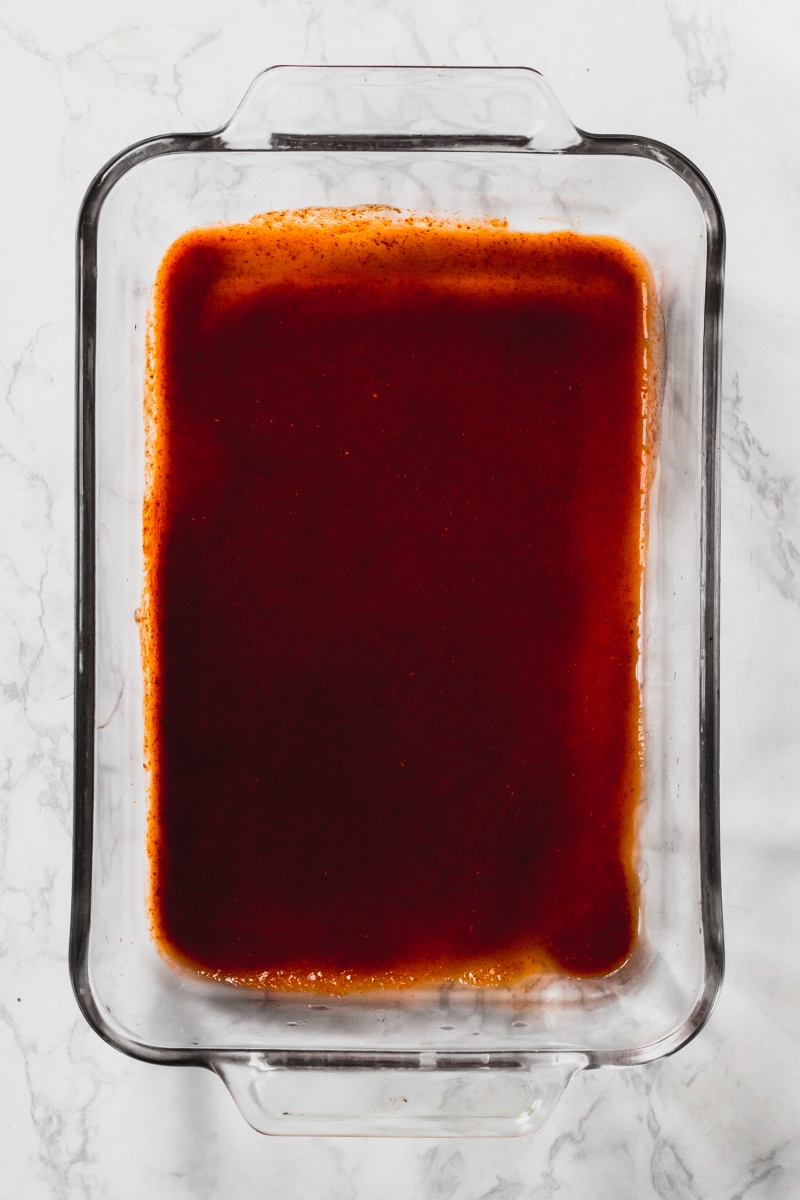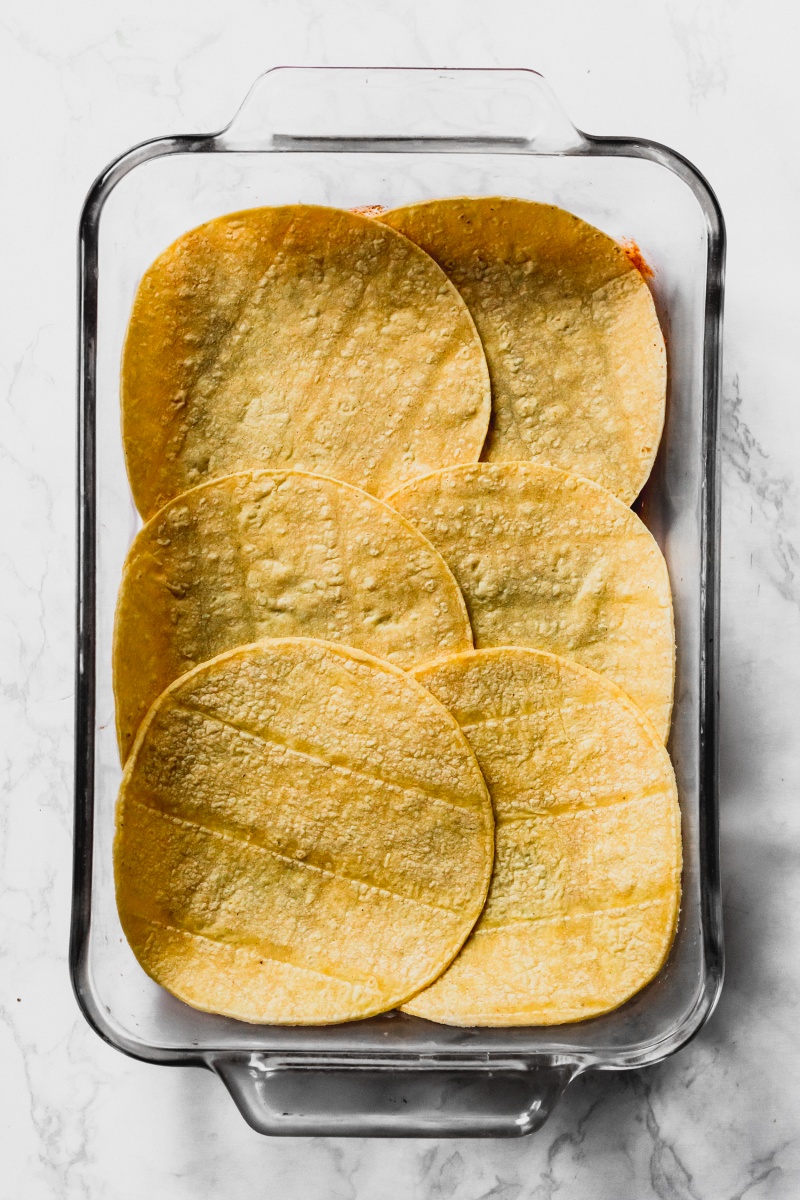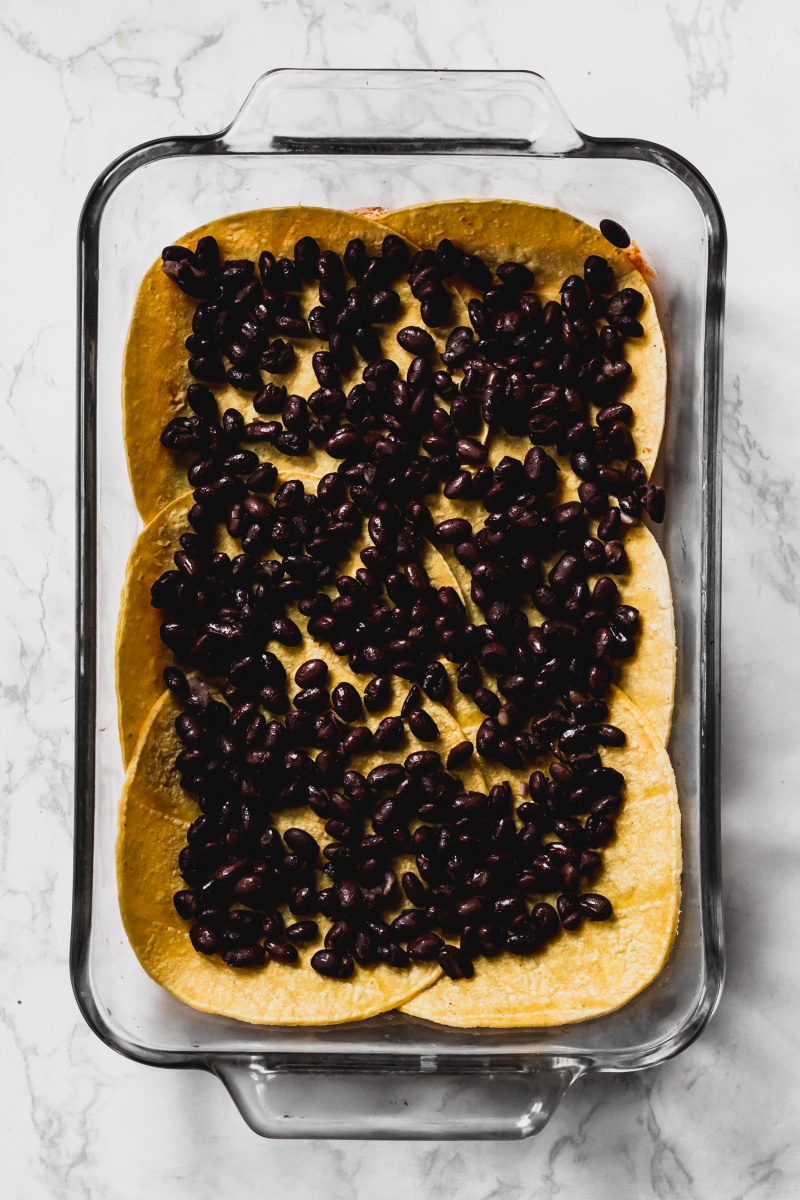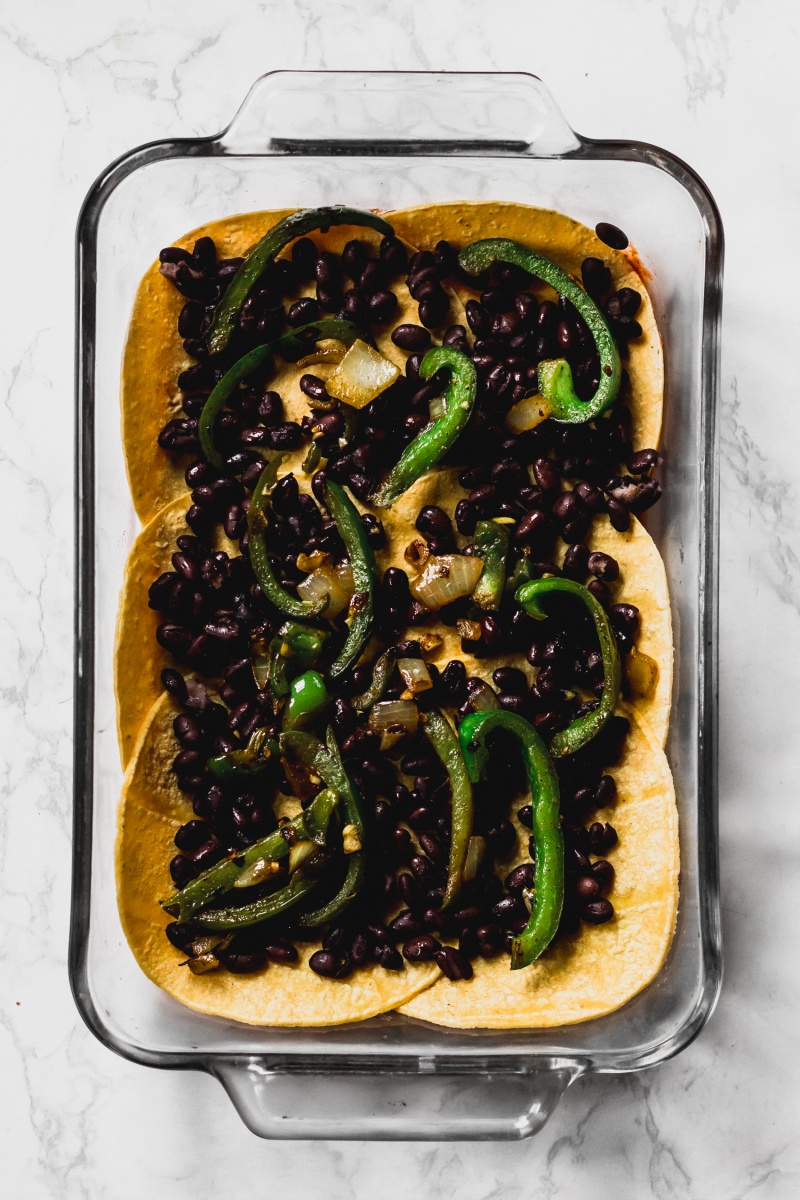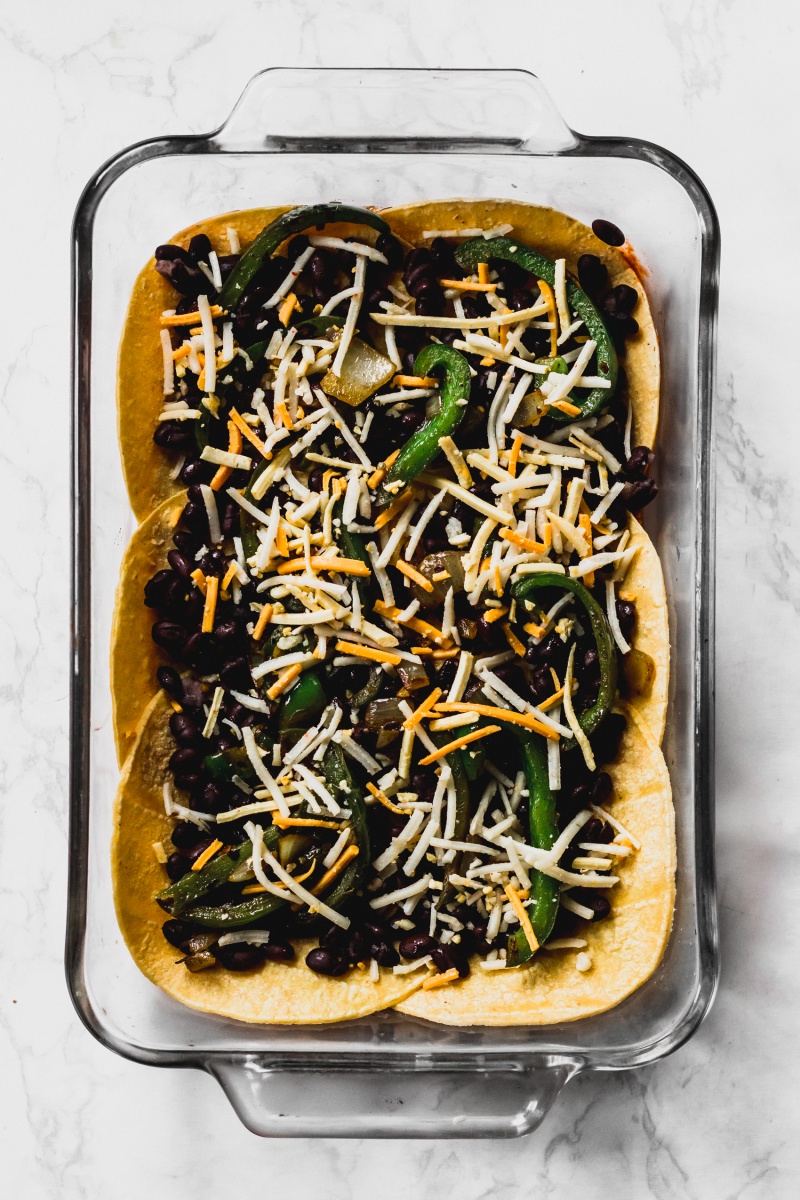 How to Freeze Enchilada Casserole
Here is my favorite way to freeze individual slices of this vegan enchilada casserole: place the slices on a plate or baking sheet so that they don't touch. Stick it in the freezer. When they're completely frozen, pull the plate or sheet out and THEN pack the slices into a freezer-friendly container. This way, you won't get a big chunk of 6 casserole pieces all stick together when you only want one.
Genius technique, right?!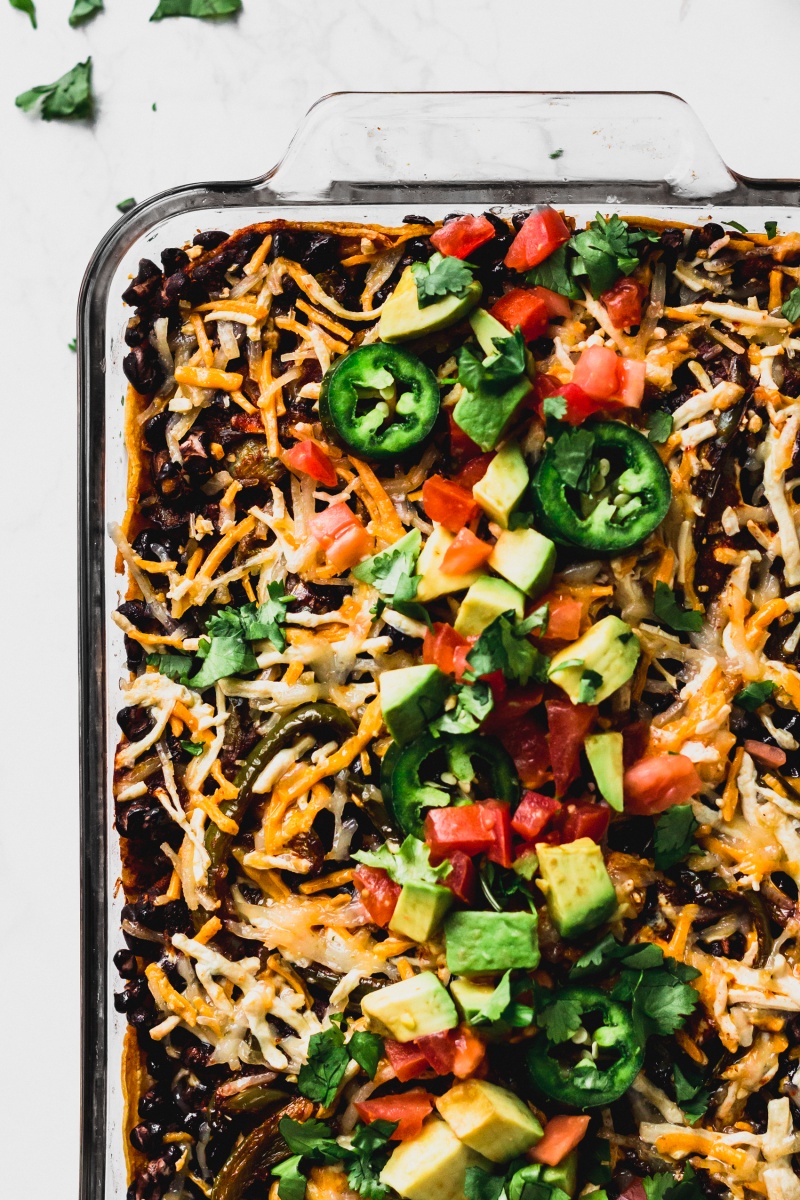 I know y'all are going to LOVE this enchilada casserole recipes, since y'all loved these white bean green chili vegan enchiladas so much!
After cooking for 12 hours a day for 2 days straight when Emily was here, I really don't want to cook ever again. BUT when I finally do feel like cooking, I will probably make this enchilada casserole. It's that good!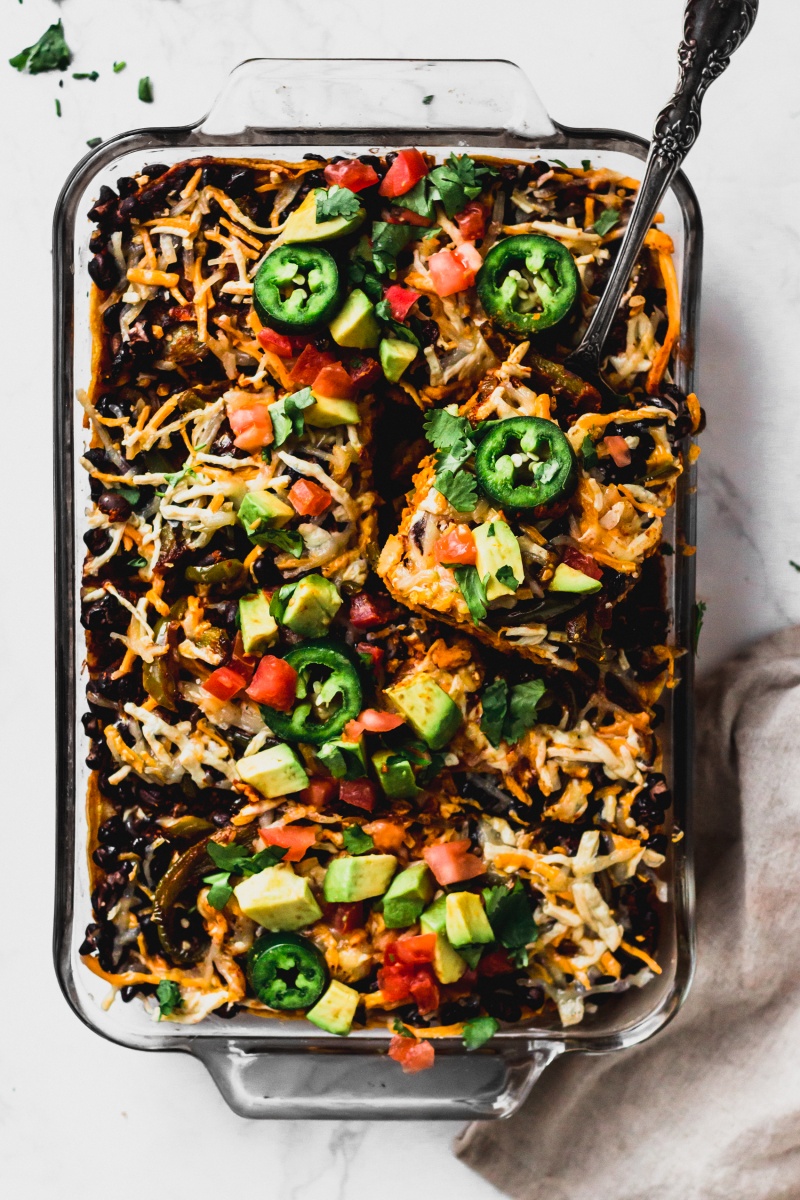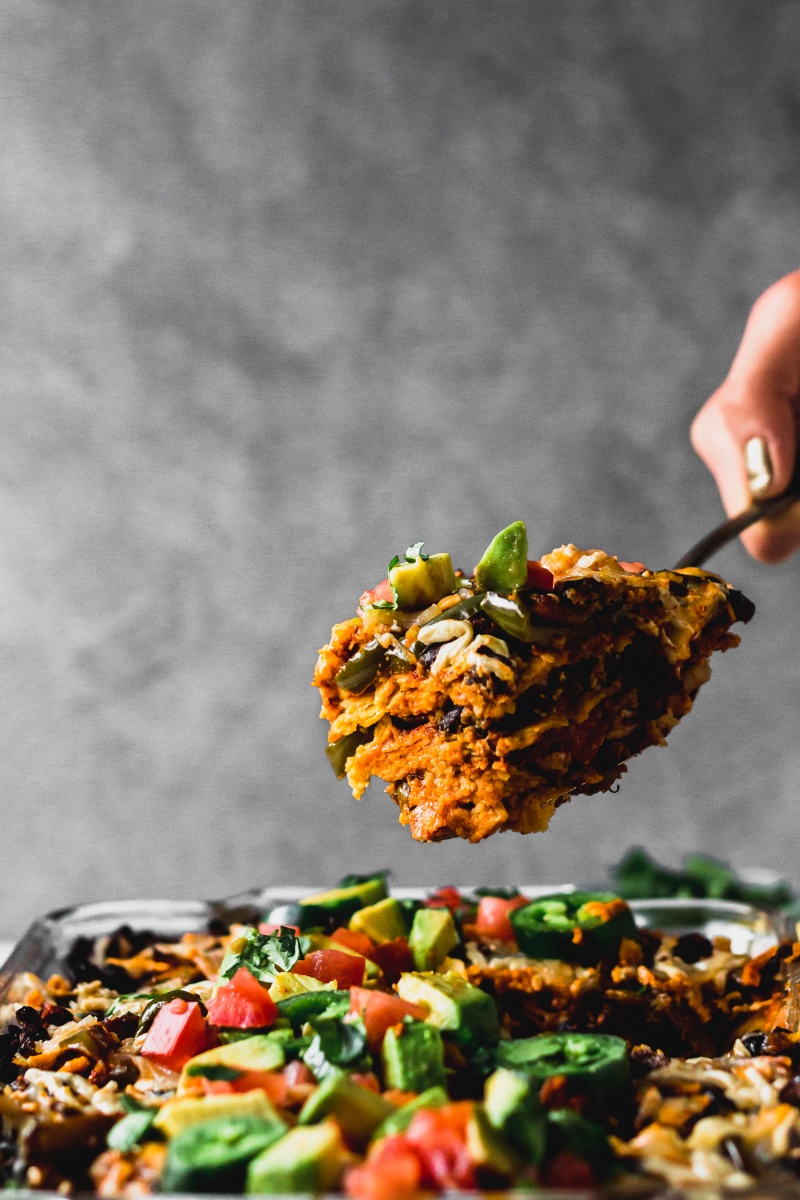 Print
How to make:
Vegan Enchilada Casserole
This Vegan Enchilada Casserole is the definition of hearty vegan comfort food. It's an easy dinner recipe that comes together under an hour.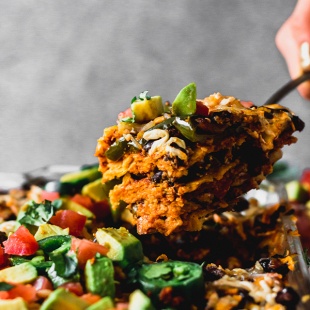 Ingredients
1 tablespoon

oil

1

large bell pepper, thinly sliced

1/2

medium yellow onion, thinly sliced

2

cloves garlic, minced

1/2 teaspoon

ground cumin

1/2 teaspoon

ground paprika

2 1/4 cups

enchilada sauce

18

corn tortillas

3 cups

(

2

15-ounce cans) low-sodium black beans, drained and rinsed

1 1/2 cups

shredded vegan cheese
Instructions
Preheat oven to 350ºF.
In a medium skillet over medium heat, add oil. When hot, add bell pepper and onion. Sauté for 6-8 minutes, until tender. Add garlic, cumin, and paprika; cook for 1 minute, until fragrant.
In a 9×13 baking dish, layer casserole ingredients in this order: 3/4 cup enchilada sauce, 6 corn tortillas, 1 cup black beans, 1/2 cup sautéed vegetables, 1/2 cup vegan cheese. Repeat two more times.
Bake for 30 minutes. Let cool before serving.
Nutrition
Serving Size:

1 slice

Calories:

406

Sugar:

3.7

Sodium:

766.6

Fat:

10.75

Saturated Fat:

3.4

Unsaturated Fat:

4.3

Trans Fat:

0

Carbohydrates:

69.6

Fiber:

14.1

Protein:

12.2

Cholesterol:

0