This Roasted Garlic Cauliflower Soup is a cozy bowl of wholesome ingredients that's perfect as a side dish or main meal! Vegan, gluten-free, done in 1 hour. Made in partnership with AmazonFresh & EatLove.
Is soup usually on your holiday menus? It's not usually something we serve; I don't know why since soup is so easy to make. I mean, you just cook a few things and then blend it all up. Plus, you can make soup ahead of time and reheat it when you're ready to eat! We can all benefit from some extra time during our holiday dinner prep, right?
Another reason to love soup–it's the ultimate cozy meal for colder months. A bowl of hot soup goes hand-in-hand with fuzzy socks and hot chocolate and endless Netflix movies. Doesn't that sound like the perfect night?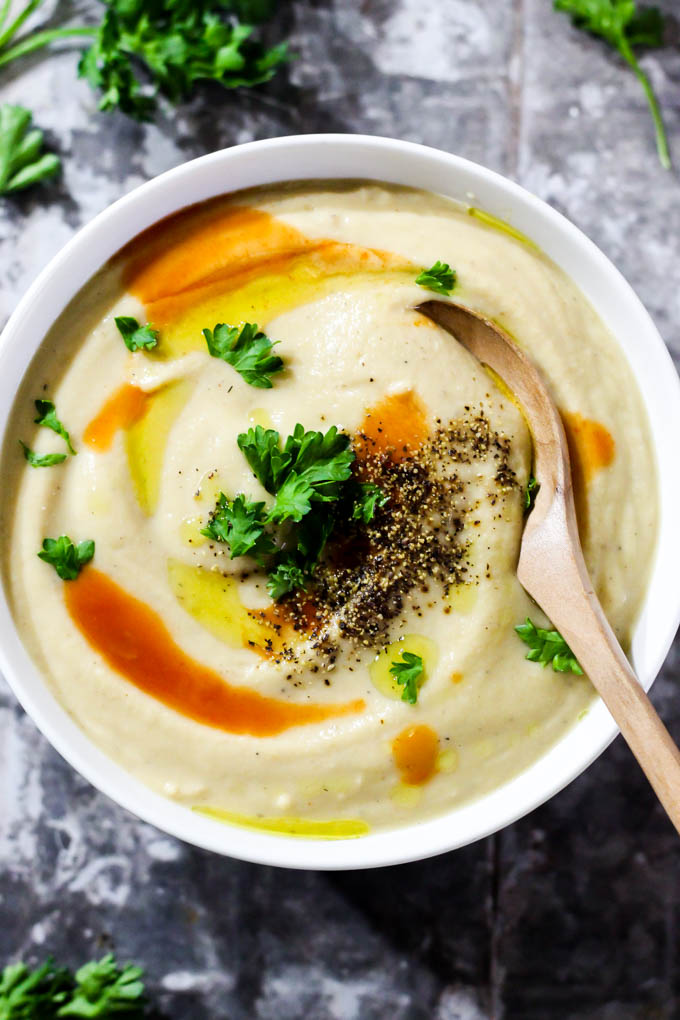 We know that soup is easy to prepare, but maybe not so easy when you're also cooking 397248 other dishes for your holiday meal. Sweet potato casserole, pie, stuffing, green beans, more pie…it can get insanely a little overwhelming.
Would you like a little bit of help with all that? Yes, please. AmazonFresh & EatLove to the rescue!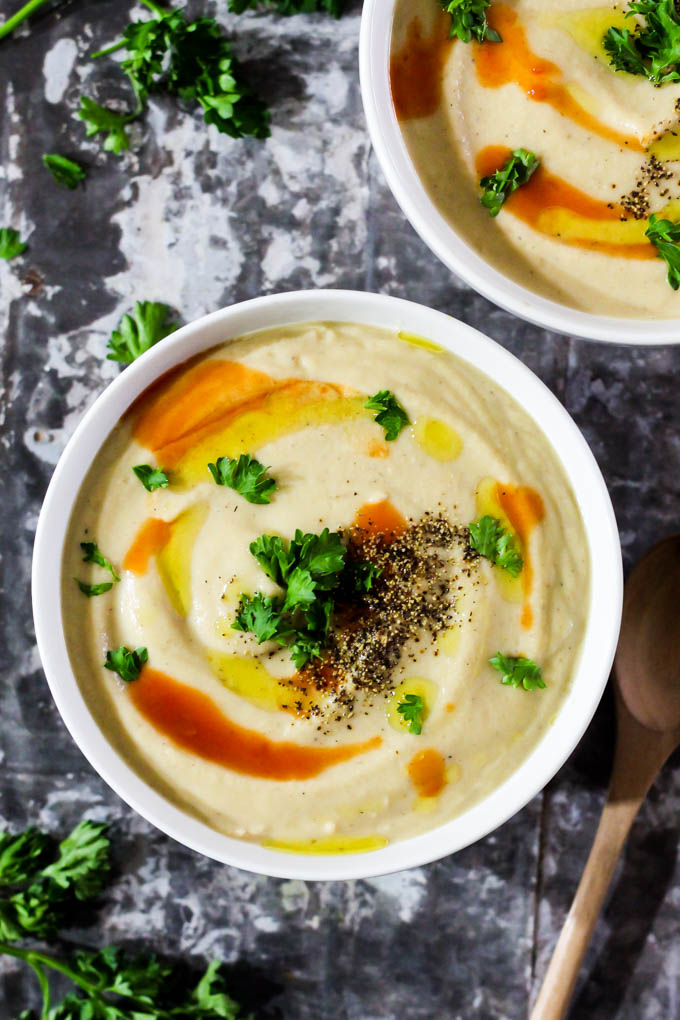 If you're not familiar with these two amazing platforms, here's the lowdown. AmazonFresh lets you order groceries (yes, even fresh produce!) delivered right to your door. EatLove is a nutrition platform that features recipes and meal plans to fit the needs of everyone in your family. Vegan? They've got you covered. Does your child have celiac disease? They can fit their gluten-free needs, too.
Since AmazonFresh has partnered with EatLove, you can order groceries for your personalized meal plans straight from the EatLove app or website!
Here's how I found the recipe for this Roasted Garlic Cauliflower Soup and ordered the ingredients:
1. On the EatLove website, I narrowed down my search to vegan recipes. (You may see some Emilie Eats recipes on there *hint hint Matcha Chia Pudding.*)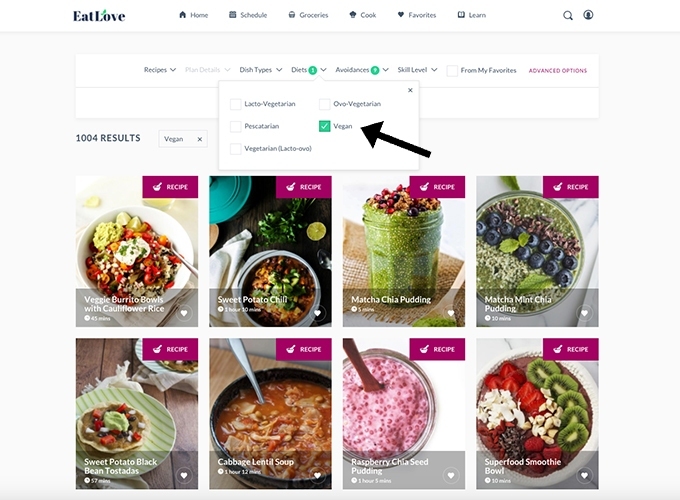 2. I knew I wanted to make a cozy, comforting soup, so I narrowed it down to vegan soup recipes!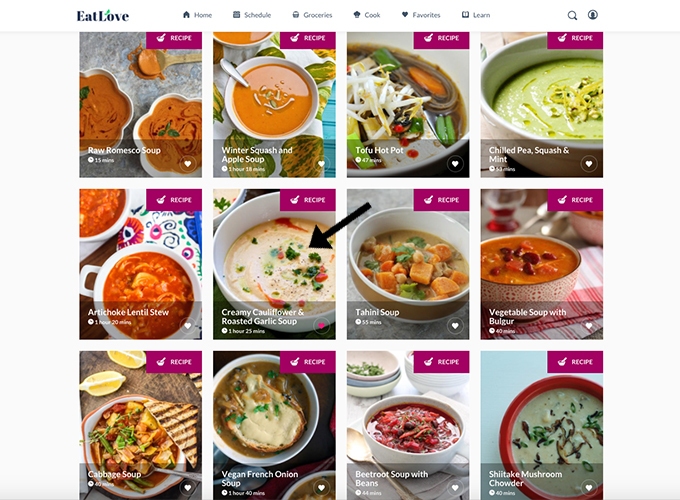 3. I added all the ingredients to my grocery list, then I selected "Buy Ingredients on AmazonFresh" to order my groceries. The prices are awesome, even for some organic produce!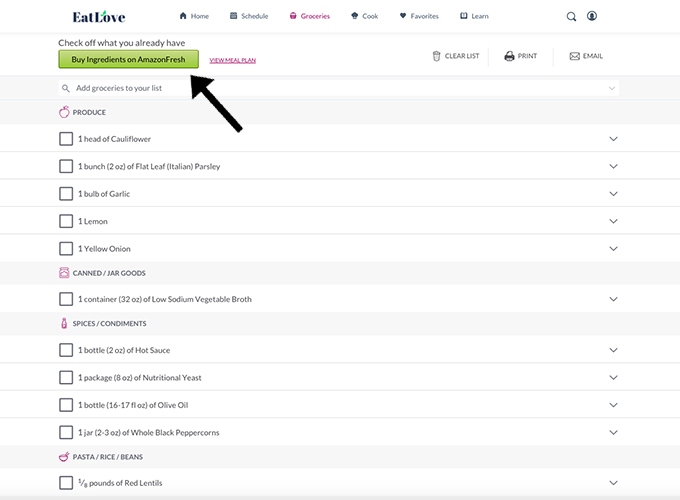 And then just like magic, the ingredients appeared at my doorstep a few days later! Okay, it wasn't magic, but quality groceries straight to your house? It might as well be *magic.*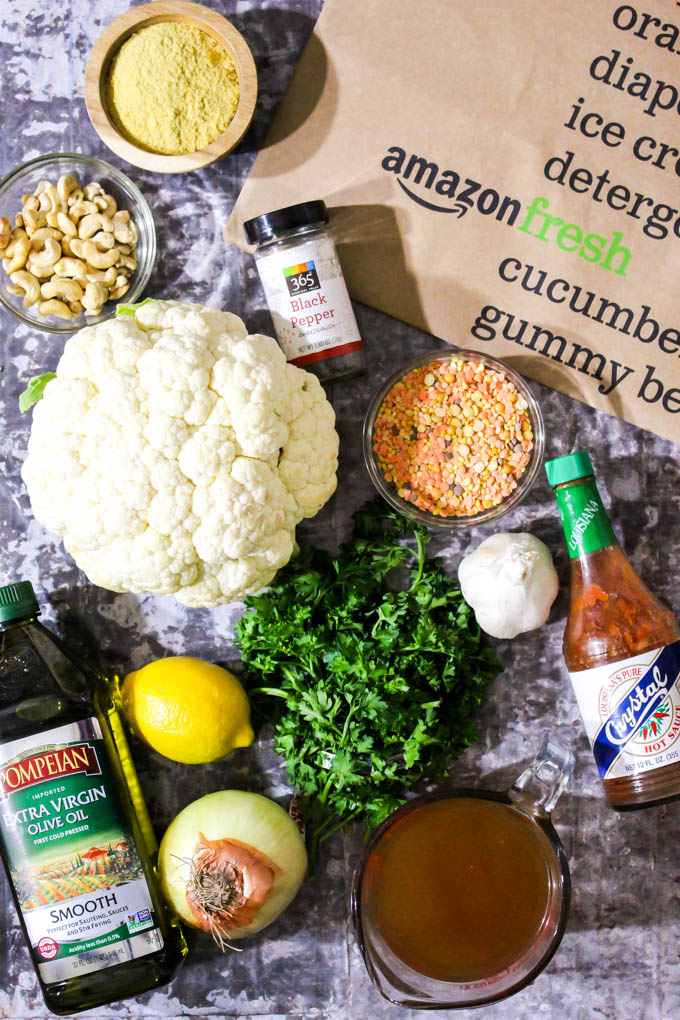 This partnership makes it so much easier to cook wholesome meals during the holidays and for normal days! Save yourself some time scrolling through Pinterest to find recipes that fit your needs and going to the grocery store. Less time planning and shopping = more time to spend with the people you love!
To get the recipe for this Roasted Garlic Cauliflower Soup (and so many more nutritious recipes!), you can sign up for your free trial of EatLove by clicking here.