Do you ever take a bite out of a dish at a restaurant and instantly start thinking about how you can recreate it in your kitchen because it's just so good? Or is that just my super creative food-loving blogging mind?
Either way, the first time I had this curried quinoa salad at a local restaurant, I knew it needed to be shared on the blog ASAP. Dig in, friends!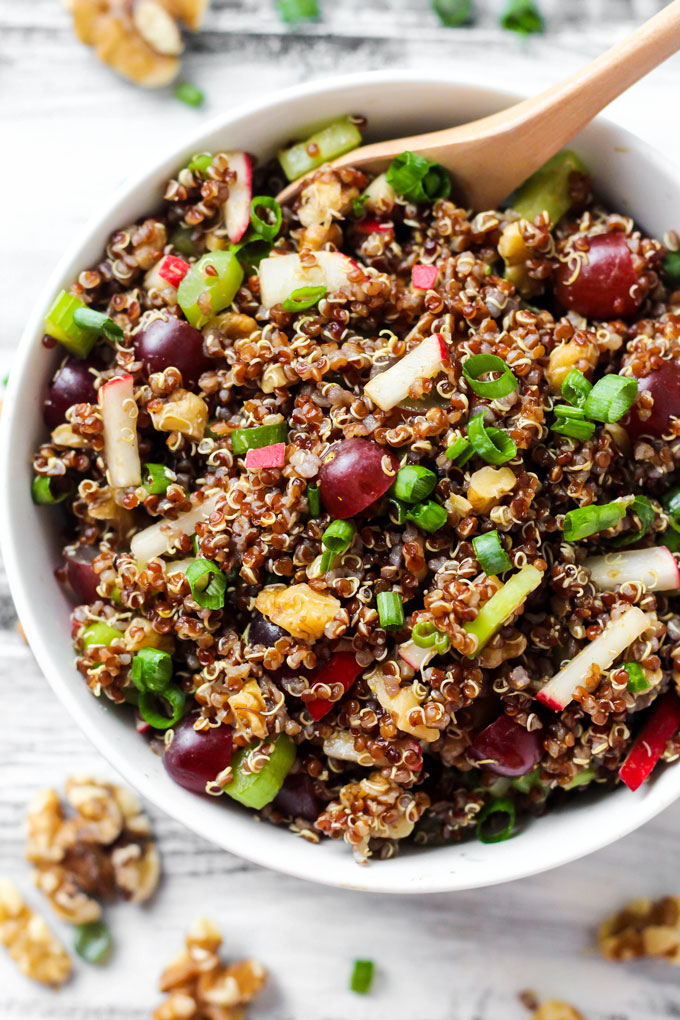 I'm really not a restaurant person. Don't get me wrong, I love exploring new restaurants, especially when I'm traveling. There are so many restaurants nowadays offering plant-based options in big cities like Chicago, New York and even New Orleans right next door to me. We even have a couple all-vegan restaurants! (That may not sound like a big deal to some of you, but in the let's-fry-anything Deep South, this is huge.)
But where I am in Baton Rouge, it's slim pickens. My options are basically Whole Foods, Chipotle or an iceberg lettuce salad at any restaurant. Boooooooo. For this reason, I usually try to eat most of my meals at home – there aren't that many options for me, and I don't want to spend $14 on a salad I could make for $2. Nope, not happening.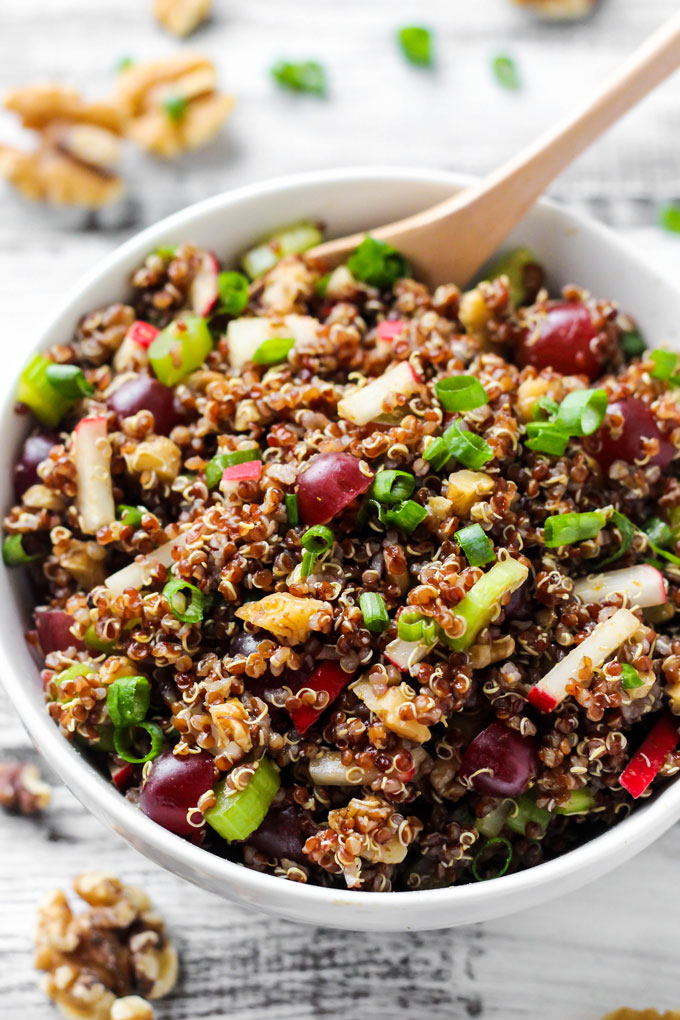 One exception is this local chain of restaurants called Zea Rotisserie & Grill, which yes, like every restaurant, has a lot of animal products, but also has a lot go veg options. Woo! One of those is their side quinoa salad, which I get every time we go out to eat there. It's nice to go to a restaurant knowing there's a healthy option for you and that you don't have to settle for a dry salad.
It was time for me to recreate my favorite dish at home! Because eating dinner in my sweatpants watching HGTV with my cat cuddled next to me usually sounds better than sitting in a dark restaurant and waiting an hour for food. My hangry self ain't got time for that.
[Tweet "Recreating your favorite restaurant meals at home b/c sweatpants > getting dressed up💁🏼"]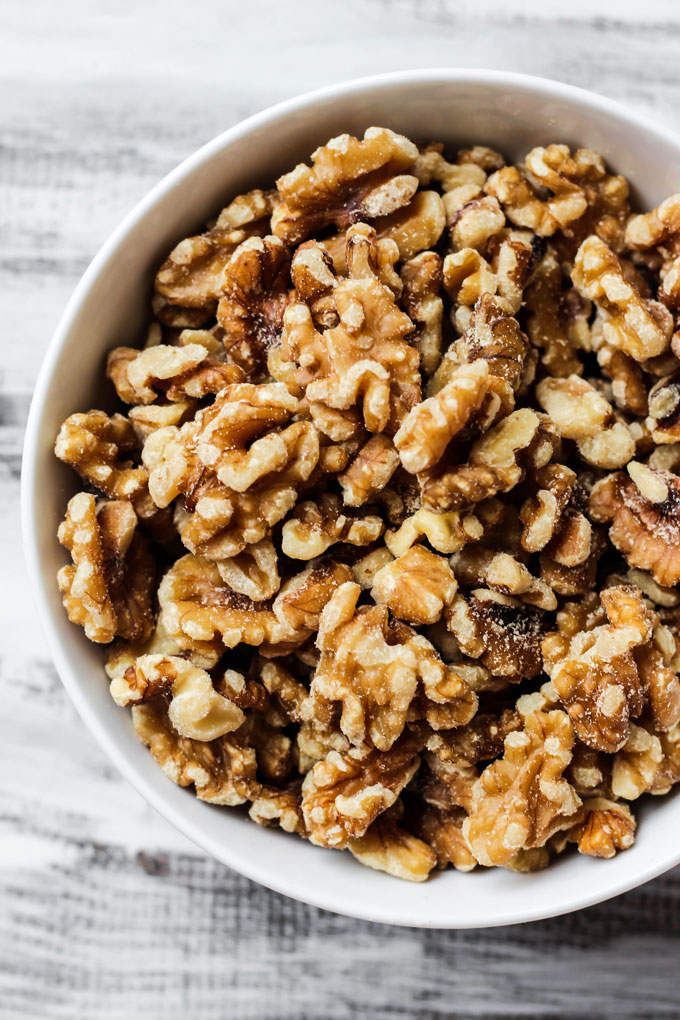 The base of this curried quinoa salad is obviously protein-packed quinoa, which adds lots of fiber and absorbs the curry dressing deliciously. But to me, it's all the add-ins that really add nice flavors and textures to this side dish.
Juicy grapes are the perfect complement to the slightly sweet curry dressing – and I mean, who doesn't like grapes? They're literally nature's candy. Radishes and celery add crispness and freshness, and crunchy California walnuts add nutty flavor and crunch to this sweet & savory dish.
Have you ever heard the advice to eat a handful of walnuts a day? They are SO good for you, especially for your brain! Walnuts are the best source of plant-based omega-3 fatty acids in any nut, plus they contain 4 grams of protein and 2 grams of fiber per ounce. Walnuts = plant power champions.🏆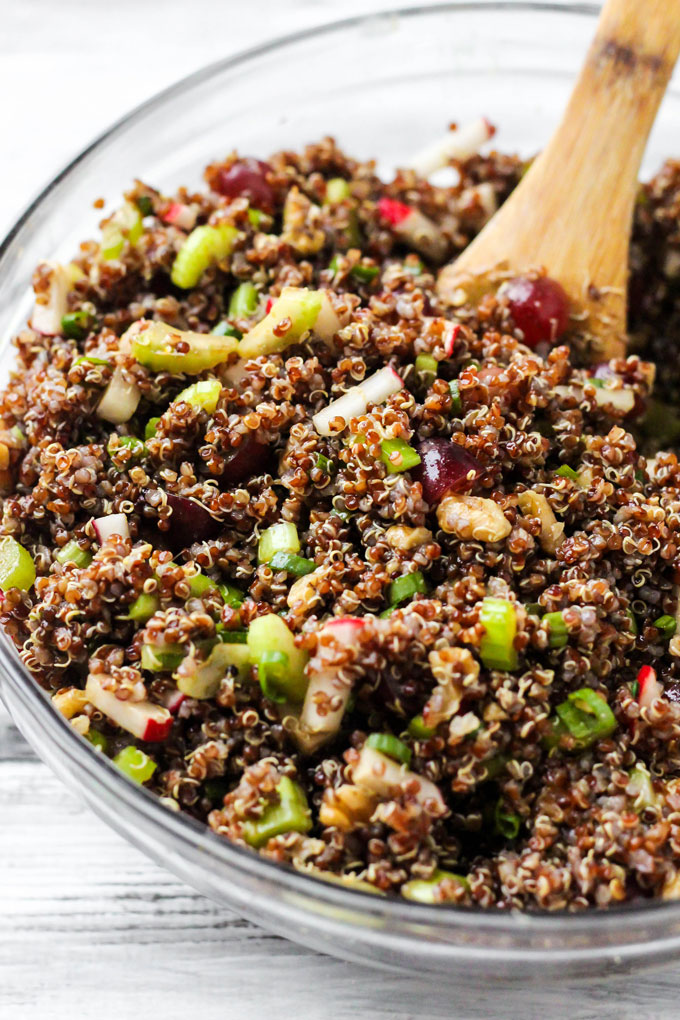 If you're struggling to find a non-boring side dish to serve with dinner, I've got you covered. This curried quinoa salad is slightly sweet, savory, crunchy and full of wholesome ingredients, including heart-healthy California walnuts. The leftovers also make a great light lunch to pack for work or school!
Let me know if you try this tasty side dish! I'd love to see your pretty pictures on Instagram (tag @emilieeats & #emilieeats) or hear how you liked it in the comments below.
My question for you: Do you incorporate walnuts in your diet? What is your favorite way to enjoy them?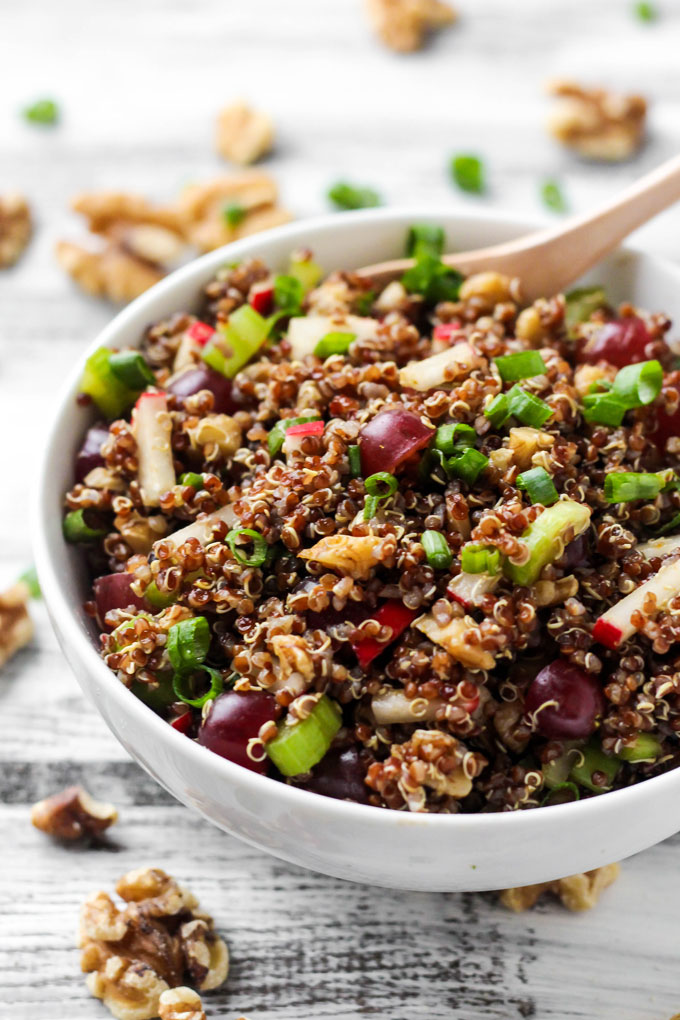 Print
How to make:
Curried Quinoa Salad with Grapes and Walnuts
Serve this Curried Quinoa Salad as a flavorful side dish full of crunchy walnuts, juicy grapes and a curry dressing. Leftovers make a great light lunch!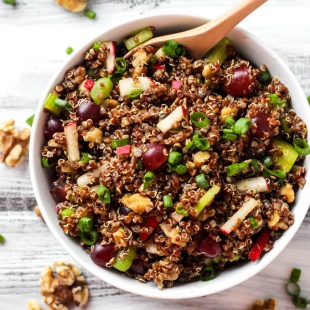 Ingredients
1 cup

quinoa

1 cup

celery, diced

3/4 cup

seedless grapes, halved

1/2 cup

radishes, diced

1/2 cup

California Walnuts, chopped

1/4 cup

green onions, sliced

1/4 cup

balsamic vinegar

1 tablespoon

curry powder

1 tablespoon

maple syrup

1 teaspoon

yellow mustard

1/2 teaspoon

garlic powder

1/2 teaspoon

salt
Instructions
In a medium saucepan over high heat, add quinoa and 2 cups water; bring to a boil. Cover, reduce heat to low, and simmer for 13-15 minutes. When done, fluff quinoa with a fork.
While the quinoa is cooking, prep and chop all the fruits and vegetables.
In a small bowl, add vinegar, curry power, maple syrup, mustard, garlic powder and salt. Whisk to combine.
In a large bowl, add cooked quinoa, celery, grapes, radishes, walnuts and green onions. Stir to combine all ingredients. Pour dressing into the bowl; toss to evenly combine.
Serve alongside dinner or pack as a light lunch. Store in an airtight container in the fridge for up to 1 week.
I was selected for this opportunity as a member of Clever Girls and the content and opinions expressed here are all my own.