I'm a huge snack person. Basically as soon as I finish one meal, I'm already thinking about the next, so I find myself snacking a little here and there to hold me over. What can I say, ya girl loves food.
My friend had a container of roasted edamame a couple weeks ago, and about one handful in, I was all like omg I need to make these at home because I'm too cheap to buy them. Life is a constant struggle between wanting to eat all the foods and wanting to keep your bank account stable, amiright?
Good thing I tried these at home, because they are just as good as store-bought and much cheaper! All you need is 4 ingredients and 40 minutes of patience to have the best snack time ever.
Salt and vinegar chips were always my vice (salty > sweet stuff any day). I guess I've always liked vinegar-y stuff – maybe that's why I love kombucha so much? Anyways, I don't see how anyone could resist the crispy, salty, fatty goodness of salt and vinegar chips.
But alas, the days of unhealthy snacking are far gone, and now I reach for healthy (but still tasty!) snacks like almonds, carrots and hummus, or fruit. FAVES. When I'm feeling real fancy, I whip up a batch of chickpea protein bites that literally taste like cookie dough – so yum. Pretty sure I could have a whole plate of a bunch of snacks for every meal.
I was craving something saltier, but I wanted to keep it healthy and pack some protein, since I've been trying to make my snacks a little higher on protein. I love edamame because it's an awesome whole food source of plant protein! We all know that roasting things makes them 1000000x better (lookin' at you, Brussels sprouts?), so it was no surprise that a nice bake in the oven made these babies perfectly crisp and ready for stuffing in my face.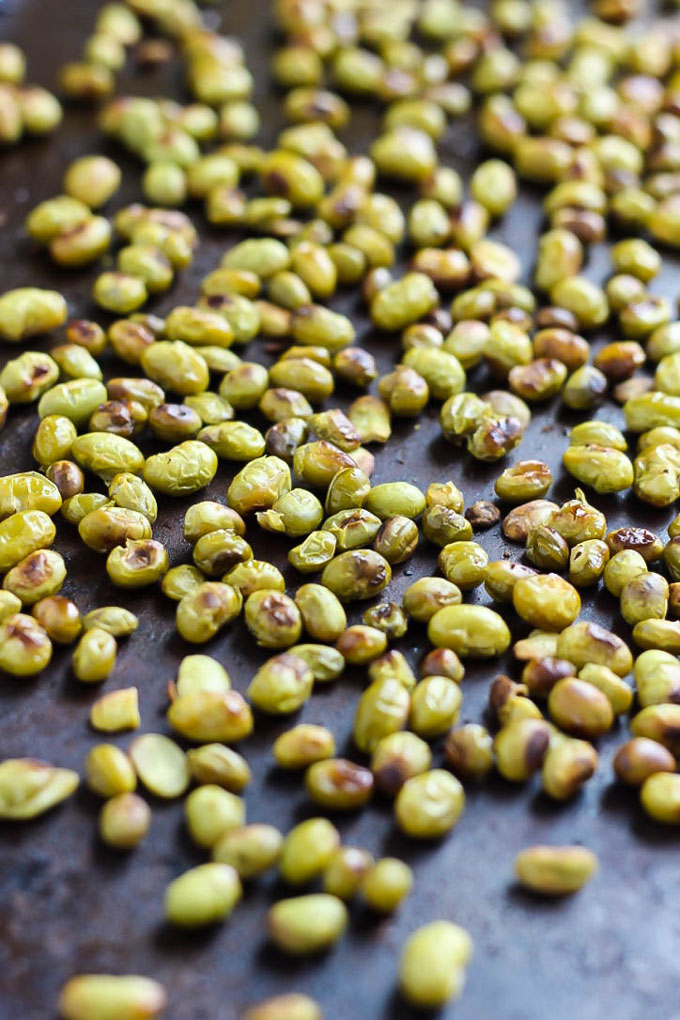 We're going to the beach this weekend, and you already know that I'm bringing as much healthy food and snacks as possible. These are definitely coming with us! They're great for traveling and keeping you energized on the road, a hike, or any sort of crazy adventure you have planned.
Let me know if you get to try these out – I really think you'll like them! They're salty in the best way, with a hint of vinegar flavor just like the chips I used to love.
If you try them, snap a picture for Instagram and tag me #emilieeats. I love to see all the food you guys are cooking! You always make me so hungry. ?
Tell me: what was your favorite unhealthy snack, and what do you snack on now instead to curb the cravings?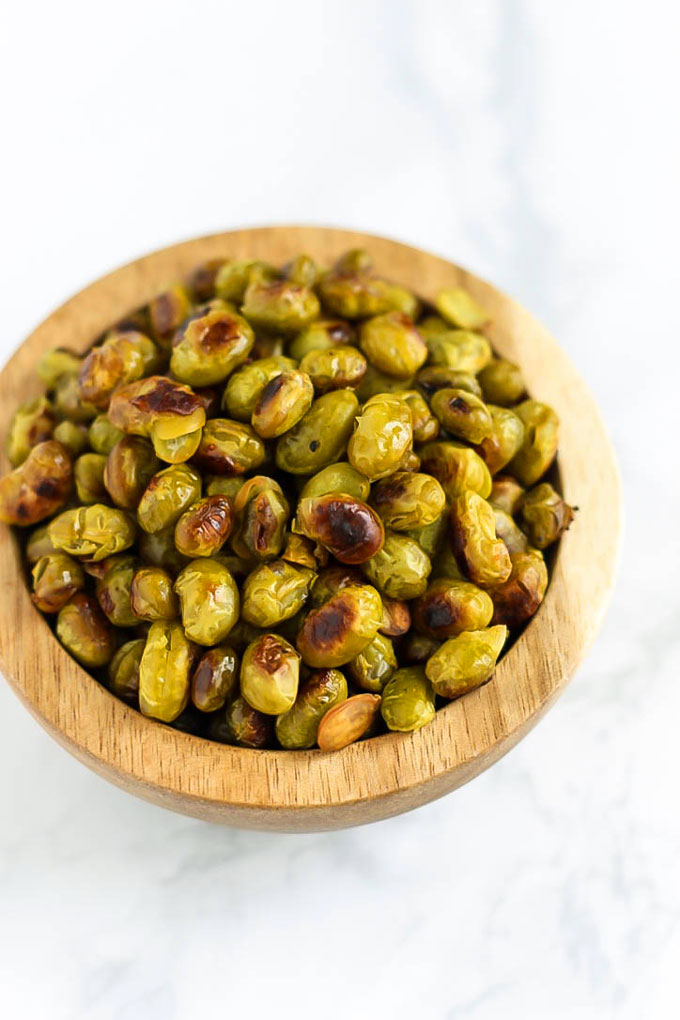 Print
How to make:
Salt and Vinegar Roasted Edamame
Ditch the chips and reach for a handful of these Salt and Vinegar Roasted Edamame! They're crispy, flavorful, and make a great vegan protein-packed snack.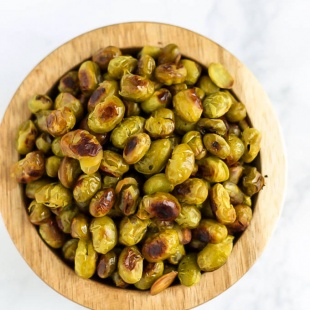 Ingredients
1

16-ounce bag shelled edamame, thawed if frozen

1/4 cup

white vinegar

3/4 teaspoon

salt

1/8 teaspoon

pepper
Instructions
Preheat oven to 375°F.
In a medium bowl, place thawed edamame. Add vinegar, salt, and pepper; stir to combine. Let sit for 5-10 minutes.
Lightly grease or spray a baking sheet. Place edamame on the baking sheet in a single layer; try not to pour the leftover vinegar into the pan.
Bake for 30 minutes, toss gently, then bake for 10 more minutes. Remove; let cool for 5-10 minutes.