Whip up this vegan sour cream recipe the next time you make chili! This is the simplest homemade vegan sour cream – who needs store bought?
The Best Vegan Sour Cream Recipe
Happy Monday my friends! We're kicking the week off with a recipe so simple that you might be doing a double-take right now. Yes, you read that right – we're making vegan sour cream today!
Let me back up for a minute. Why are we making vegan sour cream? Well, for a couple reasons. First of all, it's chili season (little hint at a recipe coming up next!), and what's a bowl of chili without a dollop of vegan sour cream?
Second, but maybe my biggest motivating factor, is that I have been a little frustrated lately when looking for good, simple, vegan recipes. Like I'm talking the most basic of basic recipes. I'm all about a good twist on a recipe – most of my recipes have some sort of creative spin! But sometimes you just want the basics. You know what I mean? Like you want a PLAIN vegan biscuit recipe – not cheddar biscuits or maple biscuits. Or in this case, you just want a simple vegan sour cream – not a chipotle sour cream, not a scallion sour cream, not a cultured sour cream. Just a plain ol' vegan sour cream.
So that brings us to today's post, which is kicking off a new series of recipes where we're going back to basics. We're peeling back all the fluff, all the layers, and making some simple, straightforward vegan versions of pantry staples and classic recipes that you know and love. And first up is this delicious cashew sour cream!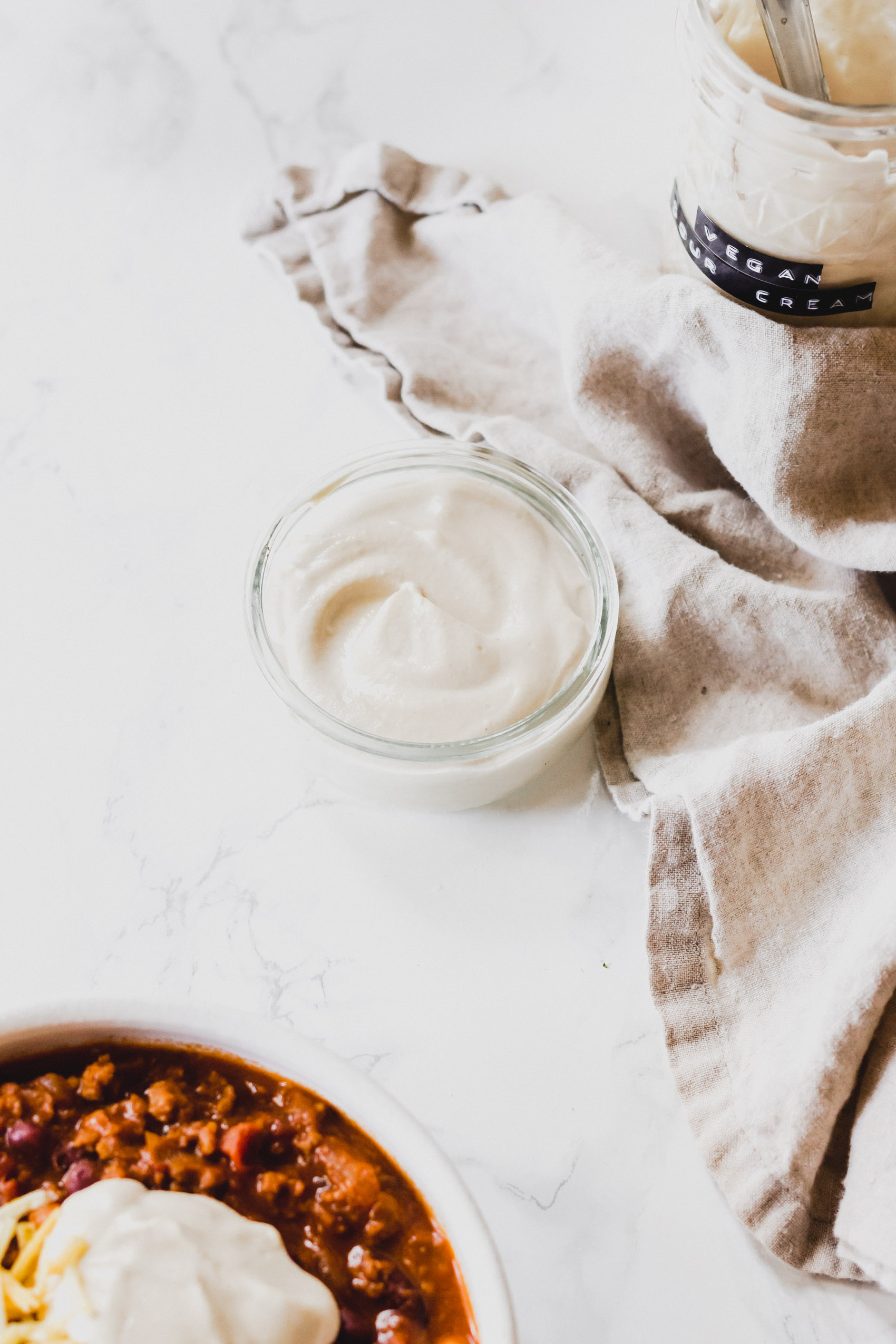 Ingredients for Homemade Vegan Sour Cream
I really meant it when I said simple! This vegan sour cream is made with just 6 ingredients and it all comes together in the blender. My go-to is a cashew sour cream because the cashews are mild in flavor and blend up beautifully after soaking and make for the silkiest vegan sour cream.
To make a batch of this vegan sour cream, you'll need:
Raw cashews. Yes, they have to be raw! Roasted, salted cashews will not work the same because roasting brings out a ton of flavor in the cashews, which is delicious for snacking, but doesn't lend itself well to a cashew sour cream!
Non-dairy milk. Any variety will work, but you will definitely want an unsweetened version.
Miso paste. Miso adds a bit of umami to this vegan sour cream. This is one of those ingredients adds a ton of depth of flavor without you really realizing it's there. I recommend going for a white miso paste.
Lemon juice. I recommend squeezing fresh lemon juice, but use what you've got!
Apple cider vinegar. It's called sour cream after all, so a bit of apple cider vinegar will help add a bit more of that tartness you expect in a sour cream.
Salt. We just need a pinch to take all the flavors up a notch!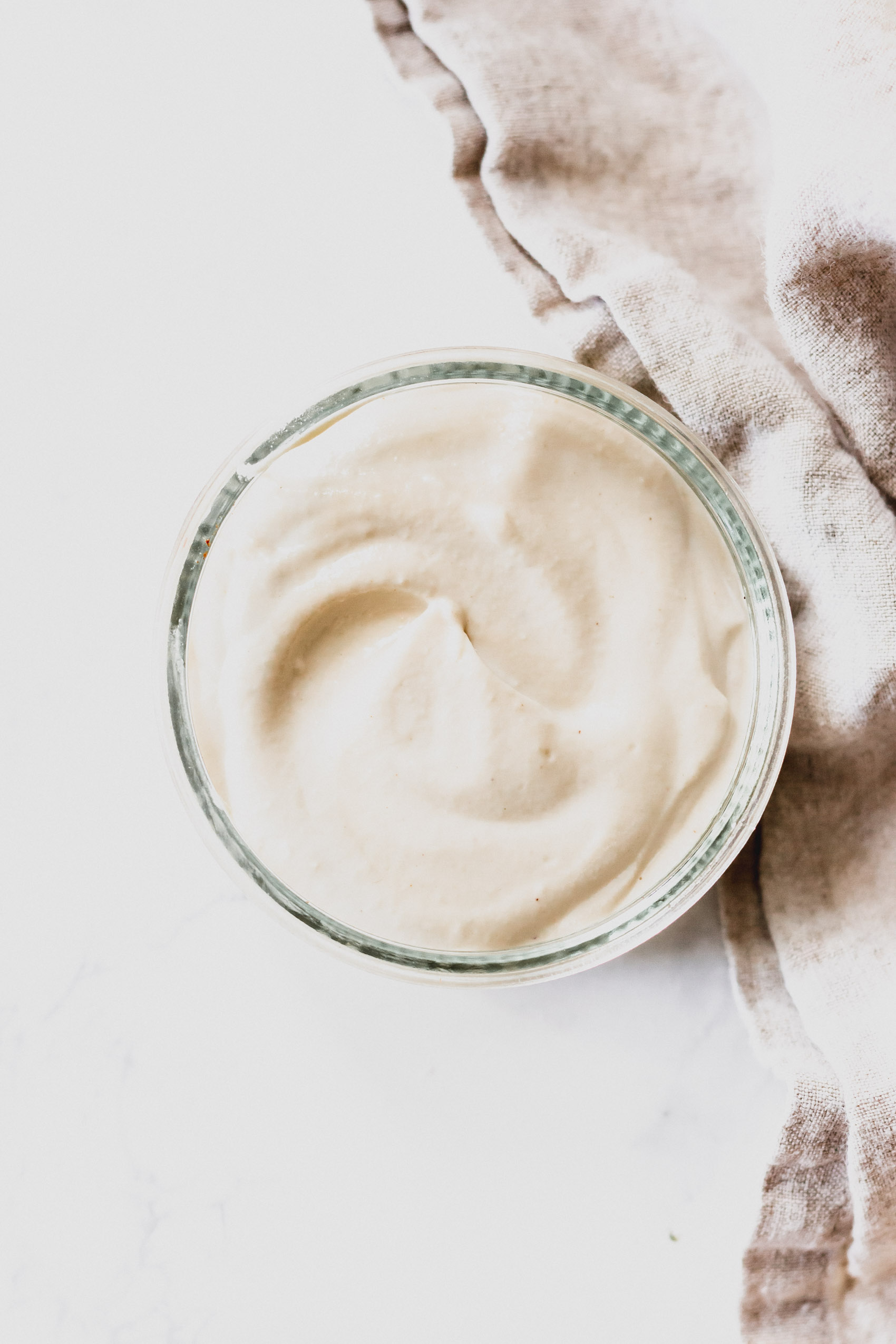 How to Make Vegan Sour Cream
Obviously the eeeeasiest way to enjoy vegan sour cream is to buy it premade. And some week's, that is definitely the move. But you haven't LIVED if you haven't tried making your own homemade vegan sour cream, and I promise it's not much harder than running to the store and grabbing a container of it.
The hardest part about this vegan sour cream recipe is remembering to soak your cashews. I know, I know – soaking always feels like a pain. But I promise it's worth the extra time and it will give you the creamiest vegan sour cream of all time. Now, we're all human and I forget this step half the time, too so if you're in a pinch I recommend at least boiling them for 15 minutes before making this recipe. Skipping this step will lead to a grittier end result, and no one wants a gritty vegan sour cream! Future you will thank past you for soaking your cashews!
After your cashews have soaked, dump them into a blender with your miso, lemon juice, apple cider vinegar, non-dairy milk and a pinch of salt. Hit blend and watch your beautiful vegan sour cream come together!
That's it! Package it up and store it in the fridge all week long, or pop it into the freezer!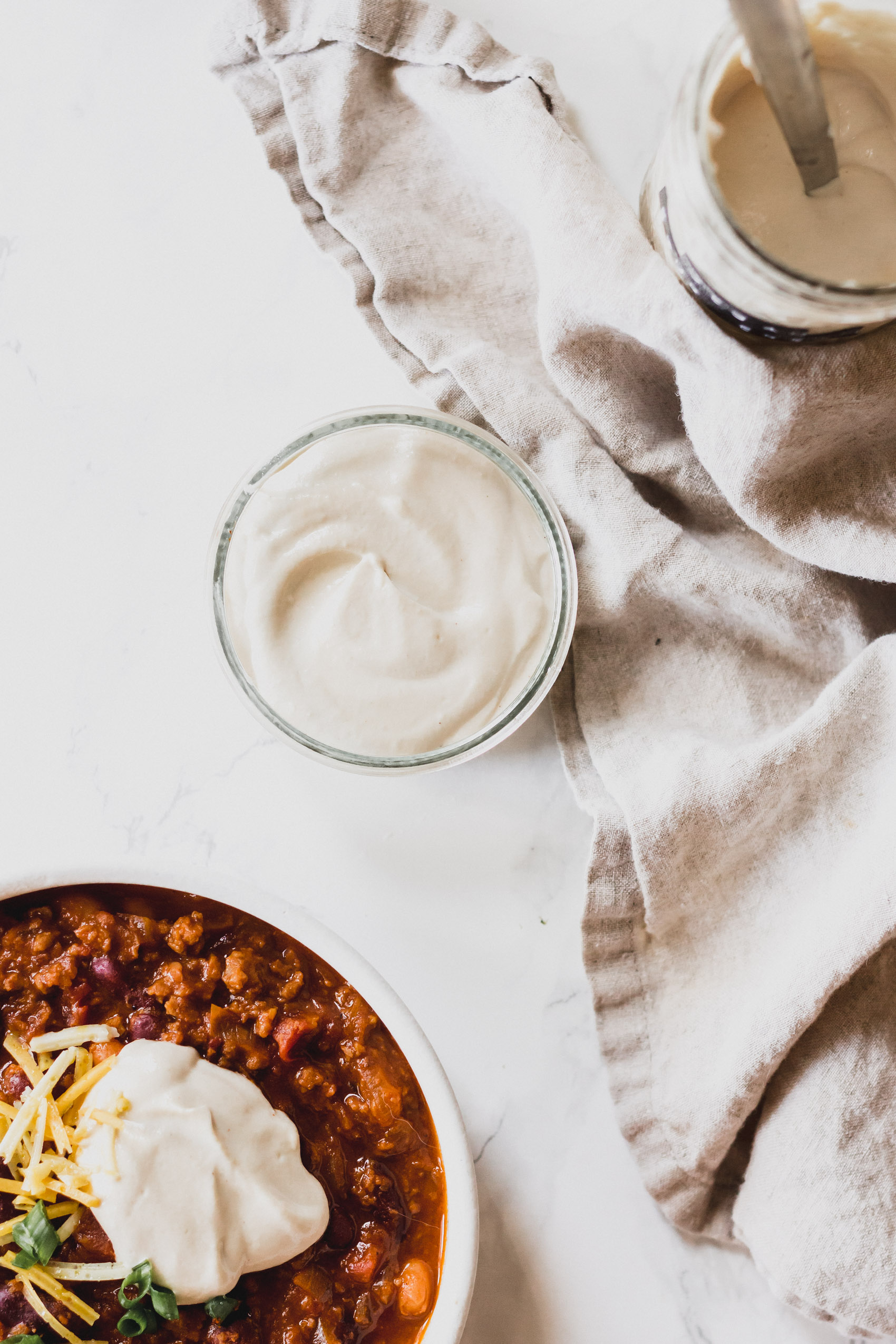 More Vegan Recipes to Top with Vegan Sour Cream
Now that you have a batch of homemade vegan sour cream, time to make something to go with it! Vegan chili, soups, stews, loaded baked potatoes – the possibilities are endless! Here are just a handful of vegan recipes that would be delicious with a dollop of your vegan sour cream:
Print
How to make:
The Best Vegan Sour Cream Recipe
Whip up this vegan sour cream recipe the next time you make chili! This is the simplest homemade vegan sour cream – who needs store bought?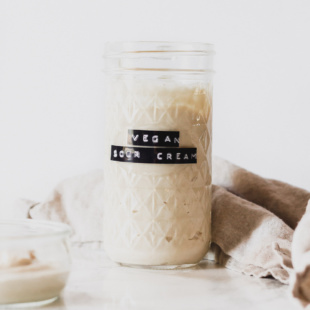 Ingredients
1 cup

raw cashews, soaked overnight or boiled for

10

minutes and drained

1/2 cup

unsweetened non-dairy milk

1 1/2 teaspoons

miso paste

1 1/2 tablespoons

lemon juice

1/8 teaspoon

salt

1 teaspoon

apple cider vinegar
Instructions
To a high-speed blender, add all ingredients. Blend until smooth. Add more liquid as needed to blend.
Store in the fridge.