If you're looking for a fun dessert for the holidays, this sweet Pumpkin Pie Dessert Pizza is for you! It's flavorful, vegan, gluten-free and easy to make.
Nothing to see here, folks. Just a sweet dessert version of your favorite fall dessert. Not a big deal.
JK lettuce all freak out about how absolutely perfect this pumpkin pie dessert pizza is!! I don't think I could've kicked off pumpkin season on the blog any better.
Am I late to the pumpkin game? If so, forgive me. I was just holding on to sweet summer as long as possible. Don't worry, I will definitely make up for it with all the pumpkin goodies headed your way.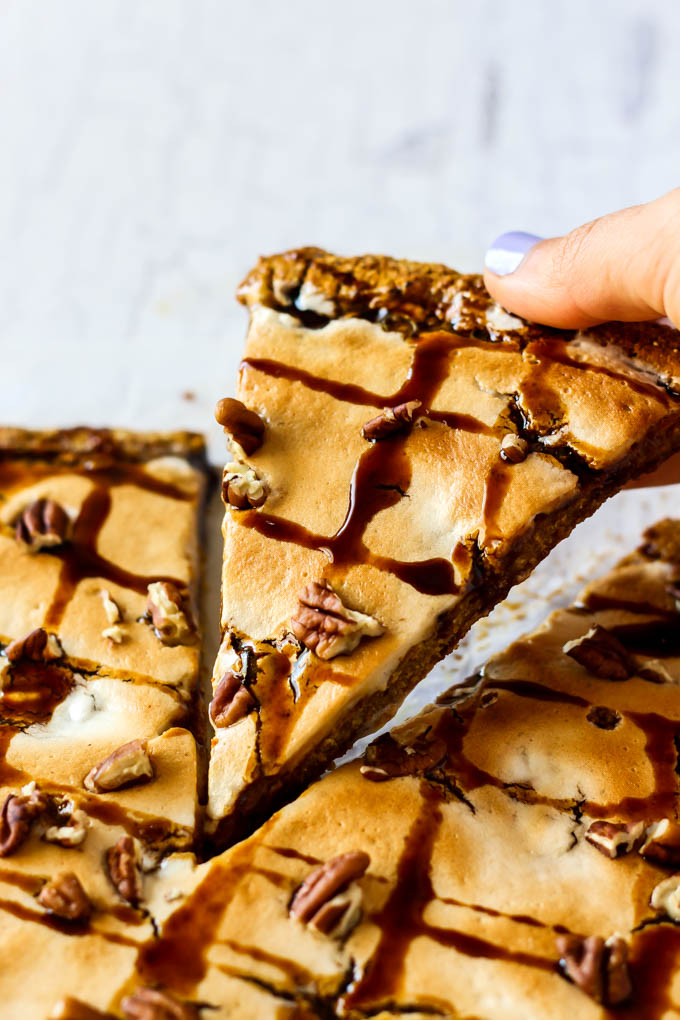 How do you feel about fall? Are you still crying yourself to sleep because summer is over, or are you ready to get into comfy-sweaters-and-soup season? Either way, fall is here, and we're celebrating with all things pumpkin and busting out our slow cookers.
Fall is great. There's a sense of re-enlightenment and fresh beginnings in the air. I've been feeling so passionate and on fire for the things I love (aka: this blog and spreading the message of plants!). The weather is goldilocks, not too hot and not too cold. Which doesn't last long in Louisiana, because it goes from 95 degrees and deathly humid to 30-degree Arctic tundra basically overnight. So, I'm enjoying the crisp breeze and colorful foliage.
You know what sounds great? Sitting in a park enjoying the cool weather with a slice of pumpkin pie dessert pizza. Who's coming?!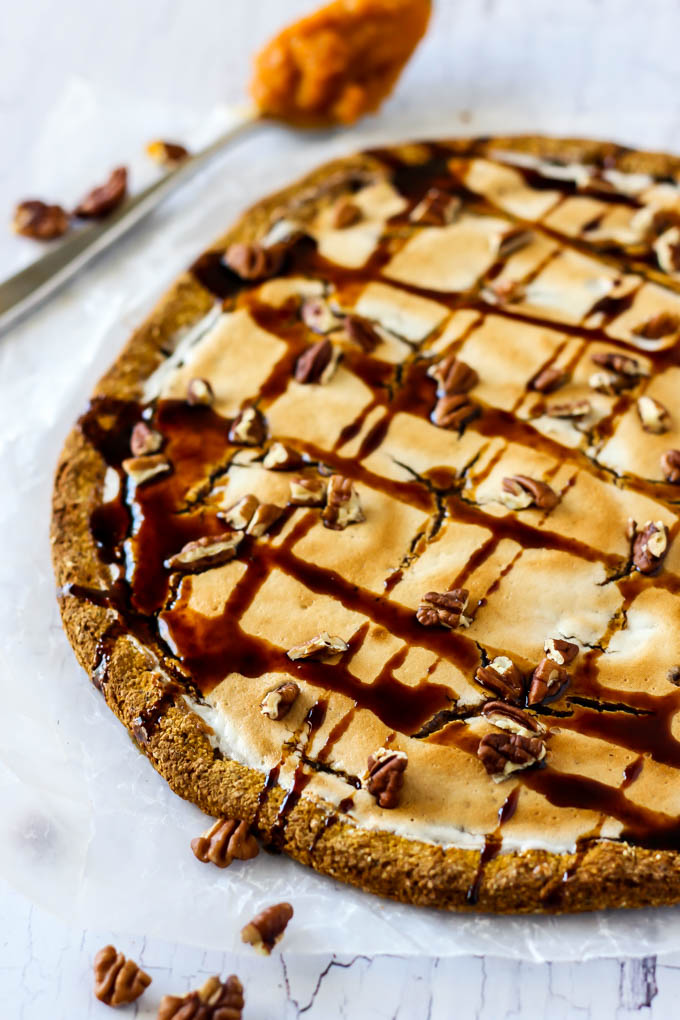 It starts with a pumpkin crust that bakes up perfectly firm yet still fluffy and dough-y. Pumpkin is SO healthy for you, full of vitamin A, beta-carotene and fiber. If you take out the coconut sugar, the crust would be a great base for savory pizzas too! Would you guys want to see a recipe for that? I have some ideas up my oversized sweater sleeve…
As our "sauce" we're using an exciting ingredient: aquafaba! Aquafaba is the liquid from a can of chickpeas you usually drain. Turns out you can beat it with sugar to make meringue, just like egg whites! Without the cruelty. ☺️
I drizzled everything with organic blackstrap molasses (which is surprisingly high in nutrients!) and topped it with chopped pecans! It's just like the pumpkin pie you love, but it's a fun new twist.
[Tweet "Pumpkin pie got a makeover –> Pumpkin Pie Dessert PIZZA. V+GF!"]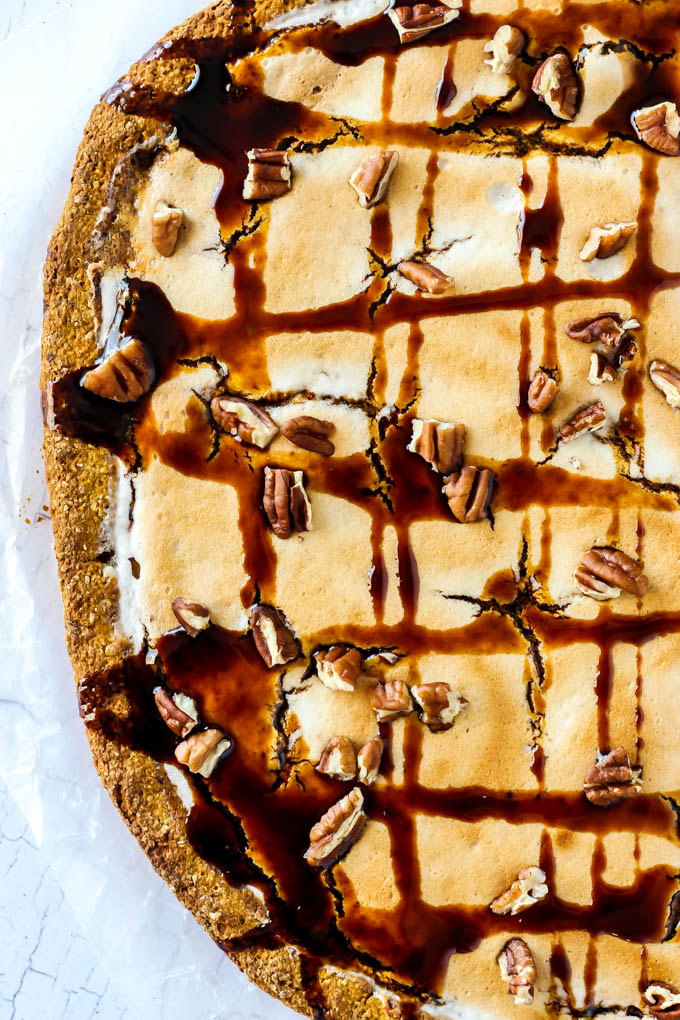 I think this would be an awesome dessert to bring to holiday parties to surprise everyone! Who can say no to pizza?
If you make these healthy pancakes or any of my recipes, snap a pic, post it on Instagram, and tag me @emilieeats! I'd love to see your perfect pumpkin pie pizzas. <3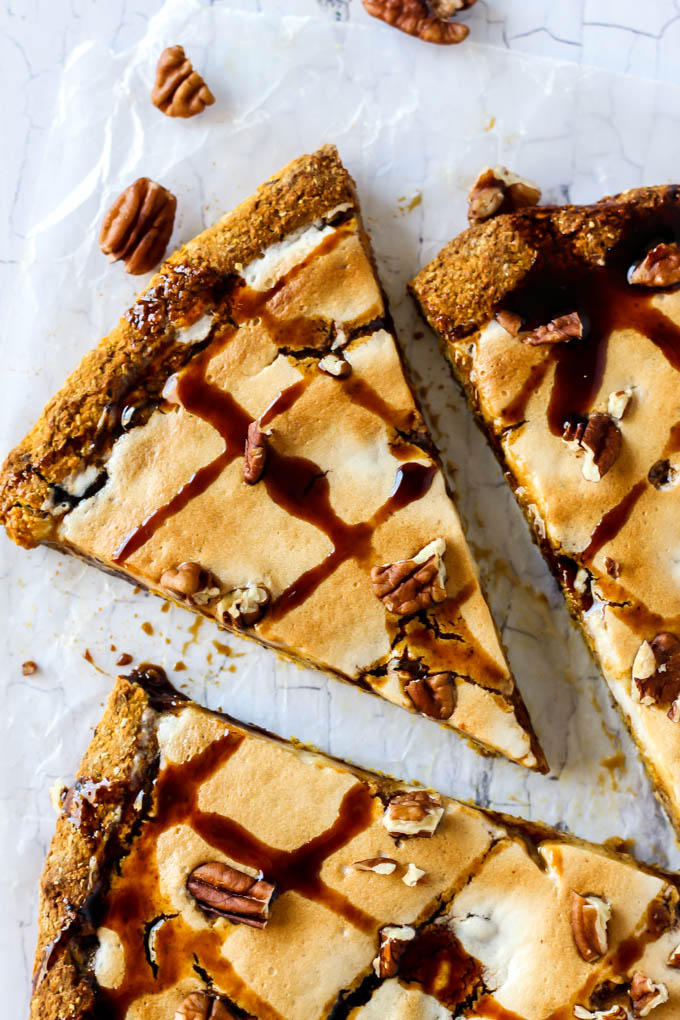 Print
How to make:
Pumpkin Pie Dessert Pizza
If you're looking for a fun dessert for the holidays, this sweet Pumpkin Pie Dessert Pizza is for you! It's flavorful, vegan, gluten-free and easy to make.
Ingredients
1 tablespoon

flax meal

2 cups

oat flour*

1/4 cup

almond meal/flour

1 tablespoon

coconut sugar

1 teaspoon

ground cinnamon

1/4 teaspoon

ground nutmeg

1/4 teaspoon

salt

1 cup

mashed pumpkin

2 tablespoons

unsweetened applesauce

2 teaspoons

vanilla extract, divided
Liquid from

1

15-ounce can chickpeas

3/4 cup

organic cane sugar

1/2 teaspoon

cream of tartar

2

–

3

tablespoons molasses**

2 tablespoons

pecans, chopped
Instructions
Preheat oven to 400F. Line a baking sheet with parchment paper.
In a medium bowl, add flax meal and 2 1/2 tablespoons water. Set aside for 5-10 minutes.
In a large bowl, add oat flour, almond meal, coconut sugar, cinnamon, nutmeg and salt. Stir to combine.
To the bowl with the flax, add pumpkin, applesauce and 1 1/2 teaspoons vanilla. Sir to combine. Slowly pour the wet ingredients into the dry ingredients, stirring. Mix until a soft dough forms. If the dough is too sticky, add a bit more oat flour.
Form the dough into a ball and place on the parchment paper. Flatten the dough with your hands until it is about 1/4-inch thick. You can also make two smaller pizzas.
Bake for 20 minutes.
While the crust is baking, pour the chickpea liquid into a large bowl. Beat with a hand mixer on medium speed, slowly adding the sugar, cream of tartar and 1/2 teaspoon vanilla. The mixture will be very liquidy at first; after about 10 minutes, the mixture should triple and form peaks.
Remove crust from the oven; let cool for 5 minutes. Spoon some of the meringue mixture onto the crust and spread. Broil on high for 1-2 minutes, until the meringue is lightly browned. You HAVE to watch it very closely as it will burn FAST.
Drizzle the pizza with molasses and top with pecans. Slice and enjoy!
Notes
*To make your own oat flour, simply blend rolled oats in a blender or food processor until a fine flour forms.
**I used molasses as a drizzle to make it like authentic pumpkin pie, but I think chocolate would be great, too! Melt dark chocolate chips in the microwave until smooth and drizzle over the pizza.