This Slow Cooker Chickpea Peanut Stew is a hands-off dinner that is full of vegetables and protein-packed chickpeas & peanuts. Easy to meal prep and freeze! In partnership with my friends at iHerb.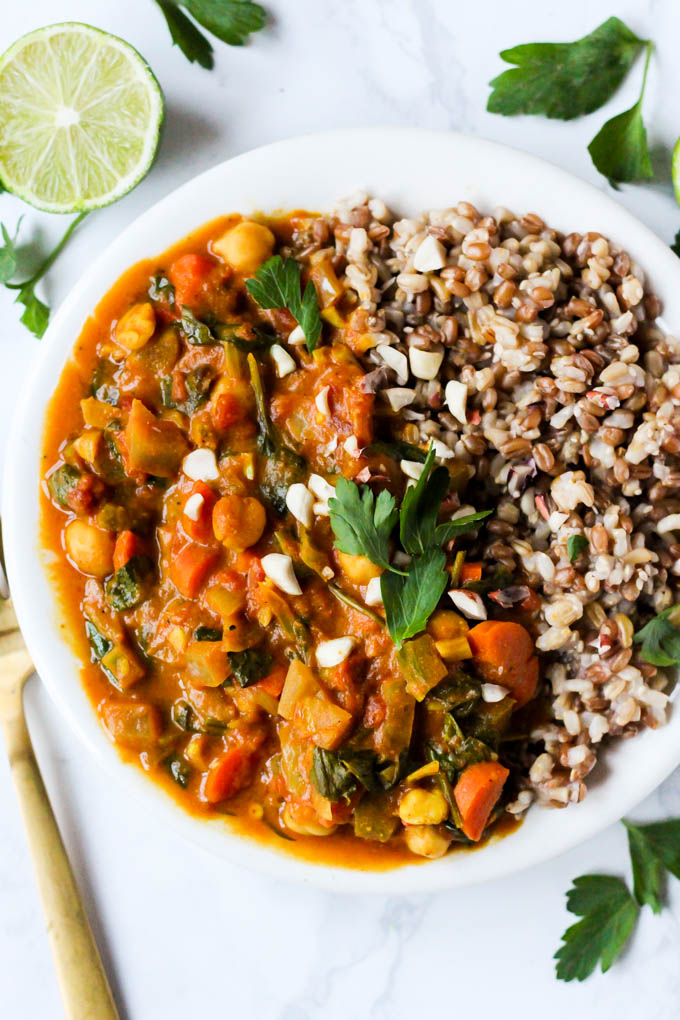 It's only fitting that I start off 2018 strong with this Slow Cooker Chickpea Peanut Stew–a super easy, insanely delicious, plant-powered dinner recipe. When I asked you all in my 2017 Reader Survey what recipes you'd like to see more of in 2018, the clear winner was "easy weeknight meals."
What the people ask for, the people get!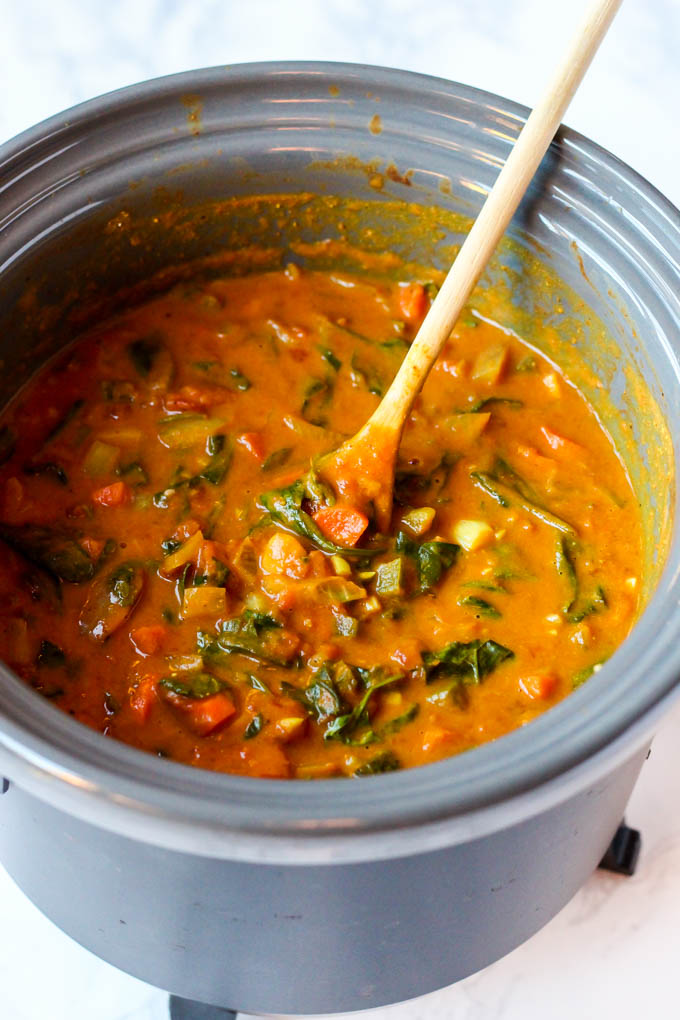 In the 2.5 years (omg!) of running this blog, I've made all kinds of recipes: easy dinners, nourishing breakfasts, decadent desserts, on-the-go snacks. While I love to create a variety of different recipes because A. it's fun for me, and B. you need greens AND chocolate, I always find myself gravitating more towards posting easy main meals. And you guys seem to love that, too!
I've really settled in to Emilie Eats' mission of creating approachable, easy, realistic recipes that people actually feel like they can make in their own kitchen. There is a time and a place for intricate, fancy recipes, but here, I like to stick to simple stuff that won't intimidate a new cook or a busy mom.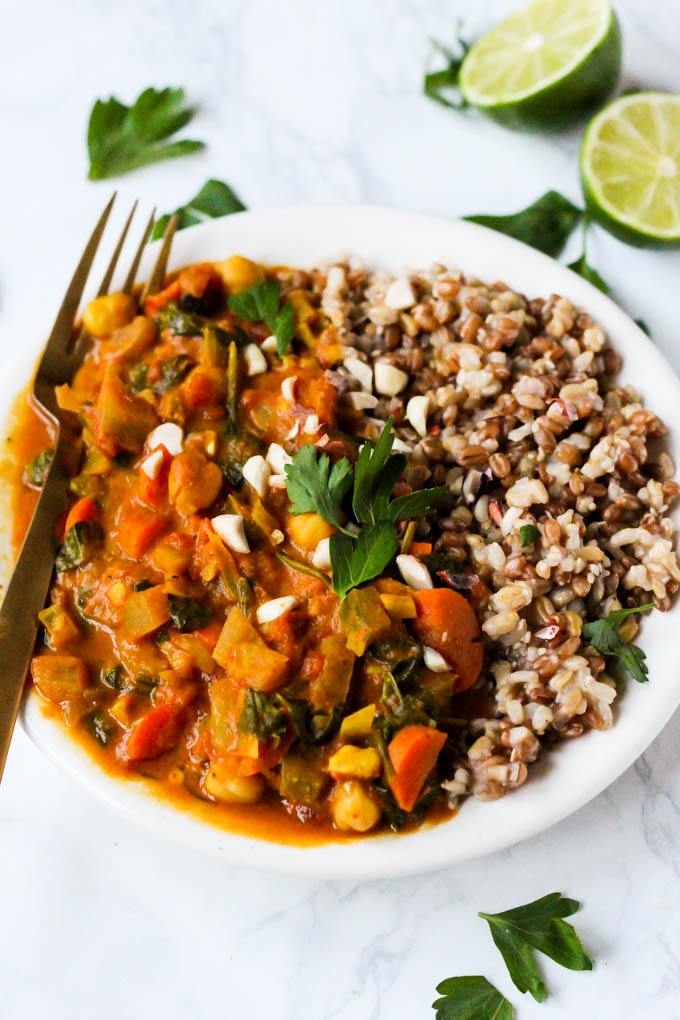 That means using mostly simple ingredients that are accessible to the majority of people (like beans, grains, vegetables, fruits, and nuts) and using minimal kitchen equipment. Because, let's be honest, I do not have room in my 600-square-foot apartment for some fancy $500 kitchen appliance. NADA!
You know what I do have room for? A slow cooker. Those things are magical. If you don't already have one (here's a really affordable one!), let this recipe be your encouragement.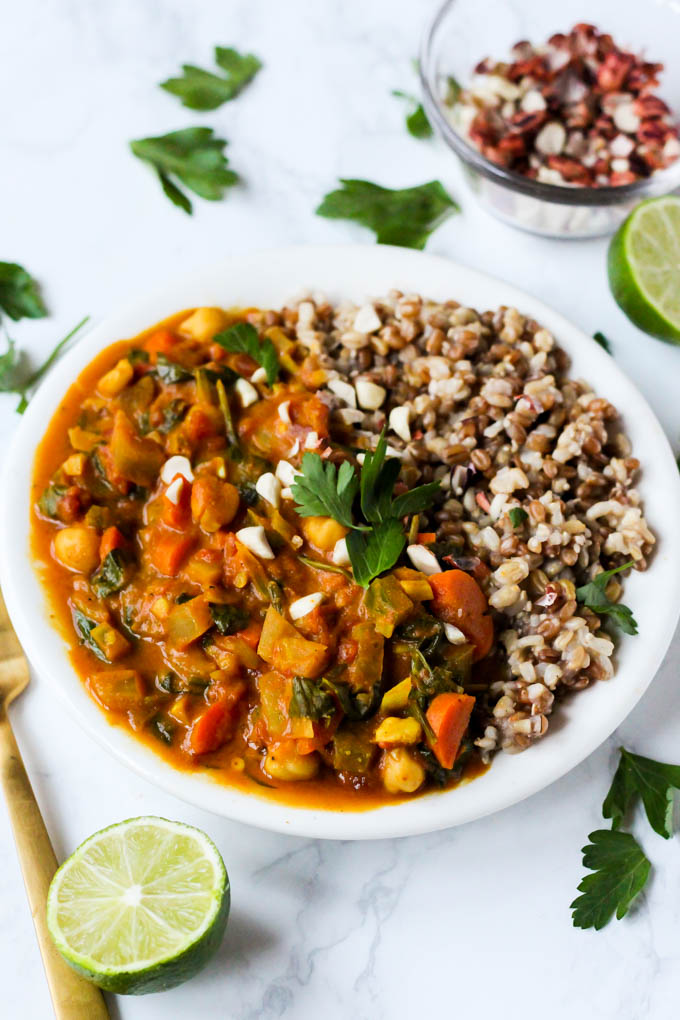 What I love about slow cooker recipes is that they take little hands-on time and can cook while you're sleeping, at work, or running around like a crazy person running errands. Just set it and forget it!
If you thought this recipe couldn't get easier, think again. I purchased almost all of the pantry items for this chickpea peanut stew through iHerb, which carries over 5,000 grocery products and delivers right to your door.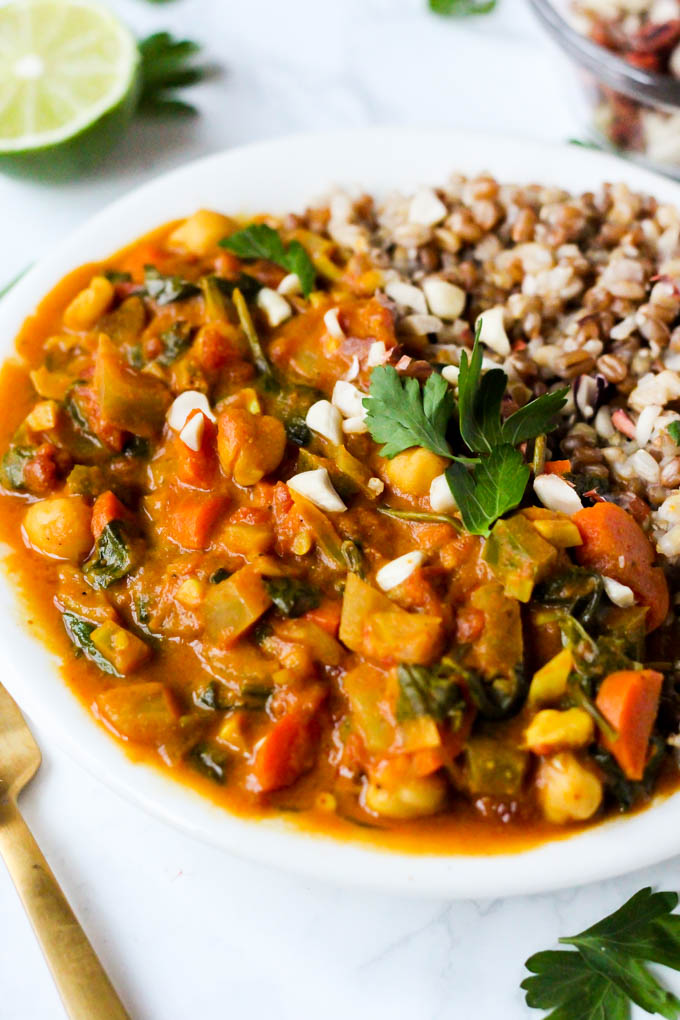 Shopping on iHerb is a great opportunity to snag some healthy pantry staples like dry beans & grains, organic spices, nuts & nut butter, and so much more if you don't have access to a giant health food store. Plus, the prices are great, and iHerb delivers to 160 countries!
Get a discount on your next iHerb order by clicking here!
Here are the iHerb products I used in this Slow Cooker Chickpea Peanut Stew so you can order them, too: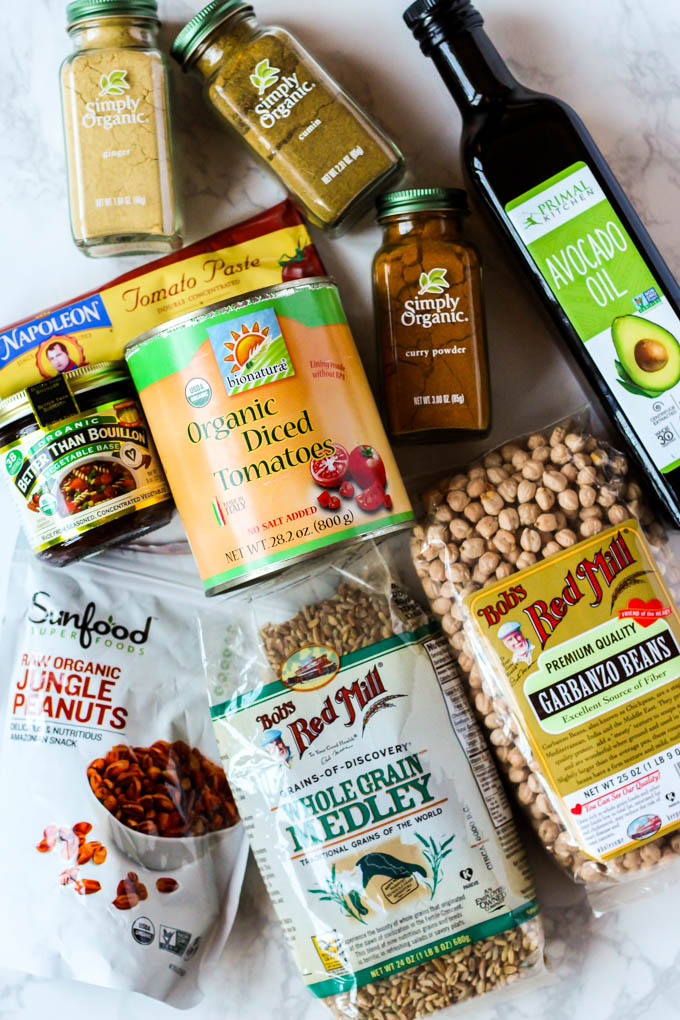 So, about this chickpea peanut stew. It's insanely creamy & rich thanks to the peanut butter and nutritious thanks to all of the fresh vegetables, beans & whole grains. It's also full of plant protein to keep you full and satisfied!
This would make an excellent meal prep recipe to prepare for the week's lunches. It also freezes well, so you can make a double batch and freeze the leftovers. This stew is very forgiving, so feel free to use whatever vegetables you have in your fridge and to switch up the beans and grains!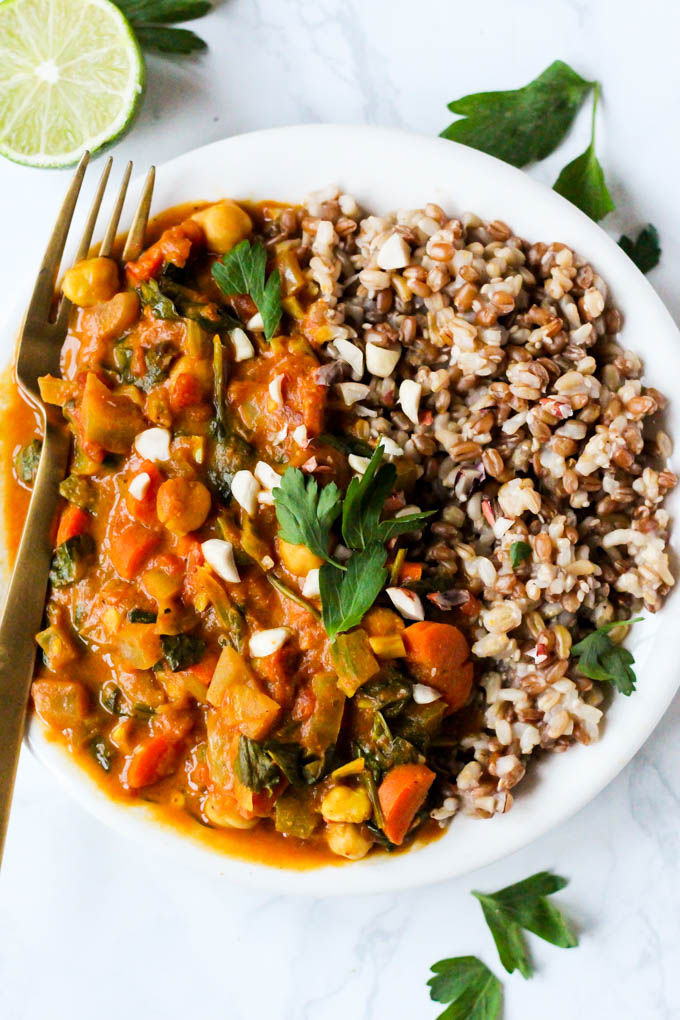 Print
How to make:
Slow Cooker Chickpea Peanut Stew (vegan & gluten-free)
This Slow Cooker Chickpea Peanut Stew is a hands-off dinner that is full of vegetables and protein-packed chickpeas & peanuts. Easy to meal prep and freeze!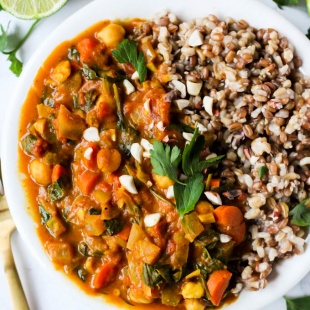 Ingredients
1 tablespoon

Primal Kitchen Avocado Oil

1

medium yellow onion, diced

3

cloves garlic, minced

2

medium carrots, diced

2

medium celery stalks, diced

1

bell pepper, diced

3 cups

water

1 tablespoon

Better Than Bouillon Organic Vegetable Base

1/2 cup

natural peanut butter

1

28-ounce can Bionaturae Organic Diced Tomatoes

2 tablespoons

Napoleon Co. Tomato Paste

1 teaspoon

Simply Organic Cumin

1 teaspoon

Simply Organic Curry powder

1 teaspoon

ground turmeric

1/2 teaspoon

salt

1/2 teaspoon

black pepper

1/2 teaspoon

Simply Organic Ginger

1 ½ cups

cooked Bob's Red Mill Garbanzo Beans

3 cups

spinach, chopped

1/2 cup

cilantro, chopped

1/4 cup

Sunfood Wild Jungle Peanuts, chopped

3 cups

cooked Bob's Red Mill Whole Grain Medley*
Lime wedges, for serving
Instructions
Place all ingredients (except garbanzo beans, spinach, whole grain medley, cilantro, peanuts) in a slow cooker. Stir to combine evenly.
Cook on high for 4 hours or on low for 7 hours.
In the last 15-20 minutes of cooking, add cooked garbanzo beans and spinach. Stir.
Serve stew on a bed of cooked whole grain medley. Top with cilantro, peanuts and a squeeze of lime juice.
Notes
*This medley is not gluten-free. Choose a gluten-free grain like quinoa or brown rice if you need!
Thanks to iHerb for sponsoring this post! I love working with brands whose products I really love and would honestly recommend. Thank you for supporting this blog that I love oh-so-much!
This post also contains affiliate links. Purchasing products through these links doesn't cost you more, but I get a little commission to help keep this site running!