Enjoy this easy Vegan Stuffed Butternut Squash recipe! It's savory with a hint of sweet and is so perfect for a satisfying, cozy fall dinner. Made in partnership with my friends at Sweet Earth Foods. ❤️
Savory Vegan Stuffed Butternut Squash
Butternut squash season is upon us and I don't think I could be happier. I grew up in Louisiana, which has some of the freshest homegrown squash in the country, so butternut squash basically just tastes like candy. That melts-in-your-mouth. And does well in both sweet and savory things. Perrrrrrrfect.
I want to share a recipe for a vegan butternut squash yogurt bowl, but for now, a savory vegan squash recipe will have to do! Which is totally fine with me, since I'm a savory girl through and through.
The beauty of this stuffed butternut squash recipe is that it comes together fairly easily and quickly, even though the squash take a good amount of time to cook. But while the squash are cooking, you can make the vegan stuffing over the stove in just a few minutes. Multitasking at its finest!
This vegan stuffed butternut squash is the perfect vegan fall recipe to whip up when you're craving a cozy dinner, and it would also make for a delicious vegan thanksgiving side dish!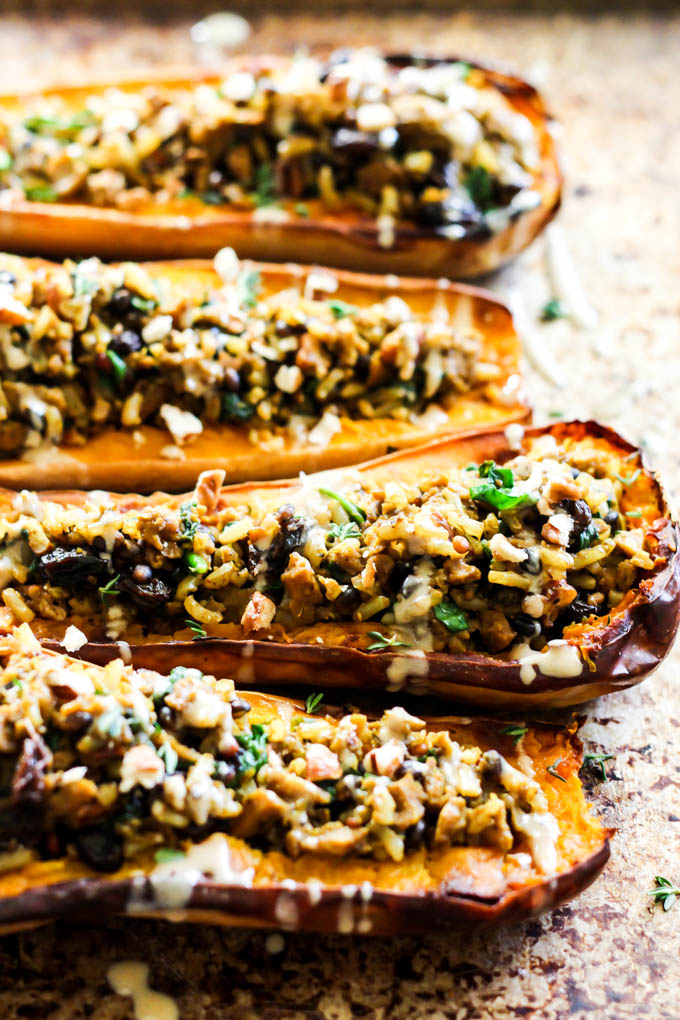 Ingredients for Vegan Stuffed Butternut Squash
This stuffed butternut squash is filled with a delicious vegan stuffing that is the perfect blend of savory-with-a-hint-of-sweet. I could seriously eat this vegan stuffing straight up as is. Which I totally do with the extras after stuffing the squash. Lettuce not waste any food!
The base of the vegan stuffing is made with Sweet Earth Foods Tuscan Savory Grounds and rice. I love the seasonings in the seitan grounds (think rosemary, garlic and fennel😍), so you don't need to add much else. Here's everything you'll need for this stuffed squash recipe:
Butternut squash. Butternut squash is the perfectly tender and subtly sweet, which makes it perfect for making a savory stuffed squash.
Brown rice. I went with a brown rice medley, but you can use your cooked grain of choice. Quinoa, farro, or bulgur would all be great.
Pecans. To add a bit of crunch! Walnuts or would also be great options, or you could use sunflower seeds if you have an allergy.
Sweet Earth Foods Tuscan Savory Grounds. Each serving of the Sweet Earth Foods Savory Grounds packs in 20 grams of plant protein  – perfect for keeping you full and satisfied!
Spinach. I love spinach in this recipe, but you can use any dark leafy greens you have on hand.
Raisins. I know raisins can be polarizing, but they add the most delicious pop of sweetness to this stuffed butternut squash recipe. If you're anti-raisin, try dried cranberries!
Curry powder. The warm, earthy spices in curry powder pair perfectly with the sweetness of the butternut squash in this recipe.
Oregano. Just a pinch of dried oregano really makes all the fall flavors in this stuffed butternut squash shine.
Tahini. We're finishing off this vegan stuffed squash with a creamy, thick drizzle of tahini.
Fresh thyme. The Savory Grounds are packed with herbs, so a sprinkle of fresh thyme on top of this stuffed butternut squash really takes it to the next level.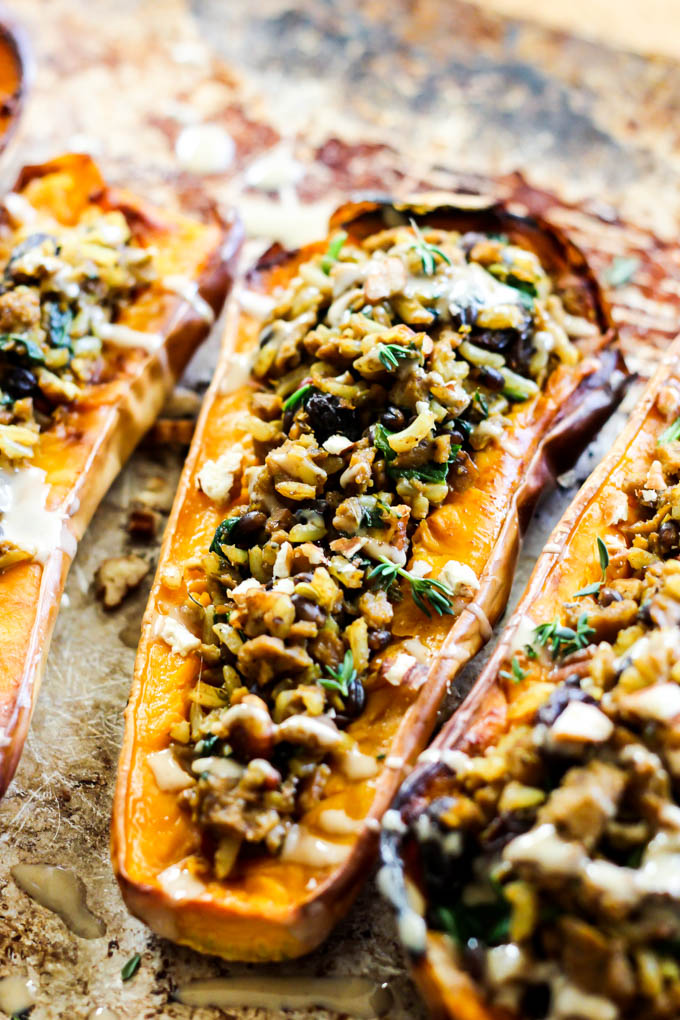 How to Make Vegan Stuffed Squash
If I could see into the future, I would hope to see this savory vegan stuffed butternut squash sitting on your holiday dinner table. Spoiler alert: I can't see into the future, but you should still totally make this cozy vegan fall recipe!
To make it, start by halving your butternut squashes, scooping out the insides and roasting them in a 400F oven for about 45 minutes. While the squash is roasting, you can work on your vegan stuffing. Cook your brown rice and toast your pecans in a separate skillet. Once the pecans are toasted, cook your vegan grounds in the same skillet until browned. Then add the spinach, raisins, curry powder, oregano and your cooked rice to the skillet.  Stir up the mixture and cook until the spinach is wilted.
Once your butternut squash is fork-tender, pull it out of the oven, fill it with your vegan stuffing and top everything off with a sprinkle of fresh thyme and a generous drizzle of tahini!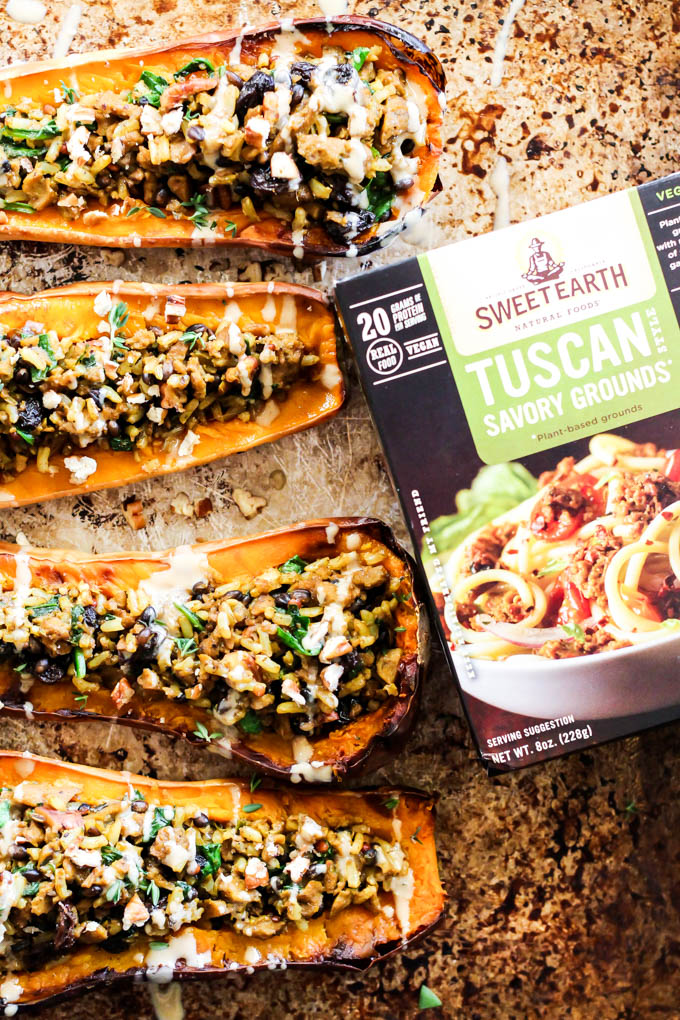 More Vegan Squash Recipes
Let me know if you try out this stuffed butternut squash recipe and how you liked it! If you're craving more delicious vegan squash recipes to celebrate fall, check out some of these!
Oh, and be sure to find Sweet Earth Foods near you using their store locator!
Print
How to make:
Savory Vegan Stuffed Butternut Squash
Enjoy this easy Vegan Stuffed Butternut Squash recipe! It's savory with a hint of sweet and is so perfect for a satisfying, cozy fall dinner.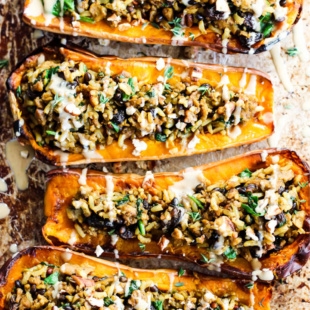 Ingredients
2

medium butternut squash

1/2 cup

brown rice medley (or other grain of choice)

1/3 cup

pecans, chopped

1

packet Sweet Earth Foods Tuscan Savory Grounds (defrosted if frozen)

1 cup

spinach, chopped

1/4 cup

raisins

1/2 teaspoon

curry powder

1/4 teaspoon

ground oregano

3

–

4

tablespoons tahini
Fresh thyme, for garnish
Instructions
Preheat oven to 400F.
Cut each butternut squash in half lengthwise. Scoop out the seeds. On a baking sheet, place flesh side up. Bake for 45-50 minutes, until fork tender.
Meanwhile, cook brown rice medley or other grain according to package directions.
In a medium skillet over medium heat, add pecans. Cook until toasted, about 2-3 minutes.
Add savory grounds; cook until slightly browned, about 5-7 minutes. Add spinach, raisins, curry powder, oregano, and cooked rice. Stir to combine; cook until spinach is wilted.
Scoop filling mixture into the hollow of each butternut squash half. Top with a drizzle of tahini and fresh thyme.
Thanks to Sweet Earth Enlightened Foods for sponsoring this post! I love working with brands whose products I really love and would honestly recommend. Thank you for supporting this blog that I love oh-so-much!