These Purple Hasselback Sweet Potatoes are your new favorite vegan side dish. Plus a rosemary infused olive oil recipe to finish them off! In partnership with my friends at Pompeian. ❤️
Purple Hasselback Sweet Potatoes

Are you more of a regular potato person or a sweet potato person? Can you even decide? I certainly can't.
On one hand, I love plain ol' Russet or red potatoes roasted to perfection in any form (fries, wedges, cubes). 🏆 On the other hand, I love sweet potatoes, which is ironic because I'm usually more of a savory-loving person. There seriously is nothing better than a sweet potato roasted or baked and smothered with tahini. TRY IT!
I guess for now, I have to say sweet potatoes are my #1. What about you?
One of the reasons I love sweet potatoes so much is that you can get them in so many COLORS! And we all knows colors = nutrients. The more your plate looks like a rainbow, the better!
We all know about orange sweet potatoes, with all their beta-carotene and vitamin C and creamy goodness. But did you know there are also purple sweet potatoes?! Purple happens to be my favorite color, so I'm all about these colorful tubers.
I teamed up with my friends at Pompeian to bring you the recipe for these Purple Hasselback Sweet Potatoes because purple foods are #TrendingIntheKitchen! If you're looking for a more creative way to serve potatoes, this is for you.  Plus, these hasselback sweet potatoes are total showstoppers and would look beautiful on your holiday table as a vegan Thanksgiving side!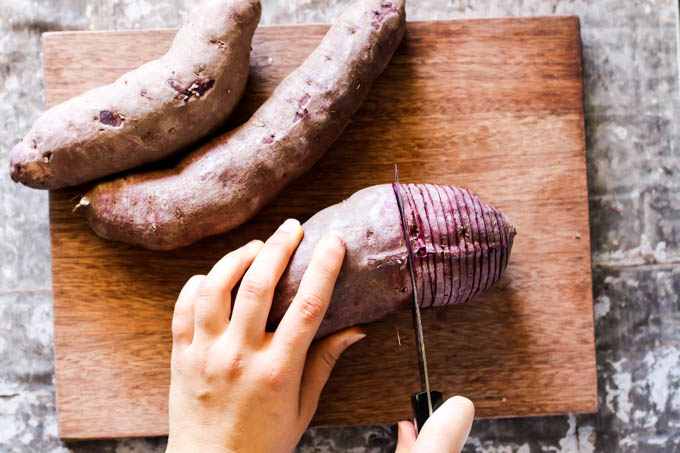 Ingredients for Hasselback Sweet Potatoes and Rosemary Infused Olive Oil
One of the reasons why these hasselback sweet potatoes are a great option as a vegan Thanksgiving side is that they only require 5 ingredients! Yes, just five! So you don't have to worry about getting a bunch of ingredients at the store, or even spending a ton of time working on them so you can focus on some of your other more time-consuming dishes. All you need to make them is:
Pompeian Organic Extra Virgin Olive Oil. We're packing a ton of flavor into these hasselback sweet potatoes by roasting them in homemade rosemary infused olive oil. Trust me, after you try this, you're going to be roasting ALL your veggies in it.
Rosemary. You'll want to get fresh rosemary and then let it completely dry out before making the rosemary infused olive oil. More on why and how to do it later.
Sweet potatoes. I wanted to use purple sweet potatoes because they look extra pretty on a holiday table, but you can totally use any other variety you'd like.
Salt and pepper. The rosemary infused olive oil packs in so much flavor that a pinch of salt and pepper is really the only seasoning these hasselback sweet potatoes need.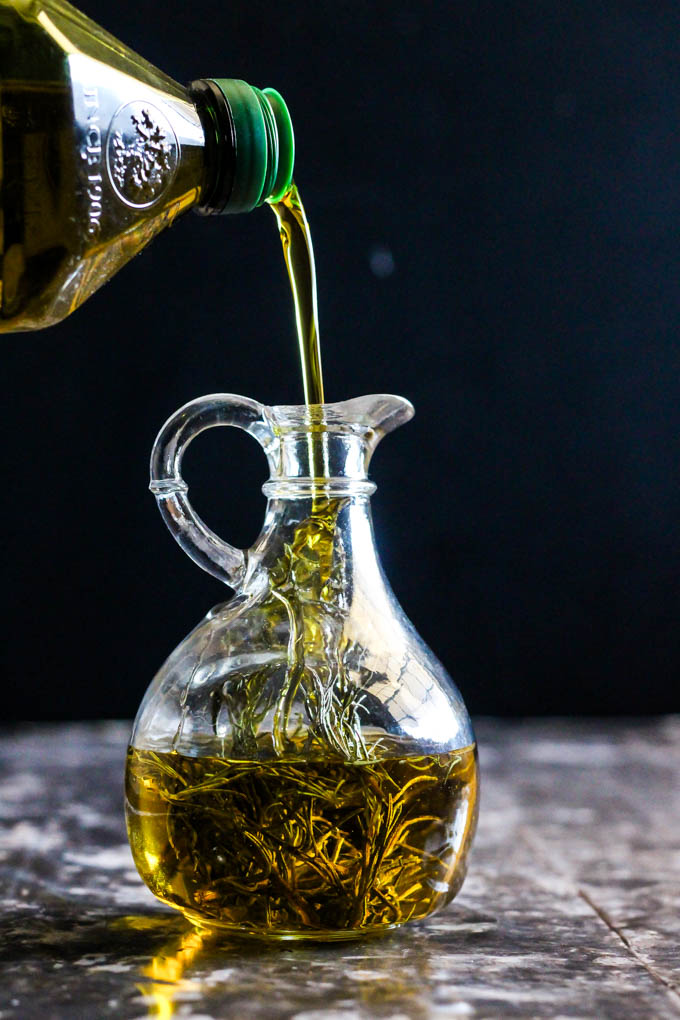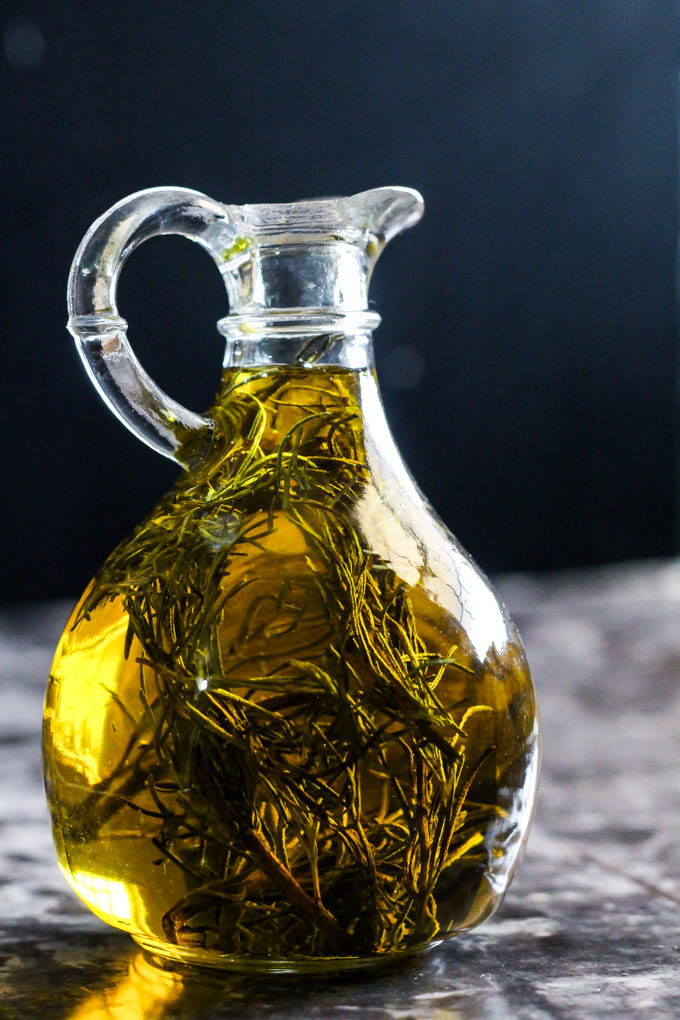 How to Make Rosemary Infused Olive Oil
Okay, let's back up a little. Before we make the potatoes, we need to make the rosemary-infused olive oil. All you need is Pompeian Organic Extra Virgin Olive Oil, dried rosemary (or whatever herb you want to use), and a bottle that seals well.
The most important thing in making the infused olive oil is to make sure your herbs are completely dry. If there is any water in the herbs when you add them to the oil, you run the risk of growing bacteria in your bottle, causing botulism. Leave your herbs in the sun for a few hours, or bake them on the lowest heat setting in your oven for 10-15 minutes.
Once your rosemary is completely dried out, fill your bottle with olive oil, add your rosemary, seal it up and let it sit in a cool, dry place for about a week.
You can use the herb-infused olive oil for many other dishes—salads, other roasted vegetables, pizza, or spaghetti.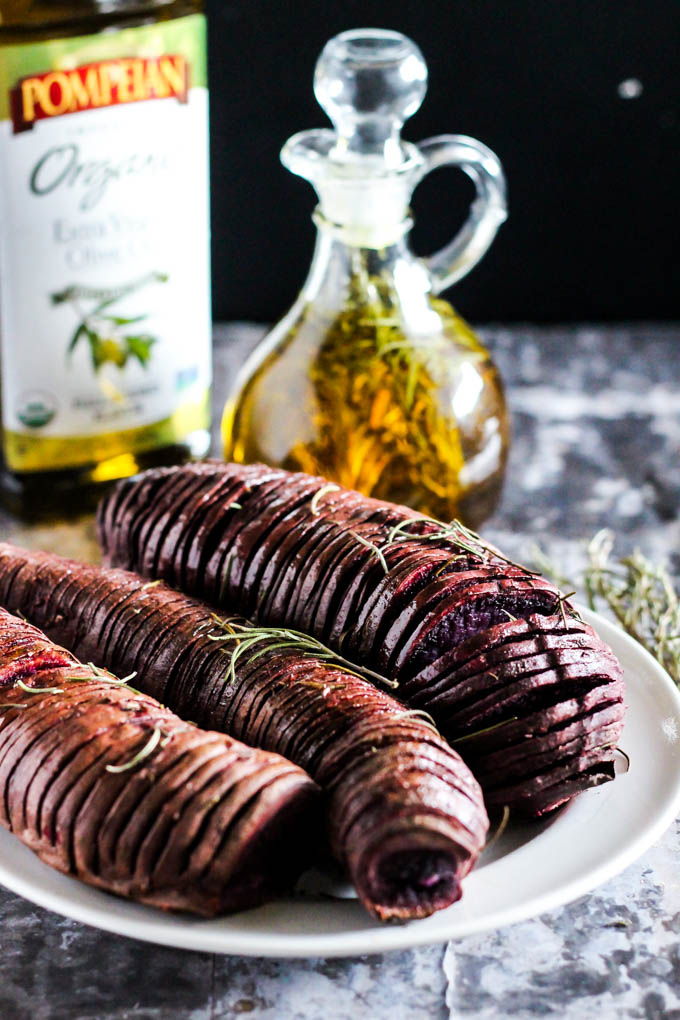 How to Make Hasselback Sweet Potatoes
Okay, so your rosemary infused olive oil has been sitting for a week, and now it's time to make the hasselback sweet potatoes! All you have to do is slice up your potatoes, pop them in the oven and roast!
Hasselback sweet potatoes are all about the knife work. I know they look really fancy, but it's actually pretty simple. You'll slice the potatoes every 1/4 inch, leaving about 1/2 inch at the bottom to keep the potato together. So you don't want to take your knife all the way to the bottom of the potato, otherwise you'll just be slicing the potato into chips! 
I highly recommend ensuring your knife is nice and sharp to cut the hasselback potatoes. A sharp knife will allow you to be more precise, not to mention it's much safer.
Then drizzle that dreamy herb-infused Pompeian Organic Extra Virgin Olive Oil on the potatoes and bake them in a 400F oven for 35-40 minutes.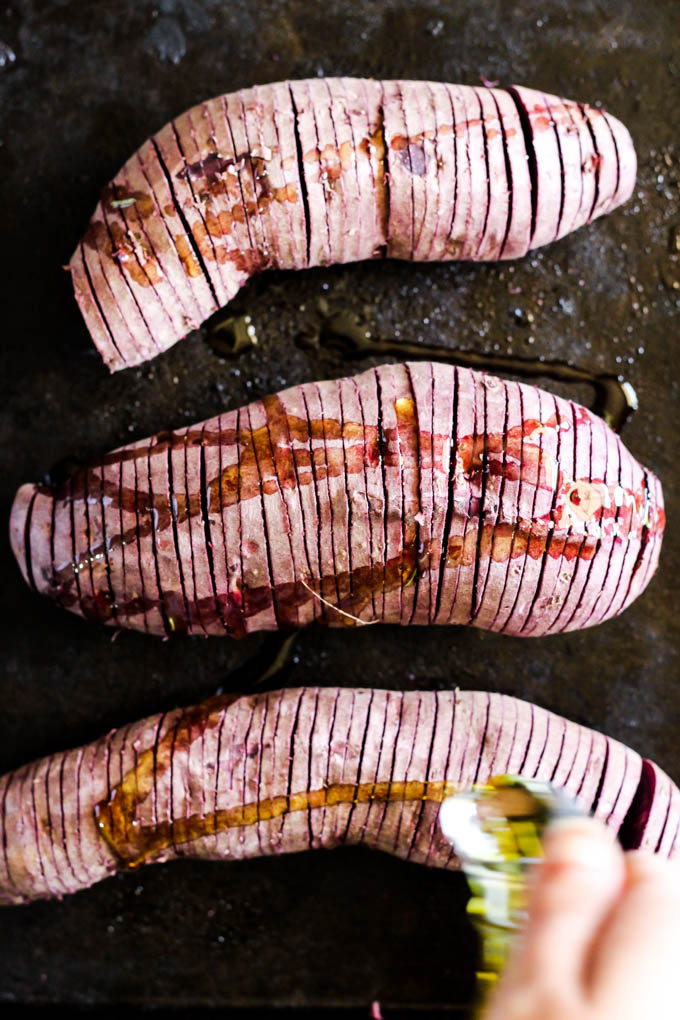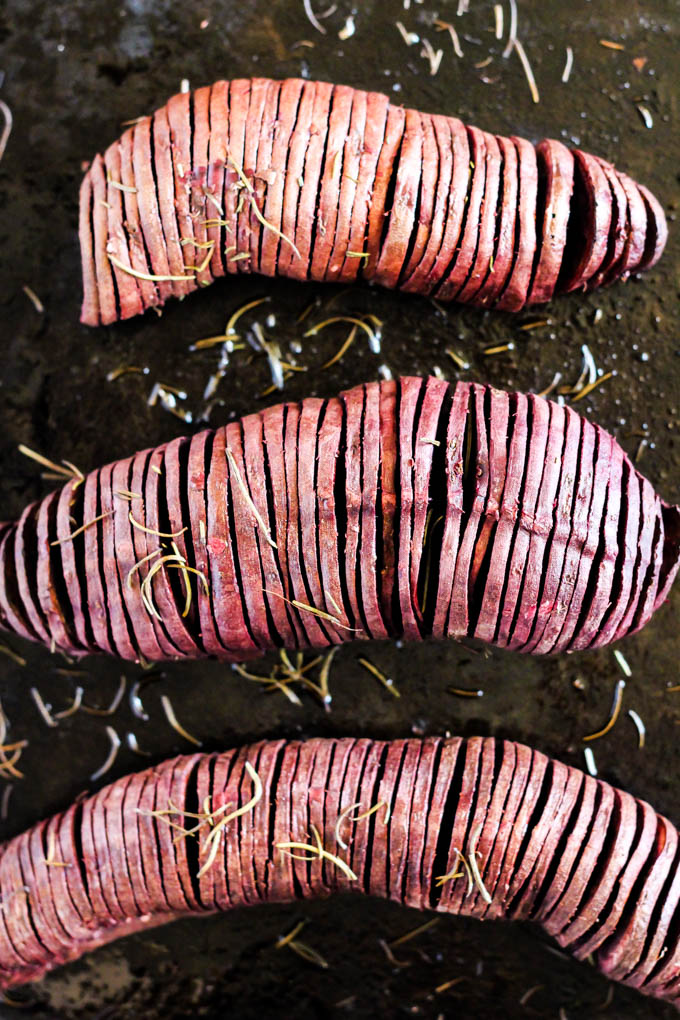 More Vegan Side Dish Recipes
I hope you try these beautiful Purple Hasselback Sweet Potatoes this holiday season… or any other season. 😉 If you're looking for more delicious vegan side dish recipes, check out some of these!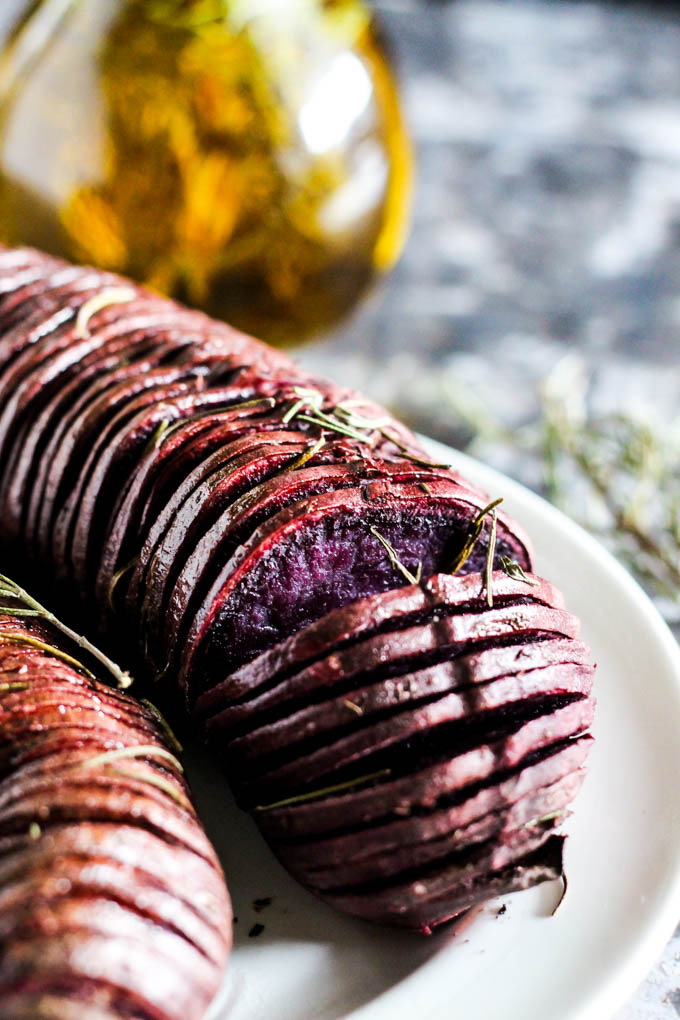 Print
How to make:
Purple Hasselback Sweet Potatoes
These Purple Hasselback Sweet Potatoes are your new favorite vegan side dish. Plus a rosemary infused olive oil recipe to finish them off!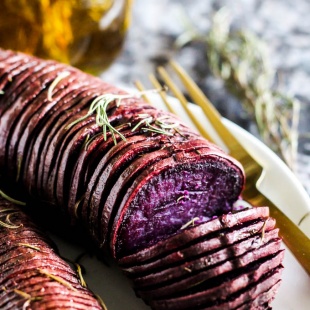 Ingredients
1 cup

Pompeian Organic Extra Virgin Olive Oil, plus more to fill the bottle

3

–

4

stalks fresh rosemary, completely dried*

4

purple sweet potatoes, washed and scrubbed
Salt and pepper
Instructions
For the infused olive oil: Get a bottle that properly seals (preferably with a cork seal). Add olive oil almost to the top of the bottle. Add dried rosemary. Seal the bottle and place in a cool, dry place for about a week.
When ready to bake potatoes, preheat oven to 400F.
Slice potatoes to form thin, 1/4-inch slices on the top, leaving about 1/2 inch on the bottom of each potato to hold the potato together. Place each sliced potato on a baking sheet. Drizzle with infused olive oil and sprinkle with salt and pepper.
Bake for 35-40 minutes, until potatoes are fork tender.
Notes
*You must ensure that the herbs are dry to avoid botulism. To dry your herbs, set them on a baking sheet and leave them in the sun for a few hours; or, turn your oven on the lowest heat setting and bake the herbs for 10-15 minutes.
Thanks to Pompeian for sponsoring this post! I love working with brands whose products I really love and would honestly recommend. Thank you for supporting this blog that I love oh-so-much!