No rolling required to enjoy sushi-inspired flavor! These packable 5-minute vegan sushi bowls have plenty of protein thanks to edamame.
This post was sponsored by VeeTee Foods Inc. I only work with brands whose products and missions I truly believe in. Thanks for supporting my blog! (Originally published January 10, 2017).
Vegan Sushi Bowl
The next time you catch yourself thinking you don't have enough time to make yourself a nutritious, satisfying lunch, come back to this post!
This might be one of the easiest, fastest recipes I've ever posted on Emilie Eats. Not only do you need just a handful of ingredients for this vegan sushi bowl, but you also only need a handful of minutes. This recipe takes just three steps and it's ready in just about 5 minutes. Yes, really.
We're making a sushi-inspired vegan power bowl using edamame as the star ingredient. Edamame is not only delicious, but it's packed with fiber and protein. And speaking of protein, edamame is a complete source of protein – meaning that it has all of the essential amino acids, which isn't the case for all plant-based proteins! All of the protein and fiber in this vegan sushi bowl will keep you feeling full and ready to tackle the rest of your day.
Not only is this edamame bowl nourishing, delicious and easy to make, but it's also the ultimate meal prep recipe. If you prep your rice, chop your veggies and whip up the sauce, you can keep all the elements in the fridge all week long so that all you have to do when you're ready for lunch is assemble it and dig in!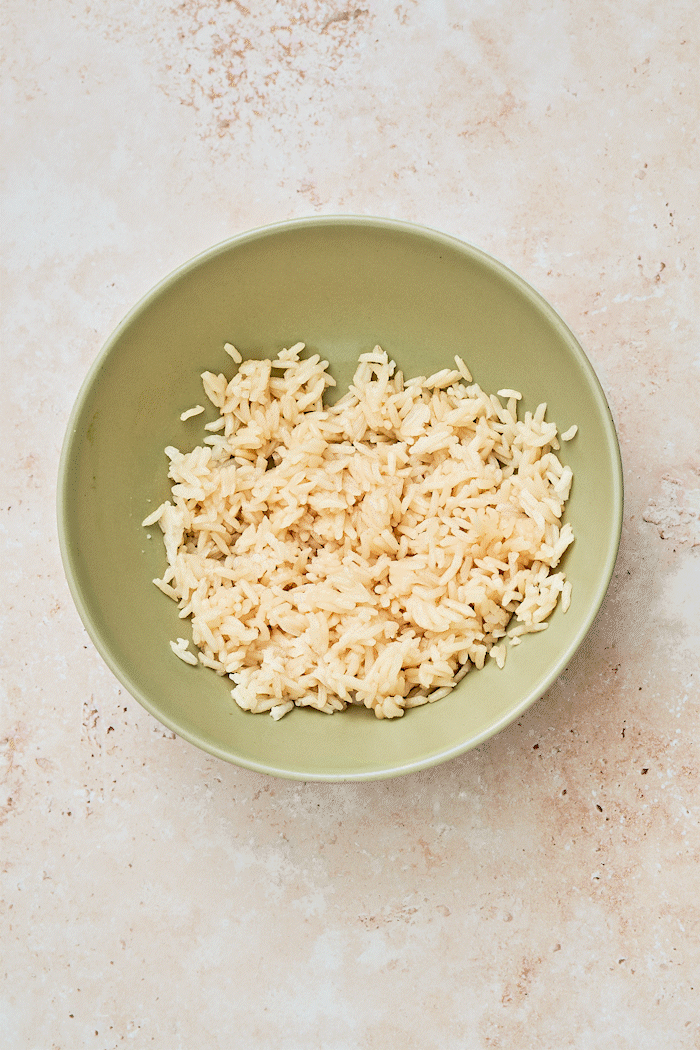 Ingredients for Vegan Sushi Bowls
I like to keep things like microwavable rice and frozen veggies on hand so that I know that even on days where I have literally just a few minutes to make lunch, I can still put something satisfying and nourishing together. And these sushi bowls are one of the things I'll throw together in a pinch. Here's everything you need to make them:
Jasmine Rice. I'm using 1

/2

package VeeTee's microwavable rice because it takes literally minutes to cook and I love to save time where I can. If you have dried rice on hand instead, you can also cook up a batch on the stove or in a rice cooker. You'll want 3/4 cup of cooked rice for this edamame bowl.
Edamame. 

This is our source of protein and packs in plenty of fiber! You can thaw frozen shelled edamame, or serve steamed edamame pods if you like popping them out of the pod when you eat them!

Veggies. I'm using a red bell pepper, a carrot, cucumber and avocado, but use what you have on hand!
Nori. If you can't find sheets of nori at your grocery store, seaweed snacks also work!
Green onions. The perfect garnish for these vegan sushi bowls!
Soy sauce. You could also substitute liquid aminos.
Peanut butter. We're making a spicy peanut butter sauce to drizzle over these edamame rice bowls to amp up the flavor. If you have an allergy, you could substitute sunflower butter or try tahini!
Sriracha. This will add a bit of heat and sweetness to the sauce. Feel free to add more or less based on your spice preferences.
Ginger. You can use ground or fresh ginger. For ground, you'll want 1/4 teaspoon. If you're using a knob of ginger, go for 1 tablespoon freshly grated.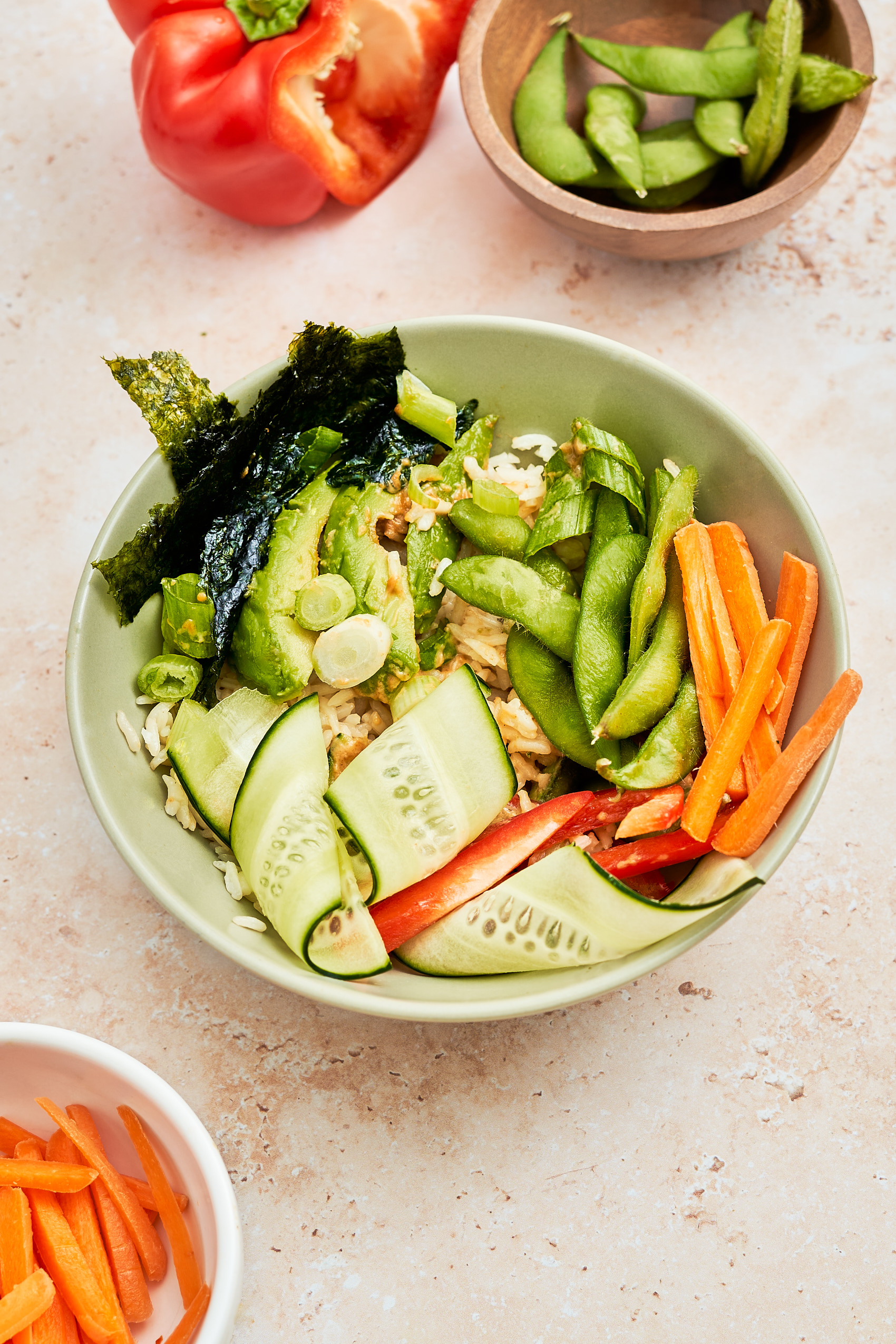 How to Make an Edamame Bowl
This vegan sushi bowl is as easy as 1-2-3. Literally. It only takes three steps to make it. So when I tell you that this is the easiest lunch bowl recipe ever, I really mean it.
The majority of the work is just slicing up your veggies and thawing the edamame. If you're using frozen shelled edamame, you can pour it into a bowl and cover it in cold water to defrost without any real effort! If you're using whole edamame pods, follow your package's instructions for steaming.
Once your veggies are chopped and your edamame is ready to go, here's how to make a vegan sushi bowl:
Cook your rice. I'm using VeeTee's microwavable Jasmine rice because all I have to do is pop it in the microwave. But feel free to cook up a batch from dried if that's what you have on hand.
Assemble your sushi bowl. Grab a bowl or a packable lunch container and start building! Add in 3/4 cup of your cooked rice, your edamame and all the slices veggies. Top it off with your nori strips and green onion.
Make the sauce. In a small bowl or jar, add the soy sauce, peanut butter, and Sriracha. Whisk it up or give the jar a good shake, then pour it over your vegan sushi bowl and enjoy!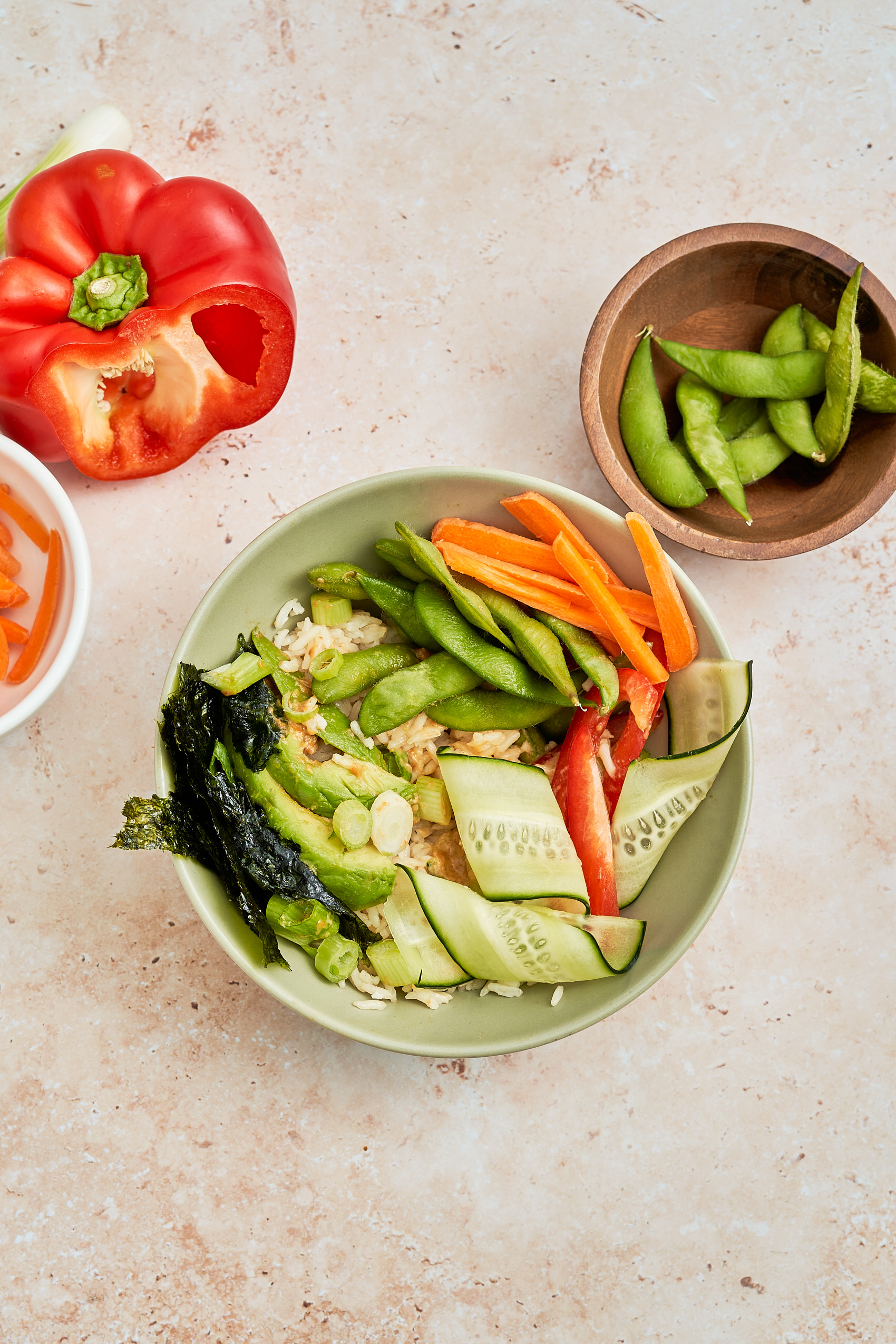 More Vegan Power Bowl Recipes
A power bowl is always a go-to of mine for easy lunches because they're perfect for meal prep! Cook up a batch of rice, pick a protein like beans or tofu, pair it with some veggies and a drizzle of sauce and you've got a simple, packable lunch ready to go. This vegan sushi bowl is just one of the power bowl recipes I have on Emilie Eats! Check out a few of these other favorites for more vegan lunch ideas!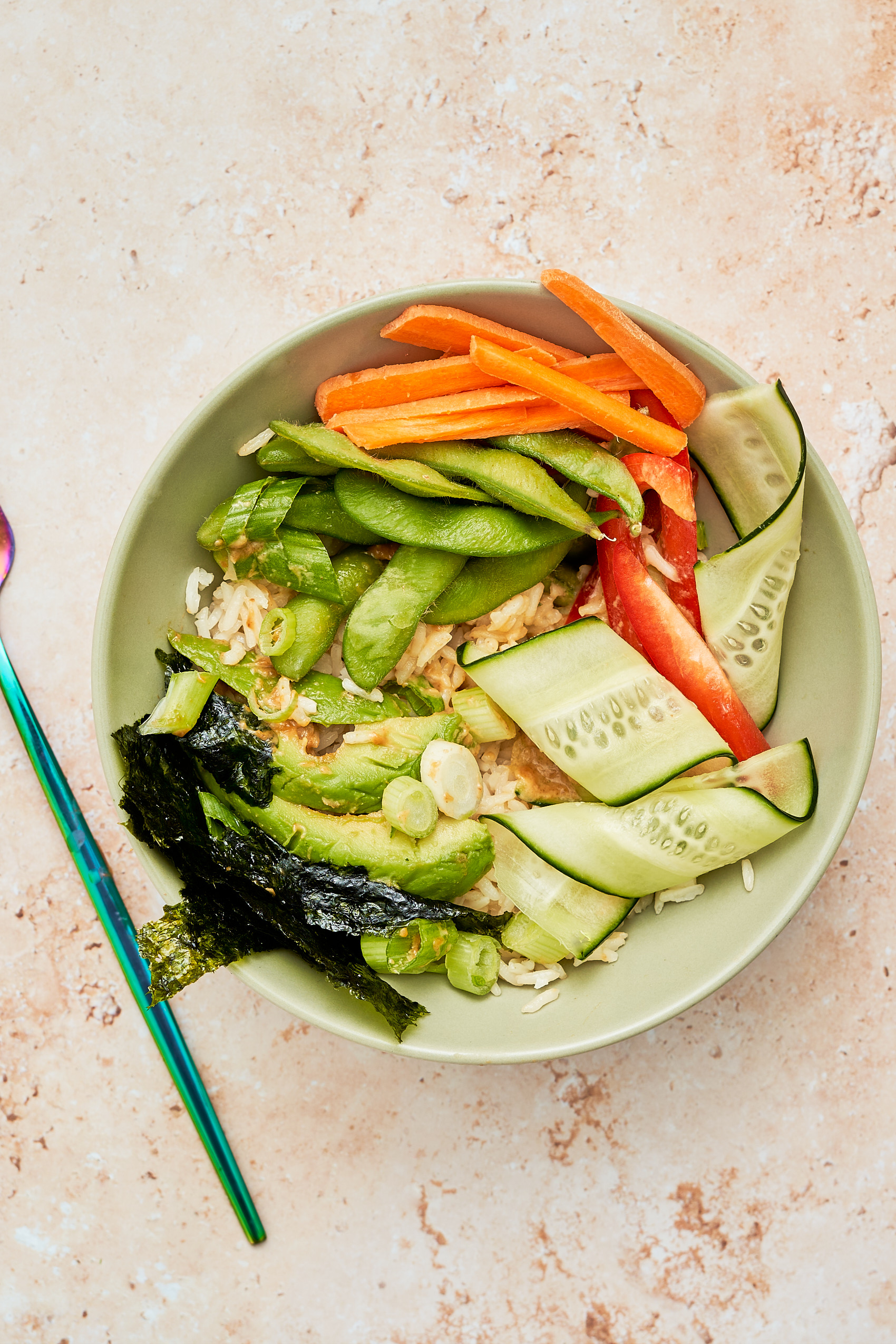 Print
How to make:
Vegan Sushi Bowl
No rolling required to enjoy sushi-inspired flavor! These packable 5-minute vegan sushi bowls have plenty of protein thanks to edamame.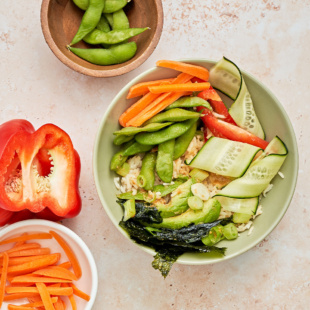 Ingredients
1/2

package VeeTee Dine In Microwaveable Thai Jasmine Rice (or

3/4 cup

cooked rice)

1/2 cup

edamame

1/4

bell pepper, thinly sliced

1/4

carrot, thinly sliced

1/4

cucumber, thinly sliced

1/4

avocado, sliced

1/4

nori sheet, torn into strips

1 tablespoon

green onions, chopped

1 tablespoon

s soy sauce or liquid aminos

1/2 tablespoon

peanut butter

1/2 teaspoon

Sriracha sauce

1/4 teaspoon

ground ginger
Instructions
Cook jasmine rice according to package directions.
In a bowl or a lunch container, add 1/2 cup rice, edamame, bell pepper, carrot, cucumber, avocado, nori strips, and green onions.
In a small bowl, add soy sauce, peanut butter, and Sriracha. Whisk to combine. Pour over sushi bowl.