Fun fact: I used to hate chocolate cake. And mint-flavored things. Do you hate me yet? I hope not.
Not liking chocolate cake is like not liking puppies. You are seriously considered insane. But, there I was, always reaching for the slice of vanilla cake and wiping away any remnant of chocolate frosting. Oh, and don't even try to get me a Thin Mint cookie. No thank you, I'll stick with the plain vanilla shortbread cookie.
But alas, people change, and I've come to the dark side – the dark chocolate side (see what I did there).
Thank goodness people change. If we all stayed the same person that we were in high school, we'd be pretty terrible. 😉 But really, we always hear talk of people changing in the context of it being a bad thing. What's wrong with learning, growing, and opening your mind?
I wish we had more people in the world who are open to change. Change can be beautiful. Just look at everything that has happened as a result of others opening their minds – women getting the right to vote, people can love whomever they want, my new intense love of everything chocolate…
If we were more open-minded to change and things being different than us, I think the world would be a much happier place. We would be able to show others love and empathy and respect. Without change, we wouldn't have any of the technological, medical, or societal advancements we enjoy today. Just think of how boring the world would be if we all stayed the same, never learning new things or striving to be the best versions of ourselves.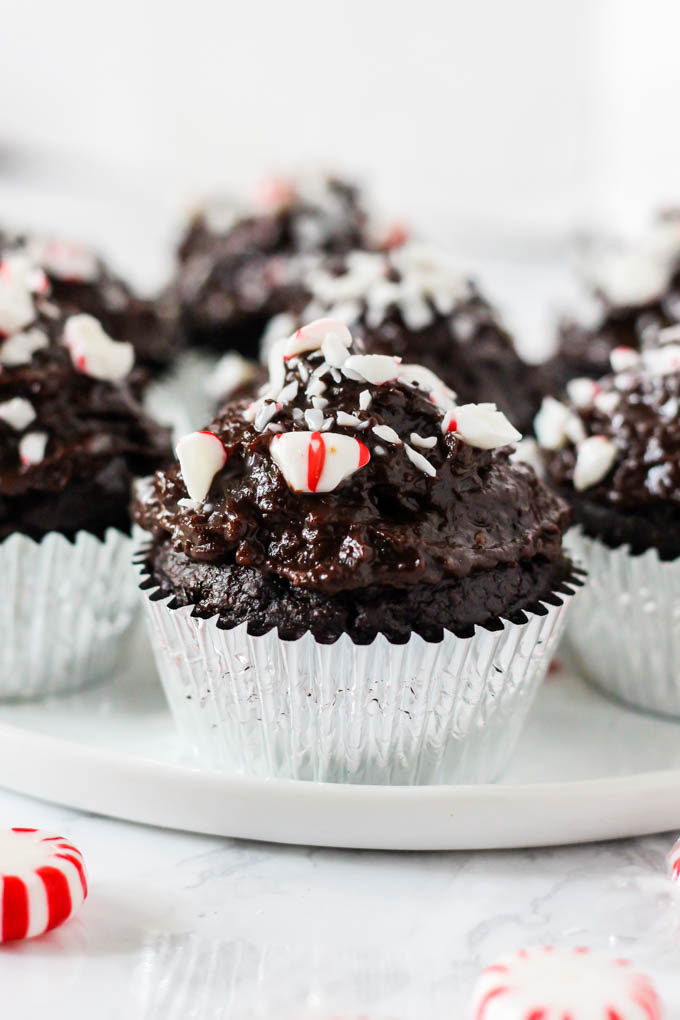 If I had never changed, I would've missed out on chocolate cake my whole life. And oatmeal and broccoli and pineapple. And what a sad existence that would be!! I guess one day I finally came around to my senses and grabbed the slice of chocolate cake instead. As the saying goes, once you go chocolate, you never go back. I think that's how it goes.
(P.S. – Vanilla, you're still my main girl.)
As these were baking – and filling my apartment up with the beautiful aroma of warm chocolate cake – I couldn't help but laugh at the fact that I was baking cupcakes made out of the two foods I used to despise. See why change is a good thing? Out of it, deliciously fluffy chocolate peppermint cupcakes are born.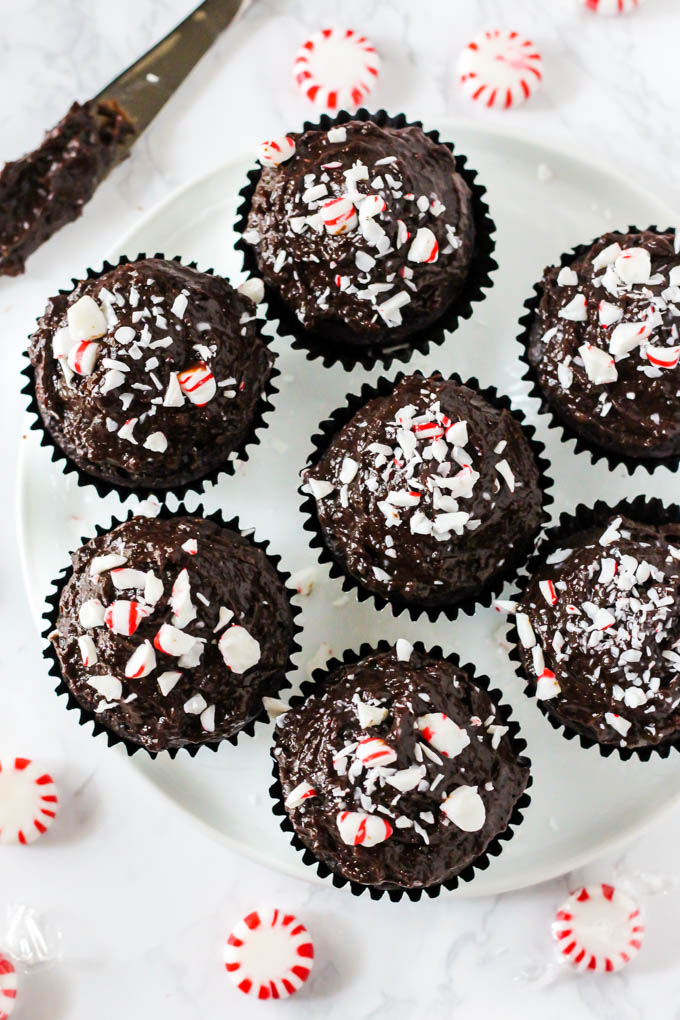 I know it's not even Thanksgiving yet and I'm already baking peppermint things, but can you blame me for getting ahead of myself? I knew I had to perfect these in time for the holiday season – and perfect they are indeed.
Creating a vegan and oil-free cupcake that is still fluffy and moist (sorry, had to say it) is no easy feat, but using my favorite flours from Bob's Red Mill helps because I know the results are going to be an amazing quality. I've never met a Bob's Red Mill flour I don't like; it's pretty much the only brand I buy.
I don't use white flour often, but for the holidays, I can make some exceptions! To keep these cupcakes super fluffy, I used the Organic Unbleached White All-Purpose Flour; it is incredibly versatile and can be used in all of your holiday baking adventures. You can also use the Gluten Free 1-t0-1 Baking Flour for a gluten-free option.
Get a coupon for any Bob's Red Mill product! You'll want to grab this for your holiday baking needs. 
The chocolate and peppermint flavors in these cupcakes complement each other so perfectly, and these contain the perfect amount of sweetness to bring it all together. Oh, and you'll want to eat the date frosting with a spoon. You've been warned.
I can't wait for the holidays to be here so I can finally relax and spend time with my family – with chocolate peppermint cupcakes, of course. They're already begging me to come home to make them some. I swear they only love me because I cook for them…
If you get to bake these chocolate peppermint cupcakes, let me know in the comments. Or, take a pic for Instagram, tag @emilieeats & #emilieeats!
Don't forget to grab you coupon for any Bob's Red Mill product! Have a great Thanksgiving, you lovely people.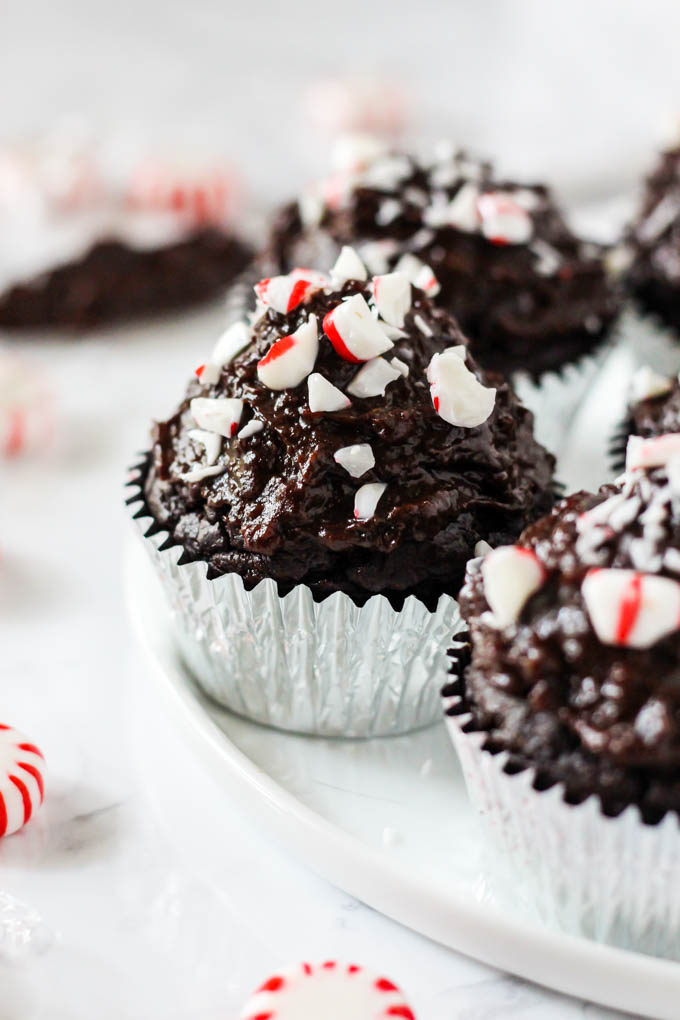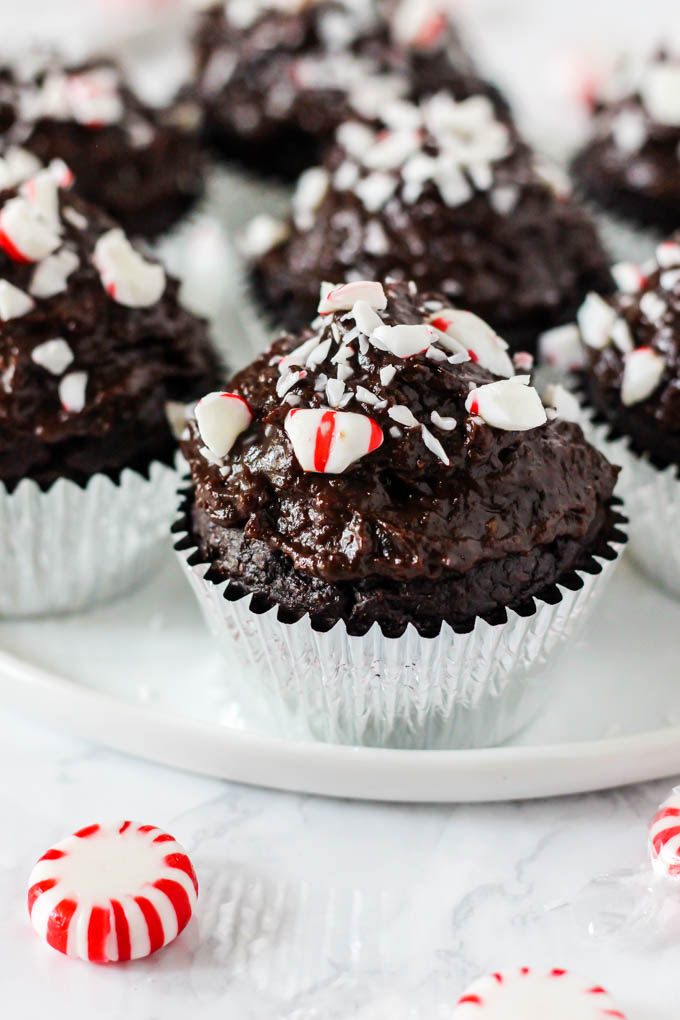 Print
How to make:
Vegan Chocolate Peppermint Cupcakes
These fluffy, oil-free Vegan Chocolate Peppermint Cupcakes are the ultimate holiday dessert. They're topped with a naturally sweet chocolate date frosting!
Ingredients
1 cup

+

2 tablespoons

non-dairy milk

1 teaspoon

apple cider vinegar

1 cup

Bob's Red Mills Organic Unbleached All Purpose White Flour or Gluten Free 1-to-1 Baking Flour

1/4 cup

oat flour*

1/2 cup

cocoa powder

1 teaspoon

baking soda

1/4 teaspoon

salt

2/3 cup

coconut sugar

1/4 cup

almond or cashew butter**

1/4 cup

unsweetened applesauce

2 teaspoons

peppermint extract, divided

1 teaspoon

vanilla extract, divided
For the Frosting:

1 1/2 cups

pitted dates, covered in hot water

2 tablespoons

cocoa powder

1/2 teaspoon

peppermint extract

1/2 teaspoon

vanilla extract

1

–

2

tablespoons non-dairy milk
Instructions
Preheat oven to 350F. Line a 12-cup muffin pan with liners.
In a medium bowl, add milk and vinegar; stir. Set aside for 5-10 minutes.
In a large bowl, add flour, oat flour, cocoa powder, baking soda, and salt. Stir to combine.
In the bowl with the milk mixture, add coconut sugar, almond butter, applesauce, peppermint extract, and vanilla. Whisk to combine.
Slowly pour the wet ingredients into the dry ingredients. Stir to combine until ingredients are just mixed together; do not over-mix.
Fill each cup with batter, a little over 2/3 of the way full.
Bake for 20-22 minutes, until a toothpick inserted into the center of a cupcake comes out clean. Remove cupcakes; let cool in the pan for 10 minutes before removing.
While the cupcakes are baking, prepare the frosting. Drain dates; add to a food processor or blender with cocoa powder, peppermint extract, and vanilla extract. Process until smooth, adding a tablespoon at a time of milk if needed.
Spoon frosting onto each cupcake. Sprinkle with crushed peppermints and serve!
Notes
*To make your own oat flour, simply blend rolled oats in a food processor or blender until a fine flour forms.
**For a nut-free option, use sunflower seed butter.
I was selected for this opportunity as a member of CLEVER and the content and opinions expressed here are all my own.