Yes, there are beans hiding in this Chickpea Cookie Dough Fudge! No baking required, vegan & gluten-free. A healthy dessert to satisfy your sweet tooth!
Whoa, hi there. It's been a little silent on this little corner of the Internet. I hope you all had a ~delicious~ Super Bowl celebration and very chocolate-y Valentine's Day with someone special! Even if it was you cat (I feel ya).
Truth is, I needed a break. In my 1.5 years of blogging, I've never taken any time off. I've never even taken a completely social-media-free day. That's crazy! On top of taking 18 hours this semester and working part-time, running this blog and all of its channels can get a bit overwhelming sometimes.
So I didn't open a single social media app or website for a week. Yes, a whole week! For someone who literally works in social media, this was kind of cray. But also flipping spectacular.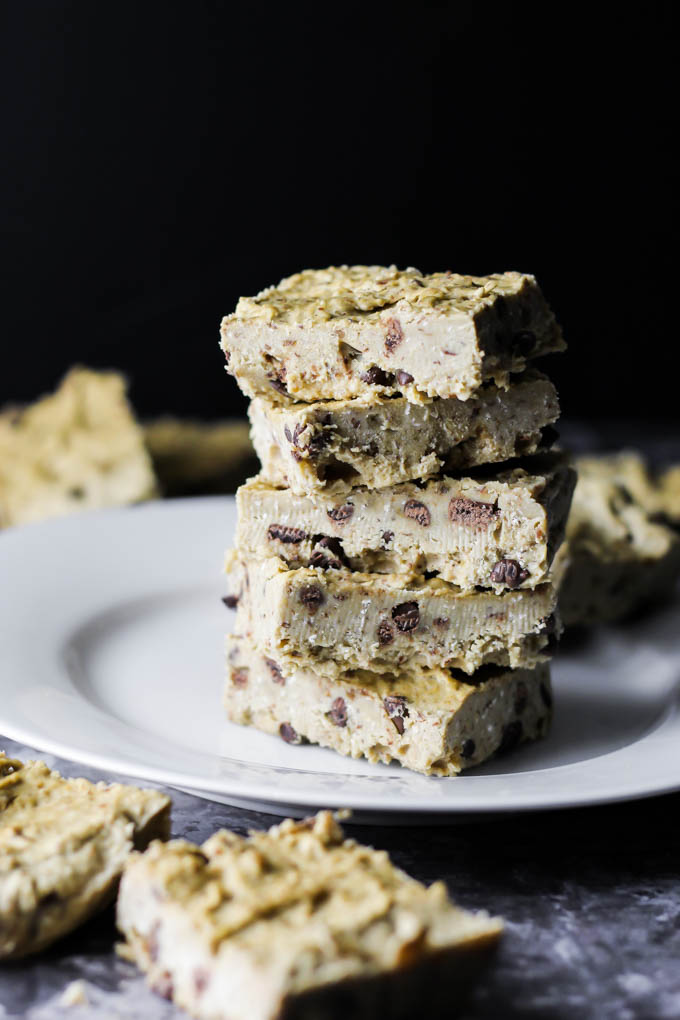 I plan on writing a full post about taking a "digital detox" because I think it's important for us to step away from the screens all the time and live in real-life. But here are a couple things I learned in my week off of blogging & social media:
The Internet goes on without you. This was humbling to say the least. Sure, people might love your recipes or what you have to say, but at the end of the day, they'll keep on living. You do not have to be everything to everyone.
You'll get a lot of stuff done. When I didn't want to do homework or get something done, I couldn't turn to social media to distract me. So, needless to say, I got a lot laundry and apartment stuff done in my time off! This is something that I'd like to keep implementing because less distractions = more productive.
Taking care of you is okay – and important. I'll be the first to say that I'm no self-care aficionado. I don't have scheduled times to do face masks or morning yoga routines, but I'm trying to do little things throughout the day that make me feel good – like diffusing essential oils or wearing my fuzzy slippers. Taking time off for you to connect back to your values is so crucial to your well-being.
Doing less does not equal failing. This has been the hardest for me to accept. As someone who thrives off of doing more and doing everything 100%, doing less – even if it is for my mental sanity – feels like failure. But it isn't. It just means that, hey! you're in college! You have a million things going on, so it's okay that you don't run a six-figure business. Chill out, girlfran.
Moving forward, I'd love to maybe take one day per week off of social media, and to use it more intentionally on normal days. Aka no aimless scrolling when I'm trying to distract myself. I also will probably be writing a couple less blog posts a month, but don't worry – delicious recipes are coming your way no matter what!
Speaking of recipes, enough with the rambling… CHICKPEA cookie dough fudge!! *as I'm eating a piece now*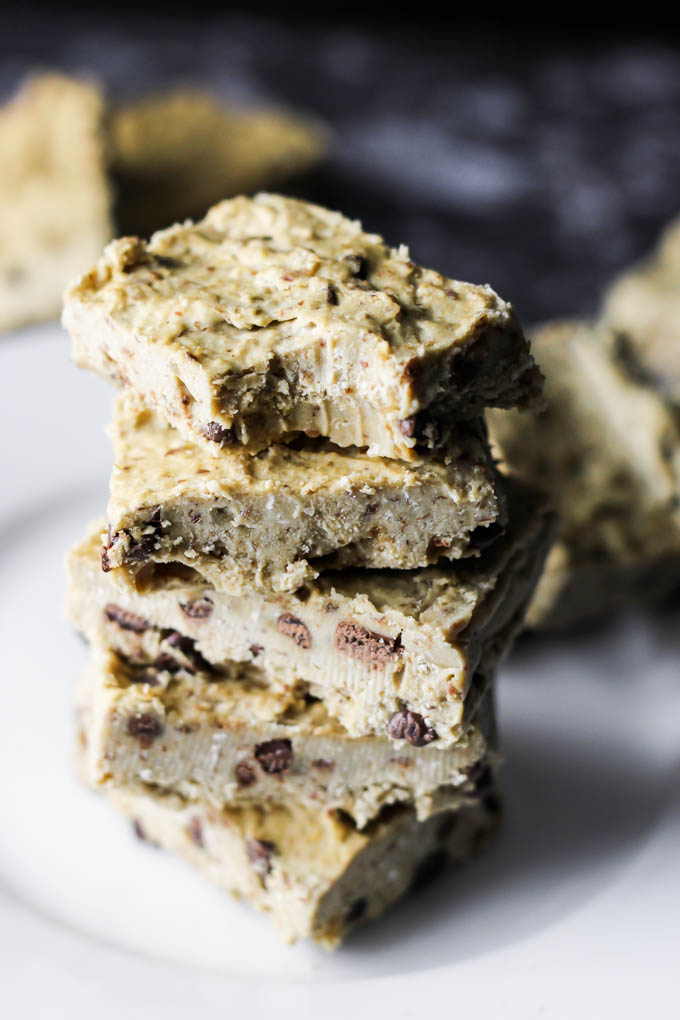 This cookie dough fudge recipe seriously could not be more simple and easy to make, plus you can make a TON of it and keep it in the freezer for *very important* dessert emergencies! I've been enjoying a piece after dinner for the last couple weeks and I'm not mad about it. 💁🏼
Before serving it, you'll want to let it thaw out for a couple minutes. But get ready to bite into sweet, soft, chocolate-y vegan fudge goodness that'll rock your socks off. (Yes, I just used that phrase. Am I too lame?)
Okay enough of me talking, go make some fudge, y'all!!
Question for you: Have you ever done a "social media detox"? What do you do when you get overwhelmed?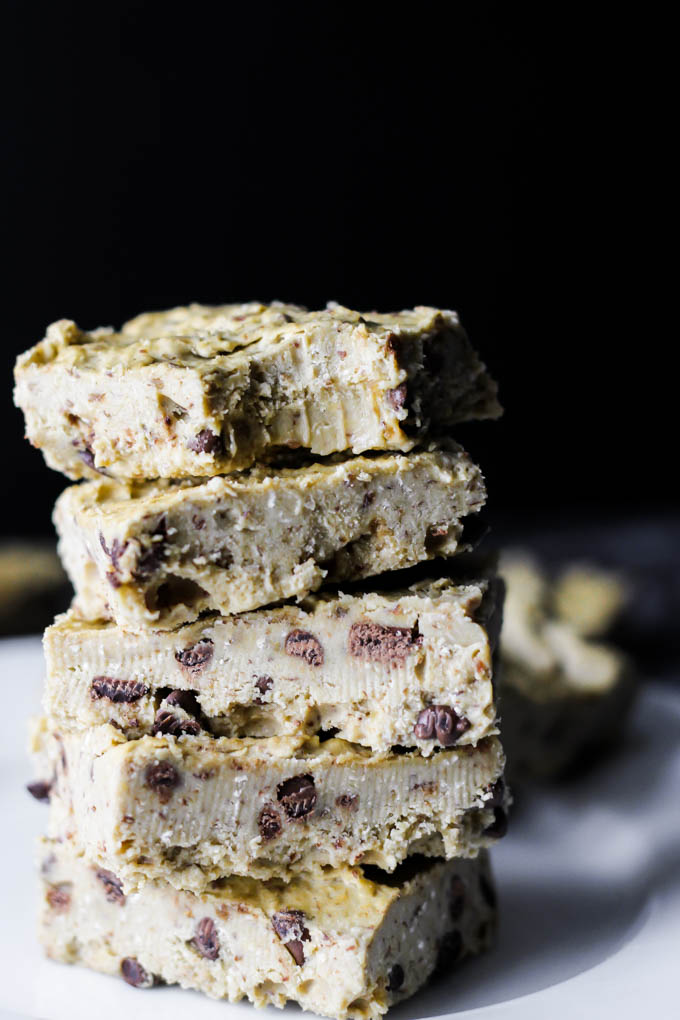 Print
How to make:
Chickpea Cookie Dough Fudge (vegan & gluten-free)
Yes, there are beans hiding in this Chickpea Cookie Dough Fudge! No baking required, vegan & gluten-free. A healthy dessert to satisfy your sweet tooth!
Ingredients
1/2 cup

pitted dates

1/2 cup

rolled oats

1

15-ounce can (

1 1/2 cups

) chickpeas, drained and rinsed

1/4 cup

almond butter, or nut/seed butter of choice

1/4 cup

non-dairy milk

3 tablespoons

full-fat coconut milk*

2 tablespoons

unsweetened applesauce

2 tablespoons

flax meal

1 1/2 teaspoon

vanilla extract

3/4 cup

chocolate chips
Instructions
Line a 9×9 baking pan with foil or parchment paper.
In a medium bowl, add dates. Cover with hot water; set aside for 10 minutes. Drain.
In a food processor or blender, add oats. Process until a fine flour forms. Add dates, chickpeas, almond butter, non-dairy milk, coconut milk, applesauce, flax meal, and vanilla extract. Process until completely smooth.
Add chocolate chips and stir in.
Pour the batter into the pan and spread into an even layer.
Place in the freezer for at least 2 hours, then cut into 12 bars. Store in the freezer. Remove at least 5 minutes before eating.
Notes
*Place the can of coconut milk in the fridge the night before using. Use the solid white cream at the top of the can in this recipe. Reserve for clear liquid for smoothies or other recipes.