Treat yourself and your loved ones to these fudgy Strawberry Cheesecake Swirl Vegan Brownies! Each bite is full of rich chocolate and sweet strawberry flavor. (gluten-free) In partnership with neat.
If you're reading this post the day it goes live, it's February 14—Valentine's Day. You may have even clicked on this post because you're like, OMG I still have no idea what to bake for my babe today. No worries, friend. I got you with these brownies!
Whether you're baking for a partner, your family, or yourself (Valentine's Day is also about self-love, okay?), these Strawberry Cheesecake Swirl Vegan Brownies are the cutest little festive treats.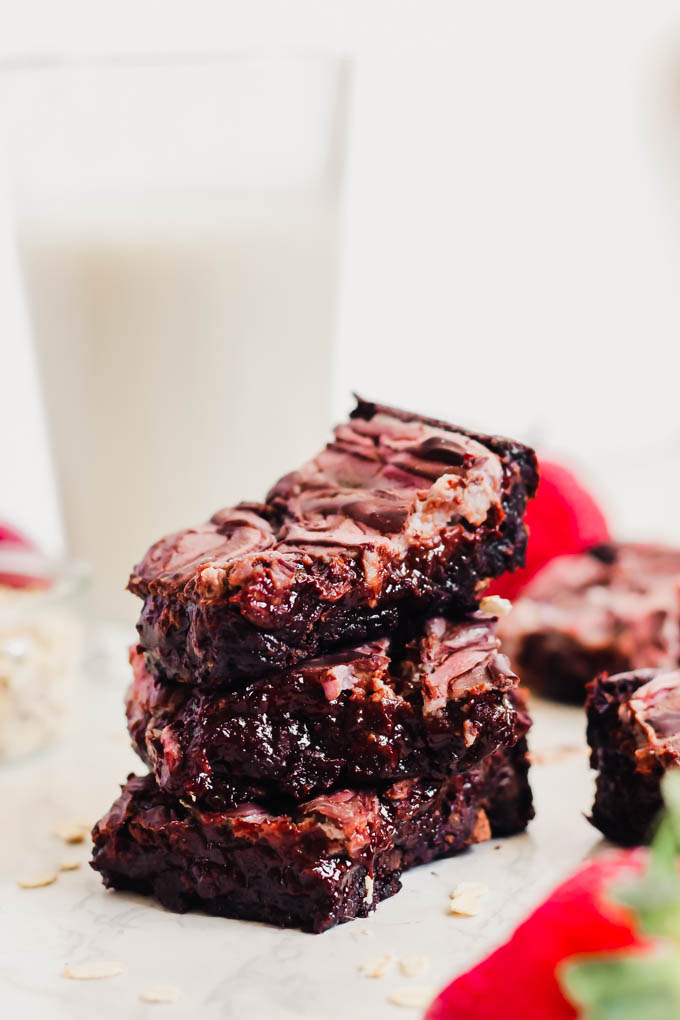 Brownies are great on their own, sure, but when you add a tangy strawberry cheesecake swirl on top? Oh my gawwwwd, the final product is delicious. The flavors really complement each other—I mean what says Valentine's Day more than chocolate + strawberries?
I mean, you could totally serve up chocolate-covered strawberries. But if you want to take it to the next level, I suggest these brownies.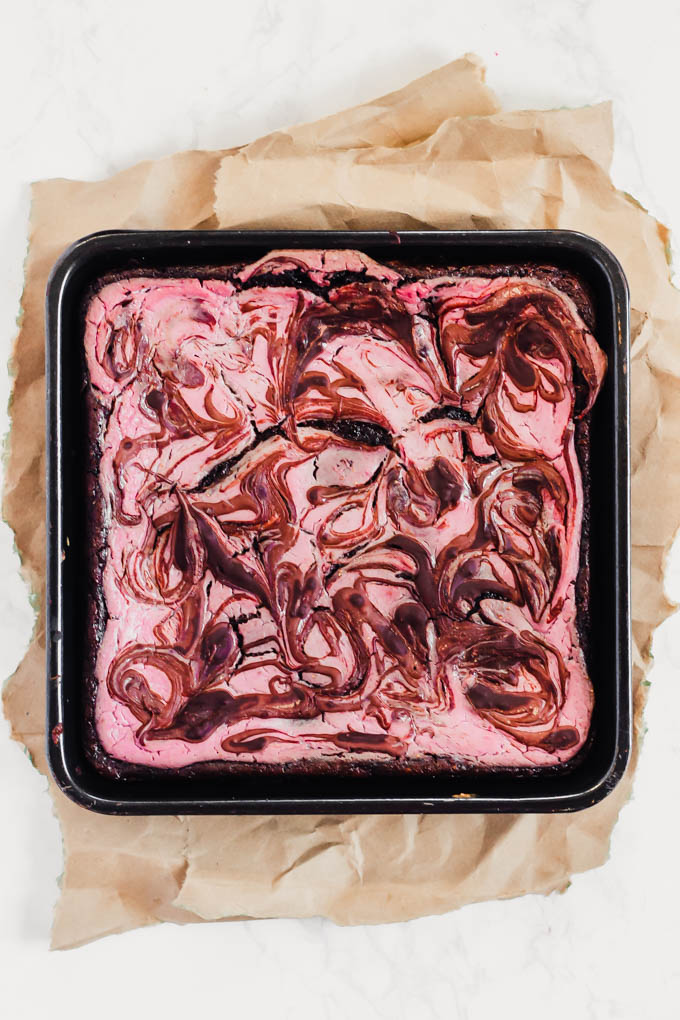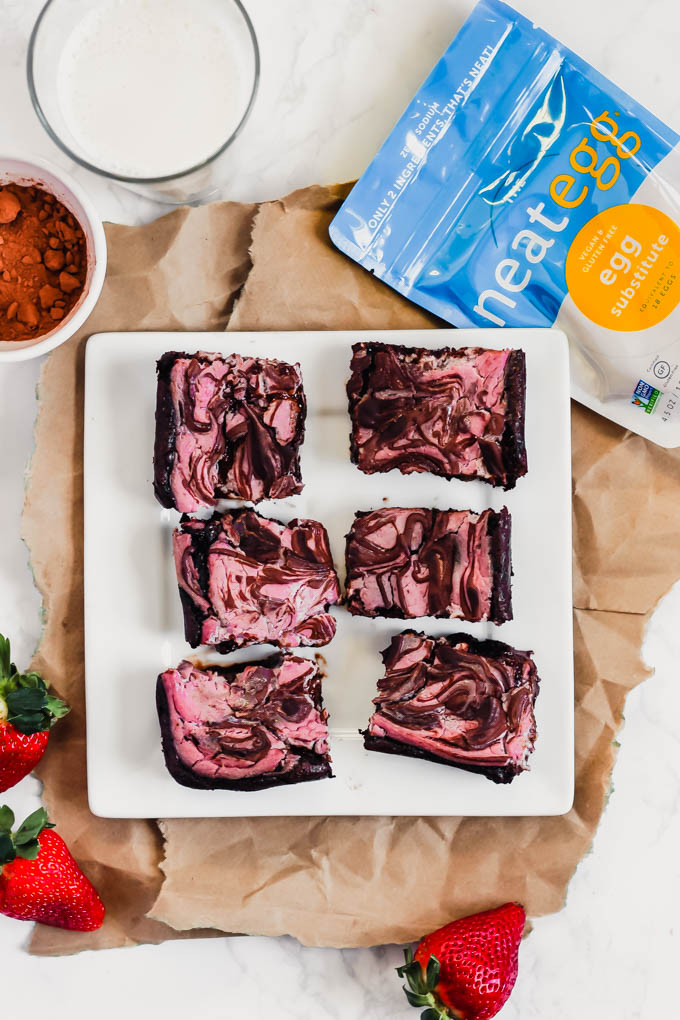 I'm using pretty basic ingredients in these vegan brownies, like oat flour, dates, almond butter, and applesauce. One special ingredient I'm using is neat's new neat egg, which is an all-natural egg replacement made from chia seeds and garbanzo beans. 
The neat egg acts as a binder, just like eggs would, so the brownies stay together nicely. You can use neat egg to replace eggs in all of your favorite baking recipes like cakes, cookies, brownies, muffins, and more. 
neat also offers shelf-stable baking mixes and meat-replacement mixes (I love the Southwest mix!) that let you enjoy the foods you love and nourish your body with good nutrition. Check out the neat website for more info!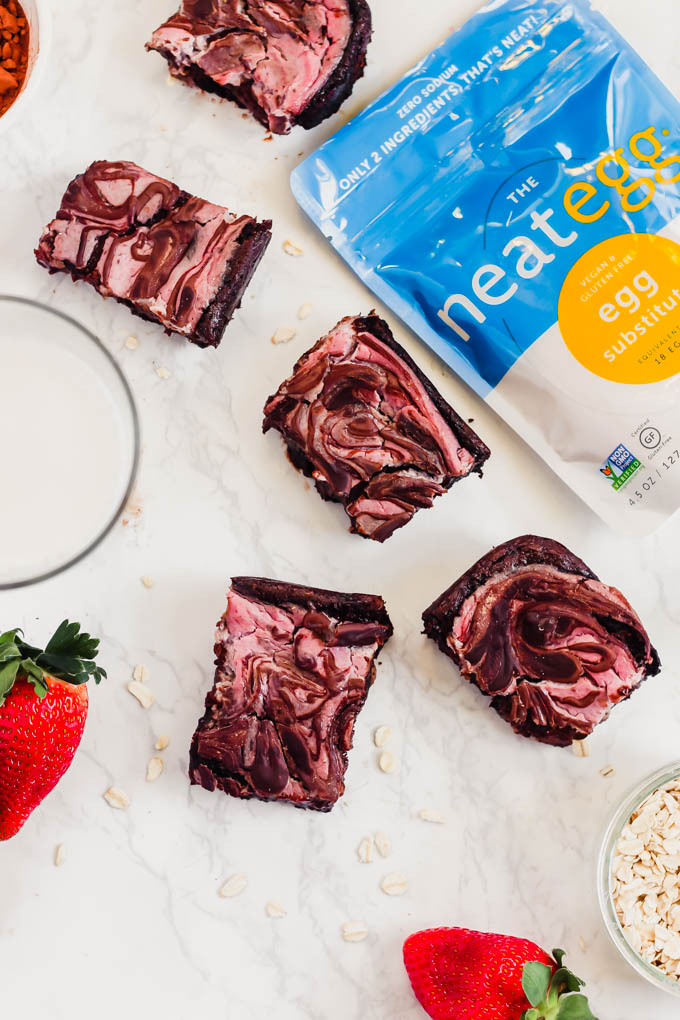 These vegan brownies are done in under 1 hour, so you can spend more time hanging out with the people you love. I'd make a double batch, though—these brownies will go fast.
Oh, another suggestion: a scoop of vegan vanilla ice cream on top of one (or two) of these brownies. Thank me later!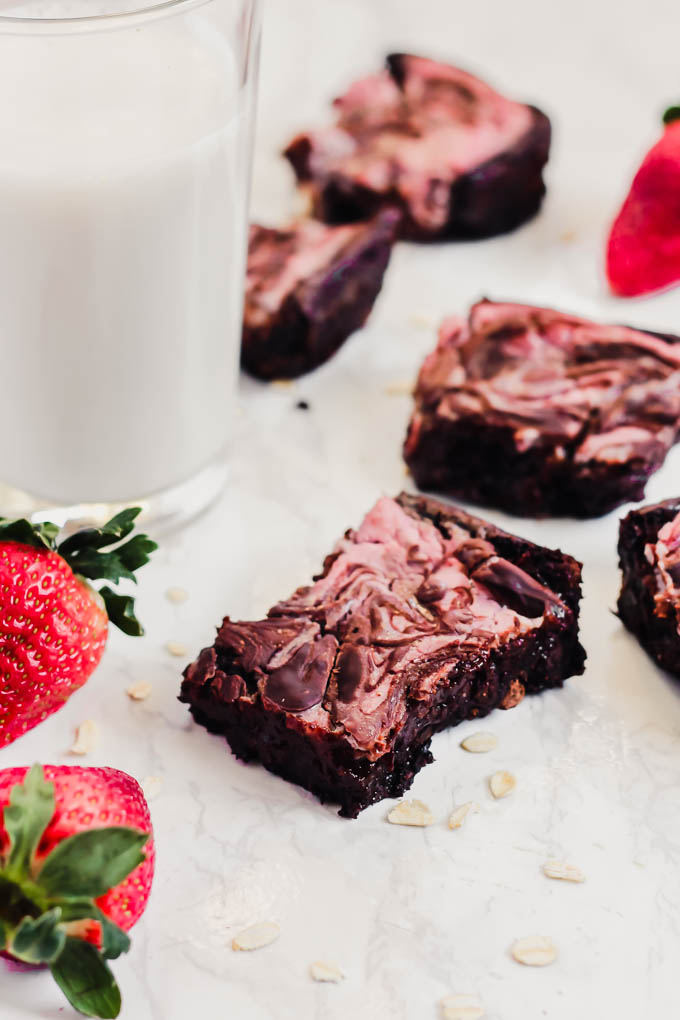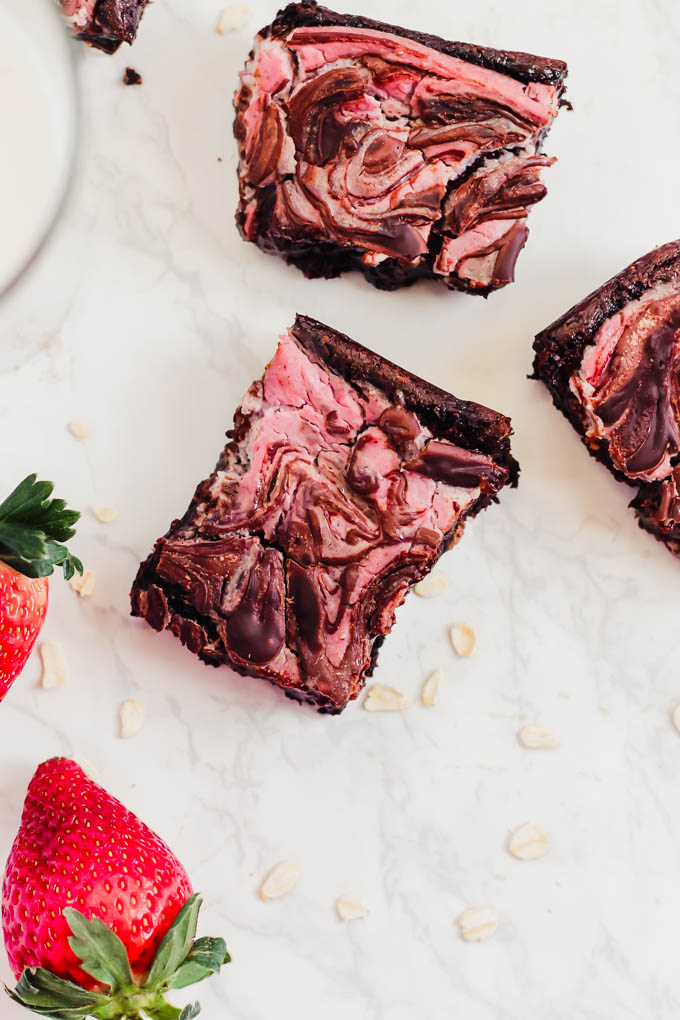 Print
How to make:
Strawberry Cheesecake Swirl Vegan Brownies
Treat yourself and your loved ones to these fudgy Strawberry Cheesecake Swirl Vegan Brownies! Each bite is full of rich chocolate and sweet strawberry flavor. (gluten-free)
Ingredients
For the brownies:
2 tablespoons

neat egg

3/4 cup

sugar

3/4 cup

almond butter (or nut/seed butter of choice)

1/4 cup

unsweetened applesauce

1/2 cup

+

1 tablespoon

non-dairy milk

1/2 cup

oat flour*

1/2 cup

cocoa powder

1 1/2 teaspoons

baking soda

1 1/2 teaspoons

vanilla extract

1/4 teaspoon

salt

1/2 cup

dark chocolate chips
For the cheesecake swirl:
1/2

12-ounce package extra-firm silken tofu

1/2 cup

fresh strawberries, halved

2 tablespoons

sugar

1 tablespoon

oat flour*

2 teaspoons

lemon juice

1 teaspoon

cornstarch
Dash of salt
Instructions
Preheat oven to 350ºF. Lightly grease an 8×8-inch pan.
In a small bowl, add neat egg and 1/4 cup water; stir. Set aside for 5 minutes.
In the bowl of a food processor or blender, add sugar, almond butter, applesauce, non-dairy milk and neat egg mixture. Process until well-combined, stopping to scrape down the sides.
Add oat flour, cocoa powder, baking soda, vanilla, and salt. Process until completely smooth. Add chocolate chips; stir until fully incorporated into the batter. Pour batter into the pan.
In a clean blender or food processor, add all cheesecake swirl ingredients. Blend until smooth. Pour mixture over brownie batter. Use a knife to swirl the cheesecake filling into the top of the batter.

 

Bake for 35-40 minutes. Let cool in the pan for 10 minutes; place in fridge for faster cooling time.
Notes
*To make your own oat flour, simply place rolled oats in a blender or food processor and blend until a fine flour forms.
Thanks to neat for sponsoring this post! I love working with brands whose products I really love and would honestly recommend. Thank you for supporting this blog that I love oh-so-much!