This creamy Pineapple Coconut Oatmeal Bowl is like the beach in a bowl! It's a delicious vegan oatmeal bowl that tastes like pure sunshine!
Pineapple Coconut Oatmeal Bowl
The sun's shining, the weather is warming up, there's fresh fruit everywhere…it's SUMMER!!!
Okay so technically summer doesn't begin until June 20, but can we all agree that it's time to start enjoying summer now? You do you, but I'm gonna sit here and pretend on I'm the beach with a pina colada in hand!
Speaking of pina coladas, does anything say summer more than the combo of pineapple and coconut? It tastes like pure sunshine. So we're getting the day started with a big bowl of sunshine in today's recipe! Say hello to this Pineapple Coconut Oatmeal bowl!
I know when a lot of us think about oatmeal, we think of warm, cozy fall flavors. This is your sign to branch out and switch things up! This oatmeal bowl truly tastes like a sunshine-y pina colada. It's creamy, it's coconut-y and it's topped with plenty of juicy pineapple. It's delicious eaten hot, but you can also pop it in the fridge and eat it cold on those super hot days.
Feeling the beach vibes yet?
Ingredients for Pineapple Coconut Oatmeal
This coconut oatmeal is unbelievably creamy. The secret is using canned coconut milk. All of the coconut cream adds so much delicious flavor and helps thicken your oatmeal into a super velvety, dreamy bowl of summer.
To make your own tropical oatmeal, here's everything you'll need:
Oats. I recommend using old fashioned rolled oats for the best texture and a quick cook time.
Plant-based milk. You'll want a normal plant-based milk in addition to your can of coconut milk. I'm using almond milk, but any variety works!
Canned coconut milk. You can use light or full-fat coconut milk. Full-fat coconut milk will create a creamier texture.
Coconut sugar. You can use any form of sweetener, but to keep with the coconut theme, I used coconut sugar. I love the subtle toasted flavor it provides!
Chia seeds. Adding nuts and seeds to your oatmeal bowls is a great way to boost the healthy fats, fiber and micronutrients. Chia seeds are a great source of calcium and iron, but you could also add hemp seeds, flax meal, pumpkin seeds or any nuts you like!
Vanilla extract. Just a touch will add all those warm, cozy notes.
Dash of salt. I know it sounds odd to add salt to your oatmeal, but you definitely should! A small pinch of salt will balance out all the sweetness.
Pineapple. Fresh, canned or frozen will all work!
Coconut flakes. You can keep them raw, but I highly recommend toasting them if you have a bit of extra time in the morning!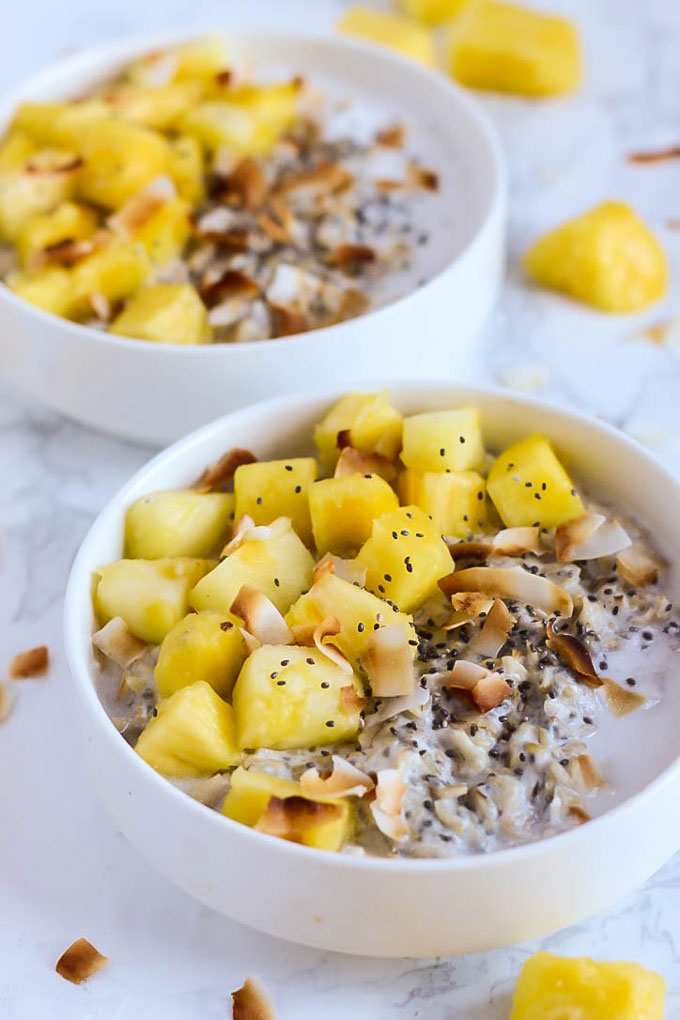 How to Make Pineapple Coconut Oatmeal
This pineapple coconut oatmeal comes together in just three steps. It's super simple so it's perfect for busy mornings. There are lots of ways you can customize this recipe. You can turn it into overnight oats by popping the whole mixture into the refrigerator instead of cooking on the stove. You could grill the pineapple and toast the coconut flakes for more caramelized flavors. You can play with the toppings to suit your fancy. The possibilities are endless!
Here's how to make this tropical coconut oatmeal:
Add oats and both milks to a pot and bring it to a boil. Once boiling, reduce the heat to a simmer, stir and cook for 5-7 minutes
Mix in your sweetener, chia seeds, vanilla, and salt, mix and continue to cook until your oatmeal has thickened to a consistency you like
Top each bowl with pineapple chunks,  coconut flakes, and any other toppings you like
More Vegan Oatmeal Recipes
If you can't make it to the beach soon, just enjoy a bowl of coconut oatmeal and imagine the sunshine on your skin. It's not the same thing, but almost…
If you're looking for more delicious vegan oatmeal bowl recipes, check out some of these favorites!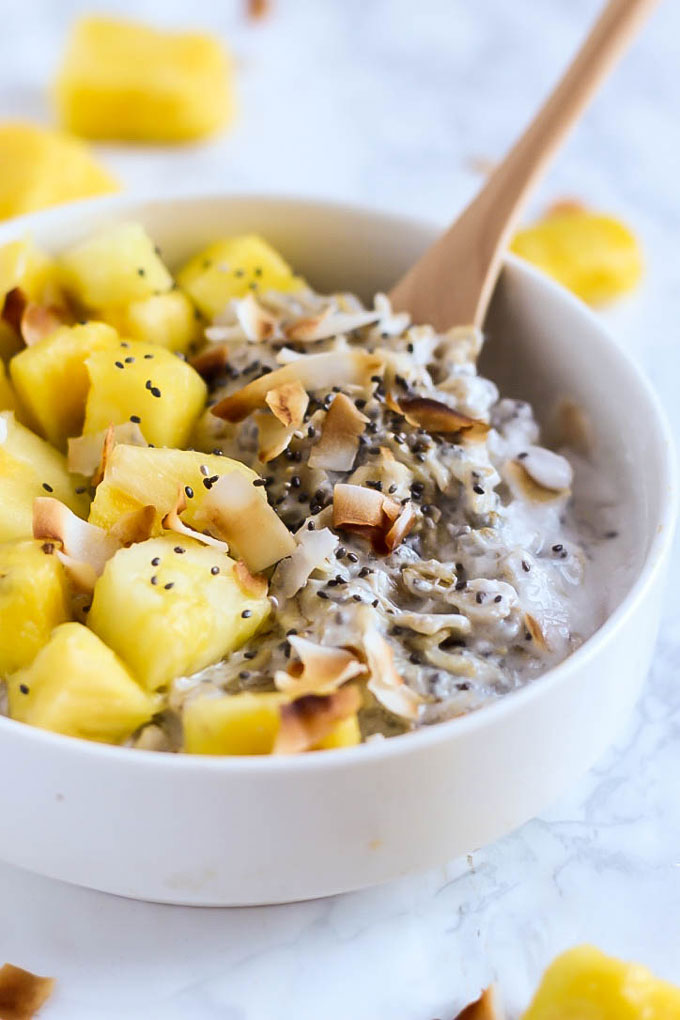 Print
How to make:
Pineapple Coconut Oatmeal Bowl
This creamy Pineapple Coconut Oatmeal is like the beach in a bowl! It's a delicious vegan oatmeal bowl that tastes like pure sunshine!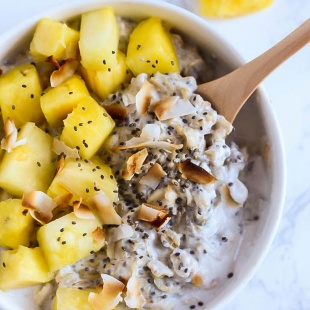 Ingredients
1 cup

old-fashioned rolled oats

1 1/4 cups

almond milk

1 cup

canned coconut milk (light or full-fat)

1 tablespoon

coconut sugar, or other sweetener of choice

1 tablespoon

chia seeds

1 1/2 teaspoons

vanilla extract
Dash of salt

1 cup

pineapple, chopped

1/4 cup

coconut flakes, toasted*
Instructions
In a medium saucepan, add oats and both milks. Turn heat to high; bring to a boil. Reduce heat to simmer, stir, and cook for 5-7 minutes.
Add the sugar, chia seeds, vanilla, and salt. Stir until well combined. Cook until the oatmeal is your desired consistency, about 2-3 more minutes. Divide into two bowls.
Top each bowl with half of the pineapple chunks, half of the coconut flakes, and any other desired toppings.
Notes
*To toast coconut flakes, preheat oven to 350°F. Spread coconut flakes in a single layer on a baking sheet. Bake for 5-7 minutes, until lightly browned.