Finals are over, the sun's shining, fresh berries are everywhere…it's SUMMER!!!
Okay so technically, summer doesn't begin until June 20, but that seems really late. Especially since Louisiana already feels like an African savanna during the day. Even though we're two months early, we can still enjoy all the summer things and a bowl of coconut oatmeal, because we're all dreaming of the beach, right?!
I talked about my Hawaiian vacation last summer in my BBQ tofu bowls post (which, by the way, you should make asap because they are ah-mazing), and I still can't stop thinking about the island. The scenery, the people, the beach yoga, the food…everything was so amazing and beautiful.
One of my favorite memories from the trip was stopping at a roadside fruit stand on the road to Hana. They had fruits I had only drooled over on Instagram – passionfruit, dragonfruit, lychee. I got a little bit of everything (duh) and a fresh coconut to drink out of. I literally watched the lady chop the coconut off the tree for me. Ah, if all food could be that local and fresh!
Boy, was that a deeeeeelicious drink. Nothing in any carton you buy at the grocery store can compare to sipping from a fresh chopped coconut on the most beautiful island in the world.
If this post sounds like me just trying to convince you to go to Hawaii, you caught me. ? Everyone needs to go.
Until you can fly (or swim, if you're desperate) to the island, how about some coconut oatmeal with pineapple and all the beachy vibes?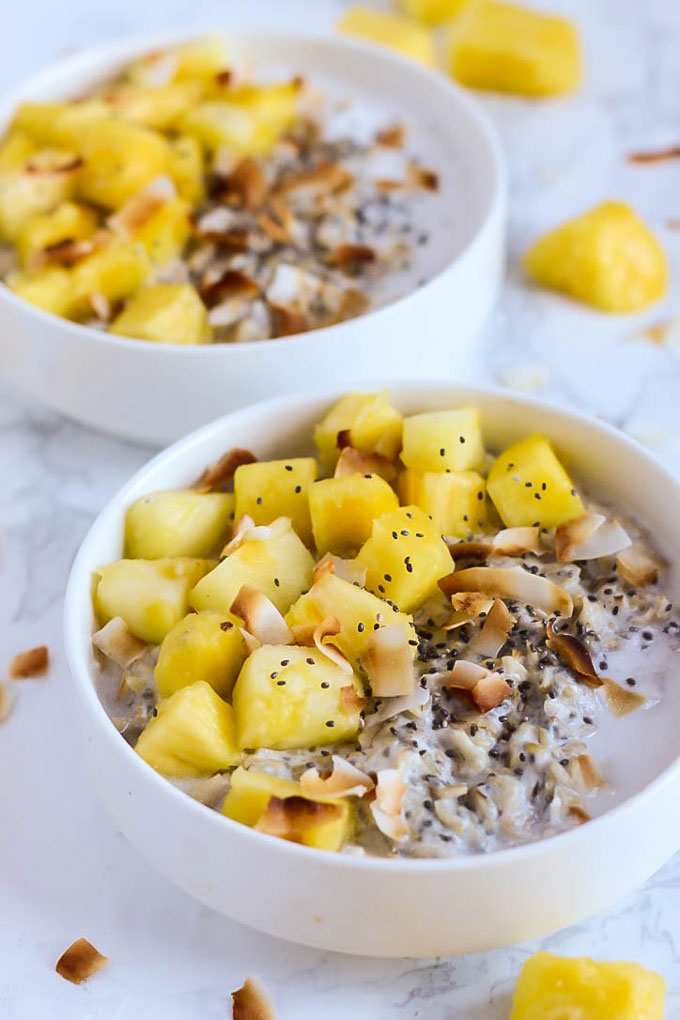 I've been reaching for oatmeal pretty much every day, so I've been coming up with a bunch of different flavor combinations to keep it from getting boring. Sometimes it's berries and peanut butter, sometimes it's chocolate, but I used my fresh-a-licious fruit experiences in Hawaii to inspire this beautiful bowl.
Coconut milk takes the creaminess of the oatmeal to the next level. I used light canned coconut milk, but full-fat would also work! You're going to need that coconut milk and a regular non-dairy milk like almond milk. An almond-coconut milk blend would probably be amazeballs in here.
Simply cook up your oats with the milk, divide into bowl, and add that juicy pineapple for the final island touch?. I also topped mine with chia seeds 'cause #health and toasted coconut flakes. I highly recommend toasting them because it's so. darn. delicious. Feel free to add some hemp seeds, granola, or even mango!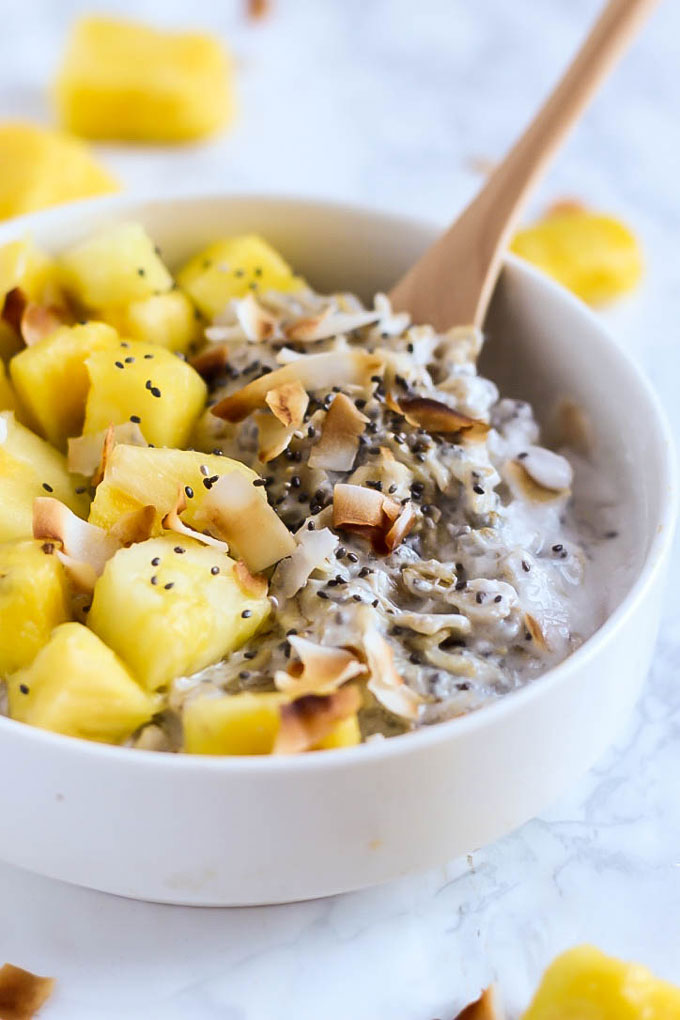 If you can't make it to the beach soon, just enjoy a bowl of coconut oatmeal and dream. It's not the same thing, but almost…
Be sure to let me know if you try this recipe! Snap a sweet pic for Instagram, tag me, and hashtag #emilieeats. I love connecting with you guys and seeing what kind of adventures you're up to in the kitchen.
Feeling the beach vibes yet?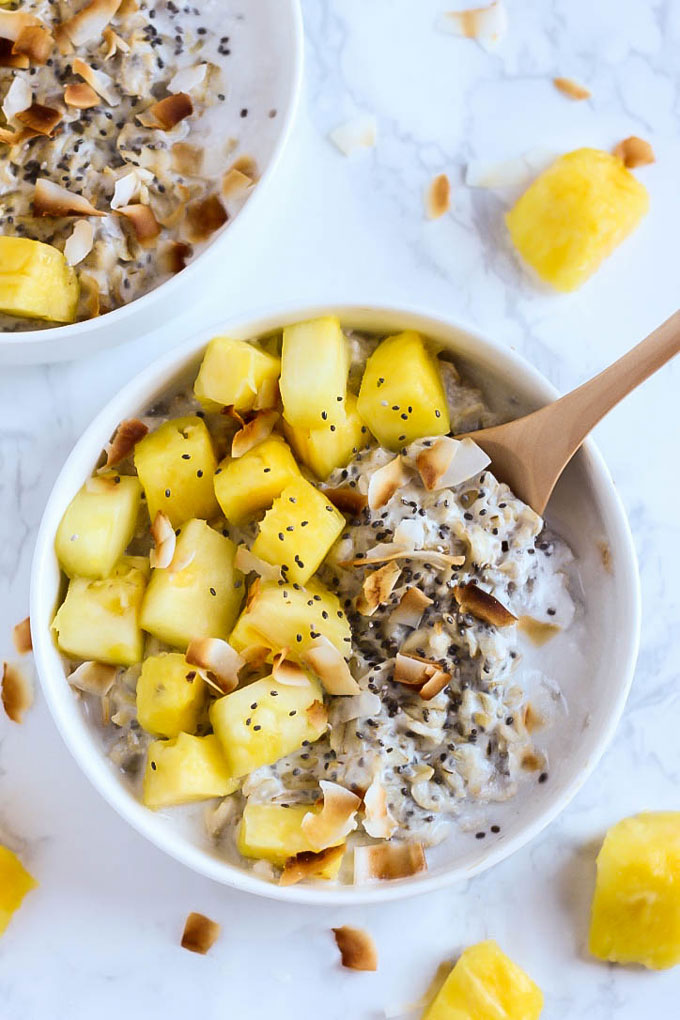 Print
How to make:
Tropical Coconut Oatmeal
This creamy Tropical Coconut Oatmeal is like the beach in a bowl! Topped with juicy pineapple, it's the perfect vegan & gluten-free breakfast for everyone.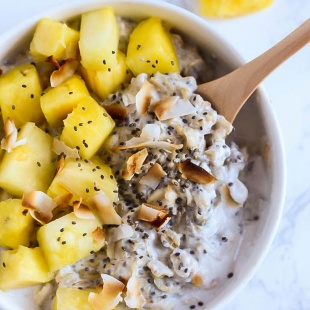 Ingredients
1 cup

old-fashioned rolled oats

1 1/4 cups

almond milk

1 cup

canned coconut milk (light or full-fat)

1 tablespoon

coconut sugar, or other sweetener of choice

1 tablespoon

chia seeds

1 1/2 teaspoons

vanilla extract
Dash of salt

1 cup

pineapple, chopped

1/4 cup

coconut flakes, toasted*
Instructions
In a medium saucepan, add oats and both milks. Turn heat to high; bring to a boil. Reduce heat to simmer, stir, and cook for 5-7 minutes.
Add the sugar, chia seeds, vanilla, and salt. Stir until well combined. Cook until the oatmeal is your desired consistency, about 2-3 more minutes. Divide into two bowls.
Top each bowl with half of the pineapple chunks, half of the coconut flakes, and any other desired toppings.
Notes
*To toast coconut flakes, preheat oven to 350°F. Spread coconut flakes in a single layer on a baking sheet. Bake for 5-7 minutes, until lightly browned.