I'm convinced that grandparents are the best people in the world. Yes, parents are great and all that, but c'mon. All grandparents want to do is fatten you up and spoil you. What's better than that?!
Not even this chocolate pudding pie is better than that, but it comes pretty close.
Okay, back to the g-parents. I'm lucky to have three sets of grandparents (plus step-grandparents!) who support me in everything I do. Over all the years of cheer competitions, boring school ceremonies and, now, blog posts, they're always there cheering me on??
But one of the best things about my grandparents has always been the FOOD. My mom's parents' house is always stocked with fresh satsumas and homegrown veggies, plus *Maranatha Maple Almond Butter*?? which I continuously shove in my face by the spoonfuls when I'm over. Some of the best memories of my childhood were waking up at my dad's parents' house with my cousins with fresh donuts waiting, complete with shoestring potato chips and pudding pie for lunch. With a side of Reese's. And probably some ice cream.
When I started eating healthy, and then when I went vegan, some of my grandparents didn't understand (and still don't). Especially my grandmaw mentioned above, who literally loves Reese's maybe more than her own grandchildren. I know not eating meat, dairy, or eggs is hard to grasp, but she does her best to appreciate it and cook for me when I'm in town. I always tell her not to worry about me, but she does anyway. That's why grandparents are so great. G-parents, YOU ROCK.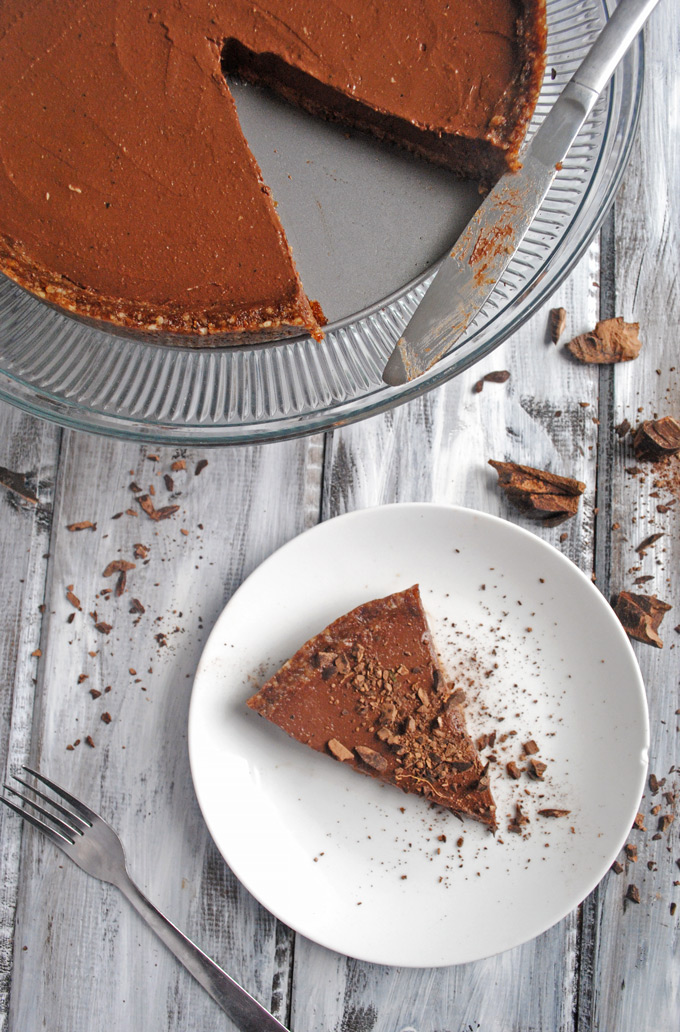 One of our favorite treats that we enjoyed at my grandparents' house was chocolate pudding pie in a graham cracker crust. Nothing special: just boxed chocolate pudding poured into a premade pie crust, then refrigerated. But for some reason, it was just so. damn. good. I don't even want to know how many of those pies we've made over the years.
I love making healthy versions of classic meals and treats, especially to show my family that healthy can also be delicious. So the other day when I started to crave my grandmaw's old pudding pie, I knew it was the perfect opportunity to test out a healthier version that even she would approve. Into the kitchen I went, and out I came with an addicting healthy chocolate pudding pie that satisfies the strongest of dessert cravings. Promise.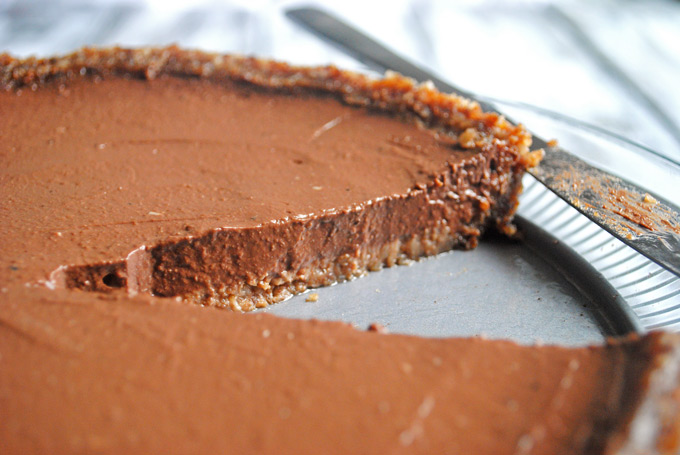 This pie has that silky texture of regular pudding thanks to a secret ingredient: silken tofu. Whaaaaaat?! You can find silken tofu on the shelves of your local health food store, like Whole Foods or maybe even an Asian food store. It's the perfect ingredient to create a creamy, luxurious consistency. It even adds a little protein!
Okay, maybe I'm trying to make this pie seem a little more nutritionally complete than it actually is, but it is way healthier than any pie at the store and my grandmaw's pudding pie (sorry, Mawmaw). We're making a no-bake crust of just almonds, pecans, dates, and salt. The filling is made with basic ingredients like silken tofu, almond milk, maple syrup, applesauce, and cocoa powder. Simple! Delicious! Easy! !!!!
I mean, c'mon–look at that texture! You can't beat a creamy chocolate pudding pie.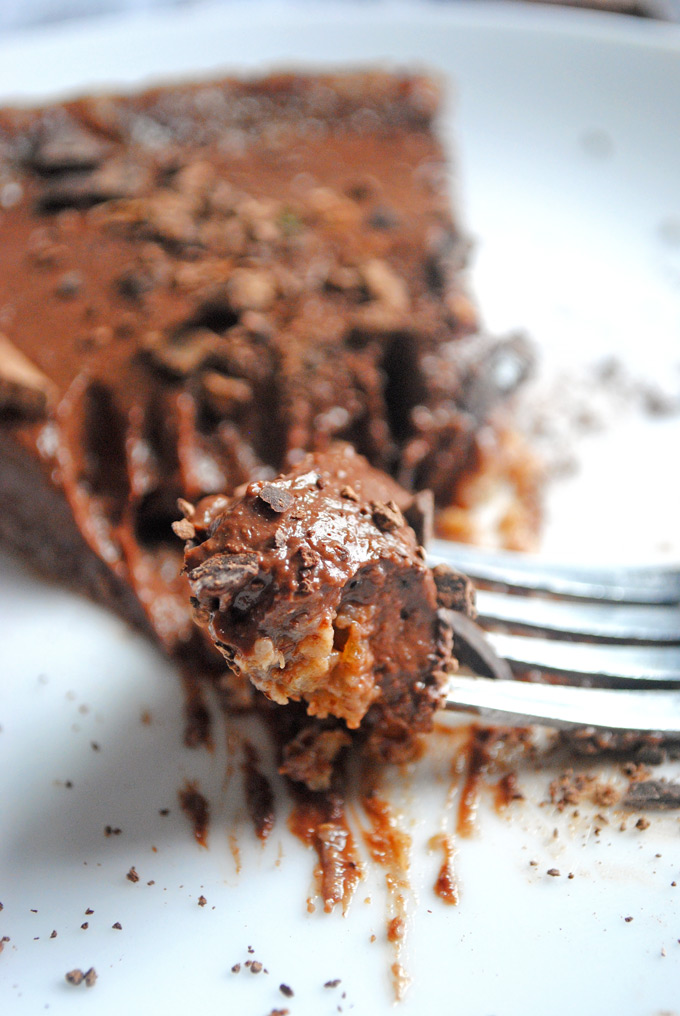 Three things about this pie: 1. Coffee grinds are optional, but the deep flavor of coffee really brings out serious flavor in chocolate desserts; 2. Be sure to make the crust thick enough on the bottom to hold up the weight of the pie. I made the mistake of pressing it too thin in some areas and it was hard to cut and serve; 3. Right before serving, freeze the pie for just about 10 minutes. This will make it easier to serve, too!
I topped my pie (that I ate for lunch yesterday #noregrets) with some chopped up dark chocolate pieces, but I think coconut whipped cream would be amazing, too! Or, leave it plain and let all that creamy chocolatey pudding deliciousness shine through and be the star?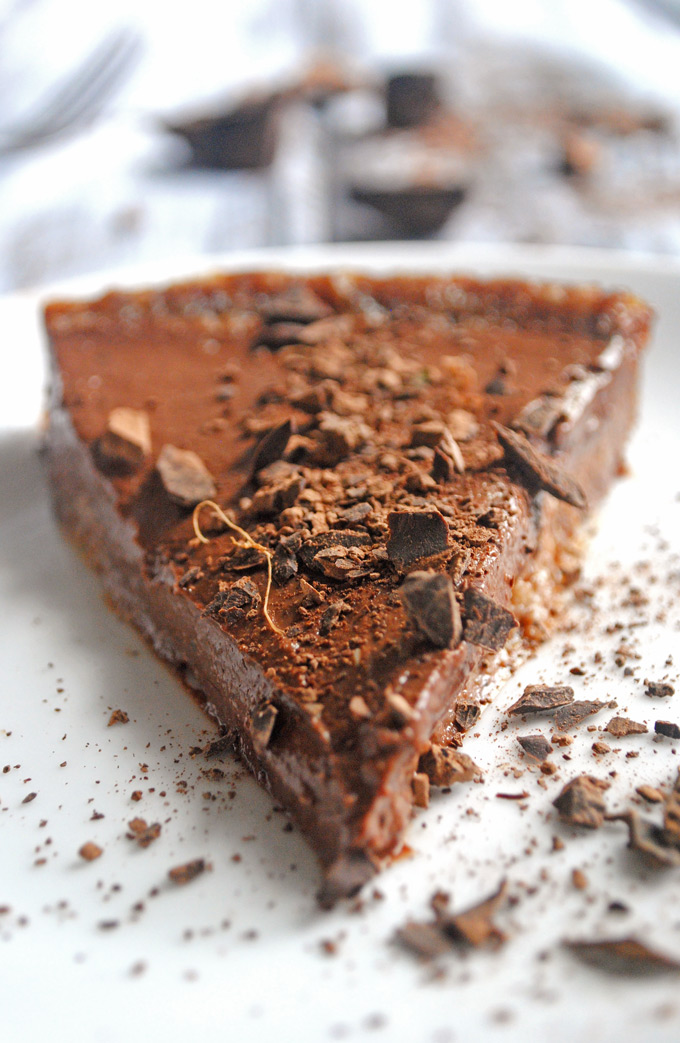 If you're a grandparent, keep doing yo' thang! You're awesome. If you're fortunate enough to have your grandparents around, let them know how much you love them. Then make them this chocolate pudding pie to show them. Actions speak louder than words?
If you try this pie, post it on Instagram and tag me (@emilieeats) or let me know in the comments! Have a good week everyone!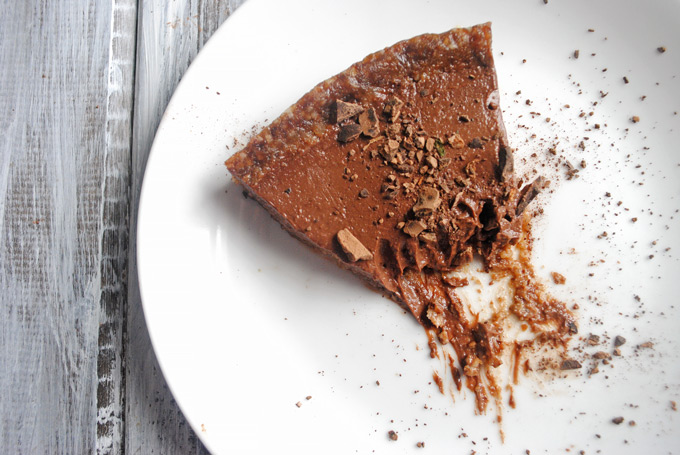 Print
How to make:
Vegan Chocolate Pudding Pie
A silky-smooth Vegan Chocolate Pudding Pie that will impress all of your friends and family! No one will ever guess the secret ingredient.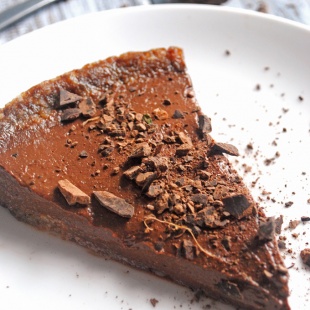 Ingredients
1 cup

almonds

1 cup

pecans

1 cup

pitted dates, packed

1/2 teaspoon

salt, divided

1

12.3-ounce package silken tofu

1/2 cup

cocoa powder

1/4 cup

+

1 tablespoon

maple syrup

1/4 cup

applesauce

1/4 cup

non-dairy milk, such as almond or coconut

1/4 teaspoon

salt

1/4 teaspoon

coffee grinds (optional)
Instructions
In a food processor, place almonds, pecans, dates, and 1/4 teaspoon salt. Process until coarse. If a dough doesn't form, add 2 tablespoons water; process until a slightly sticky dough forms.
In a pie pan or springform pan, press the dough evenly along the bottom and sides. Make sure the crust is thick enough on the bottom.
In a high-speed blender or food process, place tofu, cocoa powder, applesauce, maple syrup, milk, salt, and coffee grinds. Blend until completely smooth.
Pour the filling into the crust and spread evenly. Refrigerate overnight for at least 12 hours.
Serve with coconut whipped cream and dark chocolate pieces, if desired.