With a little heat and lots of flavor, these Black Bean Cilantro Lime Rice Bowls with Plantains make a healthy dinner or lunch recipe! Your burrito bowl night just got a whole lot better.
Bowls. We love them. I'd argue that bowls are the biggest trend of 2016. There's burrito bowls, Buddha bowls, falafel bowls, smoothie bowls, bowls bowls bowls. Restaurants left and right are recognizing the trend and are charging $15 for a simple bowl of grains, vegetables and beans.
I'm pretty obsessed with bowls too – just one look at my Instagram will show you that 99% of my meals are eaten in bowls. No shame.
But let me ask you a question that I've been pondering…are bowls just glorified salads?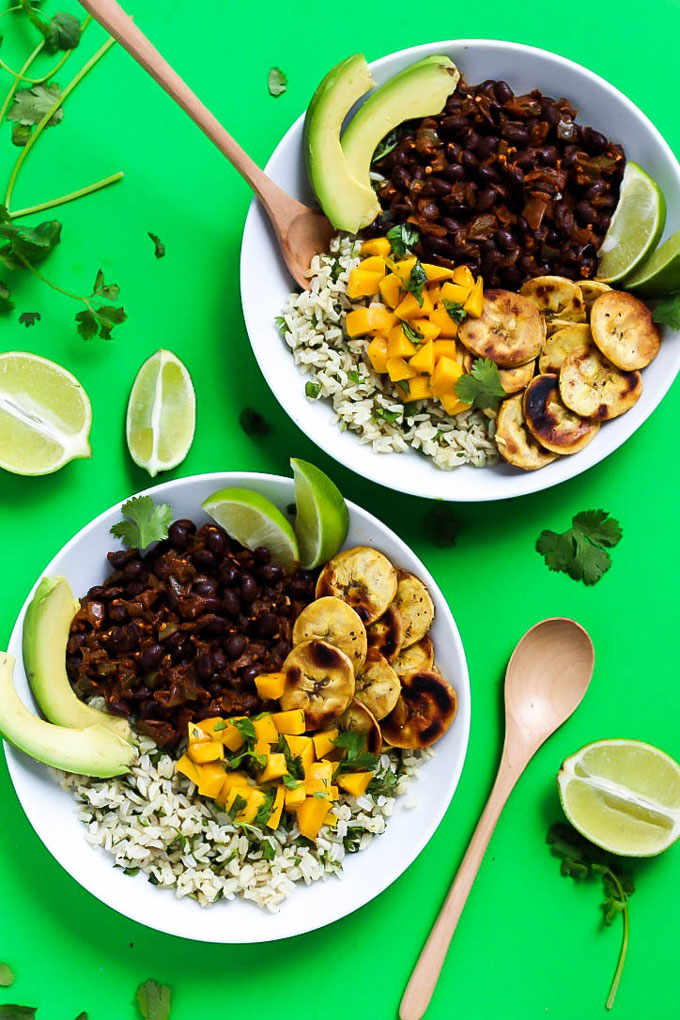 I know, this is a crazy concept, and one I've been debating internally for awhile (<– obviously I contemplate very deep and philosophically topics). Let's break this down 2000s hip hop style…
Salad – consists of a bed of greens topped with vegetables, sometimes grains, a protein source, healthy fats, and a dressing.
The Trendy Bowl – usually some greens, a grain, a protein source, healthy fats, and a sauce or dressing.
Sooo…anyone else see the similarities?!? Why are we so obsessed with BOWLS when salads have been around since forever?! Are they prettier than salads? Don't get me wrong – I'm still crushing on bowls harder than I crushed on Zac Efron in elementary school (and now…). But, let's call it like it is – it's just a deconstructed salad. 😛
[Tweet "Are Buddha bowls just glorified salads?! What's the biggest difference between the two?"]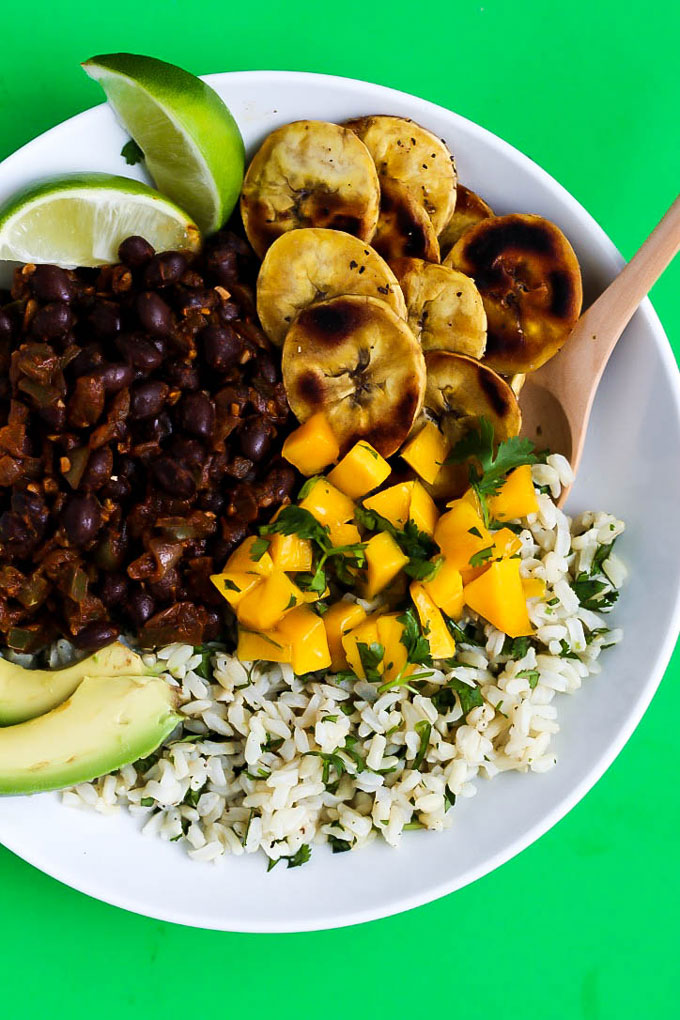 I just had to throw that out there. Back to bowlz. Like THESE black bean cilantro lime rice bowls with plantains. Aka your typical burrito bowl taken to the next level. 💯
I guess the ONE main difference between bowls and salads are that sometimes bowls don't have a bed of greens. These bowls don't, but I think all of the different bowl elements here would be great mixed into a salad! Try it and let me know.
Lots of delicious things are happening in these bowls. First, we're cooking up some flavorful black beans mixed with sautéed vegetables and spices for a little kick – these ain't your momma's black beans.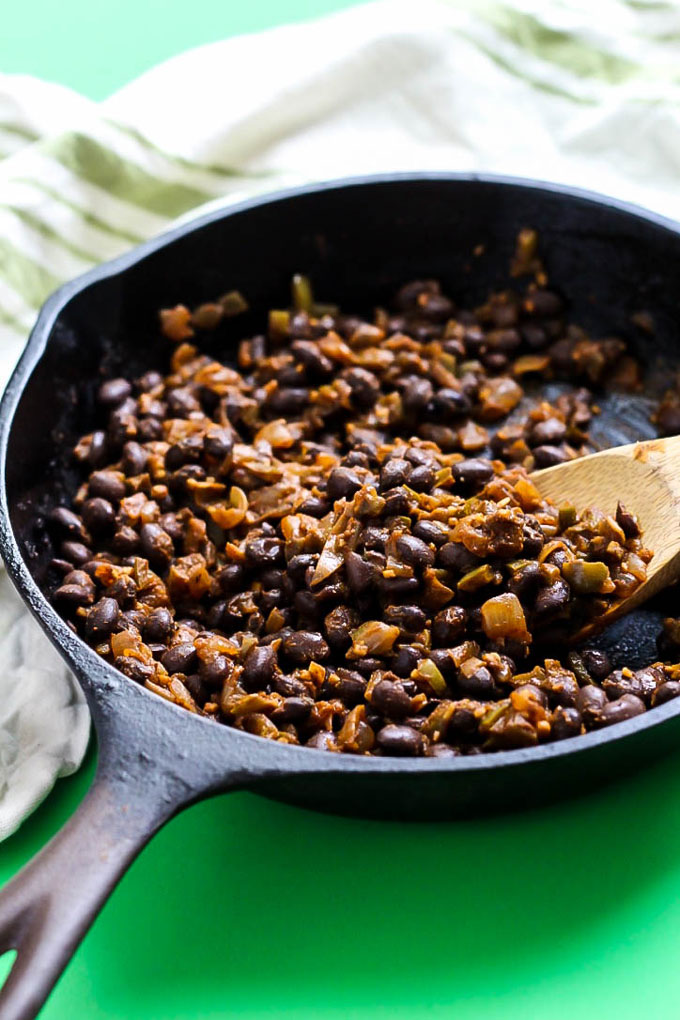 My favorite part about these bowls is the cilantro lime rice because 1. carbs, and 2. I'm obsessed with lime right now. I've never had the rice from Chipotle, but even without the comparison, I'd say this recipe is pretty darn delicious. I'm seriously making a batch of this every week to have on hand for easy lunches (aka lunch bowls). I used brown rice, but I think basmati would be great, too!
Here's what makes these bowls better than your typical burrito bowls: plantains! They're a starchy cousin of the banana and are used in lots of Caribbean dishes. My local produce market always has super cheap plantains, so I knew I wanted to add them to these bowls! To pick out a ripe one, look for some browning on the peel.
Simply peel the plantains, slice thin, and pan fry them in a little coconut oil. You can also just spray the pan with a little cooking spray if you want to go the oil-free route.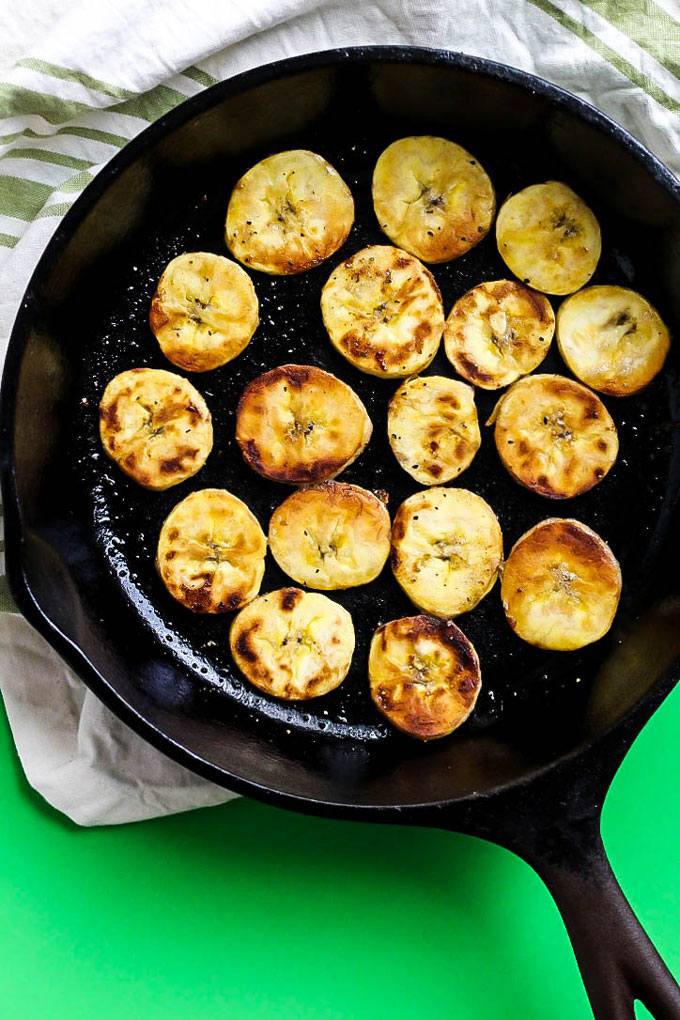 It all comes together with some chopped mango for a sweet touch, a little chopped cilantro, and avocado, of course. Rule #37 of bowl making – no bowl is ever complete without avocado.
There's so many flavors & textures here: spicy beans, refreshing rice, hearty plantains, juicy mangos, and creamy avocado. Could you ask for anything else in a bowl?
[Tweet "Take burrito bowl night to the next level with black bean cilantro lime rice bowls with plantains! V + GF."]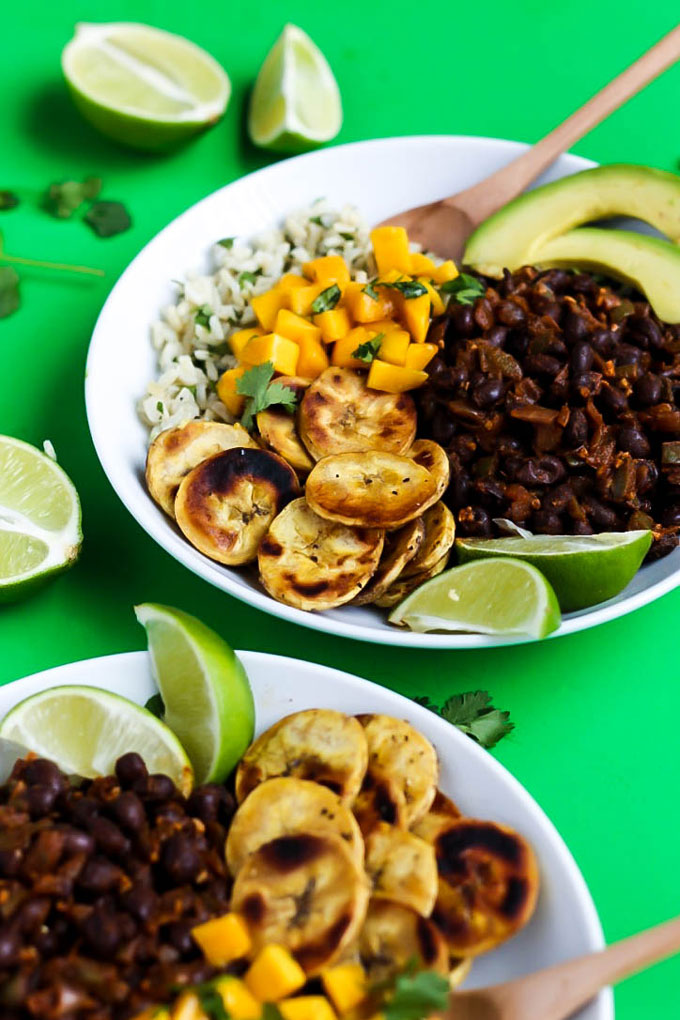 These bowls are definitely Insta-worthy, so make 'em and snap a pic! Be sure to tag me and add #emilieeats so I can see your beautiful burrito bowl creations. Dinner just got EPIC.
So tell me what you think…are bowls just glorified salads? Does that make you love them less (nope)?
Print
How to make:
Black Bean Cilantro Lime Rice Bowls with Plantains
With a little heat and lots of flavor, these Black Bean Cilantro Lime Rice Bowls with Plantains make a healthy dinner or lunch recipe! Vegan & gluten-free.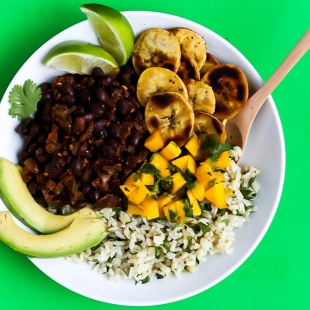 Ingredients
1/2 cup

brown rice

1 cup

water

1/3 cup

cilantro, finely chopped, plus more for garnish

3 tablespoons

lime juice, divided, plus more wedges for garnish

1 1/2 teaspoons

salt, divided

1

yellow onion, diced

1

jalapeno, seeds removed and diced

1

bell pepper, diced

2 teaspoons

garlic, minced

1

15-ounce can black beans, drained and rinsed

1/2 cup

water

1 teaspoon

cumin

1 teaspoon

chili powder

1/2 teaspoon

paprika

1/2 teaspoon

ground oregano

1/4 teaspoon

ground black pepper

1/8 teaspoon

ground cayenne pepper (optional)

1

–

2

tablespoons coconut oil, plus more if needed

1

ripe plantain, cut in 1/4-inch slices

1

mango, diced
Optional toppings: avocado slices, lime wedges, chopped cilantro
Instructions
Add rice and water to a saucepan. Bring to a boil; reduce to heat to low and cover the pan. Let the rice cook for about 30 minutes, until it has absorbed all the water. Once it is done cooking, add cilantro, 2 tablespoons lime juice, and 1 teaspoon salt; stir to combine.
While the rice is cooking, add a little cooking oil to a skillet over medium heat, or spray it with cooking spray. Add diced onion; cook for 5 minutes, until it begins to soften. Add jalapeño and bell pepper; cook for another 5-7 minutes, until the vegetables are soft. Add garlic; cook for 1 more minute.
Add black beans, water, cumin, chili powder, paprika, oregano, pepper, cayenne pepper, and 1/2 teaspoon salt to the skillet. Stir to combine; raise heat to high and bring to a boil. Reduce heat; let beans simmer for 5-7 minutes.
In a skillet (you can use the same one from the bans), heat coconut oil over medium heat, or spray with cooking spray Add plantains in a single layer; cook for about 5 minutes on each side. Repeat until all plantains are cooked.
To assemble bowls, add a scoop of rice, a scoop of beans, plantains, and some diced mango. Top with avocado slices and garnish with lime wedges and cilantro.
 If you love BOWLS as much as I do, you'll love these other awesome recipes: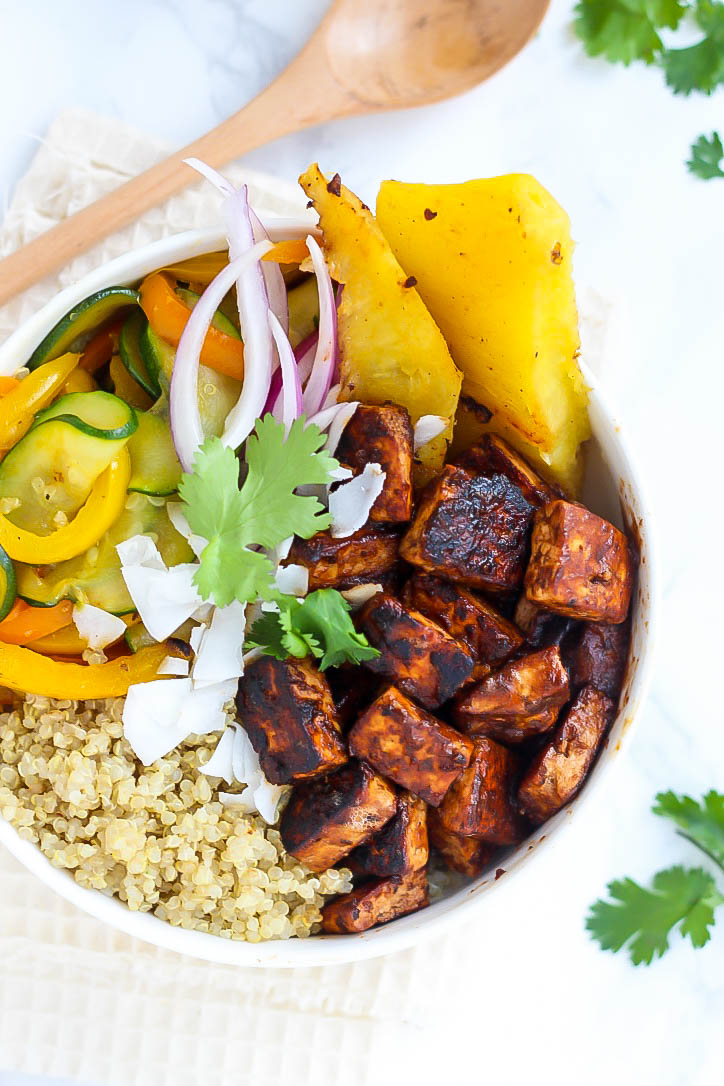 Thai Tempeh Buddha Bowl from Fit Mitten Kitchen