You may never go back to traditional sushi after one bite of this Vegan Teriyaki Sushi Burrito! It's perfect for taking on-the-go. Satisfying & delicious! In partnership with Sweet Earth Foods. ❤️
Let's just say I finished off my last sushi burrito for lunch, and I'm already thinking about the next time I can make them. This recipe is the BEST I've made in awhile…and that's saying a lot because ice cream cake, pancakes, and tacos.
Sushi is a food I get intense cravings for like no other. You know what I mean. It's in the same category as avocado toast. You KNOW when you want some sushi, and there's no stopping until you get some.
Luckily, I don't care about missing out on raw fish in my sushi, so vegetable sushi is a-okay with me. But this is vegetable sushi on a whole other level. I know I sound kind of dramatic, but seriously…this shiz is bananas.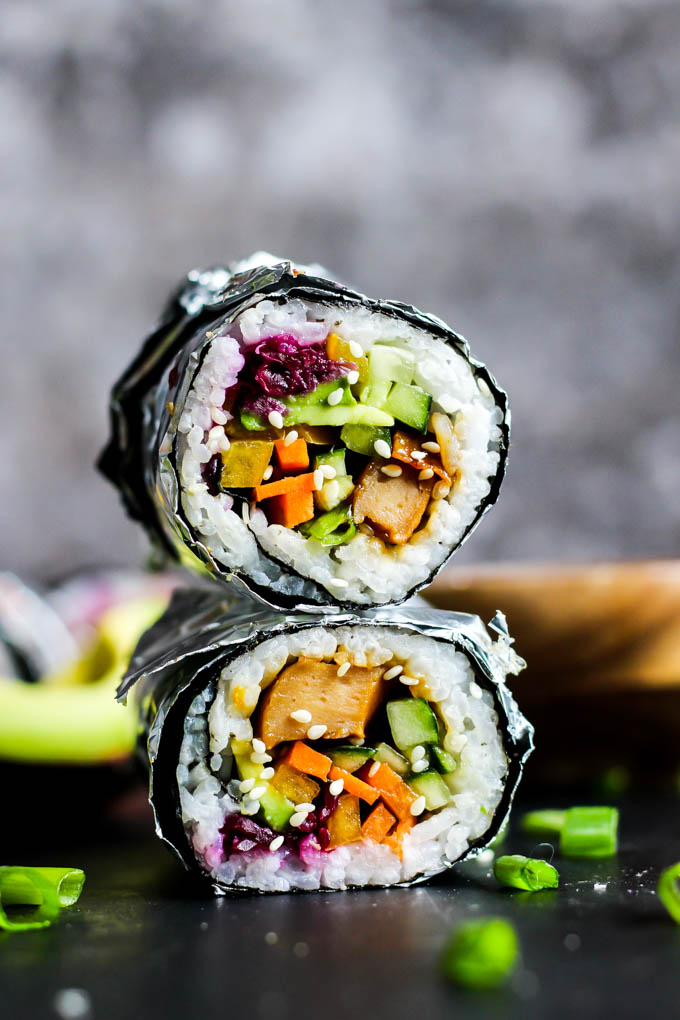 Have you ever seen a sushi burrito? They're one of those foods you might see on Instagram or Pinterest and think, wow that looks really cool, but I could never make that. Too complicated! Like those pixelated avocados. Sorry not sorry, but the avocado toast cravings are TOO strong to spend 15 minutes slicing an avo.
(Side note: I've mentioned avocado toast twice in this post about a completely unrelated sushi burrito – can't you tell how much I love it?🥑)
Fortunately for you and your sushi cravings, these sushi burritos are SUPER easy to make. Actually, way easier than normal sushi, because you don't have to slice it. Just roll & eat up!
Here are the goodies I went with for the filling:
Sweet Earth Foods Traditional Seitan in the thickest, most delicious teriyaki sauce
Jasmine rice (mixed with rice vinegar to make it sticky like sushi rice #kitchenhack)
Cucumbers
Carrots
Bell peppers
Red cabbage sauerkraut
Avocado
Green onions
Sesame seeds
Some other fillings that sound good are lettuce, mango, sweet potato, or. asparagus. The options are endless!
I've been loving Sweet Earth Foods' seitan as a plant-based way to bulk up a meal and make it super filling! If you're unfamiliar with seitan, it's a meaty substitute made out of wheat gluten that can really take on any flavor you want. It's delicious smothered in this teriyaki sauce, but it's also good in creamy soups (think curries!), in tacos with chipotle seasoning, and in stir fries. Basically anywhere you need a punch of plant protein!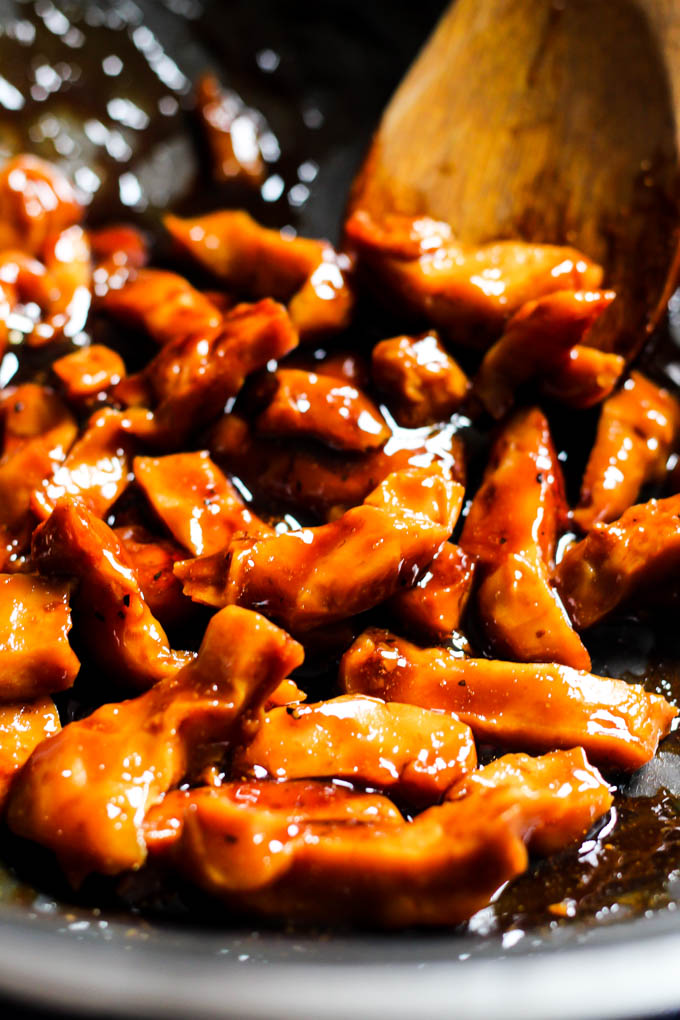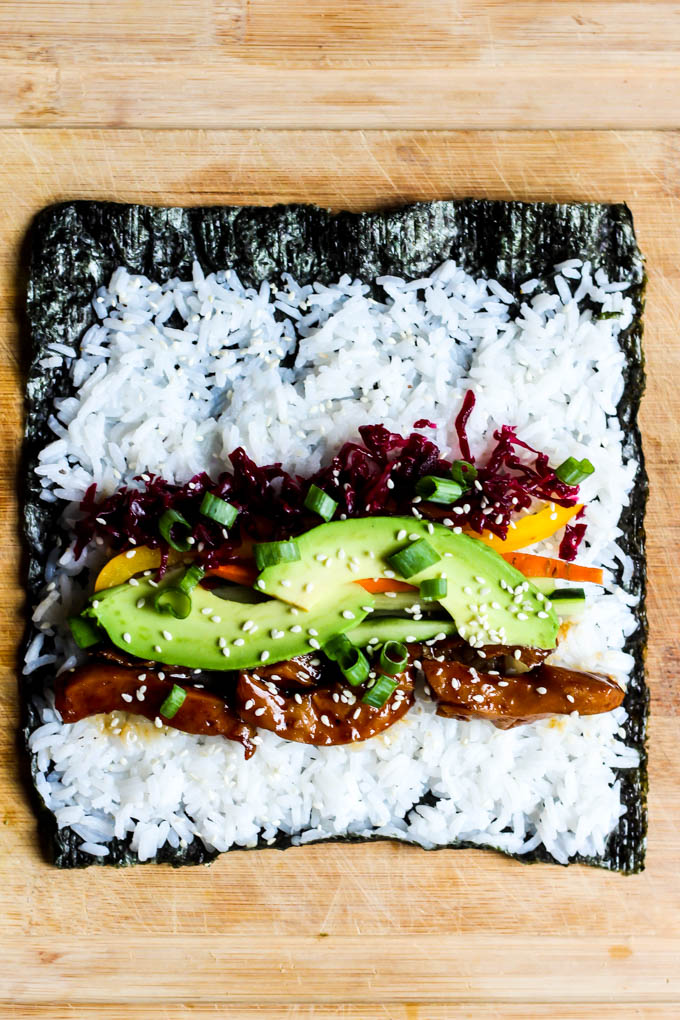 Fear not of the rolling of the sushi burrito, friends. It couldn't be easier. Grab a nori sheet, place it shiny side down, and spread sticky rice all over it. Top with alllllll the goodies, then roll, tuck, and roll! Use a little water to stick the nori sheet together. That's it!
I went ahead and wrapped the burritos in foil to make it easier to grab if I was on the go. It also makes them easier to eat because we all know how messy burrito-eating can get. I mean, why does everything have to fall out the end?!? Then again, it leaves a little bit left on the plate to eat after. 😉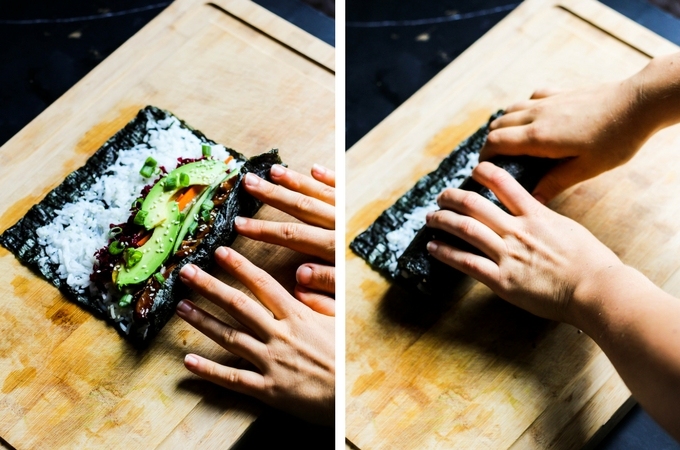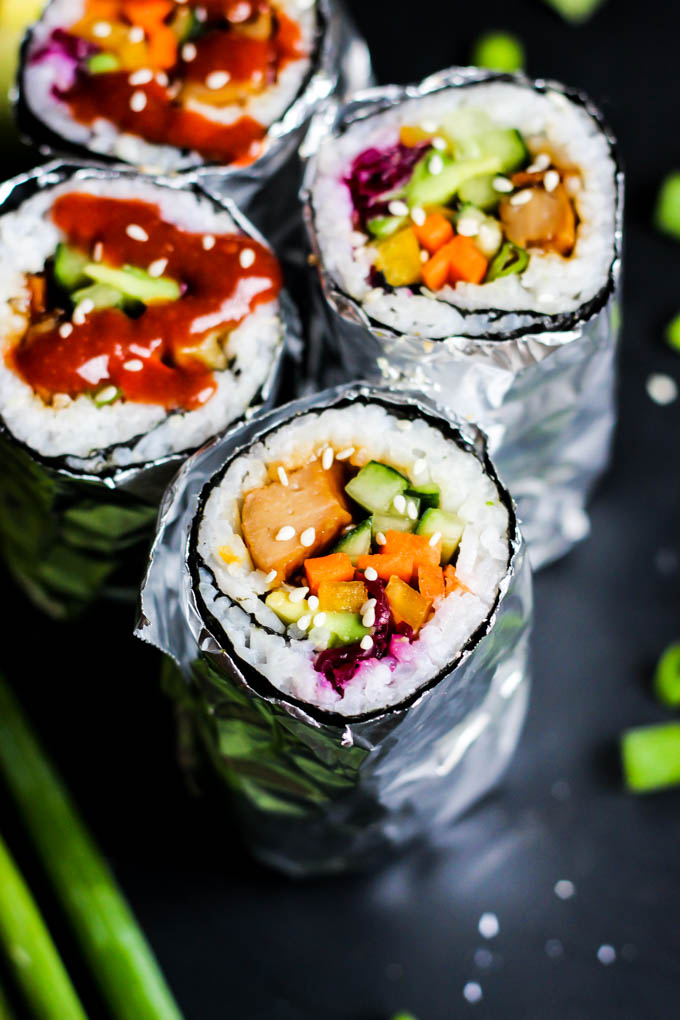 Be careful – once you make them, you'll never want to be without them again! This sushi burrito recipe seriously has my heart. I can't wait to try it with different fillings!
(Hold up…dessert sushi burrito?!!?! You might be seeing that veryyyy soon…)
Let me know if you try this, and be sure to snap a pic if you do and post it on Instagram with #emilieeats. Seeing your creations makes me SO happy. Okay, that's all!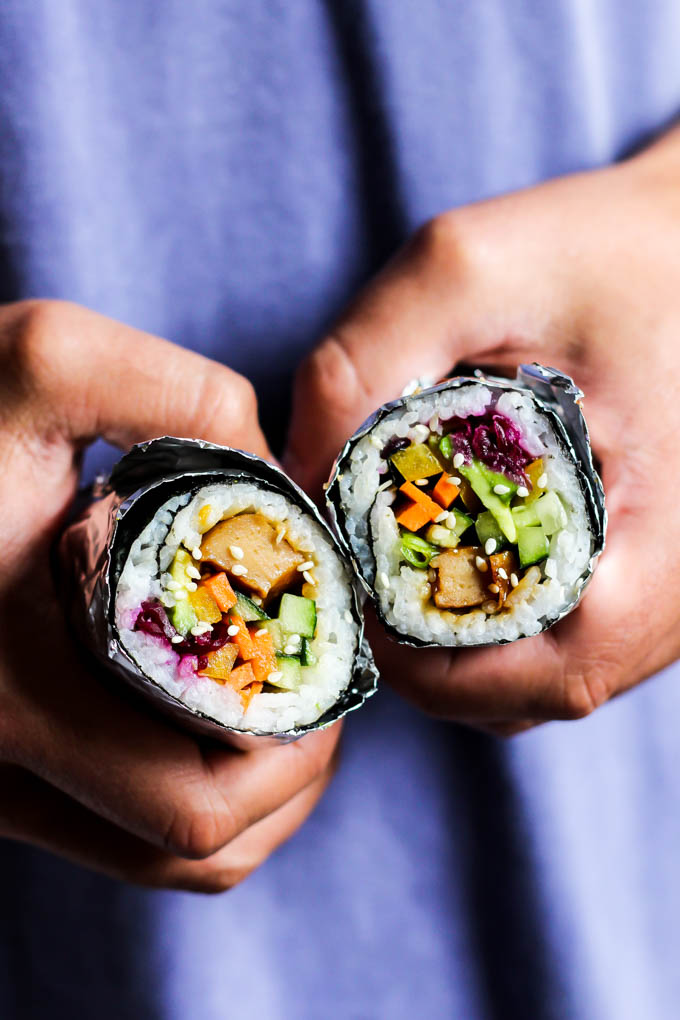 Print
How to make:
Vegan Teriyaki Sushi Burrito
You may never go back to traditional sushi after one bite of this Vegan Teriyaki Sushi Burrito! It's perfect for taking on-the-go. Satisfying & delicious!
Ingredients
1 cup

sushi rice*

1/3 cup

organic soy sauce

2 tablespoons

coconut sugar

1 tablespoon

rice vinegar

1 teaspoon

garlic powder

1/4 teaspoon

ground ginger

1

8-ounce package Sweet Earth Traditional Seitan

1 tablespoon

tapioca starch

4

nori sheets

1/4 cup

lettuce or spinach

1/2

cucumber, thinly sliced

1/2

carrot, thinly sliced

1/2

bell pepper, thinly sliced

1/2

avocado, thinly sliced

1/4 cup

red cabbage sauerkraut (or raw red cabbage)
Sesame seeds
Sriracha
Instructions
Cook rice according to package directions.
In a medium bowl, add soy sauce, sugar, vinegar, garlic powder, and ginger; whisk to combine. Add seitan; stir to coat evenly. Set aside for 10 minutes.
In a medium skillet over medium heat, add seitan with marinade. Add tapioca starch; stir to combine. Stir continuously as the sauce thickens, making sure to scrape the bottom of the pan. Cook for 8-10 minutes.
Lay a nori sheet flat. Scoop on about 1/2 to 1 cup rice. With wet fingers, spread rice evenly across the nori sheet, leaving a 1/2-inch border on the opposite side of you. Top with a couple strips of seitan, lettuce, cucumber, carrot, bell pepper, avocado, sauerkraut, and sesame seeds.
Roll the nori sheet away from you, tucking in all of the toppings. Wet the empty border of the sheet with a little water in order for the burrito to seal.
If desired, wrap in foil and store in the fridge for a grab-and-go meal!
Notes
*If you don't want to use sushi rice, use whatever rice you want and mix in 1 tablespoon rice vinegar after cooking. This will make it stickier.
Thanks to Sweet Earth Foods for sponsoring this post! I love working with brands whose products I really love and would honestly recommend. Thank you for supporting this blog that I love oh-so-much!
SaveSave
SaveSaveSaveSaveSaveSaveSaveSave
SaveSave
SaveSave