Raise your hand if you could eat quinoa every day?? Now raise your hand if you actually do eat quinoa every day????. Guilty as charged.
Lucky for you I always have a steady flow of quinoa recipes ready to go in this little brain of mine, so you never have to worry about missing out on this fine ancient grain. Today we're making a DELISH blood orange quinoa salad with all the fixins. Happy Tuesday, folks!
Spring is in the air and I couldn't be happier because let's be honest, no other season is as magical as spring. Sure, school's out for summer, and winter chills bring Christmas spirit. But spring ushers in the birth of a new season: flowers bloom, colorful produce pops up in farmer's markets, and everyone is just overall happier because they're finally defrosted.
Plus, April is my birthday month, so that may have something to do with it. 😉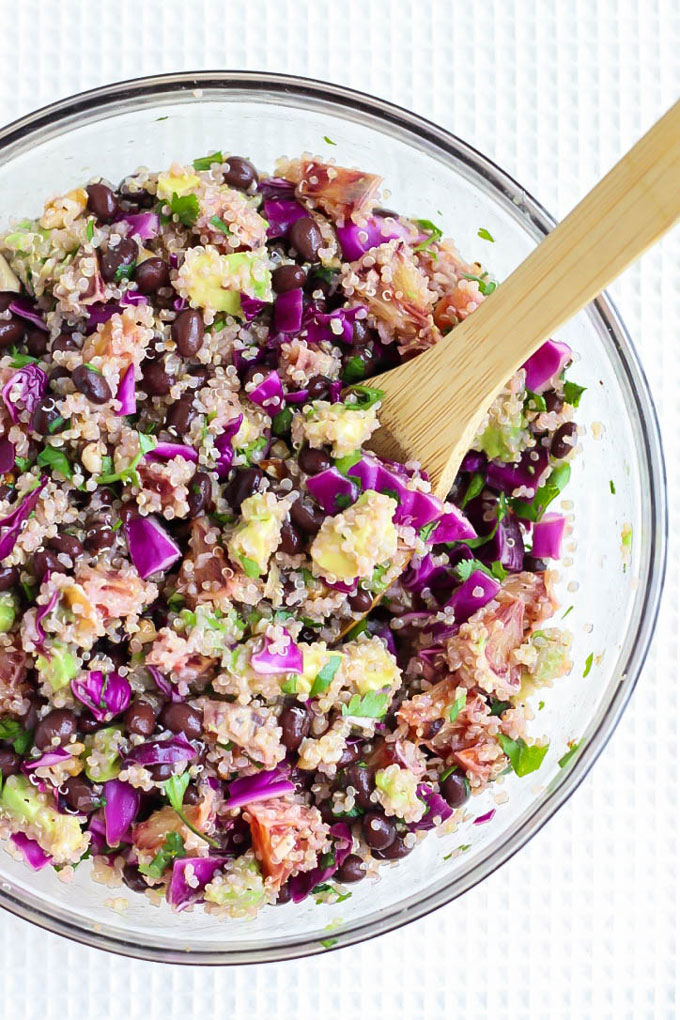 Louisiana may be the #1 unhealthiest state in the country and going through a devastating financial crisis and dealing with all sorts of other stuff, but we damn sure know how to grow some fresh citrus. Two sets of my grandparents have grown satsumas, oranges, and grapefruits ever since I can remember. We always get bags upon bags of fresh citrus fruits during the winter and early spring.
No complaints about that, because they're the sweetest, juiciest, most delicious citrus fruits ever. My mom and I go through fresh satsumas like most people go through candy. I swear I could eat 10 a day (oh wait, I do).
When the crew wanted to bring you all some fun spring recipes and citrus was mentioned, I was all like ? because citrus fruits are so. dang. good. right now! Since I'm not at home, I unfortunately can't have the hand-picked grapefruits and oranges from my grandparents. But I'm lucky to have some awesome farmer's markets around me with the freshest stuff around!
Support your local farmers, yo.
I wanted to make a light dish that would be perfect for dinner and also for leftovers to pack for lunch. You guys know how much I love leftovers, so anytime a meal can be easily packed up in my school bag, it's a winner!
The Almighty Quinoa is the base for the salad, with black beans for even more protein and fiber. I used blood oranges because I love the color and the markets have some delicious ones out right now, but I think this would be great with oranges or grapefruit, too! Throw in some chopped red cabbage, and walnuts and avocado for the healthy fats we all love, and dinner is served in 30 minutes. Boom.
Let's see all the vegan goodies the gang cooked up with bright, fresh citrus fruits!
Alexa from Fooduzzi made Chewy Lemon Cookies with Coconut Icing and Pistachios. She really is the cookie queen!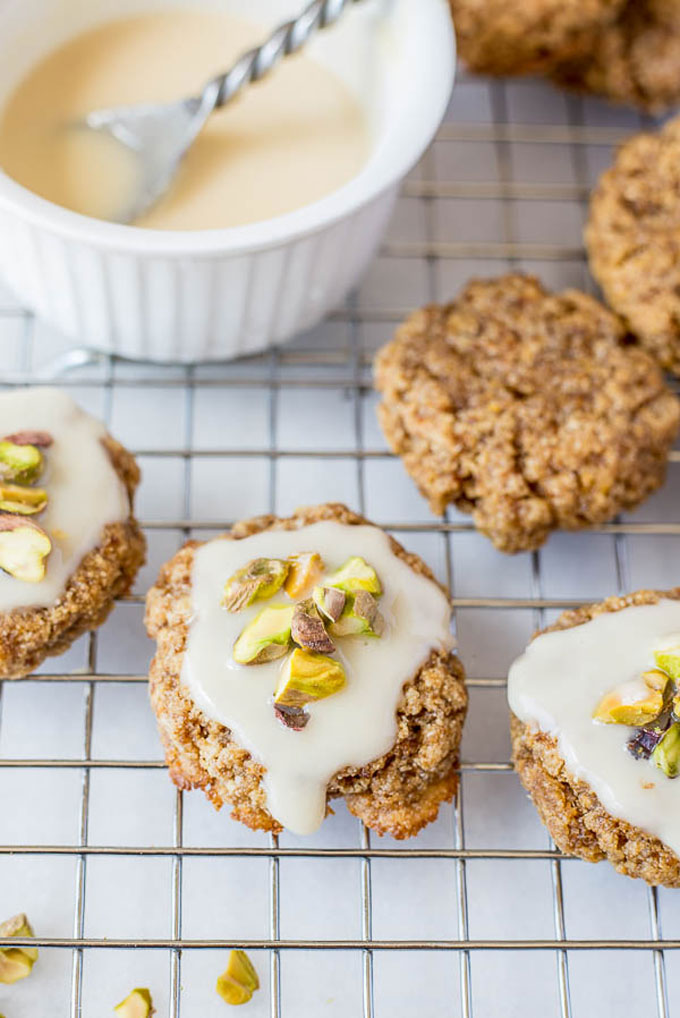 Leah from Love Me, Feed Me made a beautiful Rosemary Orange Galette with Chamomile Maple Syrup. Can we all just appreciate that drizzle?!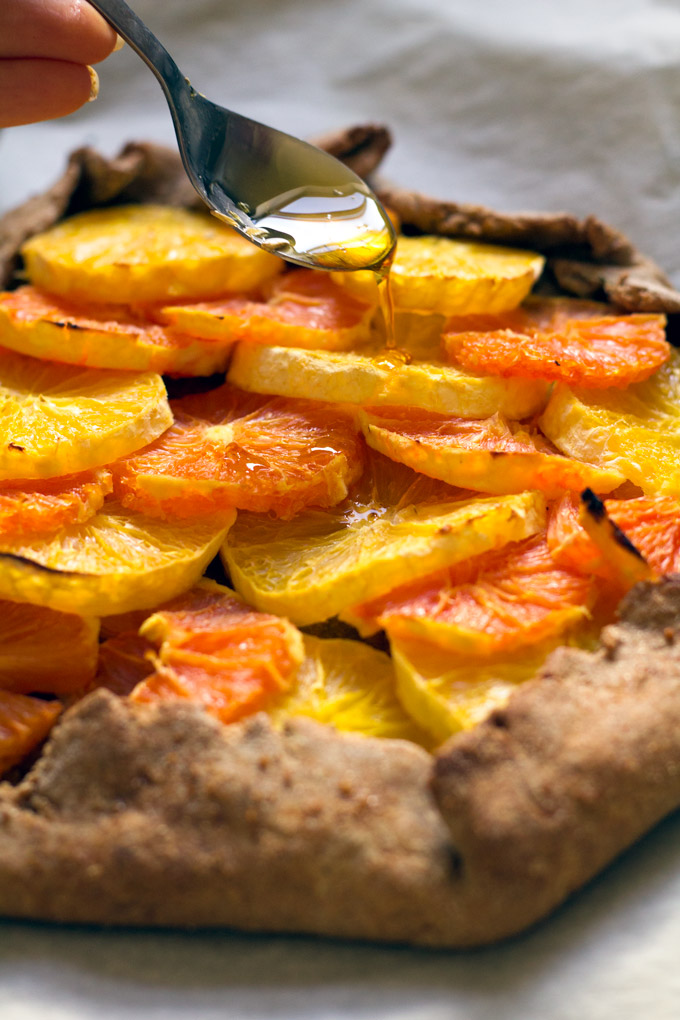 Kim from The Coconut Diaries baked some Vegan Key Lime Pie Cookies. Plus, they're gluten-, grain-, and dairy-free!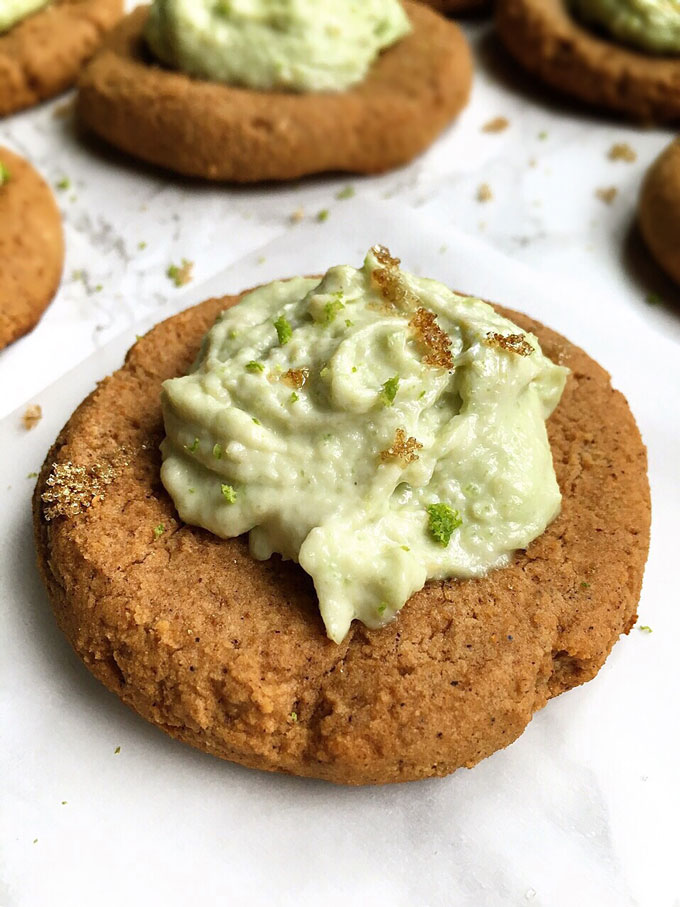 Giselle from Diary of an ExSloth made Orange Grapefruit Chia Seed Marmalade. Brb going spread this on everything.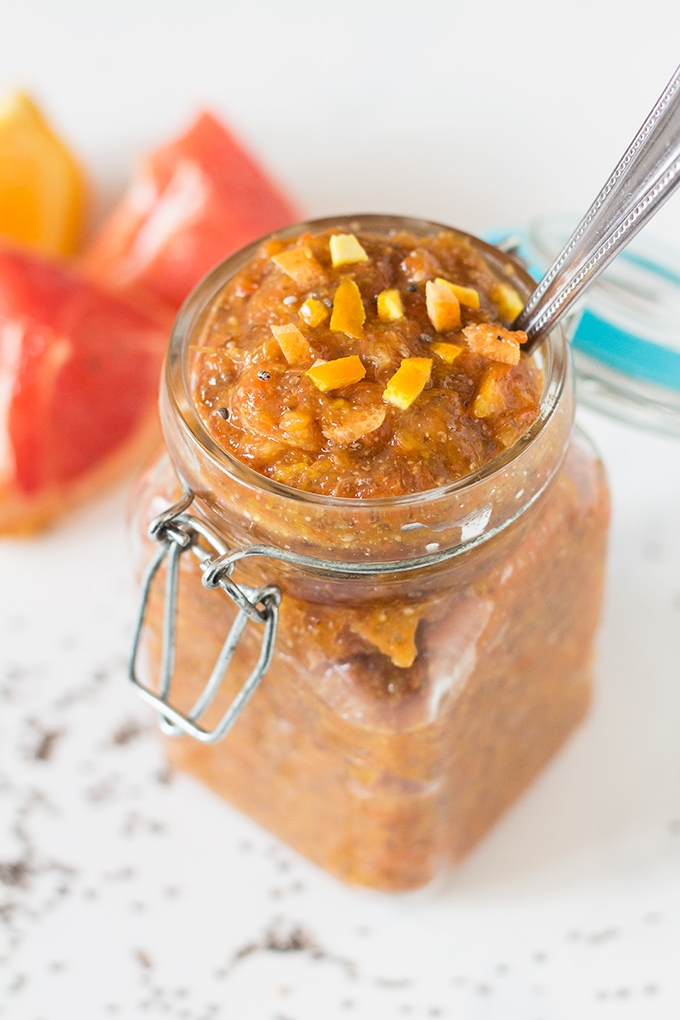 I love teaming up with my ladies to bring you guys healthy recipes! And yes, cookies count as healthy today. 🙂
Your next mission: run, don't walk, to your nearest farmer's or produce market and grab ALL THE CITRUS. Good luck not eating all of them before you actually get to make one of these recipes, but I believe in you.
If you try this blood orange quinoa salad, post a picture on Instagram and tag me! I know you guys are going to love this light meal idea with the perfect amount of salty and sweet.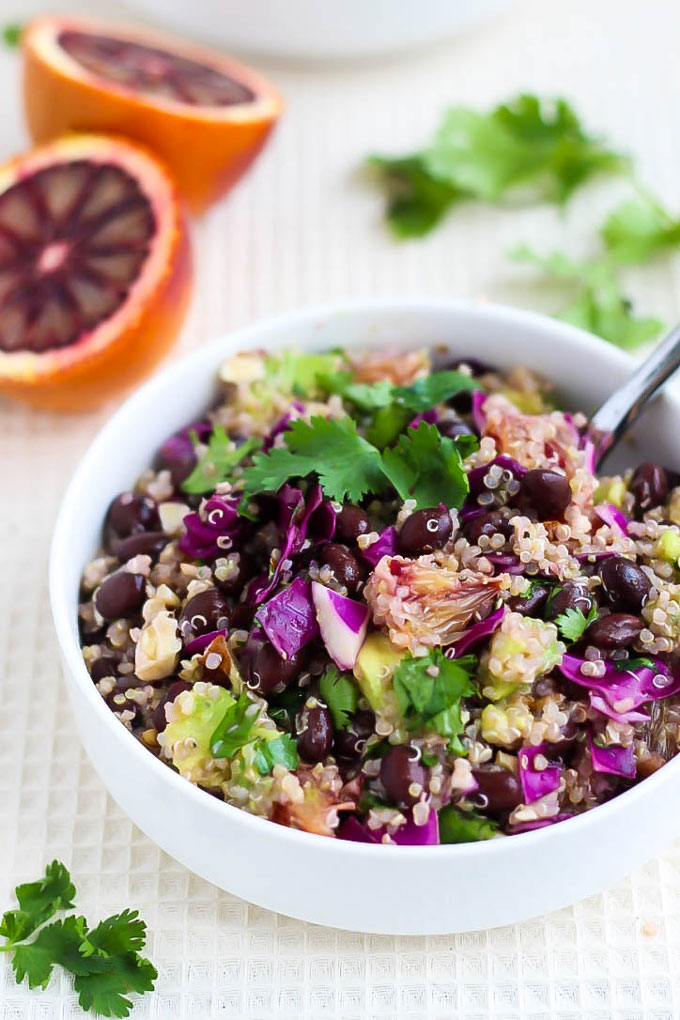 Print
How to make:
Blood Orange Quinoa Salad + 4 Citrus Packed Recipes
Full of juicy blood oranges, protein-packed quinoa & black beans, & tons of veggies, this Blood Orange Quinoa Salad is perfect for a light dinner or lunch!

Ingredients
1/2 cup

uncooked quinoa

1

15-ounce can black beans, rinsed and drained

2

blood oranges, peeled and chopped into

1/2

-inch pieces

1 cup

red cabbage, chopped

1/3 cup

walnuts, chopped

1/2 cup

cilantro, finely chopped

1/4 cup

orange juice

2 tablespoons

lime juice

2 tablespoons

olive oil

1 teaspoon

salt

1 teaspoon

garlic, minced

1/4 teaspoon

pepper

1/2

ripe avocado, chopped
Instructions
Rinse quinoa in a small mesh strainer. Heat a small saucepan over medium heat; add quinoa. Cook for 1-2 minutes until lightly toasted. Add 1 cup water; turn heat to high. Once boiling, cover and cook for 13-15 minutes, until fluffy.
In a large bowl, add quinoa, black beans, oranges, cabbage, walnuts, and cilantro. Stir until ingredients are fully combined.
In a small bowl, add orange juice, lime juice, olive oil, salt, garlic, and pepper. Whisk to combine. Pour over the salad mixture; stir until the dressing is evenly distributed.
Gently fold in avocado. Stir to combine.
Serve cold; top with additional cilantro, if desired.
Notes
If you don't plan on eating the salad right after making, store the dressing separately and mix in right before eating.
Pin these vegan citrus packed recipes for later!