Amp up your plain piece of toast with these 5 Breakfast Toast Ideas! This list includes 5 healthy toast toppings with both sweet & savory vegan toast options. In partnership with Manitoba Harvest! #ToastedOnToast
Breakfast Toast Ideas: 5 Easy Vegan Breakfast Recipes
Isn't it funny how trendy toast is right now? I think it's hilarious that you have to shell out $15 for avocado toast at some fancy city restaurants. But hey, when the toast craving calls, it's our duty to answer!
Toast has come a long way. From the obligatory plain piece of white bread we all had with breakfast (well, whole wheat for me…thanks Mom), to being completely hated by society simply for being a carb, and now to the supermodel of social media. My toast pictures always get the most likes on Instagram—you guys have great taste.
I'm definitely not complaining. Not only is it super delicious when you find good vegan toast toppings, but it makes for a super easy vegan breakfast. However, most of us may stick with our normal toast routines of peanut butter & banana or plain avocado toast, but I'm going to encourage you to mix. it. up! There are so many fun healthy toast toppings you can play around with, so I'm sharing 5 of my favorite breakfast toast ideas with you today. A toast to toast!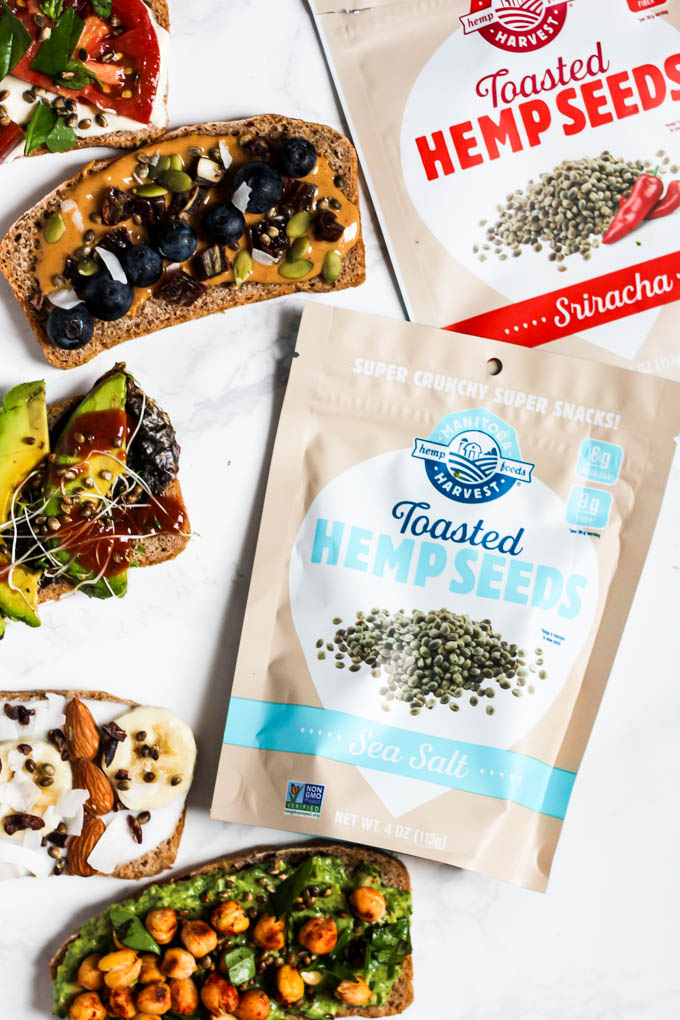 How to Choose Healthy Toast Toppings
The key to building a healthy, filling breakfast is creating a balanced meal, and toast is the perfect vehicle when you choose the right toppings! But there's no sacrificing flavor over here! Follow these steps to choose the right healthy toast toppings to make a balanced vegan breakfast that tastes delicious!
Choose your toast. Grab your favorite bread and give it a good run in the toaster. I'm using whole grain bread as it's a wonderful option for getting in complex carbs, but sourdough, gluten-free or sprouted varieties are also great choices!
Pick a plant-based protein. Protein helps make our toast super satiating. You'll see hemp hearts, roasted chickpeas, nuts or nut butters, and tofu cream cheese in the breakfast toast ideas below.
Find a healthy fat source. Once again, hemp hearts really deliver here as they're packed with healthy fats. Nut butters, avocado and coconut yogurt are great choices!
Add fruits and veggies. Add some freshness and fiber with your favorite fruits and veggies! Tomatoes, berries, avocado and bananas can all do the job.
Finish with a flavor boost. Get creative! Grab your favorite hot sauce, garnish with fresh herbs, add a sprinkle of cacao nibs or a drizzle of maple syrup. Don't skimp on the flavor factor!
Hemp hearts are on all 5 of these breakfast toast ideas for a reason – they're an easy addition that packs in a ton of nutritional benefits. If you haven't been living under a rock for the last couple years, then you probably know what hemp hearts are! They're packed with 10 grams of plant-based protein per serving (3 tablespoons), plus they're full of fiber, healthy fats, and vitamins & minerals. I always use hemp hearts from Manitoba Harvest!
Let's dig in to some toast, shall we?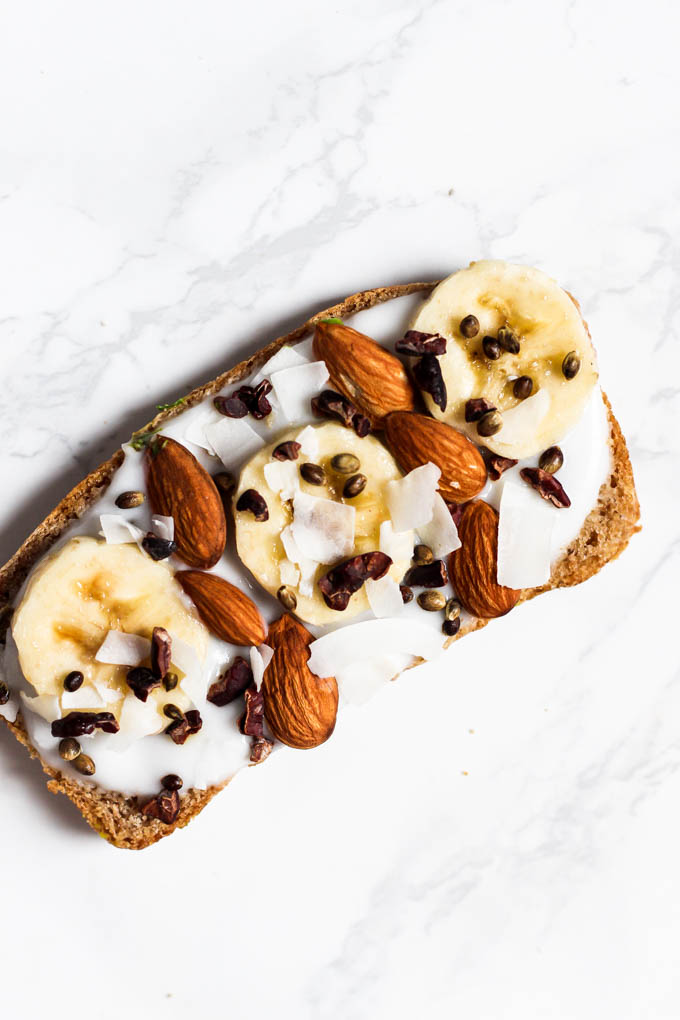 1. Banana Almond Joy Toast
I don't know about you, but I love the combination of coconut, almonds and chocolate. This first vegan toast recipe is definitely healthier than the candy we know and love, but packed with the same delicious flavors. I added sliced banana for more fiber and sweetness (and as a nod to our beloved banana peanut butter toast, of course).
1 piece whole-grain toast (gluten-free, if needed)
2-3 tablespoons non-dairy yogurt (I used unsweetened coconut yogurt)
Banana slices
Almonds
Cacao nibs
Coconut flakes
Manitoba Harvest Toasted Hemp Seeds – Sea Salt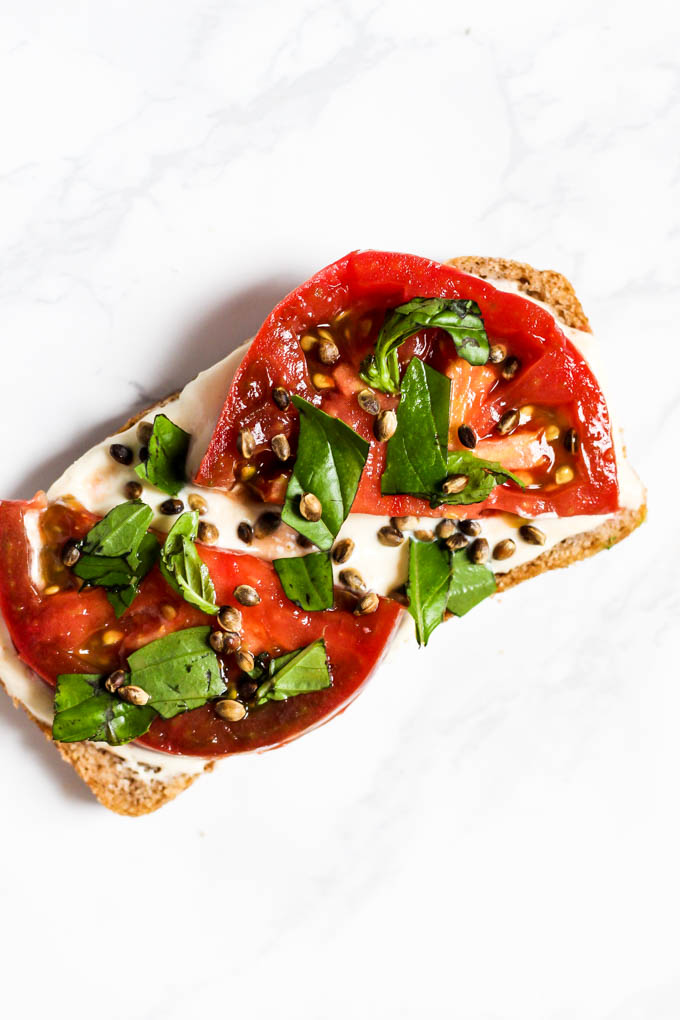 2. Vegan Caprese Toast
This second breakfast toast idea packs in plenty of freshness and is perfect if you love something savory in the morning. I used a homemade tofu-based cream cheese to pack in some plant-based protein, but you can totally buy some pre-made at the store! Keep it simple.
1 piece whole-grain toast (gluten-free, if needed)
2-3 tablespoons non-dairy cream cheese (you can use store bought, or this Cashew Tofu Cream Cheese recipe is a great one to follow if you want to make your own)
Tomato slices
Chopped basil
Black pepper
Manitoba Harvest Toasted Hemp Seeds – Sea Salt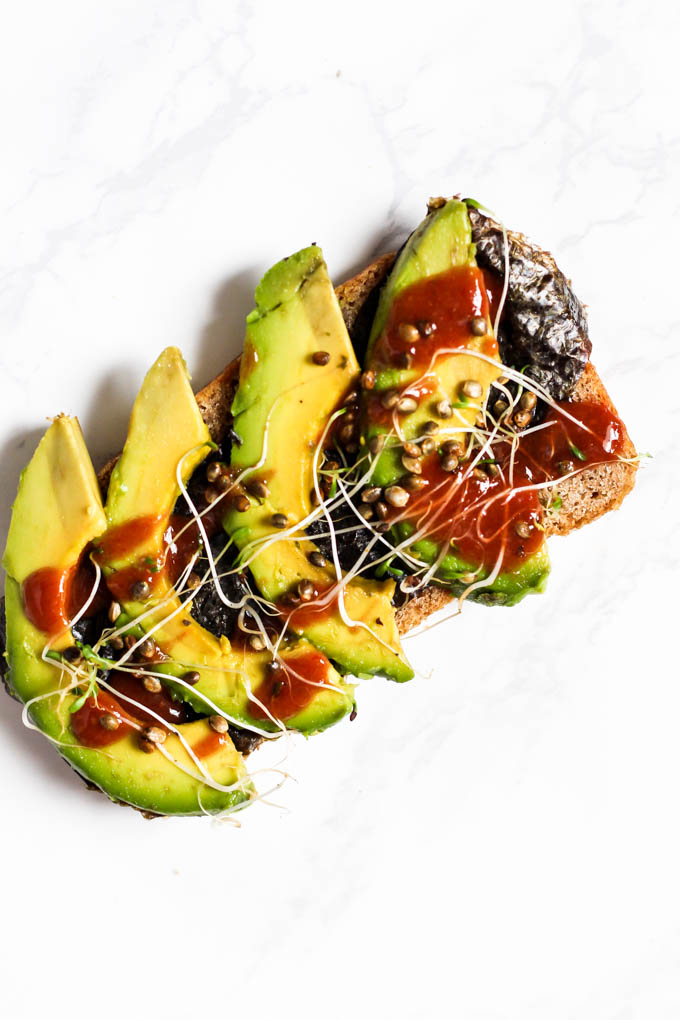 3. Sriracha Avocado Toast
It really wouldn't be a complete roundup of breakfast toast ideas without an avocado toast recipe, would it? Avocado toast is super popular for good reason! Avocados are packed full of healthy fats and fiber. But I'm mixing it up a bit by adding nori and sriracha.
1 piece whole-grain toast (gluten-free, if needed)
1 nori sheet (seaweed)
Avocado slices
Sriracha
Sprouts
Manitoba Harvest Toasted Hemp Seeds – Sriracha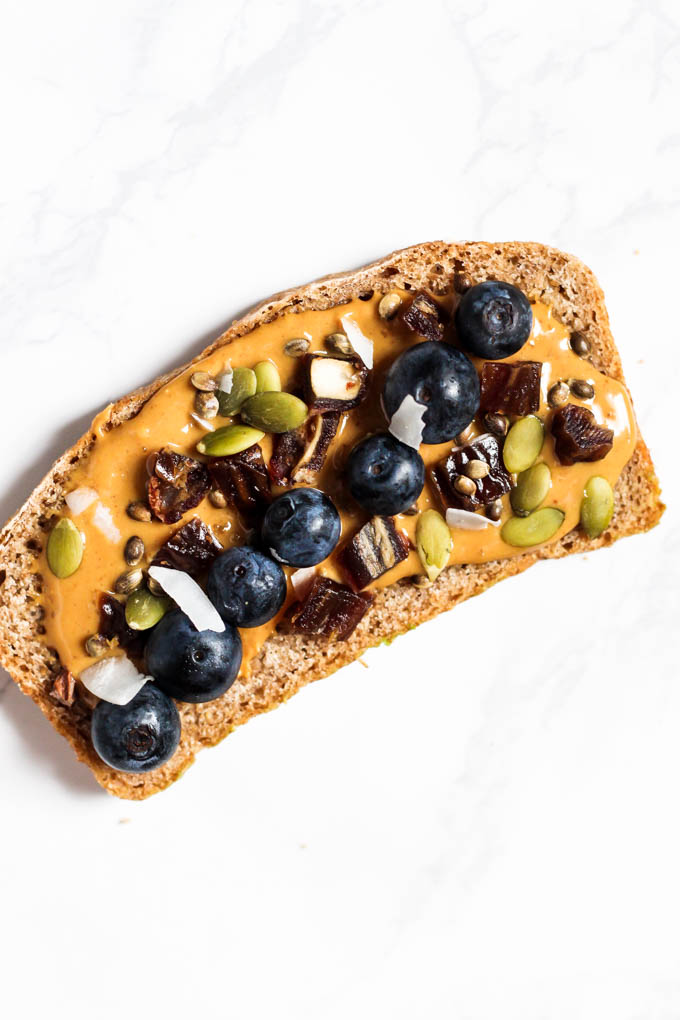 4. Fruity Peanut Butter Toast
Peanut butter and jelly for breakfast? Kinda! But better 🙂 The addition of fresh berries and dates adds more fiber and less sugar than jelly would. I used blueberries, but use your favorite! Strawberries, blackberries and raspberries are all fair game.
1 piece whole-grain toast (gluten-free, if needed)
1-2 tablespoons peanut butter (or other nut/seed butter for allergies)
Blueberries
Chopped dates
Pumpkin seeds
Coconut flakes
Manitoba Harvest Toasted Hemp Seeds – Sea Salt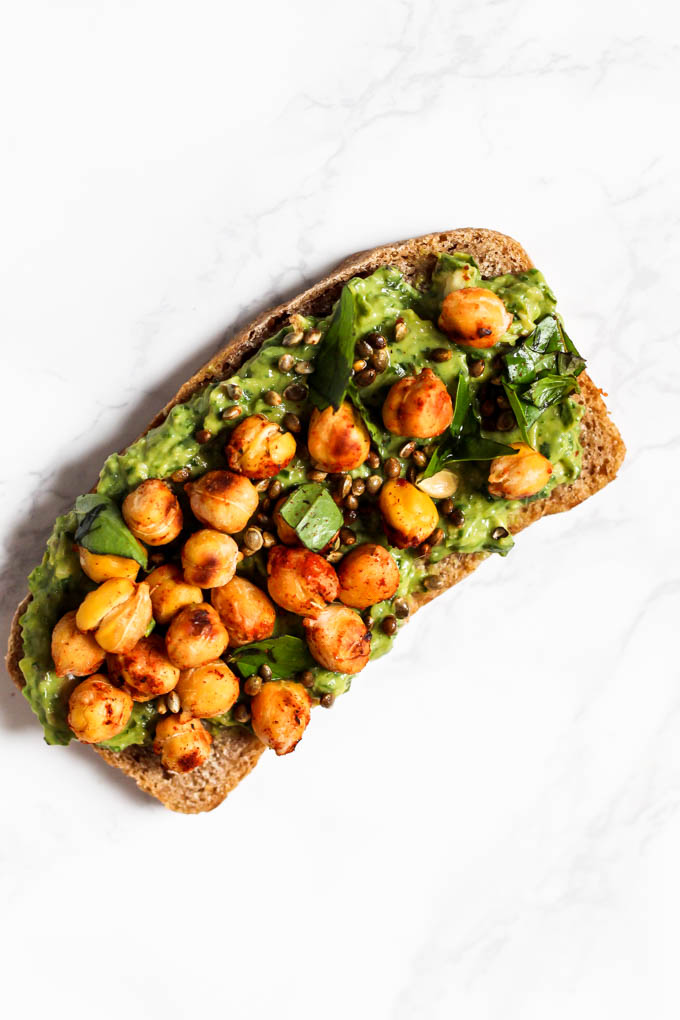 5. Pesto Chickpea Toast
This breakfast toast idea is perfect if you ate chickpeas for dinner! Save your leftover roasted chickpeas and use them as a healthy toast topping the next morning along with some vegan pesto and fresh basil for an easy vegan breakfast that takes almost no effort, but tastes like you spent all morning making it.
1 piece whole-grain toast (gluten-free, if needed)
2-3 tablespoons vegan pesto (I used homemade avocado pesto)
Roasted chickpeas (roast cooked chickpeas at 425F for 15 minutes)
Chopped basil
Manitoba Harvest Toasted Hemp Seeds – Sriracha
Thanks to Manitoba Harvest for sponsoring this post! I love working with brands whose products I really love and would honestly recommend. Thank you for supporting this blog that I love oh-so-much!