You know those recipes that are born out of pure necessity, such as when you're flying across the country in a week and have a million and three vegetables to use up before you leave?
Yah. That's how this vegan pasta salad was born. Fresh veggies + pasta = an instant meal. Slather on some ranch dressing made from almighty hemp seeds (!!!), and you've got a winner. 🏆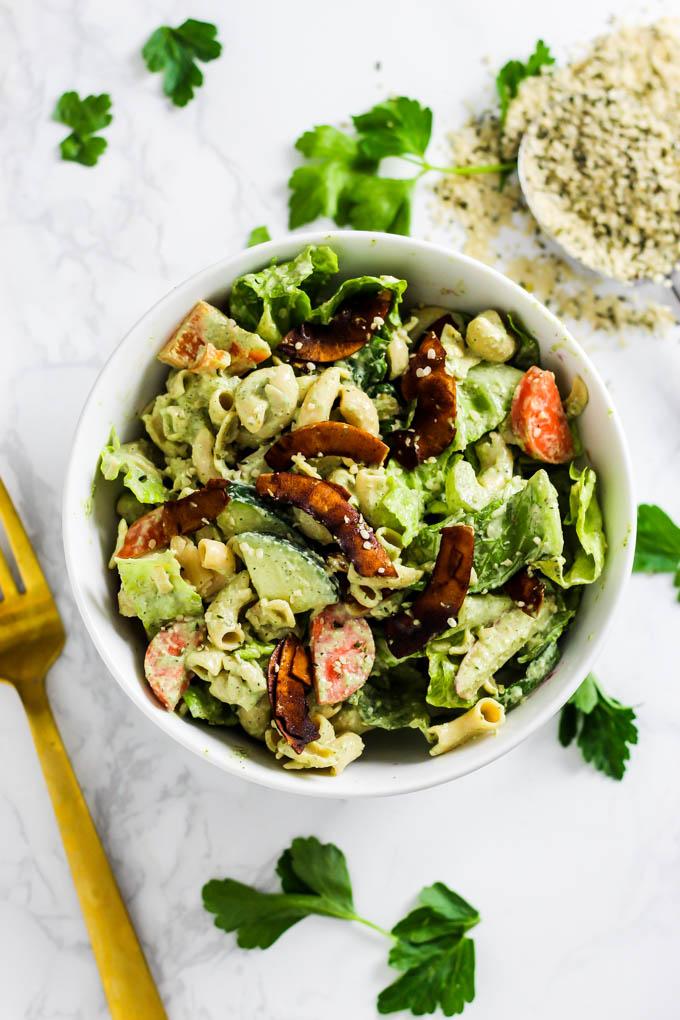 I recently cleaned out and reorganized my pantry a bit a lot and realized it is so crazy that I have so much food in my pantry that I hardly touch. Or rather, forget to use.
I'll be honest with you and say that I was probably sent 80% of the stuff in my pantry by brands I work with or want to work with me (perks of being a food blogger, except it takes a TON of hard work to get here). I haven't been accepting as many free products lately because A. they're just junk food marketed as healthy, B. I seriously don't have any more room in my pantry. My poor roommate has about one shelf out of ten for her food. #foodbloggerprobz
I am incredibly fortunate that I have access to some of the best foods on the market, and I'm also financially capable of buying these foods and fresh produce, grains, beans, and all the goods with my own money. I often forget how widespread food insecurity is in our world, and even in my own state, so it's important to stop and remember that we are lucky to eat healthy food.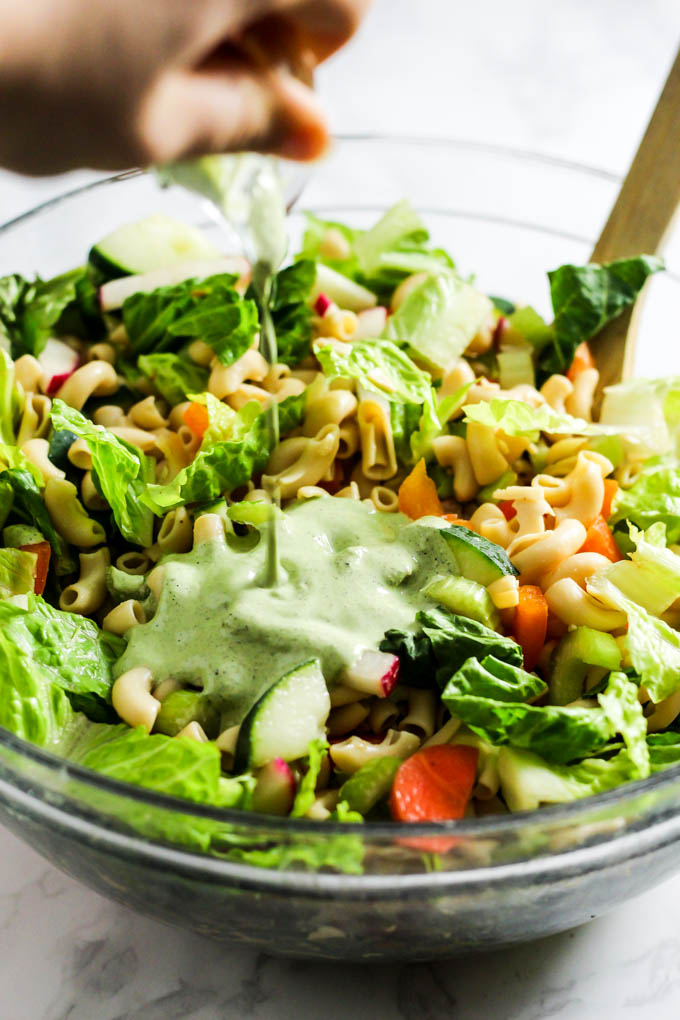 My point is that I have so much stuff in my pantry that I really, really need to use up because I don't want it to go to waste… and I don't want to pack it all in boxes when I move out of this apartment. Waaaaay too much work. 🙅🏼
One of my goals for the next few months is to buy the least amount of pantry products possible. Blog recipes will basically be centered around what's in my pantry. I have enough boxes of pasta, bags of rice and beans, nuts/seeds,  and flours to feed a village. The only things I really should be buying every week are fruit, vegetables, non-dairy milk, and oats <—I absolutely need oats no matter what.
Here are some things I want to make at home as often as possible because I want to be rustic AF, and I need to use the ingredients I have:
Bread (I have spelt, whole-wheat, gluten-free, brown rice, einkorn, and more flours)
Tortillas
Seed crackers
Refried beans 
Homemade non-dairy milk
Lots of brownies, cakes, and cookies for the boyfriend's frat brothers
All of this will help me clear out my pantry, decrease my grocery bill, AND reduce my waste because I won't be buying cans, boxes, bags, etc. Triple whammy win, y'all.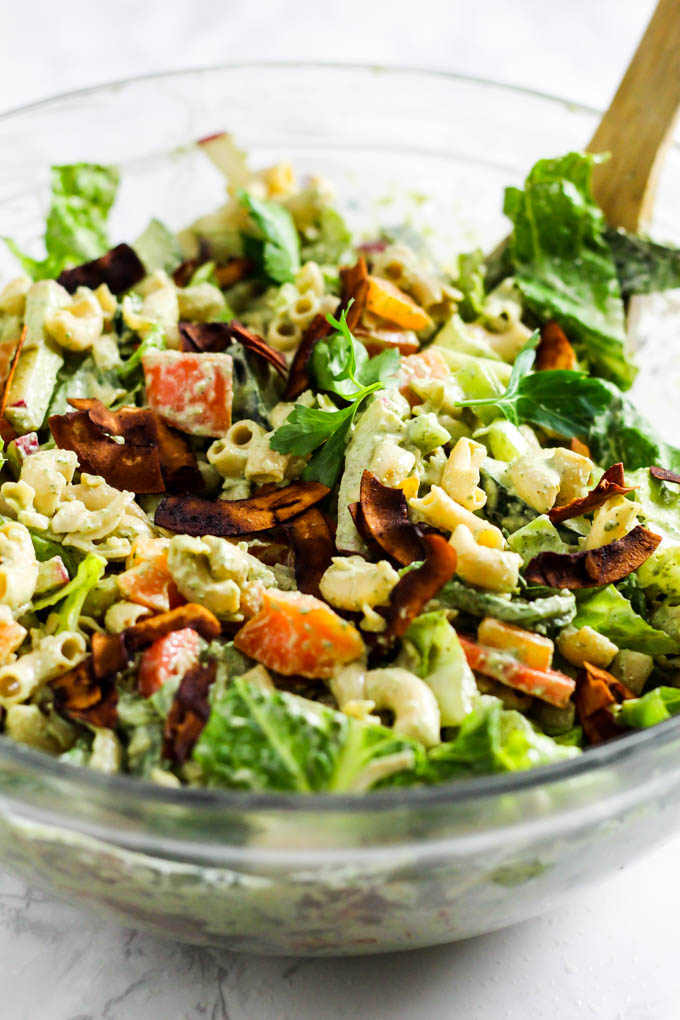 This vegan pasta salad was born from the need to get through the endless boxes of pasta in my pantry and use up some vegetables in my fridge before I leave for Los Angeles Thursday. Ah!
It's just a whole lot of fresh, crunchy vegetables with pasta for heartiness – I used chickpea pasta, but feel free to use whole-wheat or any gluten-free pasta you like. Some beans in here (chickpeas, black beans, etc.) would be delicious!
Then it's all slathered in a creamy hemp seed ranch dressing that you'll literally want to drink… but don't. You need it for the pasta salad! Hemp seeds are a great source of healthy fats and plant protein. I just love 'em.
Bonus points point if you top it all off with homemade coconut bacon. Talk about rustic AF.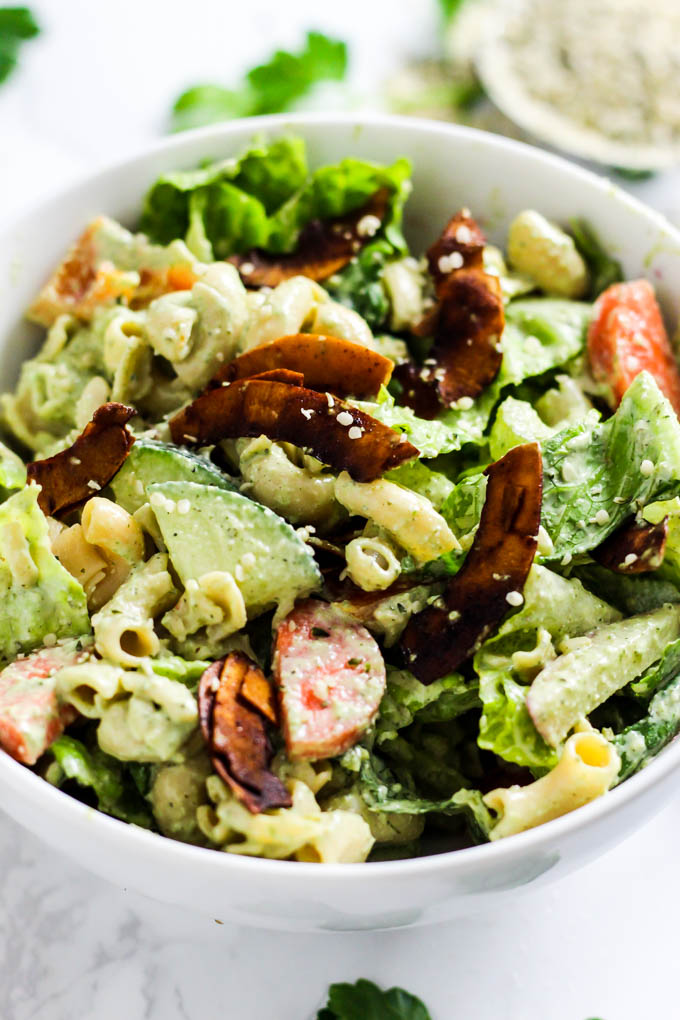 If you have any other ideas of what to make with all those pantry ingredients that never seem to go away, let me know! I'm ready to get reeeeeeal Martha Stewart.
I hope you get to try this easy 30-minute meal very soon! Let me know in the comments what you think, and tag me @emilieeats with #emilieats if you post a pic on Instagram. Byeeeee!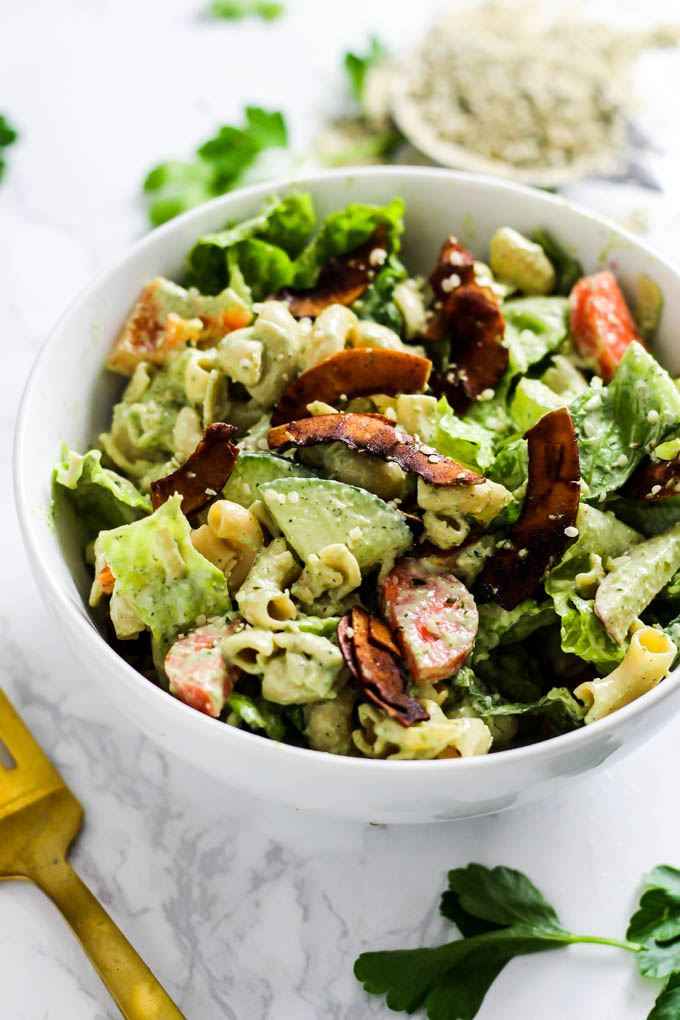 Print
How to make:
Hemp Ranch Vegan Pasta Salad
With crunchy vegetables, hearty pasta & creamy hemp ranch, this Vegan Pasta Salad is an easy dinner that's easily packable for lunch! Vegan & gluten-free.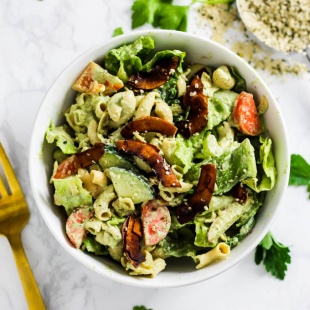 Ingredients
8 ounces

pasta of choice*

4 cups

romaine lettuce, chopped

1

medium carrot, chopped

1

bell pepper, chopped

2

medium stalks celery, chopped

1/2

medium cucumber, chopped

3/4 cup

radishes, chopped

1/2 cup

hemp seeds

1/2 cup

unsweetened almond milk

¼ cup

fresh parsley, roughly chopped

2 tablespoons

lemon juice (about

½

lemon)

2 tablespoons

dried chives

1 tablespoon

dried dill

1 tablespoon

apple cider vinegar

2

garlic cloves, minced (about

1 teaspoon

)

½ teaspoon

maple syrup
Coconut bacon, for garnish (optional)
Instructions
Cook pasta according to package directions.
In a large bowl, add lettuce, carrots, bell pepper, celery, cucumber, and radishes. Toss to combine. Add pasta; toss until all ingredients are mixed together.
In a blender or food processor, add hemp seeds, almond milk, parsley, lemon juice, chives, dill, vinegar, garlic, and maple syrup. Blend until smooth.
Pour ranch dressing over the salad; toss to fully coat all ingredients.
Top with coconut bacon, if desired.
Notes
*I used chickpea pasta, but you can use any whole-wheat or gluten-free variety you prefer!
*I used this homemade coconut bacon recipe.