Enjoy the comforting flavors of the season in this Fall Brussels Sprouts Quinoa Salad! It's sweet and salty in a healthy dish that's great for serving as a side at your Thanksgiving dinner. Vegan & gluten-free!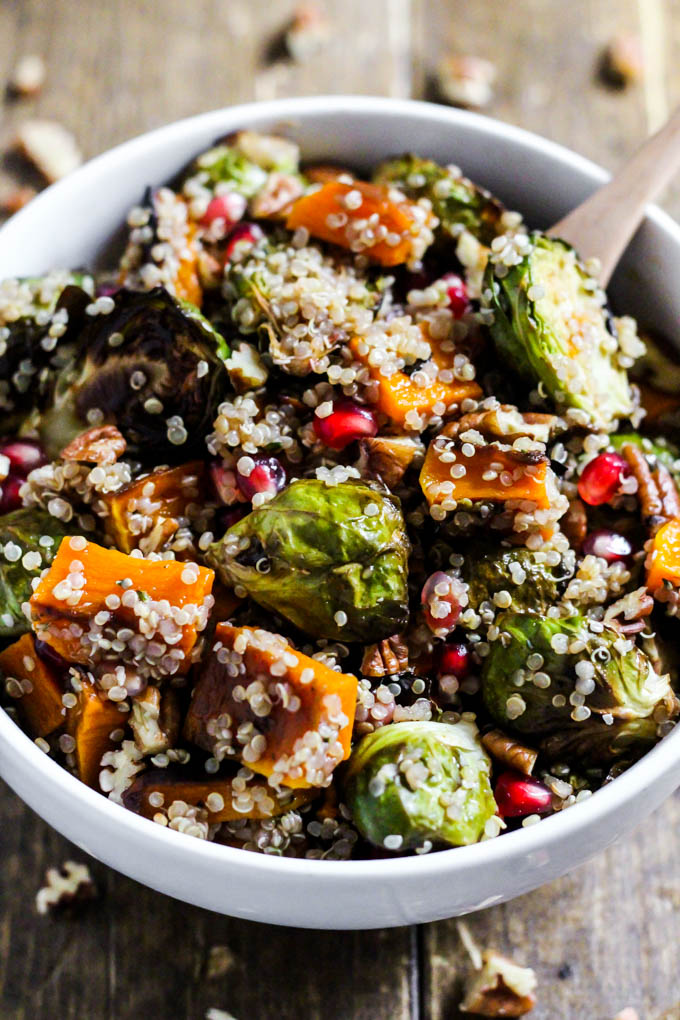 What a weekend!! It was probably one of the best weekends this year. Cayden and I drove 6.5 hours to Austin on Friday morning to see Adele (!!!) that night. If you're wondering if she sounds just as good live, multiply your expectations times 1000 and that's how good she was. Songbird of our generation🙌🏼
After 14 hours of driving in 30 hours, there was nothing more I wanted to do than climb in bed with my cat and sleep for eternity. Isn't it weird how something where you're just sitting there is so tiring? But alas, it was a Saturday night on a college campus so you know what that means – football game! I had about 7.4 seconds to relax when I got home from Austin before we headed to the game.
It's safe to say I slept like a baby that night after all that craziness. (Side note – Where did that phrase come from? Don't babies wake up from their sleep all the time? That doesn't sound that good…)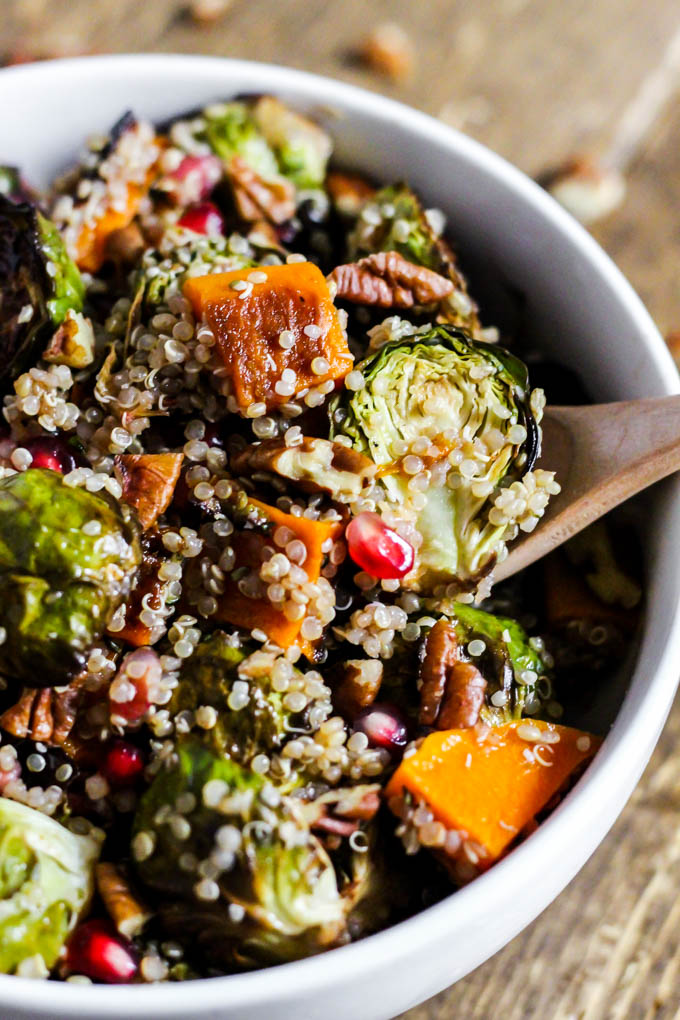 I'm in love with Austin. It's such a fun, vibrant, unique city that I could definitely see myself living in one day if I needed to. We got to explore a little bit downtown after the concert, but not as much as I would like, so I'm already planning a trip to head back. Any fun suggestions??
The highlight of my trip (well, besides crying twice at the Adele concert)? Vegan doughnuts. What'd you expect – of course it's food related. We couldn't go to Austin and NOT get good vegan food. That'd be a sin.
But it wasn't the actual doughnuts that were the highlight, though they were totally bomb and an explosion of amazingness in every bite. If you're in Portland or Austin, go check out Voodoo Doughnuts! Anyways, the best part about the doughnuts was that I actually let myself enjoy them. It felt SO GOOD.
It was a great feeling when my boyfriend and I spontaneously decided to explore downtown to get doughnuts and I didn't freak out and start planning how I would avoid the junky food. Being able to enjoy a special treat like this would have been impossible for me just a couple months ago. It would've gone something like me wanting doughnuts, denying that I wanted them, Cayden trying to get me to let go, semi-deciding to enjoy them, and then feeling too guilty to eat them.
But we strolled into a doughnut shop at 11 p.m., ordered four vegan doughnuts, and left with happy bellies. It felt great. Guilt started creeping in after, but I tried to quickly dismiss it. The fun of a spontaneous trip and excitement of being in a new city totally outweighed all those negative feelings.
Life is way too damn short to not enjoy a vegan doughnut in Austin after an Adele concert. Right?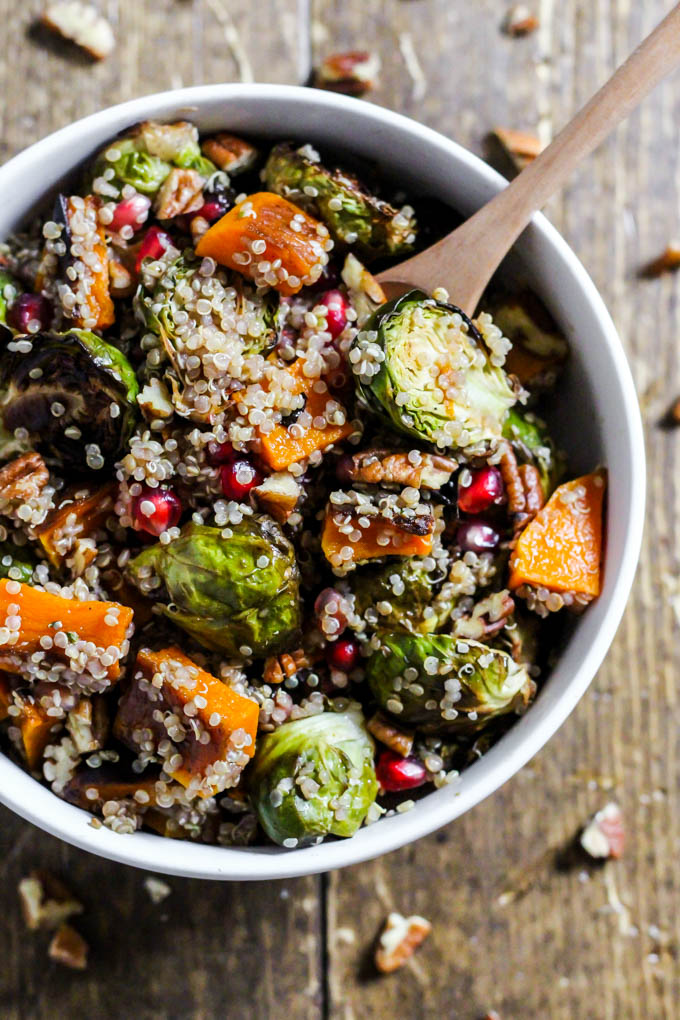 As much as I loved those vegan doughnuts (and the other delicious vegan food we enjoyed in Austin), I was SO excited to get home to my kitchen. I'm not one of those people who likes to eat out all the time. That is HELLA expensive, and home-cooking always wins. 🏆
Since fall produce is taking over the grocery stores right now, I wanted to make a dish that incorporated ALL of those seasonal foods. So, toss them with quinoa and call it a salad! Bada bing bada boom.
I'm pretty sure my love affair with quinoa will never end. It's just perfect, isn't it? It makes the perfect protein-packed base for mean green Brussels sprouts, tender butternut squash, juicy pomegranate seeds, and crunchy pecans! Oh, and the orange juice dressing gives it a perfect tartness that will have you going back for seconds…or thirds…just don't share it with anyone, k?
I've been enjoying a bowl of this for lunch with some chickpeas added for extra nutrition, but I also plan on bringing this to our Thanksgiving dinner! It's the perfect side dish since it uses fresh, fall ingredients and is a great blend of sweet & salty.
Let me know if you get to make this for a holiday party or just a weeknight side dish! I'd love to see your beautiful fall bowls of goodness. Take a pic for Instagram, tag @emilieeats & #emilieeats on Instagram!
What's a small win you had in the past week?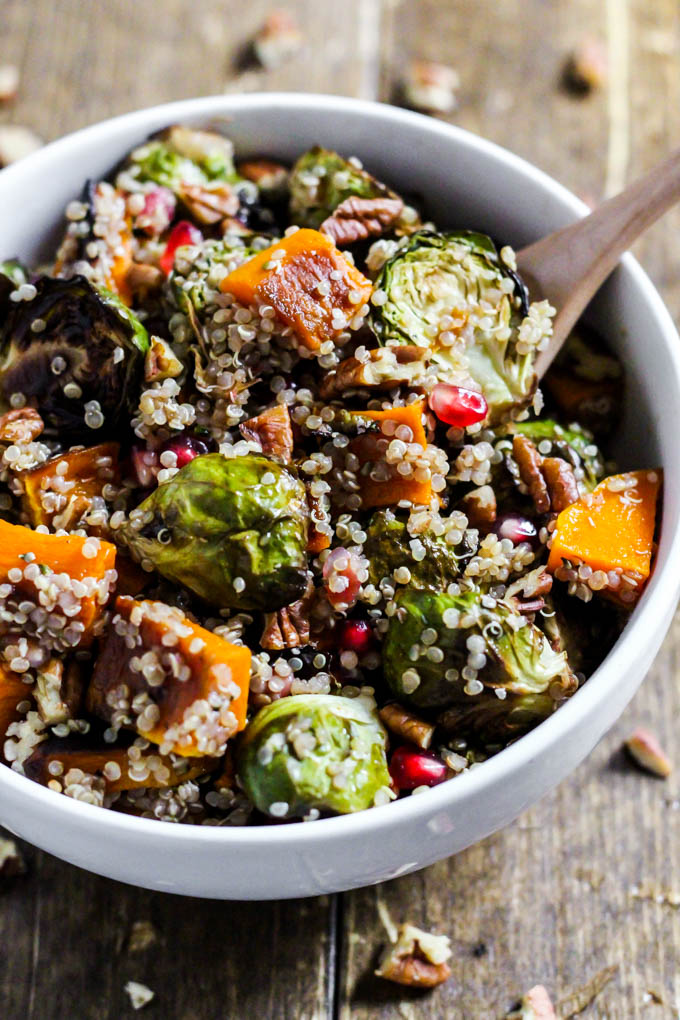 Print
How to make:
Fall Brussels Sprouts Quinoa Salad
Enjoy the comforting flavors of the season in this Fall Brussels Sprouts Quinoa Salad! It's sweet and salty in a healthy side dish. (vegan & gluten-free)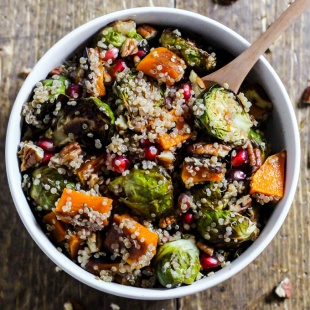 Ingredients
1

pound Brussels sprouts, halved

3 cups

butternut squash, cut into

1/2

-inch chunks

2/3 cup

dry quinoa

1

medium pomegranate, deseeded

1/2 cup

pecans, chopped

1

small orange, juiced (about

1/4 cup

)

2 tablespoons

balsamic vinegar

1 tablespoon

hemp seeds (optional)

1/2 teaspoon

salt

1/4 teaspoon

pepper
Instructions
Preheat oven to 375F. Line a baking sheet with parchment paper or grease with cooking spray.
Place Brussels sprouts on one side of the pan and butternut squash on the other side, or you can use two pans.
Bake for 25 minutes; remove Brussels sprouts and place into a large bowl. Return squash to the oven; bake for 15-20 more minutes, until tender. Add to the bowl with Brussels sprouts
While the vegetables are baking, rinse quinoa in a small mesh strainer. Heat a small saucepan over medium heat; add quinoa. Cook for 1-2 minutes until lightly toasted. Add 1 1/3 cups water; turn heat to high. Once boiling, cover and cook for 13-15 minutes, until fluffy.
In a small bowl, add orange juice, balsamic vinegar, hemp seeds, salt, and pepper. Whisk to combine.
In the large bowl with the vegetables, add quinoa, pomegranate seeds, and pecans. Stir to combine. Pour in the dressing; stir.
Serve as a side dish and enjoy!