This Roasted Brussels Sprouts Quinoa Salad is so hearty and nourishing! It's the best sweet and salty fall quinoa salad to enjoy for an easy lunch, dinner or as a side at your Thanksgiving dinner. 
Roasted Brussels Sprouts Quinoa Salad
Every time I walk into the grocery store and see all the beautiful fall produce lining the shelves, I think my heart skips a beat. I mean you've got all the amazing squashes, ruby red pomegranates, and of course the one, the only, brussels sprouts! How can you beat fall produce?!
I went a little crazy at the store the other day and basically grabbed all the autumnal fruits and veggies I could find. Then I realized, so many of them actually work so well together, so I wanted to make a dish that incorporated ALL of these seasonal foods. So, I tossed some brussels sprouts, butternut squash and pomegranate seeds with plenty of quinoa and we can call it a salad! Bada bing bada boom, I give you: The Roasted Brussels Sprouts Quinoa Salad.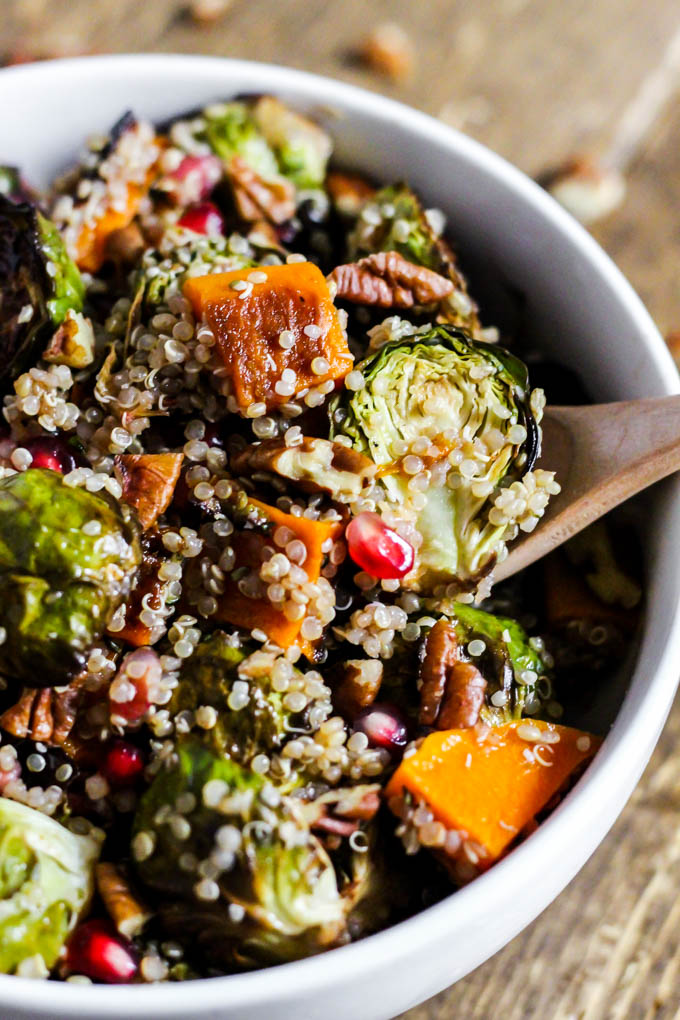 Ingredients for Roasted Brussels Sprouts Quinoa Salad
I'm pretty sure my love affair with quinoa will never end. It's just the best, isn't it? It makes the perfect protein-packed base for our roasted Brussels sprouts, tender butternut squash, juicy pomegranate seeds, and crunchy pecans in this warm brussels sprouts salad! This recipe is super easy to toss together, including the homemade dressing! Here's what you'll need:
Brussels sprouts. The star of the show! We're roasting these in the oven until they're golden brown before we add them to our quinoa salad.
Butternut squash. The squash adds sweetness and satisfying texture to our warm quinoa salad. You could also use a delicata, kabocha or acorn squash.
Quinoa. I used white quinoa, but any variety will work!
Pomegranate. I know it can be intimidating to try and deseed a fresh one yourself, but I promise it's super easy! Love and Lemons has a great guide on how to cut a pomegranate and remove all the seeds!
Pecans. Who doesn't love a little crunch?
Orange. We're using freshly squeezed orange juice to make a homemade orange vinaigrette!
Balsamic vinegar. Balsamic and roasted Brussels sprouts are BFFs, so we're using plenty of balsamic vinegar in our homemade dressing.
Hemp seeds. This is totally optional, but hemp seeds will add more healthy fats and protein to our quinoa salad!
Salt and pepper. No recipe is complete without them!
Side note, I've been enjoying a bowl of this for lunch with some chickpeas added for extra nutrition! Tossing in some canned beans is a great way to round out this Roasted Brussels Sprouts Quinoa Salad with a bit more plant-based protein.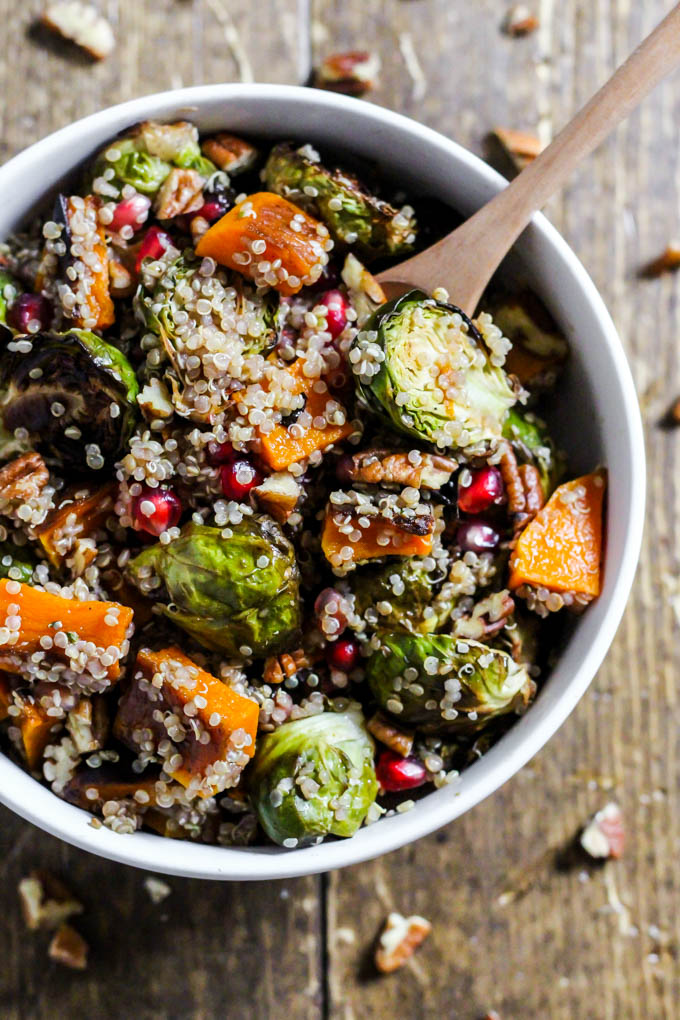 How to Make Roasted Brussels Sprouts
I think we're all well aware that Brussels sprouts can either be the absolute best vegetable of all time, or the worst (boiled Brussels sprouts, I'm looking at you). The key to making them tasted delicious? Roast your Brussels sprouts!
Brussels sprouts love to spend some time in a hot oven. They get crispy, golden brown and soooo delicious when they have time to hang out in the oven – as long as your temperature is hot enough!
Now we're also roasting up some butternut squash for our quinoa salad, which conveniently does well at the same temperature you'll need for your roasted Brussels sprouts, so we'll just add them to the same sheet tray to cook together!
To start, set your oven to 375F and line a sheet tray with parchment or spray with cooking oil. Then, arrange your squash and Brussels sprouts on separate sides of the tray in a single layer. Make sure your tray isn't too crowded, otherwise your veggies will steam instead of roast!
After about 25 minutes, remove the Brussels sprouts and put the butternut squash back in the oven to roast for another 15-20 minutes. Once your squash is tender, you're ready to make your quinoa salad!
How to Make this Fall Quinoa Salad
The veggies do take a while to roast, but that means you have built-in time to work on the rest of your quinoa salad!
While your veggies roast, rinse and drain your quinoa, then toast it in a preheated pot for 1-2 minutes on the stove. Once your quinoa is lightly toasted, add your water and boil for about 15 minutes until the water is absorbed and your quinoa is fluffy.
Next, work on deseeding your pomegranate and make your orange vinaigrette! To make the dressing, simply combine your balsamic, fresh orange juice, salt, pepper and hemp seeds if you're using them. Give it a good mix until everything is well incorporated.
Once your veggies are finished roasting, mix your quinoa, veggies, pomegranate seeds, and pecans in a large bowl until evenly mixed. Finally, pour in your dressing and give everything a good stir until your roasted Brussels sprouts salad is fully coated with your delicious tangy dressing!
Serve it up as a side, or toss in some beans to make it a well-rounded lunch or dinner!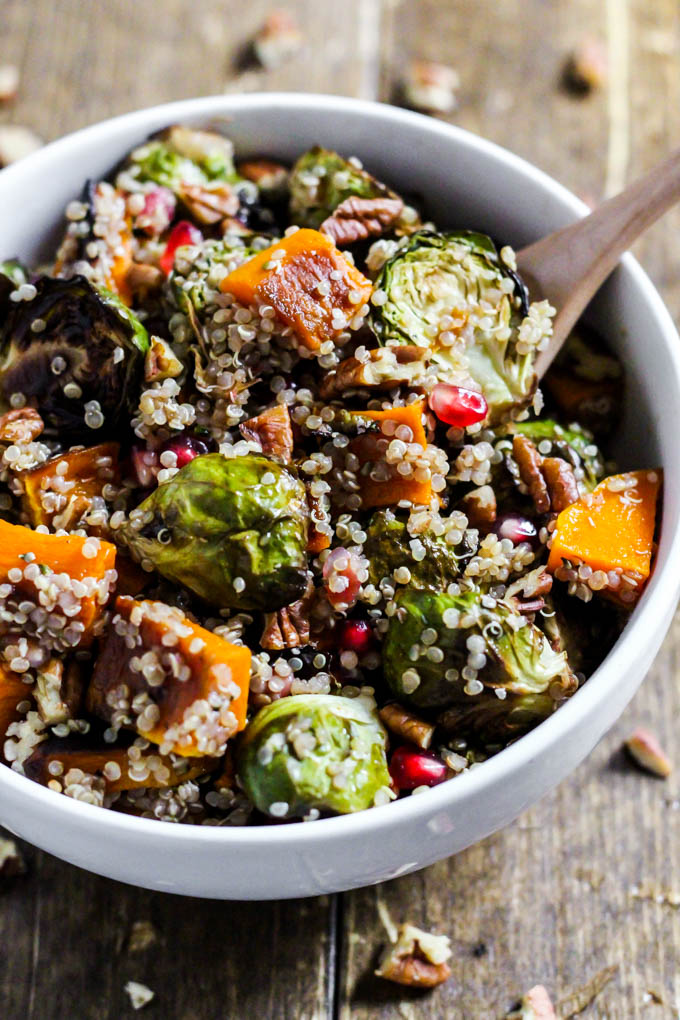 More Vegan Fall Recipes
This Roasted Brussels Sprouts Quinoa Salad is one of my favorite fall sides. So much so that I often just eat a larger portion of it with some beans for lunch! If you're looking for more vegan fall recipes, check out these autumnal dishes!
Print
How to make:
Roasted Brussels Sprouts Quinoa Salad
This Roasted Brussels Sprouts Quinoa Salad is so hearty and nourishing! It's the best fall quinoa salad to enjoy for an easy lunch or dinner.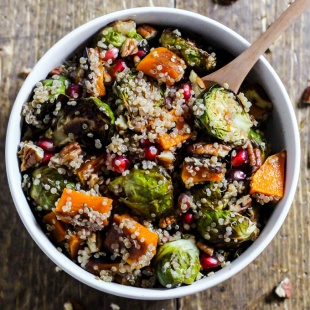 Ingredients
1

pound Brussels sprouts, halved

3 cups

butternut squash, cut into

1/2

-inch chunks

2/3 cup

dry quinoa

1

medium pomegranate, deseeded

1/2 cup

pecans, chopped

1

small orange, juiced (about

1/4 cup

)

2 tablespoons

balsamic vinegar

1 tablespoon

hemp seeds (optional)

1/2 teaspoon

salt

1/4 teaspoon

pepper
Instructions
Preheat oven to 375F. Line a baking sheet with parchment paper or grease with cooking spray.
Place Brussels sprouts on one side of the pan and butternut squash on the other side, or you can use two pans.
Bake for 25 minutes; remove Brussels sprouts and place into a large bowl. Return squash to the oven; bake for 15-20 more minutes, until tender. Add to the bowl with Brussels sprouts
While the vegetables are baking, rinse quinoa in a small mesh strainer. Heat a small saucepan over medium heat; add quinoa. Cook for 1-2 minutes until lightly toasted. Add 1 1/3 cups water; turn heat to high. Once boiling, cover and cook for 13-15 minutes, until fluffy.
In a small bowl, add orange juice, balsamic vinegar, hemp seeds, salt, and pepper. Whisk to combine.
In the large bowl with the vegetables, add quinoa, pomegranate seeds, and pecans. Stir to combine. Pour in the dressing; stir.
Serve as a side dish and enjoy!