Serve up dinner in less than 30 minutes with this Black Bean Buddha Bowl recipe with creamy Avocado Pesto! It's vegan, gluten-free, and full of nutrients.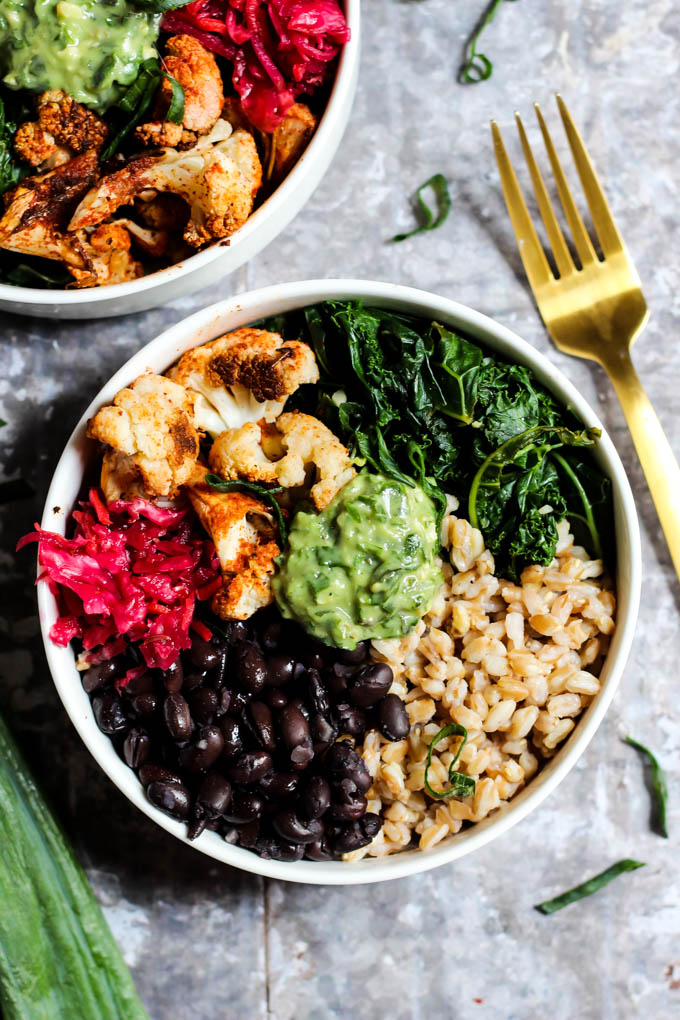 Every time I ask you all what you want to see more of on Emilie Eats, I get an overwhelming amount of healthy meals! answers. I hear you loud and clear! I totally get where you're coming from – no one wants to get home from school or work or your kid's soccer practice at 7 p.m. and spend 2 hours cooking dinner. HA, no thank you.
Isn't that why we as a country are so dependent on fast food and convenience meals? We ate less than 60% of dinners at home in 2014, compared to 75% in the 1980s. We're busier and more mobile.
But it's not just less dinners eaten at home. That's less time around the tables with our friends and family, less time teaching the little ones how to measure flour or sauté onions, and less time savoring delicious food that we put so much love into. It's sad to me, honestly.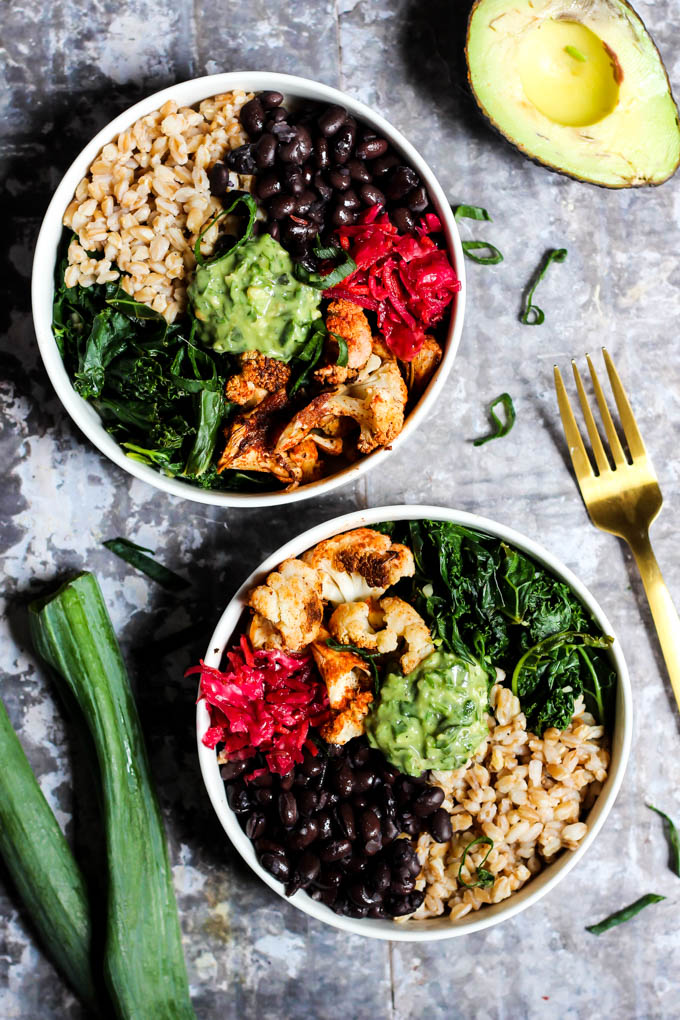 I get it, though. Maybe if there were 36 hours in a day, we'd find the time to prepare more home-cooked meals. Actually, I think we'd find some other task to fill that time – Americans are pretty good at staying busy and "productive."
My good friend/listener/soul sister/personal unicorn Alexis from Hummusapien wrote this amazing post about living a unicorn life, and I think we can all apply her advice to our lives. Instead of always being in this go-go-go mentality thinking that we have to work 24/7 and be the best, we could slow down a bit and actually LIVE.
We may not have time to cook a 5-course meal (who wants to, anyway?), but I think it's important to make time for yourself to cook a nourishing meal. Slow down and smell the roses onions.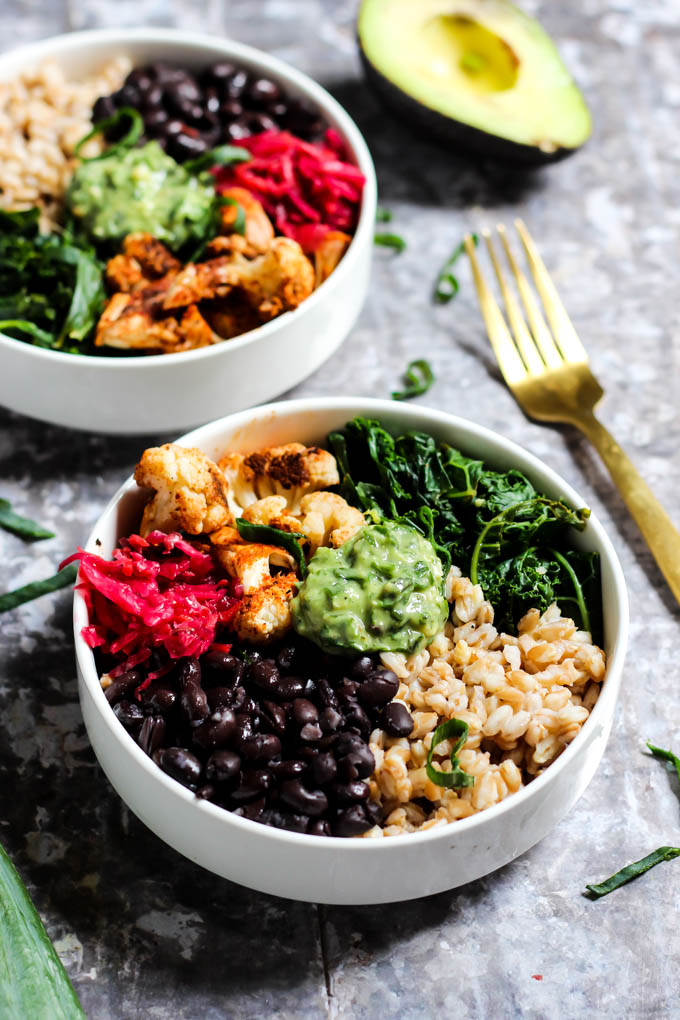 All that said, we all have shit we need to do and places we need to be, so easy, healthy meal ideas are still a necessity! Ya girl ain't got time to waste.
Meals in my book need to be:
healthy
satisfying
easy
made with affordable ingredients
Enter bowlzzzzzz. Forever & always. I never tire of them and neither should you!
The #bowloftheday is this delicious Black Bean Buddha Bowl with Avocado Pesto. Can we get that hashtag trending plz?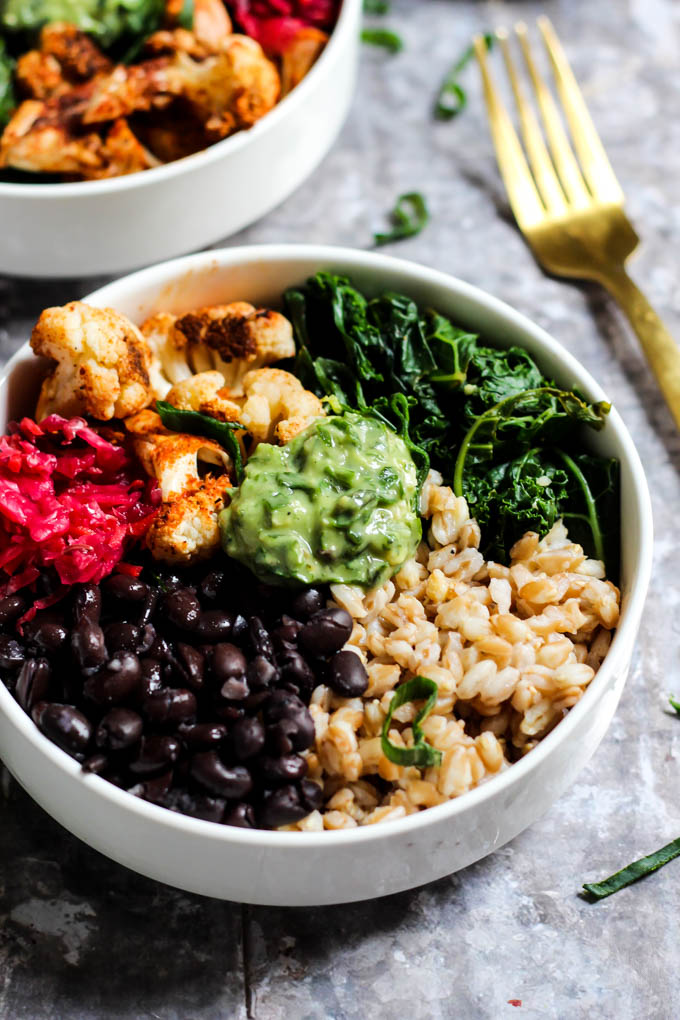 What I love to do to make bowls even easier is prep the ingredients one night, pack them separately into containers, and then assemble when you're ready to eat!
Feel free to customize this as you wish. Any grain will do here. I used farro because I need to clear out my pantry (someone come help me eat all of it), but rice, quinoa, buckwheat, or even oats will do here! You can also use any kind of beans you want – kidney beans, chickpeas, lentils, etc. Beans and grains are some of the cheapest foods, so eat up!
Oh, and the avocado pesto on top? Slather that shiz on everything. Thank me later.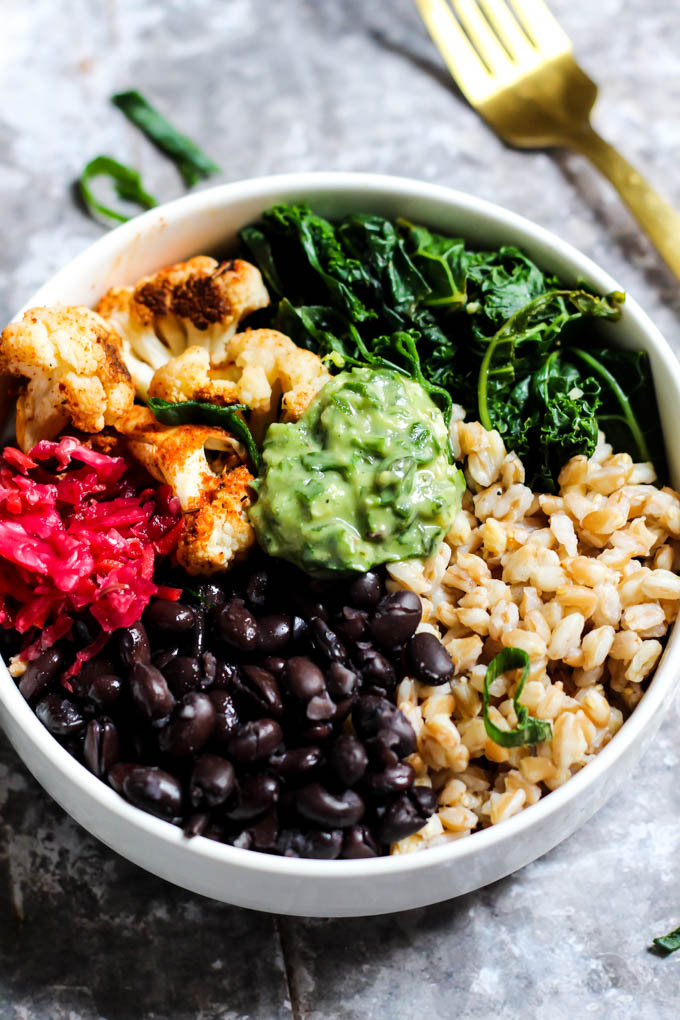 What's your favorite #bowloftheday? Burrito bowls, Greek bowls, sweet potato bowls…let me know!
Yay for more easy, affordable, healthy & TASTY meals!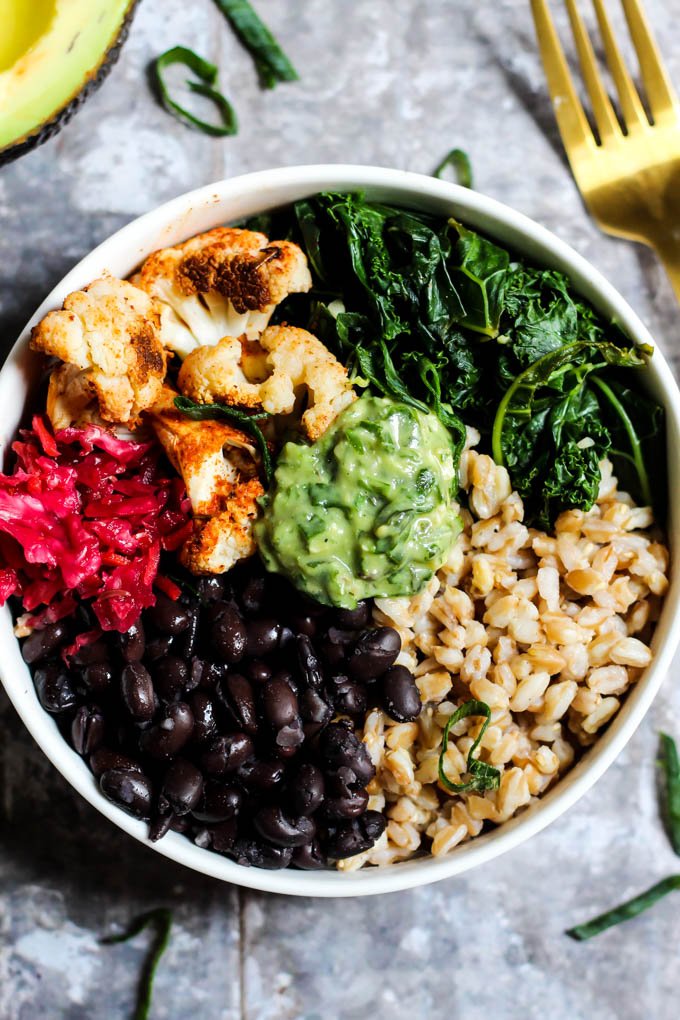 Print
How to make:
Black Bean Buddha Bowl with Avocado Pesto
Serve up dinner in less than 30 minutes with this Black Bean Buddha Bowl recipe with creamy Avocado Pesto! It's vegan, gluten-free, and full of nutrients.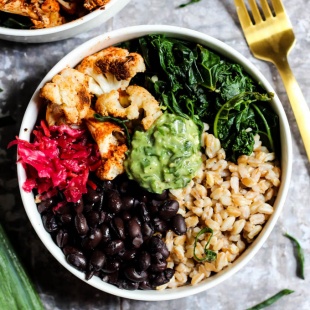 Ingredients
1

medium head cauliflower, chopped into florets*

1 teaspoon

paprika

1/2 teaspoon

garlic powder

1/2 teaspoon

onion powder
Salt and pepper

1 cup

farro, or other grain of choice* (gluten-free if needed)

1

bunch kale, chopped

1

–

2

cloves garlic, minced

2 cups

black beans, drained and rinsed

1/2 cup

sauerkraut
Sliced green onions or cilantro, for garnish
For Avocado Pesto:
1

avocado

1/4 cup

fresh basil, packed
Handful of spinach (optional)
Juice of

1/2

lemon

2

cloves garlic

2 tablespoons

walnuts
Instructions
Preheat oven to 400F. Lightly grease a baking sheet.
Place cauliflower florets on the baking sheet. Sprinkle with paprika, garlic powder, onion powder, salt, and pepper. Stir to coat evenly. Bake for 20 minutes, until tender.
In a medium saucepan, cook farro (or other grain) according to package directions. Transfer the cooked grains to a bowl.
In the same saucepan, heat a little water. Add kale, garlic, salt, and pepper. Cook until the kale is wilted, about 5 minutes.
To arrange bowls, add kale, grains, beans, cauliflower, sauerkraut, avocado pesto, and a garnish of fresh herbs.
For the avocado pesto: In a blender or small food processor, add avocado, basil, spinach, lemon juice, garlic, and walnuts. Pulse until smooth, adding a couple tablespoons of water if needed.
Notes
*You can roast any vegetables you want! Feel free to go with broccoli, asparagus, bell peppers, zucchini, etc.
**You'll want 2 cups of cooked grains, so follow the package directions for whatever grain you're using! Rice, quinoa, buckwheat, and kamut are all great options.