Serve up dinner in less than 30 minutes with this power bowl recipe featuring black beans and avocado pesto! Vegan with gluten-free options!
Black Bean Power Bowl with Avocado Pesto
Every time I ask you all what you want to see more of on Emilie Eats, I get an overwhelming amount of quick and healthy meals! answers. I hear you loud and clear! I totally get where you're coming from. Obviously defaulting to take out gets expensive and no one wants to spend 2 hours cooking dinner after a long day. HA, no thank you.
We may not have time to cook a 5-course meal (who wants to, anyway?), however I think it's important to make time for yourself to cook a nourishing meal. Slow down and smell the roses onions.
All that said, we all have shit we need to do and places we need to be, so easy, healthy meal ideas are still a necessity! Ya girl ain't got time to waste.
Meals in my book need to be:
healthy
satisfying
easy
made with affordable ingredients
Enter bowlzzzzzz. Forever & always. I never tire of a good power bowl and neither should you! The #bowloftheday is this delicious Black Bean Power Bowl with Avocado Pesto. This power bowl recipe is delish, packed with nutrients, and on the table in less than 30 minutes, so it's truly a winner all around. By the way, can we get that hashtag trending plz?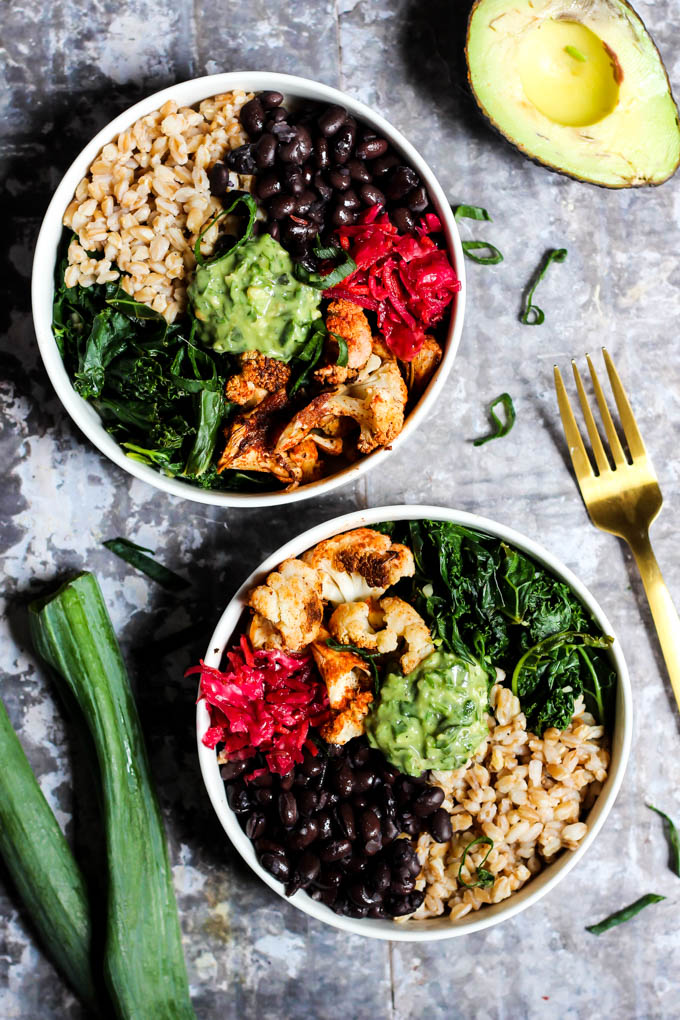 How to Meal Prep Black Bean Power Bowls
One of the best parts about power bowls is that they're super easy to make. But what if I told you they could be made even easier? Two words: meal prep. This power bowl recipe lends itself perfectly to meal prep because you can make all the ingredients one night and simply assemble when you're ready to eat!
The recipe yields 4 as written, although it can easily be scaled up to a double-batch if you're meal-prepping for your partner or family. Here's how to do it:
Follow the recipe to prepare each element of the bowl.
Once all of the cooked ingredients are prepared, pack each item individually into air-tight containers to store in the fridge
When you're ready to eat, simply assemble a serving of grains, beans, cauliflower and kale. Then, I recommend warming it up slightly (but not piping hot!), or you can enjoy cold.
Finally, add in the sauerkraut and top with the dressing. If you're packing your lunch on-the-go, I recommend packing the dressing, sauerkraut and any other toppings in a separate container so you can add them after warming up your bowl
Optional: pre-chop fresh herbs, raw red onion or any other garnishes you might want to add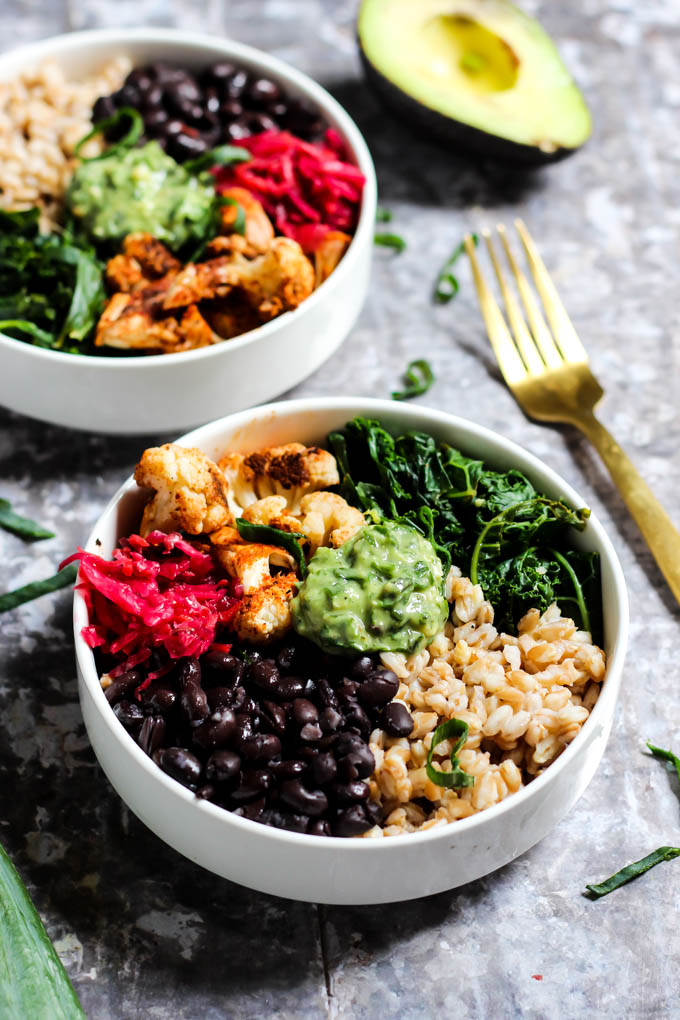 How to Make Power Bowls
Another reason I love power bowls is you can totally customize them.
Beans. I love using beans as the base of my power bowl recipes because they're packed with protein and fiber. You can also use any kind of beans you want – kidney beans, chickpeas, lentils, etc. Canned beans are great when you're in a pinch, but you can also whip up a batch of Instant Pot Black Beans in under an hour! Beans and grains are some of the cheapest foods, so eat up!
Grains. Any grain will do here. I used farro because I need to clear out my pantry (someone come help me eat all of it), but rice, quinoa, buckwheat, or even oats will work!
Greens. I love a dark leafy green in a power bowl. Wilting kale with a little bit of garlic like I did in this recipe makes it so delicious, and easier to digest. You could also use spinach or chard, but note that spinach is more delicate and will wilt more quickly. If you prefer a salad green like romaine, arugula or iceberg lettuce then by all means you can substitute, serve the greens raw
Veggies. Cauliflower holds up really well for meal prep and I love it in this power bowl combo, but feel free to use another veggie like broccoli, bell pepper or zucchini
Dressing. I hiiiiiighly recommend you try this avocado pesto. Because it's made with an avocado base, it's super creamy and satisfying. It totally makes this power bowl.
Toppings. Go crazy! For example, you can add fresh herbs, chopped red onion, lemon zest, a sprinkle of nutritional yeast, hemp seeds, hot sauce, a squeeze of lime – the possibilities are endless!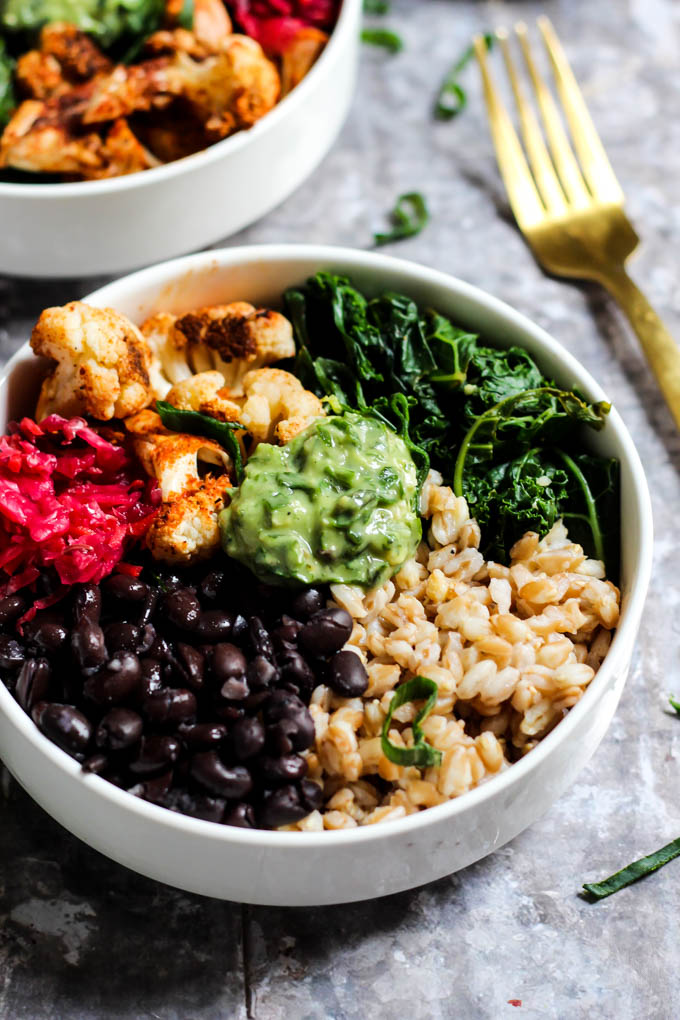 How to Make Avocado Pesto
So about that avocado pesto on top. Slather that shiz on everything and thank me later. For real though, this is the perfect dressing for a power bowl because it's super easy to make and crazy flavorful.
Not only does using avocado as the base make for a super creamy dairy-free dressing, but it also adds more fiber and nutrients to the power bowl. When blended with basil, spinach, lemon juice, garlic, and walnuts, you end up with a nutrient-rich, flavor-packed pesto that will inevitably make its way into your regular lunch rotation.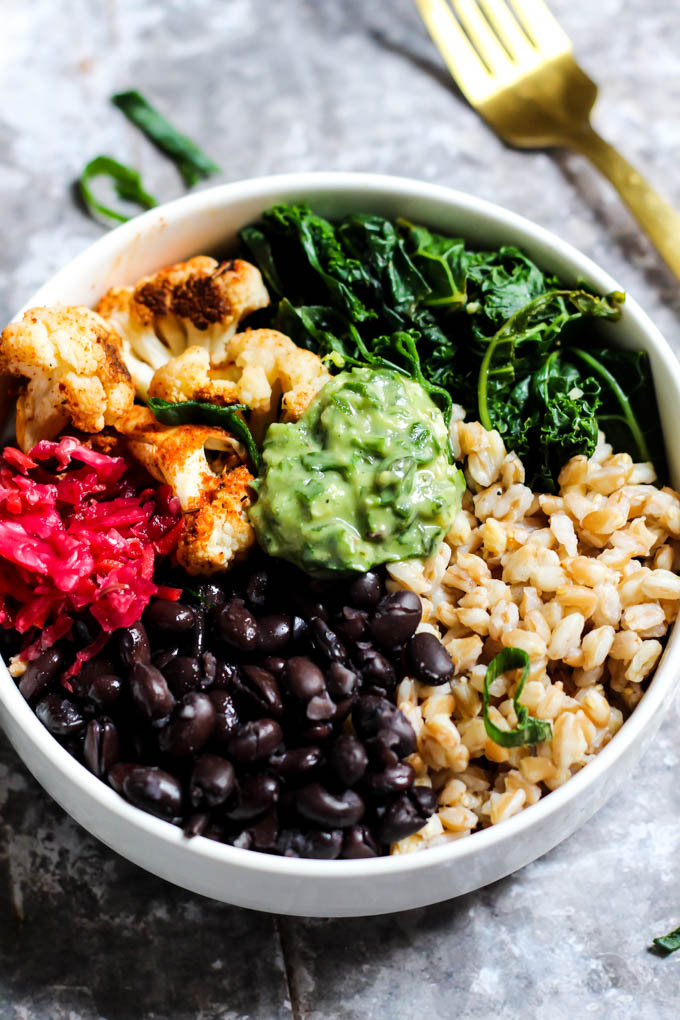 What's your favorite #bowloftheday? If you're looking for more healthy, meal-prep friendly recipes, check out these other bowl recipes on Emilie Eats: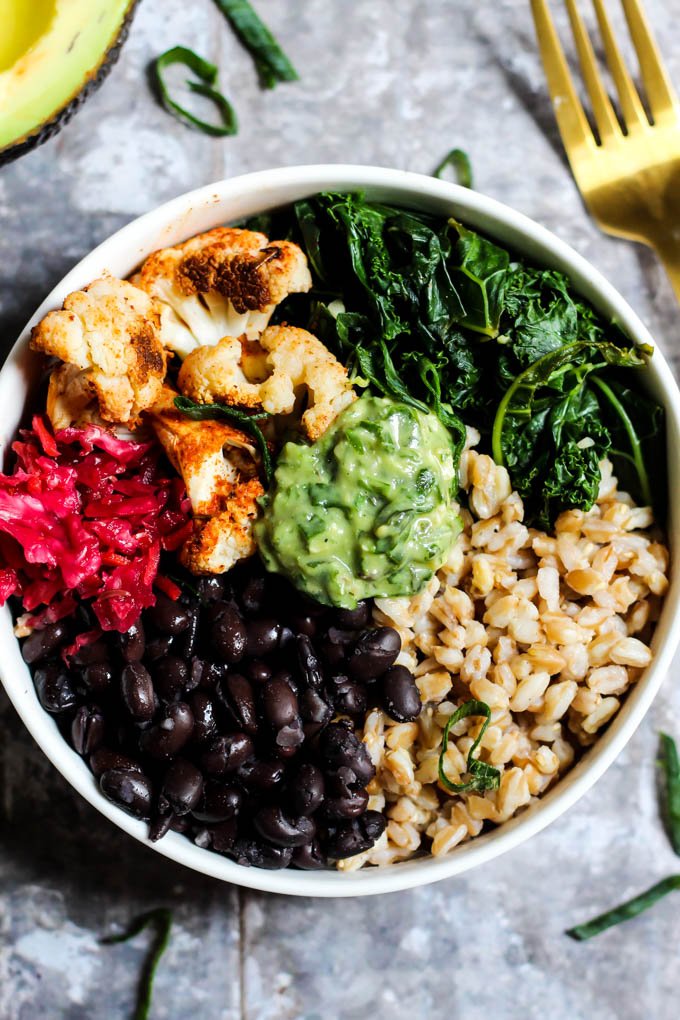 Print
How to make:
Black Bean Power Bowl with Avocado Pesto
Serve up dinner in less than 30 minutes with this power bowl recipe featuring black beans and avocado pesto! Vegan with gluten-free options!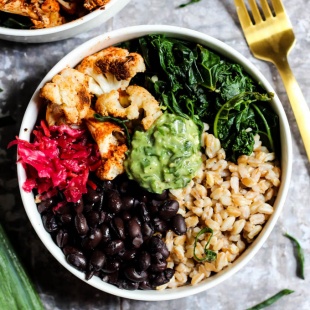 Ingredients
1

medium head cauliflower, chopped into florets*

1 teaspoon

paprika

1/2 teaspoon

garlic powder

1/2 teaspoon

onion powder
Salt and pepper

1 cup

farro, or other grain of choice* (gluten-free if needed)

1

bunch kale, chopped

1

–

2

cloves garlic, minced

2 cups

black beans, drained and rinsed

1/2 cup

sauerkraut
Sliced green onions or cilantro, for garnish
For Avocado Pesto:
1

avocado

1/4 cup

fresh basil, packed
Handful of spinach (optional)
Juice of

1/2

lemon

2

cloves garlic

2 tablespoons

walnuts
Instructions
Preheat oven to 400F. Lightly grease a baking sheet.
Place cauliflower florets on the baking sheet. Sprinkle with paprika, garlic powder, onion powder, salt, and pepper. Stir to coat evenly. Bake for 20 minutes, until tender.
In a medium saucepan, cook farro (or other grain) according to package directions. Transfer the cooked grains to a bowl.
In the same saucepan, heat a little water. Add kale, garlic, salt, and pepper. Cook until the kale is wilted, about 5 minutes.
To arrange bowls, add kale, grains, beans, cauliflower, sauerkraut, avocado pesto, and a garnish of fresh herbs.
For the avocado pesto: In a blender or small food processor, add avocado, basil, spinach, lemon juice, garlic, and walnuts. Pulse until smooth, adding a couple tablespoons of water if needed.
Notes
*You can roast any vegetables you want! Feel free to go with broccoli, asparagus, bell peppers, zucchini, etc.
**You'll want 2 cups of cooked grains, so follow the package directions for whatever grain you're using! Rice, quinoa, buckwheat, and kamut are all great options.