Enjoy a few Teriyaki Tofu Spring Rolls for a healthy lunch or dinner that's packed with fresh vegetables! Vegan, gluten-free & ready in under 1 hour.
It's crazy that most of the younger kids around here are back to school this week. What?? We just started summer a week ago – or so it feels. Thankfully in college, we have a couple more weeks to prepare for the overload of responsibilities that is the beginning of school.
Wasn't back-t0-school time the best when we were younger? I remember being SO PUMPED to go to Target and pick out all of our school supplies. If you didn't like school supplies shopping, you're lying. Markers, pencil bags, notebooks, folders with puppies on them (still use those), school bags. Everyone loved that ish.
*Side note: Do you say school bag, book sack, or backpack? I seem to have a heated debate on this topic with everyone & anyone this time of year. Just curious about what you call it. 🙊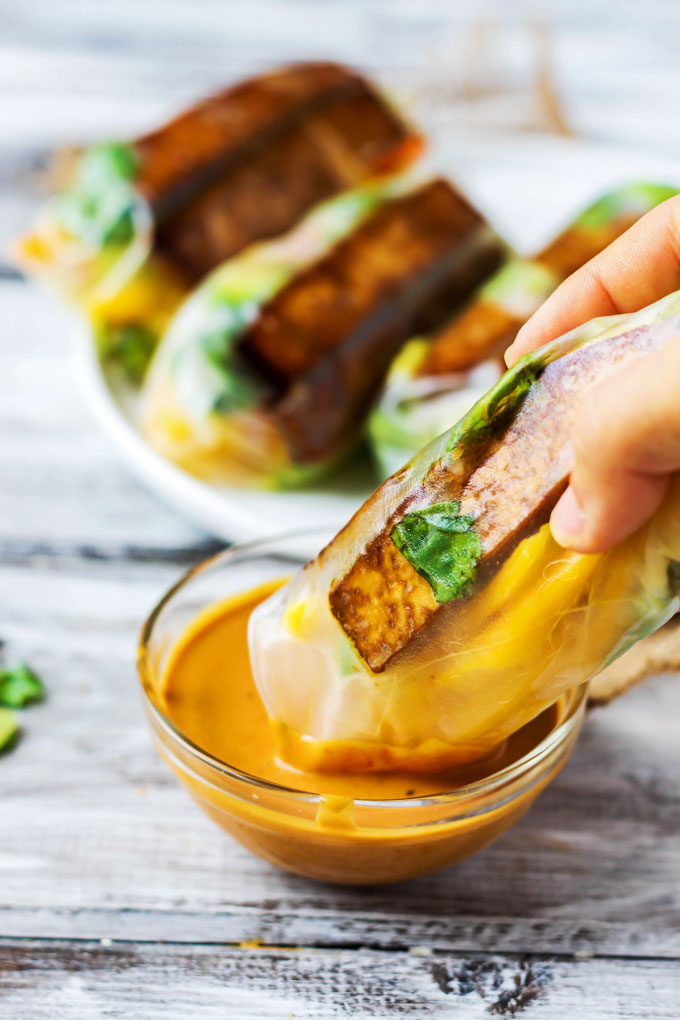 I still feel that same childhood twinge of excitement when the school year comes around. Yes, it's the end of summer, and things get super crazy busy. It can be overwhelming. But you also feel refreshed and ready to start something new. It's a clean slate, new classes, and new opportunities to grow and learn.
It's kind of like moving into a new apartment or house . While the home search and furniture shopping and endless boxes may be really stressful, it's fun to start new and make that space your own. I mean, who doesn't love decorating?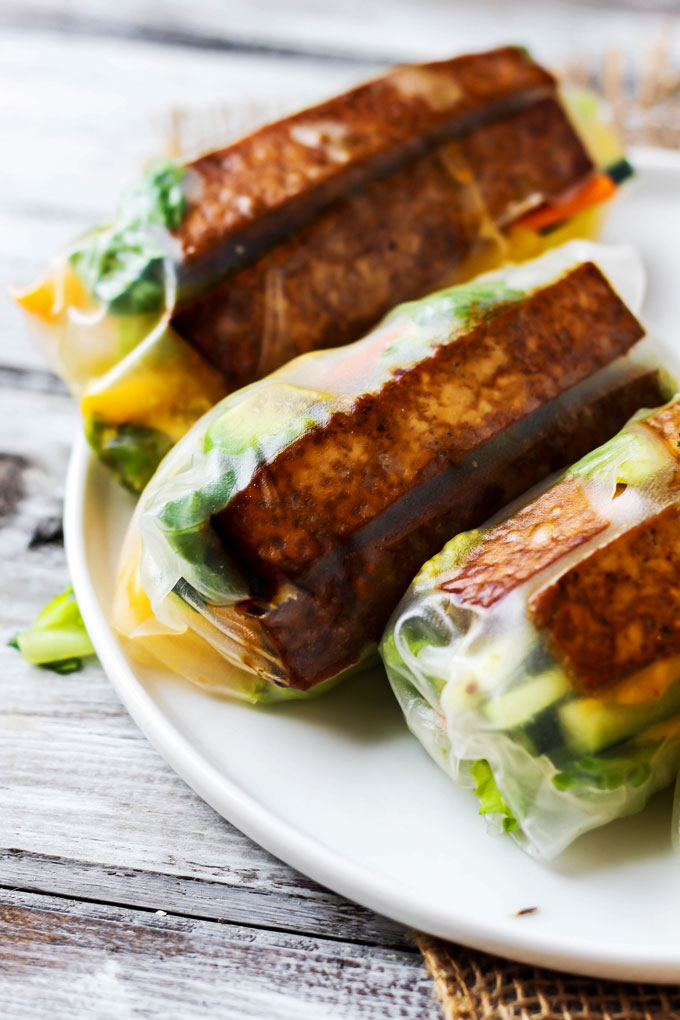 Of course, there is a little bit of fear as well with the start of the school year. I'm kind of starting to feel it already, 2 weeks out from the first day of classes. Will I be able to juggle all my responsibilities? How will I do in my classes? What if I get super stressed out and never catch up?
Who knows. So, let's just shop for cute puppy folders and pencil colors and forget the fear!
We also need to think about lunch packing. I don't know about you, but if I ate lunch at our Student Union every day, I'd be broke. And be honest – the food isn't even that great anyway. Time to rally up our easiest, healthiest, most delicious recipes that are great for on-the-go students, moms, business people – whoever. Let's start with these teriyaki tofu spring rolls!
[Tweet "Need some lunch packing inspo? These Teriyaki Tofu Spring Rolls are simple & healthy!"]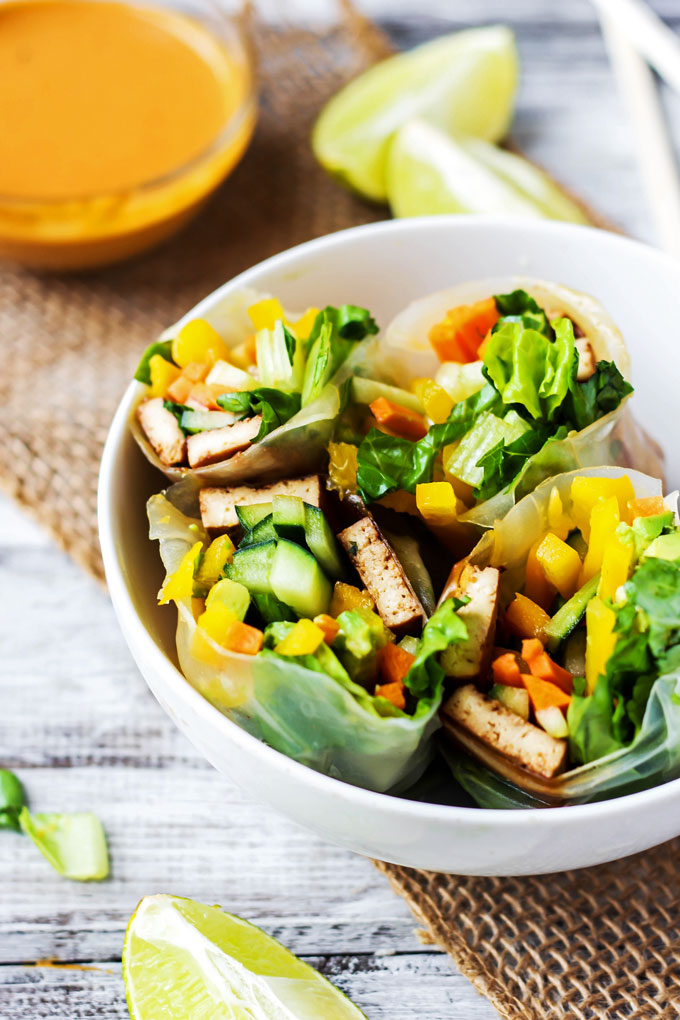 The tofu is baked to *perfection* in a flavorful teriyaki sauce (taken from my teriyaki tempeh lettuce wraps!) – no nasty, mushy tofu here. Then we chop up all of our favorite fresh vegetables, stuff them in spring rolls with the tofu, wrap it up, and call it lunch! You can choose any vegetables you want, but I went with romaine, bell peppers, carrots, mango for a sweet twist, and avocado, because you know we shall never forget 'cado.
These are easy to make ahead of time, and you can make as many as you want to prep for the week. Plus, once you wrap them all up, they're a no-mess meal you can easily pack in a lunch box or plastic bag. Or paper bag, if you're going super old school. 😎
Of course, you're going to want a small container to pack the Sriracha peanut sauce, because that ish is BOMB. If you don't like a lot of heat, go easy on the Sriracha. But if you like taking risks, put a little extra!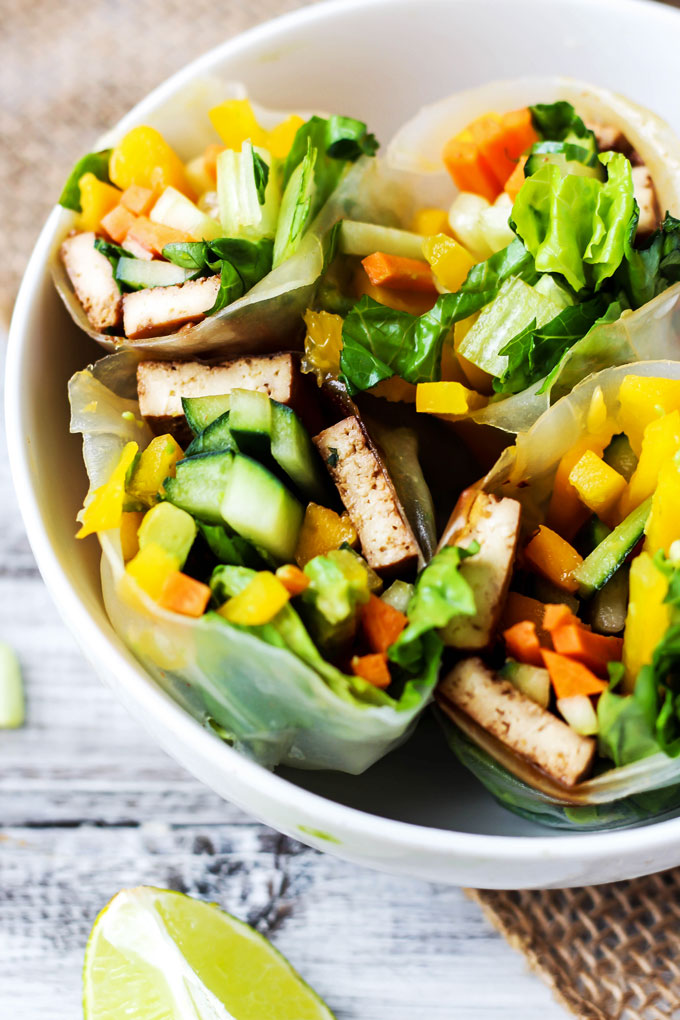 I know I'm all about packing these tofu spring rolls for lunch, but they would make an excellent light dinner, too! You can really customize them with whatever vegetables and fruits you want to stuff them with. The choice is yours!
If you get to try these out, let me know in the comments and post a pic on Instagram – tag @emilieeats & #emilieeats so I can see your lunch box creations!
How are you feeling about the beginning of the school year? Excited? Nervous? Did you buy your puppy folders yet? 😉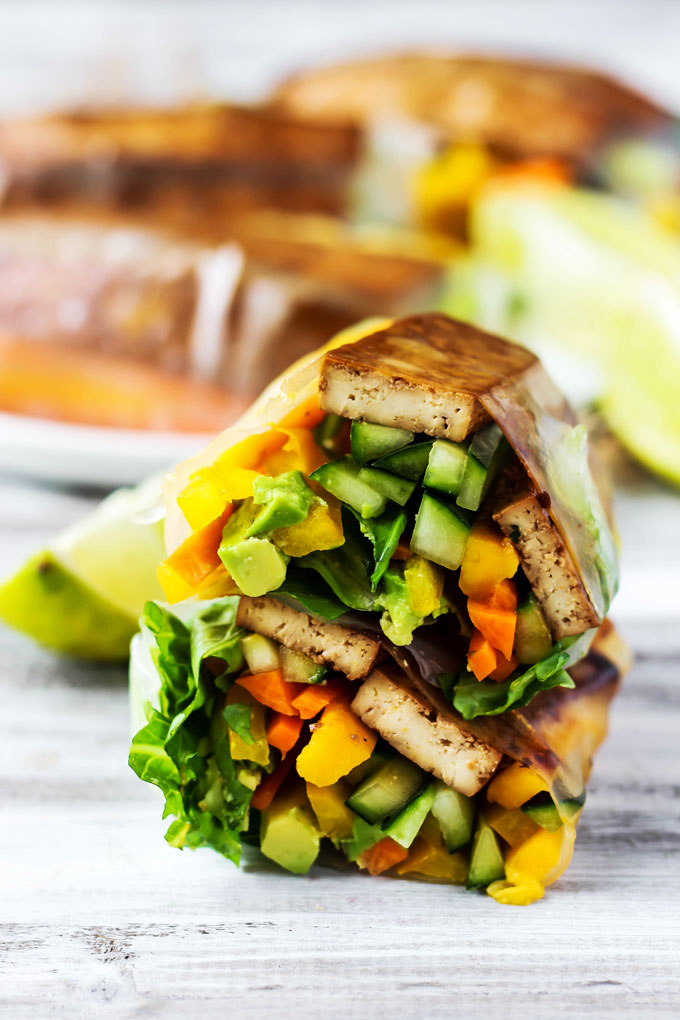 Print
How to make:
Teriyaki Tofu Spring Rolls with Sriracha Peanut Sauce
Enjoy a few Teriyaki Tofu Spring Rolls for a healthy lunch or dinner that's packed with fresh vegetables! Vegan, gluten-free & ready in under 1 hour.

Ingredients
1

14-ounce block extra-firm tofu

1/4 cup

+

1 tablespoon

organic soy sauce, divided

1 1/2 tablespoons

coconut sugar

1 tablespoon

tapioca starch or cornstarch

1 tablespoon

rice vinegar

1 teaspoon

garlic, minced (about

2

cloves)

1/2 teaspoon

sesame oil

1/4 teaspoon

ground ginger
Cooking spray or oil

10

spring roll wraps

2 cups

romaine lettuce, roughly chopped

1

bell pepper, thinly sliced

1

small mango, peeled and thinly sliced

1

large carrot, thinly sliced

1/2

cucumber, thinly sliced

1

avocado, thinly sliced

2 tablespoons

natural peanut butter

2 teaspoons

Sriracha sauce
Juice of

1/2

lime

2 tablespoons

water
Instructions
Drain the tofu. Wrap in several paper towels; place in the sink. Place a heavy object (such as a large pot with a heavy weight inside) on top of the tofu to press the water out. You can also use a tofu press. Let the tofu drain for 15 minutes.
Preheat oven to 375F. Lightly grease a baking sheet with oil or cooking spray.
In a small bowl, whisk together 1/4 cup soy sauce, coconut sugar, starch, vinegar, garlic, sesame oil, and ginger. Cut tofu into 10 slices, add to the bowl, and toss to combine. Let sit for 5-10 minutes.
Place tofu in a single layer on the baking sheet. Bake for 20-25 minutes, until crispy on the edges.
While the tofu is cooking, chop and slice your vegetables and fruits.
In a small bowl, add peanut butter, Sriracha, lime juice, water, and 1 tablespoon soy sauce. Whisk to combine; set aside.
Add hot water to a skillet or shallow dish. Have a separate damp plate ready. Place each spring roll wrap in the water for 15 seconds, then transfer to the damp plate and spread out the edges.
Place a slice of tofu and some romaine, bell pepper, mango, carrot, cucumber, and avocado in the center of the wrap. Tuck in the edges, fold one side over tightly, and continue to roll. Place seam side down on a plate. Repeat with all spring roll wraps.
Serve with peanut sauce and dip away!
Need more lunch-packing inspiration? Check out these 10 Healthy Vegan Lunches for Work (or School!).