Lunch. It's that awkward meal between the I-woke-up-just-for-this breakfast and the give-me-the-food dinner. It's kind of like the middle child of the meal family.
Don't get me wrong – I love lunch. But while I enjoy cooking a hearty breakfast and preparing a comforting dinner at the end of the day, I don't really feel like putting that much effort into packing my lunches. 99 percent of the time, my lunches are leftovers or some random things I threw into a container and ate together. Anyone else?
My search for healthy, packable lunches began out of serious HANGER. On Tuesdays and Thursdays, I have class from 9-4:30, with a 1.5 hour break in between when I just chill on campus. For the first week or so of school, I ate breakfast before I went to class and didn't eat again until I was done at 4:30. I know – THE HORROR.
Let me remind you (if you can't tell), I'm not one of those people that "forgets to eat." What?! Who are you? I'm already thinking about the next meal when I'm eating the current one. Needless to say, I couldn't take not eating for that long. So, I made a plan to pack my lunch from then on!
I found some super awesome recipes that are perfect for packing for work or school. Most of them you can prep on Sunday and enjoy for the rest of the week. All you need are some portable lunch containers and you're good to go! I love these glass containers, these plastic containers, and, if you're looking for a divided container, Planetbox!
I can't wait to start making these meals to take to class with me. Enjoy these delicious vegan lunches for work or school – I know you'll find at least one you love!
1. Spiralized Asian Quinoa Salad with Peanut Dressing
Noodles, anyone? Get in your veggies with this Asian Quinoa Salad. It soaks up the flavor of the peanut dressing as it sits, so it's perfect for making at the beginning of the week and having for lunch for days!
2. Thai Tempeh Buddha Bowl from Fit Mitten Kitchen
Buddha bowls are all the rage, for good reason. Just stuff a bunch of nourishing ingredients into a bowl (or container) and you're good to go. Ashley makes it easy for you by giving you the perfect high-protein Buddha bowl formula.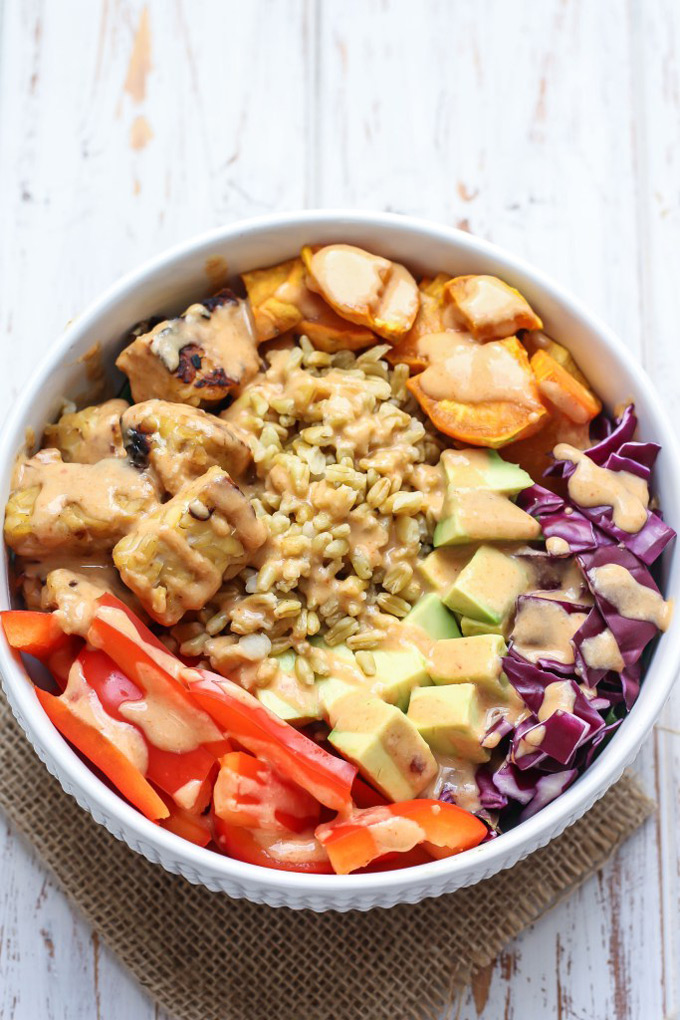 3. Spicy Buffalo Chickpea Wraps from Minimalist Baker
Sick of sandwiches? Go for a wrap. The spicy chickpeas will give you a mid-day kick and will definitely fill you up. Pack this with a piece of fruit or some veggies!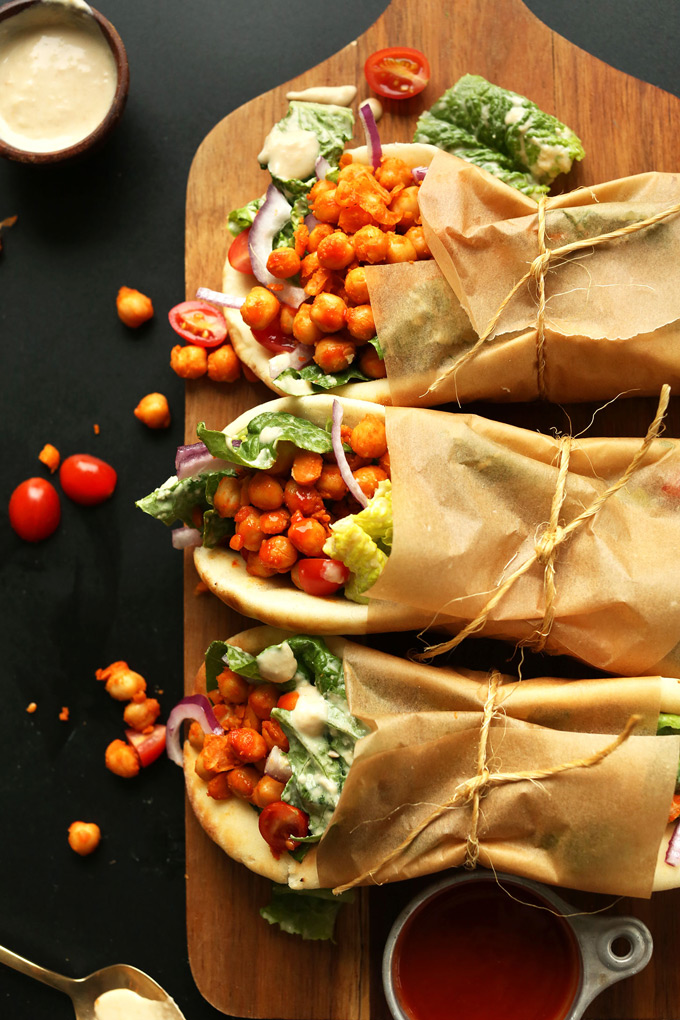 4. Chickpea Salad from Oh She Glows
But if you ARE craving a good, classic sandwich, this Chickpea Salad is perfect for you. I've made this recipe many times, and it just gets better and better. Enjoy it with toast (I love Ezekiel bread!) or in lettuce wraps, or even on its own!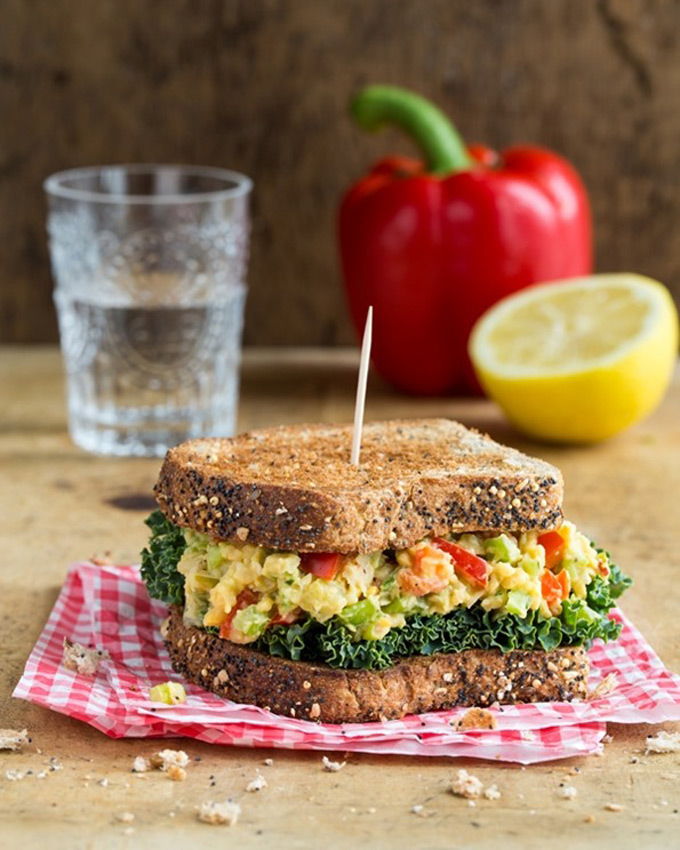 5. Chopped Kale Salad with Edamame, Carrot and Avocado from Cookie and Kate
It's 2016, so by now you should love kale. If you're still not sold, make this salad and I bet you'll change your mind! Tender kale with veggies and avocado is completely irresistible and perfect for a healthy lunch.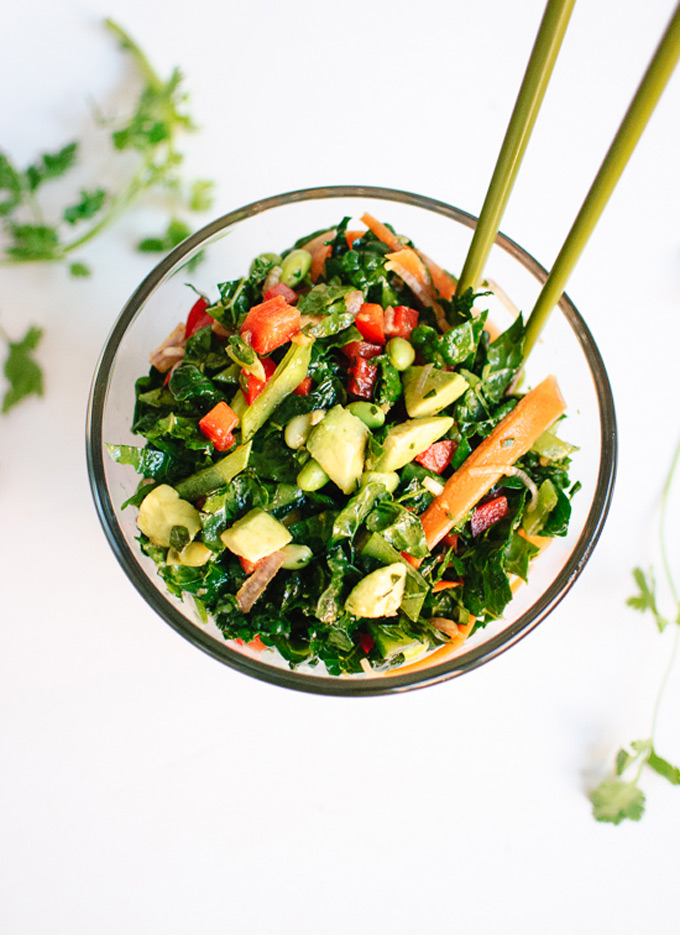 6. Curried Chickpea Salad from Hummusapien
This. Recipe. I've made this a dozen times, and every time I love it more and more. I mean, first, chickpeas. Then the add-ins. Then that magnificent SAUCE. Trust me, you'll want to lick your blender. I did.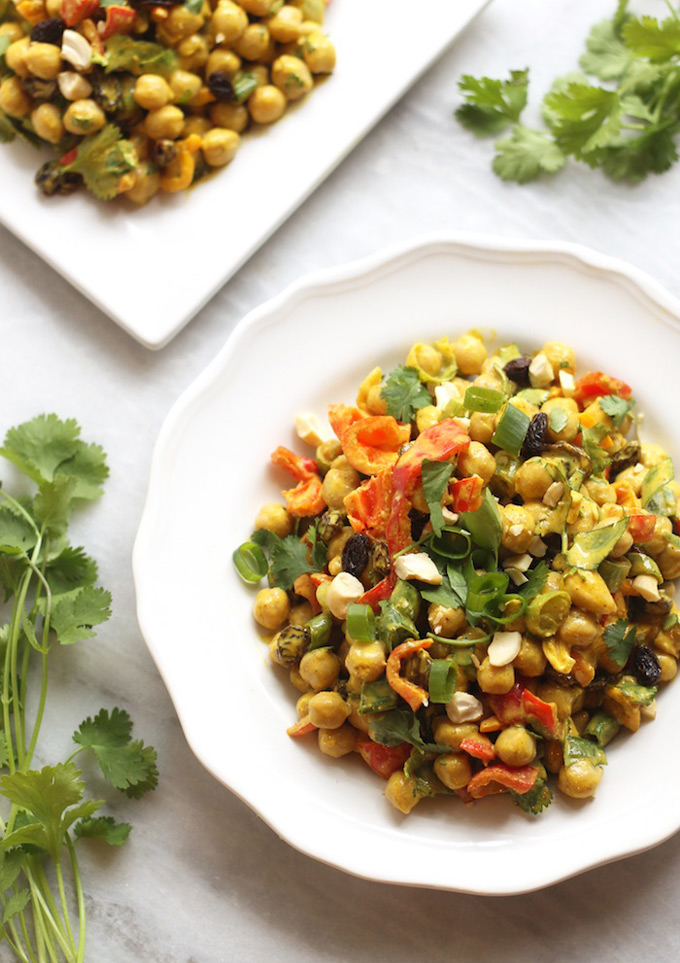 7. Avocado Quinoa Harvest Bowl from In It For the Long Run
From the queen of fancy schmancy (but simple) bowls herself! Georgie made a beautiful quinoa bowl that I am just dying to try. Filled with lots of greens and healthy fats, this bowl will definitely keep you full throughout the day.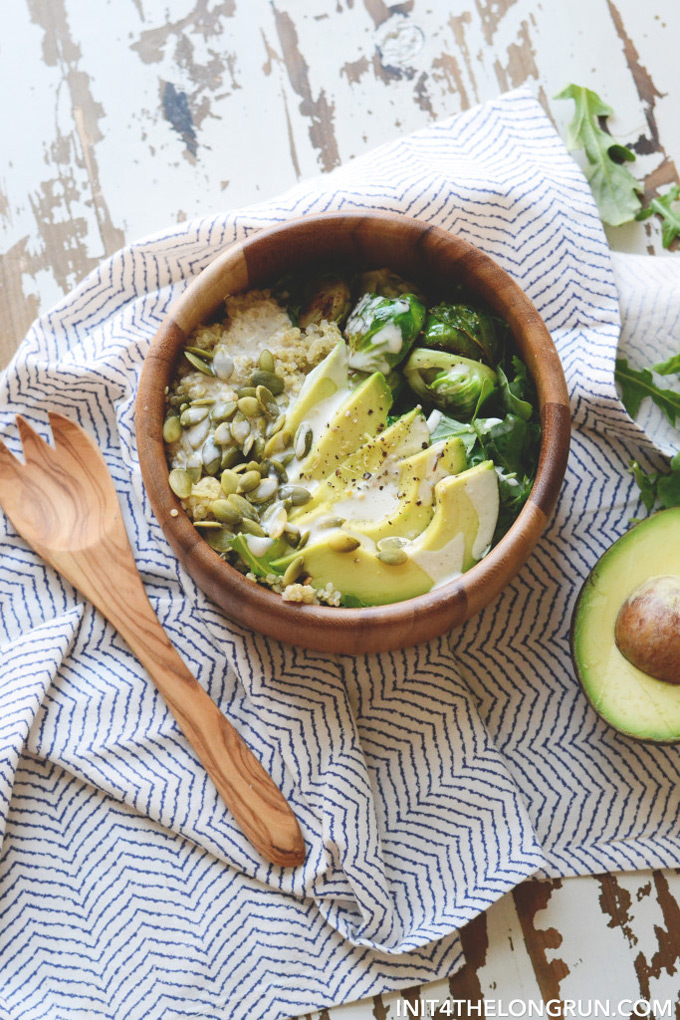 8. Chunky Chickpea Quinoa Tabbouleh
Ah, my first post. They grow up so fast… I'm happy this was my first post because this is one of those recipes that I actually make on a regular basis. It's an easy one-bowl meal – chop, throw in the bowl, and mix. I love making a batch at the beginning of the week so I can munch on it for days.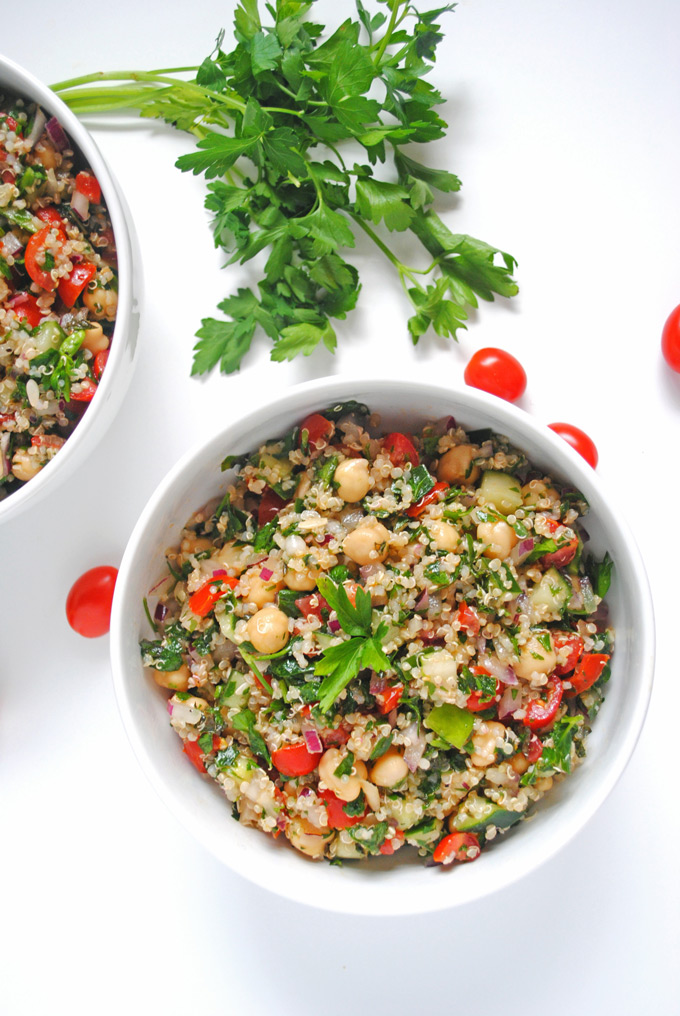 9. Vegan Sushi Bowl from It Doesn't Taste Like Chicken
Everything you love about sushi – in a bowl! And you probably get more food, because those little rolls don't fill anyone up anyway. Just throw all of the ingredients in a container, and you're set for lunch!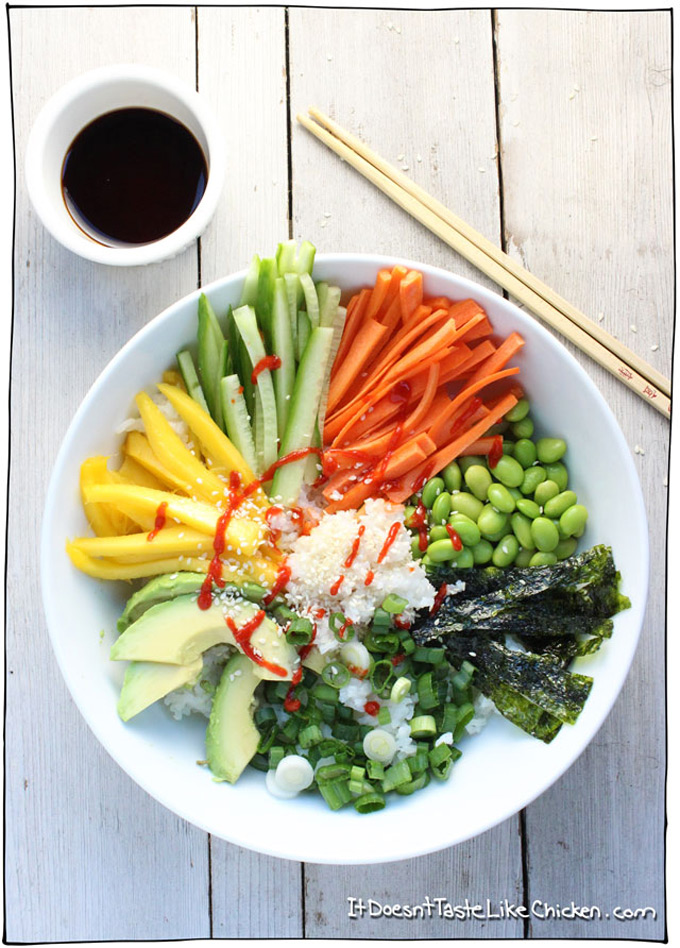 10. Vegan Loaded Sweet Potato from The Foodie Dietitian
You had me at sweet potato. THEN with all the toppings you want? Completely drooling. Pack a sweet potato in your lunch box with a side of veggies or fruit for a seriously satisfying (and super nutritious!) lunch.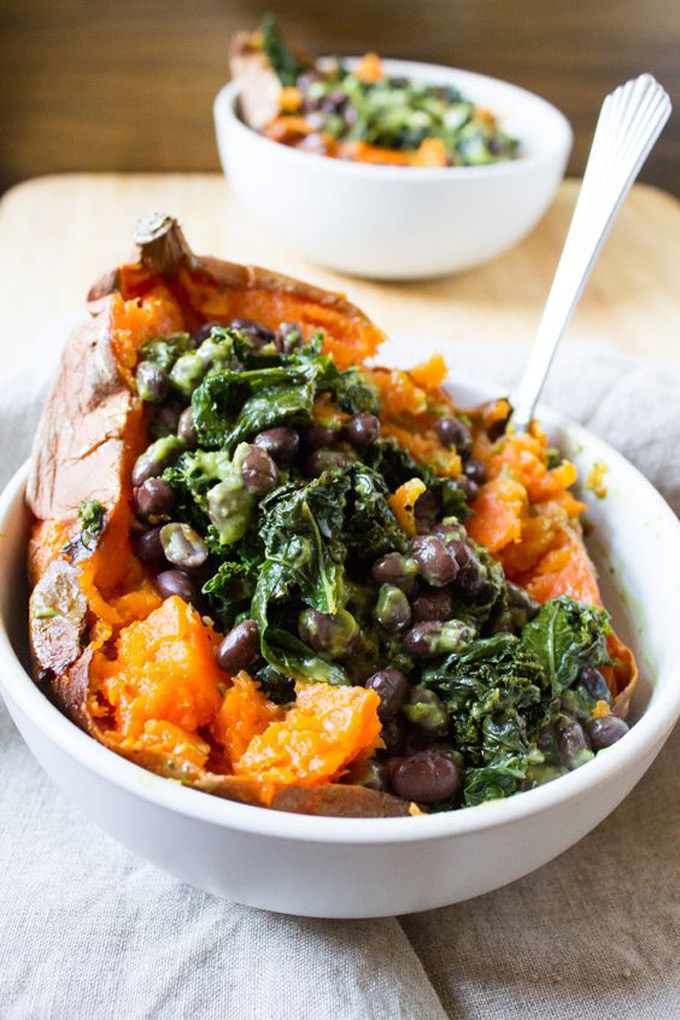 ---
I hope you enjoyed these lunch ideas for work or school! They definitely will become part of my rotation as I try to get better at packing my lunches.
What do you like to pack for lunch?