Helloooooo, 2016! You're already looking mighty fine? Mostly because we're starting the year off right with the creamiest, dreamiest avocado green smoothie you ever did blend.
How was your New Years night? Cayden and I had a date night yesterday, then we just stayed in and watched movies. I couldn't think of a better way to start the year! (Maybe on a beach somewhere, but whatever I'll let it go…)
You might be feeling refreshed, optimistic, ready for the new year…or hungover. Either way, this smoothie is the perfect start to 2016! What better way to kick off your resolution to eat healthier than with a green smoothie? I can't think of anything soooo start blendin'!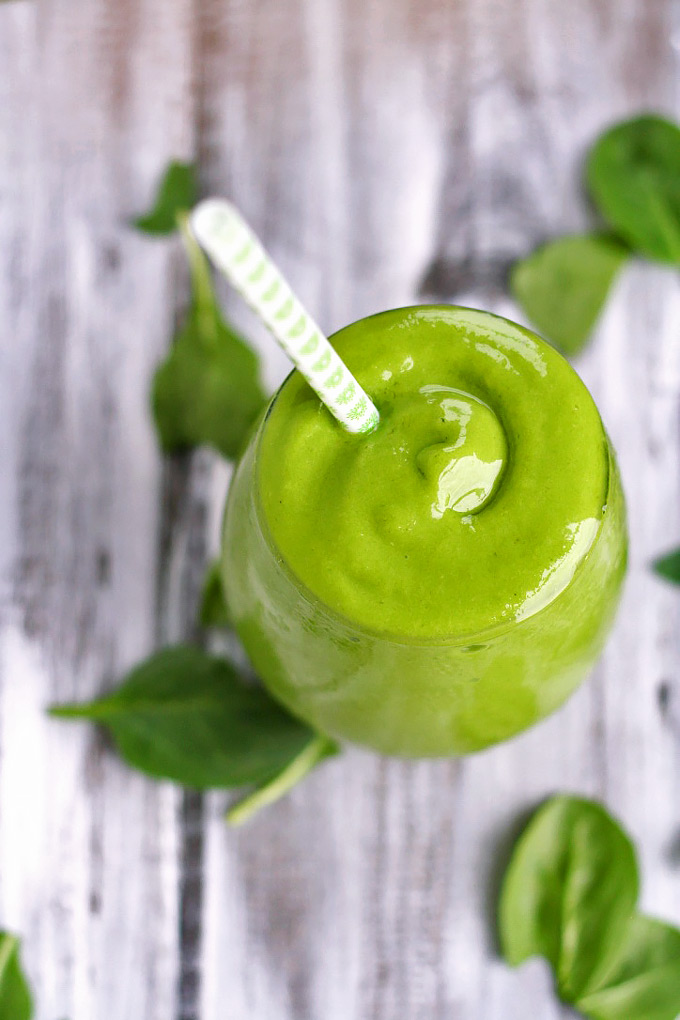 This smoothie is super simple, requiring just 5 ingredients and a blender or food processor. Of course you know by now that I'm borderline undeniably obsessed with my NutriBullet, so if Santa didn't leave one for you under the tree, go ahead and treat yourself! It's totally worth it.
This is actually my go-to smoothie recipe! I love buying the frozen mango chunks from Trader's Joe (and pretty much everything else at TJ's tbh) to throw in my smoothies. Fun fact, I used to drink a green smoothie every day! I'd love to get back into that routine, or at least have one most days. I mean, I looooove greens and veggies and the sort, but if I can sneak them into a delicious fruity smoothie, I'm on board?
I highly recommend freezing your fruit for the creamiest smoothie imaginable – I like to freeze a ton at a time so it's super convenient to grab and blend! You can even throw in a scoop of your favorite vegan protein powder. But for goodness' sake DON'T skip the avocado. It's full of healthy fats to keep you full, and it makes this smoothie so creamy and dreamy you'd think it was a milkshake. No joke?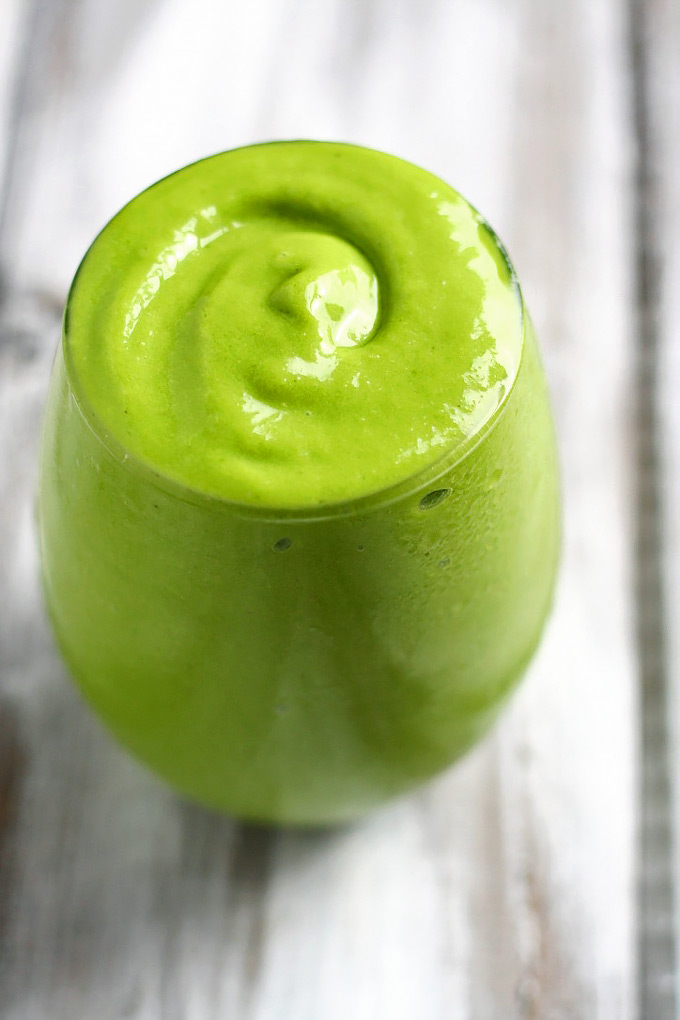 Besides drinking more green smoothies, I have a few goals for 2016. I never really did "resolutions," but I just took time at the end of one year/start of another to reevaluate what I'm doing and where I want to be. 2015 was an awesome year, so I know I have so much potential for what I can achieve in 2016.
I want to manage my time better. Drink more water. Wake up earlier, go to sleep earlier. Get a BOSS internship this summer in a cool city. Build the blog even bigger. Start going to Les Mills classes again. Stay offline when I'm with family and friends. Make time for myself. Pat myself on the back for what I've achieved instead of knocking myself down for a slip-up.
These are goals I have for myself every month, but the start of a new year is just the most refreshing time – it's like the slate is (kind of) wiped clean, and you can move forward from anything that happened the previous year.
So let's raise our green smoothies up to a new year!!!
One last thing before I give you the recipe for the creamiest smoothie you ever laid eyes on?
I would LOVE for you to take this quick survey! It's so awesome getting feedback from my readers on what you like, don't like, or want to see more of! Because, obviously, all of this is for you. That was always my goal with the blog – to help people live healthier lives by sharing delicious recipes you can make in your own kitchen. It's a joy and an honor to be a part of this little Internet world and share my kitchen adventures with you. I feel so #blessed.
I'd be super duper thankful if you took the survey so I can make 2016 even better for you! And as always, you can contact me with any other thoughts/comments/concerns/ramblings/etc.
THANK YOU so much for making my first months of blogging the most rewarding, exciting months of my life. I can't wait for more!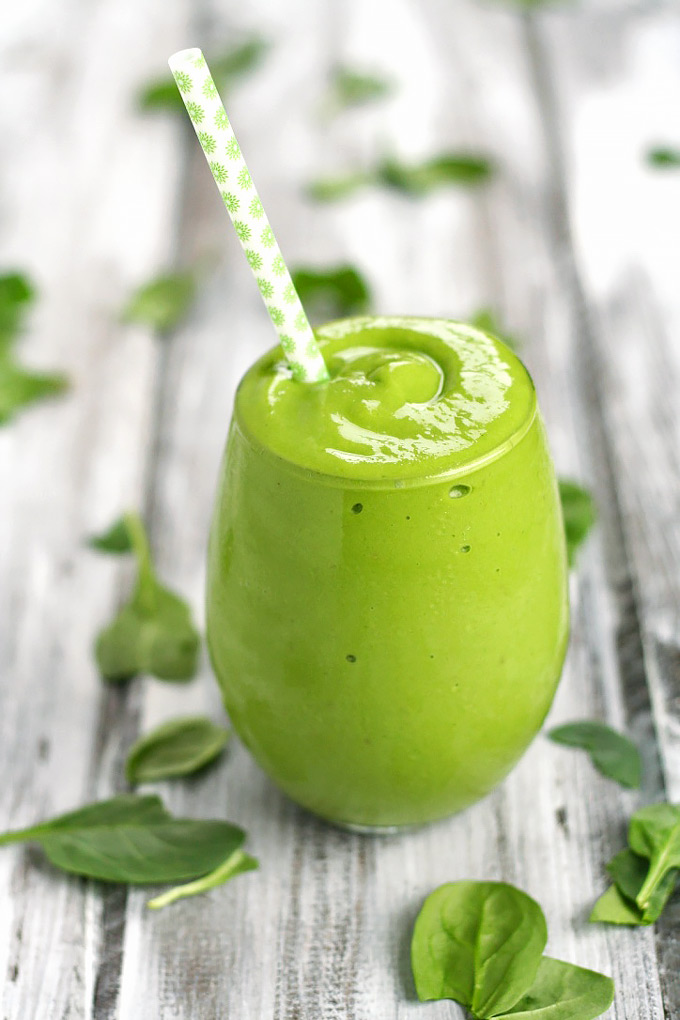 Print
How to make:
Banana Mango Avocado Green Smoothie + A Reader Survey!
What better way to start eating healthier than with a green smoothie? This Banana Mango Avocado Green Smoothie is simple, creamy, and refreshing!

Yield:
1

large or

2

small smoothies

1

x
Ingredients
1

banana, frozen

1 cup

mango chunks, frozen

1 cup

spinach

1/2

medium avocado

1 cup

almond milk or other non-dairy milk
Splash of vanilla extract
Few drops of stevia extract or other sweetener (optional)
Instructions
In a blender or food processor, place all ingredients.
Blend until smoothie. Pour into 1 large or 2 small cups.
Enjoy!