This post was sponsored by Orgain. I only work with brands whose products and missions I truly believe in. Thanks for supporting my blog!
More balls!!
Okay, sorry, I really just can't help it. I couldn't even stop myself when I made my first batch of protein balls. Is that immature of me? I dare you to write a blog post about protein balls without making one joke. Anyway, onto these balls…
You guys love the chocolate covered chickpea protein balls I made a few months ago, and I definitely love them too! They're super easy to make when you're meal prepping for the week and are great snacks to grab and go if you're in a hurry. So, why not make them even better by making them chocolate?!
I used chickpeas last time since the balls were more reminiscent of vanilla blondies, but I went with black beans here since we're doing the chocolate thang! Think of these as those black bean brownies you always see on Pinterest, but in healthy, bite-sized balls. Everything is better in mini form.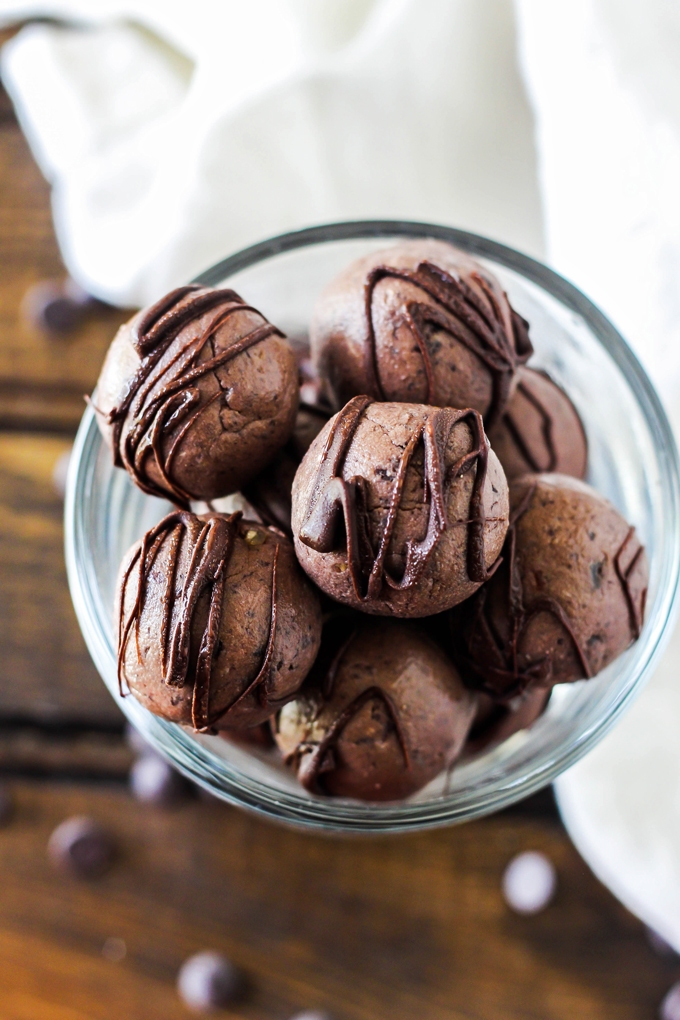 When most people go vegan or just reduce their animal product consumption, their first thought is usually, "BUT PROTEIN!! Where's my protein?" Oh, young plant-powered grasshopper, not to worry one bit.
Turns out, you can get all the protein you need from plants! Yes, plants🌱 Like the black beans in these balls! As long as you're eating enough and enjoying a variety of whole plant foods, you'll get enough protein. Promise.
But if you feel like you need a boost, there are so many plant-based protein powders available! However, some have weird fillers and lots of sugar and other nasties. Nope, we'll pass on those, friends.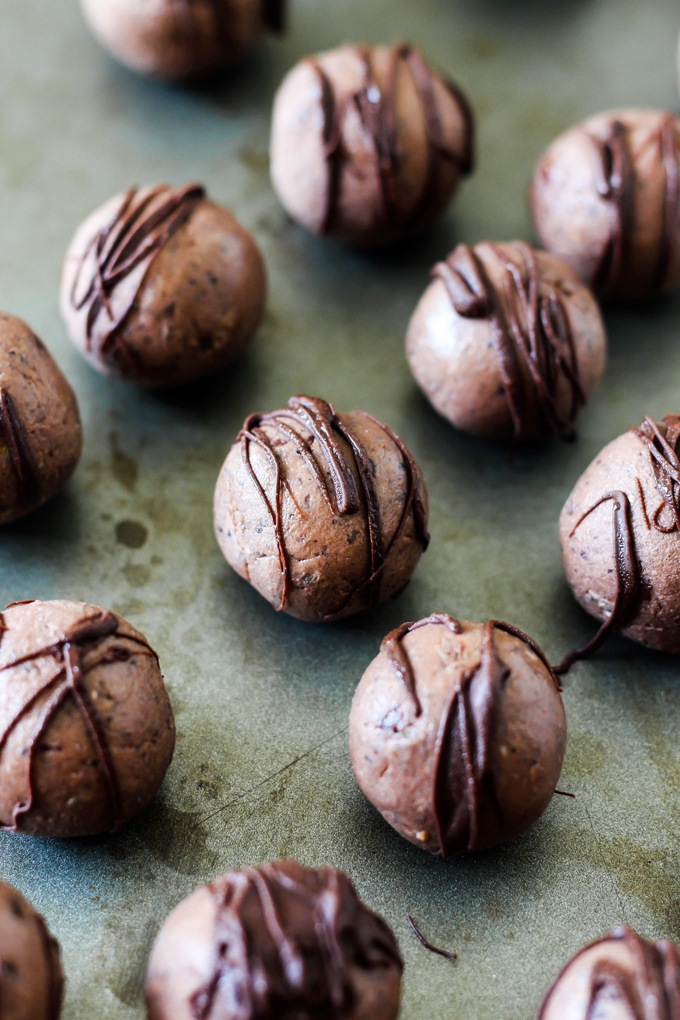 I was super excited when Orgain asked me to remind all of you to "Get Picky with Your Protein" because I've enjoyed Orgain's products ever since my boyfriend introduced me to them. I first tried their almond milk which has 5x as much protein as normal almond milk, then tried their protein powder – which is NOT chalky at all and only contains the best ingredients! That's what we want.
We don't have to settle for nasty plant-based protein powder anymore. Orgain's products are vegan & organic, don't contain anything artificial, and are packed with 21 grams of protein per serving. It's important to me to only buy products that are both nutritious and delicious, and Orgain fits the bill.
If you're still choking down gritty protein powder with a frown on your face, do yourself a favor, get picky with your protein, and grab some Orgain. And then make these balls.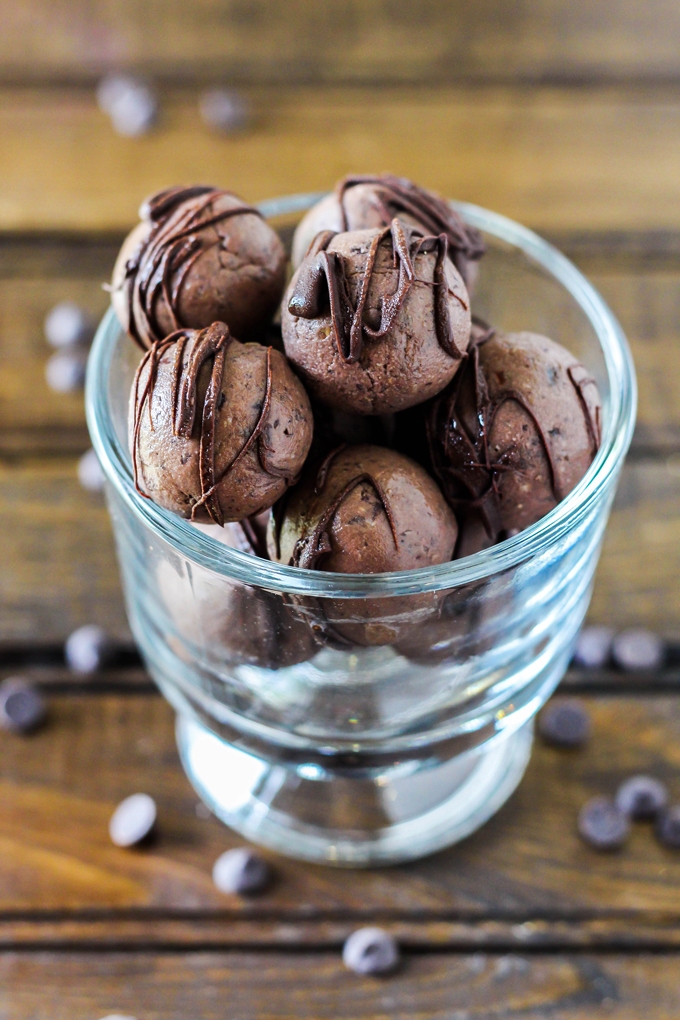 I love having these on hand to snack on when that 4 p.m. hanger monster comes to visit (anyone else?). I can grab some to take on the go for a snack, or enjoy a couple after dinner for dessert. Who knew beans could be so sweet?
If you make this or any of my recipes, snap a pic, post it on Instagram, and tag me @emilieeats! I love to see all of your pictures.
To learn more about Orgain and their delicious products, check out this video!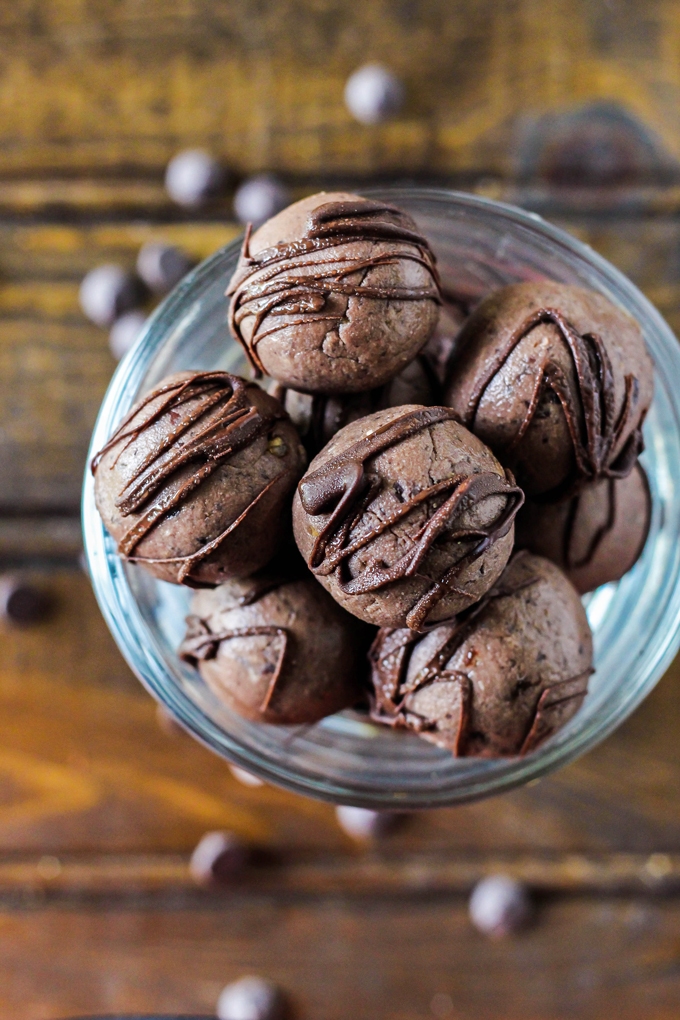 Print
How to make:
Black Bean Chocolate Protein Balls
Thanks to fiber-packed beans, these Black Bean Chocolate Protein Balls are a healthy way to indulge your sweet tooth at snack time! Vegan & gluten-free.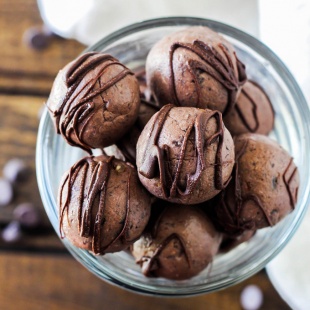 Ingredients
3

–

4

pitted dates

1

15-ounce can black beans, drained and rinsed

1/3 cup

chocolate protein powder

1/4 cup

almond or peanut butter*

2 tablespoons

unsweetened applesauce

1 tablespoon

cocoa powder

1/2 teaspoon

vanilla extract

1/4 teaspoon

salt

1 tablespoon

non-dairy milk

1/4 cup

dark chocolate chips (optional)
Instructions
Line a baking sheet with wax paper or foil.
In a small bowl, add dates. Cover with boiling water; set aside for 10 minutes.
In the bowl of a food processor, add dates, black beans, protein powder, almond butter, applesauce, cocoa powder, vanilla, salt and non-dairy milk. Pulse to combine until all ingredients are mixed together and smooth; stop to scrap the sides if needed. It should be like a soft dough texture.
Roll the dough into 15-20 balls. Place each ball onto the wax paper. Place the baking sheet in the fridge.
In a small bowl, add chocolate chips. Microwave in 30-second intervals, stirring in between, until the chocolate is completely melted. Drizzle the chocolate over the balls. Return to the fridge, or enjoy as is.
Store in an airtight container in the fridge for up to 1 week.
Notes
*If you have a nut allergy, use a seed butter like sunflower seed butter.
Thanks to Orgain for sponsoring this post! I love working with brands whose products I really love and would honestly recommend. Thank you for supporting this blog that I love oh-so-much so I can bring you delicious recipes!