I was going to write this post all about challenges. Especially at the beginning of a new year, we're encouraged to challenge ourselves, face our fears, try something new, and conquer our dreams. I was all ready to sit down and talk to you about challenges and this avocado smoothie, then…
My wifi went out. Of course. The biggest challenge of all. The universe must be testing my patience.
I've been in this apartment for a little over two months, and overall, I really love it here. The location is perfect – on the bus route to campus and close by to a beautiful city park. Leo🐱 and I are finally settled in and mostly organized. I love the ample storage space in the kitchen and my simple bedroom, and he loves looking out the window sitting atop his cat tree. Man, I love that little guy.
Anyways, all has been fine and dandy… except the wifi. It's unpredictable and quick to go out at the exact time you need it most (like when a paper is due or when I need to write a post about a creamy avocado smoothie). Look, I know there are much, much bigger problems in the world than my wifi, but as someone who mainly works online, it definitely is a frustrating situation!
Buuuut I guess it was only fitting that when I wanted to write about challenges, I faced a big one of my own. I sucked it up, dragged my butt to the nearest coffee shop, and kept on working. When life tries to bring you down, drink an avocado smoothie and act like the superhero that you are. That's my motto, at least.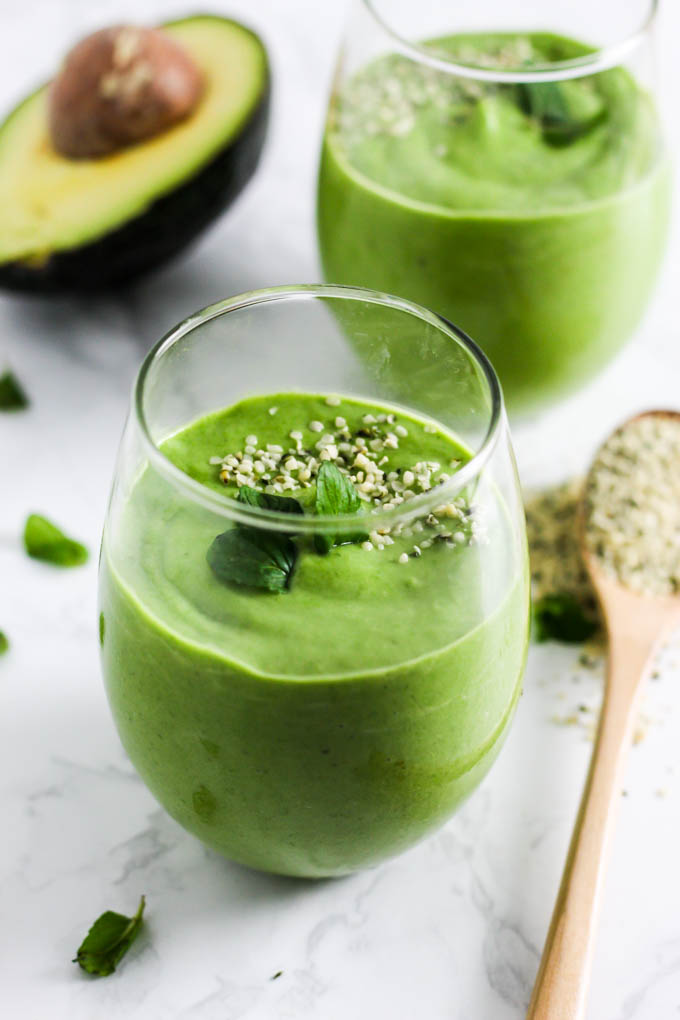 I wanted to talk about challenges because some of you might be thinking, "Avocado? In a smoothie?! No way. I just got on board with spinach in my smoothie. No more vegetables." Trust me, I get it. You may be weirded out. It's new, unknown, and… super duper green.
Or you might be really excited about avocado in a smoothie because HEYYY avocados are basically a food group on it's own for you. Team Avocado Lovers, woo! (P.S. I really need to update my phone so I can use the avocado emoji. Ugh.)
So, if you haven't tried avocado in your smoothie yet, how about you challenge yourself to try something out-of-the-box? New year, new you… right? It's makes it so damn creamy that you'll never make a smoothie without avocado again. Pinky promise.
I promise there's no gross vegetables taste in da house💁. The sweetness of the mango and refreshing fresh mint cover it up quite nicely! I highly recommend using fresh mint in here – mine is from my mom's garden, so you can't get any fresher than that. But use what you can find!
Feel free to make it thicker by adding less liquid or more runny by adding more liquid. I usually make mine thicker because smoothie bowls, duh. Which mean all da toppings!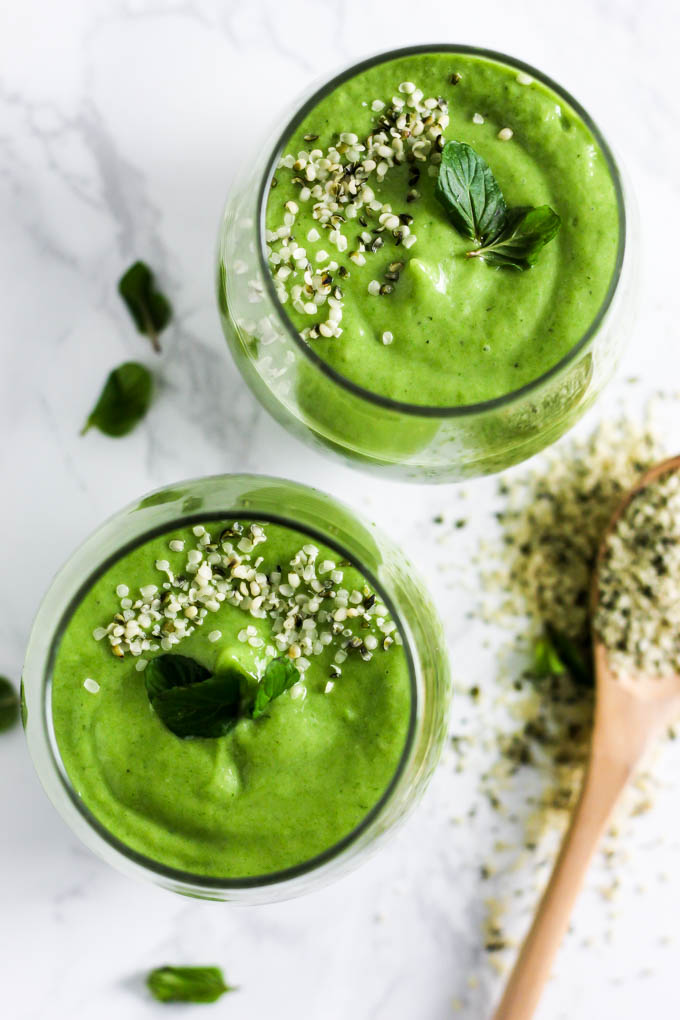 I love enjoying this avocado smoothie with a piece of peanut butter toast in the morning, or on its own as a mid-afternoon-hanger-strike snack. The mango satisfies my sweet tooth, while the healthy fats in the avocado keep me full until the next meal. That's what you call a perfect smoothie, in my opinion.
Have you ever tried avocado in your smoothies? I promise you'll never go back! If you try this refreshing smoothie recipe, be sure to let me know in the comments and post a picture of your mean green creation on Instagram. Tag me in the photo and use #emilieeats in the caption so I can see it and smile for the rest of my life. 💚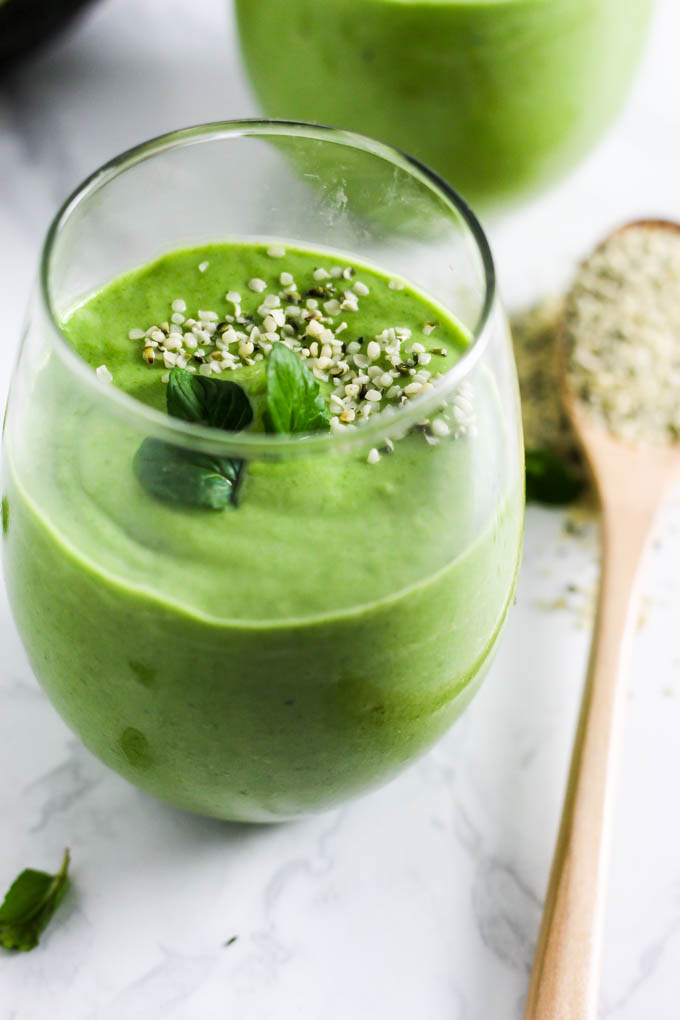 Print
How to make:
Mango Mint Avocado Smoothie
This Mango Mint Avocado Smoothie is a perfect refreshing drink to enjoy for breakfast or a snack. Naturally sweet from mango & satisfying thanks to avocado!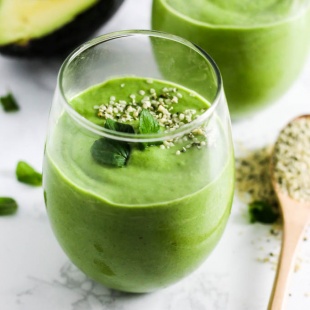 Ingredients
1

banana, frozen

1/2

avocado

2 cups

spinach

1 1/2 cups

mango chunks, frozen

1

scoop vanilla plant-based protein powder (optional)

1/4 cup

fresh mint leaves, packed

1 tablespoon

hemp seeds

1 teaspoon

vanilla extract

1 cup

water or non-dairy milk, plus more if desired
Instructions
In a blender or food processor, add all ingredients.
Blend until smooth, adding more liquid if desired. Divide between two cups or bowls.
Top with fresh mint, hemp seeds, sliced banana, flax seeds, or any other toppings.
---
You may also like…
Banana Mango Avocado Green Smoothie