This post was sponsored by One Degree Organic Foods. I only work with brands whose products and missions I truly believe in. Thanks for supporting my blog!
Can we just take a moment to have a round of applause for how fluffy these almond butter muffins are?!👏🏼 Every time I bake muffins, I brace myself for the possibility of opening the oven to find flat, tasteless, hockey-puck-like baked goods (or baked bads, really).
But somehow, by some miracle, 9 out of 10 batches come out looking perfectly plump and moist and ready to be devoured by yours truly. Do you know the muffin man? Nope, but I know the muffin woman – and right now, that's me. 🏆
The semester has officially started and has not hesitated in piling on the work. I'm taking 18 hours this semester, which I know I can handle, but will definitely require lots of time and focus. Focus has been a struggle for me in the last few years, and especially in 2016, but so far the semester has been productive, calm, and full of new knowledge.
I'm also taking some some science classes that I need for grad school, which for sure will be more time-intensive that the classes I've taken thus far. Which means doing homework as soon as I get home.
Point is, I'm spending a lot more time doing homework and a lot less time doing everything else – including cooking.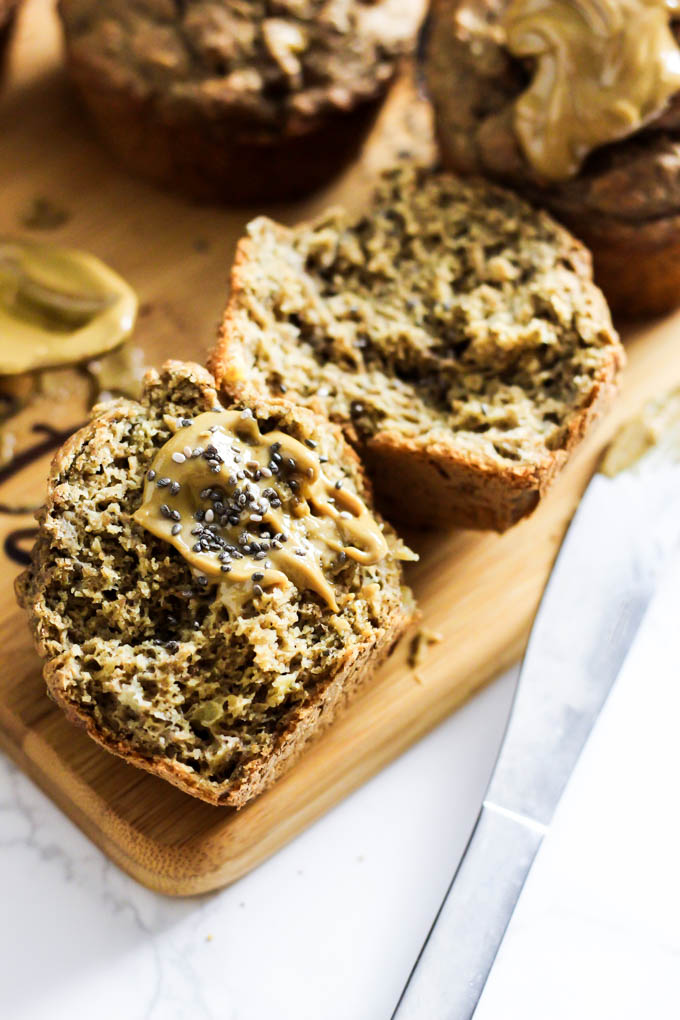 Cooking is one of my favorite hobbies. It's my time where I can relax, get in my groove, wear my fuzzy slippers, and make something really delicious. Oh, and then eat it. That's my favorite part (hence, Emilie Eats).
That doesn't mean I have 5 hours a day to spend cooking. A lot of people assume that I cook this elaborate meal every night and spend an hour styling it, but that just isn't #reallife. Real life is making lunch bowls out of anything and everything in the fridge, or making overnight oats the night before so I can eat breakfast in 5 minutes. Real life is always relying on leftovers, or roasting tons of vegetables while I'm doing homework.
#Reallife is making a batch of banana chia almond butter muffins so I don't have to worry about making breakfast for a whole week. That's what you call a WIN, people. Come on over to the muffin party! I'll let you have a bite.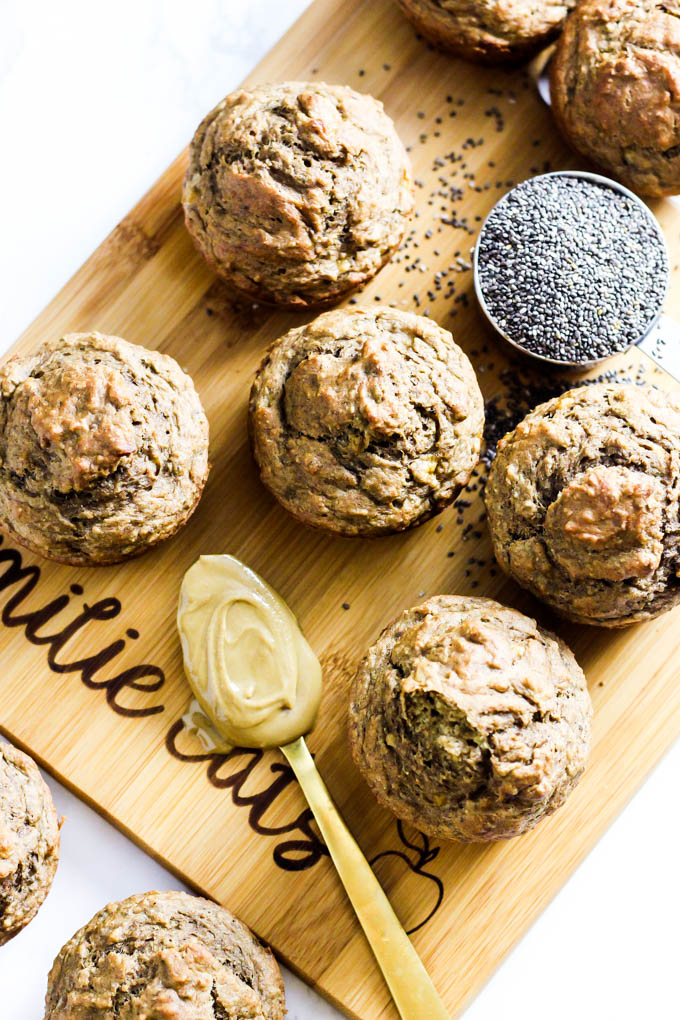 I'm super duper excited to collaborate with One Degree Organic Foods to bring you this delicioso muffin recipe! When I tell you that this is one of my favorite companies in the grocery store, I ain't exaggerating, folks. They are amazing people creating amazing products, and are dedicated to organic farming, sustainably, and family. THAT is a company I will support 100 percent.
I used their versatile sprouted bread in this banana chocolate chip vegan french toast casserole (also #reallife is avocado toast on their sprouted bread for 5 nights in a row), and I'm using their organic spelt flour in these fluffy AF almond butter muffins! If you haven't heard of spelt, it's an ancient whole grain that's a type of wheat, but might be easily digested by those who are sensitive to whole wheat. You can substitute it for all-purpose or whole-wheat flour perfectly!
Also starring in these babies are ripe bananas, lots of ch-ch-ch-chia seeds, and creamy almond butter. So, basically, all the best things in the world in one batch of the best damn vegan muffins you've ever had. You can thank me later😉.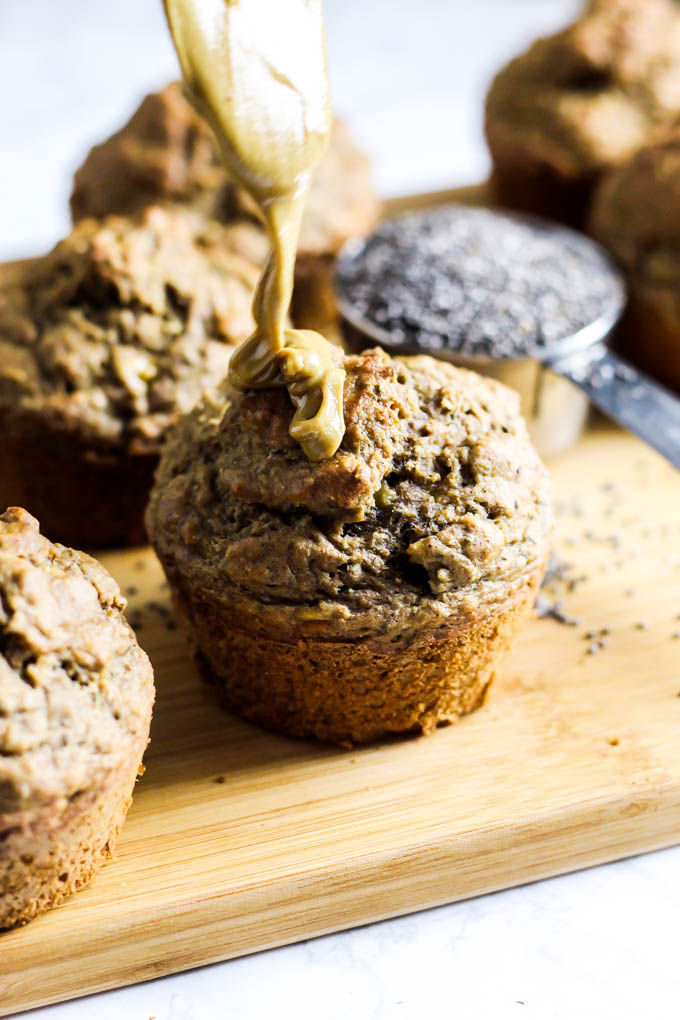 Eat 'em for breakfast, take 'em to-go as a snack, or enjoy them as a post-dinner sweet treat. However you enjoy them, you'll be in muffin heaven.
Love muffins? Me too! Make a batch of these almond butter muffins with One Degree Organic Foods Spelt Flour, take a pic, and post it on Instagram with the hashtag #emilieeats – also tag me @emilieeats!
(You can't tell me you can resist that almond drizzle👇🏼 DO IT)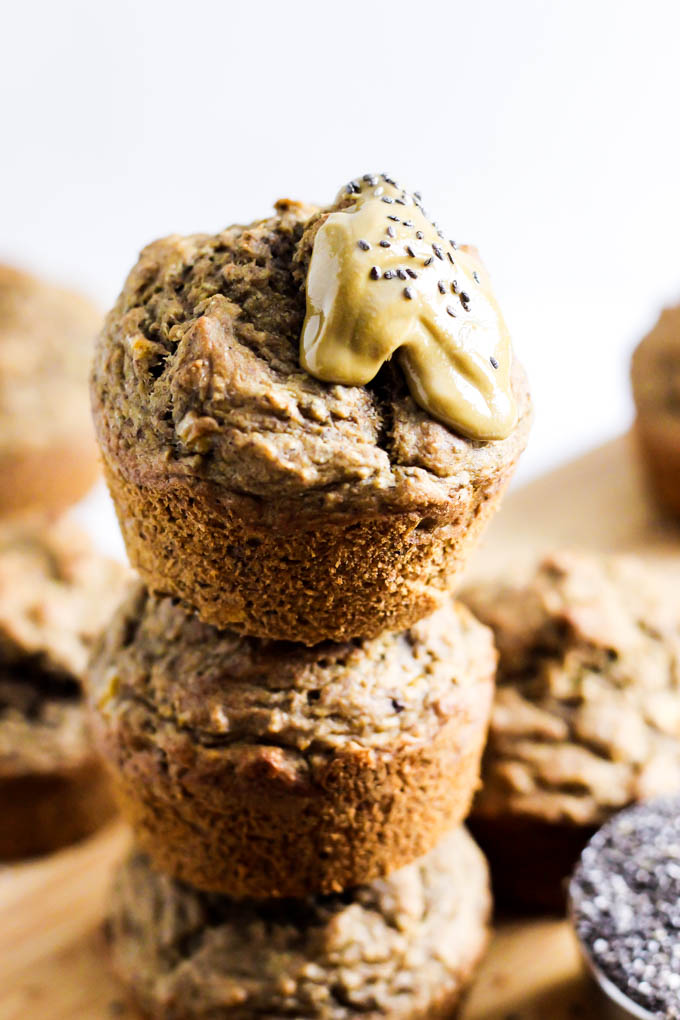 Print
How to make:
Banana Chia Almond Butter Muffins
Enjoy these fluffy Banana Chia Almond Butter Muffins as a healthy breakfast or snack on-the-go! They're naturally sweetened, vegan & oil-free.
Ingredients
1 cup

non-dairy milk

1 teaspoon

apple cider vinegar

2 cups

One Degree Organic Foods Spelt Flour

2 tablespoons

coconut sugar (optional)*

2 1/2 teaspoons

baking powder

1/2 teaspoon

baking soda

1/4 teaspoon

salt

3

ripe bananas, mashed (about

1 1/2 cups

)

1/4 cup

unsweetened applesauce

1/4 cup

almond butter

1/4 cup

chia seeds

2 teaspoons

vanilla extract
Instructions
Preheat oven to 425F. Lightly grease a 12-cup muffin pan or line with muffin tins.
In a medium bowl, add non-dairy milk and apple cider vinegar. Stir; set aside for 5 minutes.
In a large bowl, add spelt flour, coconut sugar, baking powder, baking soda, and salt. Stir to combine.
In the bowl with the milk mixture, add mashed bananas, applesauce, almond butter, chia seeds, and vanilla extract. Stir to combine.
Slowly pour the wet ingredients into the dry ingredients. Stir to combine until ingredients are just mixed together; do not over-mix.
Scoop batter into each muffin cup, about 3/4 full.
Bake for 5 minutes, then reduce heat to 350F and bake for 20 minutes, until a toothpick inserted into the center of a muffin comes out clean.
Remove from oven; let the muffins cool in the pan for 10 minutes before removing.
Notes
*I found that the muffins were sweet enough without the coconut sugar, but if you prefer sweetener muffins, add about 2 tablespoons coconut sugar or other granulated sugar.
Thanks to One Degree Organic Foods for sponsoring this post! I love working with brands whose products I really love and would honestly recommend. Thank you for supporting this blog that I love oh-so-much so I can bring you delicious recipes!