These fluffy Vegan Red Velvet Cupcakes are hiding a secret ingredients (beets!), but no one will ever know! They're perfectly sweet and made with simple ingredients. Topped off with a creamy coconut frosting!
I had a random craving for cake last week, and now I'm stuck here with 10 beautiful red velvet cupcakes. Funny how life works out! Or, funny how my cravings control what goes on the blog. Hehe.
I felt obligated to create a colorful, festive dessert for Valentine's Day, so I asked my Instagram followers if they'd rather red velvet cupcakes or strawberry cheesecake. Cupcakes won! My tastebuds were very happy about it.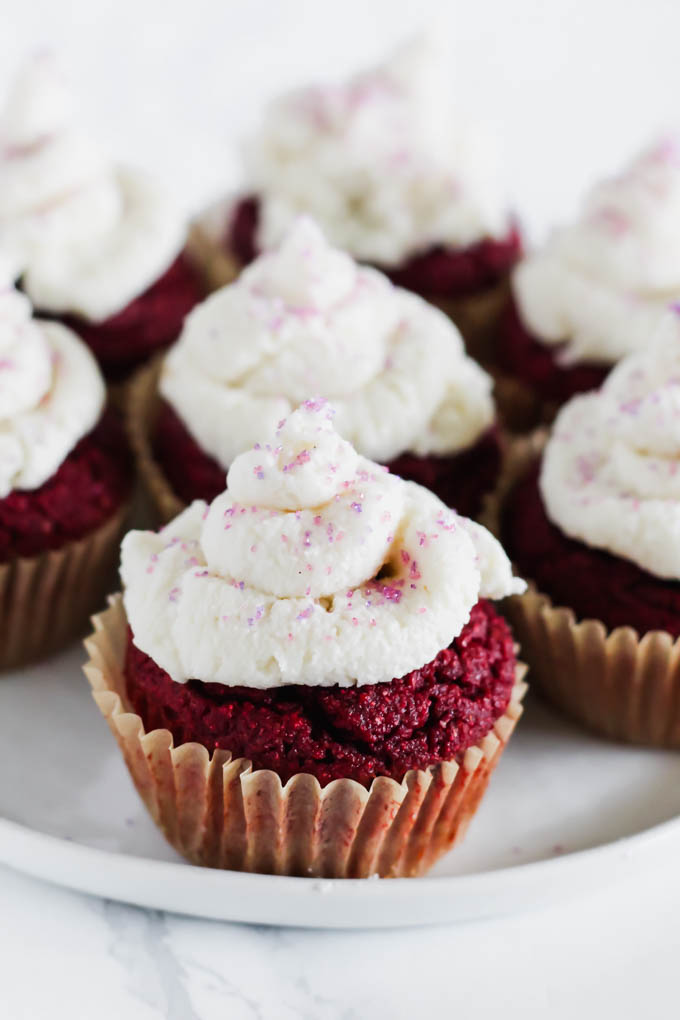 I know that Valentine's Day can sometimes be as polarizing as politics. Some people are Valentine's Day AF and go all out with heart decorations, conversation candies and extravagant dates with their baes. Other people are ANTI-Valentine's Day to the max. No love songs, rose or cards.
But can we all agree that dessert is delicious and share in the tastiness together, no matter where we stand on Valentine's Day?
This is starting to sound like a profound metaphor for something bigger than Valentine's Day, but basically I'm just trying to get everyone to make these cupcakes. DO IT!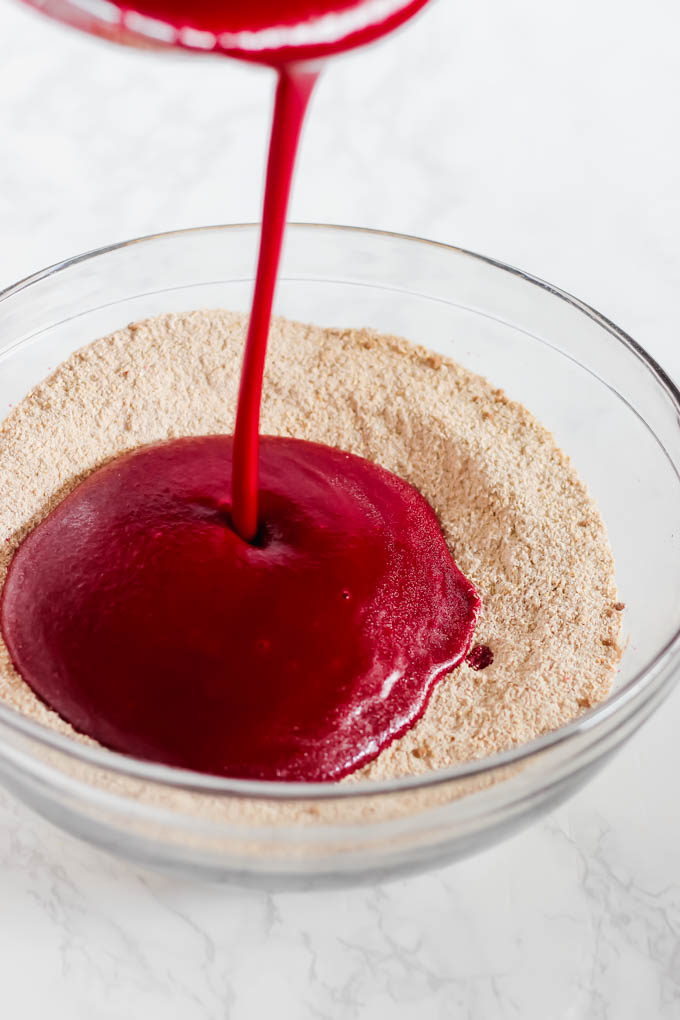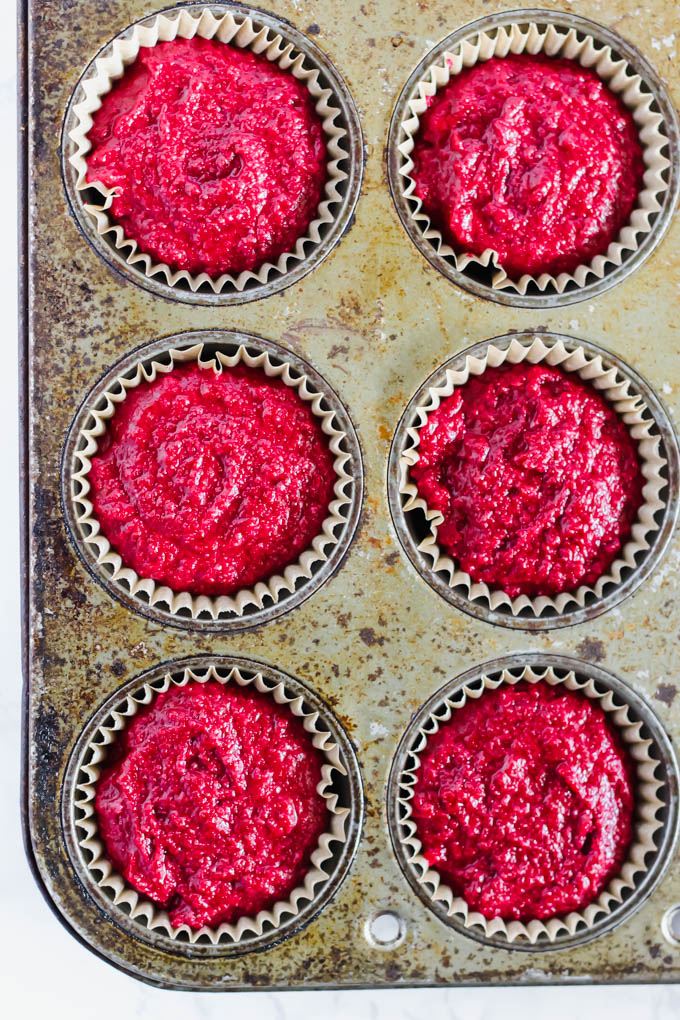 Surprise, surprise… I snuck some beets in these mini cakes for that beautiful pinkish-red color! Did you see that coming?
With a touch of cocoa powder and the right amount of sugar, the beet taste (which my boyfriend bluntly refers to as "dirt") is practically hidden. So serve these up to your lovey or your kids or your grandma or your mailman, and then wait for their surprised faces when you tell them there are beets in the cupcakes!
We only need some simple ingredients for these vegan red velvet cupcakes: pureed beets, whole wheat pastry flour (or white whole wheat flour), non-dairy milk, sugar, cocoa powder, and oil.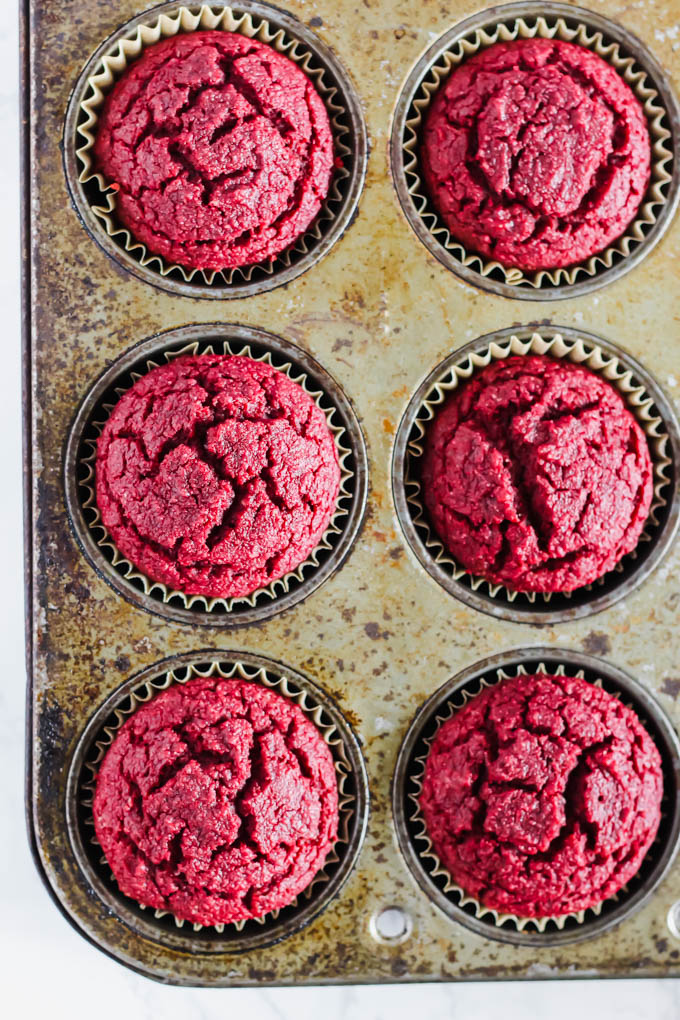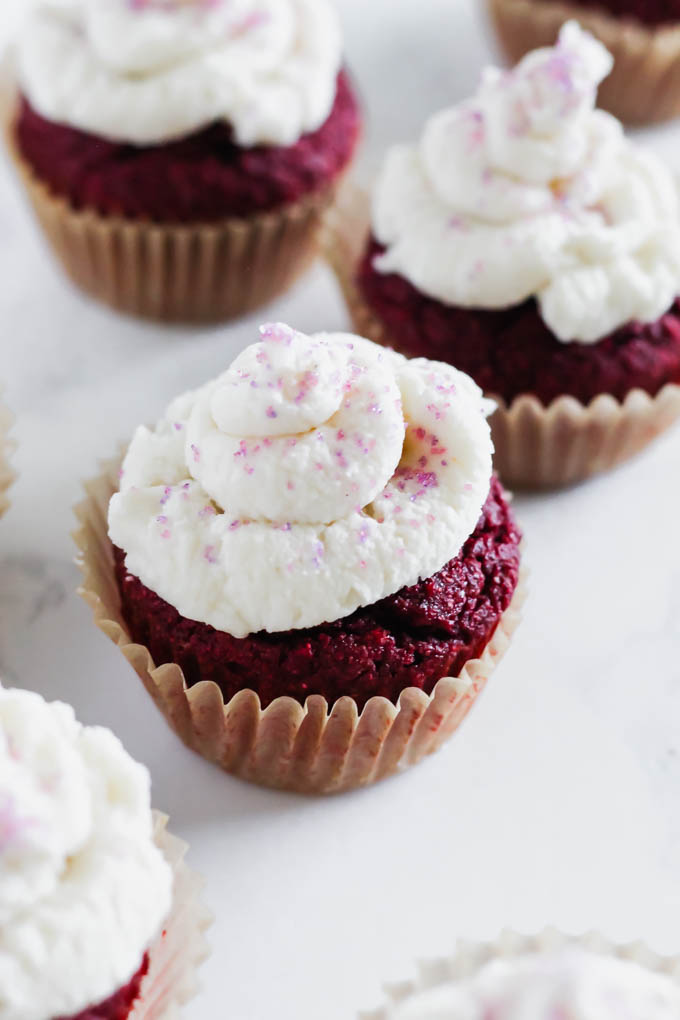 Frosting is optional; the fluffy cupcake is the best part, in my opinion. But I will say that the frosting really is the icing on the cake—literally. Okay, sorry for the bad joke.
All you need to do is whip coconut cream with a little sugar, then ice away! You could even dye the icing with a little extra beet juice if you want to be *extra* festive.
Mood: cake cake cake cake cake. 🍰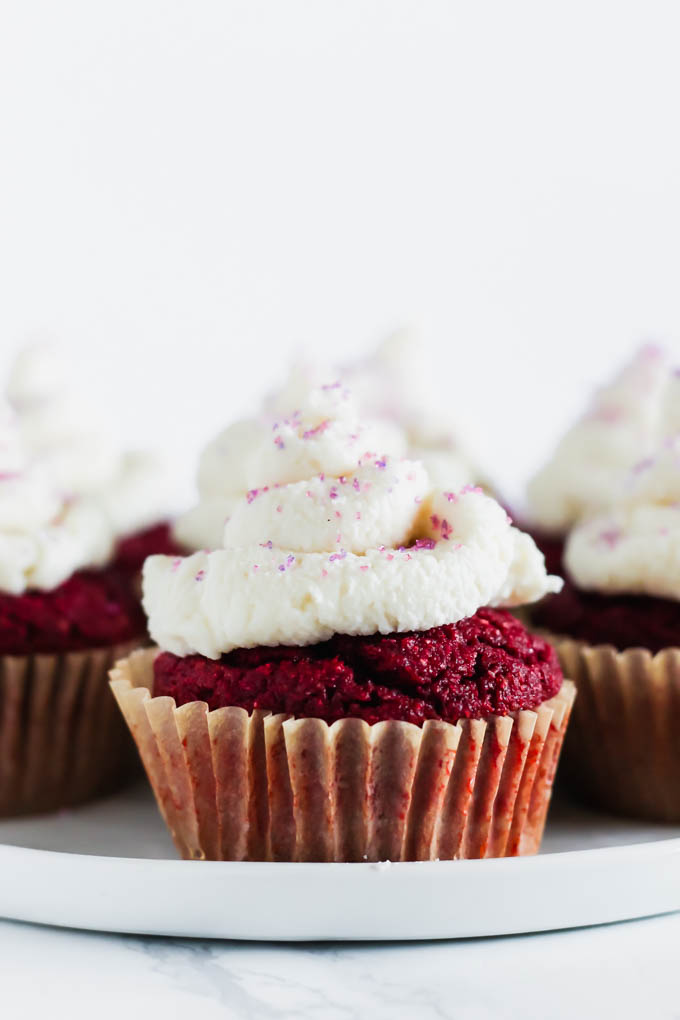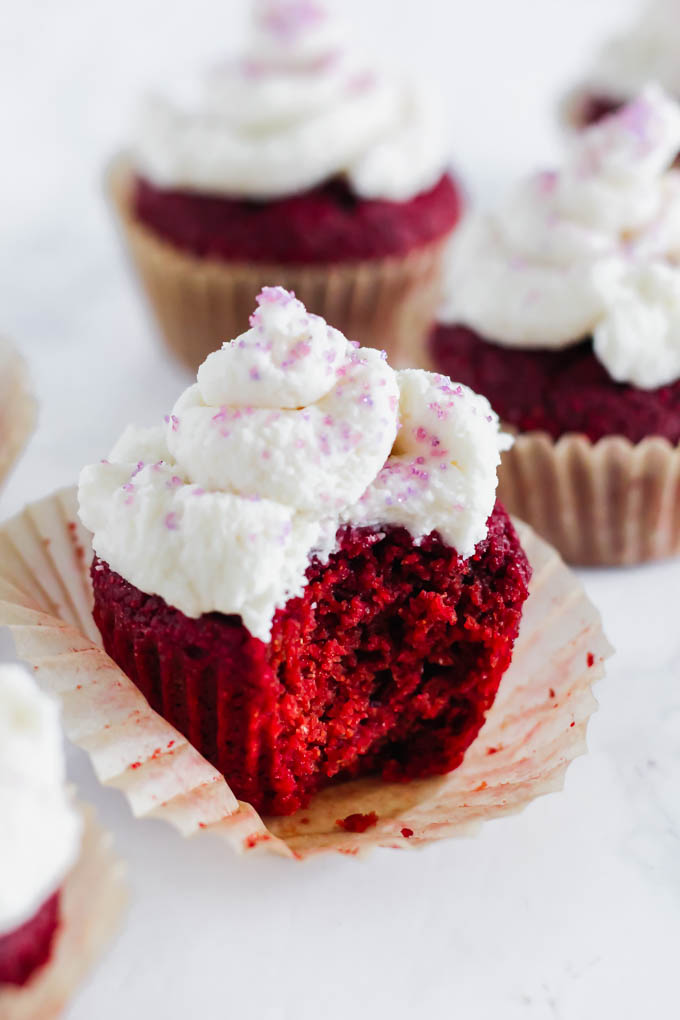 Print
How to make:
Vegan Red Velvet Cupcakes
These fluffy Vegan Red Velvet Cupcakes are hiding a secret ingredients (beets!), but no one will ever know! They're perfectly sweet and made with simple ingredients. Topped off with a creamy coconut frosting!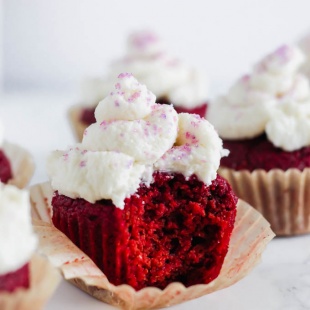 Ingredients
For the cupcakes:
½ cup

unsweetened non-dairy milk

1/2 teaspoon

apple cider vinegar or lemon juice

1 ½ cup

whole wheat pastry flour or white whole wheat flour

3/4 cup

cane sugar*

2 tablespoons

unsweetened cocoa powder

2 teaspoons

baking powder

¼ teaspoon

salt

1 cup

beets, cooked and pureed

¼ cup

coconut, avocado or grapeseed oil (any neutral oil)

1 teaspoon

vanilla extract
For the icing:
1

14-ounce can full-fat coconut milk, refrigerated overnight

¼ cup

powdered sugar**
Instructions
Preheat oven to 425ºF. Line a 12-cup muffin pan with paper liners or grease with cooking spray.

In a medium bowl, add non-dairy milk and vinegar. Set aside for 5 minutes.

In a large bowl, add flour, sugar, cocoa powder, baking powder, and salt. Stir to combine evenly.

To the bowl with the milk mixture, add pureed beets, oil, and vanilla. Whisk thoroughly.

Slowly pour the liquid ingredients into the dry ingredients. Whisk together until just combined; do not overmix.

Divide the batter evenly among the muffin cups.

Bake for 5 minutes, then turn the heat down to 350ºF. Bake for 20 more minutes, until a toothpick inserted into the middle of a cupcake comes out clean.

While the cupcakes are baking, prepare the icing. Scoop the solid white coconut milk in the top of the can into a large bowl, reserving the clear liquid for another recipe. With an electric beater, whip coconut milk until smooth and fluffy. Add powdered sugar; beat until fully combined.

Wait until cupcakes are completely cooled before adding the icing.
Notes
*Some cane sugar is not vegan, as it can be processed with animal bone char. I use Trader Joe's Organic Sugar. Check here for vegan cane sugars: https://ordinaryvegan.net/vegansugar/.
**To make your own powdered sugar, simply put cane sugar in a blender or food processor and blend until a fine powder forms. Cheap & easy!