The search is over for the ultimate vegan biscuit recipe! These vegan biscuits are buttery, fluffy, and delicious with vegan chili or gravy!
Classic Vegan Biscuits
Cornbread or biscuits?
If you're reading this post, I'm gonna take a wild guess that you're team biscuits. And I totally get it – how could you not be!? They're flaky, fluffy, buttery and they belong on every party table. Honestly, I'm team why-not-both! I think they both have their time and place. But today, it's time for biscuits. Vegan biscuits to be specific.
I've recently been working on a project where I'm making vegan versions of super classic recipes, and one of the first recipes that came to mind was biscuits. I mean what's more classic that a plain ol' buttery biscuit? Not much.
This vegan biscuit recipe is about as simple as it gets. No fancy twists, no special techniques needed. Just 7 ingredients and 45 minutes. Let's go!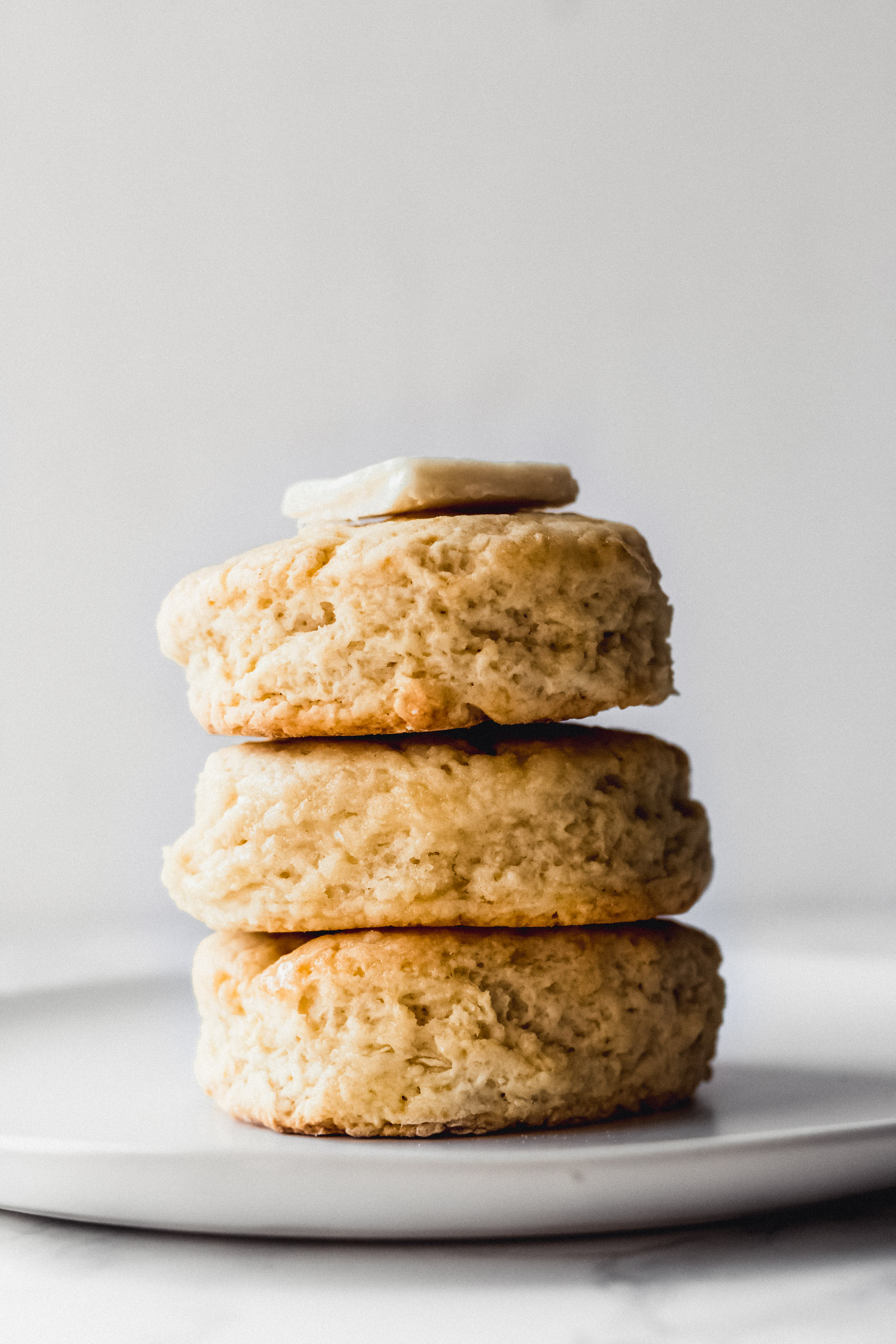 Ingredients for Vegan Biscuits
These homemade vegan biscuits are pretty simple. Don't get me wrong, I love a good vegan cheddar biscuit, or an herby biscuit, but sometimes you just want something super down-to-earth and straightforward, right? These vegan biscuits are about as classic as it gets. Just vegan buttermilk, all the standard dry ingredients and plenty of vegan butter. Here are the details:
Non-dairy milk. You can use any variety you'd like, but I recommend unsweetened.
Apple cider vinegar. We're making our own vegan buttermilk, and apple cider vinegar will give us that tart, acidity we're looking for.
All-purpose flour. You will have the best results with all-purpose flour in this recipe. I wouldn't recommend a whole-wheat or gluten-free flour for this recipe, but if you try it, let me know how it goes!
Baking powder. We're using a good amount of baking powder in this vegan biscuit recipe to give us that rise and major fluffage!
Sugar. I recommend plain old white granulated sugar. Just a touch of sugar will balance out the flavor in these vegan biscuits and encourage them to go golden brown in the oven.
Salt. Just a touch!
Cold vegan butter. It must be cold! We don't want the butter to melt while we're making the vegan biscuit dough as that will lead to a dense, flat biscuit. I highly recommend popping your butter into the freezer before making this recipe if you have time!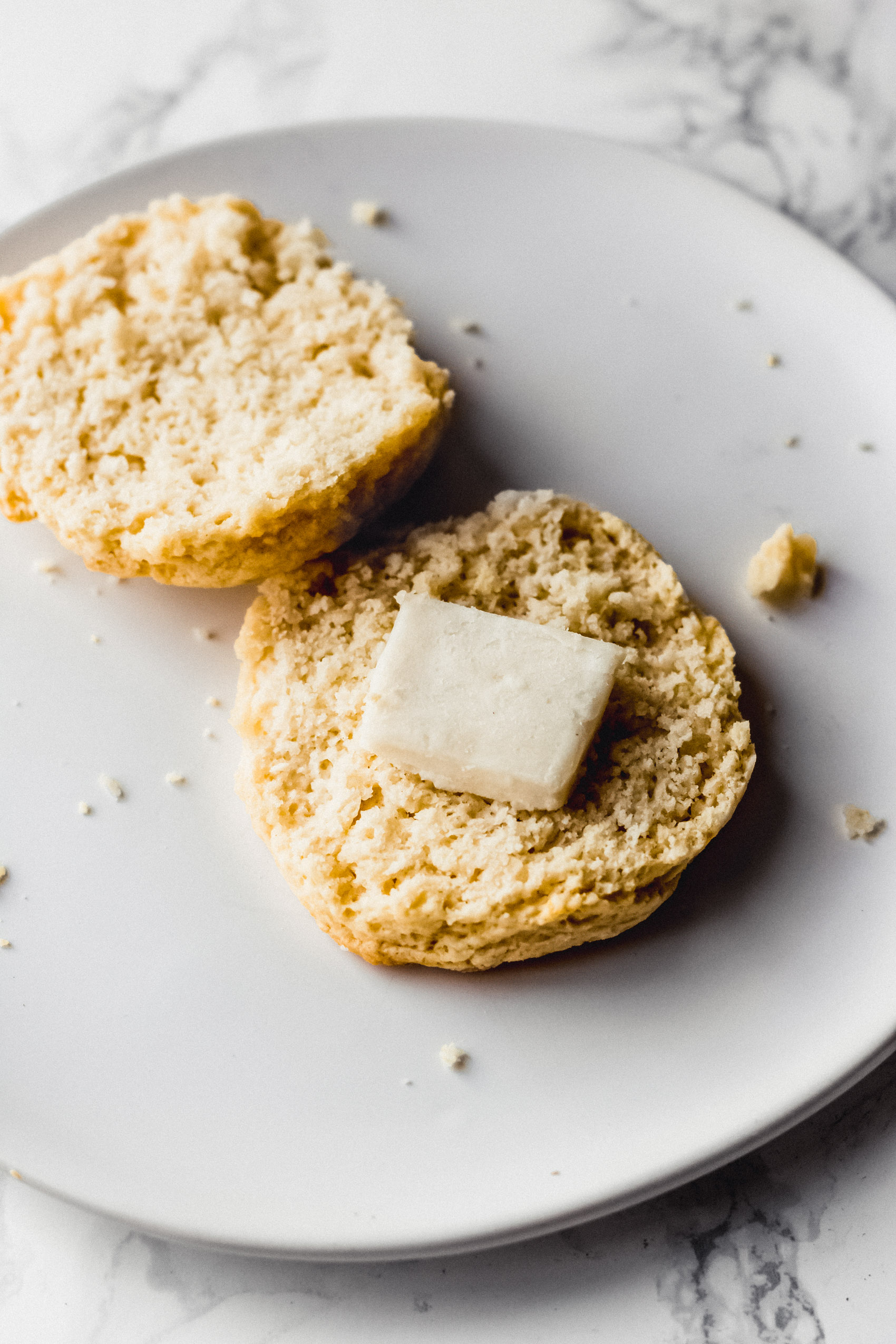 How to Make This Vegan Biscuit Recipe
This is a super quick vegan buttermilk biscuit recipe that comes together in a few simple steps.
To start, preheat your oven to 425ºF and grab a couple of bowls. In a small bowl, combine your plant milk and vinegar and let it sit while you mix up the other ingredients. This will be our vegan buttermilk! Then in your larger bowl, add your flour, baking powder, sugar, salt and mix it up until well combined.
The key to making a super flaky batch of homemade biscuits is how you handle the butter. It must be cold. I highly recommend putting the butter in the freezer before using it in this recipe. There are three different ways you can work the butter into the dry ingredients:
Use a cheese grater and grate frozen butter into the dry ingredients
Cut the butter into the dry ingredients using a pastry cutter
Slice the butter into small pieces and use your hands to gently rub the butter into the flour
All three are great methods, so it's really up to personal preference and the tools you have available at home. Whichever method you choose, you'll know you're done working the butter into the flour when the mixture is a course, sandy consistency.
Next, add in your vegan buttermilk and mix until just combined, then transfer the dough to a floured work surface and knead the dough about 5 times or so. If the dough is super sticky, you can add a bit more flour.
Finally, press the dough out into a 1-inch-thick disk and cut out your. Pop them on a greased cookie sheet, brush them with a little melted butter if you'd like, and bake for 15 minutes or until golden brown.
How to Serve Vegan Biscuits
There are so many ways to enjoy a flaky homemade vegan biscuit. These vegan buttermilk biscuits would be delicious with a pat of butter and some jam, a drizzle of maple syrup, on the side of a bowl of chili or on your holiday table.
And let's not forget the best variation – vegan biscuits and gravy!! This is a delicious vegan sausage gravy recipe from Nora Cooks to pour on top of your homemade biscuits for the ultimate comforting breakfast. You're welcome.
Print
How to make:
Classic Vegan Biscuits
The search is over for the ultimate vegan biscuit recipe! These vegan biscuits are buttery, fluffy, and delicious with vegan chili or gravy!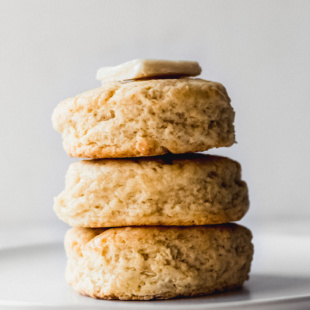 Ingredients
1 cup

unsweetened non-dairy milk

1 tablespoon

apple cider vinegar

2 cups

all-purpose flour*

2 tablespoons

baking powder

1 1/2 tablespoons

sugar

1 teaspoon

salt

6 tablespoons

cold vegan butter**
Instructions
Preheat oven 425ºF.
In a small bowl or jar, place non-dairy milk and vinegar; stir. Set aside for 5 minutes.
In a large bowl, place flour, baking powder, sugar, and salt. Stir to combine.
You have three options for the butter: use a cheese grater to grate the butter into the dry ingredients, use a pastry cutter to cut the butter to cut the butter into the dry ingredients, or use your hands to gently break the butter into small pieces. The butter and dry ingredients should look like coarse sand.
Pour the milk into the dry ingredients. Use a spatula to gently stir until just combined; do not over-mix.
Transfer the dough to a flat floured surface. Gently knead about 5 times, adding more flour if the dough is too sticky.
Use your hands to press the dough about 1-inch thick. Use a biscuit cutter or cookie cutter to cut the dough. Reform the dough as needed to use as much dough as possible.
Place biscuits on a non-greased baking pan. Biscuits should be just barely touching each other. If desired, brush a little melted butter on top.
Bake for 15 minutes, until golden-brown on top.
Notes
*Read this post to learn how to properly measure flour.
**I recommend placing your butter in the freezer for 15-30 minutes to ensure the butter doesn't melt when you start working it into the dry ingredients.