Whip up a batch of these Vegan Buckwheat Pancakes for a high protein vegan breakfast! They're whole grain, gluten-free & meal prep friendly.
Vegan Buckwheat Pancakes
I'm a savory > sweet girl through and through, but I WILL break that for a big, fat stack of fluffy vegan pancakes. Especially if they're the fluffiest vegan buckwheat pancakes. You feel me?
I mean truly, who doesn't love a tall stack of pancakes on a Sunday morning? Topped with fresh fruit, a slathering of vegan butter and a big (I mean big) drizzle of maple syrup. Wow, drooling over here.
Not only are these buckwheat pancakes super delicious, but they're also probably the easiest vegan pancake recipe I've ever made. You ready for a stack?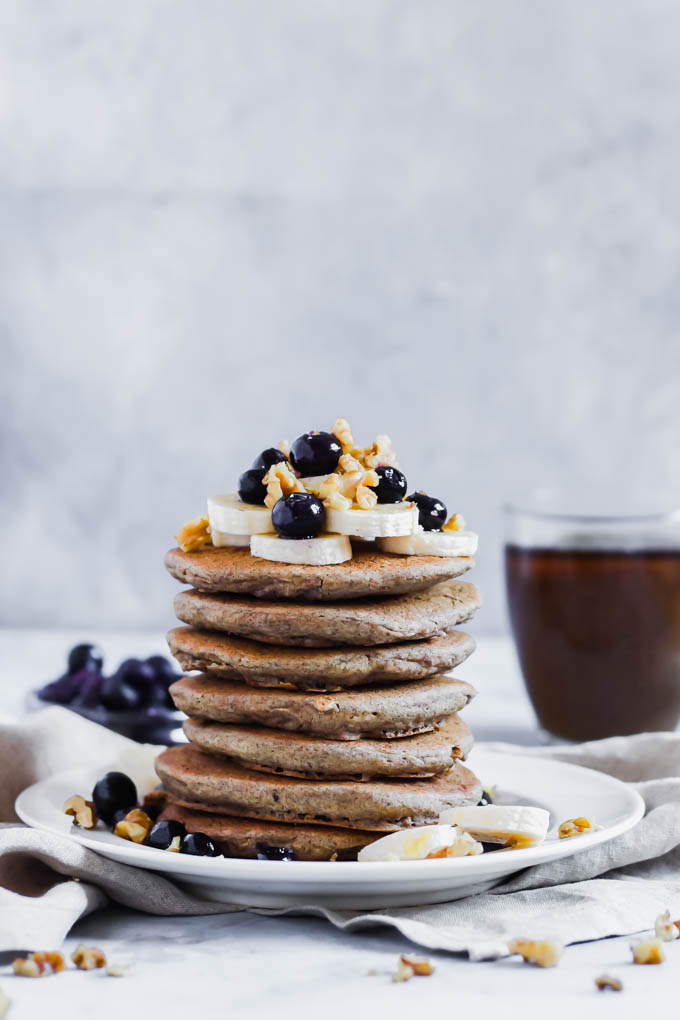 Ingredients for Vegan Buckwheat Pancakes
We're keeping the ingredients pretty minimal in these vegan buckwheat pancakes to really allow the nutty flavor of the buckwheat flour to shine. Plus, who likes fussing with an overly complicated recipe in the morning? The buckwheat flour is the only specialty ingredient you'll need. Everything else you probably already have in your pantry! Here's what you'll need:
Buckwheat flour. They wouldn't be buckwheat pancakes without buckwheat flour!
Ground flaxseed. We'll be making a flax egg to act as a binding agent in our buckwheat pancakes.
Non-dairy milk. Any variety works, but look for unsweetened.
Vinegar. You could use white distilled or apple cider vinegar.
Baking powder and baking soda. We're using both to leaven our pancakes to ensure that they're super fluffy.
Cinnamon and nutmeg. I love these warming spices in my pancakes. If you don't have nutmeg on hand or if you don't like it, you can leave it out!
Salt. To balance out the flavor.
Banana. You'll need one medium banana or about 1/2 mashed for these buckwheat pancakes. Not only will a banana add fiber and sweetness, but it also helps hold our pancakes together without making them dense.
Oil. I used avocado oil, but any neutral oil (like canola) will work.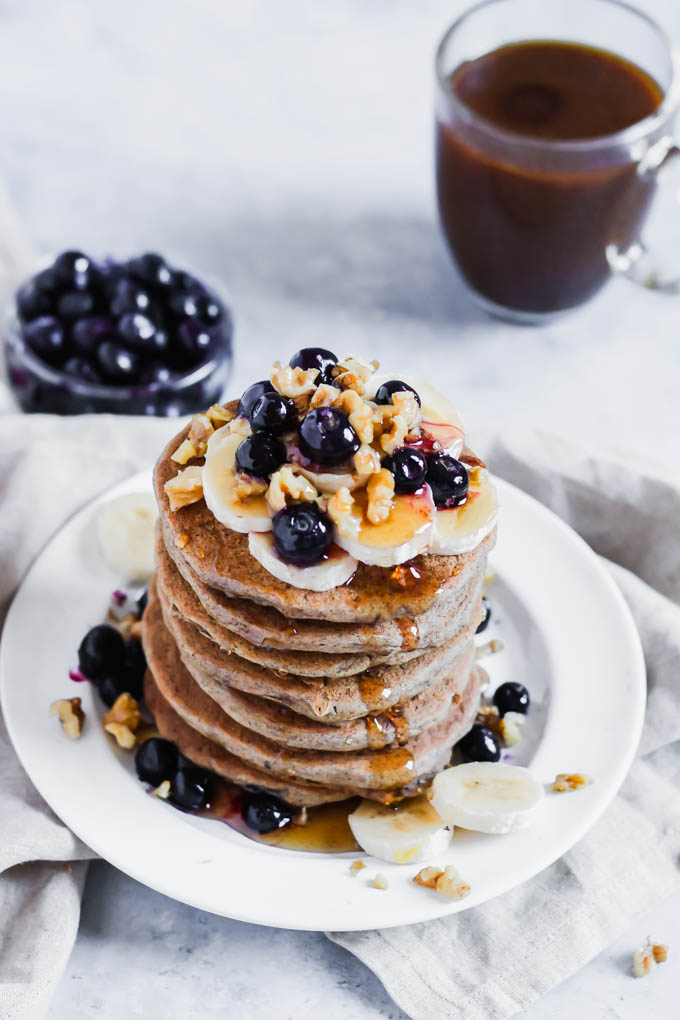 What is Buckwheat Flour?
Let's talk about buckwheat flour!
Buckwheat flour, despite it's name, is made from a gluten-free whole grain. The flavor is nuttier compared to other flours, which makes for a super delicious batch of vegan pancakes. Not only is it pretty tasty, but it's also such a nutritious option. 1/4 cup of buckwheat flour contains 4 grams each protein and fiber! A fabulous whole grain, if I do say so myself. Not to mention, it produces the fluffiest pancakes I've ever laid mouth on.
Of course you're going to go buy a bag of buckwheat flour so you can make these pancakes. I mean, aren't you drooling right now? Here's a few more recipes that use buckwheat flour so the bag won't be sitting in your pantry unused for a year: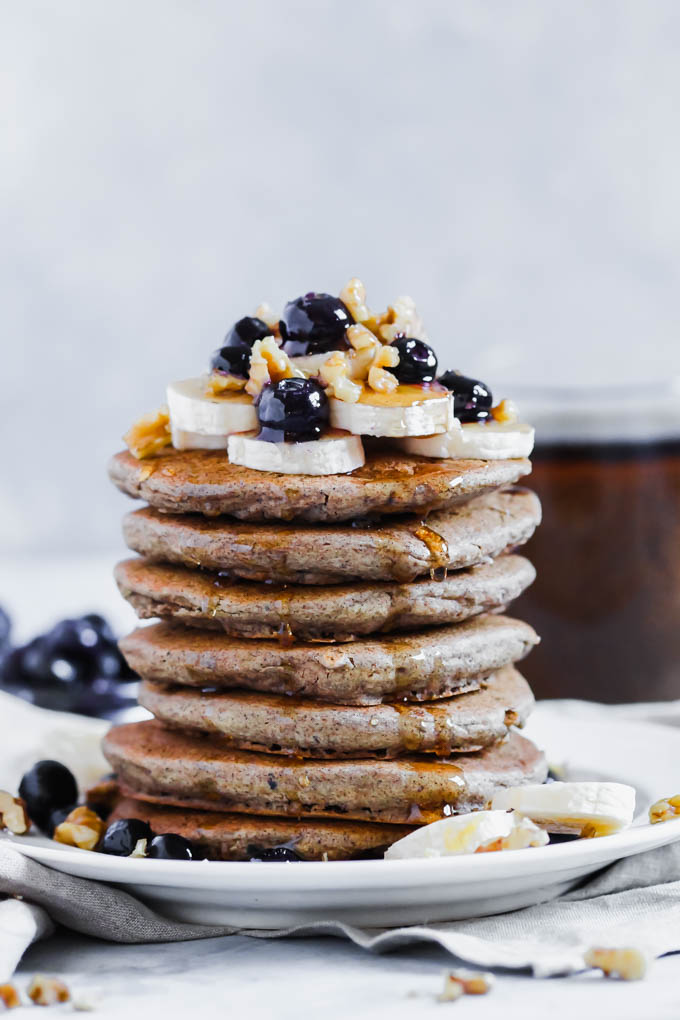 How to Make Vegan Buckwheat Pancakes
These are some of the simplest buckwheat pancakes you could make, no lie!
Start by making a flax egg by combining water with ground flax seed. Separately, you'll make a vegan buttermilk by mixing together your milk and vinegar. You'll let both mixtures sit for 5 minutes, and then you'll be left with a flax egg and vegan buttermilk!
While your flax egg and vegan buttermilk are resting, mix together all the dry ingredients in a medium bowl. Then once your flax egg and vegan buttermilk are ready, you'll add those to a separate bowl with your mashed banana and oil to mix together all the wet ingredients. Then you'll simply add the wet ingredients into the dry ingredients, mix and let the batter rest for about 5 minutes. This will allow the batter to develop flavor and relax a bit.
Finally, just grease your pan, collop on the patter and cook up your vegan buckwheat pancakes! Simple as that!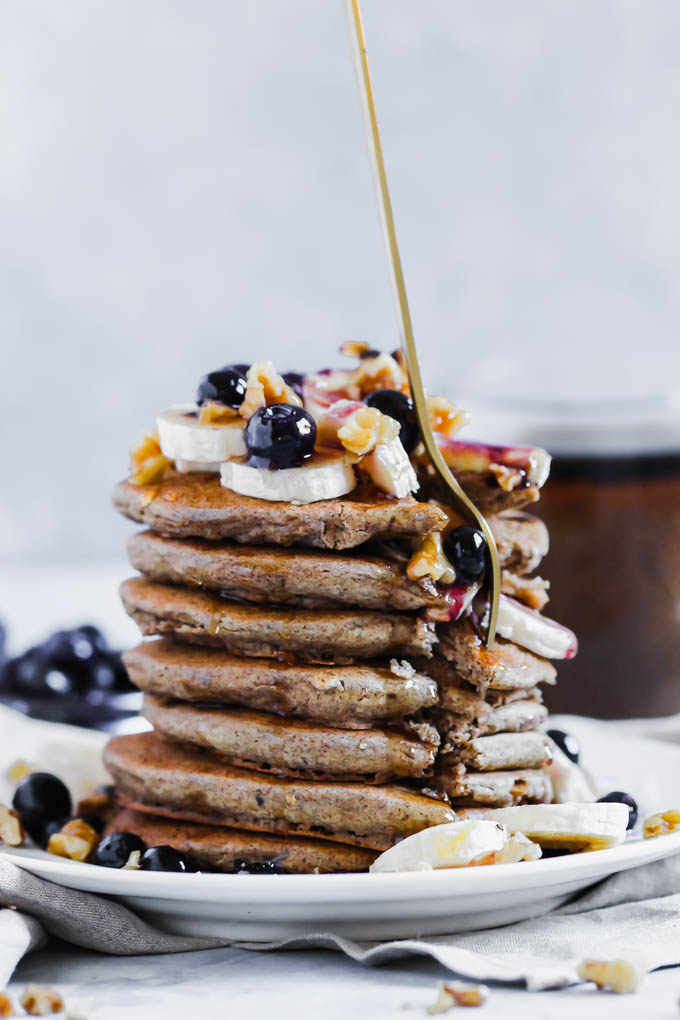 How to Store Buckwheat Pancakes
This recipe will probably last you about 3 meals if you're cooking just for yourself. If you whip up a batch of these pancakes, then you've got 3 out of 7 breakfasts in the week taken care of! If you plan to eat all the pancakes within a week, you can simply store them in an air tight container in the fridge. When you're ready to enjoy, pop a stack in the microwave or slot them into a toaster.
These buckwheat pancakes also freeze beautifully, so feel free to make a double or triple batch and freeze the extras. You'll thank your past self for gifting your future self some delicious pancakes! Pop all the buckwheat pancakes into a sealable freezer-safe container, and I recommend placing a square of parchment between each pancake so they don't stick together. They can go in the toaster as-is, or feel free to defrost in the microwave and then crisp them back up in a pan if you're feeling fancy.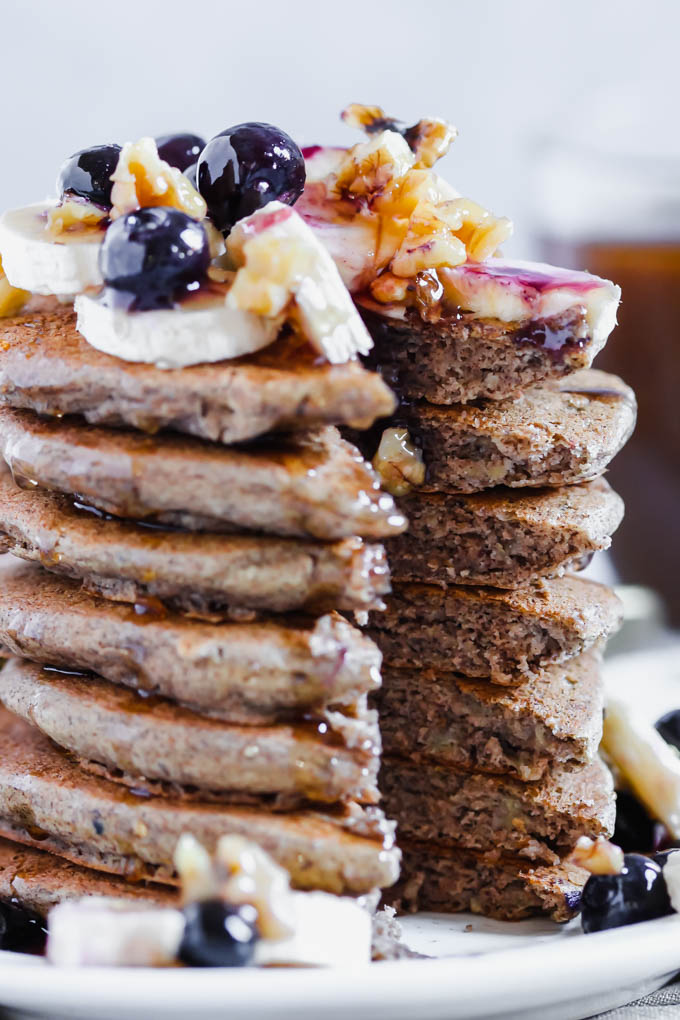 More Vegan Breakfast Ideas
It can be hard to break out of your breakfast routine, so try to mix it up with some of these other vegan breakfast ideas!
Print
How to make:
Vegan Buckwheat Pancakes (gluten-free)
Whip up a batch of these Vegan Buckwheat Pancakes for a high protein vegan breakfast! They're whole grain, gluten-free & meal prep friendly.
Ingredients
1 tablespoon

ground flaxseed

1 cup

unsweetened non-dairy milk

1 teaspoon

white or apple cider vinegar

1 cup

buckwheat flour

1 1/2 teaspoons

baking powder

1/2 teaspoon

baking soda

1/2 teaspoon

ground cinnamon

1/4 teaspoon

salt

1/8 teaspoon

ground nutmeg

1

medium banana, mashed (about

1/2 cup

)

1 tablespoon

avocado oil (or other neutral oil like canola)
Instructions
In a small bowl, add flaxseed and 2 1/2 tablespoons water to make a flax egg; stir. Set aside for 5 minutes.
In a medium bowl, add non-dairy milk and vinegar; stir. Set aside for 5 minutes.
In a medium bowl, add buckwheat flour, baking powder, baking soda, cinnamon, salt and nutmeg; stir.
To the bowl with the milk and vinegar mixture, add flax egg, mashed banana and oil. Whisk to combine. Slowly pour the wet ingredients into the dry ingredients; stir until just combined. Let the batter sit for 5 minutes.
On a greased griddle or skillet, add 1/4-cup dollops of the batter. Cook for 5 minutes on each side, until lightly browned. Repeat until all of the batter is used up.
Serve with maple syrup, sliced banana, berries and nuts!