Make a batch of Vegan Buckwheat Pancakes for breakfast! These gluten-free pancakes are packed with fiber and protein thanks to buckwheat.
The Fluffiest Vegan Buckwheat Pancakes
I'm a savory > sweet girl through and through, but I WILL break that for a big, fat stack of fluffy vegan pancakes. Especially if they're the fluffiest vegan buckwheat pancakes. You feel me?
I mean truly, who doesn't love a tall stack of pancakes on a Sunday morning? Topped with fresh fruit, a slathering of vegan butter and a big (I mean big) drizzle of maple syrup. Wow, drooling over here.
Not only are these buckwheat pancakes super delicious, but they're also probably the easiest vegan pancake recipe I've ever made. They're made with just a handful of simple ingredients and come together in about 30 minutes. Plus, thanks to the buckwheat, they're filled with fiber and plant-based protein to help you start your day feeling nourished. For even more protein and satisfaction factor, smother them in a big smear of your favorite nut butter and you're ready to take on your day.
You ready for a stack?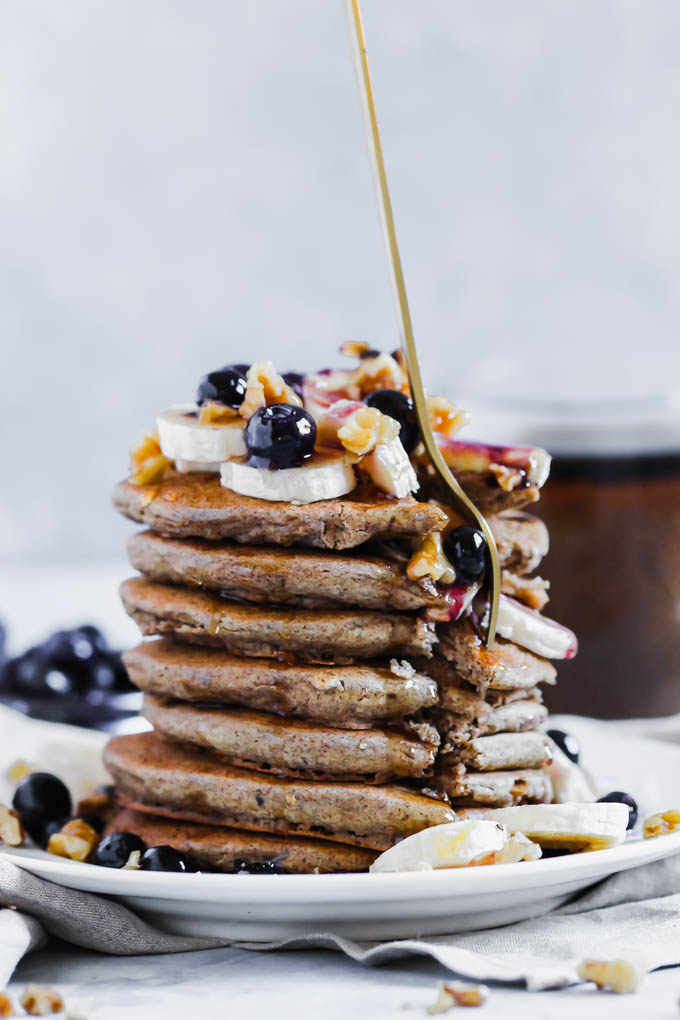 Ingredients for Buckwheat Pancakes
Let's talk about buckwheat flour!
Buckwheat flour, despite it's name, is made from a gluten-free whole grain. The flavor is nuttier compared to other flours, which makes for a super delicious batch of gluten-free pancakes. Not only is it pretty tasty, but it's also such a nutritious option. 1/4 cup of buckwheat flour contains 4 grams each protein and fiber!
Of course you're going to go buy a bag of buckwheat flour so you can make these pancakes. I mean, aren't you drooling right now? Here's a few more recipes that use buckwheat flour so the bag won't be sitting in your pantry unused for a year:
We're keeping the ingredients pretty minimal in these vegan buckwheat pancakes to really allow the nutty flavor of the buckwheat flour to shine. Here's what you'll need to make buckwheat pancakes:
Buckwheat flour. They wouldn't be buckwheat pancakes without buckwheat flour!
Ground flaxseed. We'll be making a flax egg to act as a binding agent in our buckwheat pancakes.
Non-dairy milk. Any variety works, but look for unsweetened.
Vinegar. You could use white distilled or apple cider vinegar.
Baking powder and baking soda. We're using both to leaven our buckwheat pancakes to ensure that they're super fluffy.
Cinnamon and nutmeg. I love these warming spices in my pancakes. If you don't have nutmeg on hand or if you don't like it, you can leave it out!
Salt. To balance out the flavor.
Banana. You'll need one medium banana for these buckwheat pancakes. Not only will a banana add fiber and sweetness, but it also helps hold our pancakes together without making them dense.
Oil. I used avocado oil, but any neutral oil (like canola) will work.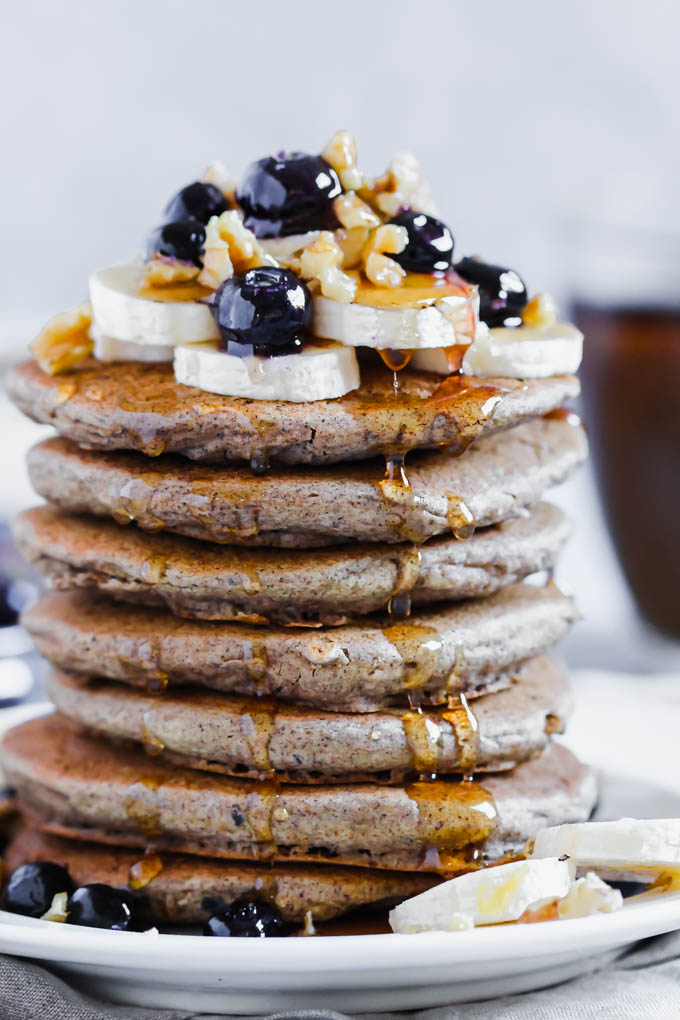 How to Make Vegan Buckwheat Pancakes
These are some of the simplest buckwheat pancakes you could make, no lie! The method is pretty similar to any other pancake recipes you've tried in the past, but since we're using a gluten-free buckwheat flour, there's not as much risk of over-mixing, so they turn out fluffy every time!
Here's how to make buckwheat pancakes:
Make a flax egg by combining flaxseed with water and letting it sit for 5 minutes.
Mix up a vegan buttermilk by combining non-dairy milk and vinegar
Combine your dry ingredients in a medium bowl, including the buckwheat flour, baking powder, baking soda, cinnamon, salt and nutmeg
Whisk together buckwheat pancake batter by mixing the buttermilk mixture, flax egg, mashed banana and oil with the dry ingredients. Then allow it to rest for 5 minutes.
Cook the buckwheat pancakes by adding 1/4-cup dollops of the batter to a greased skillet over medium heat. Cook for 5 minutes on each side.
Serve with maple syrup, sliced banana, berries and nuts!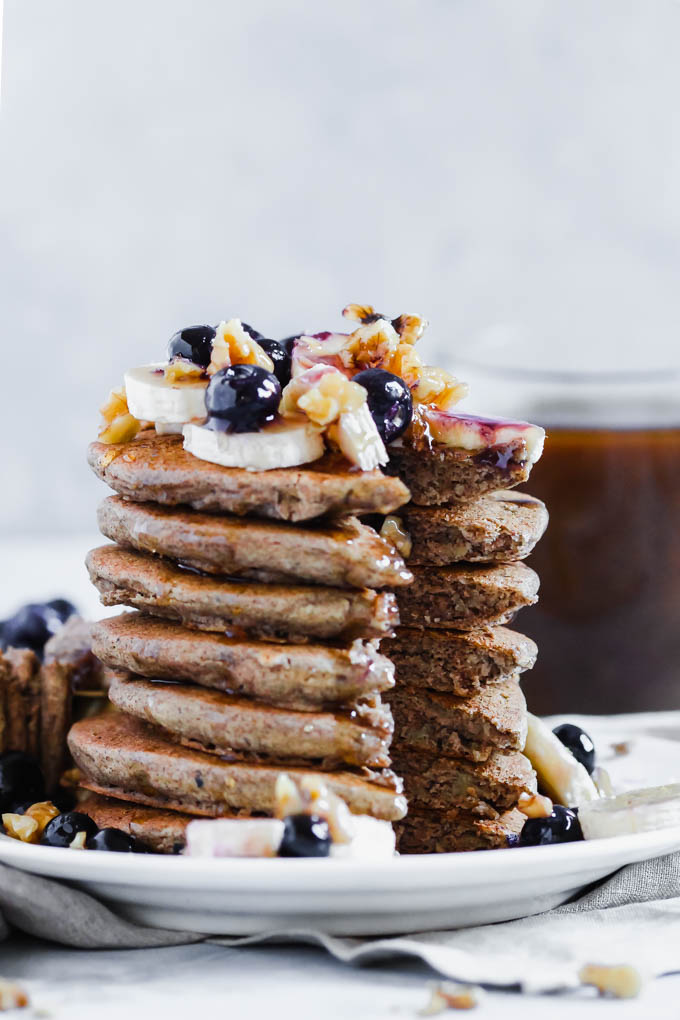 Tips for Making this Buckwheat Pancake Recipe
Let your batter rest. This is a critical step to make a batch of fluffy pancakes! When you allow your pancake batter to rest, it gives the flour the chance to absorb the wet ingredients, which will lead to a lighter pancake with a better rice.
Look for light buckwheat flour. You'll find lighter and darker buckwheat flour varieties. Darker buckwheat flour will provide a stronger flavor and will likely lead to a grainier texture in your pancakes.
Try making your own buckwheat flour. If you see raw buckwheat groats at the store, you can make your own buckwheat flour at home! Toss the buckwheat groats into a spice grinder, food processor or blender and grind them up until you're left with a fine powder.
Double the batch and make them for meal prep! Cook once, eat twice! Pancakes are perfect for easy meal prep breakfasts. Make a double batch so you can store and reheat these buckwheat pancakes whenever you want one! More on that later.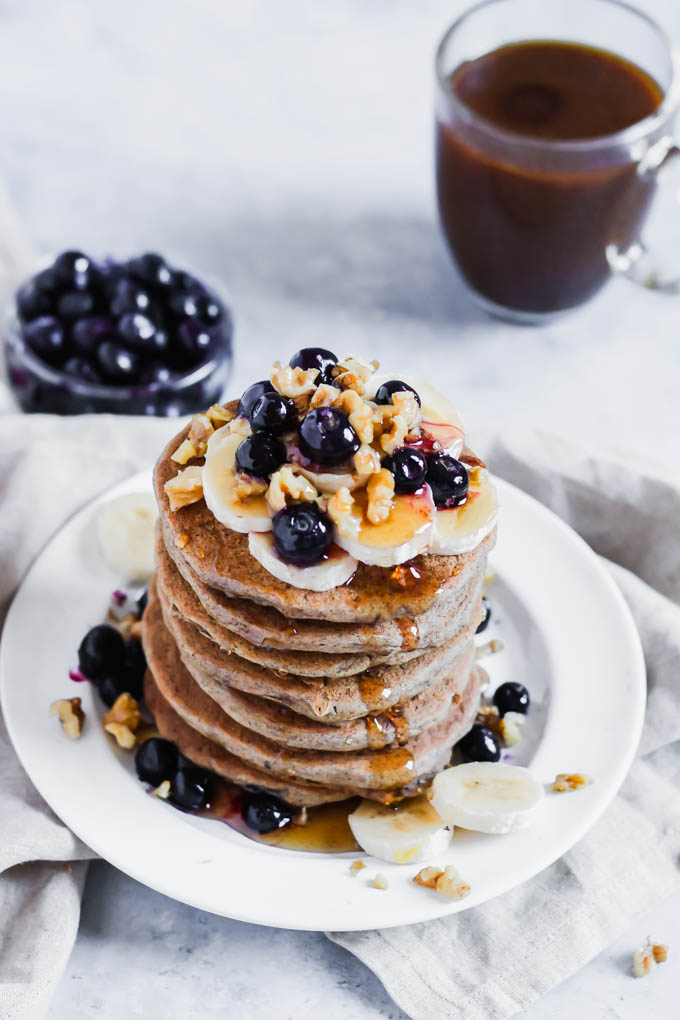 How to Meal Prep Buckwheat Pancakes
This recipe will make three servings, but if you double it, you can stash some buckwheat pancakes in the freezer to save for later!
If you plan to eat all the pancakes within a week, you can simply store them in an air tight container in the fridge. When you're ready to enjoy, pop a stack in the microwave or slot them into a toaster.
These buckwheat pancakes also freeze beautifully, so if you don't think you'll eat the whole batch in a few days, freeze the extras for later! You'll thank your past self for gifting your future self some delicious gluten-free pancakes! Pop all the buckwheat pancakes into a sealable freezer-safe container, and I recommend placing a square of parchment between each pancake so they don't stick together. They can go in the toaster as-is, or feel free to defrost in the microwave and then crisp them back up in a pan if you're feeling fancy.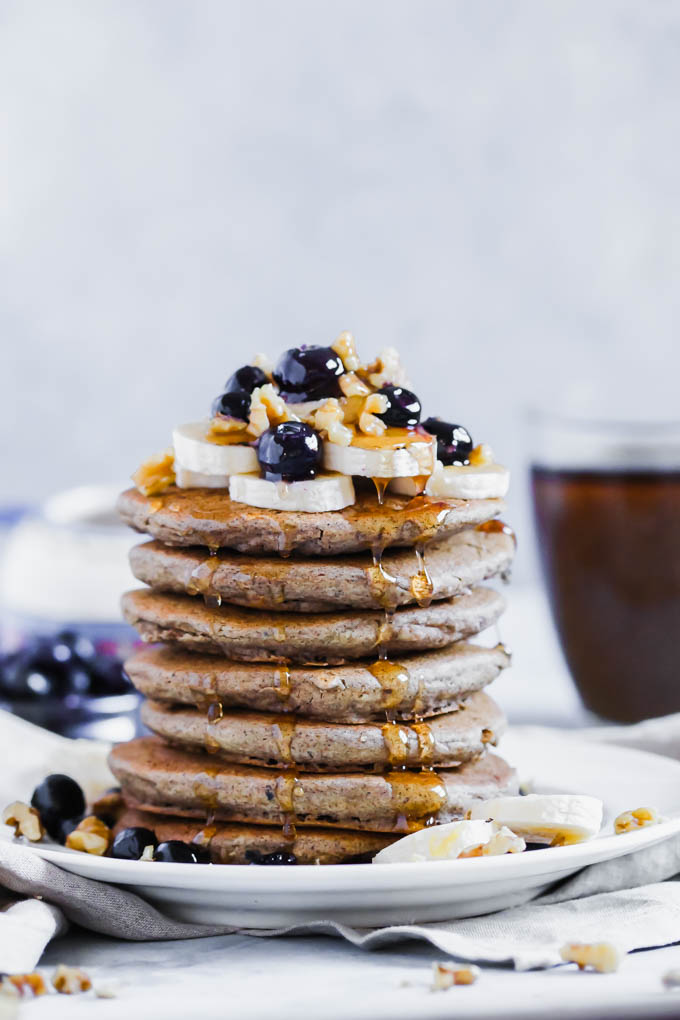 More Vegan Pancake Recipes
What's better than a fluffy stack of pancakes drizzled with maple syrup? Not a whole lot! Obviously you have to try these buckwheat pancakes first, but if you're looking for more fluffy flapjacks, try out these other vegan pancake recipes!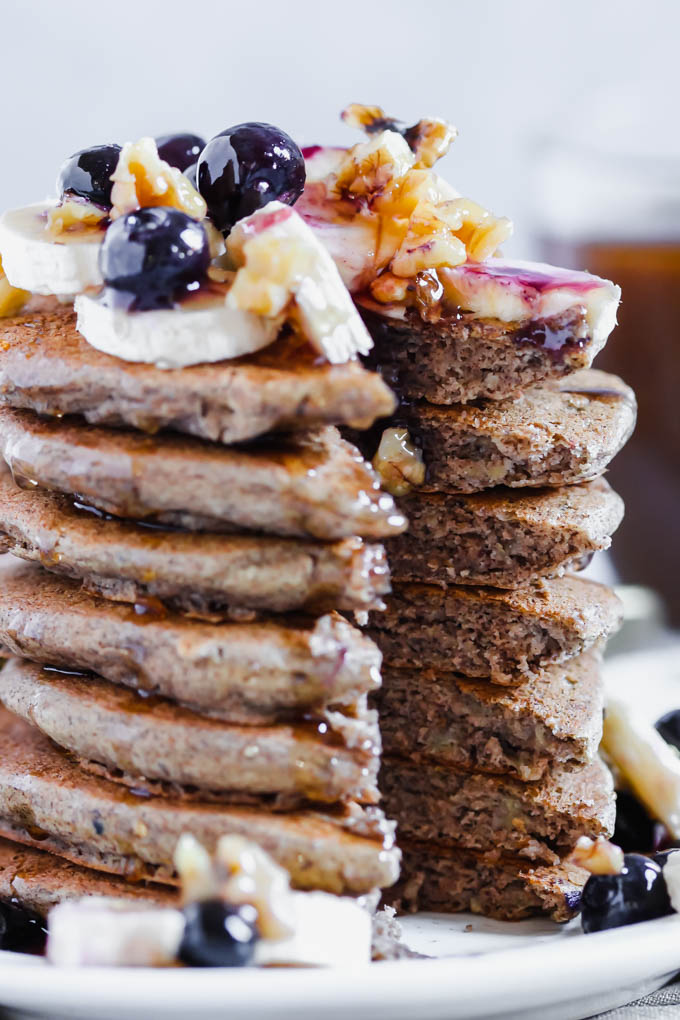 Print
How to make:
Vegan Buckwheat Pancakes
Make a batch of Vegan Buckwheat Pancakes for breakfast! These gluten-free pancakes are packed with fiber and protein thanks to buckwheat.
Ingredients
1 tablespoon

ground flaxseed

1 cup

unsweetened non-dairy milk

1 teaspoon

white or apple cider vinegar

1 cup

buckwheat flour

1 1/2 teaspoons

baking powder

1/2 teaspoon

baking soda

1/2 teaspoon

ground cinnamon

1/4 teaspoon

salt

1/8 teaspoon

ground nutmeg

1

medium banana, mashed (about

1/2 cup

)

1 tablespoon

avocado oil (or other neutral oil like canola)
Instructions
In a small bowl, add flaxseed and 2 1/2 tablespoons water to make a flax egg; stir. Set aside for 5 minutes.
In a medium bowl, add non-dairy milk and vinegar; stir. Set aside for 5 minutes.
In a medium bowl, add buckwheat flour, baking powder, baking soda, cinnamon, salt and nutmeg; stir.
To the bowl with the milk and vinegar mixture, add flax egg, mashed banana and oil. Whisk to combine. Slowly pour the wet ingredients into the dry ingredients; stir until just combined. Let the batter sit for 5 minutes.
On a greased griddle or skillet, add 1/4-cup dollops of the batter. Cook on medium heat for 5 minutes on each side, until lightly browned. Repeat until all of the batter is used up.
Serve with maple syrup, sliced banana, berries and nuts!