Even if you don't live in the south, you can still enjoy the flavors of Mardi Gras with this traditional Vegan King Cake recipe! It's fluffy with a cinnamon raisin filling and a sugary glaze that will satisfy everyone.
Laissez les bons temps rouler. It's a Cajun French phrase that means, let the good times roll! That's exactly the spirit that I'm in today sharing this VEGAN KING CAKE recipe with you. Can you sense how excited I am?!
Let the good cake roll…right into my mouth. Does that work?
I've never felt particularly connected to my Cajun roots—I don't have an accent (neither does most of my family), I've never spoken Cajun French, and I'm not a huge fan of Mardi Gras. I know, blasphemy!
Don't get me wrong, it is a really fun time—and I think everyone should experience one Mardi Gras in New Orleans—but it's mostly long days with lots of alcohol and crowds while trying to dodge heavy bags of beads. It takes a lot of energy. BUT, since this is most likely my last Mardi Gras in Louisiana for awhile, I'm going to make the most of this Carnival season!
What I do feel connected to are our traditional Cajun recipes and the sense of community you feel when you're sharing a meal. I guarantee that if you meet a Louisiana family, they will probably offer to feed you within 5 minutes. We show our love with food—can't complain about that!
I've already made Cajun-style red beans & rice and a vegan version of my grandpaw's classic jambalaya recipe, and now it's dessert time since Mardi Gras is fast approaching.
Friends, I introduce delicious and super fluffy vegan king cake for you to feast on!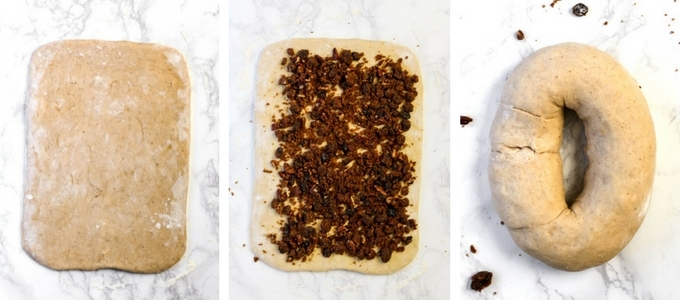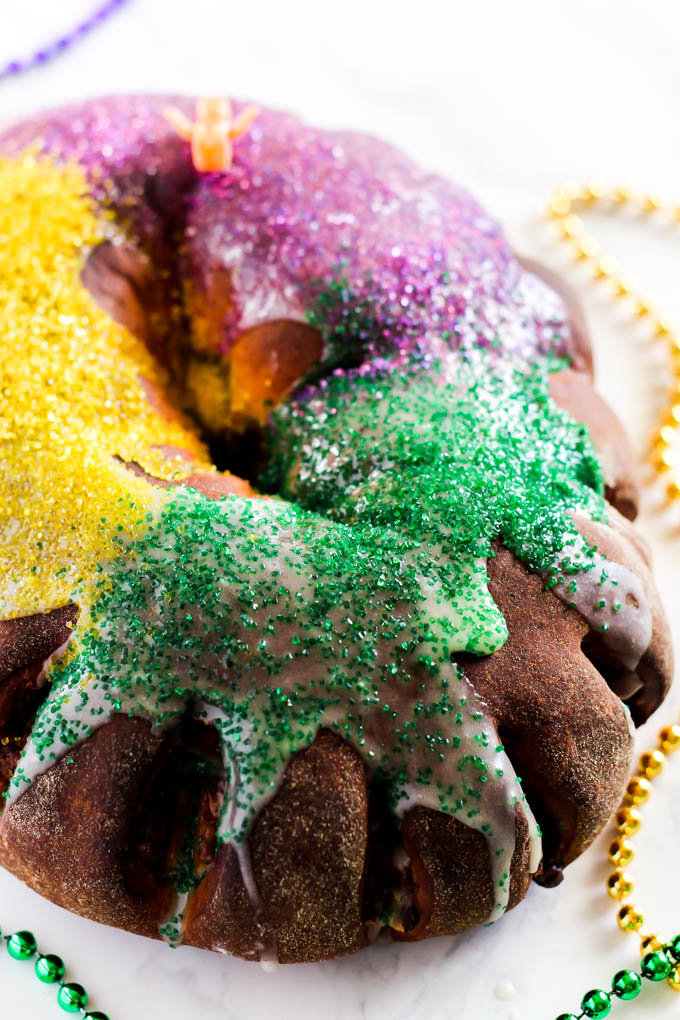 I was not about to come up with a brand new king cake recipe (don't fix what ain't broken!), so I simply adapted this AllRecipes king cake recipe to make it vegan. The only substitutions I made were non-dairy milk for milk, non-dairy butter for butter (I use Earth Balance), and egg replacer for eggs. You can find egg replacer at most health food stores or on Amazon.
This recipe definitely is a labor of love, but I promise it is totally worth it. Think of this vegan king cake as a giant fluffy, buttery cinnamon roll with festive, sugary glaze. I dare you to tell me that this deliciousness isn't worth a few hours of work in the kitchen!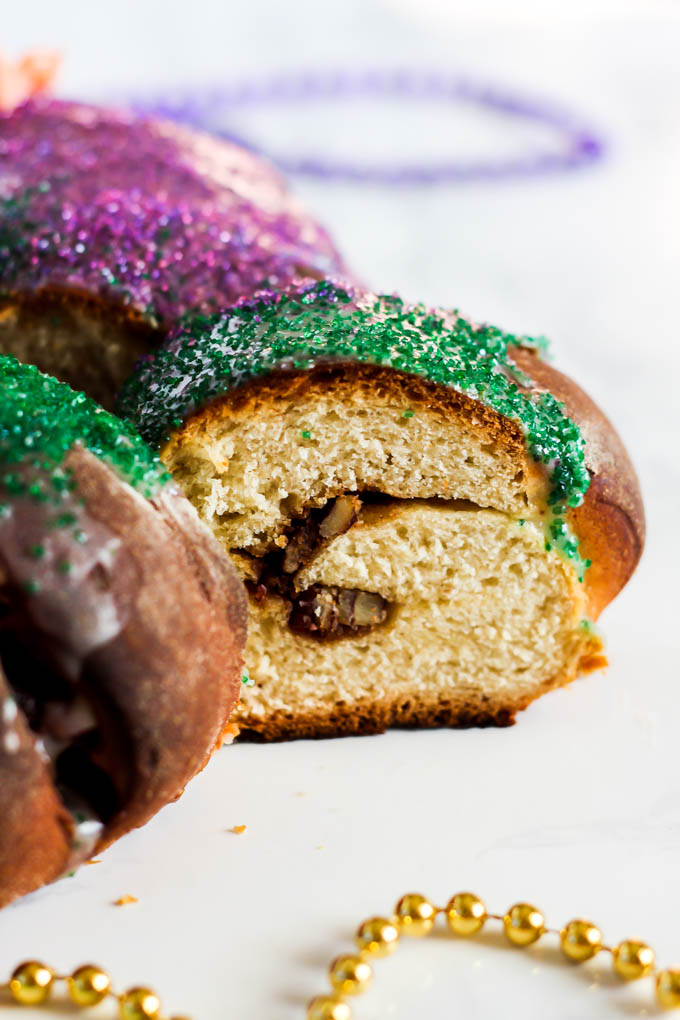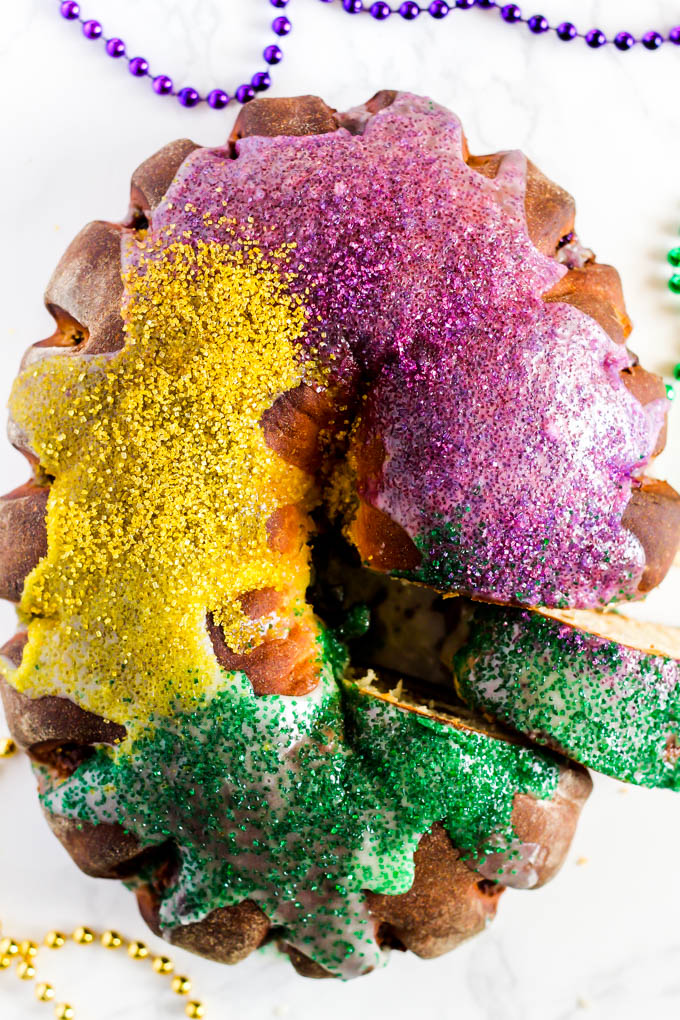 One Cajun tradition that we have with king cakes is hiding a little plastic baby in the cake. Whoever finds the baby has to buy the next king cake! Make sure you tell everyone to be careful because this is a choking hazard.
Feel free to leave off the purple, green and yellow sprinkles, but I went all out with the Mardi Gras festiveness. You could even sub in different color sprinkles if you're making this for a certain occasion (birthday, baby shower, etc.).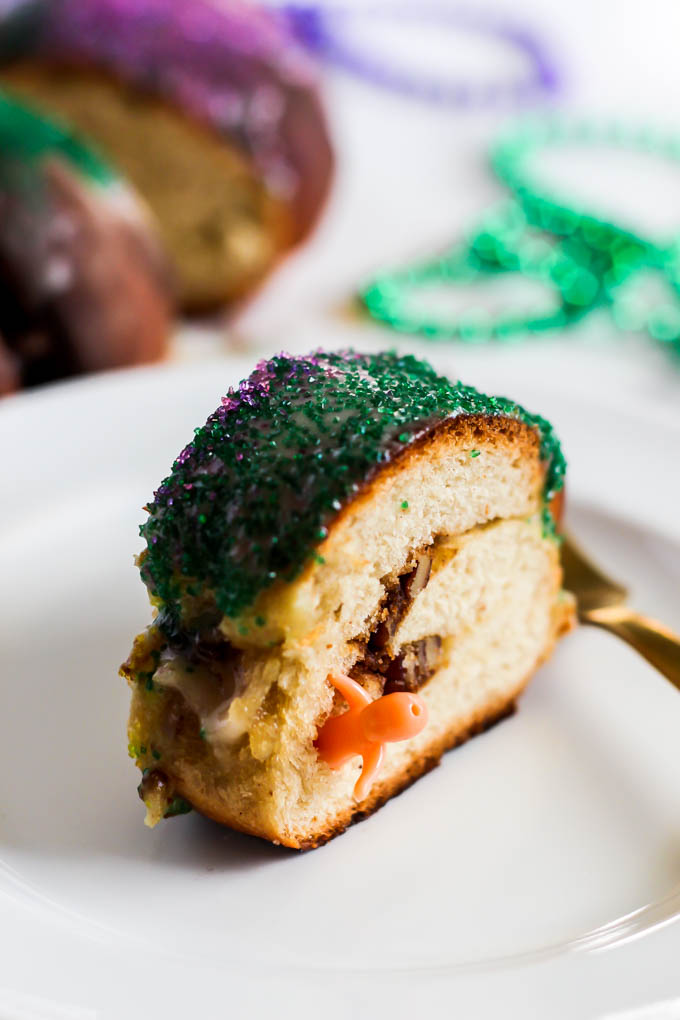 Whether you celebrate Mardi Gras or not, I know that you and everyone who lays his mouth on this vegan king cake will be in dessert heaven. It's totally worth the lengthy process!
Who's ready for a slice?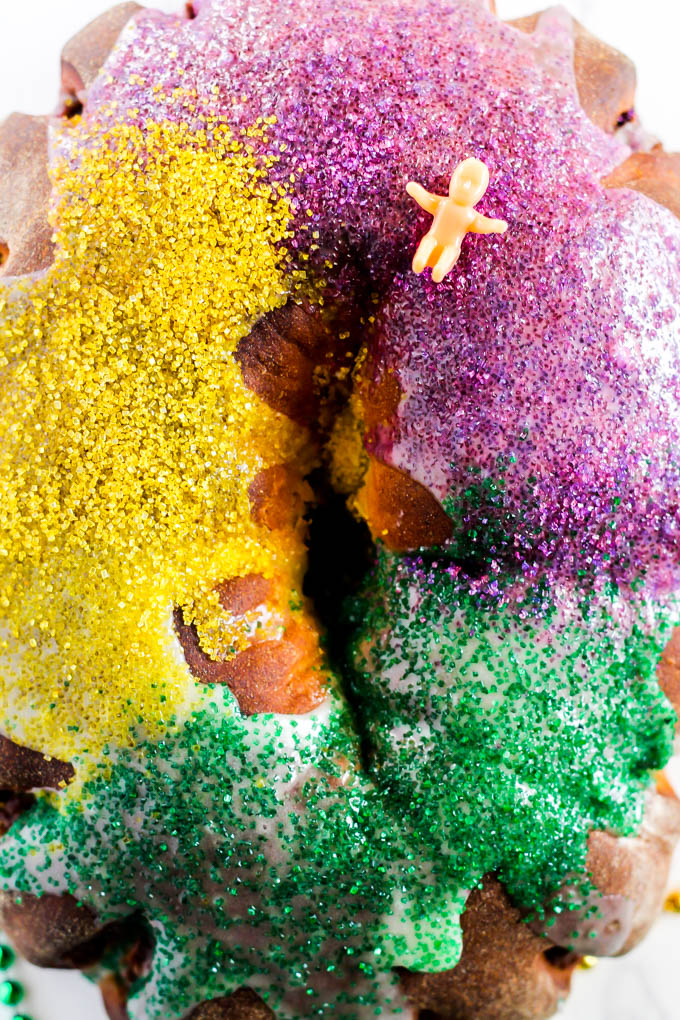 Print
How to make:
Vegan King Cake
Even if you don't live in the south, you can still enjoy the flavors of Mardi Gras with this traditional Vegan King Cake recipe! It's fluffy with a cinnamon raisin filling and a sugary glaze that will satisfy everyone.
Ingredients
Cake:

1/2 cup

unsweetened non-dairy milk

2 tablespoons

non-dairy butter (I use Earth Balance)

1/3 cup

warm water

1 ¼

-ounce package active dry yeast

1/4 cup

cane sugar*, divided
Egg replacer equivalent to 1 egg (Ener-G, Neat Egg, Bob's Red Mill)

3/4 teaspoon

salt

¼ teaspoon

ground cinnamon

¼ teaspoon

ground nutmeg

2 ½

–

2 ¾

cups unbleached all-purpose flour
Neutral oil for greasing (olive oil, avocado oil, etc.)
Filling:

1/2 cup

coconut sugar or brown sugar

1/2 tablespoon

ground cinnamon

1/3 cup

pecans, chopped

1/4 cup

unbleached all-purpose flour

1/4 cup

raisins

1/4 cup

non-dairy butter, melted
Glaze:

1/2 cup

powdered sugar**

1/2 tablespoon

water
Purple, green & yellow sprinkles
Plastic baby (optional, but traditional!)
Instructions
In a small saucepan over medium heat, add milk. Stir constantly for 8-10 minutes; you'll see bubbles forming along the edge. As soon as the milk begins to boil, remove from heat; add 2 tablespoons butter and stir until melted. Cool to room temperature.
In a large bowl, add warm water and 1 tablespoon sugar. Sprinkle the yeast on top and stir once. Let it sit until the yeast is foamy, about 10 minutes. In a small bowl, prepare the egg replacer.
After 10 minutes, add the milk/butter mix to the bowl with the yeast. Add the egg replacer; whisk to combine. Add the remaining 3 tablespoons sugar, salt, cinnamon and nutmeg; whisk to combine.
Add the flour into the large bowl ½ cup at a time. Stir after every addition of flour. When the dough gets hard to stir, use your hands to knead the dough in the bowl. After adding all the flour, place dough onto a lightly floured surface; knead until smooth, about 5-7 minutes. Form a large dough ball.
Lightly oil a large bowl (you can use the same one as earlier). Place dough ball in the bowl and coat all sides with oil. Cover with a warm, damp towel and set in a warm place (like an unheated oven). Let rise until it doubles in size, about 2 hours. After it rises, punch the dough.
Preheat oven to 375ºF. Lightly grease a baking sheet or line with foil.
For the filling: In a medium bowl, add coconut sugar, cinnamon, pecans, flour and raisins. Pour on melted butter; stir until a crumbly mixture forms.
Place dough ball on a lightly floured surface. Roll dough into a large rectangle, approximately 8×16 in size. Sprinkle the filling evenly onto the dough and press down on it slightly. Starting at a wide side of the rectangle, fold the edge over and begin to roll the dough until you reach the other edge. Form an oval ring with the dough roll; use a little water to connect the edges of the roll.
Place the ring on the baking sheet. Using scissors, cut the edges of the dough every 1 inch around the ring. Set in a warm spot to double in size, about 45 minutes.
Bake for 25-30 minutes, until lightly browned. Push the plastic baby into a slice of the cake. Let the cake completely cool.
In a small bowl, add powdered sugar and water; stir until smooth. Drizzle glaze over the cake. Decorate with colored sprinkles and slice!
Notes
*Some cane sugar is not vegan, as it can be processed with animal bone char. I use Trader Joe's Organic Sugar. Go here for vegan cane sugars: https://ordinaryvegan.net/vegansugar/.
**To make your own powdered sugar, simply put cane sugar in a blender or food processor and blend until a fine powder forms. Cheap & easy!
*Adapted from AllRecipes.
This post contains affiliate links. Thanks for supporting Emilie Eats!