This post was sponsored by BetterOats. I only work with brands whose products and missions I truly believe in. Thanks for supporting my blog!
Maybe you were expecting a salad or a super healthy smoothie today after Thanksgiving. Nope, cookies! Do you hate me?
I hope not. Because these almond coconut oatmeal cookies are the best – seriously. Super chewy, soft, and basically like eating a pillow. A pillow of coconutty (did I make that up?) goodness with a hint of almond extract that I literally can't resist. Can't keep my hands to myself.
How was your Thanksgiving? Ours was amazing. My mom set up a beautiful table outside around her garden and in the beautiful weather. Oh, it's still about 70 degrees here, so it's not like we were freezing or anything. Global warming, right?
We (by "we" I mean "I") spent about 6 hours in the kitchen the night before getting everything ready because Mom didn't want to do any cooking in the morning. Wondering what was on our vegan menu? Seitan roast with mushroom gravy, green beans, sweet potato casserole, cornbread, pumpkin pie with coconut whipped cream, and chocolate pudding pie.
Yes, it was amazing as it sounds. Tell me what you enjoyed on Thanksgiving!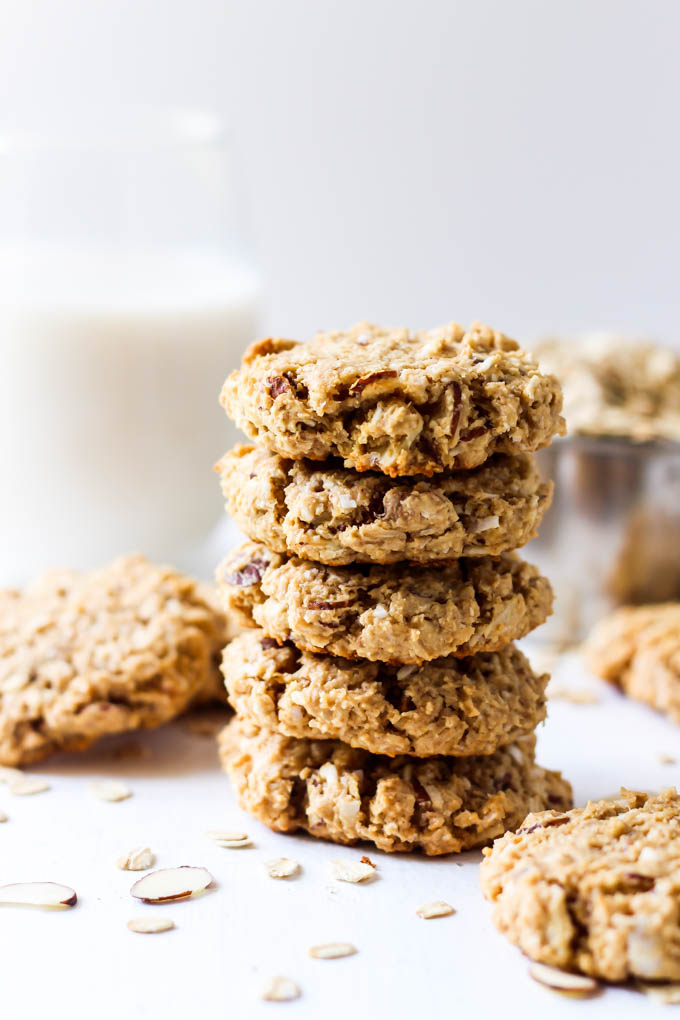 Despite being around my family, dogs, enjoying the beautiful outdoors, eating lots of delicious food, and relaxing, the best part about Thanksgiving this year was allowing myself to enjoy the food. This was the first year in awhile when I wasn't coming off a diet or about to start a new one. In years past, I would: 1. stuff myself to the point of feeling physically ill; 2. feel incredibly guilty for it. To not have to go through that cycle this year was incredibly freeing and exciting.
I used to stuff myself silly because I either hadn't allowed myself to eat the foods I wanted in months, or I knew that I was about to deprive myself in a future diet. So of course, I had to eat ALL of it as fast as possible because who knows when I would be able to have it again?? It's a terrible cycle, and I hope that if you're in it, you get out quickly. The grass is greener on this side, friend!
But this year, I could eat anything I wanted. No guilt, no restriction. Which means I didn't want to eat the whole pie (though I probably could've…hehe). I just wanted to have a plate (or two) of delicious food followed by some pie until I felt comfortably full. No one wants to feel uncomfortably full. When you let yourself eat what you want, you don't feel the need to eat everything at the table.
It was definitely a proud moment for me. Now, onto cookies!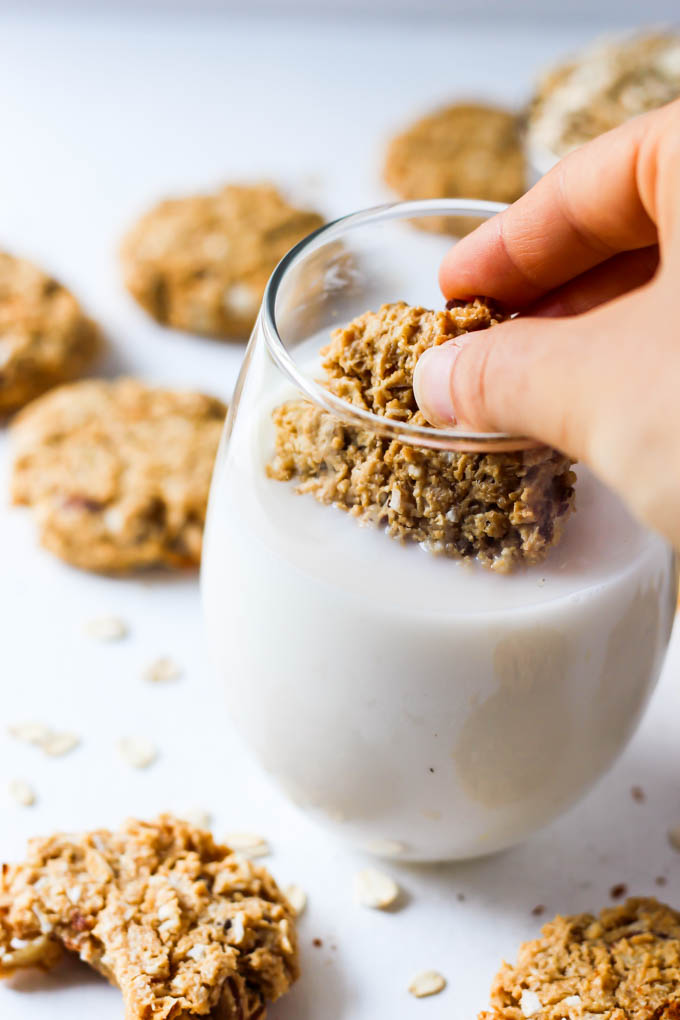 I know one holiday JUST passed, but I'm already thinking about how these almond coconut oatmeal cookies would be perfect for Christmas. Or any other day of the year. They're so tender on the inside and crisp up perfectly on the outside. I'd even say these are the best cookies I've ever baked!
I've had so much fun collaborating with BetterOats on some fun recipes, and these cookies definitely don't disappoint. If you missed our other recipes, you don't want to miss these chocolate banana pancakes & this blueberry mint smoothie bowl.
I love using the Maple & Brown Sugar organic oats in these cookies because it adds such an amazing sweetness – that delicious maple sweetness that makes your kitchen smell amazing. Plus, the oats are perfectly measured out for you! Easy peasy.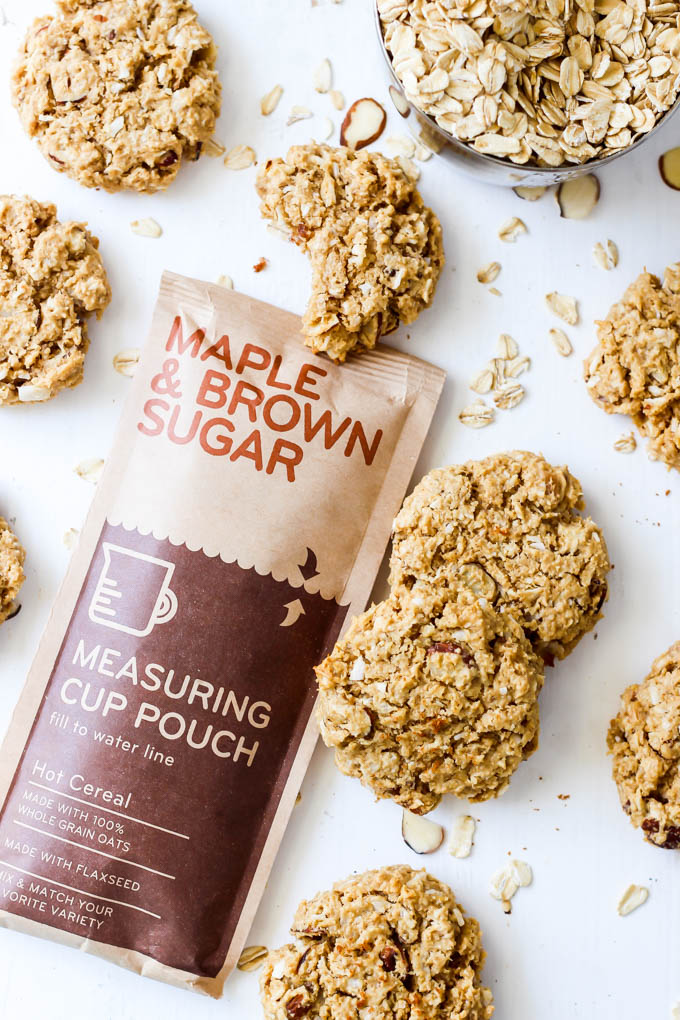 These would be great as an after-dinner sweet treat, or even a snack…or breakfast?? Let me know if you love breakfast cookies as much as I do. 😉
I can't even describe how pillowy and sweet these cookies are. I really hope you get to make them! If you do, share a pic on Instagram and tag @emilieeats & #emilieeats! Eat all the almond coconut oatmeal cookies your little heart desires. <3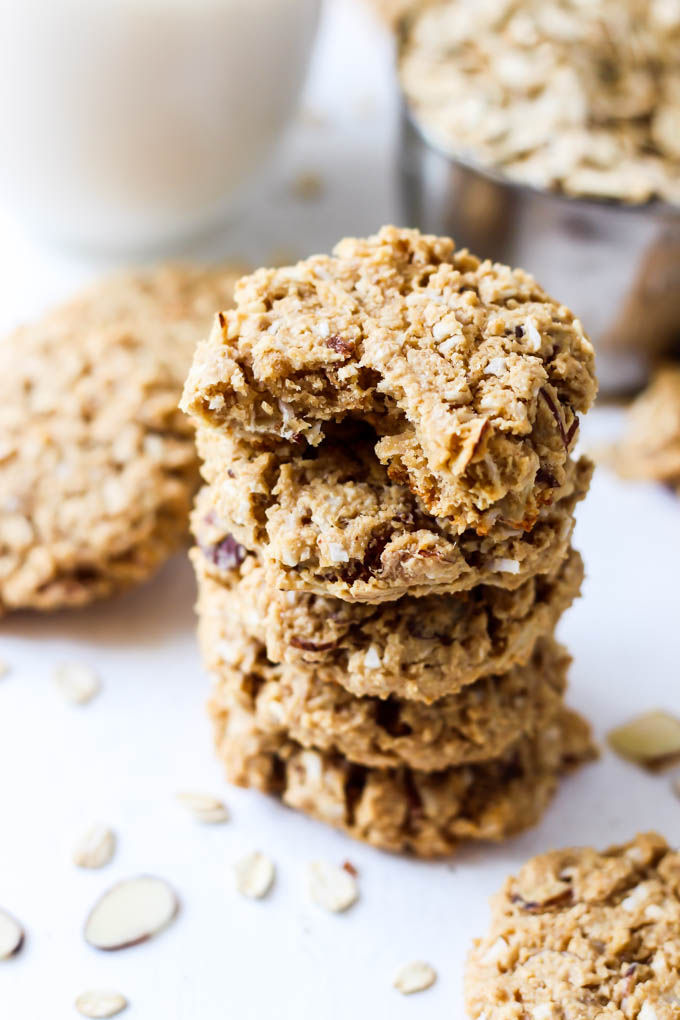 Print
How to make:
Almond Coconut Oatmeal Cookies (vegan & gluten-free)
These Almond Coconut Oatmeal Cookies are healthy enough to eat for breakfast or a snack! They're deliciously soft, full of coconut & are vegan/gluten-free.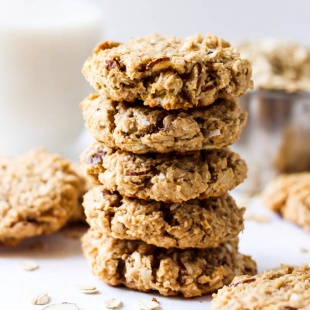 Ingredients
1 tablespoon

flax meal +

2 1/2 tablespoons

water

1

packet BetterOats Raw Pure & Simple Organic Maple Brown Sugar (about

1/3 cup

)

1 cup

oat flour*

1/2 cup

sliced or chopped almonds

1/2 cup

unsweetened shredded coconut

1 teaspoon

baking powder

1/4 teaspoon

baking soda

1/4 teaspoon

salt

1/2 cup

almond butter

1/4 cup

maple syrup or agave nectar

1/4 cup

unsweetened applesauce

1 tablespoon

non-dairy milk

1 teaspoon

vanilla extract

1/2 teaspoon

almond extract
Instructions
Preheat oven to 350F. Line a baking sheet with parchment paper or lightly grease the pan.
In a medium bowl, add flax meal and water. Stir; set aside for 5 minutes.
In a large bowl, add oats, oat flour, almonds, coconut, baking powder, baking soda and salt. Stir to combine.
To the medium bowl with flax meal mixture, add almond butter, maple syrup, applesauce, milk, vanilla and almond extract. Whisk to combine until the mixture is smooth. Slowly pour into the dry ingredients. Stir until a dough forms.
Form 2-tablespoon-sized balls of dough and place on the baking sheet, about 2 inches apart. Slightly flatten the cookie dough with a fork.
Bake for 10-12 minutes, depending on how soft or crispy you want your cookies.
Let the cookies cool on the pan for about 5 minutes before removing with a spatula.
Notes
*To make your own oat flour, simply blend rolled oats until a fine flour forms.
Thanks to BetterOats for sponsoring this post! I love working with brands whose products I really love and would honestly recommend. Thank you for supporting this blog that I love oh-so-much so I can bring you delicious recipes!