Impress all of your dinner party guests with this rich and creamy Vegan Spinach Artichoke Dip! They'll never know it's vegan and made with whole food ingredients.
I am happy to report that this super rich vegan spinach artichoke dip made everyone at my last dinner party very happy. Dinner parties are honestly the best places to test out new recipes. If the dish is gone at the end of the night, you know it's a keeper.
As happy as I was that this dip was a smash hit, I'll be totally honest and say that I was a little disappointed that people loved it so much… because I wanted leftovers. 🤷🏼‍♀️
Everyone was shocked that this vegan spinach artichoke dip is made from whole food ingredients and is unbelievably creamy thanks to the magical nuts we call cashews. Can I get an amen for cashews?!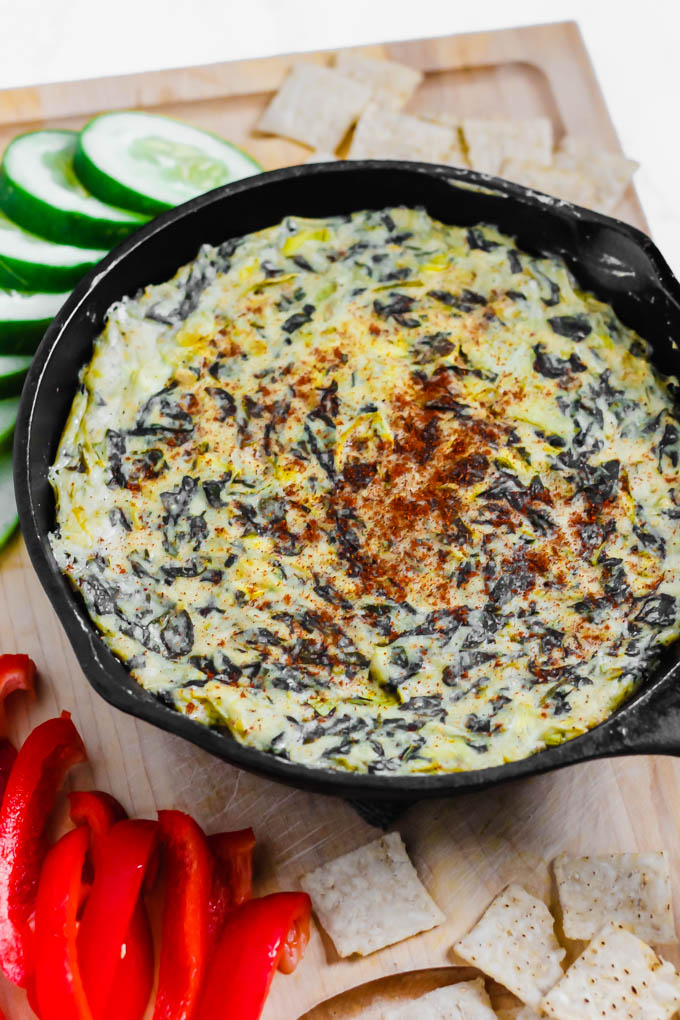 The genius behind this vegan spinach artichoke dip is one of my favorite vegan food bloggers since day 1—Brandi Doming of The Vegan 8! If you haven't already checked out her website, bookmark this recipe and then go STRAIGHT to The Vegan 8. I highly recommend the rosemary white beans (also a hit at my dinner party).
Brandi has just released a cookbook called The Vegan 8: 100 Simple, Delicious Recipes Made with 8 Ingredients or Less, and I could not be more excited about it. True to the focus of her blog, all the recipes in the cookbook are made with 8 or less simple, plant-based ingredients (minus salt and pepper).
Don't get it twisted, though—the recipes are anything but boring. This vegan spinach artichoke dip is one example. She also has recipes for some of our favorite comfort foods like Baked Mac 'N' Cheese, Crowd-Pleasing Brownies, fluffy pancakes, and so much more. Her cookbook is all about making regular food for regular people, just with a plant-based twist.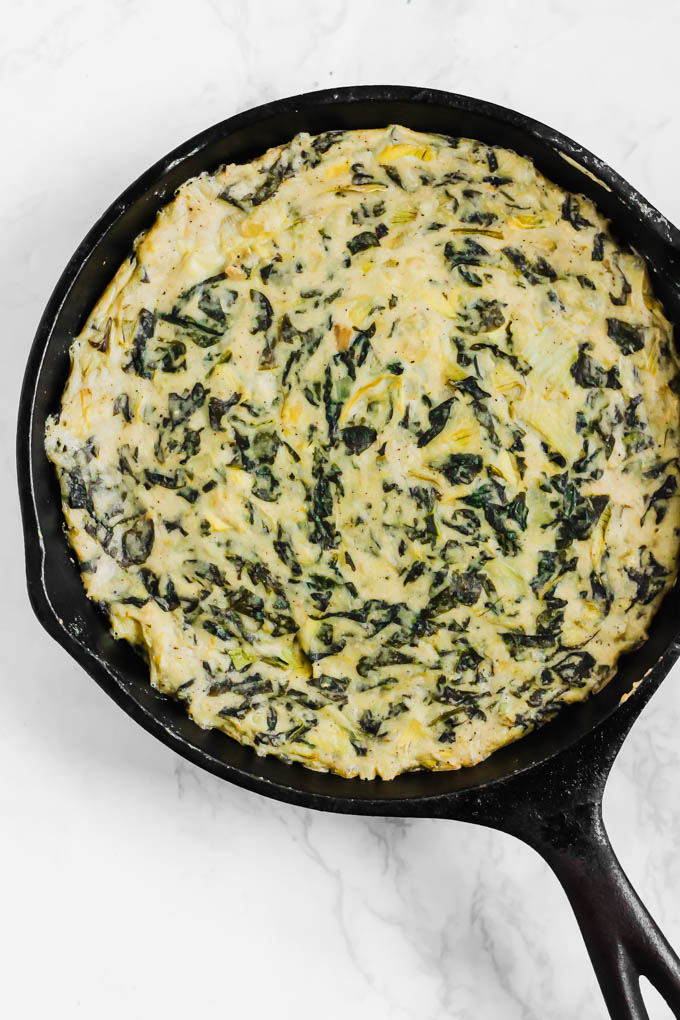 Brandi is kind enough (really, she is the sweetest) to let me giveaway ONE COPY of her new cookbook! You can enter below. Maybe you'll win an awesome vegan cookbook as a holiday gift to yourself! If you don't win, click here to buy Brandi's book; it is a great gift this holiday season for anyone who loves good food.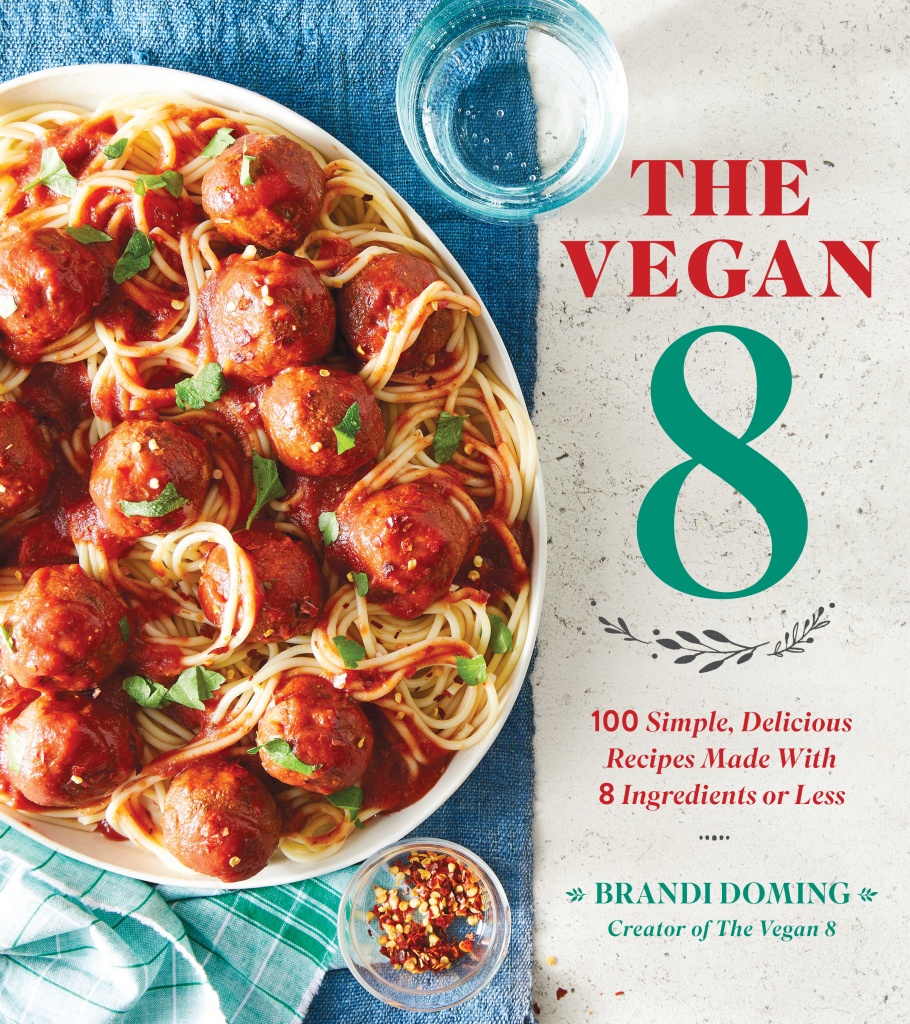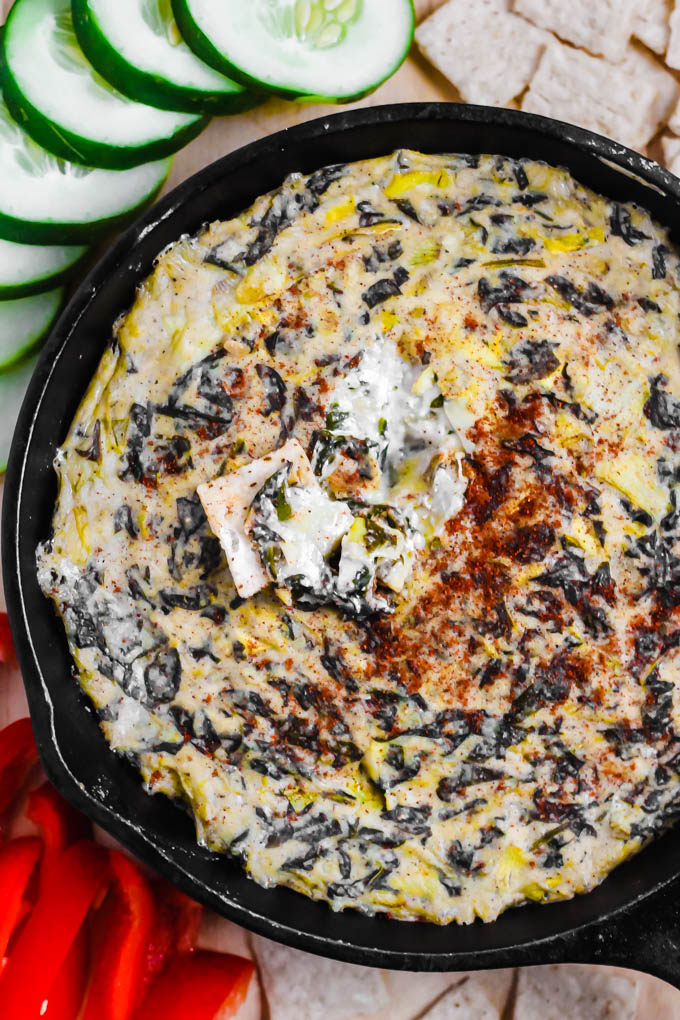 Print
How to make:
Creamy Vegan Spinach Artichoke Dip
Impress all of your dinner party guests with this rich and creamy Vegan Spinach Artichoke Dip! They'll never know it's vegan and made with whole food ingredients.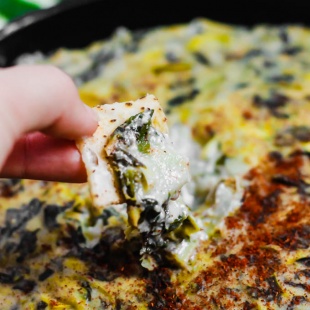 Ingredients
1/2 cup

(

80g

) finely diced yellow onion

3

large garlic cloves, minced (

10g

)

10 ounces

fresh spinach, chopped into smaller pieces

 

1

(14-ounce) can artichoke hearts, drained well

 

1 cup

(

240g

) plain, unsweetened dairy-free yogurt*

1

 1/2 tablespoons (23g) distilled white vinegar

1/2 cup

(

75g

) raw, unsalted cashews

1/2 teaspoon

(3g) fine salt

 

1/2 teaspoon

(

2g

) ground black pepper

1/2

packed cup (

110g

) cooked, peeled Yukon Gold potato
Optional: red pepper flakes for garnish, pita chips or veggies for serving
Instructions
Add the onion, garlic, and 5 tablespoons (75g) water to a small pan over medium-low heat. Bring to a simmer, and cook 5 to 8 minutes or until tender, stirring occasionally.
Add the spinach to the pan in small batches, stirring and tossing the spinach until it is well cooked and wilted before adding the next batch. Repeat until all the spinach is cooked well. This will take about 10 minutes. Turn the heat off.

 

Preheat the oven to 375°F (190°C).

 

Roughly chop the artichokes into quarters. This will release lots of liquid, so drain the excess. Squeeze out the excess liquid from the artichokes into the sink. You don't have to be obessive about every drop, but give them a good squeeze so the dip doesn't end up watery. Add the artichokes to the cooked spinach mixture, and set aside.
Add the yogurt, vinegar, cashews, salt, and pepper to a high-powered blender or food processor**. Add the potato to the blender; blend on high until completely smooth. Scrape the sides if needed, and blend once more. Pour over the spinach and artichoke mixture, and stir to combine everything well.

 

Pour the mixture into a 9-inch cast-iron skillet, pie dish, or an 8-inch square baking dish. Bake at 375°F for 25 minutes or until the top looks firm and set and is bubbly. Let cool for 5 to 10 minutes. For a kick, add some red pepper flakes on top before serving with pita chips or veggies.

 
Notes
*For the yogurt, the So Delicious brand makes a plain coconut "unsweetened" that also works well. Do not use a low-fat or almond yogurt. To make this nut free, sub the cashews for 1/2 cup (96g) white cannellini beans. The results won't be quite as rich and creamy, so I only recommend this if you are allergic to nuts. 
**If you do not have a high-powered blender like a Vitamix, you'll need to soak your cashews in warm water overnight, and then drain, rinse, and proceed with the recipe. Otherwise, the dip will be gritty. If using soaked cashews, I find a food processor works better than a regular, non-high-powered blender. Alternatively, you can sub with 1/4 heaping cup raw cashew butter (75g) to ensure it's 100% smooth. Make sure to use a raw, no-oil-added cashew butter or make my homemade cashew butter on page 247.